INSIDE: Ultimate Guide to GOMA Toddler Tuesday Art Explorers.
Want to develop your children's cultural tastebuds from a young age, and do something you'll both enjoy, with like minded people?
Then you'll love ART EXPLORERS at GOMA, Queensland's Gallery of Modern Art in Brisbane CBD.
Arts Explorers at GOMA is all about introducing art to kids in a fun hands-on way!
This event is perfect for families to learn about art without any hoighty-toightyness.
All are welcome.
This fun hands-on introduction to the art world is just the thing busy parents need – a chance to bond with their kids in a familiar and much loved art environment.
Take a look below for details.
Disclosure: This article contains affiliate links. If you make a purchase after clicking on one of these links, we may receive a small commission at NO extra cost to you.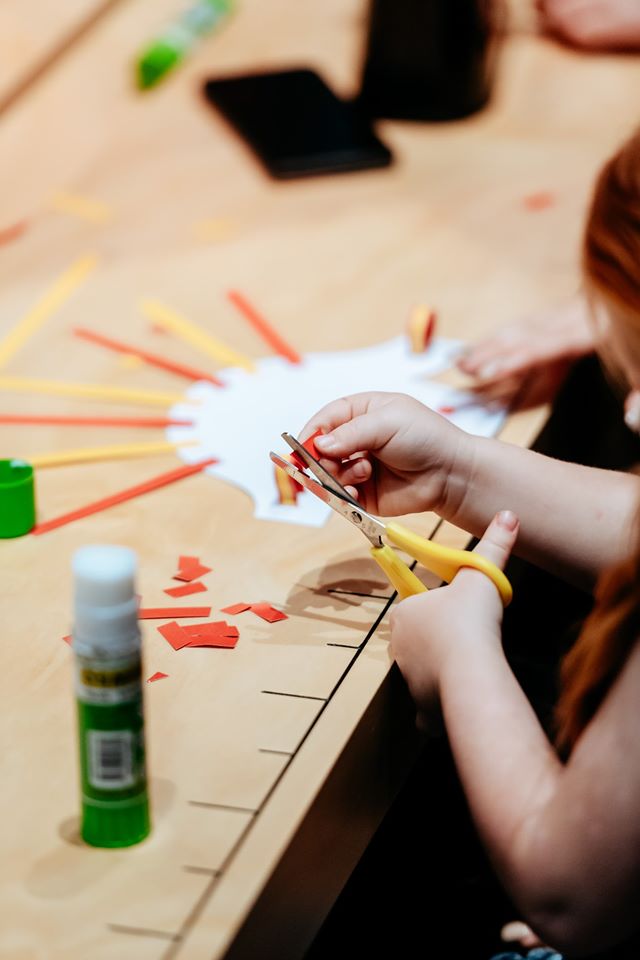 Image credit: GOMA
Art Explorers at GOMA Brisbane (Formerly GOMA Toddler Tuesday)
Designed especially for children aged 3 to 5 years old, these 45 minute 'workshops' incorporate a tour of some of the most kid friendly of the art gallery's works.
Then gives kids the chance to create something in response.
For example:
a drawing
a picture or
an installation.
Kids are guided by the skills of an art-trained group facilitator.
Music, specially designed games, movement, making and looking activities, storytelling, and songs are often incorporated too.
Best of all, it's free, with all materials supplied.
It's a fun way to engage with other local parents and children surrounded by art and culture
Past themes have included:
Japanese gardens and
Opus (the QAG Robert Riddel sculpture).
Bookings are essential. Call +61 (0)7 3840 7303
Sessions run 10:00am & 11:00am, fortnightly.
If you are in Brisbane on holiday, why not pop by and see if there are any casual spots available?
---
RELATED: Big List of the BEST Things to Do in Brisbane with Kids!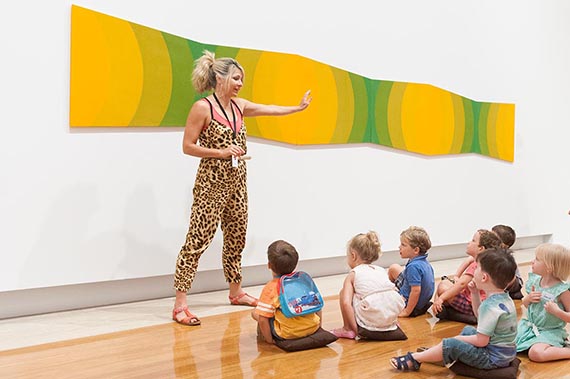 More Weekly Activities for Kids at GOMA Southbank
There's two new arty gatherings now available at GOMA for babies and toddlers too.
GOMA Playgroups for Babies and Toddlers
Art Starters for Babies
Art Starters is a play activity designed for babies 4– 12 months, and their parents and carers.
Bring your baby carrier so you can set off on a walk through the gallery, taking in art and culture as you go.
Then return for a multi-sensory interactive play session with musical instruments, shiny things, and baby art activities.
This sought after group is an ideal way to meet like minded parents.
Art Play Date for 1-3 year olds
If your child is a little older, then Art Play Date for 1 to 3 year olds is for you.
This new hands-on learning program for kids incorporates movement, song and sensory play.
Kids are encouraged to sing, dance, clap, and follow the leader as they explore the gallery spaces.
Plus there's play time too.
Bookings are essential for all three GOMA kids activities.
---
RELATED: Ultimate Guide to The Corner State Library of Queensland Events & Activities for Kids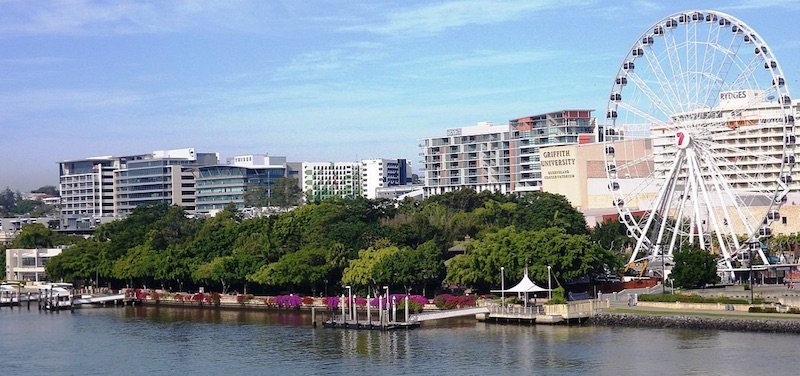 Image credit: Brisbane City Council via Wikipedia CC BY-2.0
Fun Things to do at Southbank with Kids
After your art session, make the most of the amazing resource and open space that is Southbank Brisbane.
Take a walk to Southbank Parklands via the 'secret passage' of 443 curling steel columns covered in Bougainvilleas.
This flower pathway blooms throughout the year.
Or scoot along the riverside pathway with a view of Brisbane River.
Children LOVE watching the Brisbane City Cats on voyage up and down the river, and parents can enjoy the view of the Brisbane CBD too.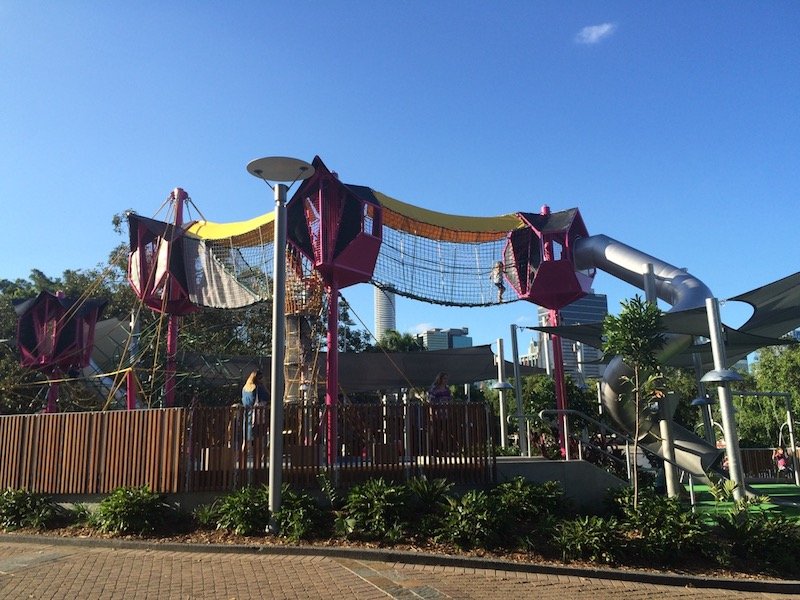 Southbank Playgrounds for kids
Smack bang in the centre of Southbank, you'll find the shaded (and often busy) Riverside Green Playground.
If it's chockablock, walk on a little to the Picnic Island Green Playground behind the River Quay restaurant.
If it's a warm day, let the family go wild at the fun and interactive water-play park, Aquativity, or swim at Street's Beach, the only inner-city, man-made beach boasting a sparkling lagoon surrounded by white, sandy beaches and sub-tropical plants.
Streets Beach is free to use and is patrolled by qualified lifeguards all year round.
(Call (07) 3867 2048 to find out lifeguard patrol times.)
Be sure to have towels and dry clothes from home at the ready!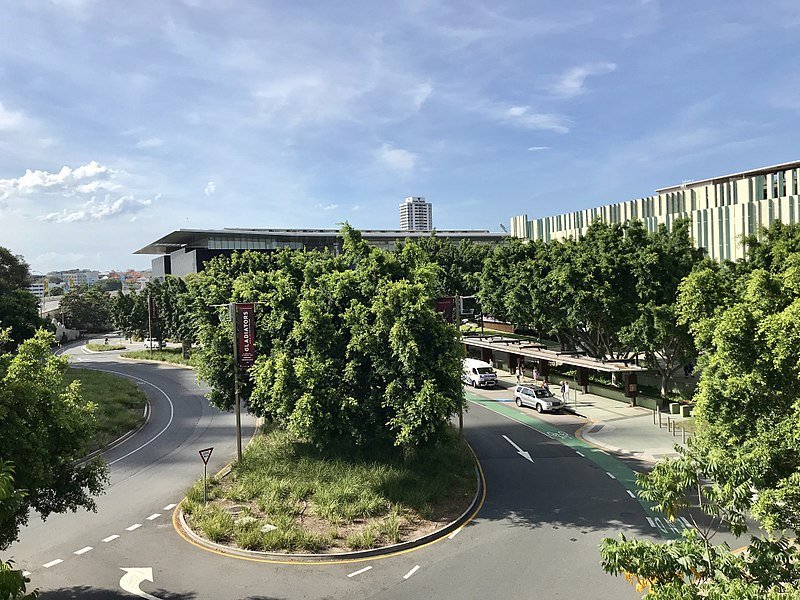 Image credit: Kgbo via Wikipedia CC BY-SA 4.0
THE INSIDE SCOOP: GOMA with Kids
Correct at time of publication on Roam the Gnome. Please check with venue for updates. We apologise in advance if there have been any changes we are unaware of. All prices in AUD dollars, unless otherwise stated
Address: Stanley Place, Cultural Precinct, South Bank, Brisbane
Telephone: 07 3840 7303
Website: www.qagoma.qld.gov.au
Email: [email protected]
GOMA Opening Hours
QAGOMA opens from 10 am to 5 pm daily
No bookings required to enter the art gallery
Bookings are required to join the Art Explorers, Art Starters and Art Play Date. Please call the gallery on the number above to reserve your spot.
GOMA Entry Fee
Entry to Art Explorers is FREE!
How to get to GOMA in Brisbane
By Foot: From the Brisbane central business district, walk across the right footpath of the Victoria Bridge or the Kurilpa footbridge. Head towards the State Library. GOMA is directly in front of you.
By Bus & Ferry:
QAGOMA is right next to the Cultural Centre Busway station and a short walk from the South Brisbane train station and the South Bank CityCat and Ferry terminal.
Additionally, the high frequency bus route 444 (Moggill to City) stops at Stanley Place every day with a service every 10 minutes in peak time and every 15 minutes off peak.
Use the Translink journey planner to check journey times and connections.
By Car: Click here to add your location details for google maps
GOMA Parking
Parking for the Cultural Precinct is available in three neighbouring carparks under the Queensland Art Gallery (QAG), State Library of Queensland (SLQ) and the Queensland Performing Arts Complex (QPAC), all accessible via Stanley Place.
For more information, phone the QAG carpark on +61 (0)7 3840 7103.
More information is available on the Cultural Precinct.
$17 per car entry per day (subject to change).
GOMA Brisbane Map
Toadstool Rating: GOMA Children's Activities
These GOMA events are much loved by locals but weekend sessions would make this accessible for working parents also.

Looking for more things to do in Brisbane with kids?
Click the blue links below for more Brisbane tips