INSIDE: Roam the Gnome's Guide to the BEST Awesome Toddler Plane Activities, plus a bunch of Travel Activities for Older Kids too.
A few years ago, I embarked on a big round-the-world trip with Roam the Gnome, and my two boys, Ned was 6, Jack was 23 months old, just a little one.
I knew that the worst bit of the trip was going to be the airplane travel.
My brain kept repeating "How can I keep kids occupied on a plane?"
Determined to remain calm, cool and collected I madly and compulsively gathered every single 'travel tip' for toddler airplane activities I could find.
(The thought of travelling with a 23-month old combative toddler for 11 airplane trips of various lengths, when I DARED imagine it, scared the bejeezus out of me!)
I knew, without a doubt, that the new iPad (bought specifically for this trip) was going to be a necessary evil/help, especially for Ned.
But Jack needed more HANDS-ON type activities to keep him occupied during the flight, like these ones below.
Disclosure: This article contains affiliate links. If you make a purchase after clicking on one of these links, we may receive a small commission at NO extra cost to you.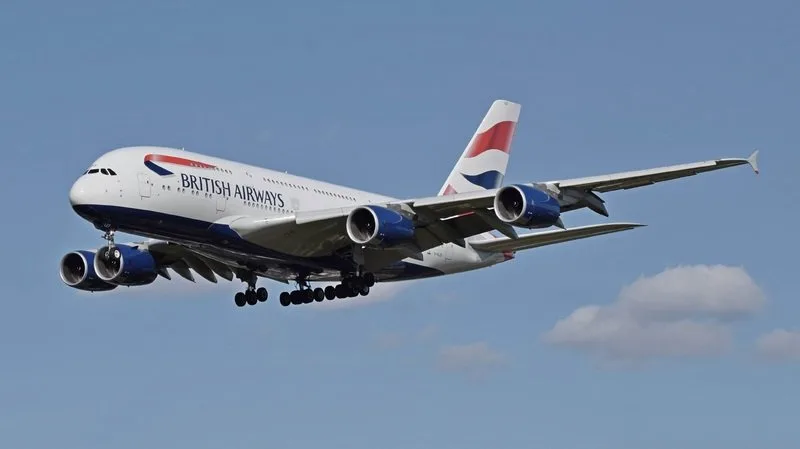 Image credit: Pxhere via CC PubDomain
THE 17 BEST TODDLER PLANE ACTIVITIES for Busy Toddlers & Preschoolers
The toddler plane activities for 1,2,3 and 4 year old kids needed to:
be cheap enough to fit our travel budget
have some kind of educational value, and
be reusable if possible.
The toddler travel products needed to have the potential to be used throughout the trip in:
hotel lobbies
airport lounges
bus stations
car seat road trip adventures
taxis or ubers if the journey was going to be long
Disney ride queues, or
anywhere the kids might need to be distracted and/or entertained for a while to prevent tantrums and public meltdowns.
But not take up too much room, or be bulky, or hard to carry.
This is a list of the travel activities for toddlers and airplane activities for 6 year old boys like Ned that we like most.
Correct at time of publication on Roam the Gnome. We apologise in advance if there have been any changes we are unaware of. All prices in US dollars, unless otherwise stated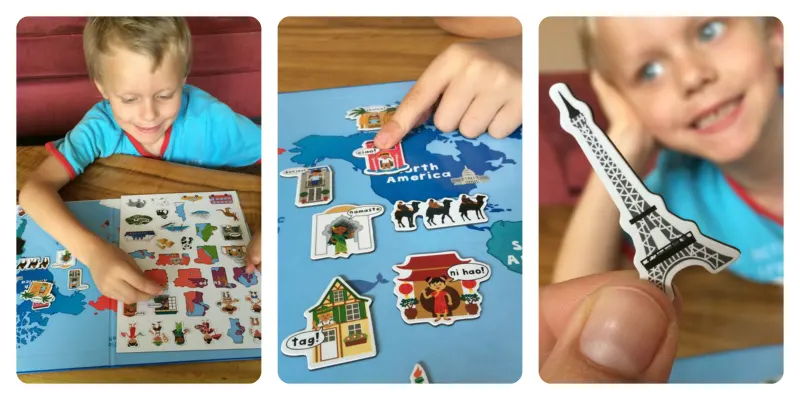 No.1: Magnetic Play for Toddlers
Tiger Tribe has a cute range of Magnetic Play Books that are just perfect airplane activities for preschoolers.
We now own the Travel the World set, and also the Animals one.
Other styles of the Tiger Tribe Magna Carry Playbook activity set include:
Transport in the City
Enchanted Fairies
Dinosaur Roar, and
Building Site
These magnetic story boards are light, come in their own plastic carry case to keep all the bits safe and together when you are not using them, and at A4 size, fit inside a carry-on bag easily.
If your handbag style is more 'Mary Poppins carpet bag' than 'Princess Kate clutch purse', you'll find it easy to have the magnetic playbook on hand for cafes and restaurant wait times too.
Not to mention hotel stays, lobby hang outs, and airport lounges.
Jack was a bit young for drawing, and colouring pads, but we took the magnetic playbook in the quest to keep him AND his big brother busy for a bit. They were GREAT, and fit in my backpack snugly next to my magazine.
BUY NOW ON AMAZON: Mickey Mouse Zoo magnetic set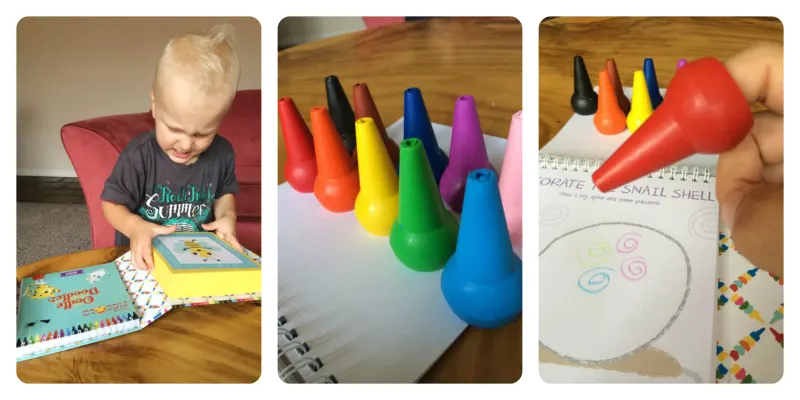 No.2: More Tiger Tribe Toys for Kids who travel
Tiger Tribe actually has LOTS of different activities that will keep toddlers and pre-schoolers amused on long airplane, train and car journeys, and just about anywhere else you find yourself stuck and needing a bit of quick entertainment.
Find the full range, including the most adorable vintage paper doll kits, games and the famous Oodles of Doodles crayon sets (as pictured above), perfect for toddlers with their chunky handhold.
Their 'how to draw' box sets and coloring sets for older kids also make great airplane activities for kids.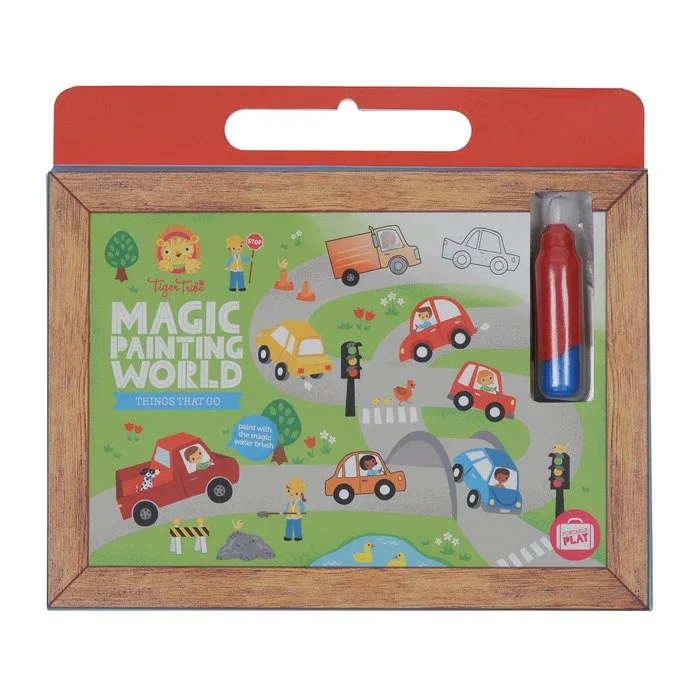 No.3: Magic Painting Sets by Tiger Tribe
Tiger Tribe also have a range of Magic Painting Sets in a number of themes.
They are so easy to use.
Fill the 'paintbrush' with water, and you are set.
There's four illustrations in each set to discover (or uncover) on the art board. When they dry, the illustrations return to normal, back to the original line drawing, ready to be played with again, and again, and again.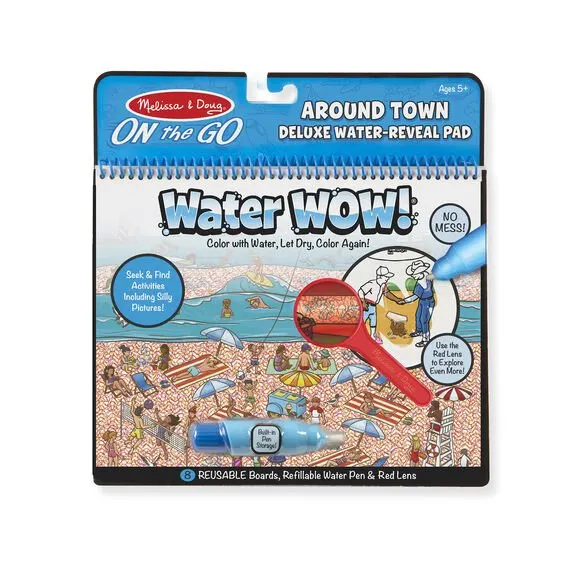 No. 4 MORE Water Art Fun with Melissa and Doug WATER WOW! books
The Melissa & Doug range of water painting sets are called Water Wow.
Similar to the magic painting sets from Tiger Tribe, Water Wow sets are on-the-go water activity pads with four reusable pages.
The chunky pen is just the right for toddler grasps too.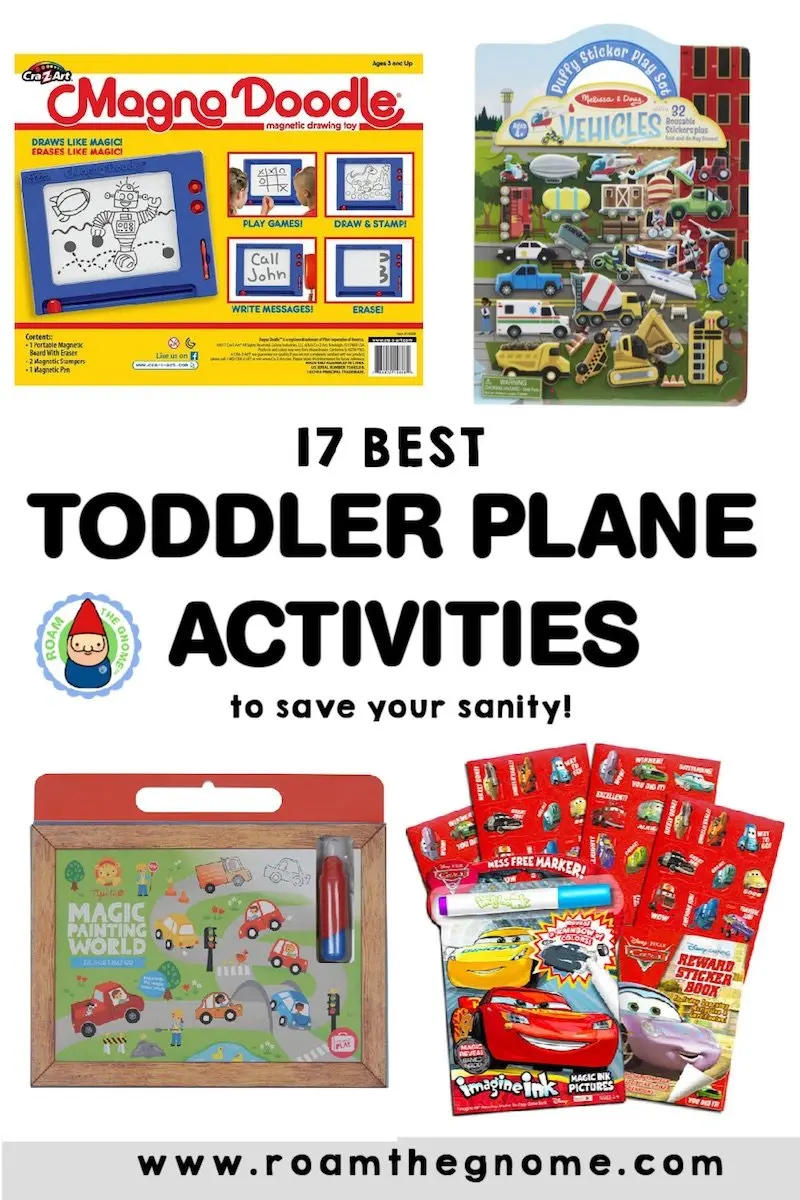 No.5: Foldable Drawing Mat for Water Doodle Painting
This is another water art alternative for toddlers. A medium sized water doodle mat that toddlers can draw on with their magic pen to create shapes, and pictures.
A fabulous educational toy for toddlers who are building their fine motor skills.
You can also buy stamps and accessories to make it more fun.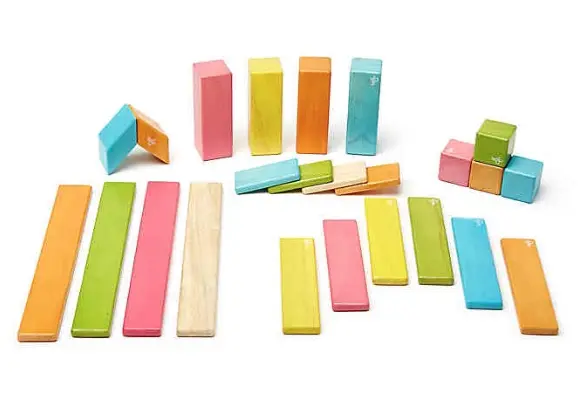 No.6: TEGU Magnetic Wooden Block Set
Have a busy builder on your hands? Someone who needs to be making, not drawing?
These gorgeous magnetic TEGU blocks snap together to make different shapes and structures.
The magnets help keep them together, so you don't need to worry about random blocks rolling away down under the seat to annoy the passenger in front.
Buy a TEGU case to keep them all together during transit.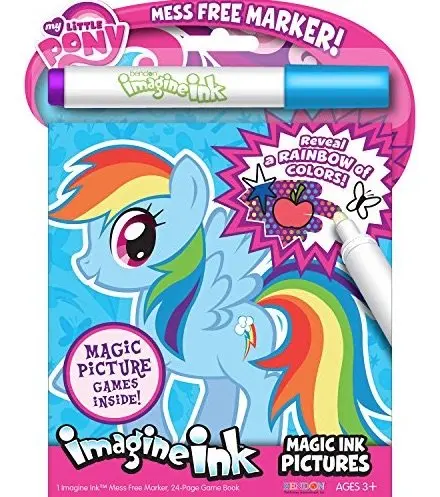 No.7: Invisible Ink Books
Magic Ink books are another no-mess activity for toddlers on the plane. Use the imagine ink marker that's provided in the pack to reveal all the colors of the illustration.
These Magic Ink books come in all the Disney characters including Paw Patrol, Thomas the Tank Engine, Disney Princesses, Moana, Minnie Mouse, Marvel Superheroes, The Incredibles, Cars, Toy story, and Mickey too.
Most books have 24 pages of games and activities. (The odd book has 12 pages only, so do check it out before you buy)
Toddlers LOVE this activity.
It's so much fun!
No.8: Animal figurines
While we are not fans of buying unnecessary plastic at all, the plastic toys that are a winner in this household are the sets of animals that they use in role play and small world play.
We have a sandpit full of dinosaurs, the farm animals inhabit our wooden block farm yard, the ocean animals virtually lived in our bath, and the Australian animals have gone walkabuot between our house and three of our neighbours.
A small cotton drawstring bag of a collection of animals gives the kids fodder for imaginative play for just a few dollars, and are easily replaceable if one goes awol. Worth every cent of the investment as these toys are used over and over again.
No.9: My Little Pony Figurines
Little toddler girls adore My Little Ponies, and this set of cute rainbow haired ponies complete with hair accessories are just the thing for little hands to hold and play with.
Keep a watchful eye on little pieces so they don't accidentally end up in the mouth, or become a potential choking hazard.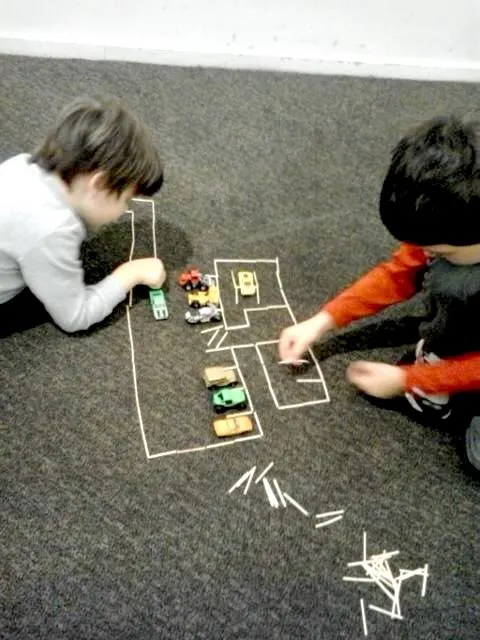 No.10: Matchbox Cars
Travelling with boys, we never leave home without at least one Matchbox car or Hot Wheels car in my handbag.
They are cheap, robust, and super cute to boot.
Take along a roll or three of black washi paper tape with you when you travel.
Use the washi tape on concrete, timber, or carpet floors to make roads and pathways for the cars to drive along.
The best thing is washi tape peels right off, with no marks left behind so this is something you can do in a quiet corner of the airport, or in a hotel room.
Don't have any washi tape handy?
My friend Katrina gave her kids a pack of toothpicks to do the same. (pictured above)
No.11: The MagnaDoodle strikes again
The first time I travelled long term with a child was when my daughter was 3. We circumnavigated Australia over 12 months and the ONLY toy we kept for the distance was the MAGNADOODLE.
A Magnadoodle magnetic drawing board is the best travel activity for a toddler on a plane as it's not messy, doesn't make any noise, and can be used as a drawing pad to play games or as a place to draw.
We love to play Mr Squiggle, where one person draws a squiggle and the other person has to make it into something recognisable. But it's good for noughts and crosses (tic tac toe) too.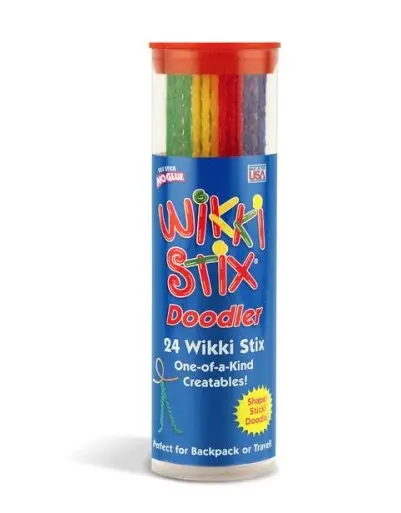 No. 12: Wikki Stix
WikkiStix are the only craft material I'd ever take with me on a plane.
They are no-mess and no fuss, but lots of fun for little fingers to shape into all kinds of imaginative wonders.
No.13: Melissa & Doug Puffy Sticker Play Sets
We always check out the newest release Melissa & Doug toys because they are well-made, affordable, and last.
Their Puffy Sticker play sets are another good toy for a plane trip with toddlers.
They fit the bill – no mess, reusable and educational too.
They also come in a variety of topics that toddlers relate to: On the Farm, Safari animals, Pets, and Princesses are our top choices.
No.14 Wipe Clean Board Games
The Wipe Clean Dot the Dot for Tiny Tots is a game pad you can use over and over again. There's nothing better than quiet dot-the-dot toddler plane activities to keep your fellow passengers happy!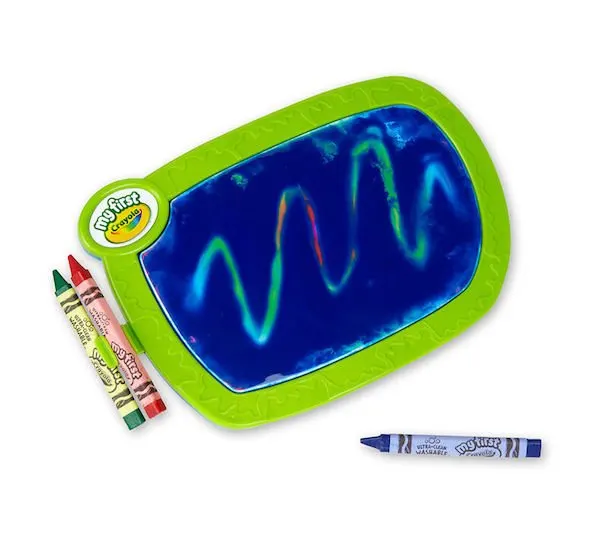 No.15: Crayola Toddler Coloring Set
Sooner or later, it's time for your toddlers FIRST Crayola experience.
It's tradition!
Thankfully, there's a bit of choice, and the Crayola activities for toddlers are good ones for the plane too.
No.16: Felt Boards
Do you remember the fun of a felt board?
I love this activity for toddlers on a plane, especially the Dress Up activity.
You can easily add a precut piece of 20″ by 20″ (50 x 50cm) wool felt from your local craft store to your luggage if you want a bigger felt mat for your toddler to explore too.
No.17: Gel Clings for the Window
Initially, I was in two minds about whether these are good toddler plane activities, and undecided on whether or not it was the done thing to put gel stickers on an airplane or hotel window?
But as I always keep a big pack of baby wipes in my hand luggage and can wipe off any residue or toddler handprints if necessary, so that swayed me.
I figure the people in front and behind me would rather my toddler be busy and quiet when flying, than potentially causing a ruckus.
So we voted YES to the gel window clings.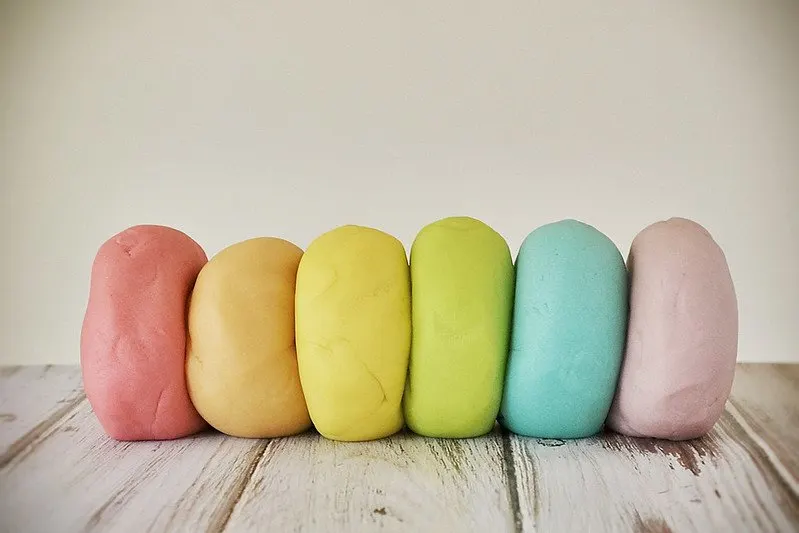 Image credit: Jamieanne via CC BY-2.0
Seven Things NOT to Take on a Plane
These things DO NOT good toddler plane activities make. (Yoda.)
Playdough
Uh. Messy. Save that for home.
Noisy Toys
Ditch anything with buttons or buzzers or bells.
Lacing cards
Not engaging enough.
Picture books or Lift the Flap books.
Too big for the carry on, and cumbersome to lug around.
My First Soft Books for babies.
A space hog. Just take the Bright Starts Lots of Links.
Stockmar Modelling beeswax.
We take blocks of the fabulous colorful Stockmar beeswax with us when we travel, but not on the plane.
It leaves residue that can be hard to remove from any surface, let alone a plane tray table!
Pipe Cleaners
I'm sure these work for lots of families, but I'm not a fan. Simply because they end up in the trash.
Want More Travel Tips for Family Travel?
Take a look here for our collection of the best family friendly travel tips.
READ MORE: The Best Travel Toys for Toddlers, Babies & Preschoolers


LOOKING FOR MORE FUN CITIES TO VISIT WITH KIDS?
Click the links in blue below for our Ultimate Destination Guides.