INSIDE: Roam the Gnome's Guide to the best fun things to do in Singapore airport while you wait.
Inside Singapore Airport, a WHOLE WORLD of fun awaits!
If you have an overnight layover in Singapore, or even an 8 hour layover in Singapore, don't leave the airport!
There's lots of free things to do in Changi airport for kids and families too.
Wondering what to do in Singapore airport while you wait?
Take a look!
Disclosure: This article contains affiliate links. If you make a purchase after clicking on one of these links, we may receive a small commission at NO extra cost to you.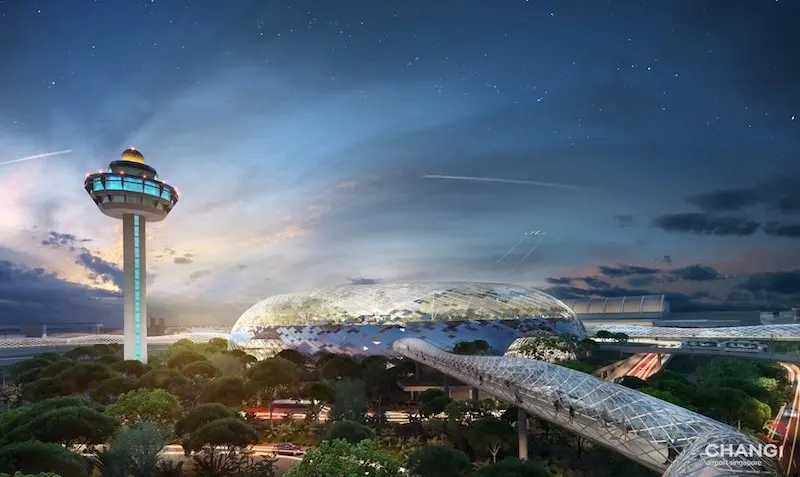 Image credit: Jewel Changi Airport Development.
Fun & Free Things to do in Singapore Airport Kids Style!
Did you know you can swim at Changi airport?
Or walk through a Butterfly garden?
Or ride the World's Tallest Slide in an airport?
YOU CAN.
Take a look at the full list of all the best things to do at Changi airport below!
Hot tip: Bring a stroller. This place is massive.
---
Check latest prices: Private transfer from Singapore Changi airport to/from hotel

SINGAPORE CHANGI AIRPORT ATTRACTIONS – By Terminal
Jewel at Changi airport is a architect-designed indoor sanctuary, the newly built centrepiece of Changi airport Terminal 1 in Singapore.
The Jewel development was initially visualised as an airport extension to expand the capacity of Terminal 1, but quickly evolved into the concept where Jewel would be a complete Singapore destination and attraction on it's own.
Not just an airport terminal, but a retail, dining, attractions and tourist hub for visitors from all over the world.
The Jewel Garden has 13 attractions to visit, including the famous indoor waterfall.
---
BUY NOW: 7 Day Zoo Pass – Visit Singapore Zoo, River Safari, Night Safari, AND Jurong Bird Park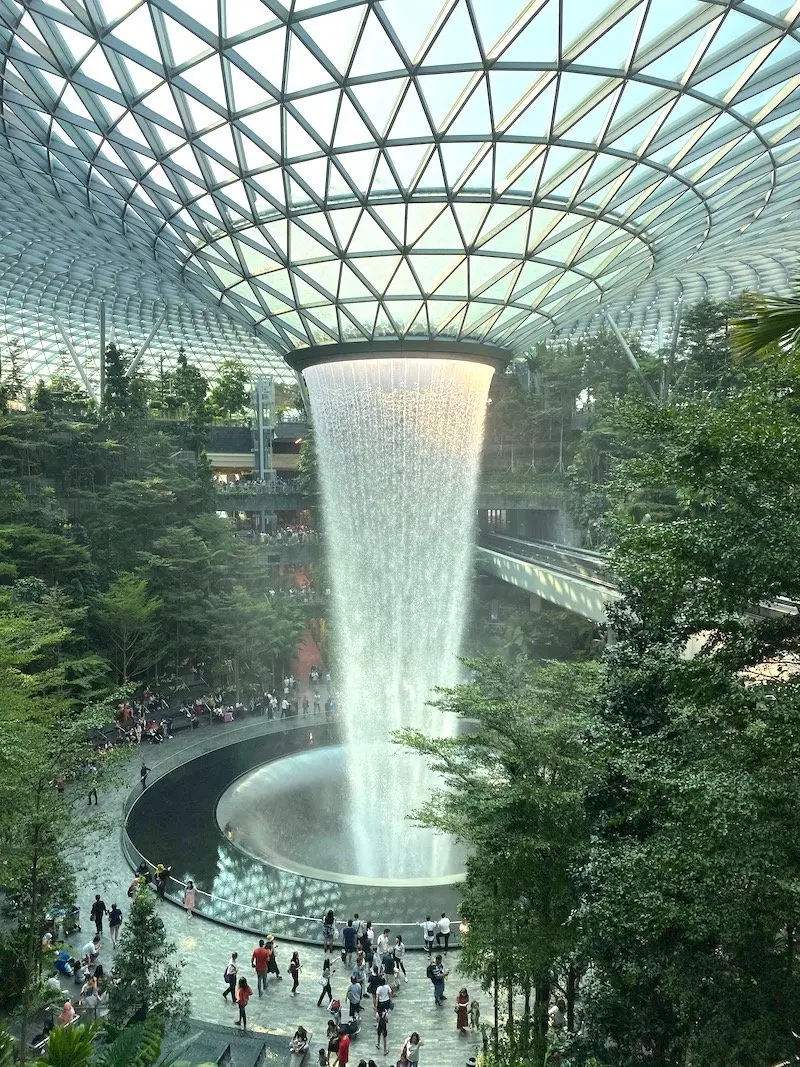 What to do in Changi Airport for Kids? The Jewel Garden
The centrepiece of Jewel at Changi airport is the tallest indoor waterfall in the world, the "Rain Vortex" in the Forest Valley.
It's 40 METRES HIGH.
You can't miss it.
Visit at night to see the light and sound show on the waterfall at Changi airport.
Starting at 7.30pm, and running hourly until 11.30pm, the water becomes the screen for magical light projections.
It's one of those must see attractions in Singapore.
While you are there, spend time wandering the trails that meander through this indoor green space filled with more than 900 trees and palms, and over 60,000 shrubs.
The whole thing is a spectacular ode to nature.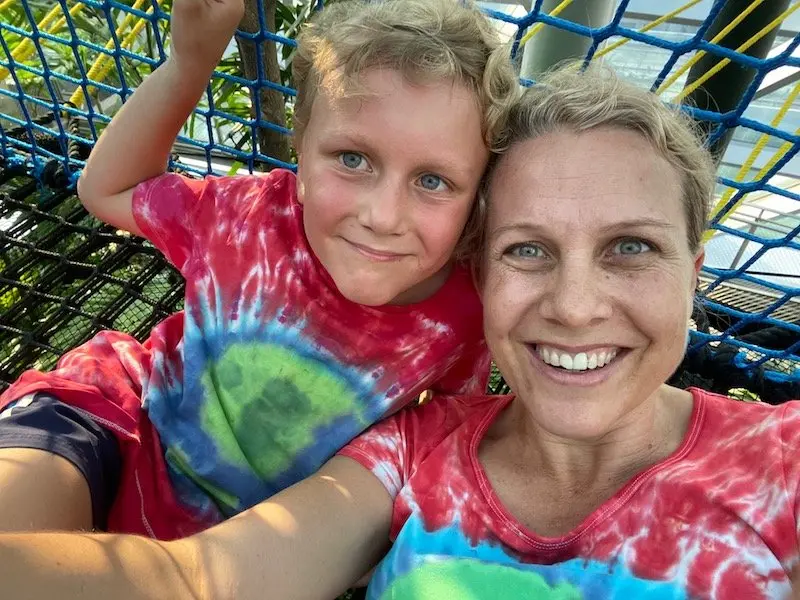 Best Jewel Changi Airport Attractions Pass
There's 10 individual attractions at Canopy Park, the indoor fun park at Changi airport which is on the TOP level of Jewel.
Entrance to Canopy Park is not cheap, but it's worth it.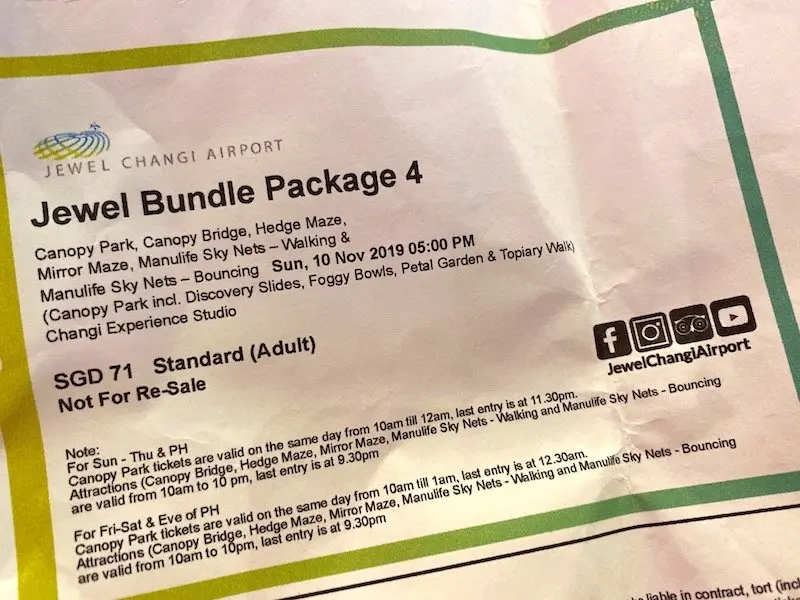 Save with the Jewel Singapore Airport Bundle Tickets
Jewel Bundle Package 4
Our recommendation is to buy Bundle Package 4 and experience the lot.
Changi Experience Studio
Canopy Park (Incl. Discovery Slides, Foggy Bowls, Petal Garden, Topiary Walk)
Canopy Bridge
Hedge Maze
Mirror Maze
Manulife Sky Nets – Walking
Manulife Sky Nets – Bouncing (one hour limit)
Prices for this package start at SGD 71 for adults and SGD 50 for kids and seniors. Note: kids must meet the 110cm height requirement to enter the sky nets.
A special mention must go to this world first creation – the Sky Nets at Changi.
As you can see, there's two options of getting on the sky nets.
Visit one, or the other, or BOTH. (We recommend BOTH!)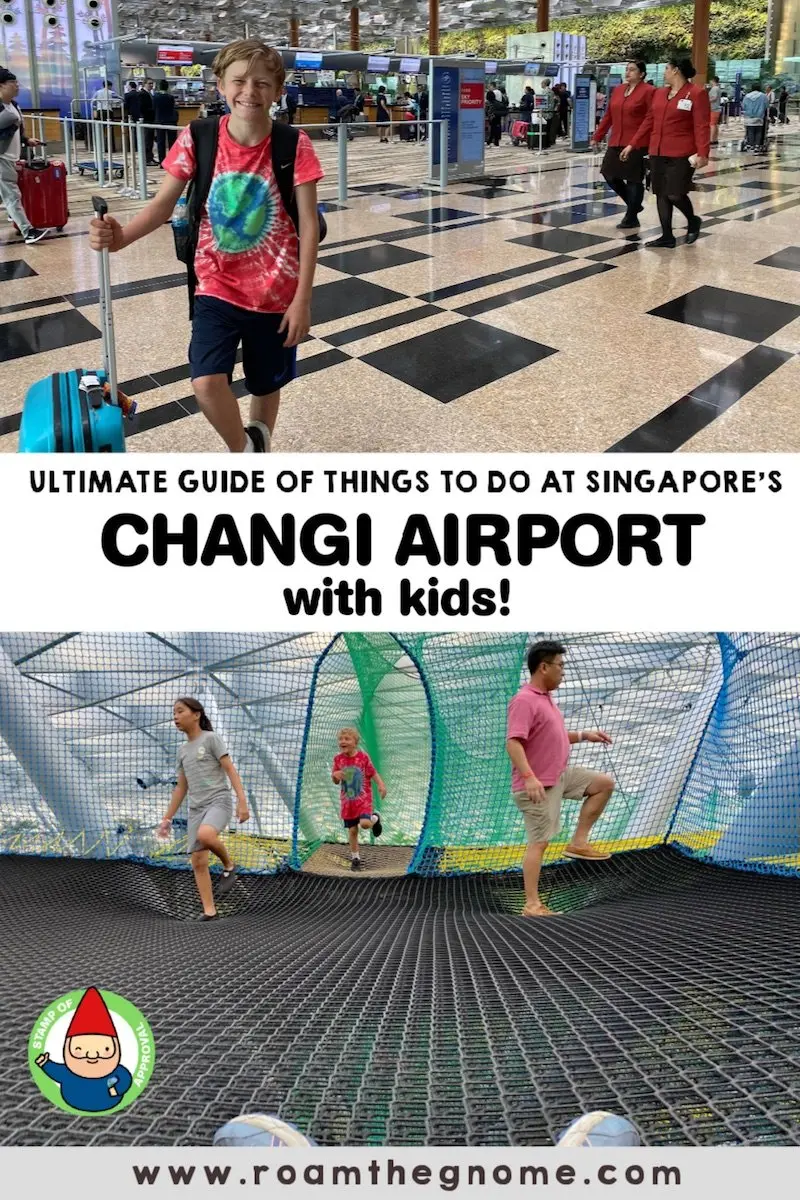 Two Best Things to Do at Jewel Changi Airport
No.1: Bouncing Sky Nets at Jewel Changi
The Bouncing Sky Nets are a giant indoor net trampoline, where you can hop, skip, and bounce jump up to 8 metres above the Canopy Park.
Be prepared for a workout.
You'll be red faced before long, and sweaty!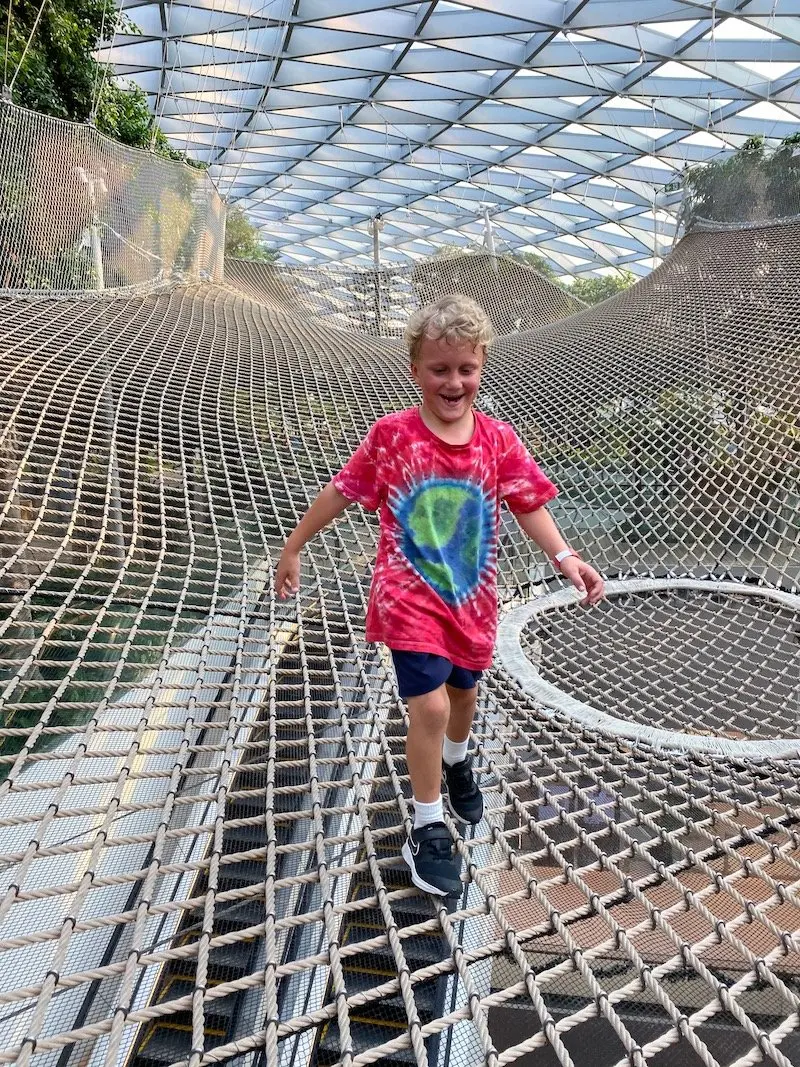 No.2: Walking Sky Nets at Jewel Changi
The Walking Sky Nets is a giant walkway of rope nets – a giant spider web in the sky.
It's even higher up than the bounce nets.
A colossal 25 metres above ground!
And at one point, YOU WILL KNOW IT! (I won't spoil the surprise!)
Do book tickets to at least one of these attractions.
Skynet Ticket price includes admission to Canopy Park, which also means you can visit these attractions too.
The discovery slides
Foggy bowls
Petal garden, and
Topiary walk.
---
RELATED: Roam the Gnome's Ultimate Guide to the 13 Attractions at JEWEL Changi Airport

Hot tip: Baggage Storage at Changi airport
You can't take your bags or suitcases into the Jewel attractions at Changi airport, and you don't want to anyway.
Leave them at the Baggage Storage (Left Luggage facility) in Terminal 1.
The Left luggage facility at Changi is in the transit area on Level 2, Departure Transit Hall Central (next to Cocoa & Co.).
The cost for baggage store in Singapore airport per 24 hours is:
S$10 per item for small items below 10kg, or
S$15.00 for items above 10kg.
It's the only time that taking carry-on luggage is your downfall, as you have to pay for each piece.
Our 3 bags plus two backpacks cost us S$60 in total to store for the 6 hours we spent in Canopy Park at Changi airport. (See our tip below!)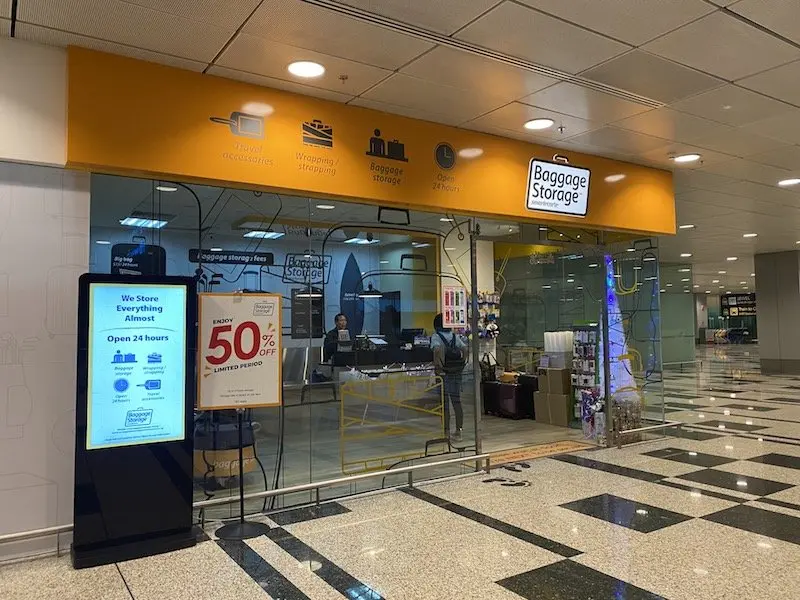 Where to leave your luggage at Changi airport?
Hot tip: If you are only overnighting in Singapore, pack one small bag with one change of clothes for each person, plus toothbrushes, and keep that with you.
Then leave your luggage for the full 24 hours.
Saves you lugging them into the city, and back, and frees you up to enjoy the morning in Singapore city before your next flight without having the lug the bags around.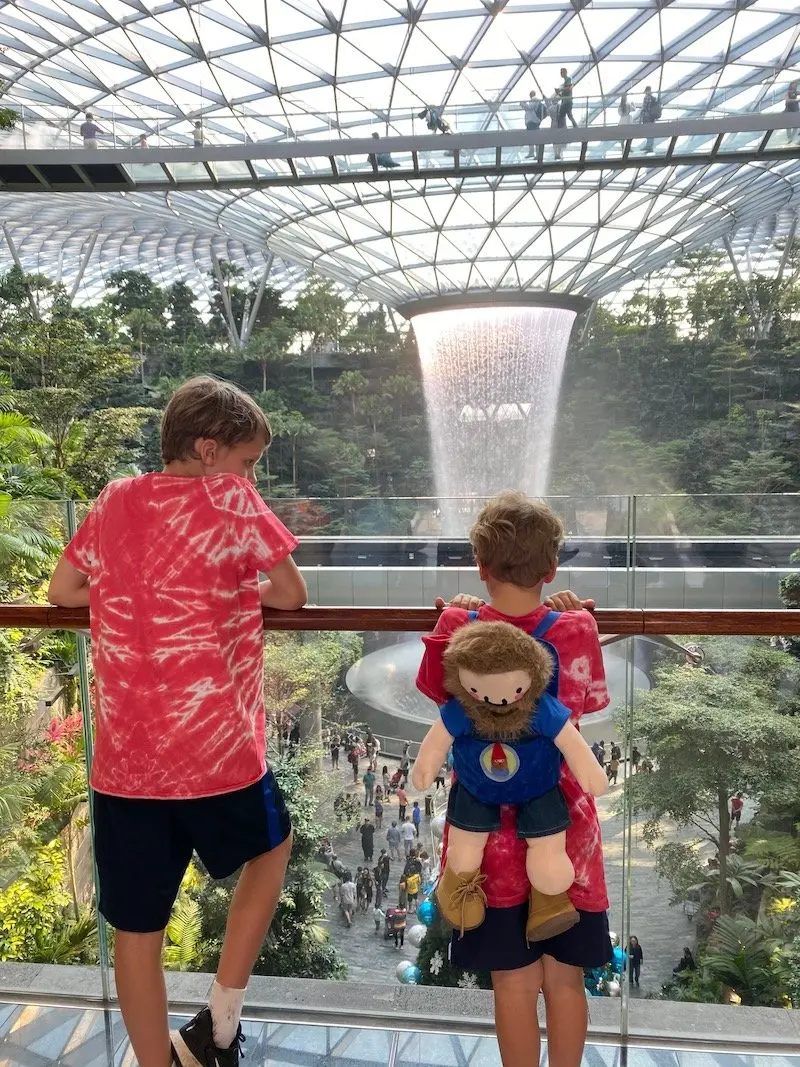 More Things to do At Jewel at Changi Airport
You could spend 24 hours at Jewel and still have not seen it all.
Singapore Airport shopping is a must.
You'll find all the big brands from around the world, including our favourite luggage store, American Tourister.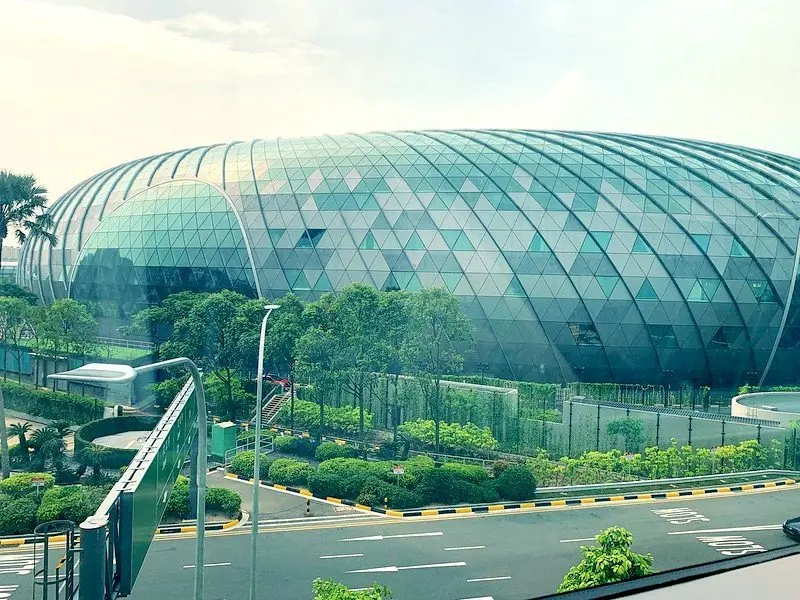 Image credit: Steve Nagata via Flickr CC BY- 2.0
Shopping at Changi Airport Jewel
Look out for:
Kiehls beauty
Adidas
Nike
Apple
Cath Kidson
Candy Empire confectionary for those with a sweet tooth
Levi's
Zara
Vans
FILA
Fred Perry
MUJI
Mothercare
Kate Spade New York
Sketchers
Timberland
Typo, and
Uniqlo.
Check out Turtle, the Singapore based children's store for cute clothing, toys, and accessories.
Kids will love The Better Toy Store, a curated collection of kids toys for play.
There's even a Pokemon store!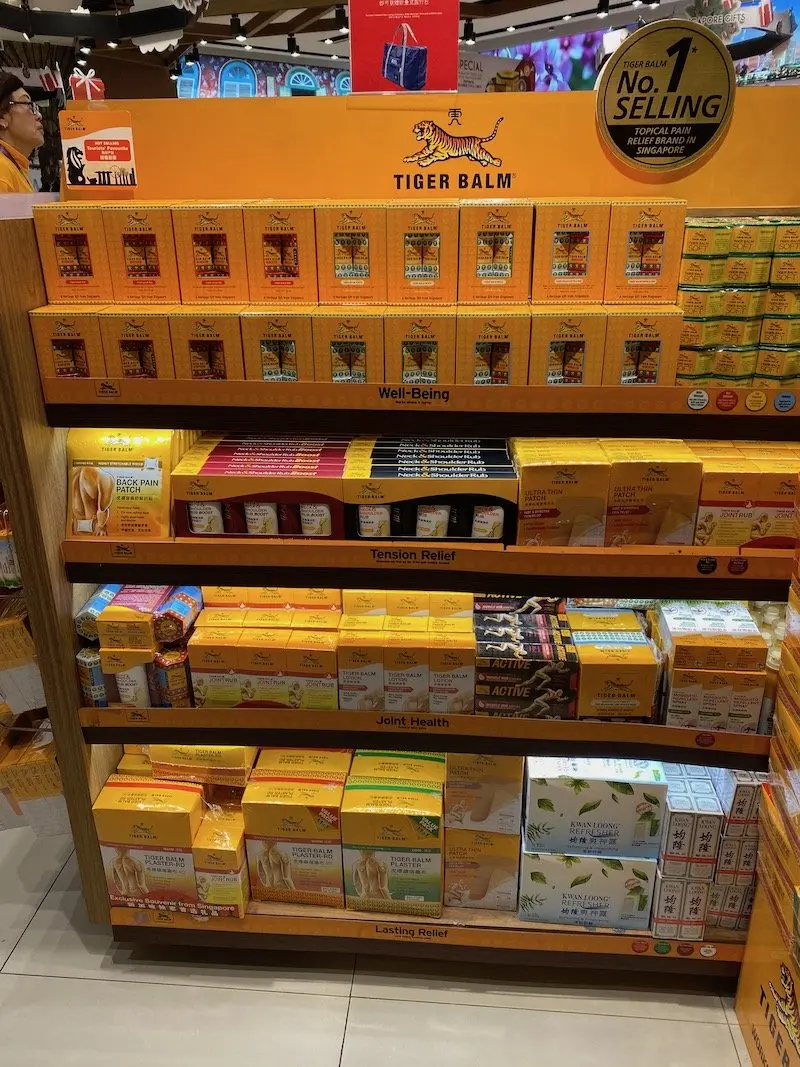 Best Things to buy in Singapore Airport for souvenirs?
Looking for souvenirs from Changi airport?
Pick up some sweet cookies from The Cookie Museum.
They even make Singapore-flavoured Laksa cookies and Chicken Rice cookies!
Failing that, Tiger Balm products are always a win!
Check out the Tiger Balm plasters – you can't buy these in many places.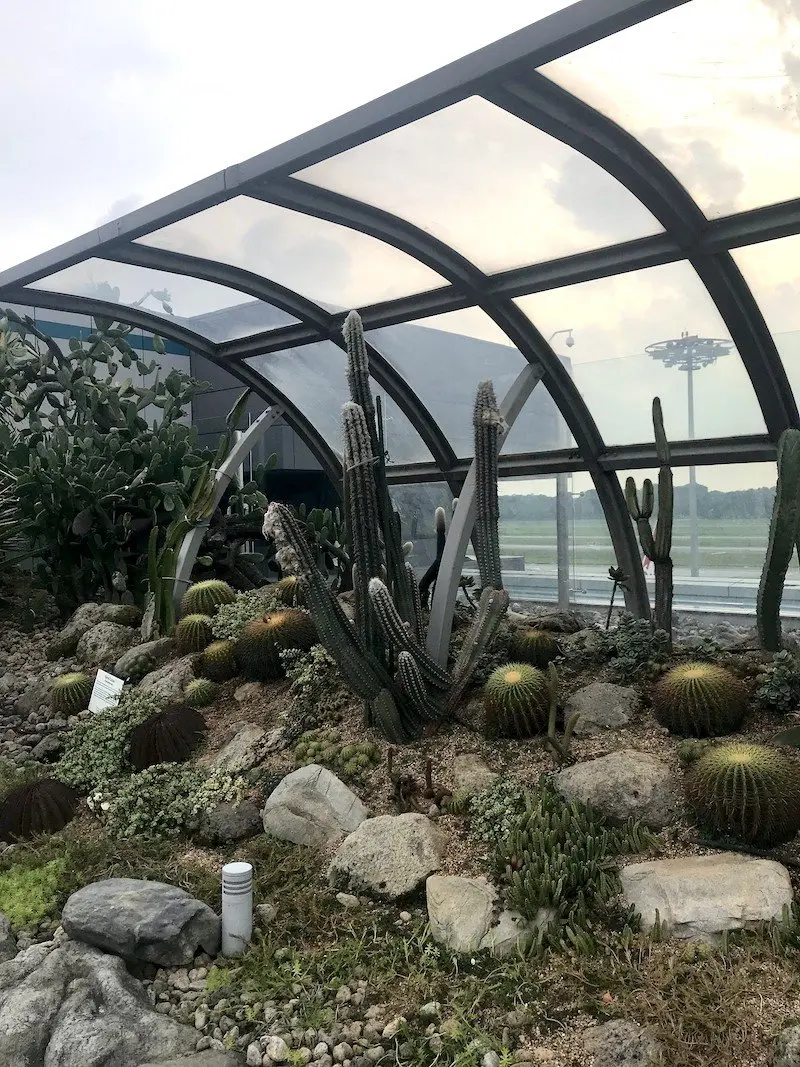 Image credit: Laika Ac via Flickr CC BY-SA 2.0
WHAT TO DO IN CHANGI AIRPORT TERMINAL 1
Visit the Changi airport garden
There's lots of gardens at Changi Airport in Terminal 1.
The Arrival Garden in Terminal 1 is a 'dragonfly habitat'
The in Terminal 1 is full of hardy cactus plants arranged to showcase their beauty
Walk through the Discovery Garden in Terminal 1 on a elevated walkway that twists and turns past the living sculptures
The Piazza Garden in Terminal 1 is a magnificent display of trees and plants paying homage to the many different nationalities who cohabit in Singapore city
The Water Lily Garden is a peaceful spot away from the crowds and the bustle.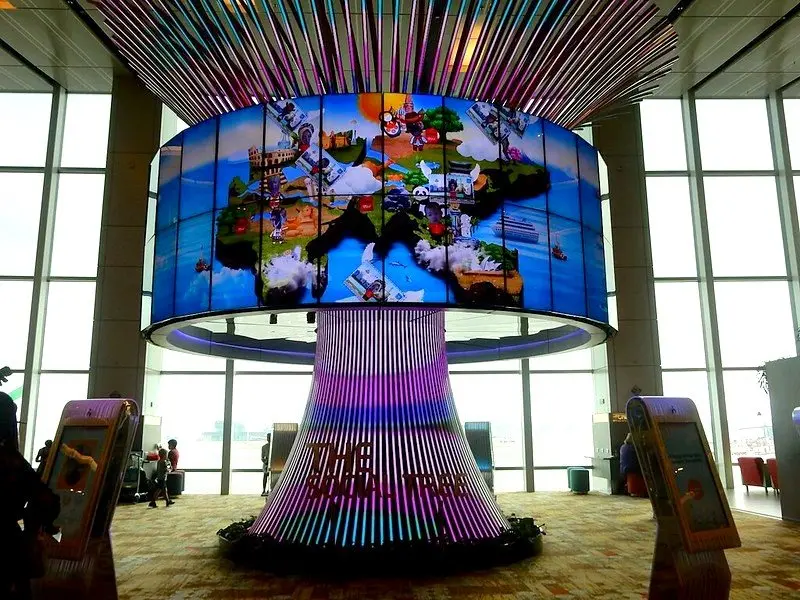 Image credit: Michael Coghlan via Flickr CC BY-SA 2.0
The Social Tree
There's a giant steel mushroom in Terminal 1.
Called the Social Tree, it's designed as a memory capsule to capture and store the images and videos that you add to the display of the things you've seen and done at Changi airport.
Join in!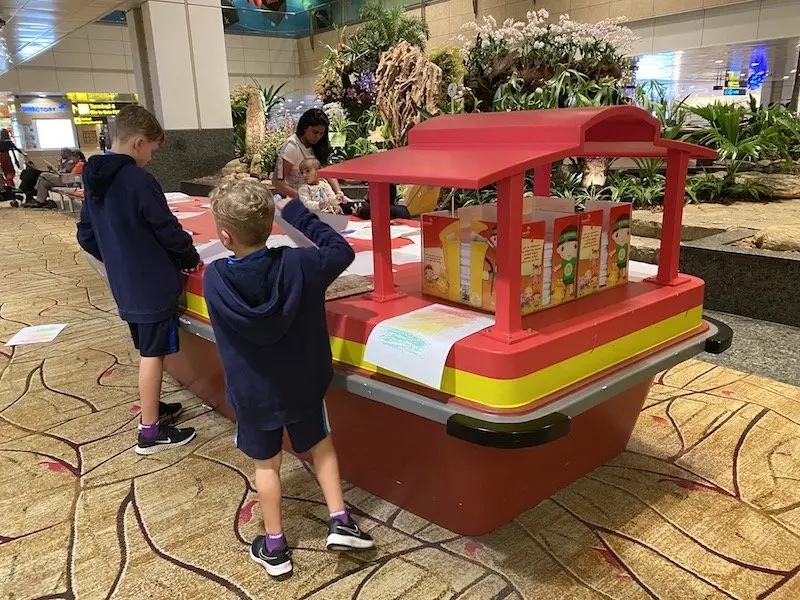 Art Activities at Changi airport
Kids are encouraged to join in and create a Singapore-inspired woodblock print at the Art Station in Changi airport.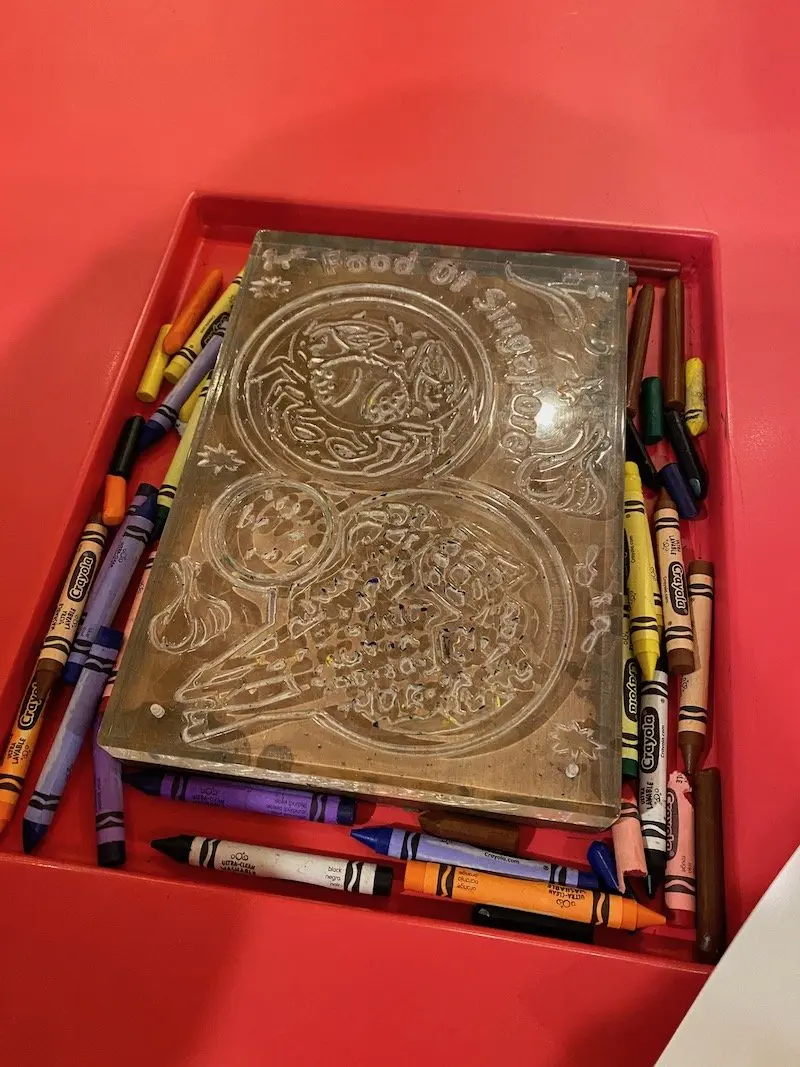 You can find woodblock printing stations in Changi airport:
in Terminal 1 (Level 3, near the viewing mall).
in Terminal 2 on Level 2, next to the Orchid garden, and
in Terminal 3 at Singapore airport at Basement 2 (next to the fountain), and
in Terminal 3 at Level 2 between gates B1-B4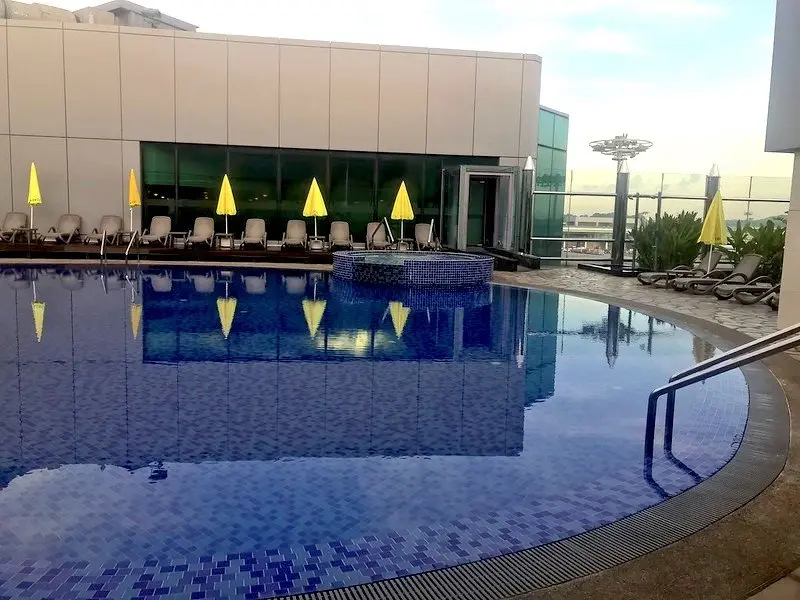 Image credit: Bex Walton via Flickr CC BY- 2.0
Swim in the Singapore Airport Pool
Take a dip in the rooftop swimming pool at Changi airport Singapore.
Located in Terminal 1 at the Aerotel Airport transit hotel, the rooftop pool at Changi has a spa jacuzzi and a poolside bar.
You can also have a shower there too.
Anyone can visit the Changi airport swimming pool – it's currently S$17 per person to visit.
Changi swimming pool hours are 6am to midnight daily.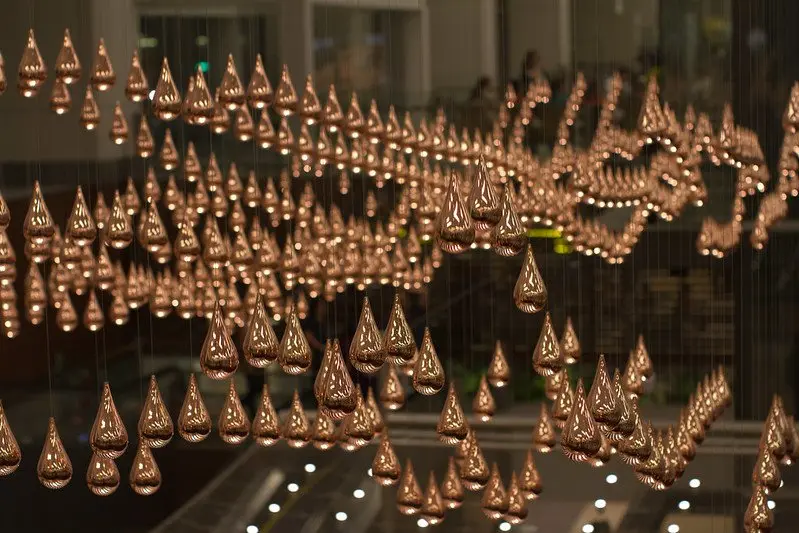 Image credit: Brian Jeffery Beggerly via Flickr CC BY- 2.0
Kinetic Rain at Changi Airport
1000 copper 'raindrops' come together to form a gorgeous twinkly formation.
This Terminal 1 Changi airport sculpture is mesmerising.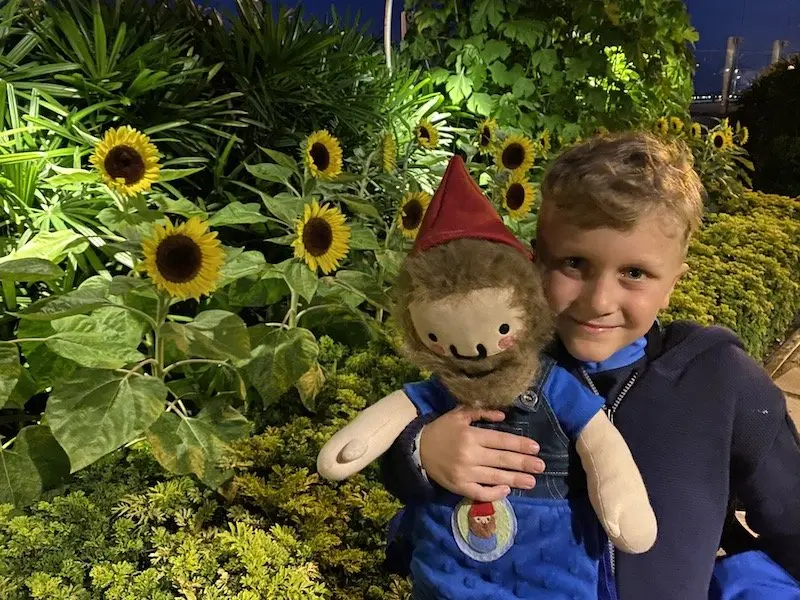 WHAT TO DO IN CHANGI AIRPORT TERMINAL 2
Sunflower Garden Changi
The Sunflower garden at Singapore airport is an instagrammer's delight.
Who can resist a happy sunflower?
The Changi sunflower garden is in Terminal 2 on Level 3.
It's open all day and night.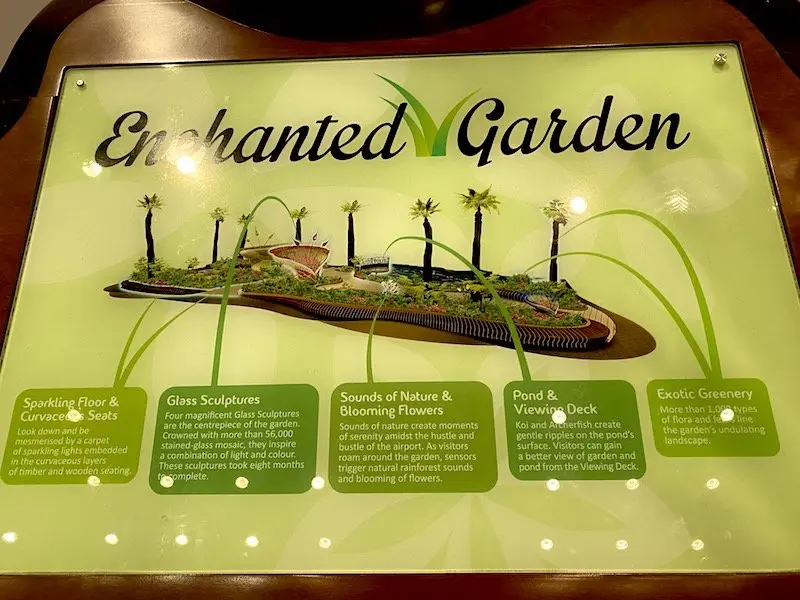 Enchanted Garden at Singapore Airport
If you love fairytales, and magical landscapes, take a wander through the Enchanted Garden in Terminal 2.
Be sure to look or listen out for these things as you wander along the curved timber pathway:
rainforest sounds
koi fish
the four stained glass mosaic sculptures made of glass
sparkling lights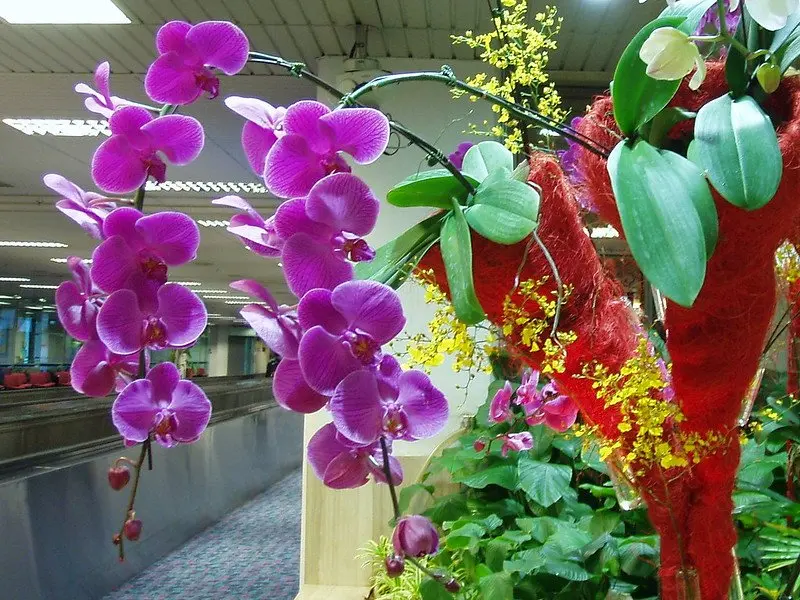 Image credit: Amanda Slater via Flickr CC BY-SA 2.0
The Orchid Garden at Changi Airport
Did you know there's over 700 different orchid flowers in the Orchid garden at Singapore airport?
It's not easy to grow an orchid, and the fact these orchids thrive in the highly populated environment of an airport is testament to the care and love shown by the gardeners here.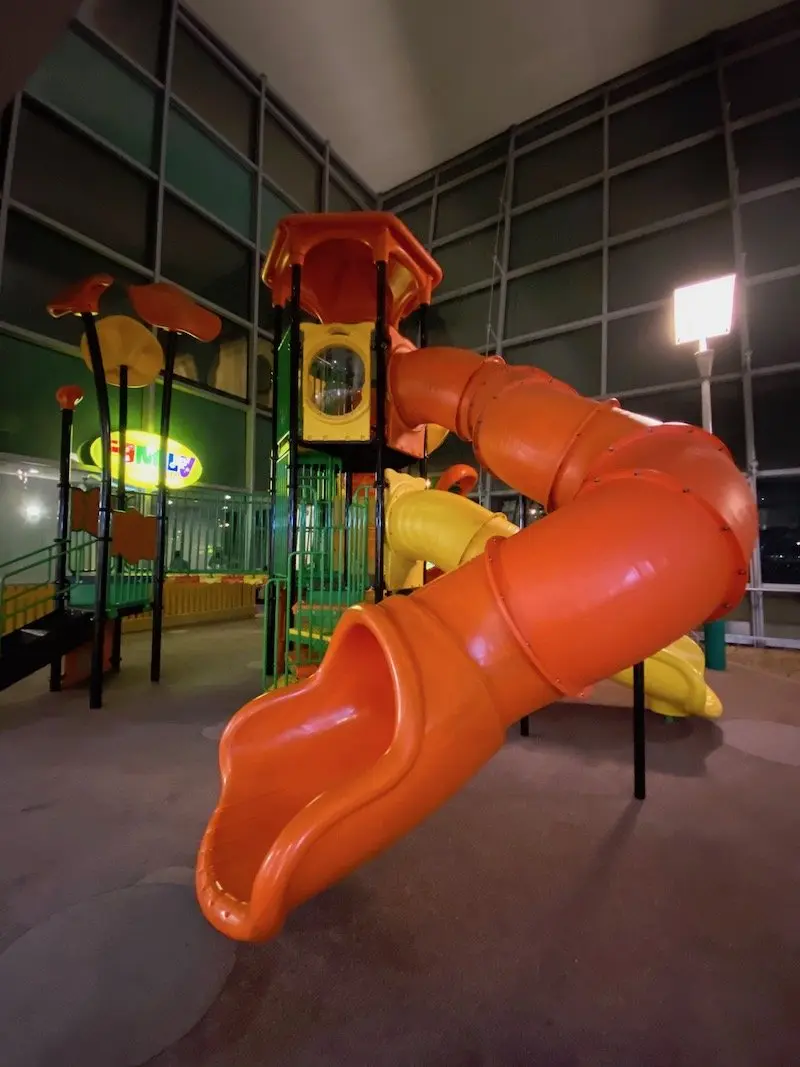 The Family Zone @ Changi Airport Kids Playground
Need a playground at Changi airport?
Head to Terminal 2 on Level 2, next to Boost Juice.
There's a Changi airport playground for little kids here, and cartoons too.
It's the perfect place to run off some energy before a flight.
(NB: There's baby change tables and nursing rooms here too.)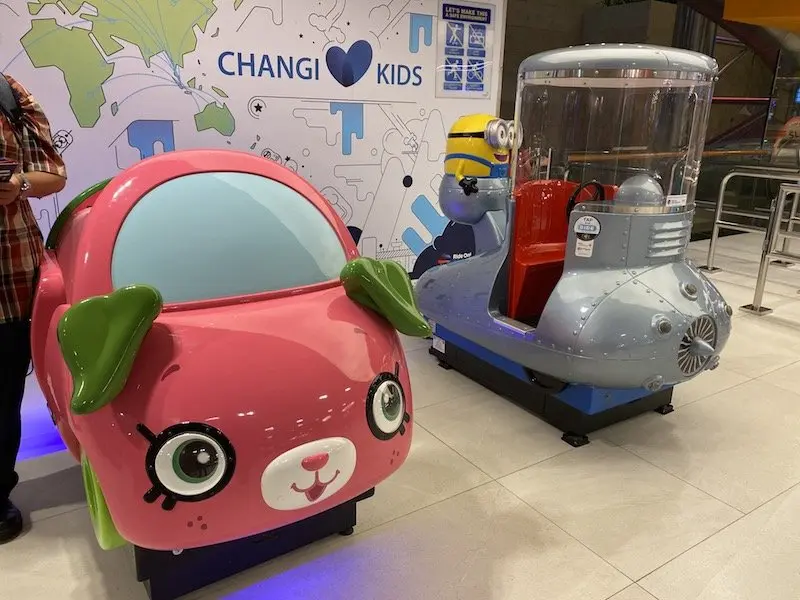 More Playgrounds at Changi Airport in Singapore
There's another playground at Changi airport on Level 3 in Terminal 1, next to the Viewing Mall.
Plus, two more Changi playgrounds in Terminal 3:
one at Basement 2, near Kidztime! (next to the bottom of the T3 slide, pictured)
one on Level 2, next to Louis Vuitton Duplex store.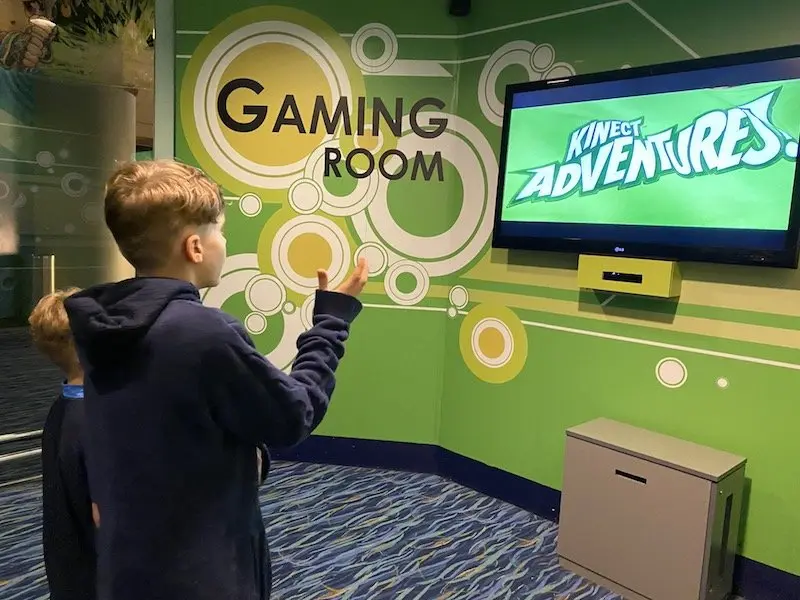 Free Gaming room at Changi airport
There's also a FREE gaming room, right next to the Changi cinema (see below for details)
There's a few retro arcade game stations, and a human sized version of table soccer.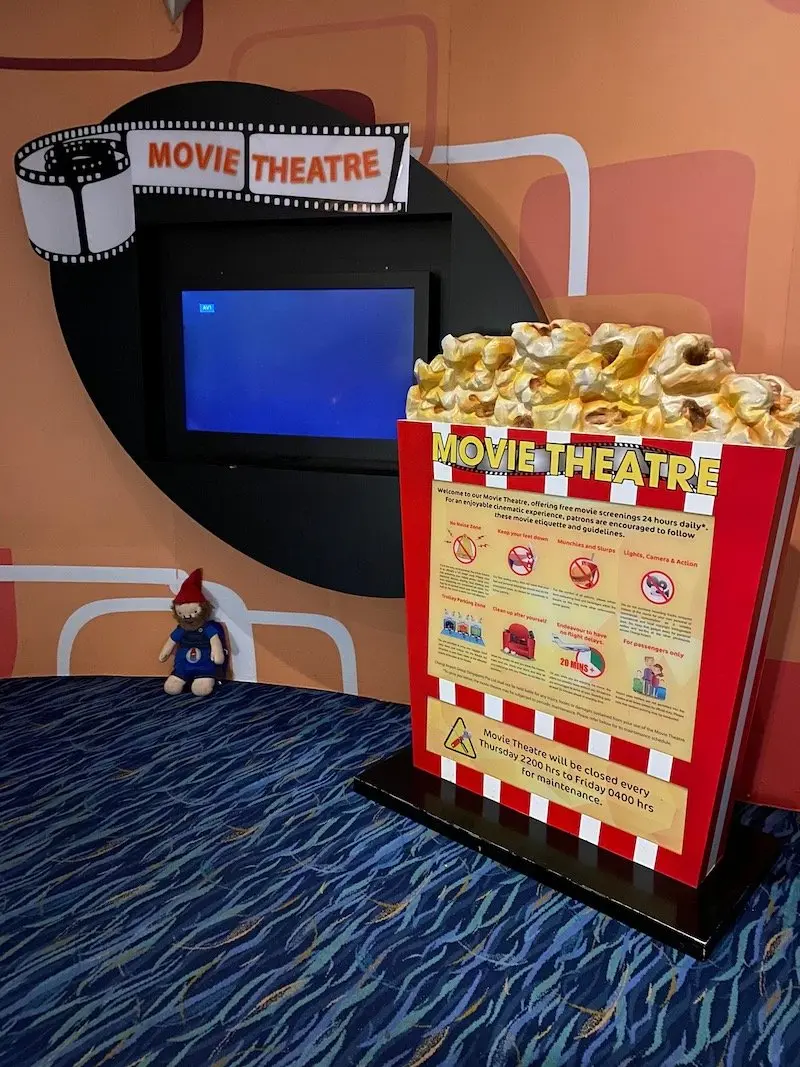 Watch a FREE Movie in the Cinema at Changi airport
Watch a recent blockbuster, or new release film at the Changi airport movie cinema free of charge.
The Changi airport cinema in Terminal 2 can be found at Level 3, near the Sunflower Garden.
(There's also a Changi movie cinema in Terminal 3, near the Ambassador Transit Lounge).
Both cinemas at Changi are open 24 hours, with films shown one after the other, all day and night long.
Changi Airport Clock art installation
This is a fascinating and spellbinding piece of art, that is worth a look.
Find a seat to watch.
You won't be able to walk away.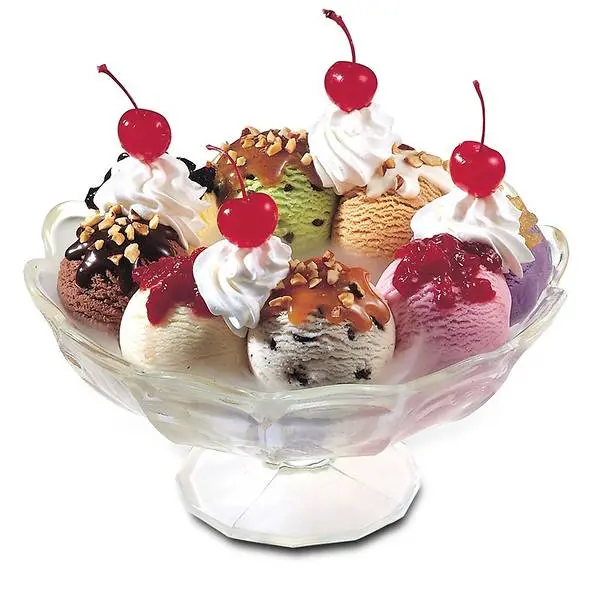 Eat Swensen Ice Cream at Changi Airport
Head to Swensen's restaurant at Terminal 2 to try one of their famous signature ice cream sundaes:
the Giant Earthquake sundae – 8 scoops of icecream, & 8 types of topping! (pictured above),
Banana Split or
Coit Tower.
Swensen's is a household name in Singapore, and you will understand why if you try one of these sweet creations.
It's a top restaurant in Changi for kids too with lots to choose from including:
burgers
salads
fish and chips, and more.
Try the Chicken Baked Rice.
It's one of their most popular dishes.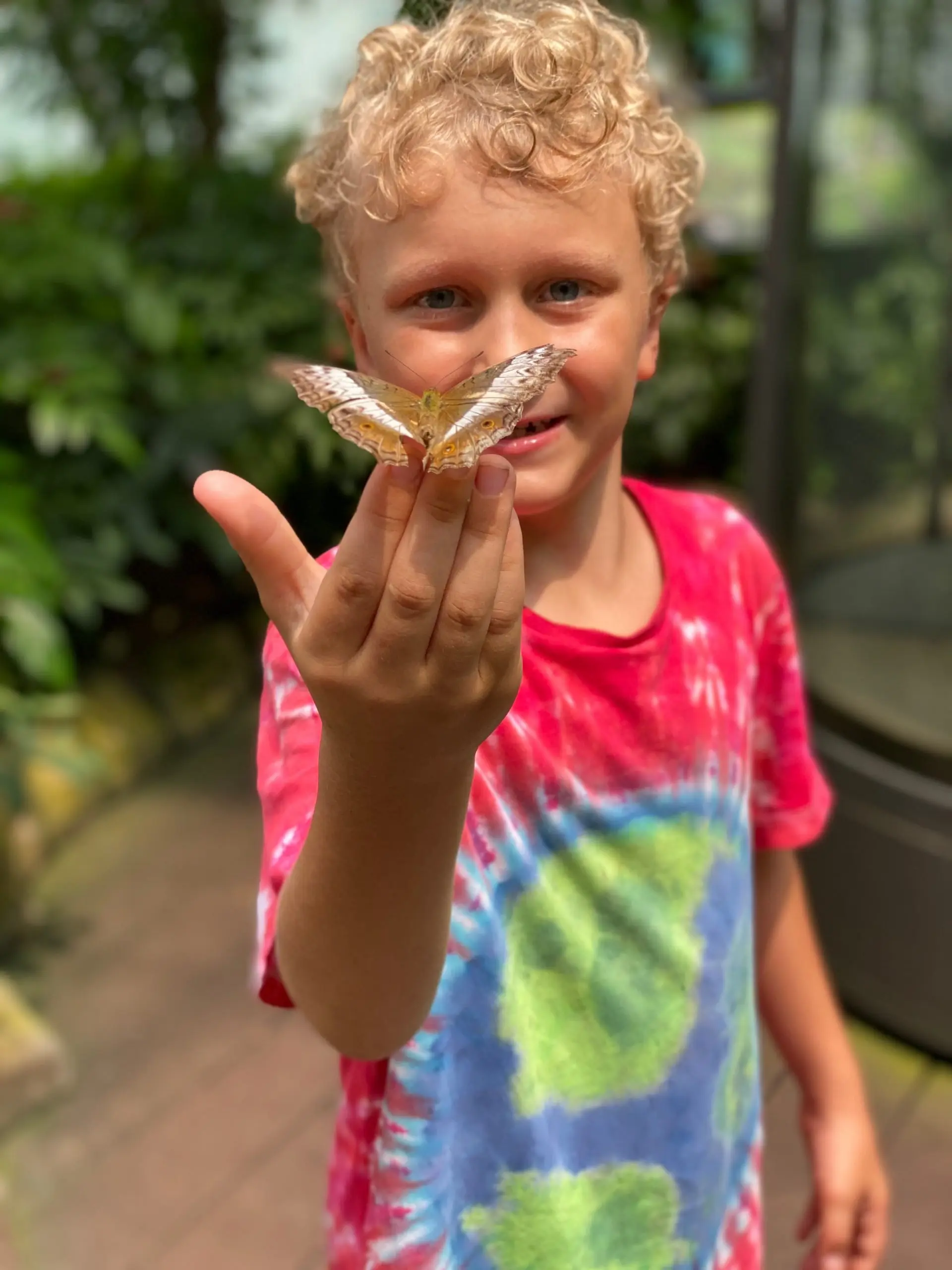 WHAT TO DO IN CHANGI AIRPORT TERMINAL 3
Butterfly Garden Changi Airport
Yes, you can spend time with over 1000 tropical butterflies at the Butterfly Garden in Changi airport Terminal 3. (Levels 2 & 3)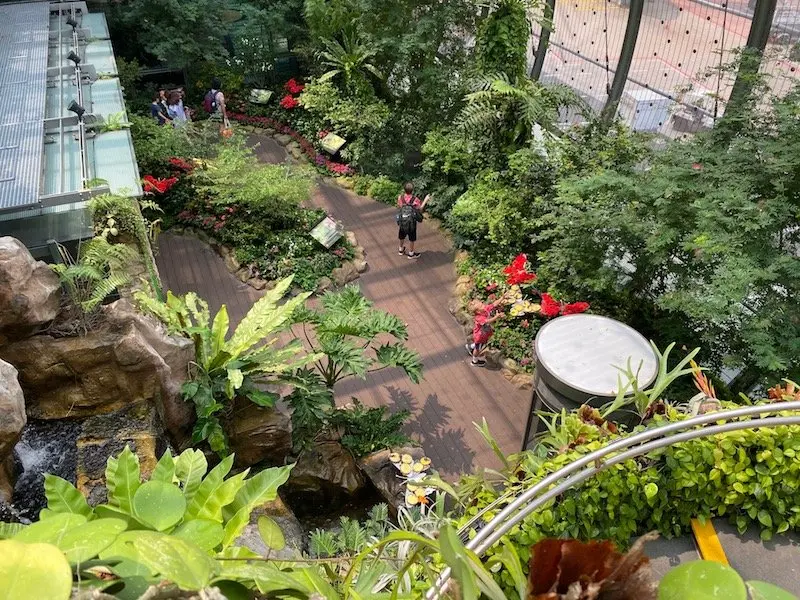 Grotto at the Butterfly garden Terminal 3
Spot the 6 metre tall grotto waterfall as you wander through these gardens filled with abundant greenery and pretty plants.
Singapore Airport Slide at Terminal 3
The best of the Singapore airport attractions is THIS SLIDE at T3.
It's the world's tallest slide in an airport.
12 metres tall (or four storeys high) in fact.
Ride from Level 1 all the way down to the Basement 2.
The Slide@T3 is open to everyone who is at least 130cm tall and no taller than 2 metres.
To ride, you need to spend S$10 at Changi Airport in one single, same-day receipt. (Conditions apply)
Take your receipt to Level 1 Information Counter in Terminal 3 and swap it for a ticket.
Open 12pm until 10.30pm daily.
Hot tip: There's a kids' play area opposite, and art activities for kids on offer near the food hall.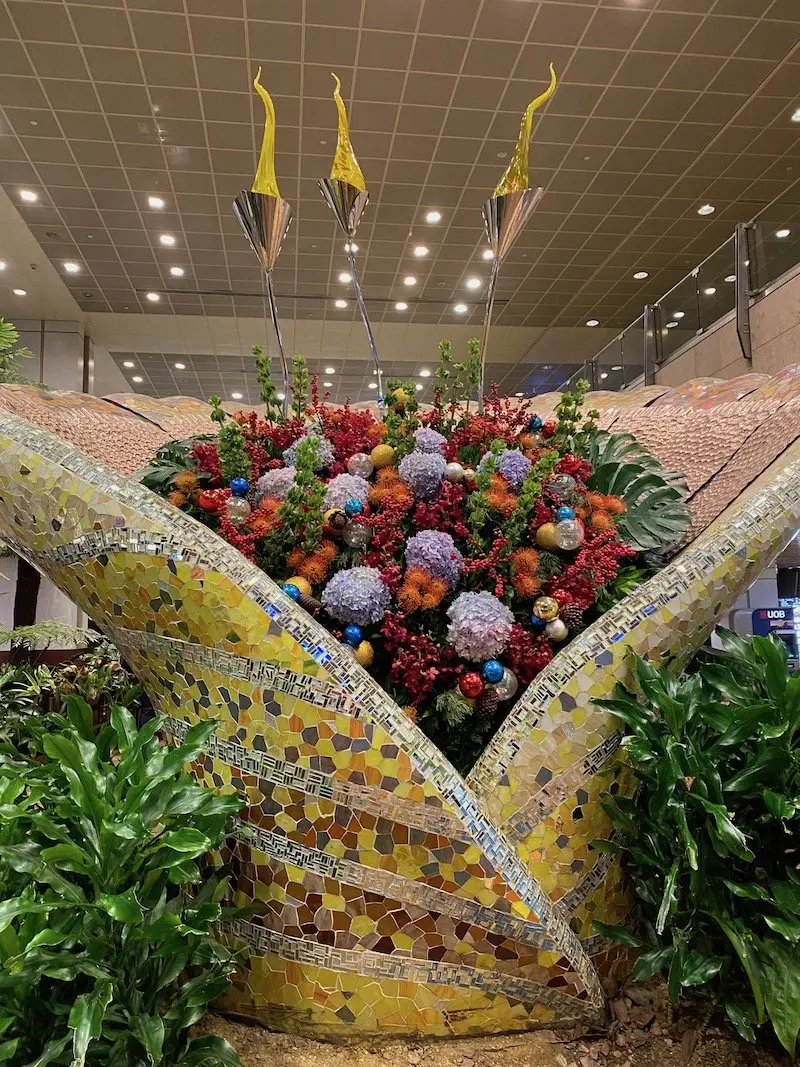 Spy the Sculptures in Terminal 3
There's so much ART in this terminal, a feast for the eyes in fact.
See if you can find:
Birds of Flight
Coming Home family
The 12 Dandelion Glass sculptures in the Crystal Garden
Giant seed pods
The propeller Daisy
The Vessels
The monster-sized Saga Seed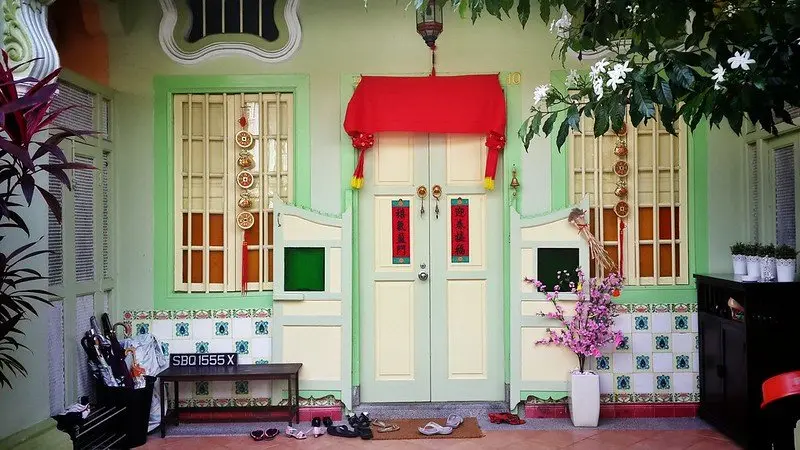 Image credit: Slava Myronov via Flickr CC BY- 2.0
WHAT TO DO IN CHANGI AIRPORT TERMINAL 4
Peranakan Love Story short film
Wander over to the shopping area inspired by the Peranakan shophouses in Singapore, and watch a 6-minute long short film taking a step back in time to 1930's Singapore.
It's projected onto the central shophouse facade, and plays at regular intervals all day and night long.
T4 Entertainment Deck Corner
Tech savvy kids will LOVE this spot.
Try XBox Kinect activities where your body movements and voice are the keys to getting things going.
You can play:
tennis
bowling
soccer, or
try wake racing or climbing.
There's also Virtual Pinball and Retro Arcade machines, including car racing arcade games.
Open 24 hours.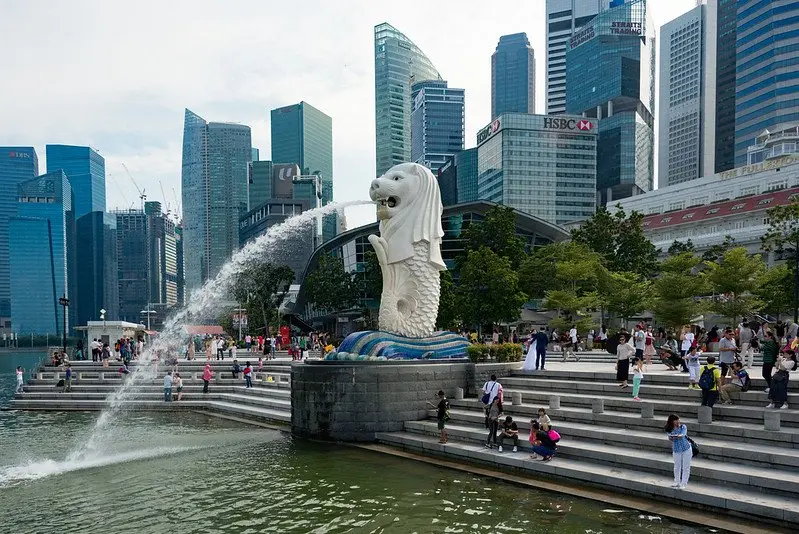 Image credit: Xiquinhosilva via Flickr CC BY- 2.0
FREE SINGAPORE TOUR
If you are looking for free things to do at Changi airport on a layover, why not join a Singapore Airport tour?
On a Singapore layover city tour, you head into town to see Singapore attractions near Changi airport.
There are two tours on offer:
a Heritage Tour, and
a City Sights tour.
Both guided tours run for 2.5 hours.
Departures leave 7 times a day.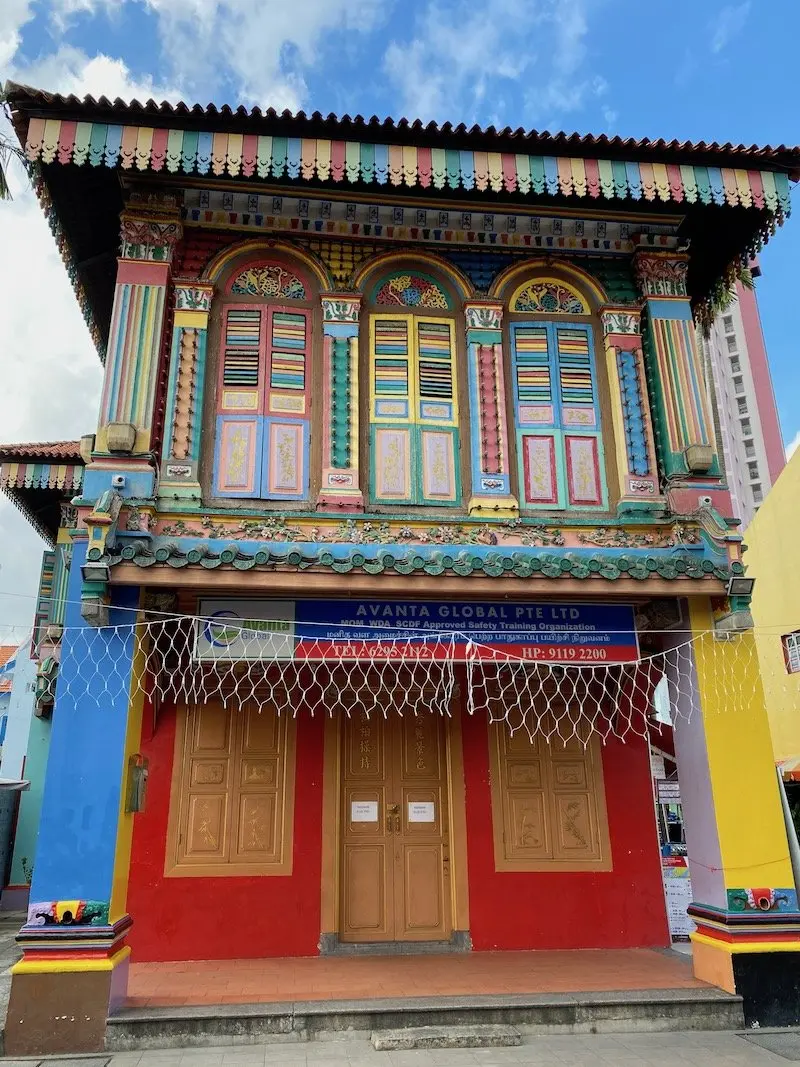 Singapore Heritage Tour
On the Heritage tour, you'll visit the colonial and cultural districts of:
Chinatown
Little India
Kampong Glam and
the iconic Merlion Park and the famous Singapore icon, the mythical Merlion statue that has the head of a lion and body of a fish.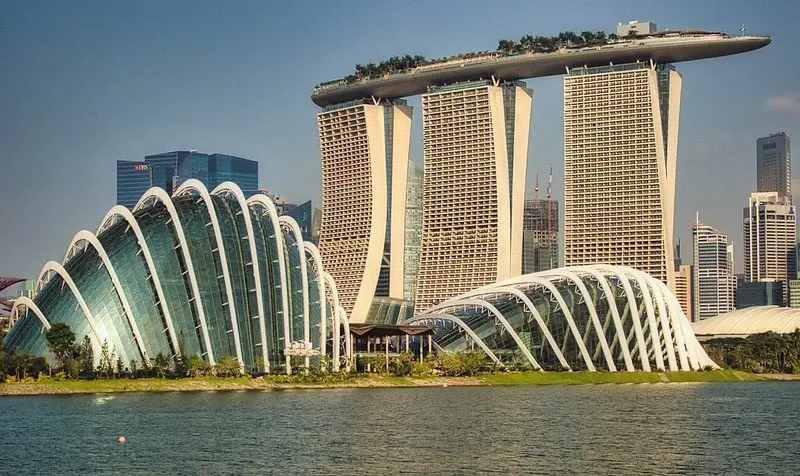 Image credit: Brian Evans via Flickr CC BY- ND 2.0
City Sights of Singapore Tour
On the City Sights of Singapore tour, you'll visit:
Singapore Flyer
Marina Bay Sands
The Esplanade – Theatres on the Bay
There's also a Jewel Changi airport tour, where you'll spend a few hours walking through the magnificent green space, hearing the backstory as you go.
NB: You can only join a free tour of Singapore if you are waiting for a connecting flight, and have a minimum of at least 5.5 hours to 24 hours to spare.
Unfortunately, you cannot join if you have booked a night in a hotel in Singapore, as you must enter Singapore to do so.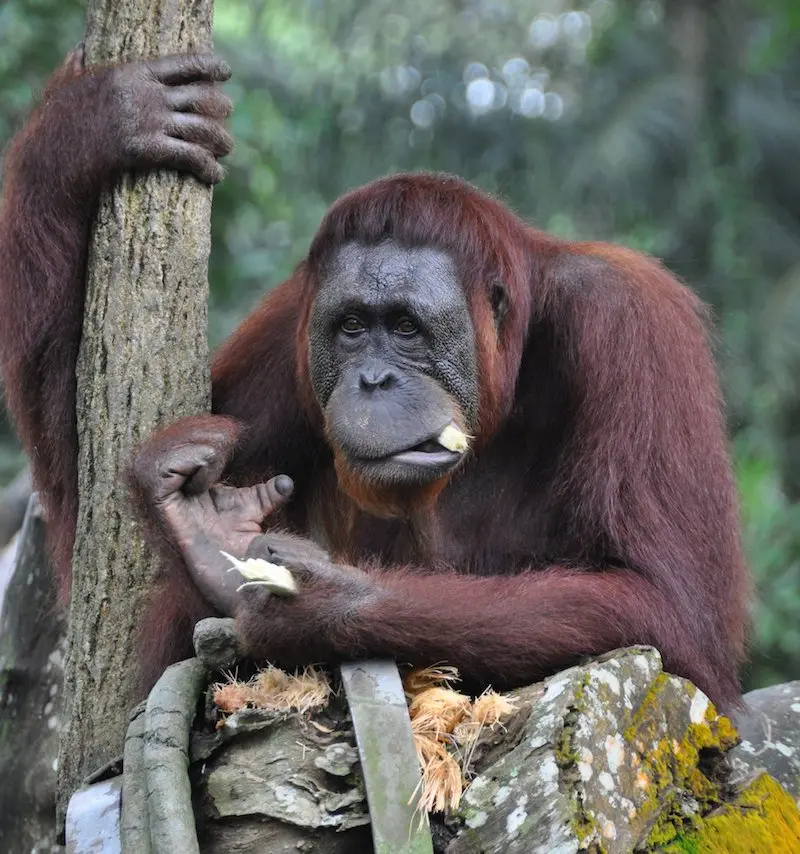 Image credit: Michael Gwyther-Jones via Flickr CC BY- 2.0
CHANGI AIRPORT SHOPPING
Shopping Changi airport is fun, with TONNES of iconic brands from around the world now operating stores in Changi for visitors to browse.
Shopping in Changi airport is not cheap though.
Bring your credit card.
Click here for the Changi Airport shops list
Popular things to buy at Changi airport
The best things to buy in Singapore airport are:
Tea from TWG Tea – the tins of tea are an elegant gift
A stuffed orangutang from the Singapore Zoo shop
Pick up a tin of Chicken Rice paste from the Raffles shop
Tiger balm from one of the Singapore airport gift shops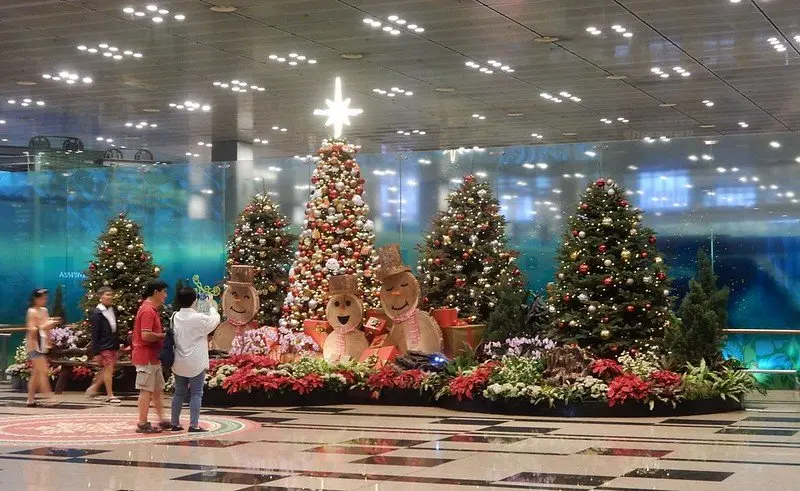 Image credit: Michael Coghlan via Flickr CC BY- SA 2.0
CHANGI AIRPORT EVENTS
There's always events happening at Changi airport.
The dedicated events space in Changi is called ST3PS.
This event atrium in Terminal 3 hosts movie marathons, live performances and football matches too.
Find out what's on during your Changi Christmas visit here.
Christmas at Changi airport
Changi airport LOVES Christmas.
Last year, they transformed Changi airport into Harry Potter world, complete with:
Diagon Alley
the Whomping Willow
Hogwarts School of Witchcraft and Wizardry, and
Newt Scamander's.
There was even a daily dump of SNOW!
Every year, you'll find fun activities such as:
bouncy castles
free craft activities for kids
Christmas shows
a Christmas market, and
appearances by Mickey and Minnie (or a similar character.)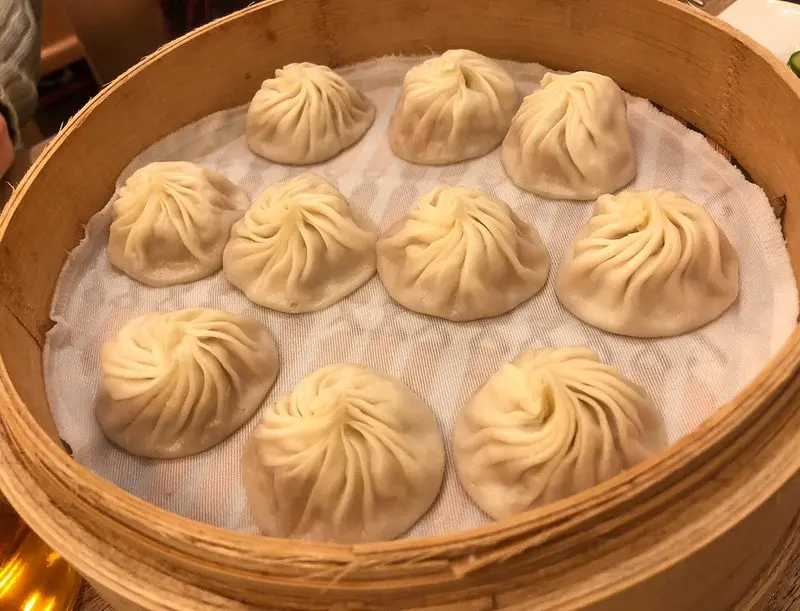 Image credit: Gregg Tavares via Flickr CC BY- 2.0
FACILITIES AT SG CHANGI AIRPORT
Here's a guide on what to do in Changi airport when you are hungry, tired, thirsty or in need of a shower.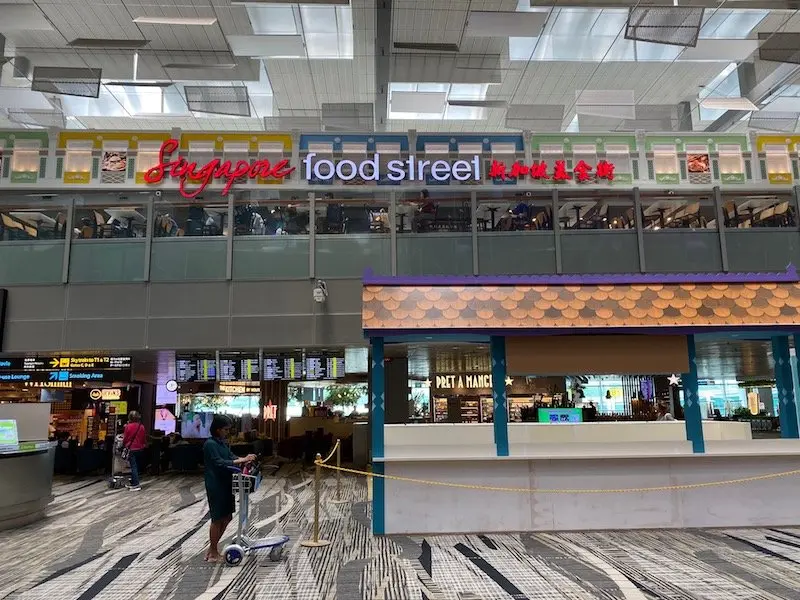 Where to eat at Changi Airport with Kids
Wondering what to eat in Changi airport?
Din Tai Fung Changi airport is a fave.
Kids love their dumplings, and so do adults.
The best food at Changi airport for kids can be found at:
the International Food Hall – nine mini restaurants with cuisines from around the world, in transit lounge in Terminal 4.
Singapore Food street in the transit lounge at Terminal 3
Jack's Place – Jewel, Level 4
PappaMia – Public, Terminal 1
Ya Kun Family Cafe – Public, Terminal 3
Ya Kun Kaya toast – Public, Terminal 2 OR Transit Terminal 1 & 2
Project Pizza – Jewel, B2
Looking for snacks at Changi airport?
Try:
Beard Papa's, Public Terminal 3
Dunkin Donuts, Jewel B2
Tip Top Curry Puffs, Transit in Terminal 1 & 3
Fussy kids can eat at Subway, Burger King, or KFC if you get stuck.
Don't miss the Rainbow cakes (Kueh Lapis Sagu) or the coconut rice balls (Ondeh Ondeh) at Bengawan Solo .
Bengawan Solo is a very famous Singapore bakery and confectionary maker.
Pick up a gift box of treats for friends and family.
Find them in Jewel, and Terminal 2, 3 and 4.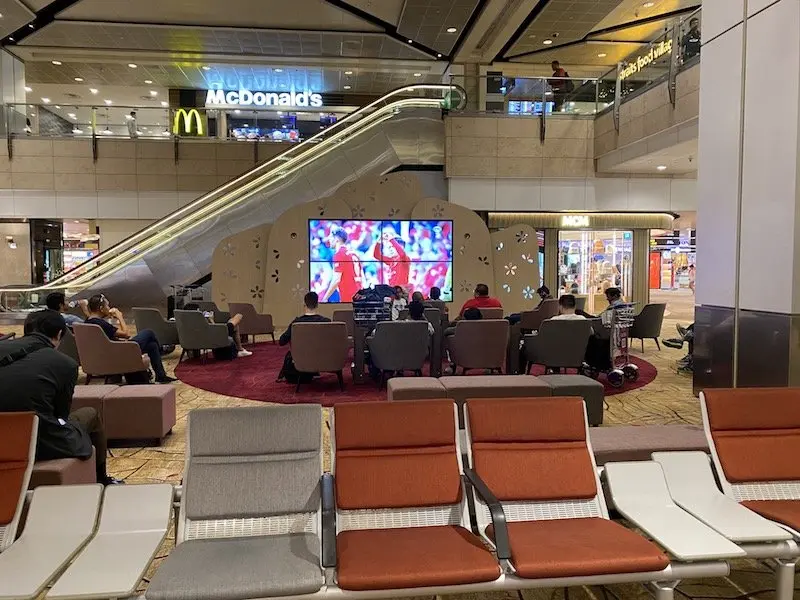 FREE Wifi in Changi Airport
Yay!
There's complimentary wifi at Changi airport.
Click here for instructions on how to access it.
There's charging points at:
the Arrival and Departure Halls
next to the seating areas,
in every gate hold room
in every business lounge,
and at more locations across all 4 Terminals.
Can't find a plug? Click here for help.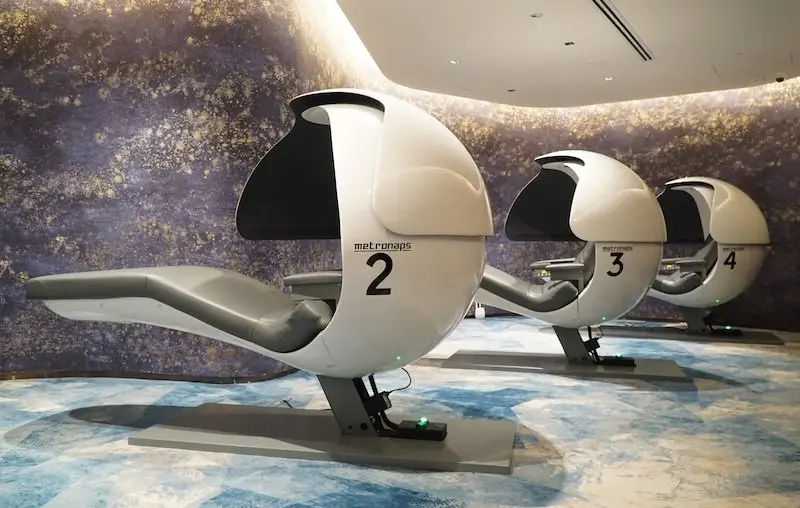 Image credit: Singapore Airport
Sleeping at Changi airport
Changi Lounge at Jewel
Located in Jewel Changi airport on level 1, this 24 hour airport lounge at Singapore airport provides, for a fee, access to:
free flow of refreshments
wifi internet connectivity
business facilities
shower room
napping amenities in a 'sleep pod' (pictured above)
The nap pod is $20 per hour for those who have paid to access the lounge. Or, $34 for the first hour for walk ins, with additional hours at $20 each.
Lounge access (3 hours) is S$38 for adults, and S$27 for kids.
If you want a shower, lounge access is S$50 for adults, or S$39 for kids.
Children aged 2 and below are free.
The Snooze Lounge at Changi airport
This is your free option if you need a nap at Changi airport. Head to the Snooze Lounge to take a nap in one of their purpose built layback chair lounges. They have plugs to recharge your devices while you nap too.
Snooze lounges at Singapore airport can be found:
in Terminal 1 on Level 3
in Terminal 2 at the Sanctuary Lounge (opposite E5) or the Oasis Lounge (opposite E11)
in Terminal 3 near to Singapore Food street, or
in Terminal 4 on Level 2M
The Haven Lounge
The Haven Changi airport lounge is a pay-per-use lounge where you can take a shower, or hang out before you check into your hotel.
They have nap rooms too.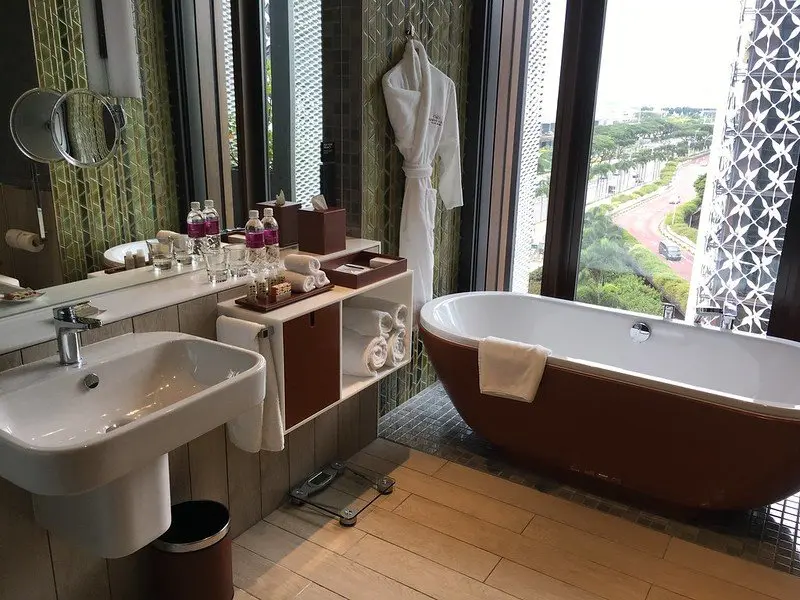 Image credit: LWYang via Flickr CC BY- 2.0
Day Use Rooms
You can also hire Day Use rooms at Crowne Plaza Hotel Changi Airport hotel if you want to have a sleep during your layover.
The room charges for day use are lower than the usual full-day rates.
Is there a Free Changi Airport shower?
There's not a free shower at Changi airport but you can pay to take a shower in one of the lounges in Terminal 1, 2 or 3.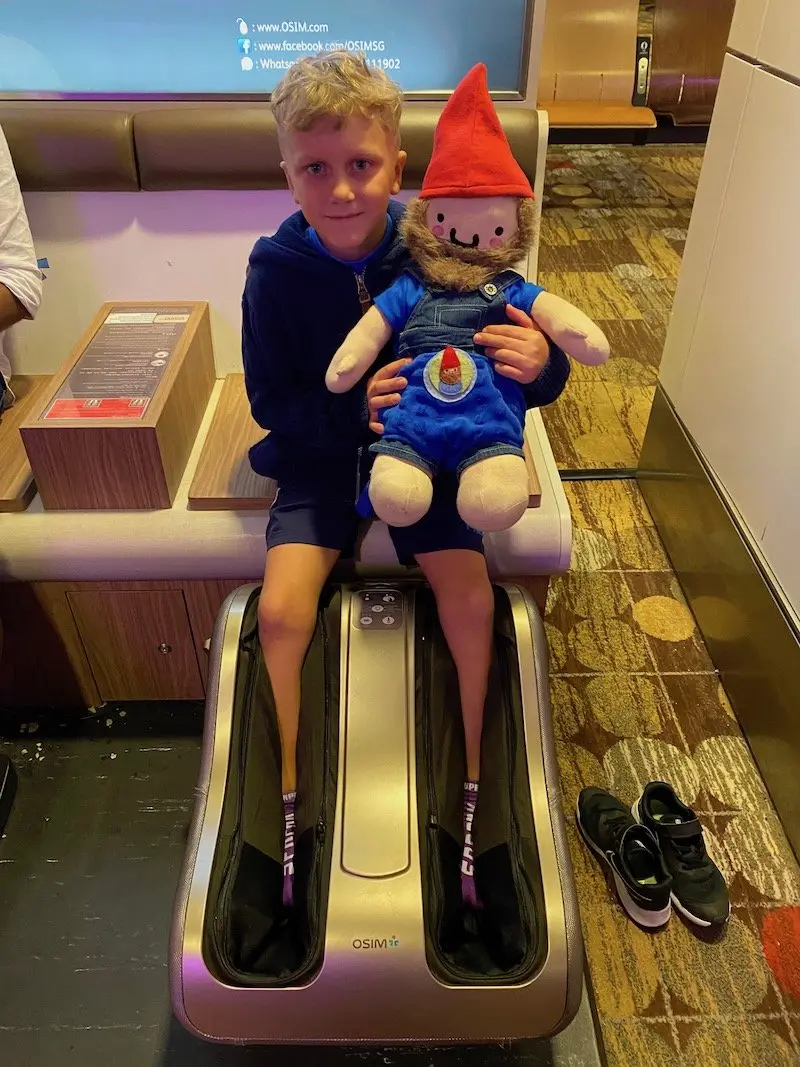 FREE Massage chairs at Changi airport!
You may have heard that there's free massage chairs at Changi.
Our hot tip when you find a bank of chairs is to walk on a few hundred metres to find one that is not in use.
They are popular but most people don't walk a few extra steps to find the ones on the fringes of the terminals.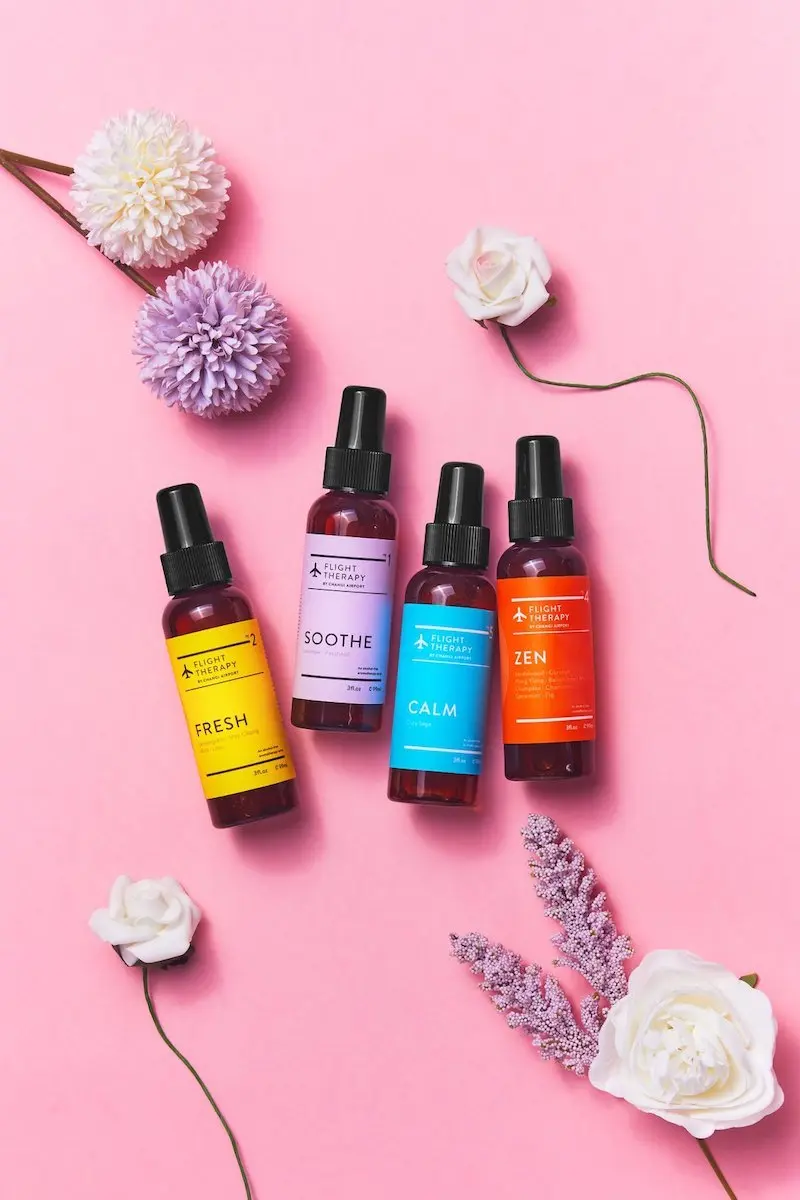 Spa at Changi Airport
Yes, there are spas at Changi airport too if you would like a full body massage, a pedicure, foot reflexology during your layover.
Visit:
Airport Wellness Lounge in Terminal 1 (Level 2),
TranSpa or Spa Express in Terminal 2, or
Be Relaxed in Terminal 3.
Or you can pick up some of their specially curated 'Flight Therapy Mist Spray' in one of five blends, as pictured above.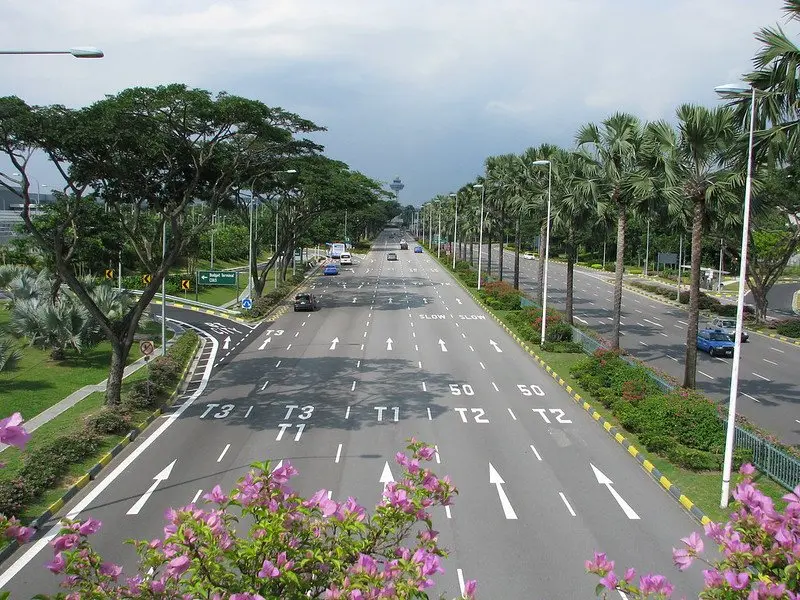 Image credit: JiahuiH via Flickr CC BY-SA 2.0
THE INSIDE SCOOP: Frequently Asked Questions
Correct at time of publication on Roam the Gnome. Please check with venue for updates. We apologise in advance if there have been any changes we are unaware of. All prices in US dollars, unless otherwise stated
Where is the Singapore Airlines Terminal Changi?
Singapore Airlines flights depart from either Terminal 2 or 3, depending on your destination.
Check your e-ticket and boarding pass for details, or the flight board.
How do I find Changi Airport luggage storage?
There's plenty of luggage storage at Changi airport in all four Singapore terminals, and at Jewel.
Click here for locations.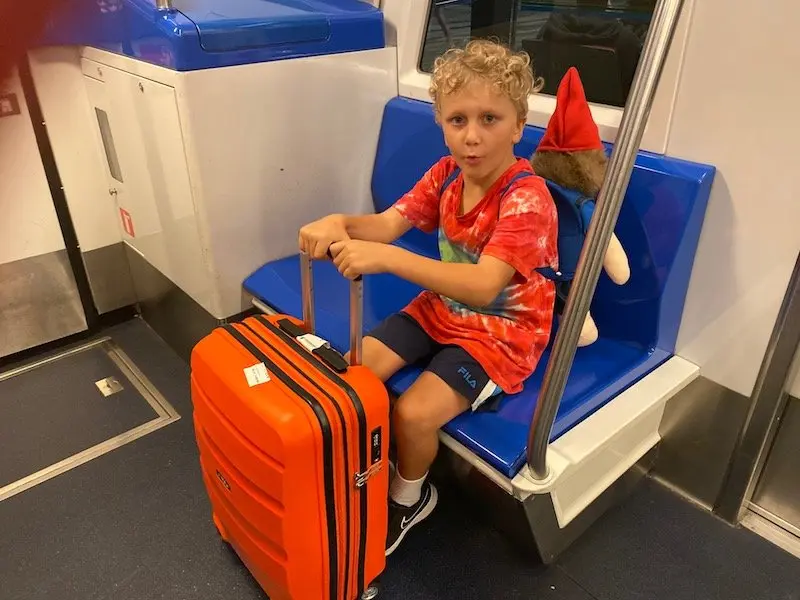 Skytrain Changi airport
The Changi skytrain is a free people mover that takes you around Singapore airport terminals 1, 2 and 3 in both the transit and public areas.
It departs every 4 minutes.
Singapore Airport Shuttle
Heading back to Singapore airport after your Singapore holiday
Book a ride on a Singapore Airport shuttle. It's a handy way to get from Singapore city to Changi airport and vice versa, at a good price.
Prices starting from $12.15 AUD or $8.30 USD (booking online in your local currency.)
Book Now: Changi Airport Shuttle – 1 way transfer (via Get Your Guide)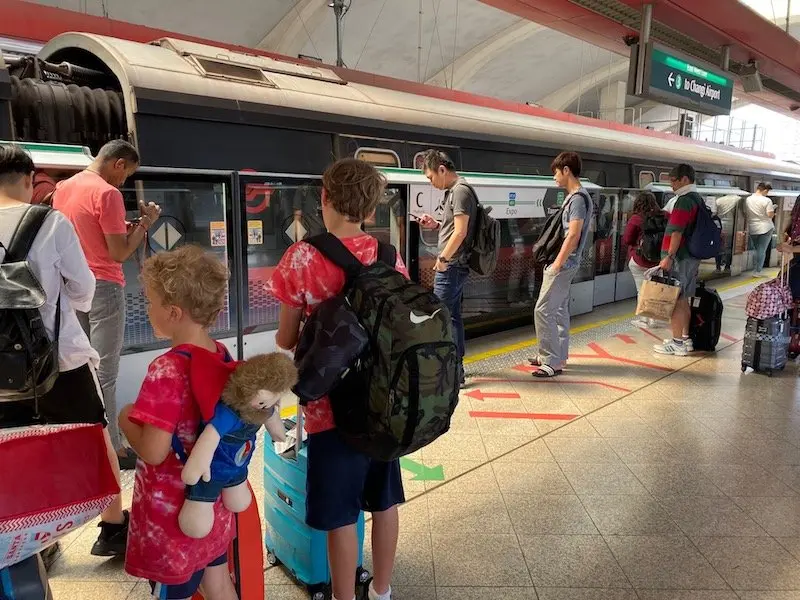 How to get to Changi Airport
Here's a guide on how to get to Singapore airport, and how to get to Singapore from Changi airport too.
By Public Bus:
Terminals 1, 2 and 3: Bus stops are located at the basement bus bays. You can take buses 24, 27, 34, 36, 53, 110 and 858 from there.
Terminal 4: At the bus stop next to Car Park 4B, you can take buses 24, 34, 36 and 110. At the bus stop near the SATS Inflight Catering Centre 1, you can take buses 27, 53 and 858.
You need the exact money for the bus.
By Train:
Click here for the Singapore Train Journey planner and add your departure point and your destination to find the best train route to take.
Directions to Changi airport
Looking for directions to Changi airport from Singapore City or Sentosa island?
Click here to add your departure point.
Singapore Changi Airport Map
Find a map of the Singapore airport terminals here.
Toadstool Rating: Fun Things to do in Changi airport
Singapore airport is the BEST airport in the world for kids.
We haven't found any airport to compare!

Looking for More Things to do in Singapore With Kids?
Click the blue links below for more Singapore attractions.