INSIDE: Take a sneak peek at our favourite of the Paris Playgrounds in the city – Terrain D'aventures.
On our last trip to Paris, we stumbled upon the coolest adventure playground we've seen in Paris.
We'd taken one of the backroads to make it back to our hotel due to some noisy disruptive roadworks that had blocked our way, and this playground appeared out of nowhere!
We originally spotted three green "alien spaceship" type pods high up in the air and went in to investigate.
Upon closer inspection, these three pods were part of a new and innovative adventure playground in Paris called the 'Terrain d'aventures'.
Ned raced to the gate, and waited to be let in by the trusty gatekeeper staff.
Take a good look at the playground below!
Disclosure: This article contains affiliate links. If you make a purchase after clicking on one of these links, we may receive a small commission at NO extra cost to you.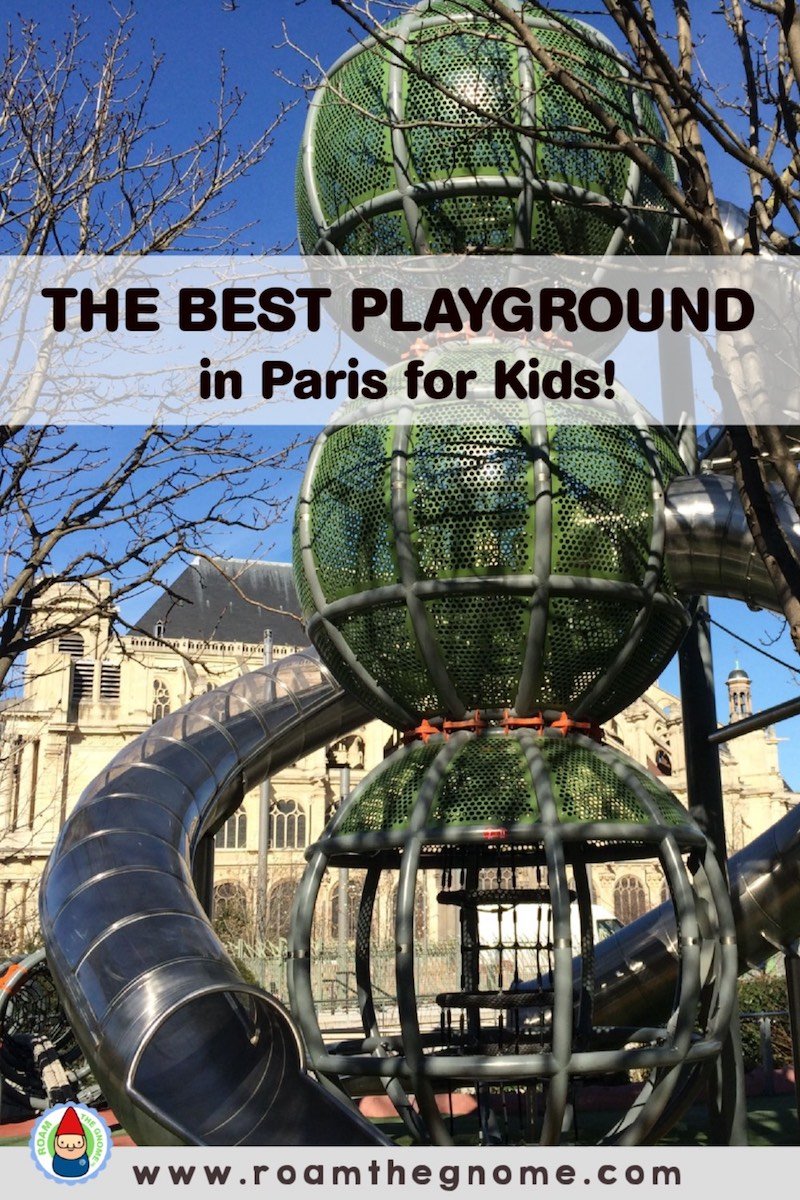 Things to do in Paris with Kids?
"The Land of Adventures" Playground at Jardin Nelson Mandela
Paris playgrounds can be really tricky to find, and most of the ones we found on our family vacation to Paris were hidden surprises – not on any map, blog, or tourist information brochure we picked up.
It seems only those in the know can find them.
Luckily, you have us on the job!
We make it our mission to find and share all the best things to do in Paris with kids, including sharing the exact locations of the Paris playgrounds we find.
(PS: Let us know of your best things to do in Paris with kids, and we'll add them to the growing list).
---
READ MORE: The Jardin du Luxembourg Playground is another awesome Paris playground for kids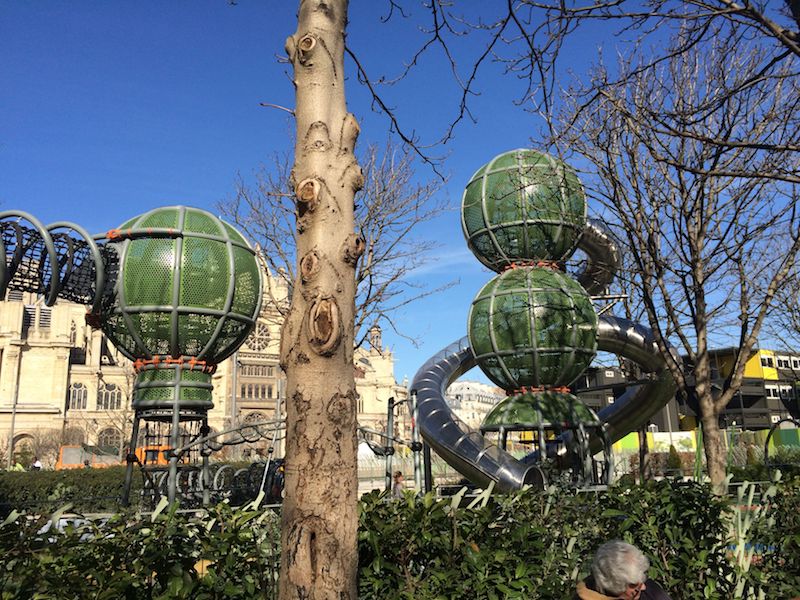 Unique Paris Playgrounds in Paris?
This 2500 m² unique and educational playground space in the heart of Paris that invites children to imagine, play, socialise and develop their physical capacities!
It's open 6 days a week.
Take a sneak peek at the Jardin Nelson Mandela "Terrain D'aventures" Playground Paris
The team of the sculptor Henri Marquet imagined a universe "halfway between the Wizard of Oz and Mario Bros", with innovative games.
If you are looking for family activities in Paris, put this playground on your list.
The Terrain d'Aventures is open only to children, supervised by play leaders.
The playground is organised as a course with micro-landscapes with varied terrain and has plenty of green space.
This Paris playground combines never before seen recreational facilities, and monumental sculptures. The hope is that kids will use the playground as a platform for daydreaming and storytelling.
There are spaces for:
spontaneous games
resting places, and
shows.
The creators have also embedded electronics in an innovative way to plunge children into the games "for real".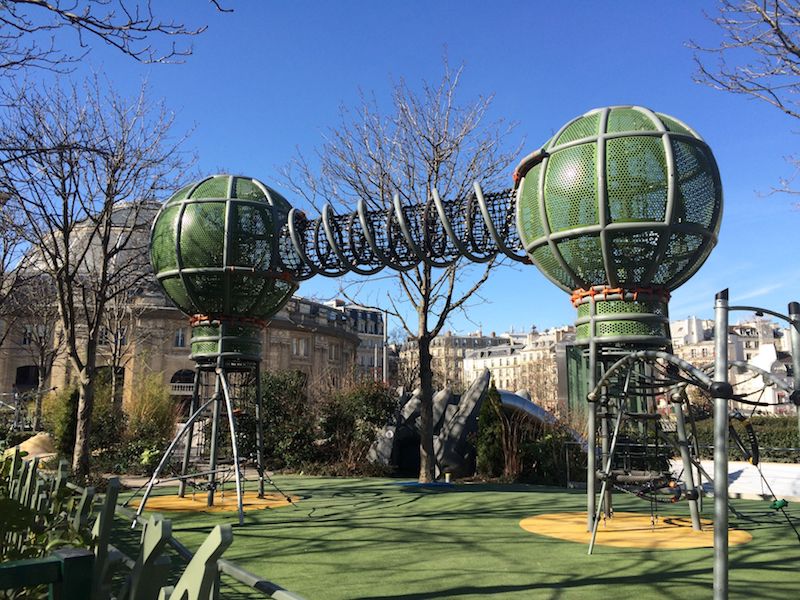 What's at this Playground in Paris for children?
The Big Kids "Terrain d'aventures Playground" at Jardin Nelson Mandela is filled with challenges.
Kids can:
balance their way through tunnels along thick rope
clamber their way up and through the pods
scramble up and down different levels
traipse through a rainbow corridor
balance on gym equipment
slide down gigantic slides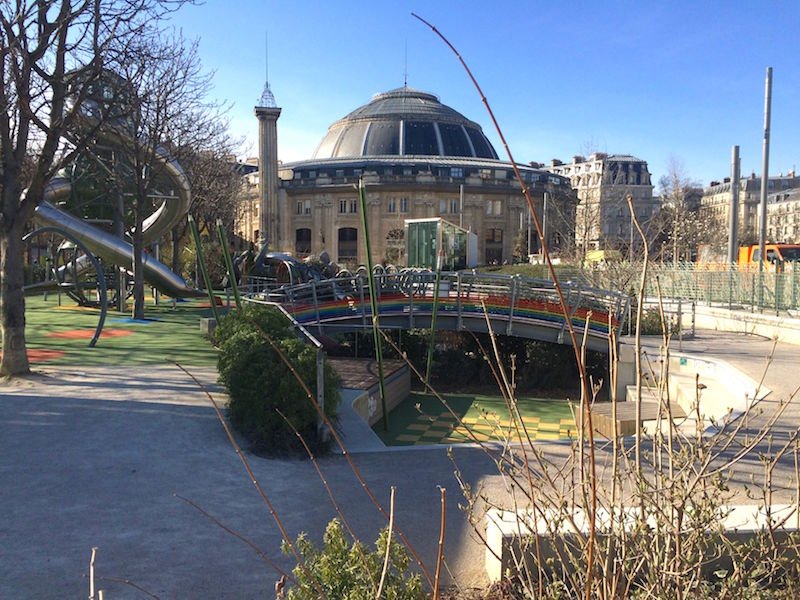 New Equipment at the Terrain d'aventures Paris Playground
There's a new section too, with:
big boulder walls
a log forest with ladders to climb
places to play hide and seek
palings between wooden totem poles to balance on
rope climbing bridges
mosaic-tiled sculpture walls
playful balloon installations too.
There's also a splash park so bring your swimmers, towels and a change of clothes.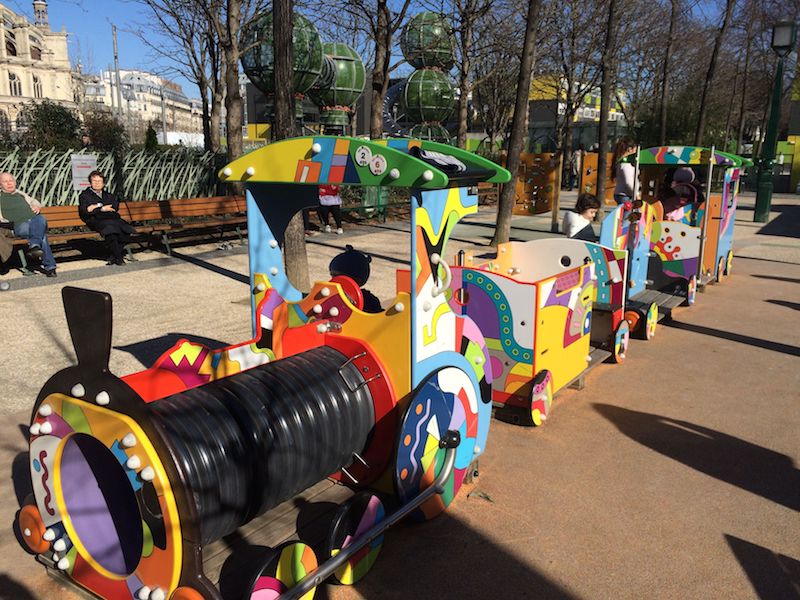 Things to do in Paris with Toddlers?
Paris Playgrounds for Toddlers
Cruelly, kids under 7 are not allowed in to the big playground area.
Neither were parents.
That's a bummer, as I REALLY wanted to join in too.
My inner child was crushed!
But Jack and I kept an eye on Ned's adventuring while playing on the Paris playgrounds for toddlers, located on the other side of the fence next door.
This toddler playground in Paris has:
a colourful train to drive
a swing bridge
multiple forts to climb, and
a range of silver slides.
Not quite the same, but a lovely spot to interact with local families in any case.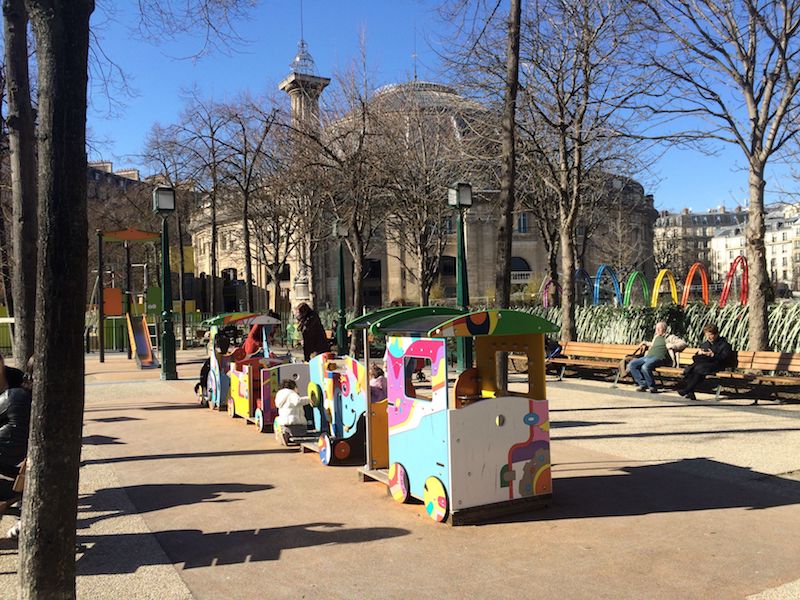 Kids in Paris will LOVE it here!
Do make a beeline for this dual playground in amongst your wanderings on the Right Bank.
This Paris playground is only about a 5-10 minute walk from the Louvre, and is surrounded by magnificent Parisian architecture.
So while the kids play, you can dream of Parisian lifestyles and what it would be like to live in one of these grand apartments!
It's the perfect place to visit after taking a Louvre Museum Highlights for Families tour with skip-the-line priority entrance.
A run at a playground nearby is JUST what they need after time in the world's most popular museum and dealing with the crowds of people all vying to get to the front of the queue for a picture of the tiny Mona Lisa painting!
Pick up a baguette and cheese on your way, and enjoy a picnic lunch in the sun with locals too!
THE INSIDE SCOOP: Jardin Nelson Mandela Playground Paris
Correct at time of publication on Roam the Gnome. Please check with venue for updates. We apologise in advance if there have been any changes we are unaware of. All prices in EURO, unless otherwise stated
Address: The Terrain d'aventures can be found at 32 rue Berger 75001 Paris. (Google pin: Jardin Nelson Mandela, 75001 Paris, France)
The entrance is at the foot of the Bourse du Commerce.
Entry fees at this Paris Playground: FREE entry!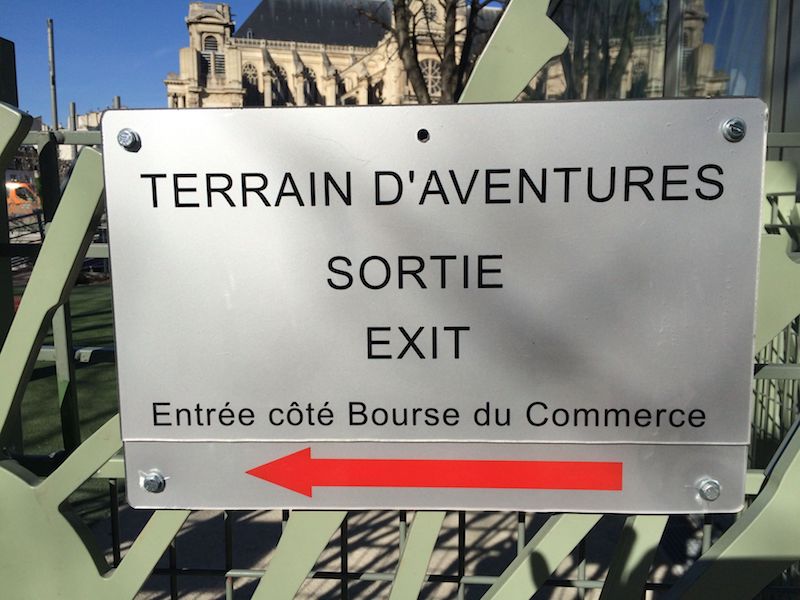 Opening Hours at Jardin Nelson Mandela (Terrain d'aventures) at Paris Gardens
Mondays: Closed.

School Terms:
Tuesday, Thursday, Friday: 1pm – 7pm (Sept, Oct); 1pm – 5pm ( Nov – Feb); 1pm – 6pm (March) and 1pm – 7pm (April – June)
Wednesdays: 10am – 7pm (Sept, Oct); 10am – 5pm (Nov – Feb); 10am – 6pm (March) and 10am – 7pm (April to June)
Saturday and Sunday: 10am – 1pm (Parents to supervise- no staff on site). 2pm – 7pm (Sept, Oct); 2pm – 5pm (Nov – Feb); 2pm – 6pm ( March) and 2pm – 7pm (April to June)
School Vacations:
Spring:
Tuesday, Thursday, Friday: 1pm – 7pm
Wednesdays: 10am – 7pm
Saturday and Sunday: 10am – 1pm (Parents to supervise- no staff on site), and, 2pm – 7pm.
Summer:
Tuesday, Thursday, Friday: 2pm – 8pm
Wednesdays: 10am – 1pm; 2pm – 8pm
Saturday and Sunday: 10am – 1pm (Parents to supervise- no staff on site), and, 2pm – 8pm.
Restrictions at this Paris Playground
In case of inclement weather, the adventure area can be closed without prior notice.
It is widely accessible to children with reduced mobility, but under certain conditions.
Please note, this Paris playground is only open to school groups via reservation from 10am to 1pm on Tuesday, Thursday and Friday. Visit after 1pm on these days.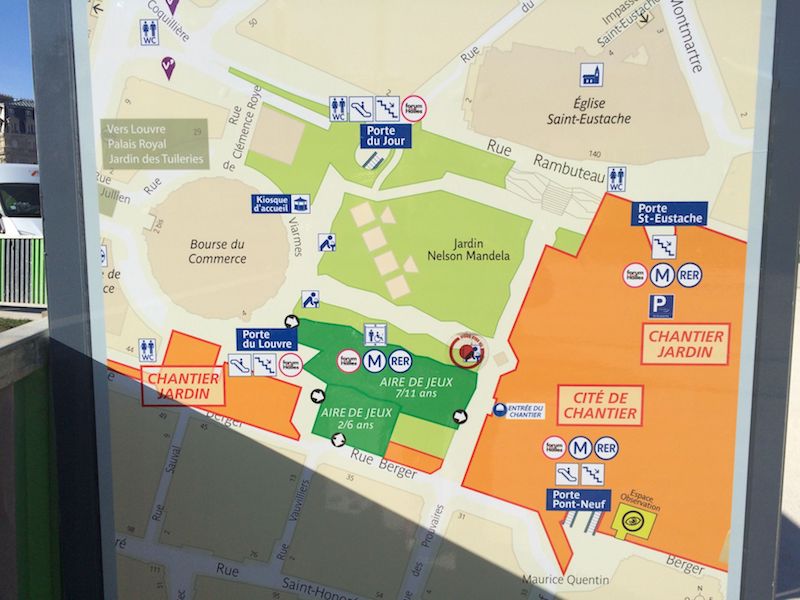 Conditions of Access
Conditions of access (except Saturdays and Sundays mornings from 10 am to 1 pm):
Children between the ages of 7 and 11 years old can be admitted. Children with special needs can be accompanied if necessary.
Children with illnesses cannot be admitted.
Children remain the responsibility of the parents.
The capacity of the Paris playground is 100 children.
The children are welcomed for one hour sessions, and may leave anytime during the session if their responsible person is there to collect them. Children cannot play 2 consecutive hours.
Children must be provided with the telephone number of the parents or accompanying person.
During the session, the parents must stay close to the Adventures Field and be reachable. Put your phone number in the children's pocket.
Accompanying persons are asked to be present on the site 5 minutes before the time of the exit so that the children are not left alone when it's time to go.
Wearing athletic shoes and clothing suitable for play is essential
Conditions of access on Saturdays and Sundays mornings from 10 am to 1 pm :
The playground is not monitored by leaders of the Paris City Hall on weekend mornings.
In this case, parents and guardians are responsible to supervise the children.
A playground guard is present on site to meet and keep an eye on children and families.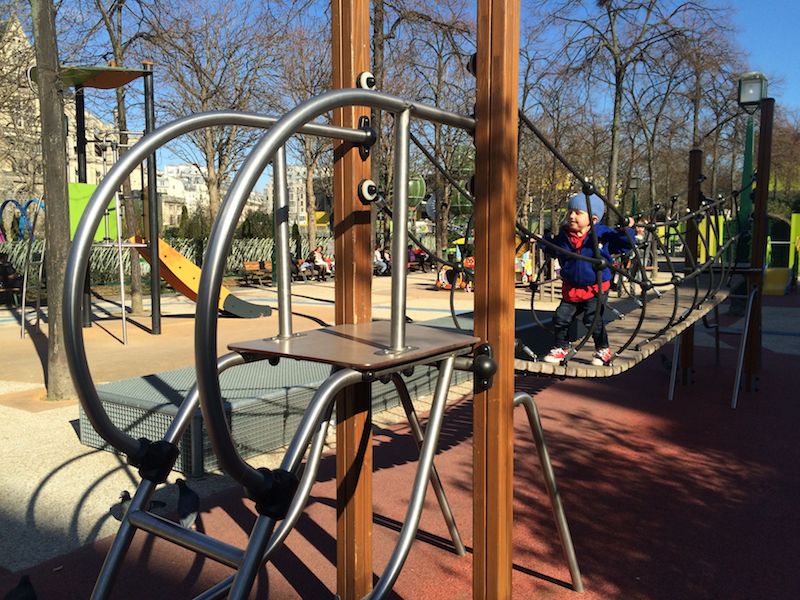 How to get to Terrain d'Aventures Playground in Paris
By Bus: The RER B to Châtelet – Les Halles stop
By Metro: M ° Les Halles, line 4
On Foot: 5 -10 minutes walk (650 metres) from the Louvre
By Bicycle Hire Station "Velib": Station N ° 1008, Allee Andre Breton; Station N ° 1009, 14 Rue du Pont Nine; Station N ° 1028, Rue Berger
By Taxi or Uber: Jardin Nelson Mandela playground is easily accessible by taxi or Uber.
Map of where to find these dual Paris Playgrounds for kids
Where to stay in Paris near Terrain d'aventures Paris – Novotel Paris les Halles
We stayed at the Paris les Halles Novotel Hotel and we highly recommend it.
This Paris hotel is super central, only a few minutes walk to this playground, and only a short distance to the Louvre and the Seine river in the other direction.
If you are visiting Paris with children, book a stay at the Novotel Paris les Halles.
The reception staff gave my boys a small stuffed animal at check-in, and again when we returned from our tour.
Of course, the toddler then expected another one every time we said hello, or goodbye to the staff on reception!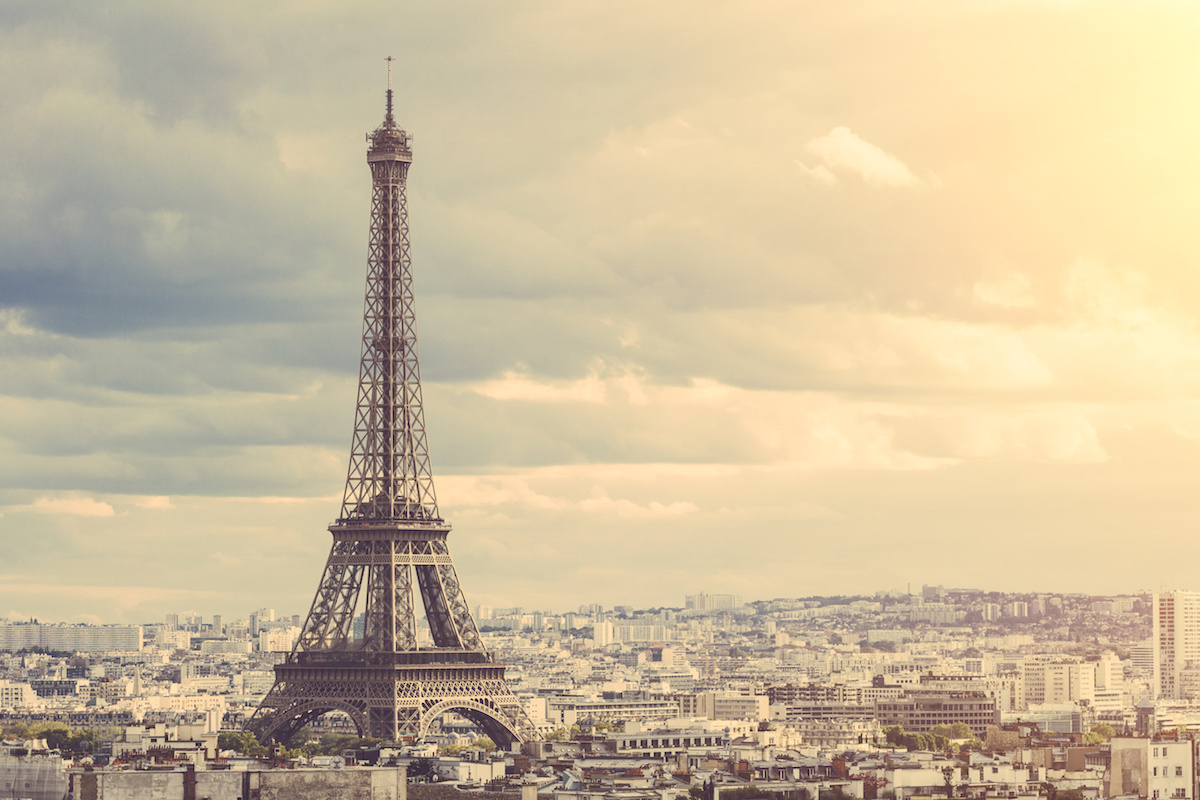 Visit the Eiffel Tower with Kids
The Eiffel Tower is just 30 minutes from the Novotel in Paris on the RER.
We booked a Skip the Line tour of the Eiffel Tower with Get your Guide, so when we got there the kids and I didn't have to queue, and were given easy access to both the second level and the summit of the Eiffel Tower for magnificent views of Paris city.
A tour like this with a good local tour guide is a treat.
I love hearing the interesting Eiffel Tower facts and titbits I never would have discovered on my own.
Hot tip: Head up the Eiffel Tower and do these cool things.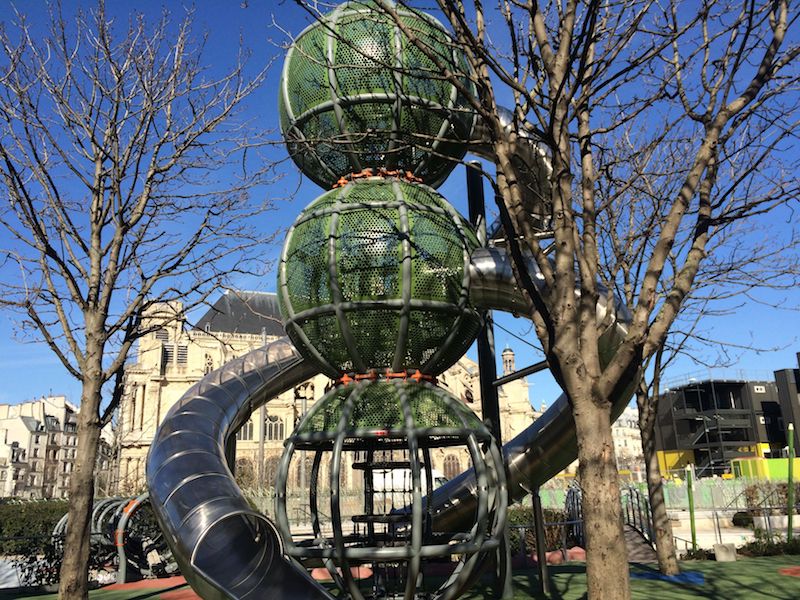 Toadstool Rating – Best Playgrounds in Paris
This is the BEST playground in Paris for kids over 7.
Don't miss it.

Looking for MORE SUPER DOOPER FUN things to do in Paris with Kids?
Click the links in blue below.