INSIDE: Roam the Gnome's Guide of Things to Do in Eumundi with kids
Eumundi's claim to fame is the twice-weekly Eumundi market.
But if you visit on a non-market day while you are up this way for a day at Australia Zoo, there's plenty of cafes, takeaway spots, pubs and restaurants lining the main street.
It's a heritage wonder with an old pub, hundred year old buildings, & giant fig trees.
Grab a takeaway coffee and enjoy a wander through this charming Sunshine Coast town.
Take a sneak peek!
Disclosure: This article contains affiliate links. If you make a purchase after clicking on one of these links, we may receive a small commission at NO extra cost to you.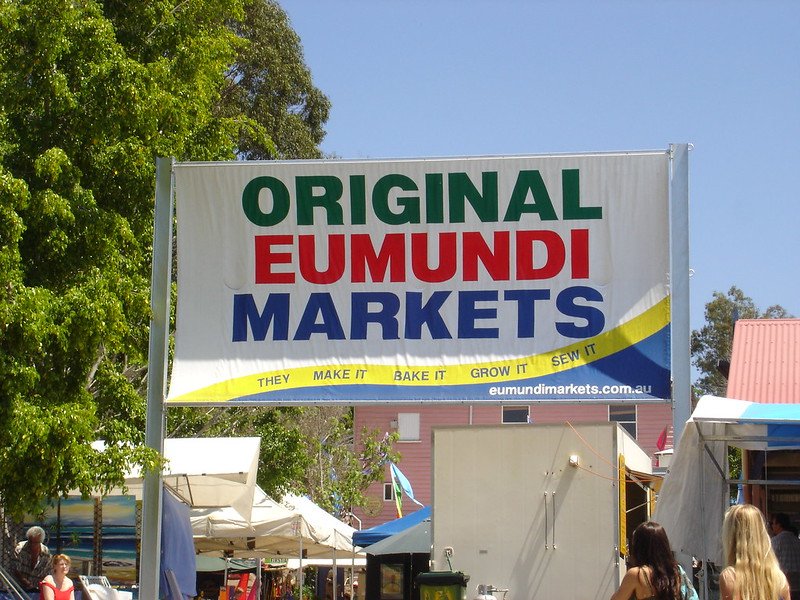 Image credit: Anna via Flickr CC BY-2.0
9 BEST THINGS TO DO IN EUMUNDI QUEENSLAND
Here's our top 9.
Let's start with our bellies!
No.1: Try the street food at Eumundi Market!
Correct at time of publication on Roam the Gnome. Please check with venue for updates. We apologise in advance if there have been any changes we are unaware of. All prices in AUD dollars, unless otherwise stated
On market days,Wednesday (8.30 am to 1 pm) and Saturdays (7am to 2pm), we'd suggest grabbing a bite to eat from one of the food stalls/trucks.
Discover Eumundi markets and you will be spoilt for choice with:
Brazilian Tapioca, and acai bowls
Asian Noodles from Claude's food
Delicious Fudge, and roasted pralines
Handmade donuts from Donut Kitchen
Indian Curry and Roti
Sourdough breads, cakes, croissants
Eumundi fresh juices, freshly squeezed orange juice & real lemonade
German sausages from the hut!
Hemp burgers & Lebanese food
Jimmy's gourmet calamari and baked potatoes
Pizza, schnitzel, Mexicana taco bowls, and empanadas
Slow smoked BBQ meats and potato slinkys!
Try The World Famous Turkish Gozleme.
Cooked to order and as fresh as can be, the Gozleme is seriously delicious!
There's:
spinach and cheese;
beef, spinach, and cheese; or
chicken spinach and cheese
Each topped with melted butter, freshly squeezed lemon juice, and lots of love.
Owner Mehmet is also renowned for his Baklava – the perfect dessert to follow your gozleme!
Find the stall in the Canecutter's Section on both Wednesday and Saturday.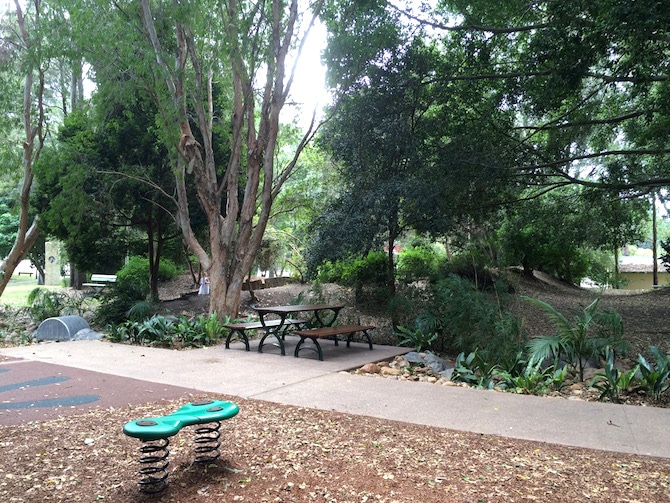 There's not much seating in the market, but you can find a few picnic tables amongst the trees if you are quick.
THE INSIDE SCOOP: The Original Eumundi Markets Sunshine Coast
Address: Memorial Drive Eumundi Queensland 4562
Telephone: (07) 5442 7106
Opening hours:
Wednesday from 8:00am – 1:30pm
Saturday from 7.00am – 2:00pm
Rain, hail or shine. z
How to get to Eumundi market:
The market is approximately 15 minutes drive west from Noosa Heads along the Noosa – Eumundi Road following the road signs to Eumundi.
It's about 90 minutes north of Brisbane via the Bruce Highway.
Eumundi Market parking:
There is paid parking ($6) in the ECCO carpark in Napier Road. Limited on street parking is available too. This is regulated by the local council. Be mindful of time limits to avoid a fine.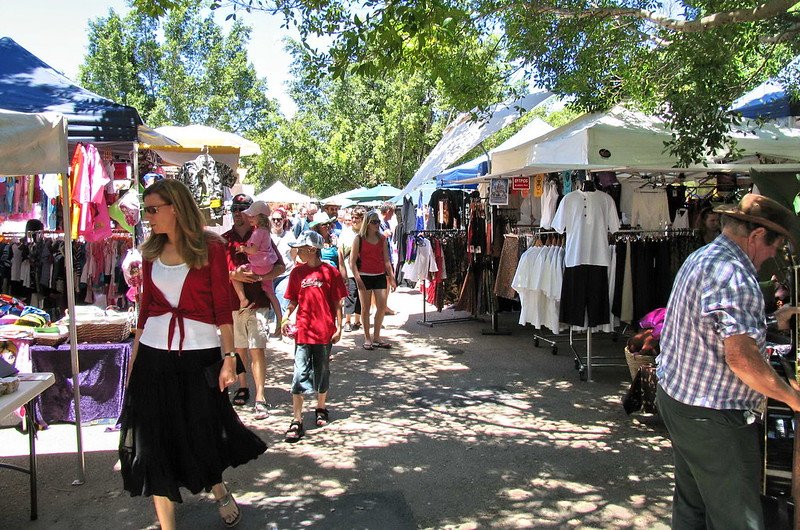 No. 2: Things for Kids to Do at Eumundi Markets on the Sunshine Coast
If you plan to visit the playground on market day, keep a look out for these kid-friendly stall holders.
Commission a caricature
Have your kids caricature drawn by Des of DJH Arts.
He loves injecting gentle humour into his caricatures and cartoons drawn "live" on-site at Eumundi Markets.
Find him on Lonergan Lane, both Wednesdays and Fridays.
Noosa Hoops
Keep the kids (and the adults in your family) entertained with a brightly coloured hoola-hoop!
Handmade by Horst, these hoops are available in a rainbow of colours, for fun, play and exercise.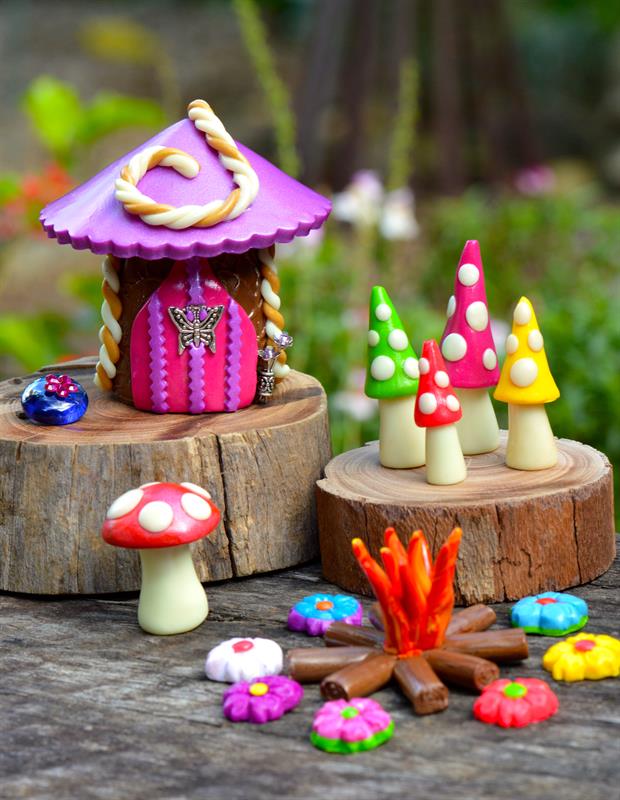 Naturally Kin Kin
Roam the Gnome's favourite stall is Naturally Kin Kin.
Why?
Polymer clay artist Andrea Hogg exhibits a collection based on pure imagination.
Find everything from fairy boots and fairy houses, fairy doors, sun catchers, crystal pouches, and glow mushroom creatures, toadstools.
The red and white toadstool ornaments remind Roam of his native home!
Find her on 1st Railway Ave on Saturdays.
Dinosaur Educational Kits
Russell is the maker of Dinosaur Educational Kits – these puzzles are made from craftwood.
Buy them painted, or DIY paint them yourselves as part of a Dinosaur craft kit with water based paint.
Find him on 2nd terrace on Saturdays only.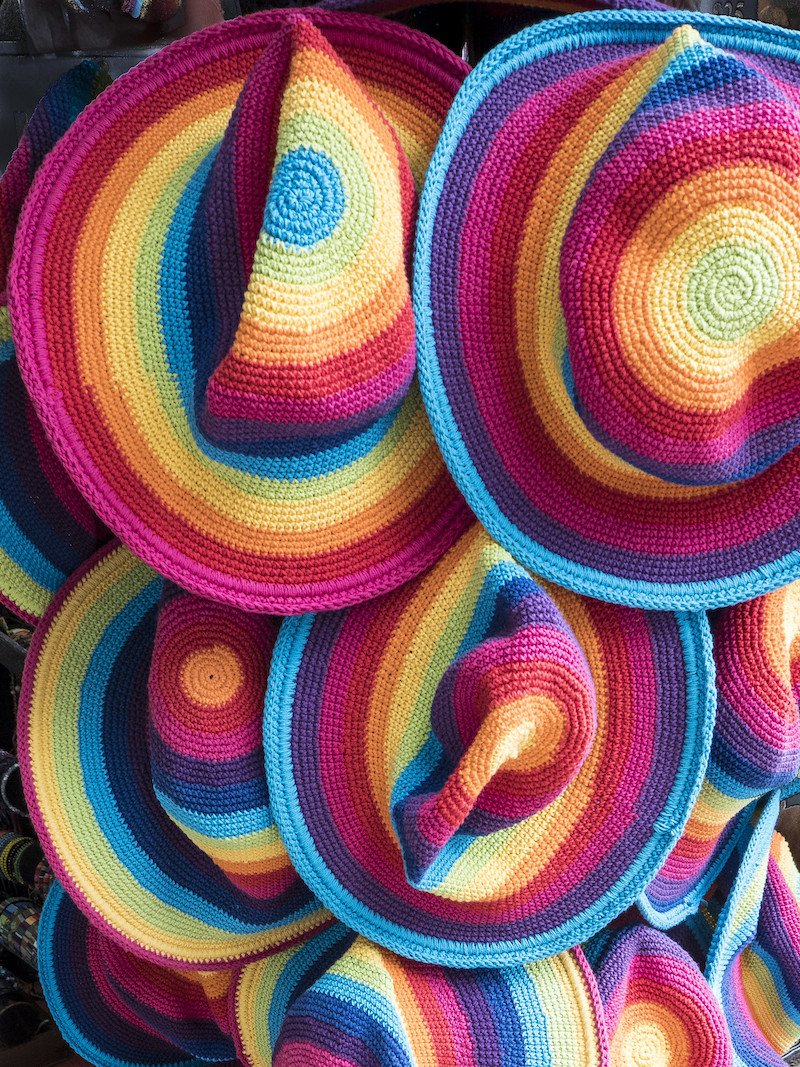 Image credit: Mike Locke via Flickr CC BY-ND 2.0
La Folie Rainbow fairy stall!
You must find La Folie!
Helen specialises in fairy wear and accessories, and has been making goods for the market since 1981.
Her rainbow fairy dresses are divine.
Find Helen in the Canecutters Section of the market fortnightly on a Saturday.
Get your face painted by Jodi
Look out for Jodi's face painting stall.
She's super clever and can do all the fun designs.
Visit the market on Wednesday from 8am-1:30pm and Saturday from 7am to 2pm.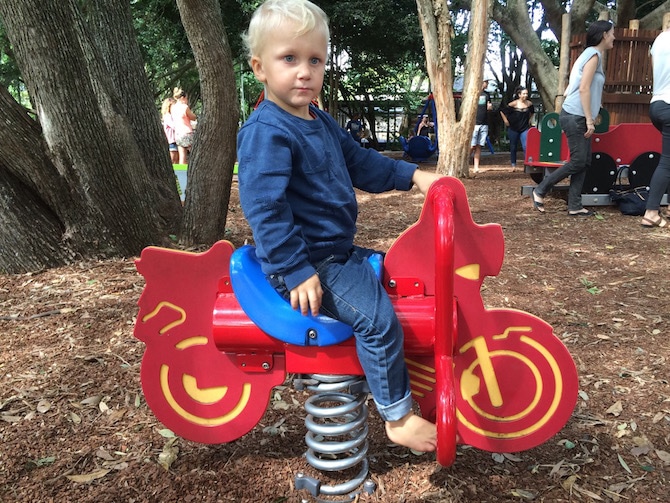 No.3: Visit the Eumundi Playground, Dick Caplick Park
This Eumundi playground is to the left of the market as you face it from the main street, but hidden amongst the trees so well, it's like a maze trying to find it!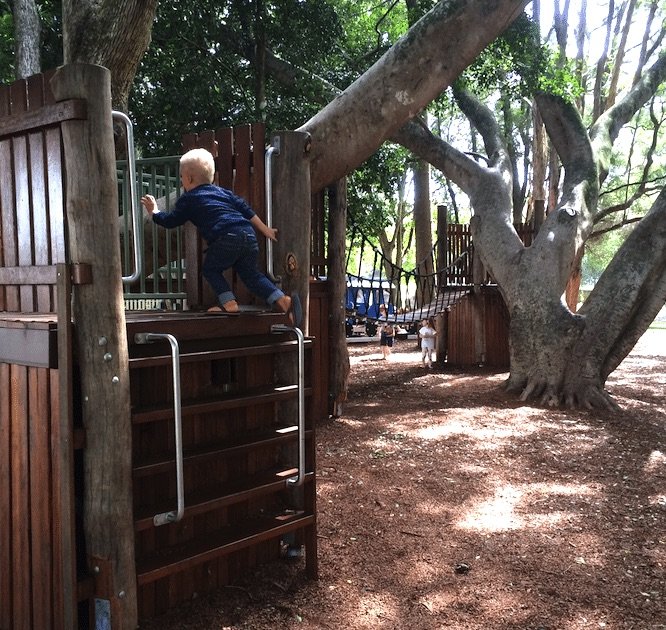 Dick Caplick Park Eumundi
Recently expanded and refurbished in 2015 thanks to ECCO (Eumundi Combined Community Organisation), EDCA (Eumundi District Community Association) and Sunshine Coast Council Councilors, it's a hit with locals and visiting families.
Well, those who stumble across it anyway!
Now you know it's there, be sure to pop by for a play.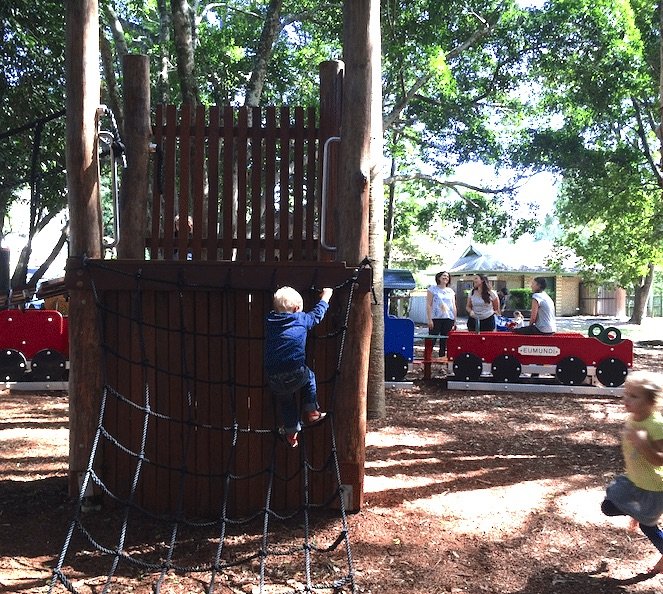 Play Equipment at Dick Caplick Playground in Eumundi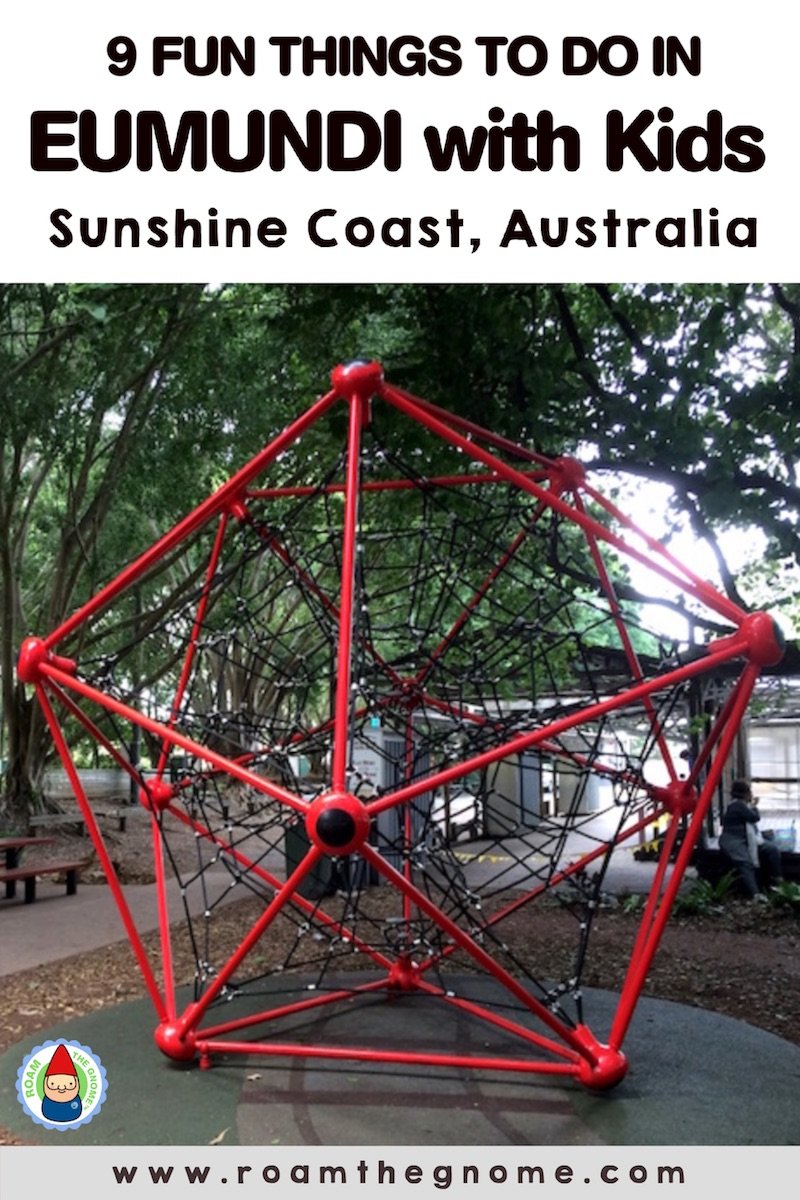 The spider web climbing frame caught our eye.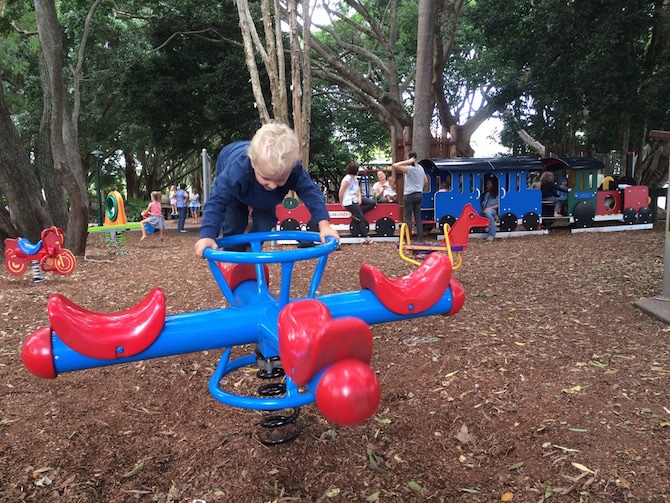 Best Things to do in Eumundi Qld for Toddlers
Toddlers have lots of play equipment to choose from too:
four person see-saw
a two-person see saw
a motorbike rocker
'animal' themed rockers
a four-person seated roundabout (an update on those old 'egg' spinners)
a metal stand-up spinning wheel (hang on tight!), and
a small version of the Hamster Wheel.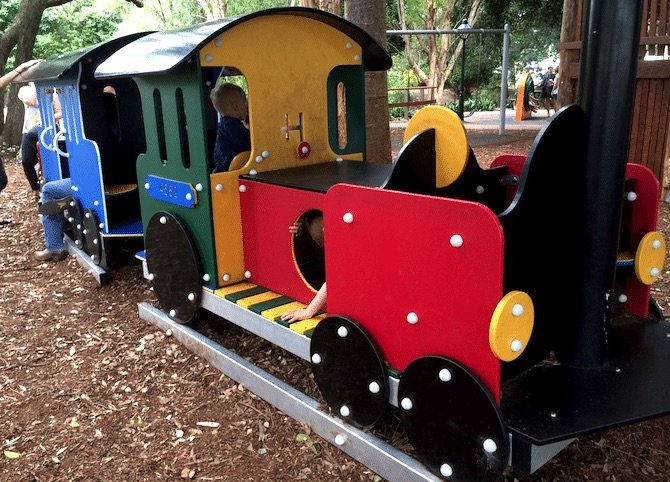 Jack loved the train.
It might not go very far (or anywhere at all!) but there's plenty of hidey holes and tunnels to climb through, as well as a driving compartment and seating.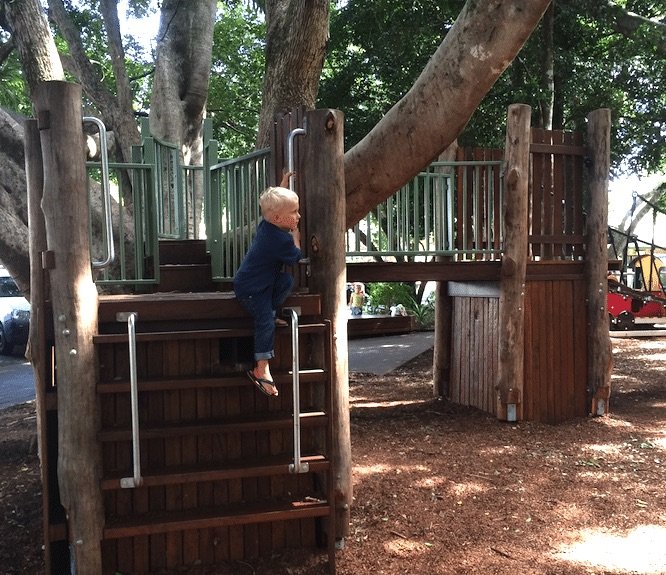 This free playground is surrounded by natural bushland and there's lots to do. On market days, this playground is pretty busy!
THE INSIDE SCOOP: Dick Caplick Park Sunshine Coast
Address: Memorial Drive Eumundi QLD 4562
Telephone: Council 1300 007 272
Website: Click here
Open: Daylight hours
Playground Facilities:
Parking on the main street right in front (if you are lucky) or behind the market on Napier Road.
Toilets located 100 metres to the left of the 'train' equipment at Memorial Dr entrance to park.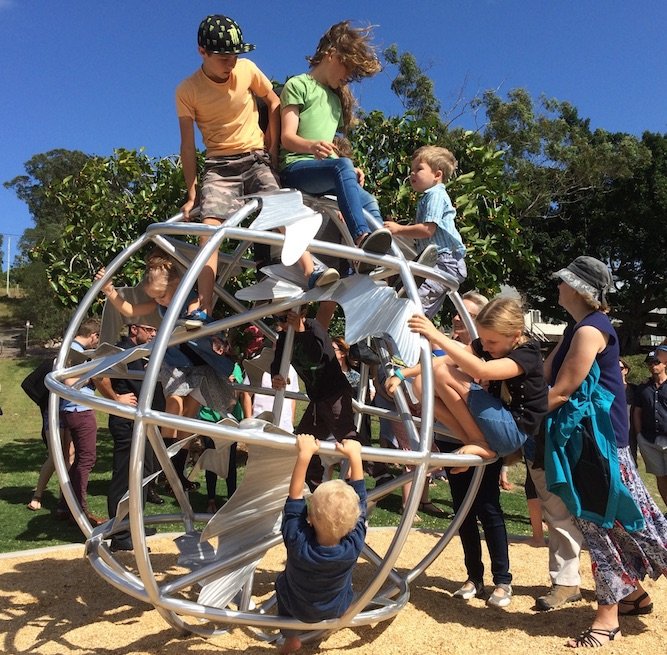 No.4: Visit the Spirit Orb play sculpture
The winner of the 2015 Eumundi Sculpture Prize by Meg Geer and Richard Thompson, the Spirit Orb was officially opened on Anzac Day, and now stands waiting for children to come and play!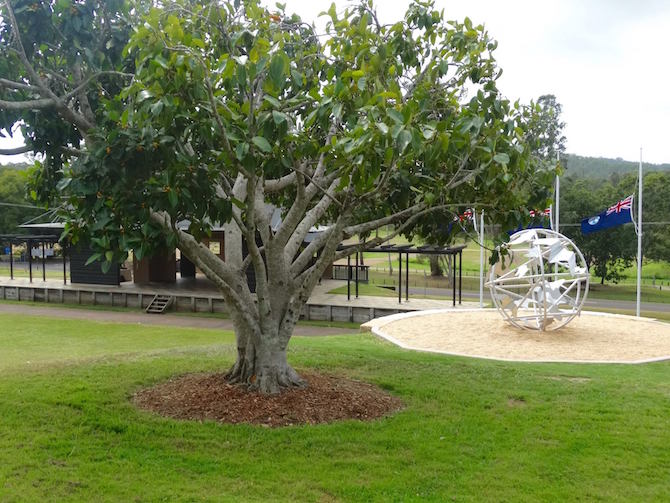 Sculpture in Eumundi
The Spirit Orb sculpture stands on the hill in front of the Eumundi Town Amphitheatre.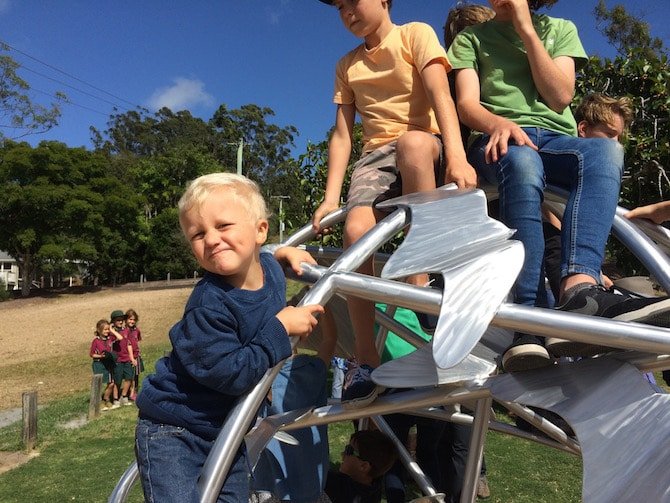 Certified safe
The sculpture has been certified as safe to play, and stands on a 'soft drop' surface.
It's a fave picnic spot for the locals.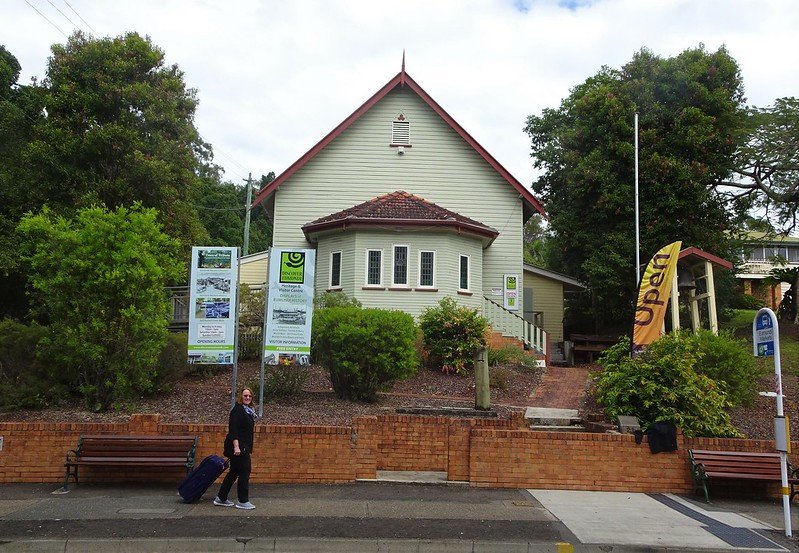 Image credit: Denisbin via Flickr CC BY-ND 2.0
5 MORE Things to Do in Eumundi in the Sunshine Coast
No. 5: Eumundi Heritage Centre
Stop by the Eumundi Heritage Centre & Visitor Centre to learn more about this magical town.
No.6: Artisans Gallery
Visit the Artisans Gallery at 43 Caplick Way, Eumundi to see local timber work of master craftsman David Suters and accompanied by selected featured artisans
This is Eumundi's leading commercial art space, with off street parking and disability access.
Telephone 0409 848 098 to book an appointment.
No.7: Berkelouw Book Barn
Buy all the books (new and pre-loved) at the Berkelouw Book Barn, & pick up a gift for friends from their eclectic range
Address: 87 Memorial Drive, Eumundi
No.8: Eumundi Brewery
Stop for a shandy or a beer at the famous Eumundi Brewery (also known as the Imperial Hotel Eumundi)
Book a FREE 20 tour & taste at the brewery on either Wednesday or Saturday.
Listen to the history of brewing in Eumundi, discover what makes their craft beers so great, learn about the beer making process and finish up with a taste test!
Address: 1 Etheridge St, Eumundi
No.9: Real McCaul Leather Shop
Go wild for leather at the Real McCaul – find individually hand crafted leather bags, coats, belts, hats, Akubra jackets, bull whips – everything a country boy (or girl) needs.
This family business was established in 1970!
Address: 6/77 Memorial Dr, Eumundi
Opening hours:
Monday – 10.00am – 4.00pm
Tuesday 9.00am – 2.30pm
Wednesdays & Saturdays 8.00am – 3.00pm (Eumundi Market Day)
Thursday & Friday 9.00am – 4.00pm
Sunday 10.00am – 3.00pm
Eumundi Events
Live music is one of the key events in town. You'll find musos jamming at the markets, and around town on weekends and Friday nights.
The best place to find details is by checking out the noticeboards in town.
Best Eumundi Cafes
Visit one of these three cafes for good coffee and friendly service.
Berkelouw Cafe at 87 Memorial Drive (This one is the best for kids)
Max and Moritz Cafe on Shop 2/104 Memorial Drive
Humdrum Espresso at 100 Memorial drive
Things to Do around Eumundi
Head for the hills up to Montville and Maleny, or wander the main street of the flash beachside suburb of Noosa.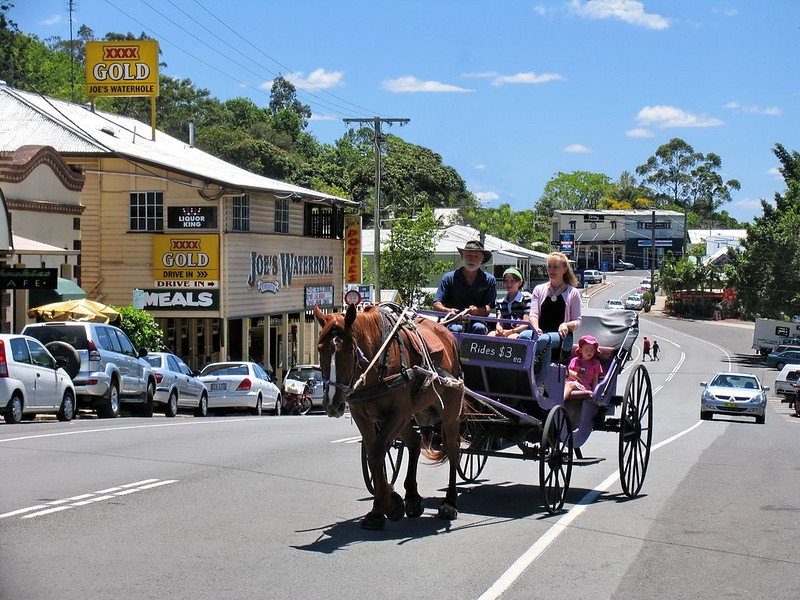 THE INSIDE SCOOP: How to get to Eumundi
By Car
Eumundi is just over an hour north of Brisbane along the Bruce Highway (Hwy 1).
The easiest way to get there is by car. It takes about 90 minutes.
Take the Eumundi Exit and drive into the town on Memorial Drive.
Add your departure details to Google maps here to find the best route.
By Public Transport
Or you can catch a Translink bus and train to Eumundi.
Plan your journey here.
You can also book shuttle buses direct from most Sunshine Coast hotels or apartment, as well as day tours from Brisbane.
Toadstool Rating: Eumundi Things to Do
Best day to visit Eumundi is a Saturday.
Go early before the crowds ramp up.

Location Map of Eumundi Township
Looking for More Things to do on the Sunshine Coast & Brisbane?
Click the links in blue for more Sunshine Coast & Brisbane attractions.