INSIDE: Roam the Gnome's Guide to The Macadamia Castle Wildlife Guardians Program
School holidays just got a whole lot more fun at Macadamia Castle for kids aged 7 to 11 years old.
If you have a kid that age, and are looking for something extra special for them to do while you are in Byron Bay, book them a spot in the Macadamia Castle Wildlife Guardian program.
Ranger Georgia and her team can't wait to show you around.
Take a sneak peek below.
Disclosure: This article contains affiliate links. If you make a purchase after clicking on one of these links, we may receive a small commission at NO extra cost to you.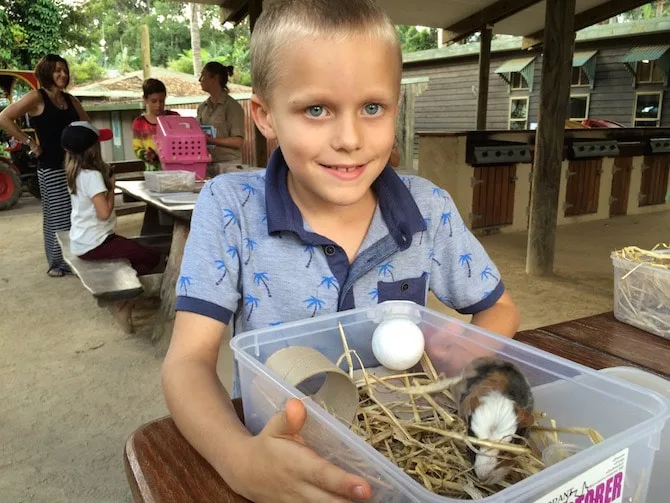 Best of Macadamia Castle School Holidays Events
During the school holidays. kids can spend the day with the keepers behind-the-scenes in the Animal Park.
Kids engage in activities such as:
learning about conservation and caring for our wildlife
designing and building a reptile enclosure
creating enrichment for the wombats and native birds
---
RELATED: Everything you need to know about the Macadamia Castle Byron Bay tourist attraction for Kids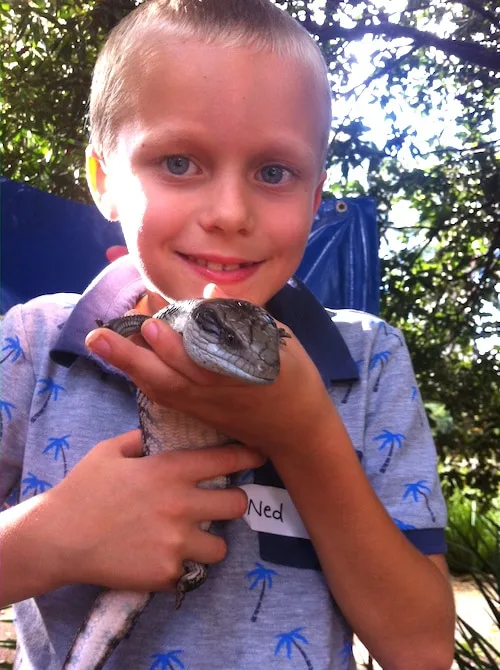 Guide to the Macadamia Castle Wildlife Guardians Program
Later, Ned and his gang of Wildlife Guardians fed:
the Blue Tongue lizards
the Frill Neck Lizard
the Bearded Dragons, and
the Water dragons in their enclosure.
Lucky Ned held a Blue Tongue too!
According to Ned, Macadamia Castle is home to 24 blue tongue lizards. Actually, he never counted but thinks there are 24.
---
RELATED: The Farm Byron Bay for Kids – All you need to know guide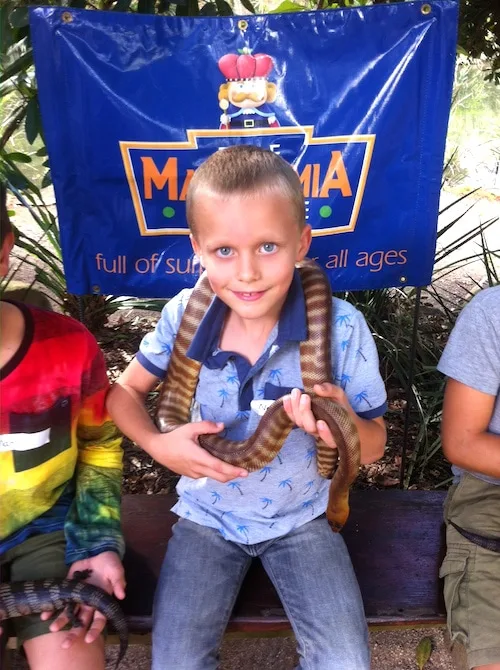 Up Close & Personal with The Macadamia Castle Animals
Holding the animals
As part of the experience of being a Wildlife Guardian, Ned held a Woma Python.
This was the HIGHLIGHT of his day.
Ned can't wait to be old enough to have his own python pet. (Oh dear!)
The Woma is a large python with an average length of 1.5 m and a maximum length of approximately 2.7 m.
This python is patterned with distinctive yellow and brown stripes and Ned thinks he looks like a tiger with all those stripes.
Luckily, this python is harmless to humans.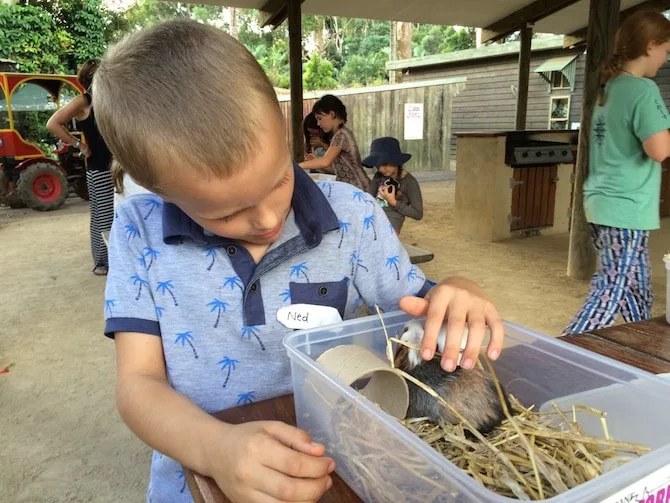 Guinea Pig Pets at Macadamia Castle NSW
Each child also made a home for a baby Guinea Pig, complete with:
hidey hole tunnel
play equipment, and
a soft bed.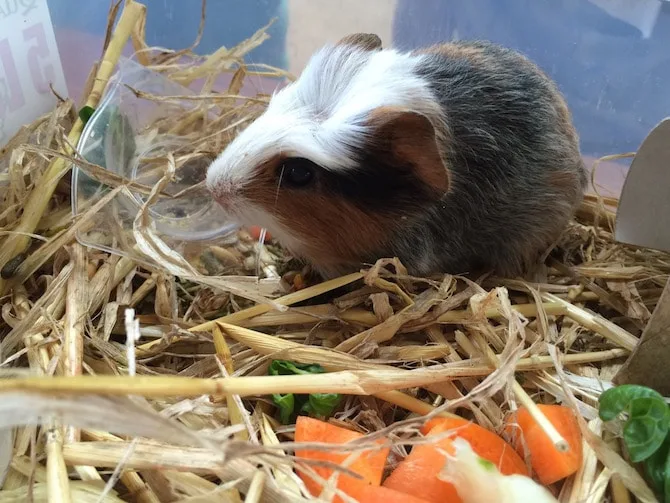 Guinea pig homes
Ned tried to feed his little guinea pig, "Roley" carrot but Roley wasn't so keen.
Ned named her Roley because she liked to roll around in her home a lot.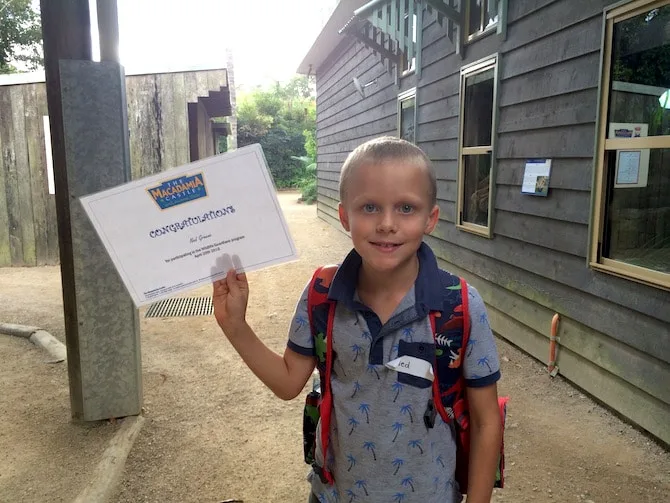 Activity Passport and Certificate
Each child was given their own Activity Passport and they had to complete tasks and games in the book throughout the day.
The day finished with a presentation of a Wildlife Guardian certificate, laminated and ready for the wall at home.
Ned was extremely proud of this achievement.
Nothing better for a wildlife warrior!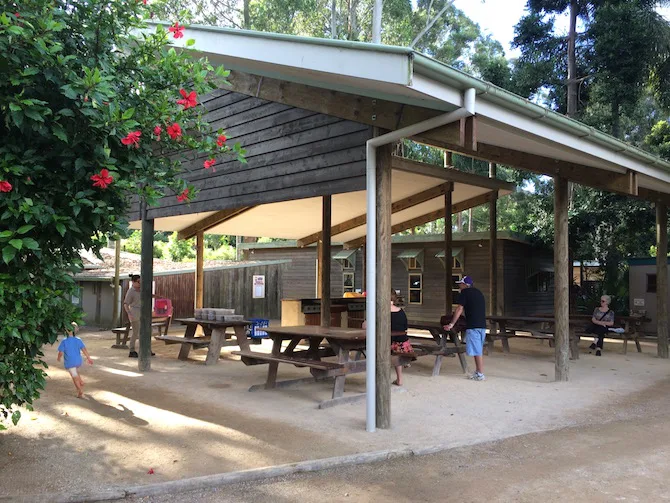 Undercover area
Kids on the program gather in the undercover area, and this is used as the base for the days activities.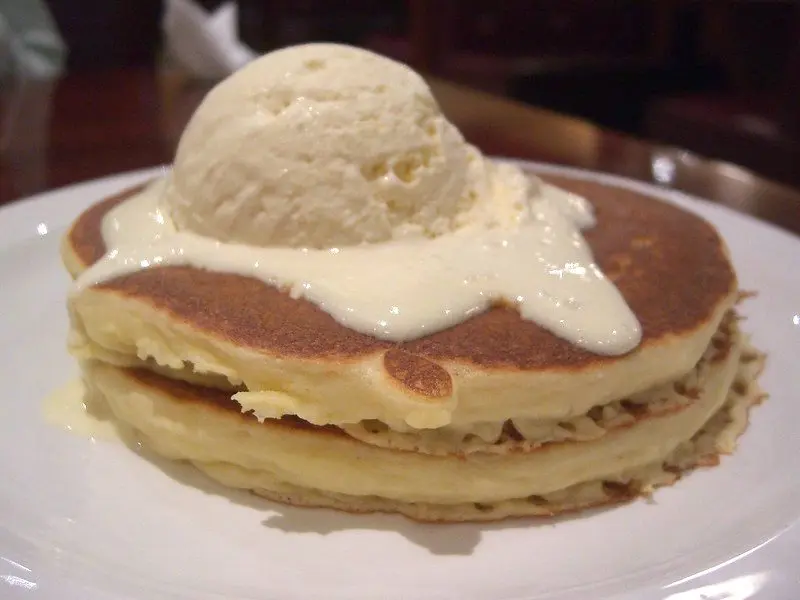 Image credit: Alpha via Flickr CC BY-SA 2.0
Macadamia Castle Cafe & Restaurant
Lunch and afternoon tea are included in the price of the day.
Kids can choose something from the food menu.
Ned ate a toasted cheese sandwich.
Other kids had chicken nuggets.
But afternoon tea was the highlight – signature pancakes, macadamia nuts, and ice-cream, a Macadamia Castle special.
BYO morning tea and drink bottle.
MORE Fun Things to Do at Macadamia Castle Byron Bay
The kids on the Wildlife Guardians program also get to enjoy some of the other attractions during their day, including the bird show.
Play Mini Golf Byron Bay
Kids are invited to play a round or two of mini-golf during their day.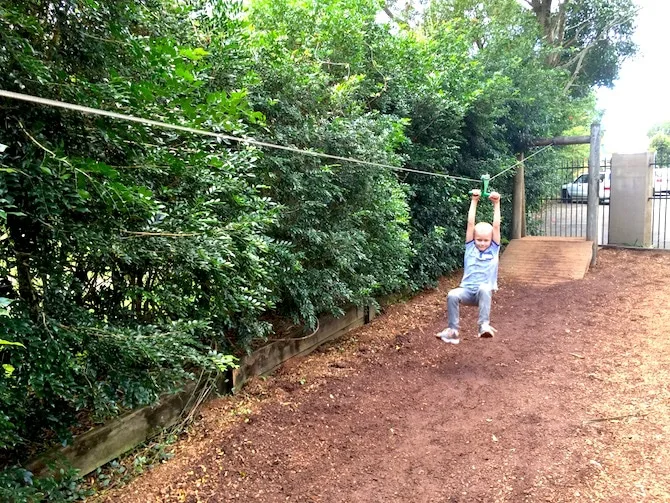 Macadamia Castle Playgrounds
Kids are also given free time to explore the two playgrounds at Macadamia castle.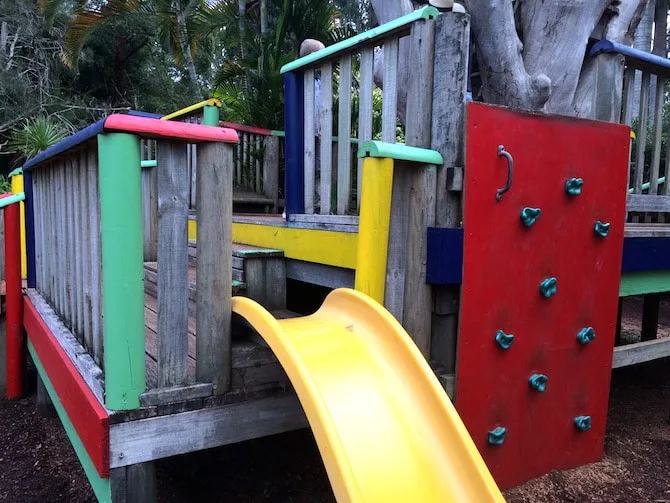 Tree Castle playground
The Tree Castle one is the favourite!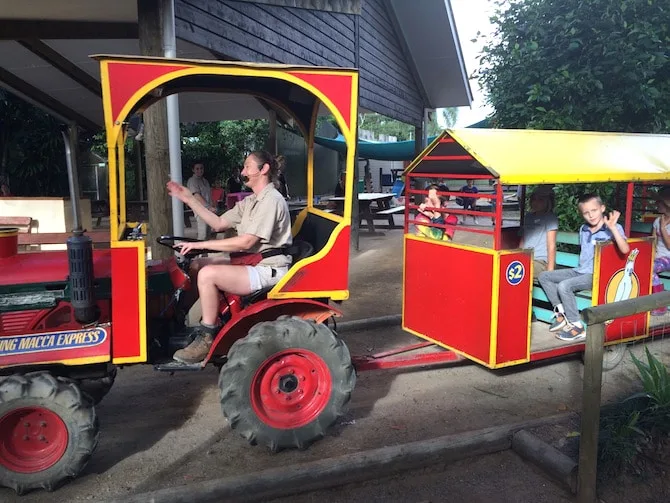 Ride the Train
Kids in the Wildlife Guardian program take a ride on the tractor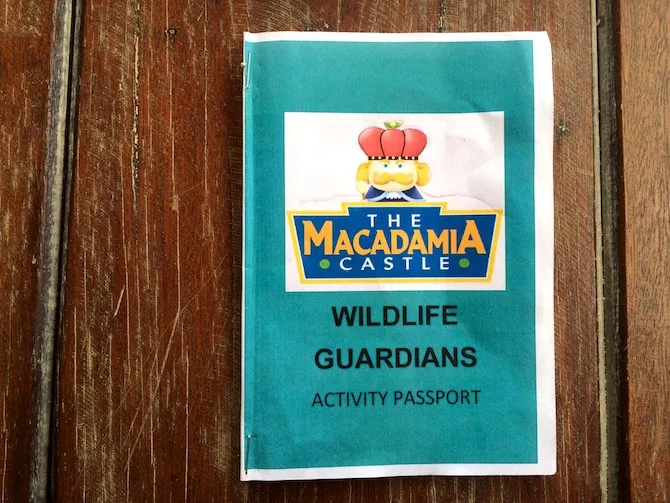 THE INSIDE SCOOP: Wildlife Guardians Macadamia Castle
Correct at time of publication on Roam the Gnome. Please check with venue for updates. We apologise in advance if there have been any changes we are unaware of. All prices in Australian dollars, unless otherwise stated
Macadamia Castle Address: 419 Hinterland Way, Knockrow NSW 2479
Telephone: 02 6687 8432
Program hours:
9 am to 3.30 pm (register 8.30 am)
Sign in from 8.30 am. Parents collect children inside park at 3.30 pm
Workshop fee:
$75. Includes: lunch, afternoon tea, bottle of water & certificate of participation
Numbers are strictly limited so book in early to avoid disappointment. Limit 15 per workshop
Book by emailing the office here.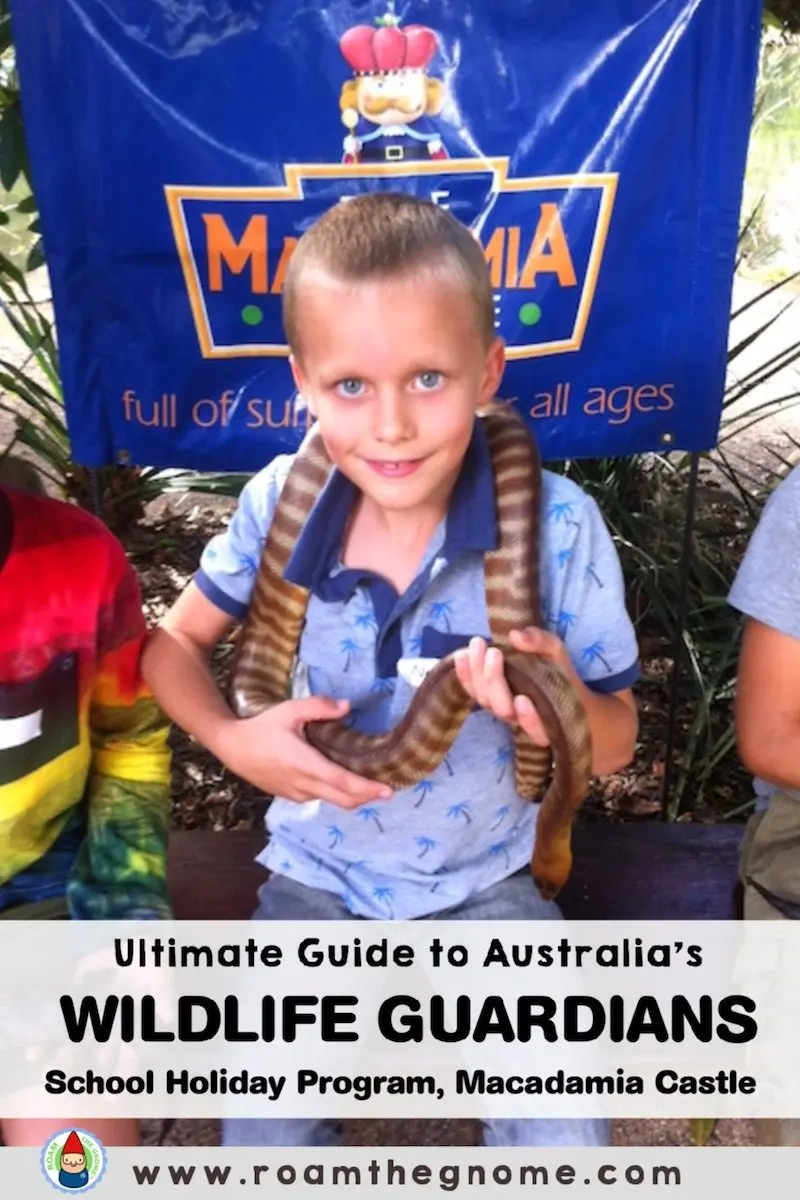 How to get to Macadamia Castle Ballina
Source: MC
From Byron Bay to The Macadamia Castle
Catch the 641 Bus from the Byron Bay Jonson Street Tourist Information Centre
During School Term: 641 bus departs 8.40am and arrives right at Castle front door at 9.25am
During School Holidays: 641 bus departs 9:10am and arrives right at Castle front door at 9:45am
Either option allows you a full day at the Castle to enjoy the attractions and café.
From The Macadamia Castle to Byron Bay
During School Term: Catch the 641 Bus from right in front of the Castle at 2:50pm and arrive back at Jonson Street Byron Bay (Woolworths) at 3.25pm
During School Holidays: Catch the 641 Bus from right in front of the Castle at 4.15pm and arrive back at Jonson Street Byron Bay (Woolworths) at 4.50pm.
Be at the bus stop 5 minutes prior to advertised time.

You need to hail the bus out front when you leave. A staff member can help you.

Service are operated by Blanchs Bus Company www.blanchs.com.au
24 Hour Timetable Info Line (02) 6686 2144
Fares:
$12 will get you a freedom pass with unlimited bus travel for the day.
Otherwise one way tickets are $7.60 or $3.80 concession. Pay the driver.
By Car: Click here to add your current location for google map directions
Where to park at Macadamia Castle
There's plenty of free parking on site, within metres of the front entrance.
The Macadamia Castle Map
Toadstool Rating: The Macadamia Castle Wildlife Guardians Program Review
Worth every cent. Top of the holiday activities and events for kids in Byron Bay.

Looking for more fun things to do in Byron Bay shire?
Click the blue links below for more Byron Bay Shire attractions.