INSIDE: Everything you need to know about finding this fun Taupo playground.
"Quick, find the playground!"
Roadtrips and playgrounds go together like tents and a campground.
One cannot exist without the other!
That thing called 'cabin fever'. There's a thing called 'car fever' too.
Anyone travelling with kids on a roadtrip knows it all too well.
On our recent New Zealand road trip, we pulled into Taupo late one afternoon, in desperate need of a playground.
We found a good one in the Taupo city centre.
Take a look inside the Taupo Playground below (includes details of how to find it too)
Disclosure: This article contains affiliate links. If you make a purchase after clicking on one of these links, we may receive a small commission at NO extra cost to you.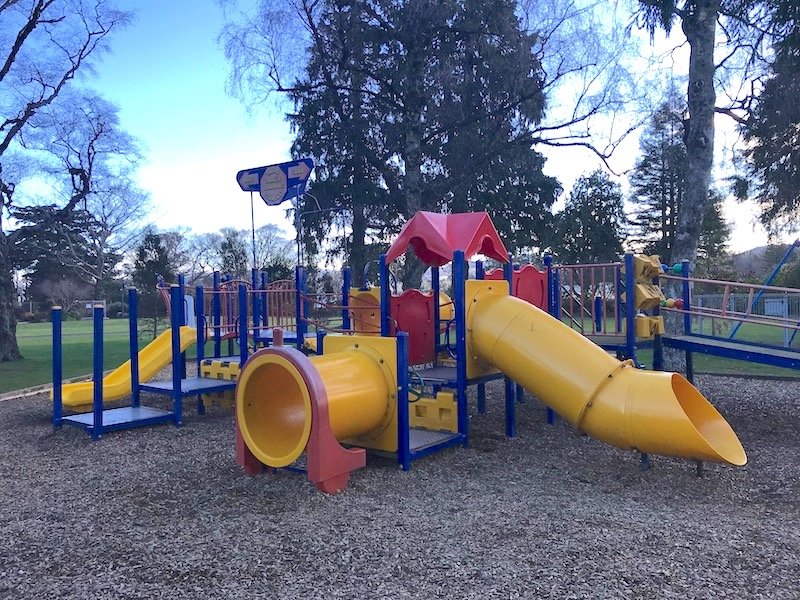 Taupo Family Activities – Tongariro Domain Playground
If you are looking for Taupo family activities, visit the Tongariro North Domain Playground!
To find the Taupo public playground, look for the SuperLoo Taupo building.
Park in the public car park at Story Place, and it's steps away.
Look for the futuristic Space Ball fort and slide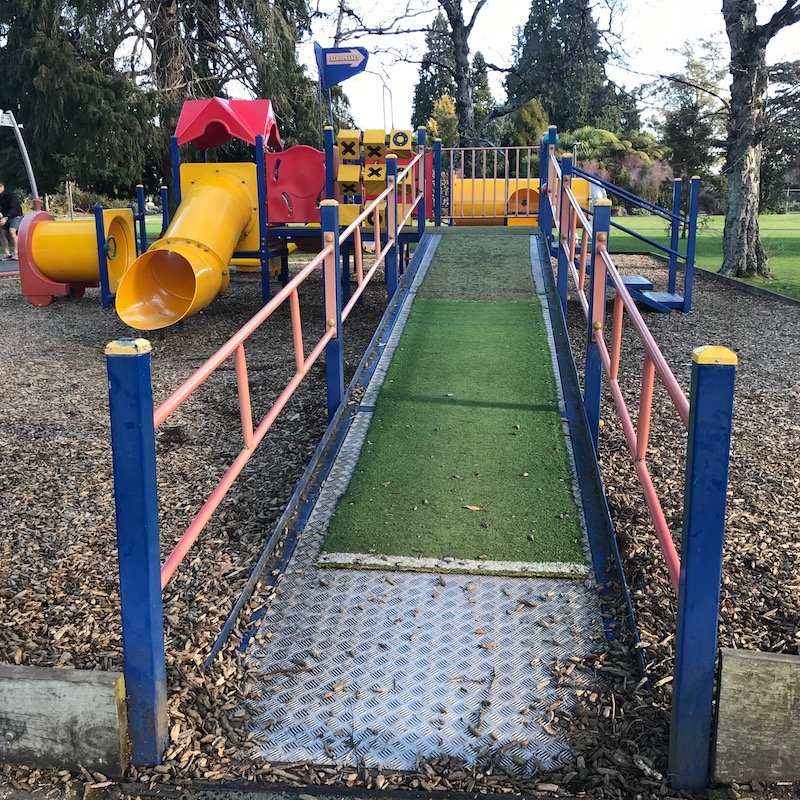 Best of the Taupo Family Activities
This playground is one of the best things to do in Taupo for kids.
There's plenty of green space for a picnic, a life-size chess set, and playground equipment for all kids, big and small.
Grab a reviving cup of coffee from a cafe across the road.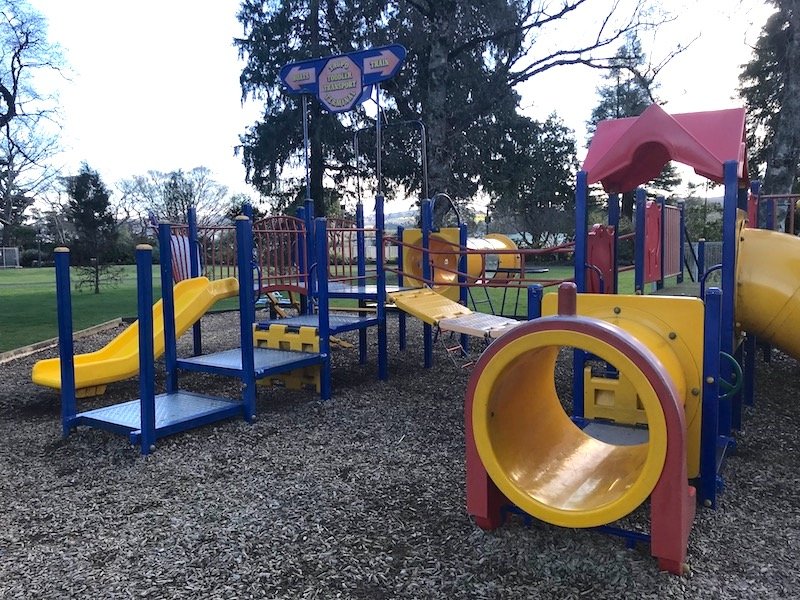 Taupo Public Playground for Toddlers
Toddlers love the Toddler Fort, with:
running ramp
platforms to scale
bridges to cross
tunnels
slides
stairs to climb, and
X's and O's games too.
It's transport themed.
There's a spider web swing too.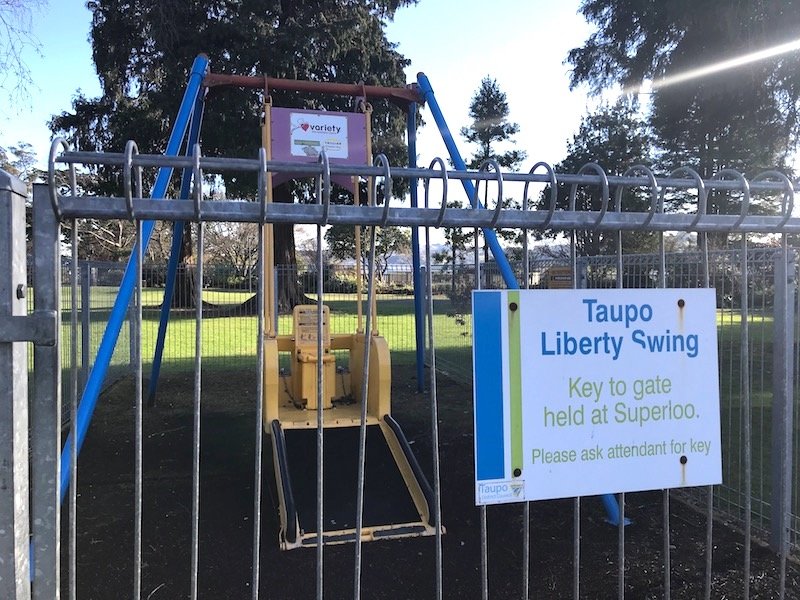 Liberty Swing Taupo
There's a Liberty Swing on site.
Ask the attendant at the Superloo for a key.
Playground in Taupo for Big Kids
There's tonnes of family friendly playground fun for older kids too.
No one will be bored or complain here.
The biggest challenge for older kids and teens?
The GIANT pyramid net structure to climb!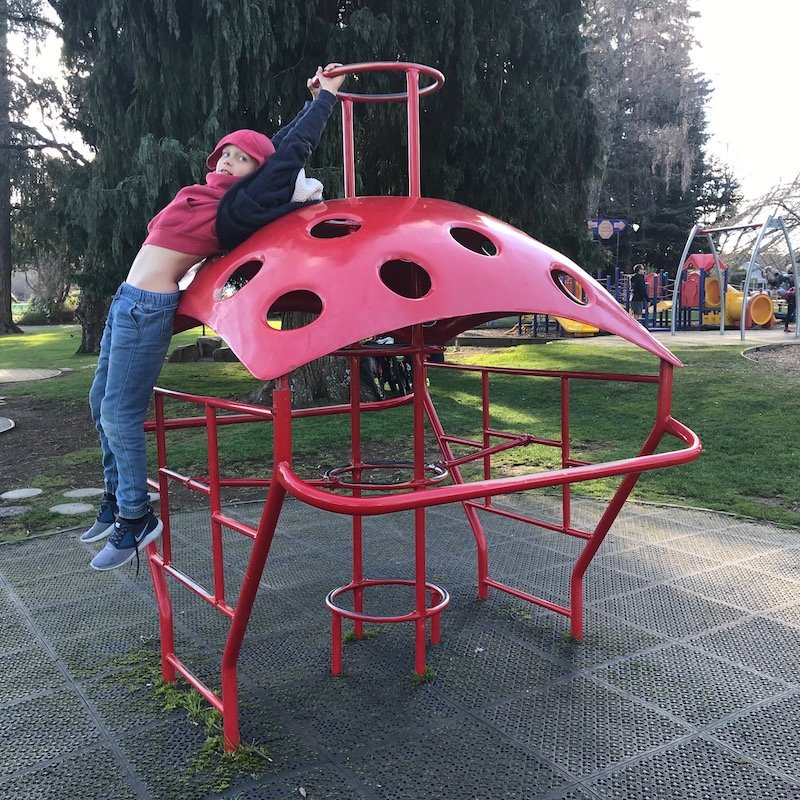 Ladybug climbing frame
This was a unique piece of play equipment in Taupo.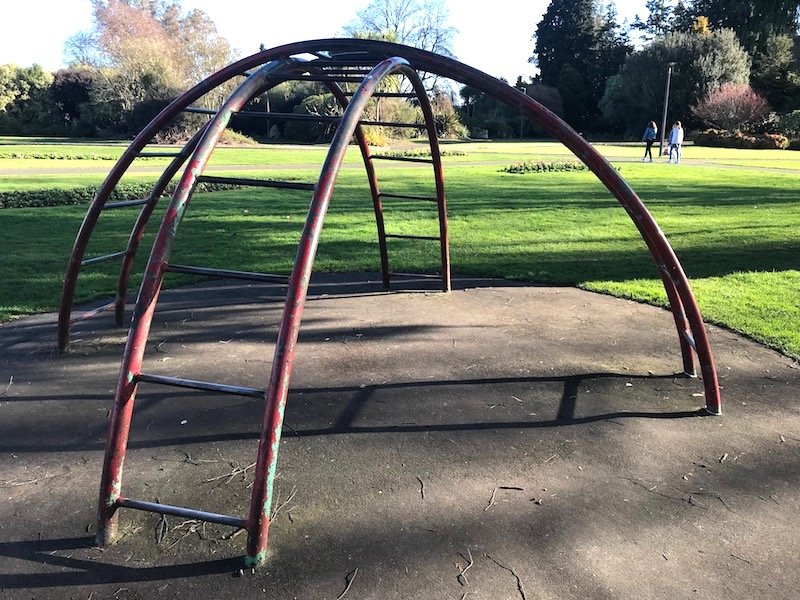 Monkey Bar dome
There's lots of standalone equipment around the edges of the park too.
Plus, open space for running games, and bike and scooter paths.
BYO wheeled toys.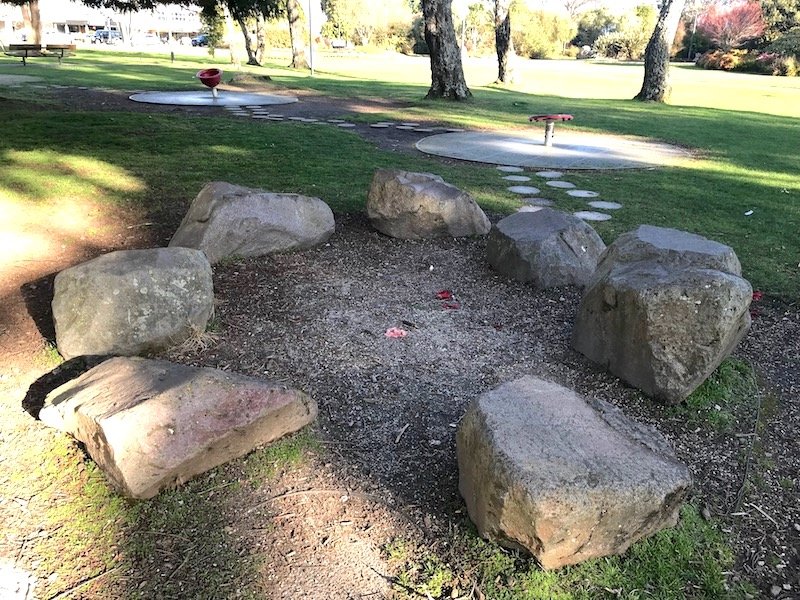 Nature Playground in Taupo
There's a Stone Circle, the perfect spot to gather before a game of hide-and-seek.
Or perhaps as part of a Parkour Adventure.
Or a session of 'The Ground is Lava' game where your feet can't touch the grass, and can only move by climbing on or over things, staying off the ground at all times.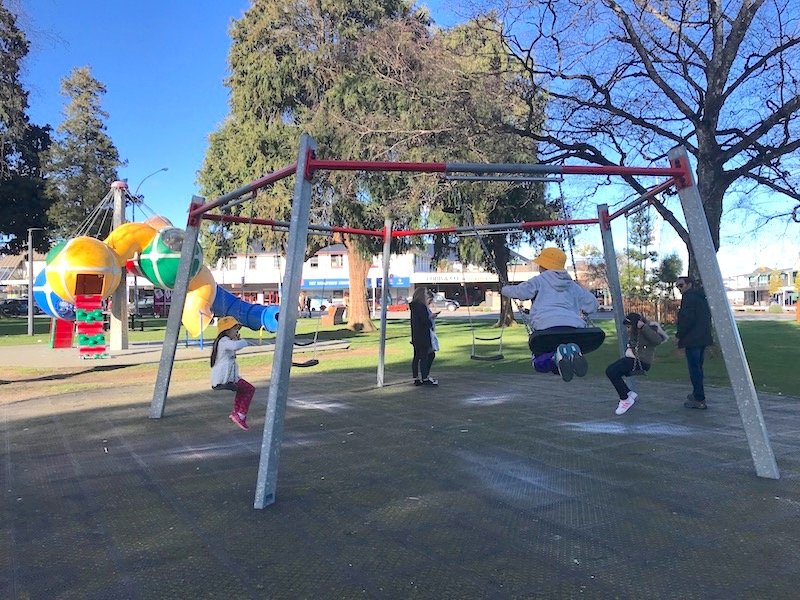 THE INSIDE SCOOP: Things to do in Taupo with Kids
Correct at time of publication on Roam the Gnome. Please check with venue for updates. We apologise in advance if there have been any changes we are unaware of. All prices in AUD dollars, unless otherwise stated
Address: 4 Story Place, Taupo
Telephone: +64 7-376 0899
Website: Click here
Opening Hours: Sunrise to sunset
Entry Fees: Free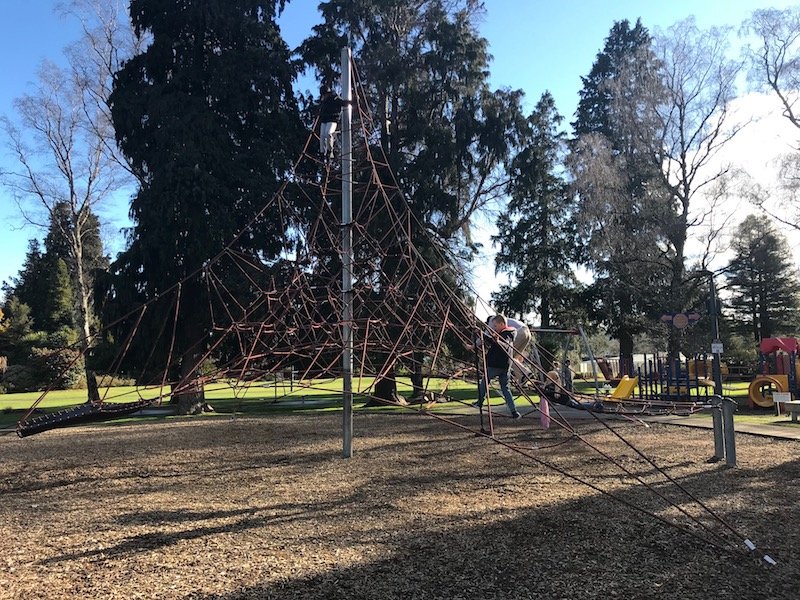 How to get to Taupo playground
By Bus: Catch the Intercity Bus from Napier to Taupo. Exit at the Taupo i-SITE and walk 100 metres.
By Car:
From Napier direction on Napier-Taupo road, turn right at the final T intersection near Lake Taupo, onto Lake Terrace/Thermal Explorer Highway.
Follow this along for 2km until you reach Tongariro Street.
Turn right, then turn left onto Story Place, just after Superloo.
Taupo Park Parking
Free parking in Story Place carpark.
Taupo Playground Map
Facilities at Tongariro Domain Park
Nearest takeaway coffee and/or food options: Subway, Dominos, Burger Fuel and Lone Star are around the corner on Roberts Street. Plus, there are plenty of cafes too.
Toilets: Yes. Superloo. Children under 5 free. Baby change table available. 50 cents entry for everyone else.
Disability access: Yes, Liberty swing available too.
Closest ATM: Taupo CBD
Shade: Trees. BYO hats and sunscreen.
Enclosed: No. A short walk to the main street.
Ground cover: Grass, rubber tiles, concrete.
Picnic tables: Yes
Water Bubblers/fountains: Yes
Scooters and Bikes: Yes
Dogs: On leash only.
Toadstool Rating.

Another of the Best Taupo Playgrounds at McDonalds Taupo!
The World's Coolest McDonalds!
Did you know that the World's Coolest McDonalds is just a 500 metre walk away?
This is another of the fun playgrounds in Taupo.
Leave the car, and walk there in 7 minutes through Taupo town to find out why Taupo McDonalds been awarded this mosst prestigious title!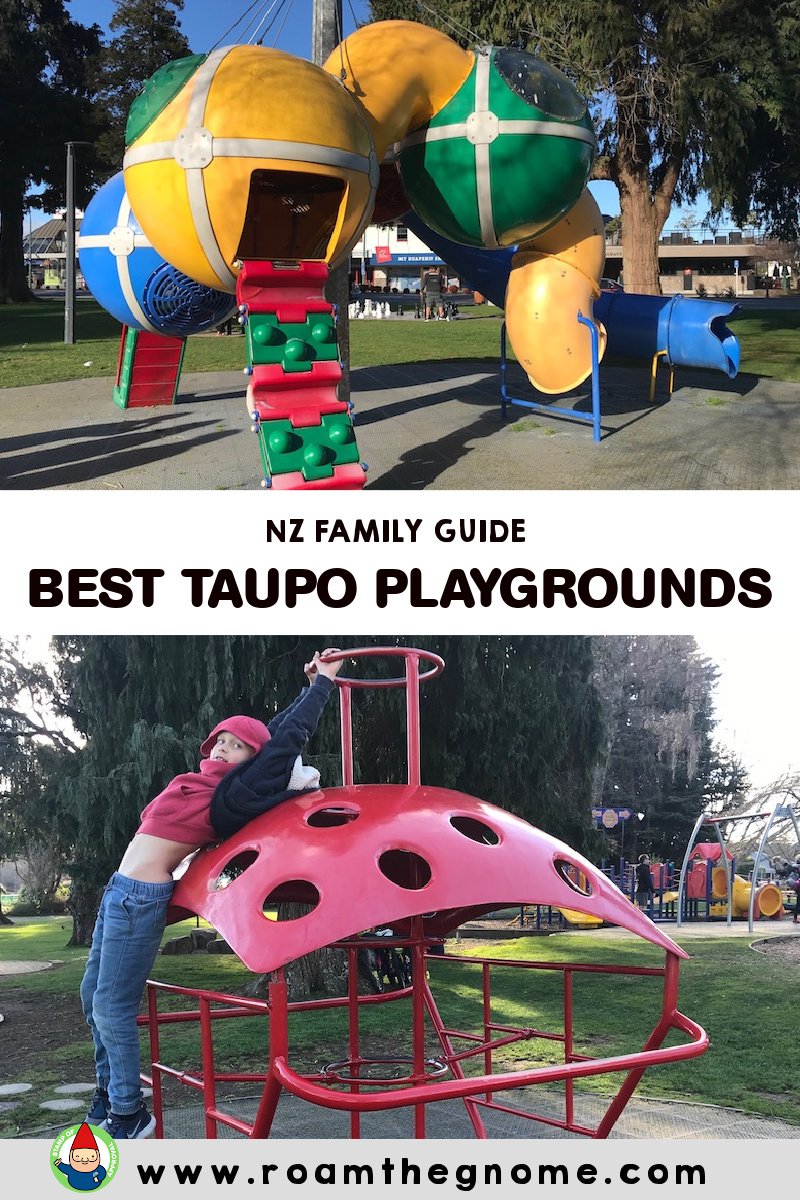 MORE Fun Activities in Taupo with Kids
Lion Express Train Taupo
There's a miniature Taupo train fun ride that loops through the park on select weekends during summer, and school holidays too.
The Cobb and Co train choo choos around the park on public holidays too.
Start time is usually around 11am until mid afternoon.
The train costs $2 per person to ride.
Add this to your list of fun Taupo activities.
Looking for more of the best things to do in Taupo & Waitomo?
Click the blue links for more Taupo & Waitomo ideas