INSIDE: Roam the Gnome's Guide to the Best Sydney Harbour Beaches near the CBD.
I had NO clue that there were breathtaking family-friendly beaches and flat-water coves all along Sydney Harbour.
No idea at all, and I grew up in Sydney.
BUT THAT ALL CHANGED on a day back in December when a car full of kids and I found ourselves a car park at the end of a maze of inner-city roads and hopped out to take a "quick look".
This beach was a tropical dream come true.
Take a look below for details, plus find 9 MORE of the best Sydney Harbour beaches too.
Disclosure: This article contains affiliate links. If you make a purchase after clicking on one of these links, we may receive a small commission at NO extra cost to you.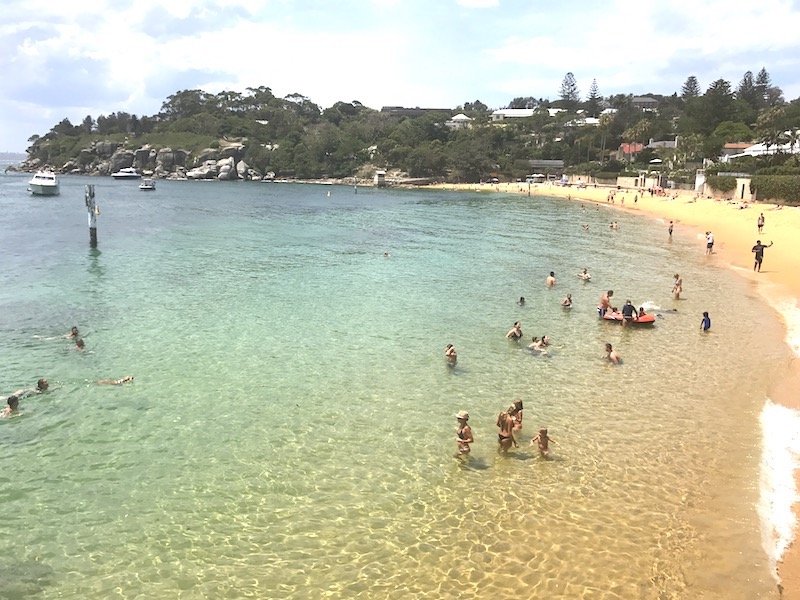 Guide to the BEST Sydney Harbour Beaches
That "quick look" turned into 2 hours of glorious swimming time at what we now rate No.1 of the Best Beaches in Sydney Harbour, without doubt.
---
Book Now: Take a Jet Boat Speedboat ride on Sydney Harbour with kids!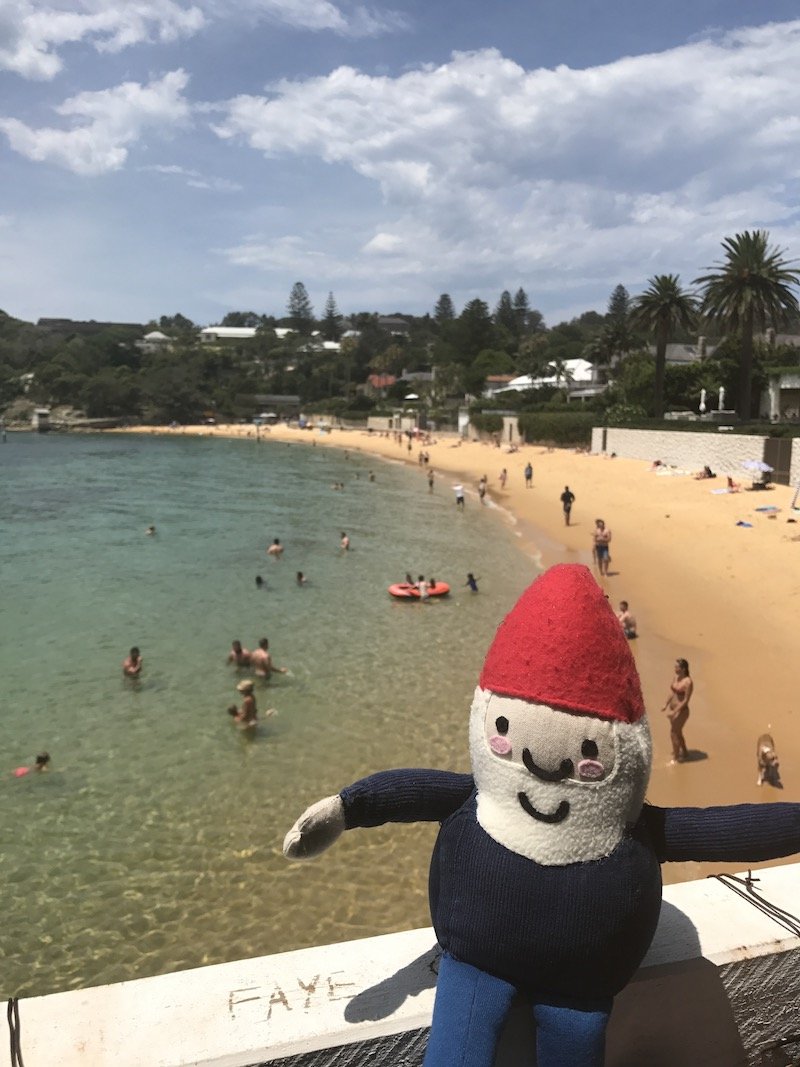 No. 1 of Best Beaches in Sydney Harbour? Camp Cove Beach
It's Camp Cove.
Just a hop, skip and a jump (24 minutes in fact) from the CBD of Sydney and yet you might as well be on a tropical island in the Pacific Ocean.
It's better than Waikiki, trumps all over Bali beaches, and as for Bondi?
We'll leave that to the visiting backpackers and stake our claim at this one.
Click here to read about our adventures at Camp Cove (and see all our pics too)
Warning: Photos DO NOT do this place justice.
View in person for best results!
---
RELATED: Ultimate List of the Best Things to do in Sydney with Kids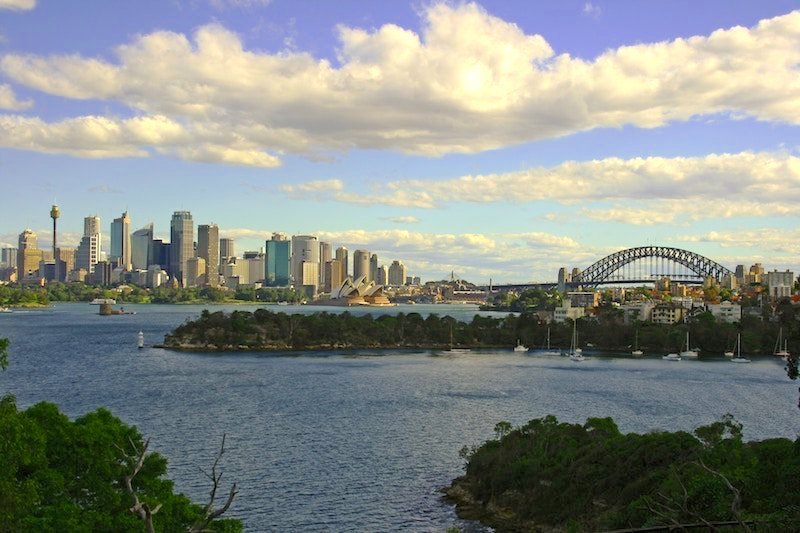 Image credit: Mattia Reali
THE INSIDE SCOOP: 10 MORE Sydney Harbour Beaches to Visit!
Correct at time of publication on Roam the Gnome. Please check with venue for updates. We apologise in advance if there have been any changes we are unaware of. All prices in AUD dollars, unless otherwise stated
This area is filled with awesome Sydney Harbour Beaches, and once we found one, we started searching for more.
In fact, there's so many, it would take a good week to see them all.
Stay at one of the best Sydney hostels to stretch your dollars further, so you can visit ALL the fun Sydney beaches and attractions too.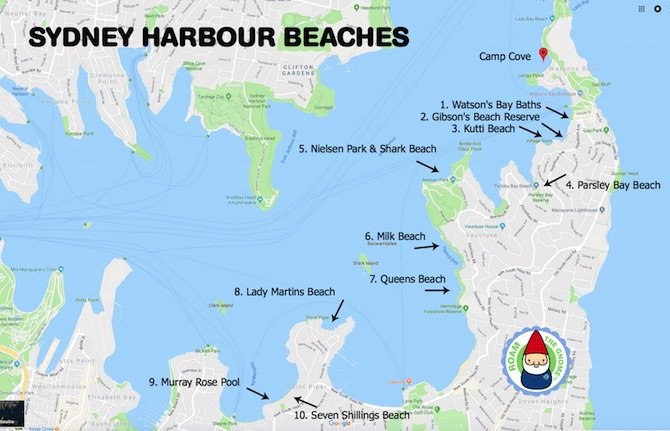 10 Quiet Sydney Beaches for Families and Kids
Here's our list of another ten local family-friendly Sydney Harbour beaches to try.
If you are looking for the best beaches in Sydney for family fun, pop these on your list to explore.
These quiet beaches in Sydney definitely help you beat the crowds too.
Many of them are almost unknown!
These Sydney Harbour beaches are all within 15-20 minutes of Camp Cove.
I've listed them in order, if you were to drive around the headland from one side to the other exploring the area, so you don't have to double back.
Some of these Sydney Harbour beaches have their own netted beach pool, ideal for little kids especially.
Check them out and let us know what you think.
---
Book Now: Sydney Harbour Tall Ship Afternoon Cruise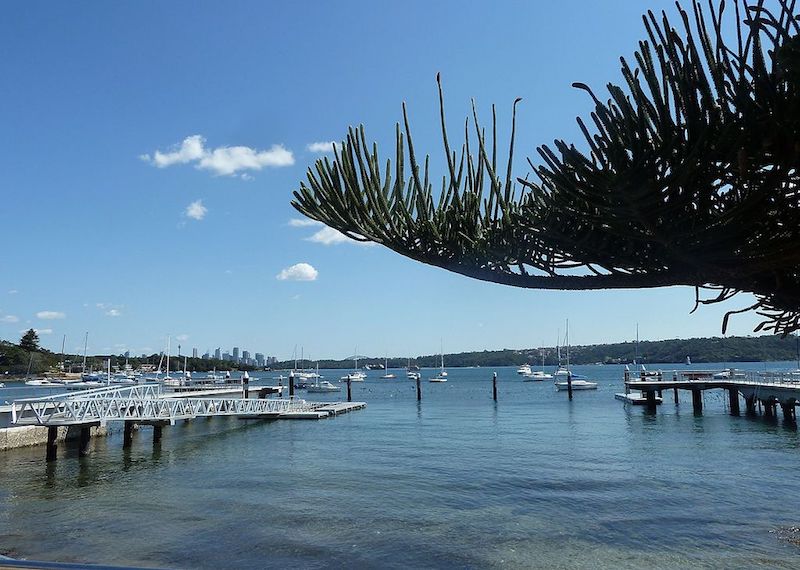 Image credit: David Edwards via CC BY 3.0
Eastern Beaches Sydney
1. Watsons Bay Baths and Robertson Park
Robertson Park on Military Road near Clovelly St and Robertson Place is a sea of green grass and open space, a welcome sight in this tightly packed residential area.
There's a so-so playground here, and the Watsons Bay Ferry Wharf is right door, but the highlight is the swimming zone of Watsons Bay Baths, just a few minutes walk from the park on Marine Parade, Watsons Bay.
The Olympic-sized harbourside tidal pool now includes sunbathing pontoons, a boardwalk, plenty of seating, and is wheelchair accessible.
Find Robertson Park on Military Road, Watsons Bay, at the northern end of Old South Head Road . On-street parking available, along with parking zones around Robertson Park itself.
The popular Teagardens nearby have shaded outdoor kiosk seating. You can also use the toilets and change room facilities if you've been swimming in the baths.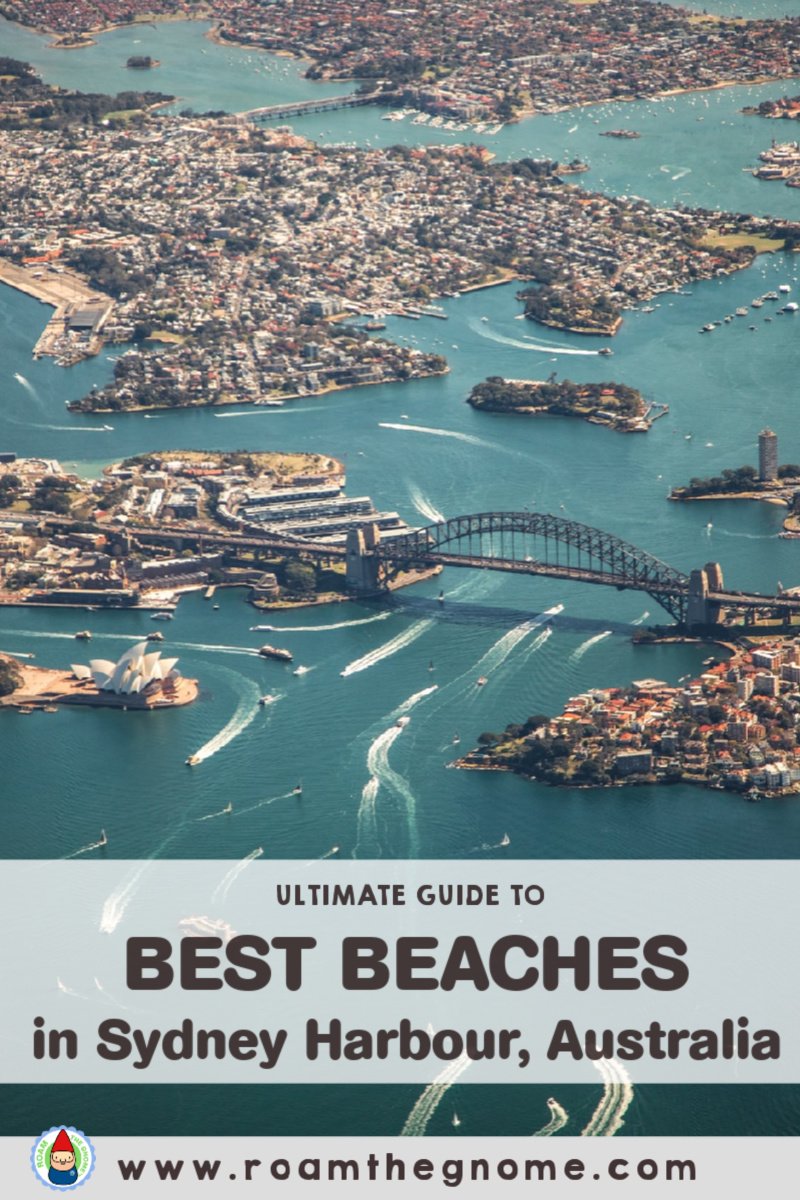 2. Gibson's Beach Reserve
When you've finished swimming in the baths, take a peek at the next beach along, the Gibson's Beach Reserve.
It's at the southern end of Marine Parade and Salisbury Street, and is a popular spot for picnics and flat water swimming.
3. Kutti Beach Vaucluse
This public beach is out of sight, and not so easy to access but if you make it here, you'll find yourself in a paradise of Mediterranean glory.
It's the exposed rocks, the turquoise water, and the mansions behind that transport you over the oceans. You won't believe you are actually in Sydney.
Put your super sleuth hats on, then park your car and walk down to the timber building that is the Vaucluse Amateur Sailing Club.
Hugging the left of the building, and between that and a white picket fence, you'll see a tiny narrow walkway leading down to a set of steep wooden stairs with a gate at the bottom.
That's your entry point.
Push the gate open, and you are home free on Kutti Beach.
Kutti Beach is at the end of Wharf road, Vaucluse, near Hopetoun Avenue and The Crescent.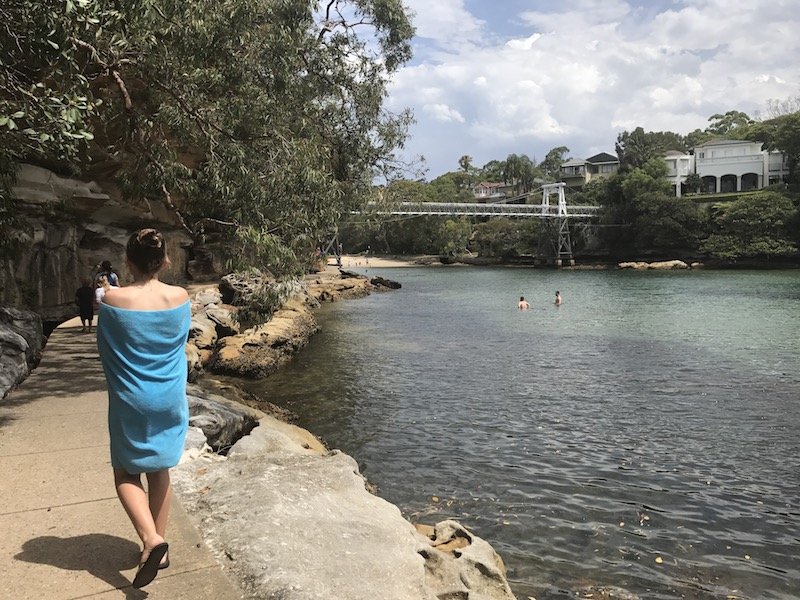 4. Parsley Bay Beach
Read more about our adventure to Parsley Bay Beach.
It's a protected swimming area surrounded by National Park greenery, with calm conditions, a wide expanse of beach, green space for playing games and eating picnics, and a playground.
Parsley Bay is just 6 minutes drive away from Camp Cove.
A small carpark is available from Parsley Road (Horler Avenue), and if are up for a short nature walk via a concrete pathway, there's on-street parking on The Crescent and Hopetoun Avenue.
Note, the swimming net is only in place during summer.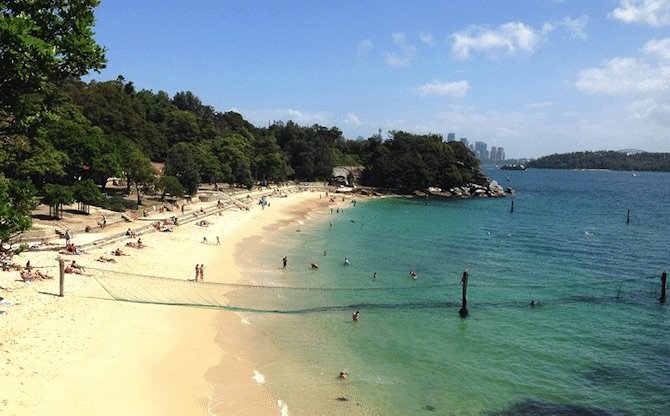 Image credit: National Parks & Wildlife NSW
5. Nielsons Park Vaucluse & Shark Beach
Nielsen Park in Sydney Harbour National Park is the home to Shark Beach, a beautiful safe netted swimming zone that reminds us of river swims at home.
There's bucketloads of shade for family picnics, and a cafe if you are not a picnic kind of person.
This beach and park is about as family-friendly as you get in Sydney, without the crowds as an added bonus.
Closest access to Nielsen Park and Shark Beach is Greycliffe Avenue, Vaucluse. Park along the street if you can, or find other side-street parking opportunities nearby.
It's a quick walk from here to Nielsons Park and the beach. Explore the penisula of Bottle and Glass point. The rocks here were named because the sandstone columns were thought to resemble glassware.
Sadly, they've lost some of their size as they were once used for target practice from passing ships!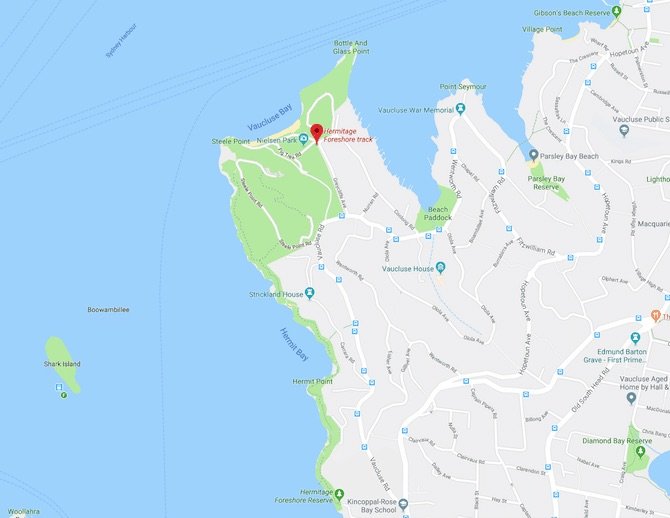 Hot tip: Sydney Harbour National Park Walk
Nielsons Park is also the start of the Hermitage Foreshore walk (see map above).
This easy coastal walk meanders around the coastline all the way to Bayview Hill road, with views of Shark Island and the Harbour Bridge.
Take a dip at Milk Beach (see below) and pause to admire the historic Strickland House that sits behind it. A little further along, find the private and shady Queens beach too.
The Hermitage Foreshore Walk is 4km round trip.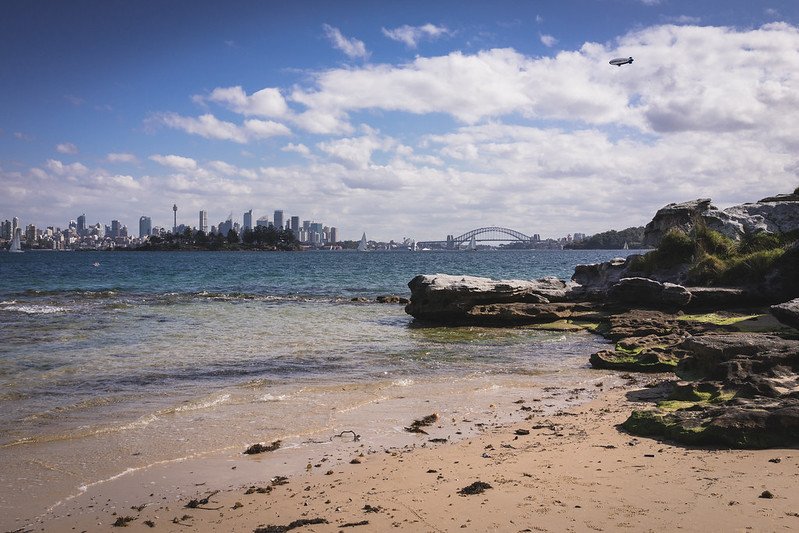 Image credit: Jayphen via CC ShareAlike 2.0
6. Milk Beach Vaucluse
Milk Beach is another one of our top Sydney Harbour beaches, simply because it is pretty.
It's a bonus that it's perfect for family swims.
Like Camp Cove, it's also within the Sydney Harbour National Park.
Limited off-street parking available.
The nearest street access is Carrara Road or park near Nielsons Park and wander in via the Hermitage Foreshore walk mentioned above.
For those on public transport, the 325 bus is the one to catch.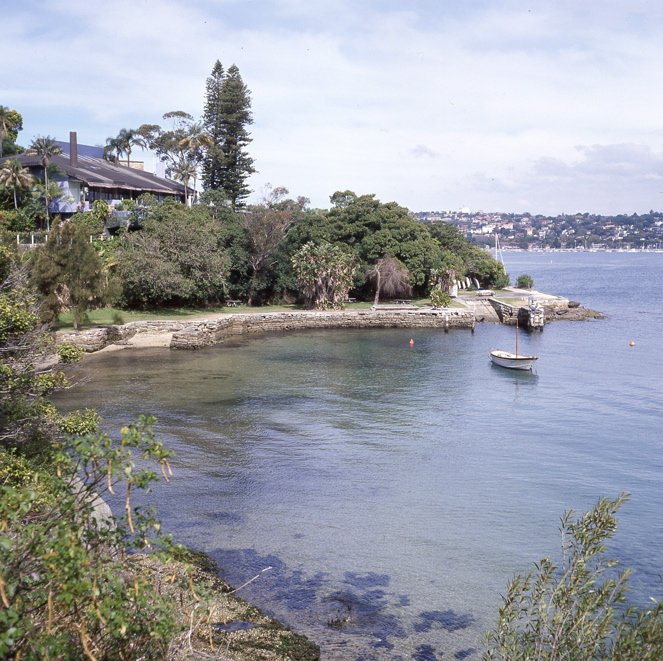 Image credit: Michael Woodhead via Flickr CC by SA-2.0
7. Queens Beach Vaucluse
Queens Beach is the last of the Sydney Harbour beaches along the Hermitage Foreshore Walk.
The closest access to this Queens Beach nook is via the sandstone step pathway at the junction of Little Queens Lane and Queens Avenue, near Vaucluse Road.
Alternatively, walk from Neilsen Park (20 minutes) or Bayview Hill Road (10 minutes) Follow the sandstone steps down to the Hermitage Foreshore Walk.
There's also a number of other ways to access the walk including from Shark Beach / Nielsen Park (About 20 minute walk) or from Bayview Hill Road (About 5-10 minute Walk).
Limited on-street parking available nearby.
Try your luck.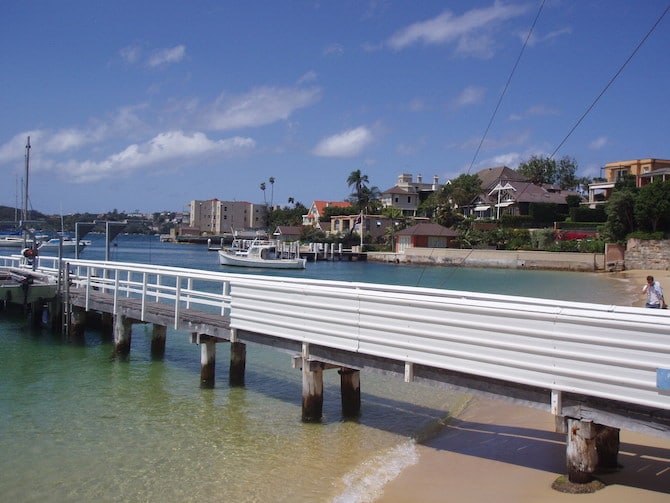 Image credit: 000012 via Creative Commons
8. Lady Martins Beach Point Piper
Of our list of Sydney Harbour beaches, this one is the most unlikely find – Lady Martins Beach Sydney.
Find it at the end of Wolseley Road where you will spy the Royal Prince Edward Yacht Club.
There's a super narrow pathway to the left (as you face the ocean) of the Yacht Club that gives you access. BYO drinks and snacks. You won't want to leave for a few hours.
Image credit: Sardaka via CC BY 3.0
9. Murray Rose Pool, Double Bay (formerly Redleaf Pool)
A 90m x 60m enclosure provides a safe and popular swimming zone for kids and families at Murray Rose Pool.
Formerly called Redleaf pool, this tidal enclosure can be found on New South Head Road, in Double Bay.
There is a kiosk on site, plus shady spots to sit and view the harbour.
Stair access from New South Head Road.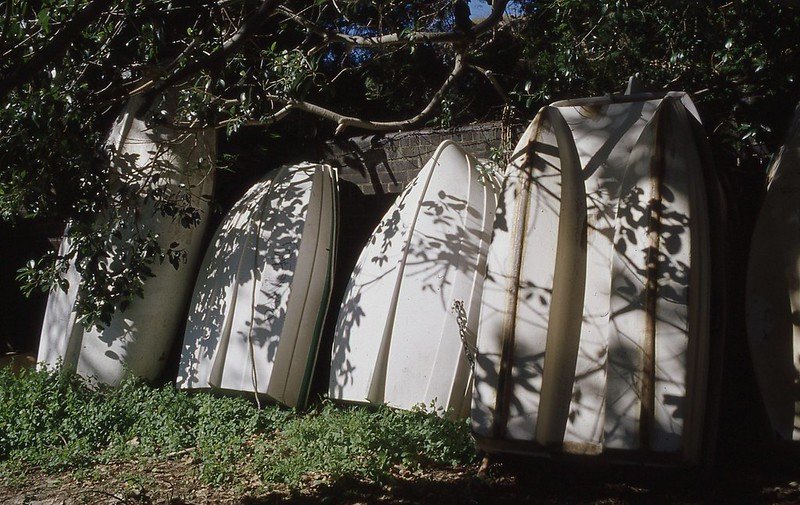 Image credit: Michael Woodhead via Flickr CC by SA 2.0
10. Seven Shillings Beach
The Murray Rose Pool is part of Seven Shillings Beach in Blackburn Cove, Australia.
Access is via St Mervyns Avenue or through Blackburn Gardens in Double Bay.
Keep an eye out for the Double Bay Library and Woollahra Council Building to know you are in the right spot.
On-street parking can be found in the neighbourhood locale.
That's it. Our round up of the best Sydney Harbour beaches.
Let us know what you think!
11 Best Beaches in Sydney Harbour Map
Toadstool Rating: Best Beaches for Kids in Sydney

If you are looking for the best places to swim in Sydney city with kids, any one of these will do.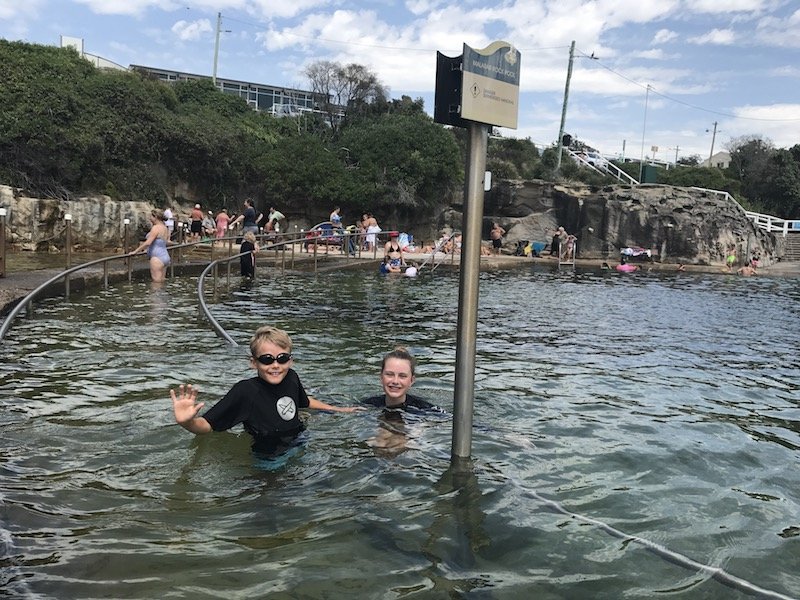 Looking for more places to swim in Sydney?
Click the blue links below for more Sydney travel tips