INSIDE: Everything you need to know about Surfer Girl Bali shopping.
Surf-loving girls will adore the cute fashion of Surfer Girl Bali store.
It's called "The Happiest Girls Brand in The World" and it might just be.
The graphic design is super cute, and fun, and tweens (and mums) love it.
Surfer Girl Bali IS part of the dialogue that says girls can be and do anything – surf, skate, scoot, be queen for a day.
The BEST Fashion Store for Girls in Bali is SURFER GIRL!
Find all the details of where to find these fashion shops in Bali below.
Disclosure: This article contains affiliate links. If you make a purchase after clicking on one of these links, we may receive a small commission at NO extra cost to you.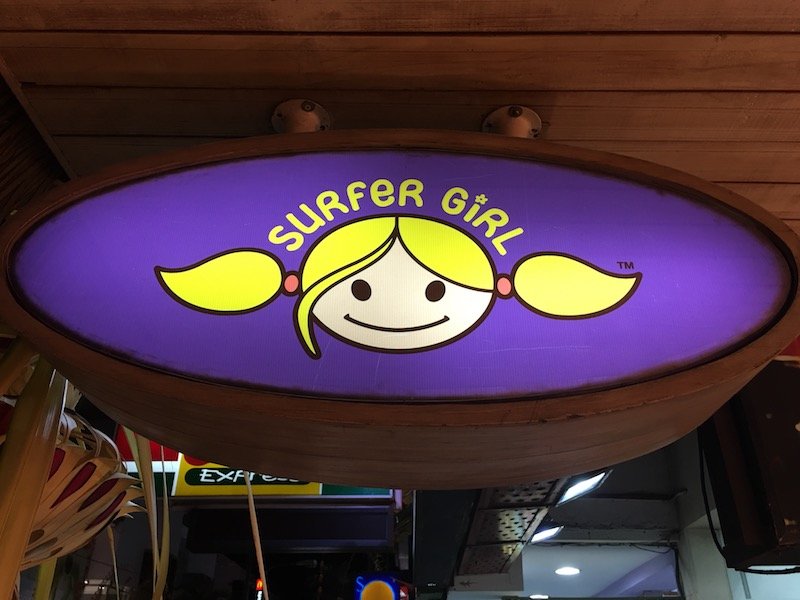 Guide to The Surfer Girl Bali
The Surfer Girl brand is also about promoting the goodness on the planet.
Surfer Girls stand up to bullies, look after wildlife, care for the planet, are advocates for healthy water for everyone, are involved in building strong communities, and support girls in sport.
Being a surfer girl is a top-notch message for young girls in this insta-fake world we live in.
---
RELATED: Ultimate Guide of the Best Things to do in Bali with Kids
Surfer Girl Clothes
The Surfer Girl Logo is super cute, with her blonde piggy tails, and smiley face.
Summer (that's her name) makes everyone smile.
In a surfing world dominated by the big boy-centric brands (Billabong, Rip Curl, Quiksilver, Rusty, Hurley, O'Neill), it's SO refreshing to find the best all-girls surf shop in the world.
The Surfer Girl clothing style is for girls, young and old, with plenty of Surfer girl clothing choices for teens and young adults too.
You can buy:
Surfer girl t shirt and themed t-shirts (both long and short sleeved)
scoop neck tees
sleeveless tees
Surfer Girl dresses
Surfer girl shorts
Surfer Girl swimwear (swimming costumes)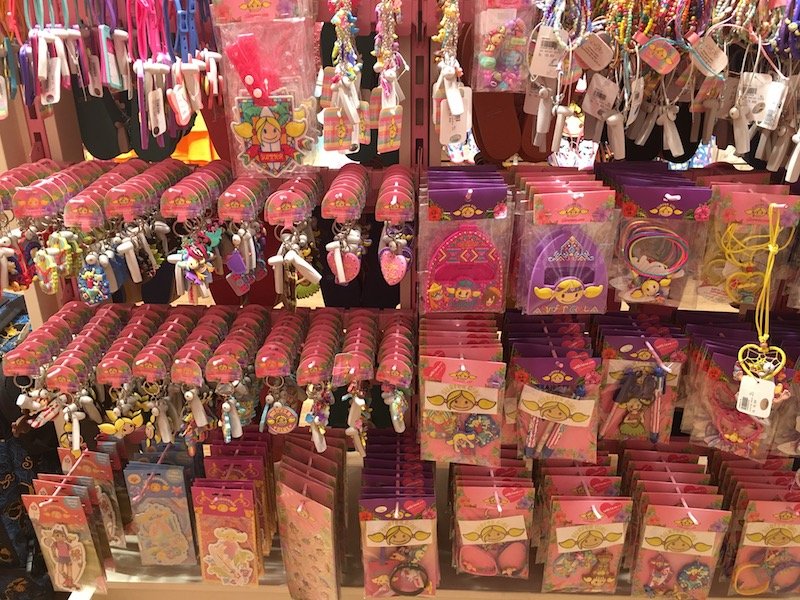 Surfer Girl Accessories
At SG, you can buy:
handbags, shoulder bags, cross-body bags, backpacks, purses, calico carry bags
keychains, luggage tags
hair ties, hair clips
stationery
travel pillows
sunglasses
shorts and sweater tops
lunchboxes
towels
hand towels
dresses
jewellery
water inflatables
footwear
stickers, badges, sunblock
The range of Surfer Girl products is HUGE.
Bali Surfer Girl Fashion
Want to know how to dress like a Surfer Girl?
All you need are your favourite pieces of this brightly coloured apparel – lots of tie dye, pink and orange, blue and yellow and green, and you've made a start.
Add a pair of Surfer Girl thongs, and some cute Surfer Girl sunglasses, and a Surfer Girl shoulder bag to carry all your daily stuff.
Don't forget a hair tie to keep all the wispy bits of hair away, out of your face when you are riding the board through the waves, and you're set.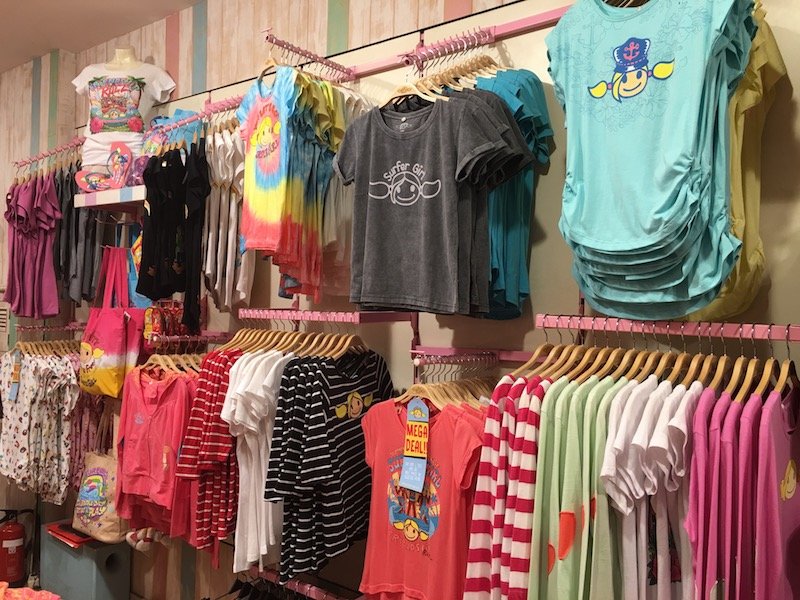 Where to find Surfer Girl Shop Legian (Flagship Store)
In Bali, you can't miss the Surfer Girl Kuta shop.
Just look out for the distinctive Surfer Girl apparel in the shop window!
The flagship store is on JL. Raya Legian in Kuta.
Surfer Girl opening hours
The Legian Surfer Girl shop is open from 9am until 10.30pm.
There's plenty of time to browse and buy all your souvenirs too.
The Surfer Girl thong footwear is the cutest.
Every girl child needs a pair!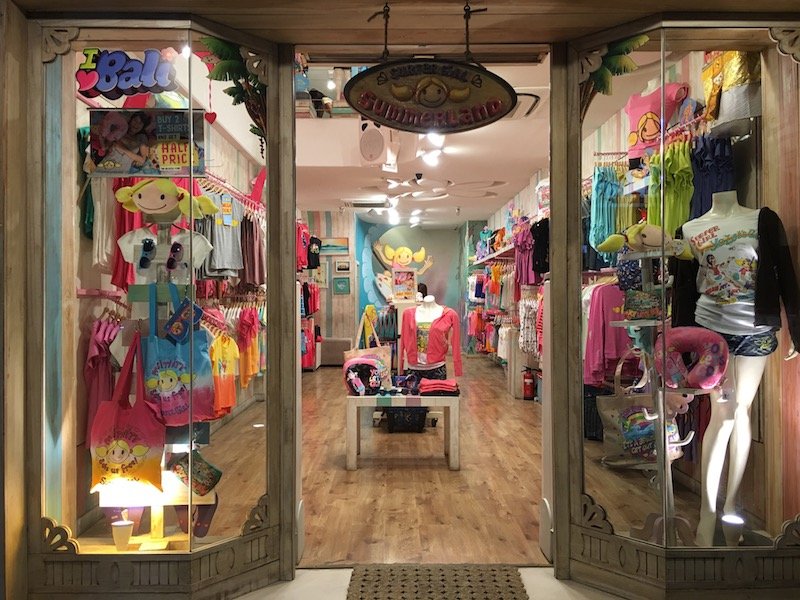 THE INSIDE SCOOP: MORE Surfer Girl Indonesia Stores
Correct at time of publication on Roam the Gnome. Please check with venue for updates. We apologise in advance if there have been any changes we are unaware of. All prices in AUD dollars, unless otherwise stated
No.1: Surfer Girl Store KUTA Square
Address: Kuta Square Block D – 15, Jalan Raya Kuta,, Kuta, Kabupaten Badung. It's between the POLO store and CocoMart, and a few metres walk from Matahari Department Store, but on the opposite side of the road.
Telephone: +62 361 753885
Opening Hours: 8.30am to 11pm
No.2: SOGO Discovery Shopping Mall
Address: JL. Kartika Plaza, Kuta Bali
Telephone: +62 361 755522
Hot tip: Visit Amazone indoor playground while you are there
No.3: SOGO Nusa Dua
Address: Kawasan Pariwisata, Nusa Dua Bali
Telephone: +62 361 772655
No.4: Surfer Girl Seminyak Square
Address: Jl Laksamana Oberoi, Seminyak – Bali, 80361 Indonesia
Telephone: +62 361 732177
No.5: Surfer Girl Discovery Shopping Mall
Address: Jalan Kartika Plaza, Discovery Shopping Mall Lantai 2 MG 10
Telephone: +62 361 769528
No.6: Surfer Girl Bali collection
Address: Bali Collection Blok. B4, Jl. Kw. Nusa Dua Resort, Benoa
Telephone: +62361775698
No.7: Surfer Girl Outlet Store
We're unable to verify the current location of this shop on Sunset Road Kuta.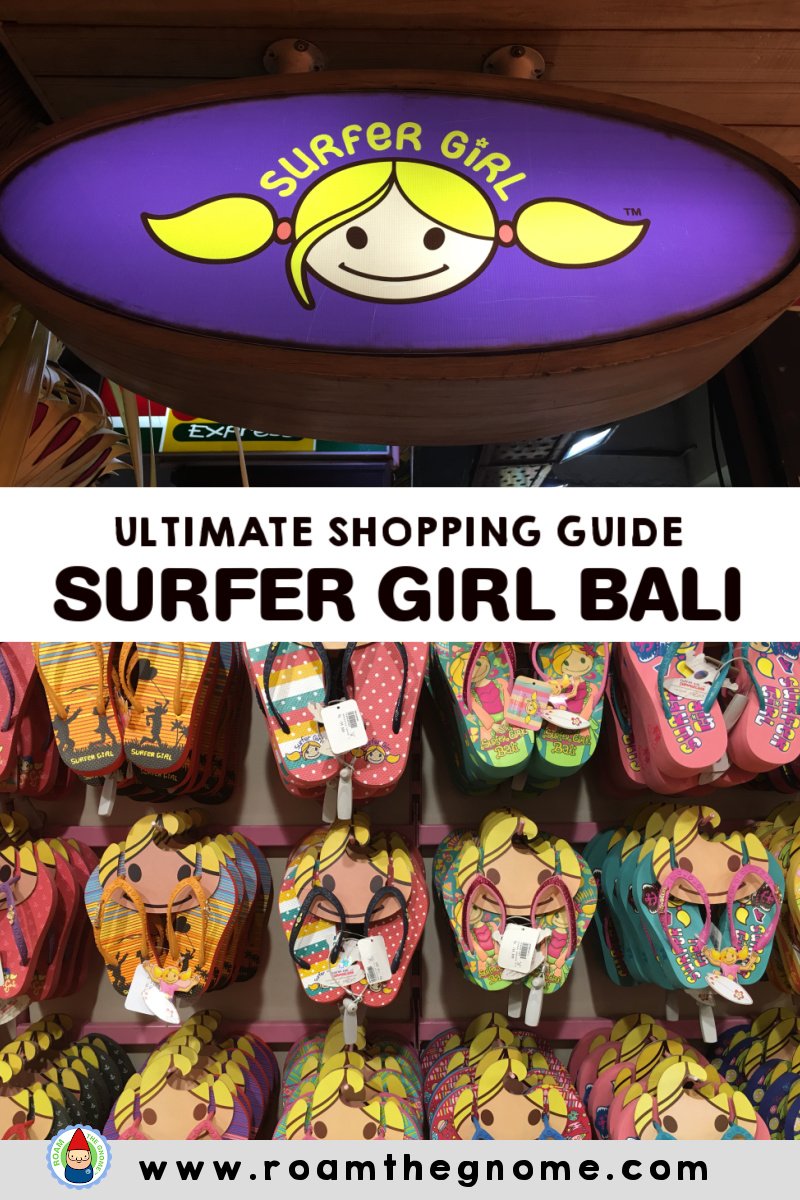 MORE Surfer Girl Bali Store Outlets
Find Surfer Girl style in these shops too.
Bali Surf Nusa Dua
Blue Surf Tanah Lot
Duty Free Shop Mall Bali Galleria
Bali Surf Outlet (BSO) on Jl. By Pass Ngurah Rai – Bali
Original Surf Outlet (OSO) on Jl. By Pass Ngurah Rai – Bali
Ngurah Rai domestic airport shops, and Ngurah Rai international terminal shops
Surfer Girl Online Store is OPEN
If you go home somewhat empty-handed, or need more clothes and accessories in your wardrobe….
No worries.
Simply head to the Surfer Girl Online Store.
Find all the best clothing and accessories from this cool brand.
Toadstool Rating: Surfer Girl Stores in Bali

Looking for MORE places to go shopping in Bali?
Click the links in blue below for more Bali inspiration.