INSIDE: Ultimate Guide to Summerland House Farm Alstonville NSW
If you are visiting Byron Bay with kids, put THIS PLACE on your list.
Head to Summerland Farm – it's a working macadamia and avocado farm just 3 minutes drive from the picturesque Byron hinterland town of Alstonville.
There's LOTS of activities and attractions for kids and families to do here, but the best bit is that you can enjoy the peace and quiet with a picnic on the grass while the kids play with a bunch of newly made friends.
THIS is a great family day out in Byron Bay, with a coffee shop on site so you won't have to leave in a hurry!
Have a look below to find all the details of things to do at Summerland House Farm Alstonville.
Disclosure: This article contains affiliate links. If you make a purchase after clicking on one of these links, we may receive a small commission at NO extra cost to you.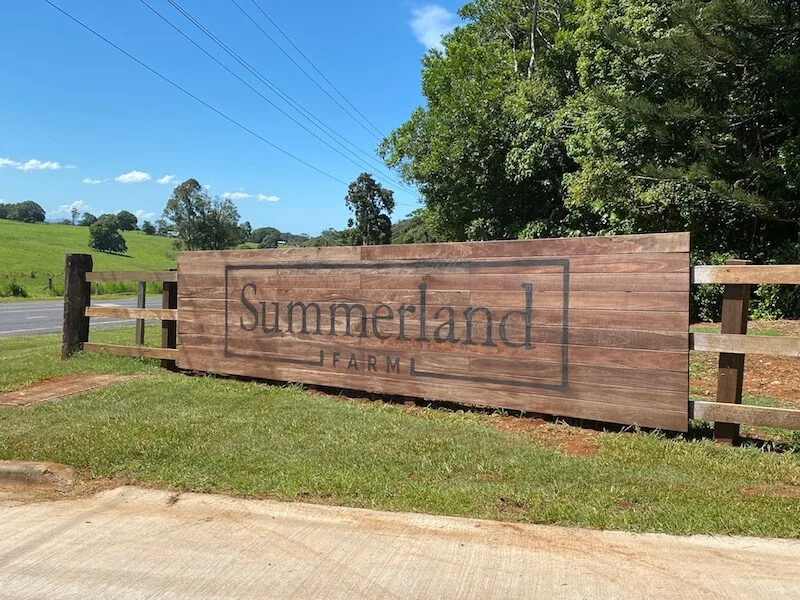 Guide to Summerland House Farm Alstonville
Summerland Farm is just off the Bruxner Highway as you head from Ballina towards Lismore.
You'll take the Alstonville turn off, right onto Ballina Road, then drive into Alstonville town and follow the signs.
It's well sign posted.
As you turn left onto Wardell Road, look out for Crawford House Museum.
(There's a little playground there too.)
RELATED: Ultimate guide of things to do in Byron Bay for kids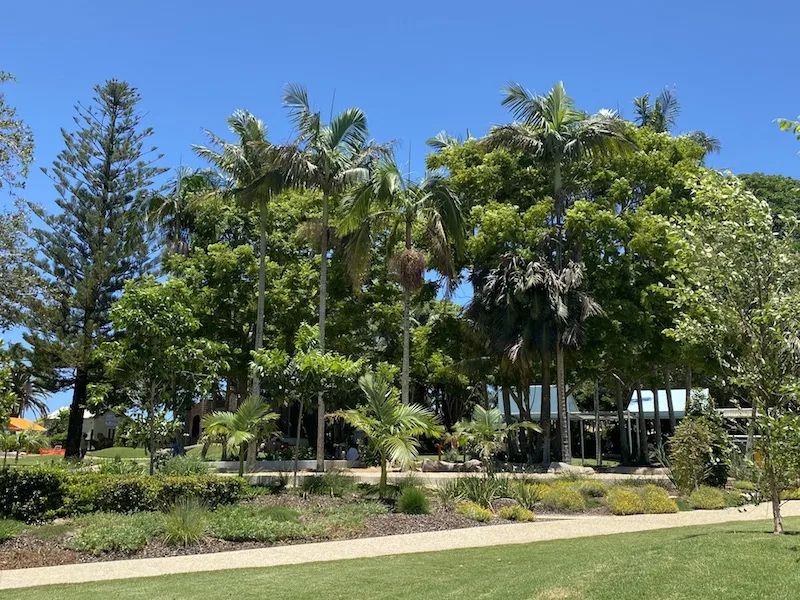 A Unique Thing about Summerland Farm Aruma!
Summerland Farm was formerly known as Summerland House with No Steps.
Did you know this working farm is the place of employment for over 100 employees with varying disabilities?
It is!
These team members do everything from picking fruit, working in the cafe or restaurant, manning the tills, greeting guests, helping to take care of the beautifully manicured gardens and surrounds, biscuit making, cooking, receptionists, and recycling!
Plus, through work, they can gain qualifications such as:
drivers licences and forklift licences
first aid certificates
work cover white cards AND
barista training!
This is just another reason why you should visit.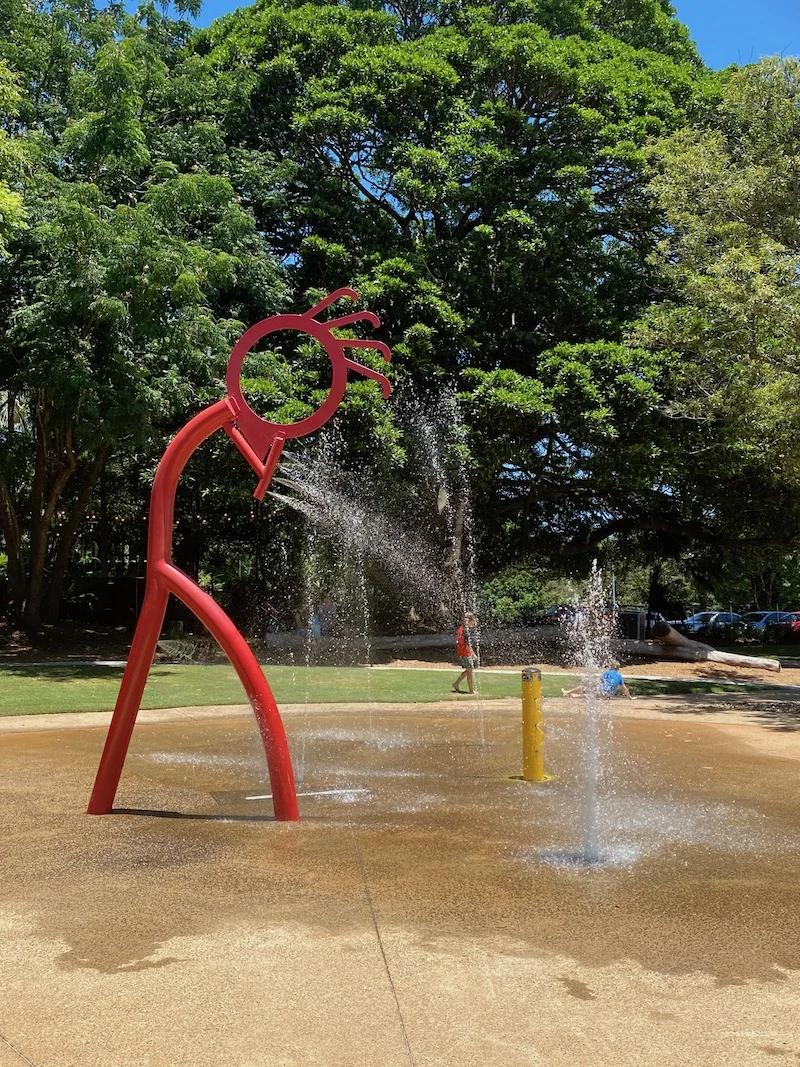 7 BEST THINGS TO DO AT SUMMERLAND FARM HOUSE WITH KIDS
The only question is where to start?
No.1: Summerland Farm Water Park
The Summerland House Farm water park is definitely a big drawcard on a hot day in the Byron shire, when the best Byron beaches for kids are full and car parks are packed, and you simply can't face the battle of the traffic and car parking police.
Head here instead.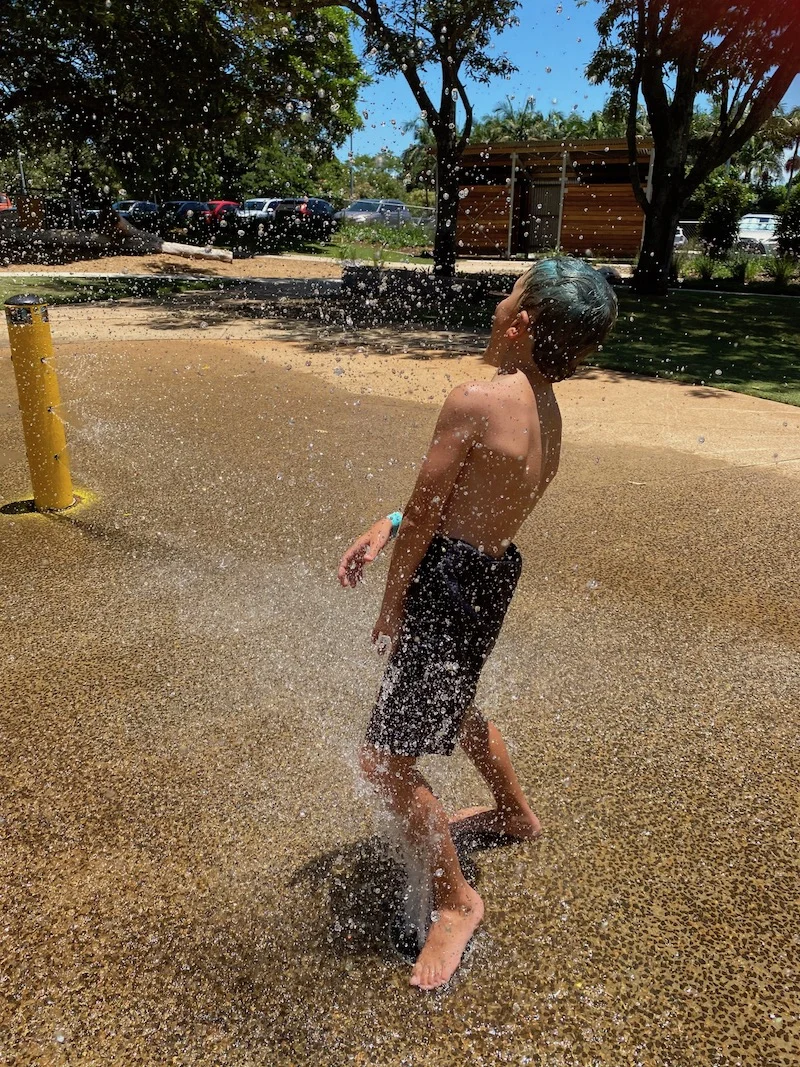 Summerland Farm water play
The Summerland Farm splash pad area has:
water sprays
water fountains
the giant sprinkler man!
But that's not all.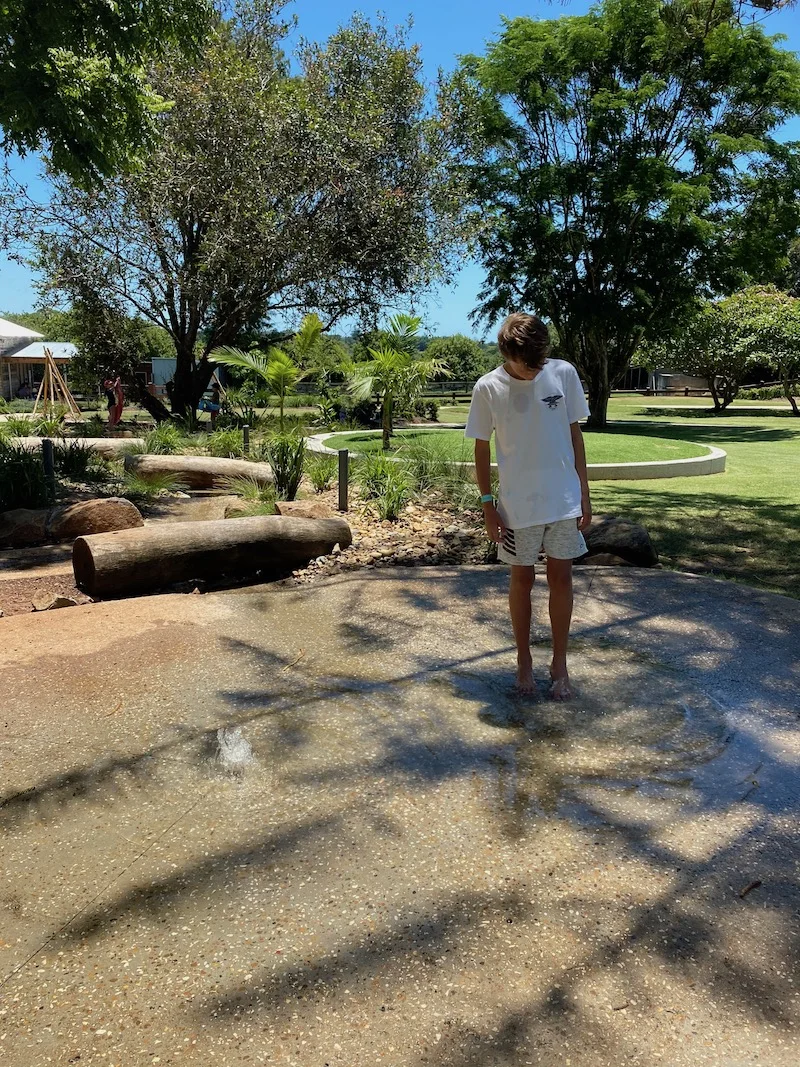 Toddler water play
This little water pool is just deep enough for toddlers (and teens!) to get wet, without the stress of visiting a pool.
Park your group to one side of this area, and you probably won't have to move far, as the kids keep coming back to it.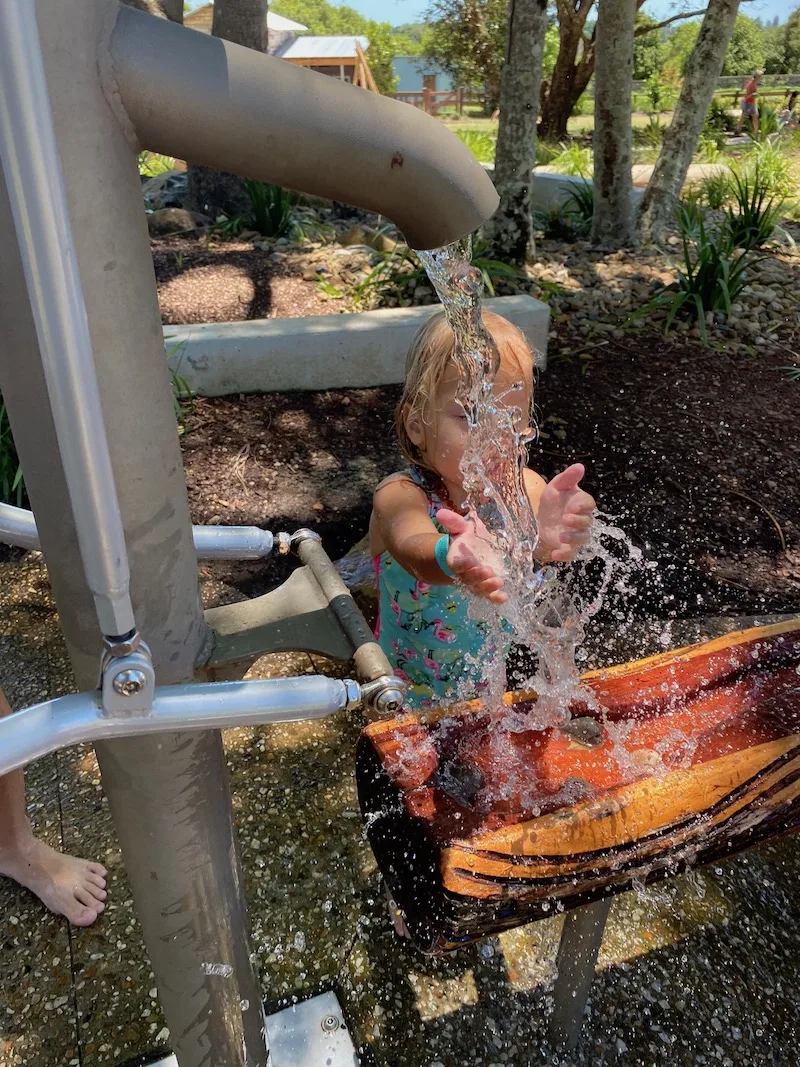 Water play fountain
To the left of the splash pad, there's another nature play area with water features too.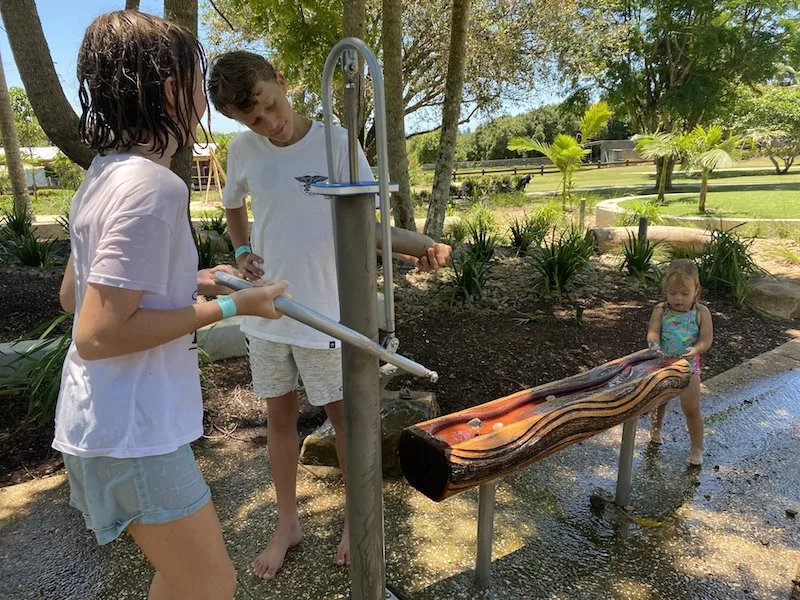 Pump the water, and it flows down the log and down the channel…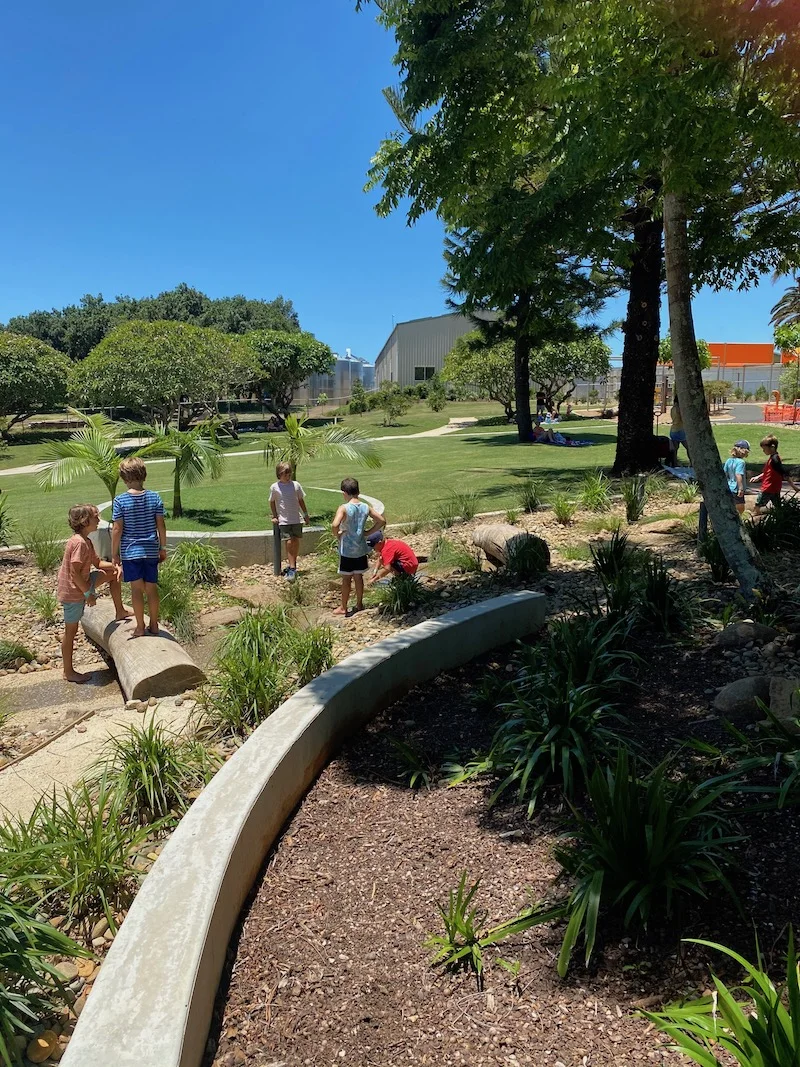 If you follow the water, as the kids will do, there's a spot that is just right to try and stop the water flow with a dam made of stones.
It's a popular pastime!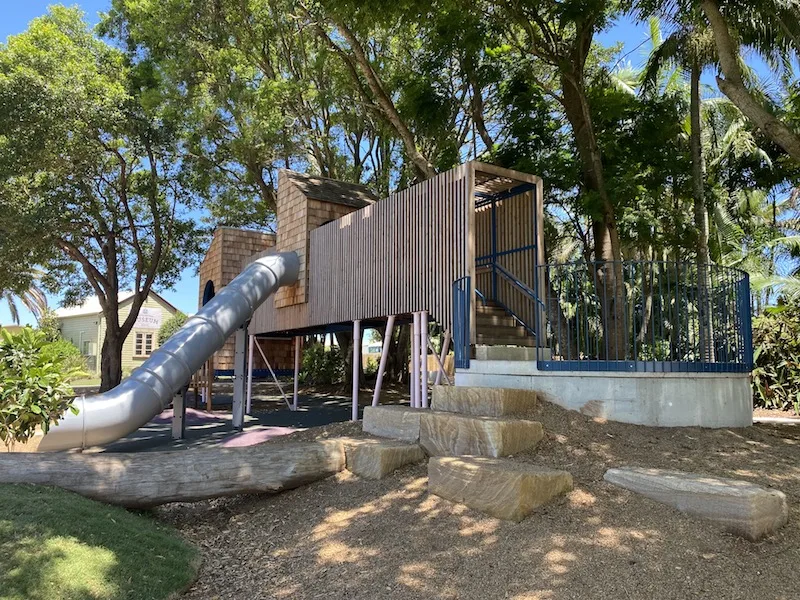 No.2: Summerland Farm Adventure Park
The Summerland Farm playground is a fabulous shaded edition to the farm.
It's one of the best playgrounds in Byron Bay and surrounds, so don't miss it.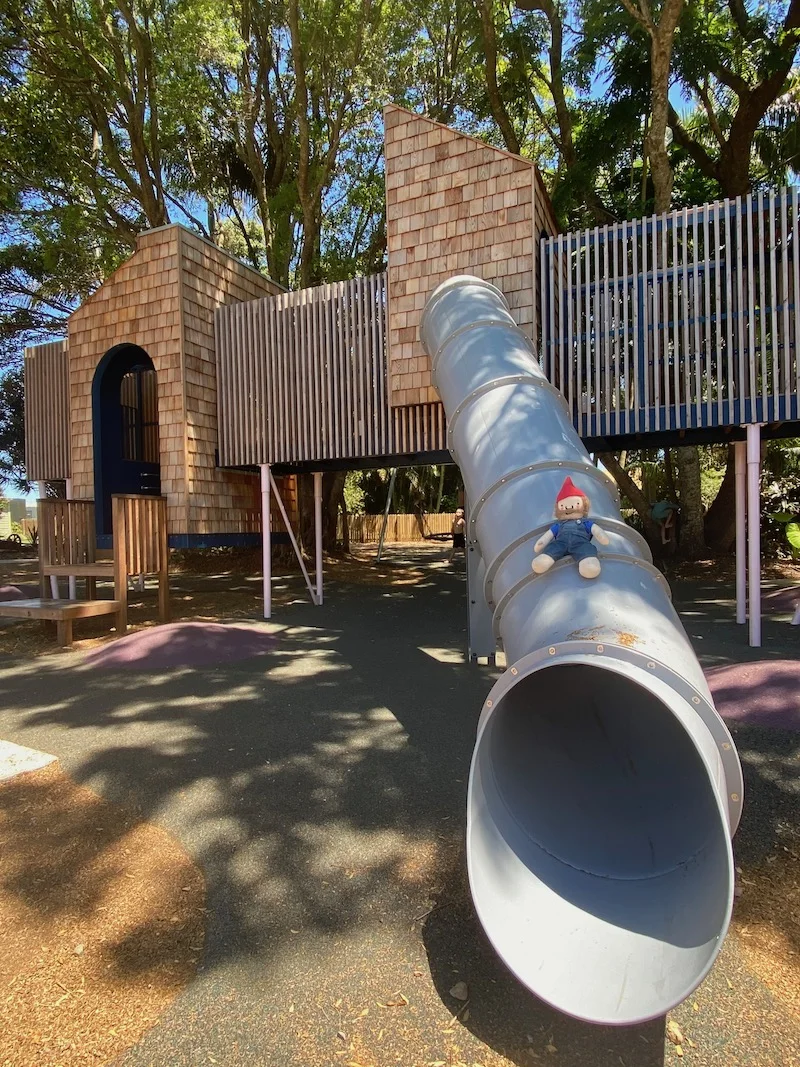 Summerland House Farm adventure playground fort
The fort is the centrepiece.
To the left, there's a very steep and fast slide.
Hot tip: Best not to go down it when wet.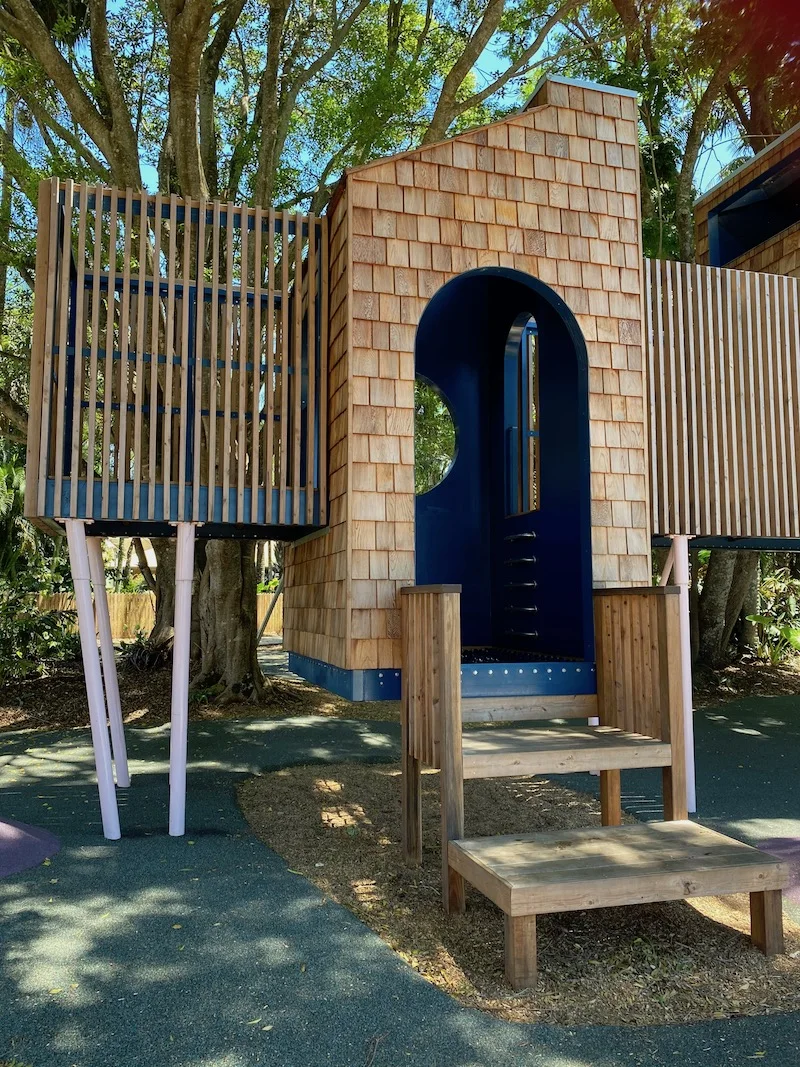 About the Summerland farm playground fort
There's two entrances to the fort.
This one is a bit tricky for smaller kids.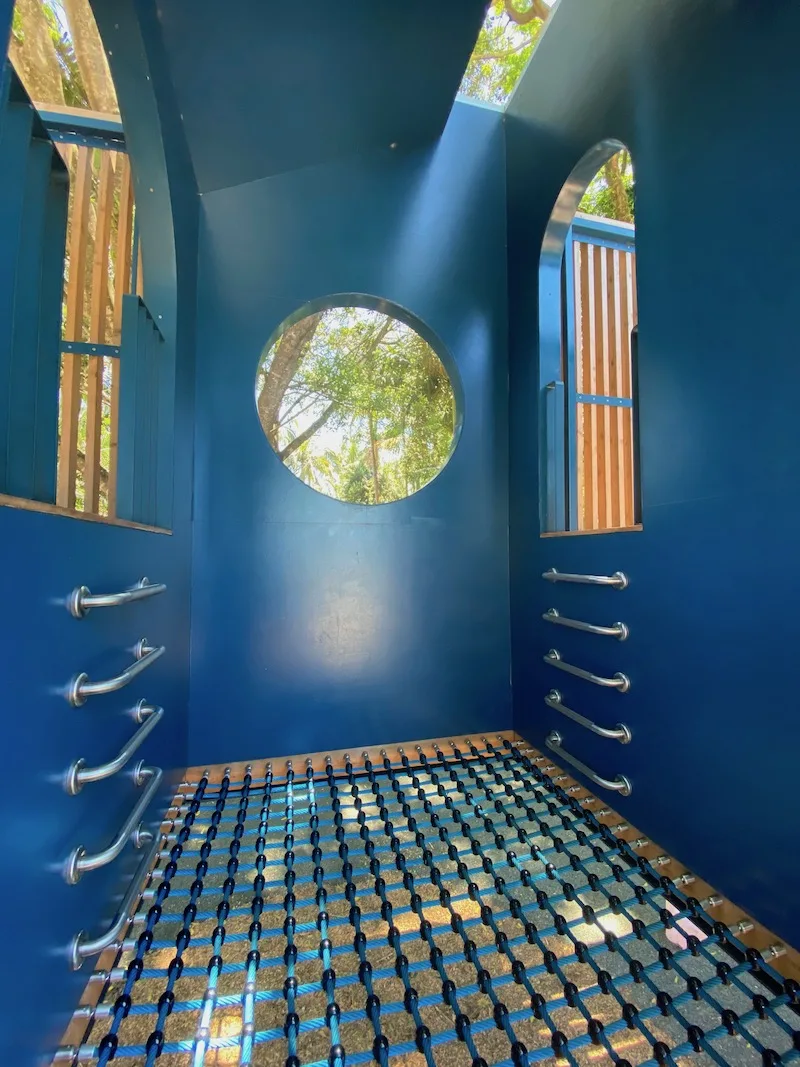 Here's why!
These netted ropes, and the ladders.
They are hard on little ones feet.
But GREAT for kids 5 + years.
A much loved challenge!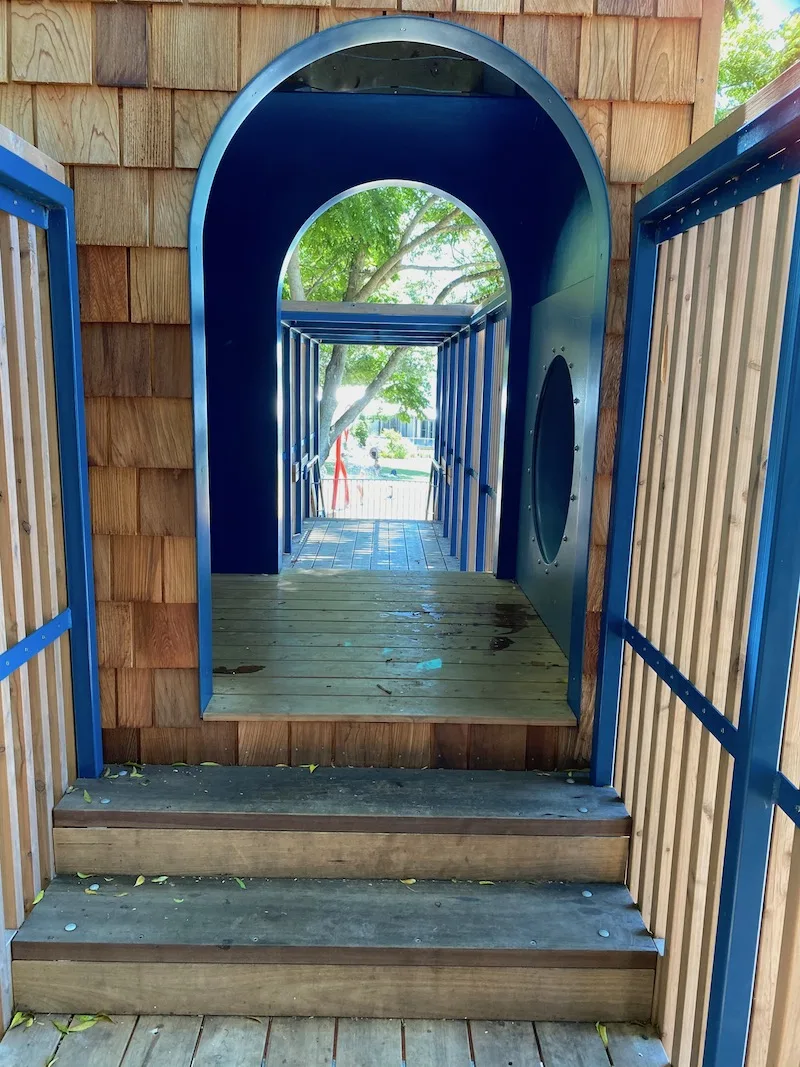 Summerland farm playground fort entrance
Smaller children can enter from the staircase on the water park side.
There's viewing platforms to check out the view from up high.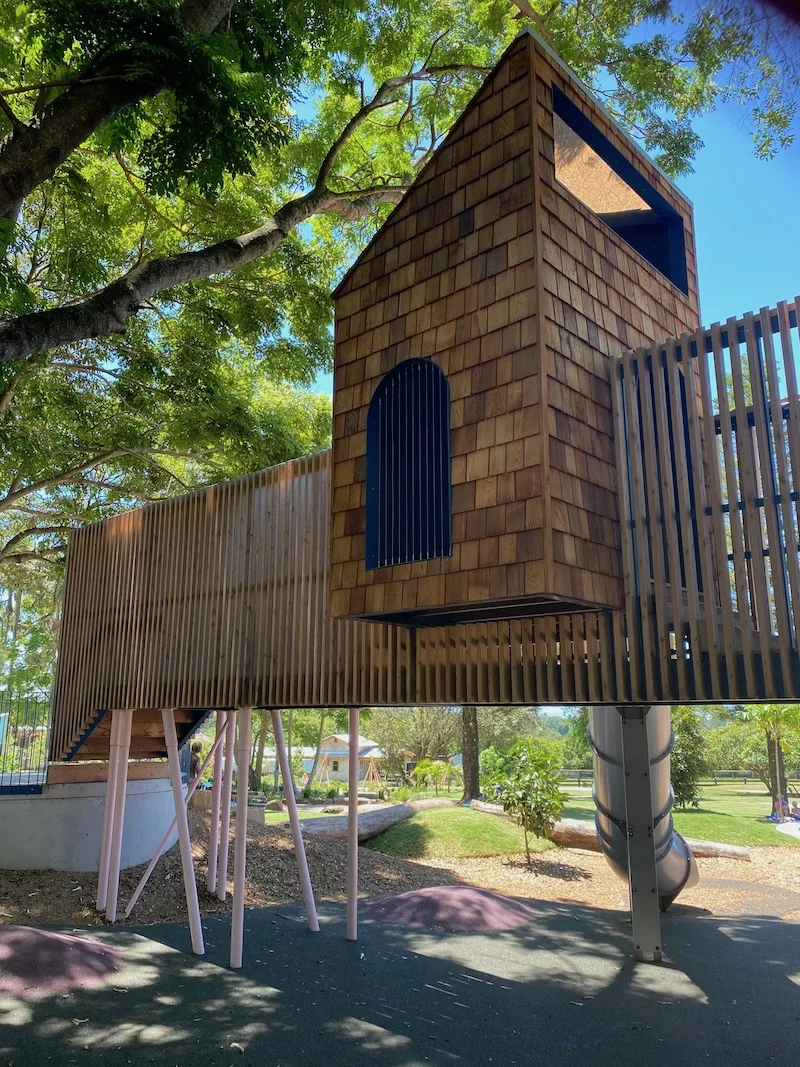 This is the back of the fort.
We love that the whole thing is shaded, so you can play all day.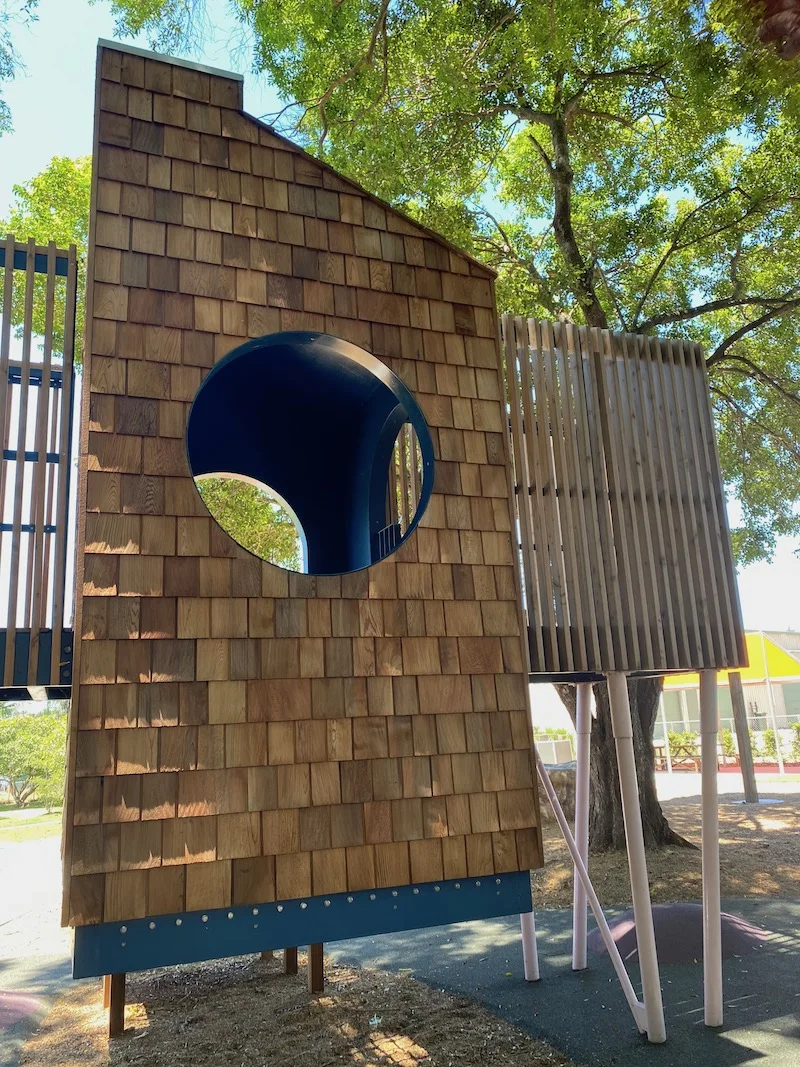 Here's the view from the back towards the right.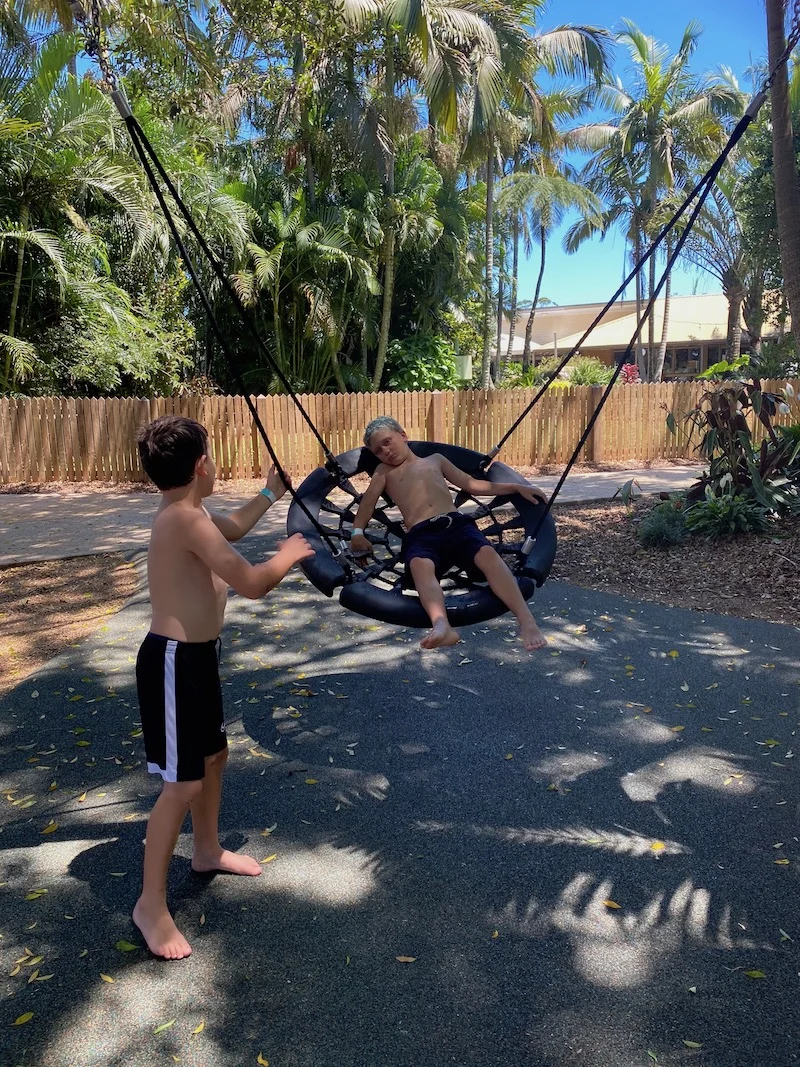 Summerland Farm Nest swing
Behind the fort is a nest swing.
But only one, so kids have to share.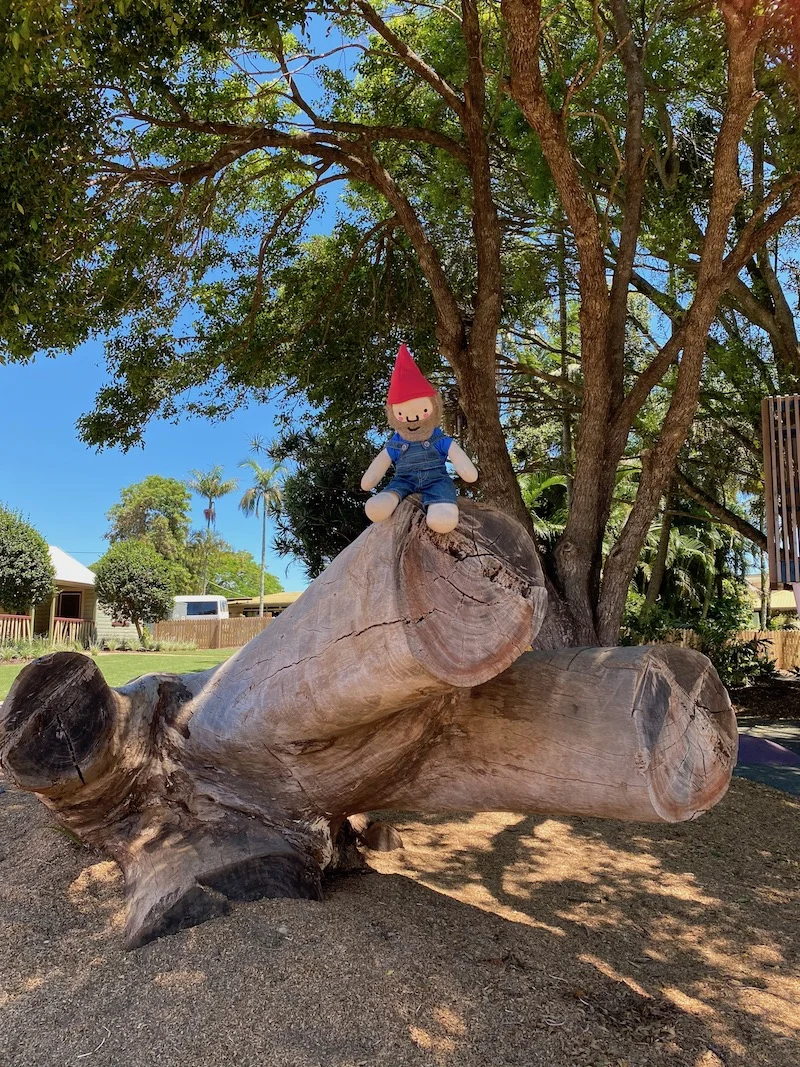 Climbing log
Next to the fort, kids love this three-pronged log castle.
So does Roam the Gnome!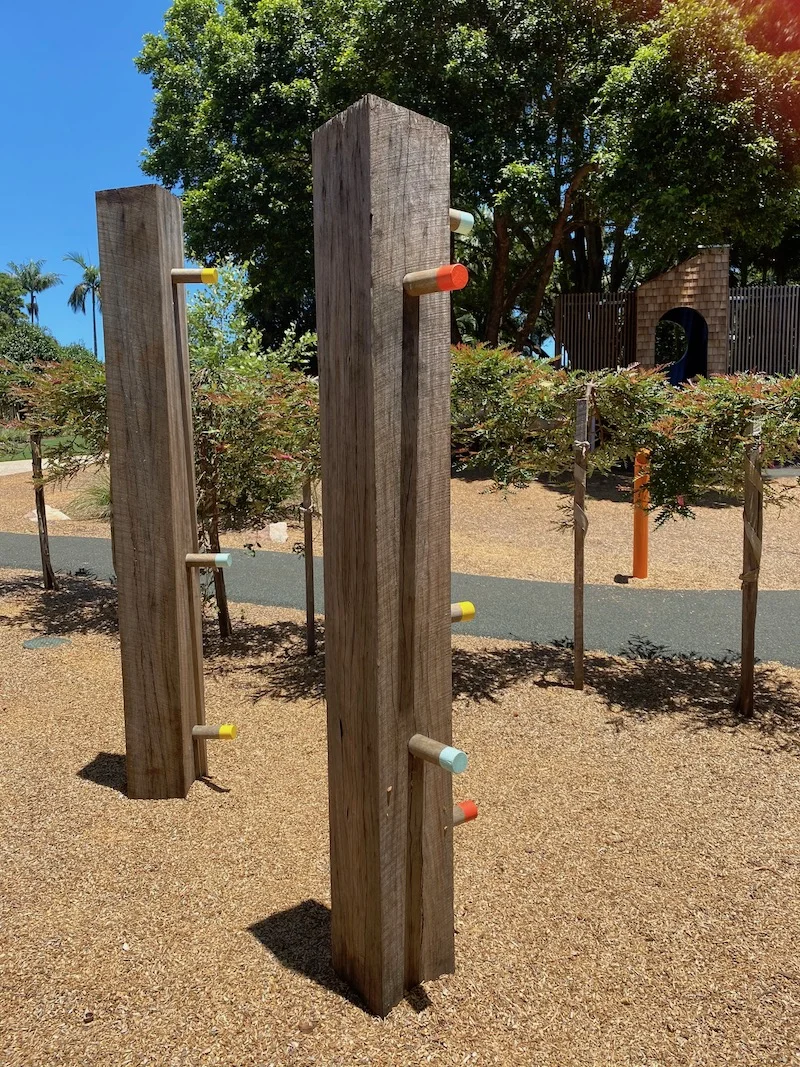 Climbing poles
These climbing poles are good for the aesthetics but aren't that popular.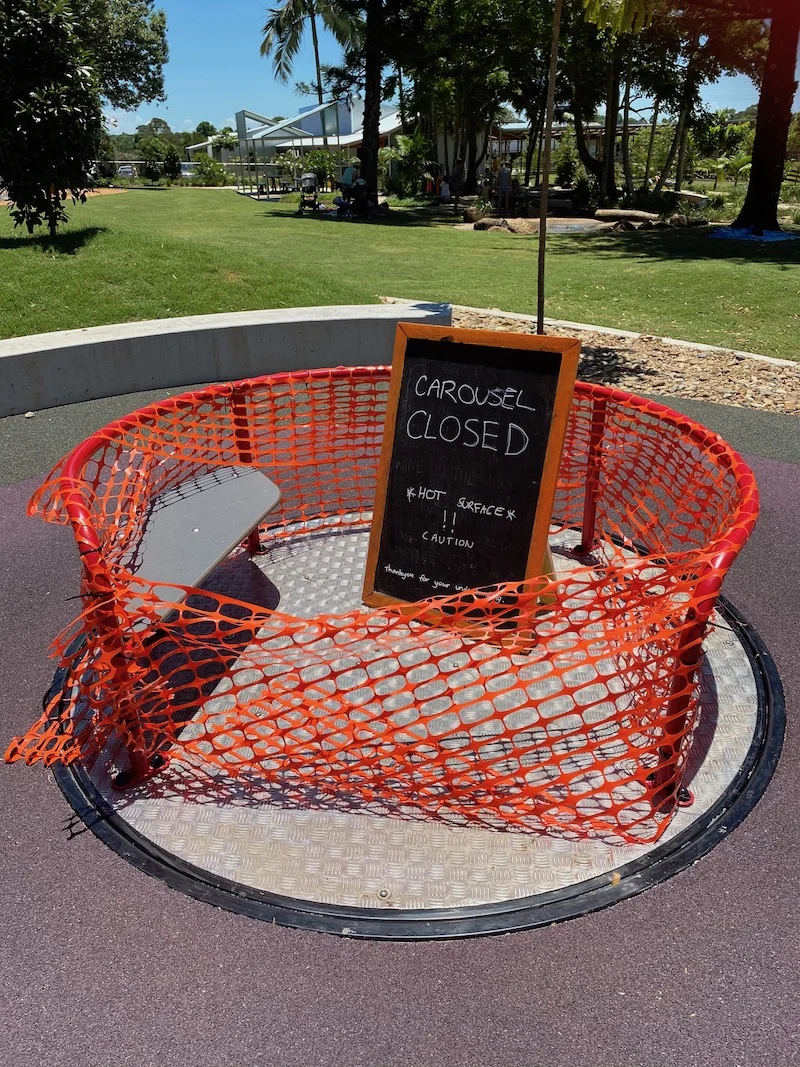 Carousel
And, the carousel is in full sun, so only open in the cooler months when it won't burn the kids feet!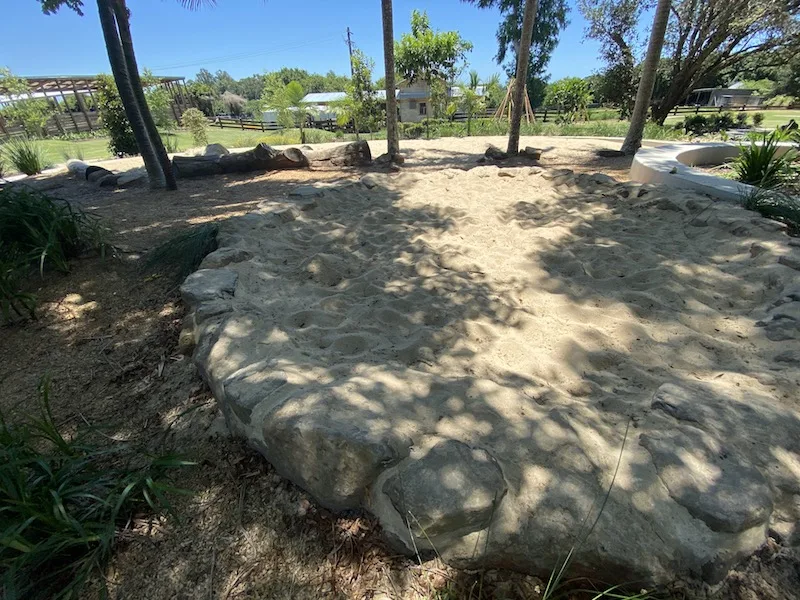 Sandpit
BYO digging toys, buckets and spades to play in the sandpit.
Yes, it's under the shady trees too.
(Bonus points!)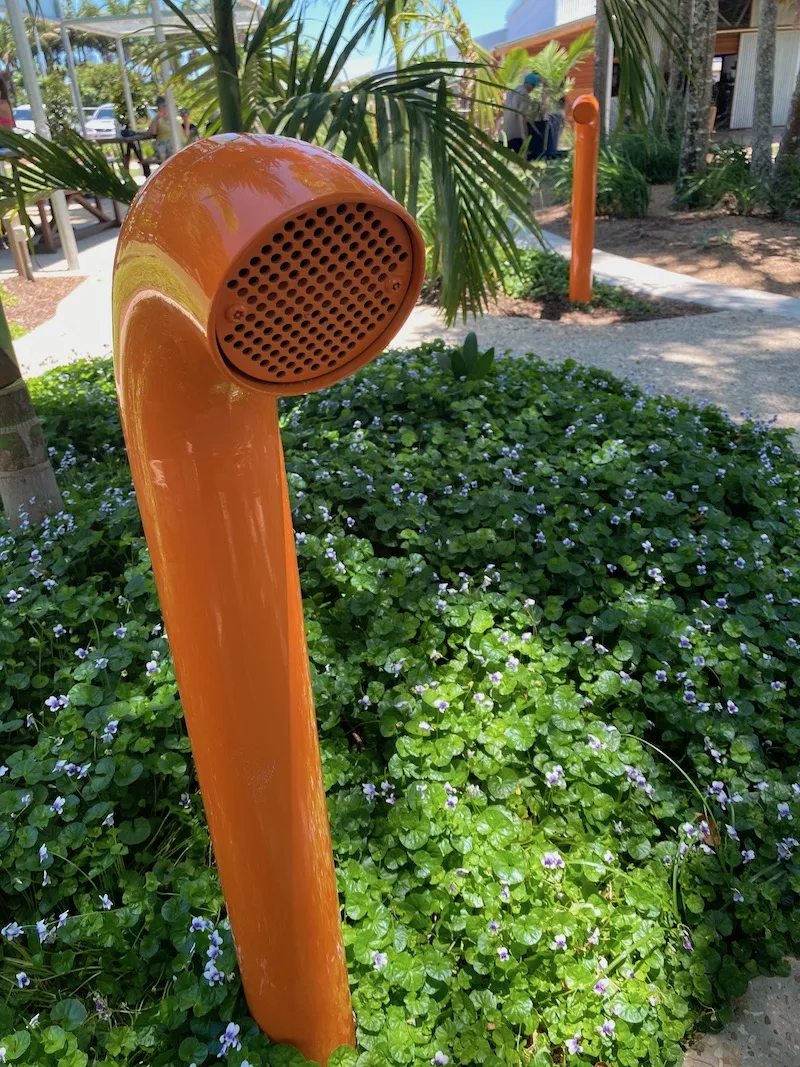 Talking telephones
Hidden in among the leafy foliage stand bright orange talking telephone poles.
Kids can whisper OR YELL to one another across the way!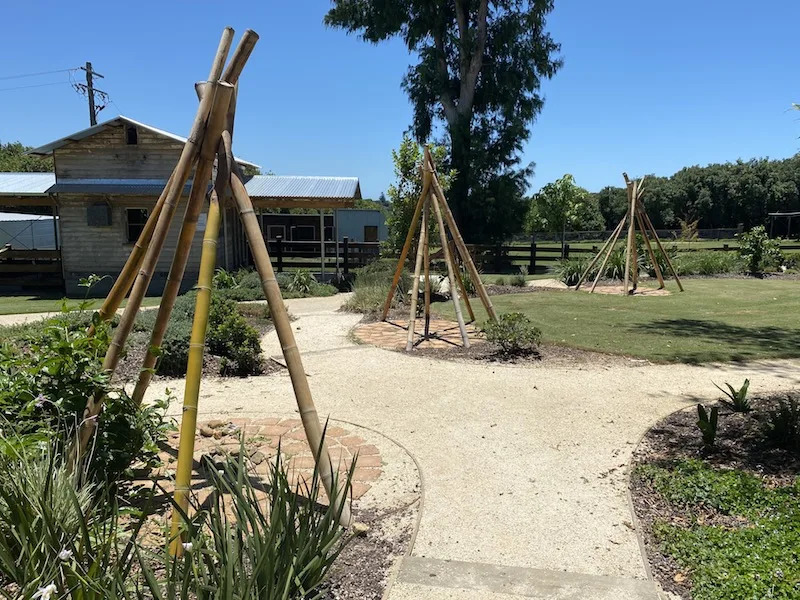 Teepee hideaways
There's also these teepee huts.
Kids love them as part of a hide and seek game.
The playground in it's entirety is LOVED by kids from 2-12!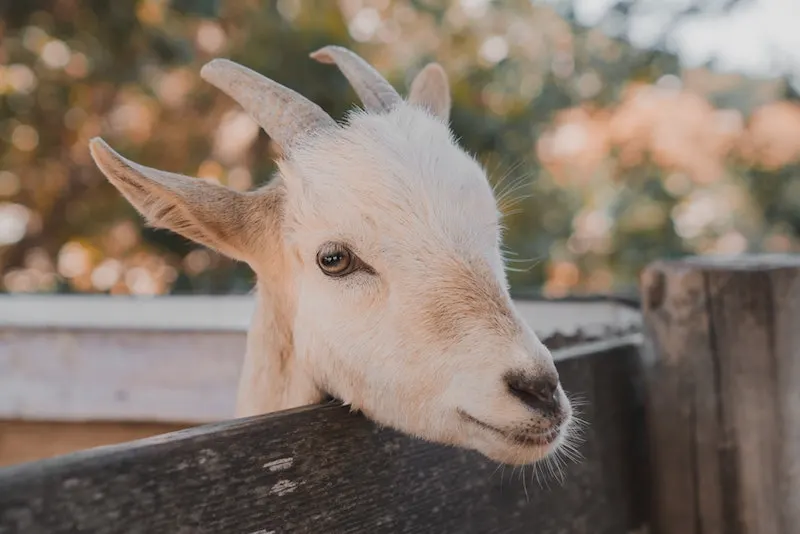 Image credit: Kaleb tapp on Unsplash
No.3: Summerland Farm animal farm & petting zoo
You can also pay an extra fee to visit the Summerland House farm animals.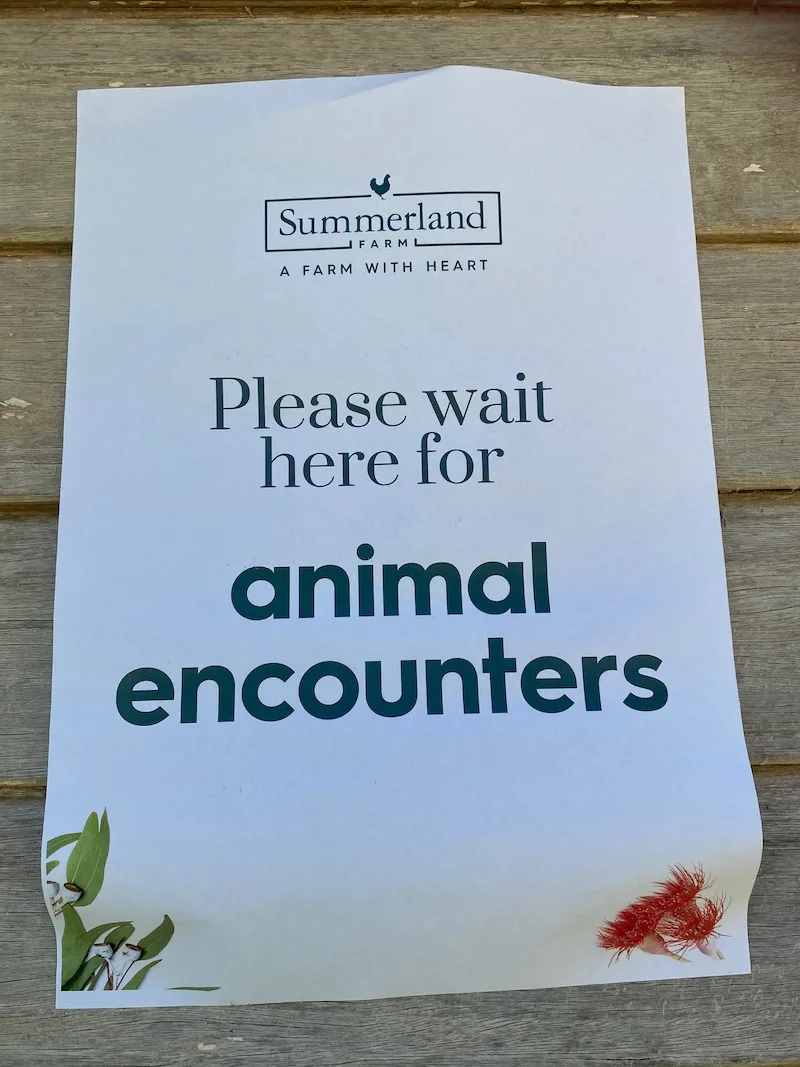 Summerland House Farm animals
The Summerland Farm animals include:
baby donkeys – Hiccup and Viking
miniature cows – Quartz and Quince
miniature goats
chickens (The Barn Gals)
guinea pigs
silkie hens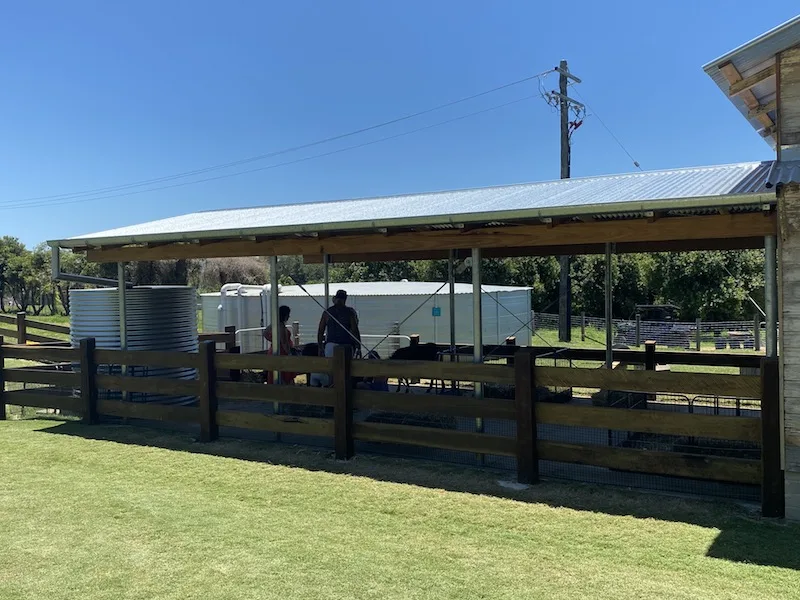 Summerland House Farm Petting Zoo hours
The Summerland House farm petting zoo only operates for a few hours everyday, between 10.30am and 1.30pm.
Summerland Farm animal encounters cost $5.
10.30am
10.45am
11am
11.15am
Paddock encounters are $5.
12.30pm
12.45pm
1pm
1.15pm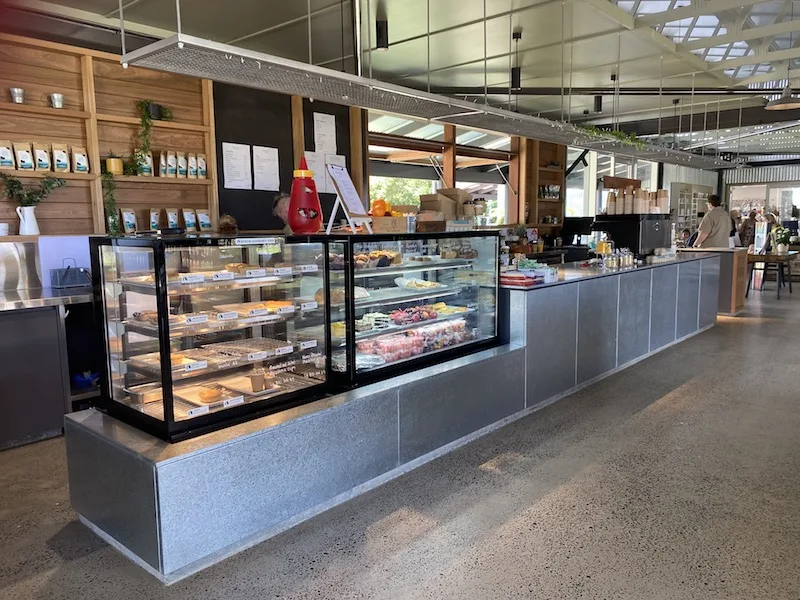 No.4: Summerland House Farm Cafe
As you enter the main building of Summerland Farm, you'll spy the cafe to your right.
Take a good look.
And then buy your lunch, or a treat for morning tea.
The cafe is open 7 days a week, from 8am to 4pm.
While you can bring your own picnic and snacks, why bother when you can eat this well from the Summerland House farm cafe menu.
Hot tip: You can also book high tea at the Summerland House Farm restaurant.
(Restaurant is open from 8am to 3pm, 7 days.)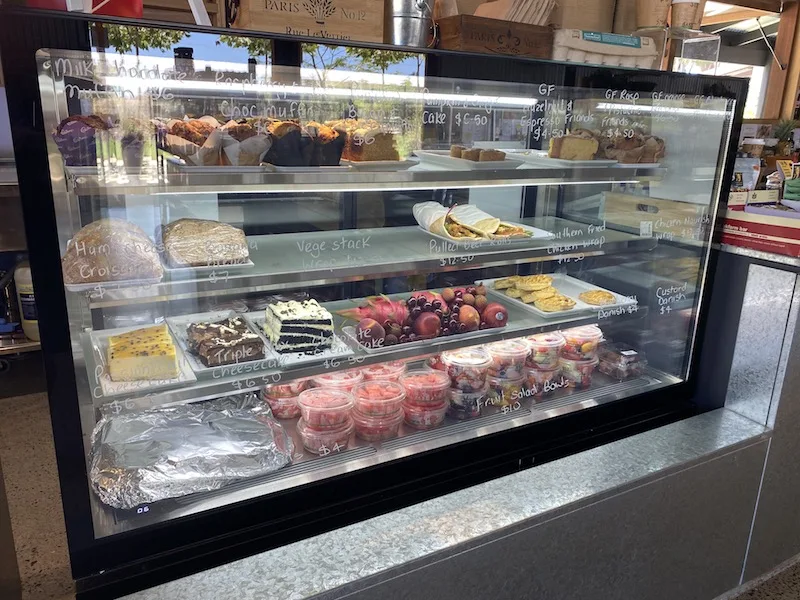 Summerland House Farm Menu
The Summerland Farm Cafe menu includes:
Wraps (the Southern Fried chicken wrap, the Veggie Stack wrap, or the Nourish salad wrap) or a pulled beef or pulled pork and slaw roll – all $12.50 each
Muffins (try the Raspberry & Choc one!) – $6 each
Assorted danish pastries – $4 each
Friands – $4.50 (including gluten free friands)
Ham and Cheese croissants
Assorted cakes and slices (on the day we visited, the options were passionfruit cheesecake, a triple cheesecake, or a chocolate cream cake)
Fruit salad bowls – $10
As much as possible, all the good food in the cafe is made with regionally sourced produce.
The Summerland Farm menu has gluten free options available.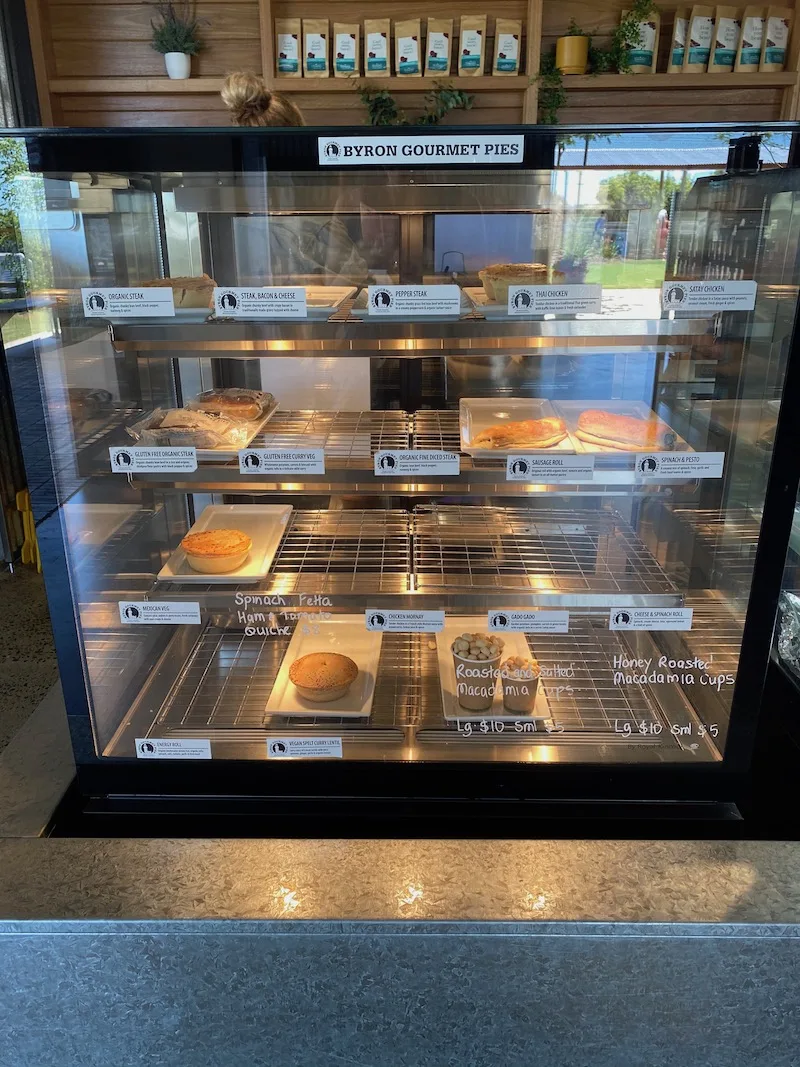 Byron Bay Pies
If you are after something hot and filling, try one of the Byron Gourmet pies or sausage rolls.
Pies are $7, Sausage rolls are $5.
There's also cups of hot macadamias, in two flavours!
Roasted and salted
Honey roasted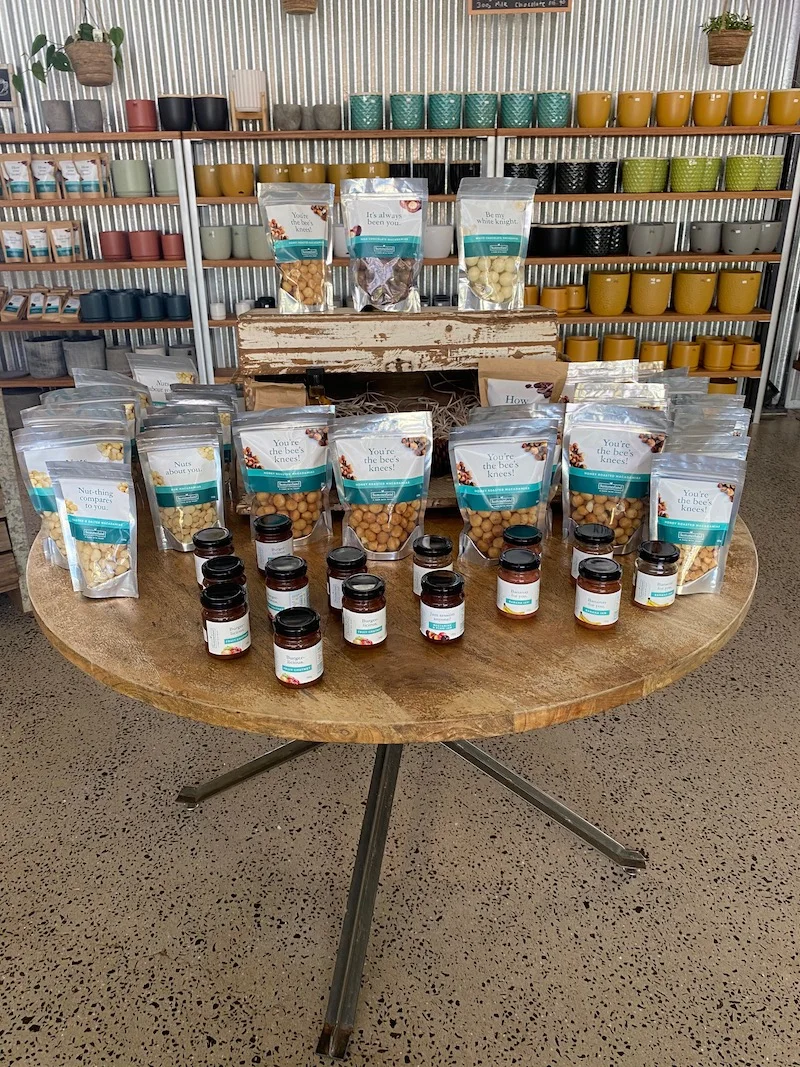 No.5: Visit the Summerland House Farm Shop – "The Grocer"
Be sure to take a wander about the farm gate shop too.
Look for the Summerland House Farm products made on site.
These goodies have a distinctive aqua and green label (as pictured above)
The best thing about the Summerland Farm products, other than how good they taste and their stylish packaging, is the product names!
(Do check them out for a giggle.)
The Summerland Farm grocer is FULL of delicious local produce and treats from bespoke gourmet food companies in the Northern Rivers.
The range of food products & gifts on offer is SO extensive, we wrote a guide to the Summerland Farm gate store for those who love to shop for local foods on holiday.
Take a look at the Foodies Guide to Summerland Farm Shop here
Hot tip: If you've ever wondered "where can I buy edible flowers in Australia?", you'll be delighted to know you can find them in ready-to-go bottles here.
RELATED: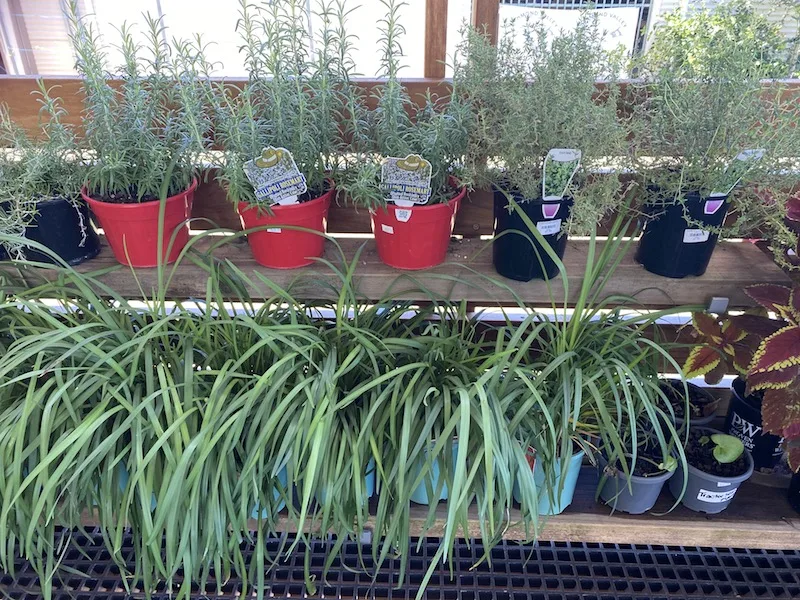 No.6: Summerland Farm Plant Nursery
Don't leave the farm without checking out the range of plants and cuttings in the Potting Shed.
Prices are good too.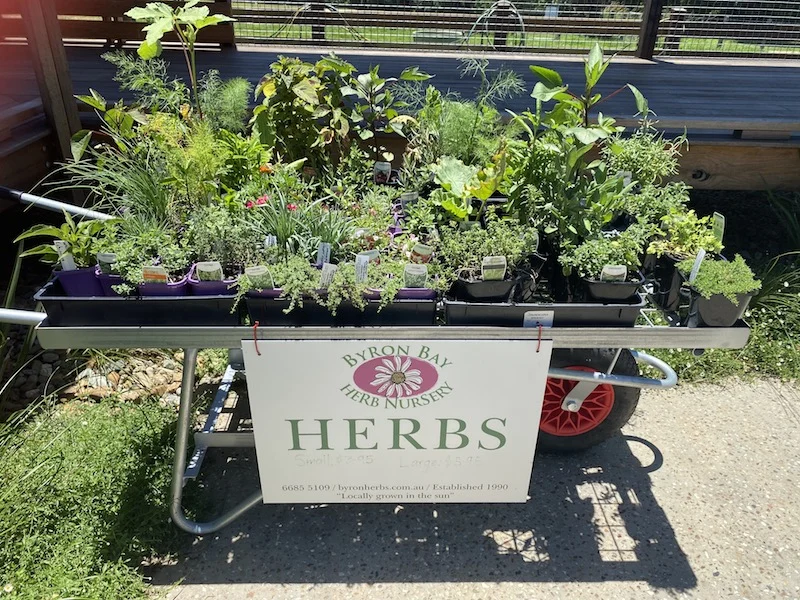 Byron Bay Herb Nursery
Add to your herb collection here too.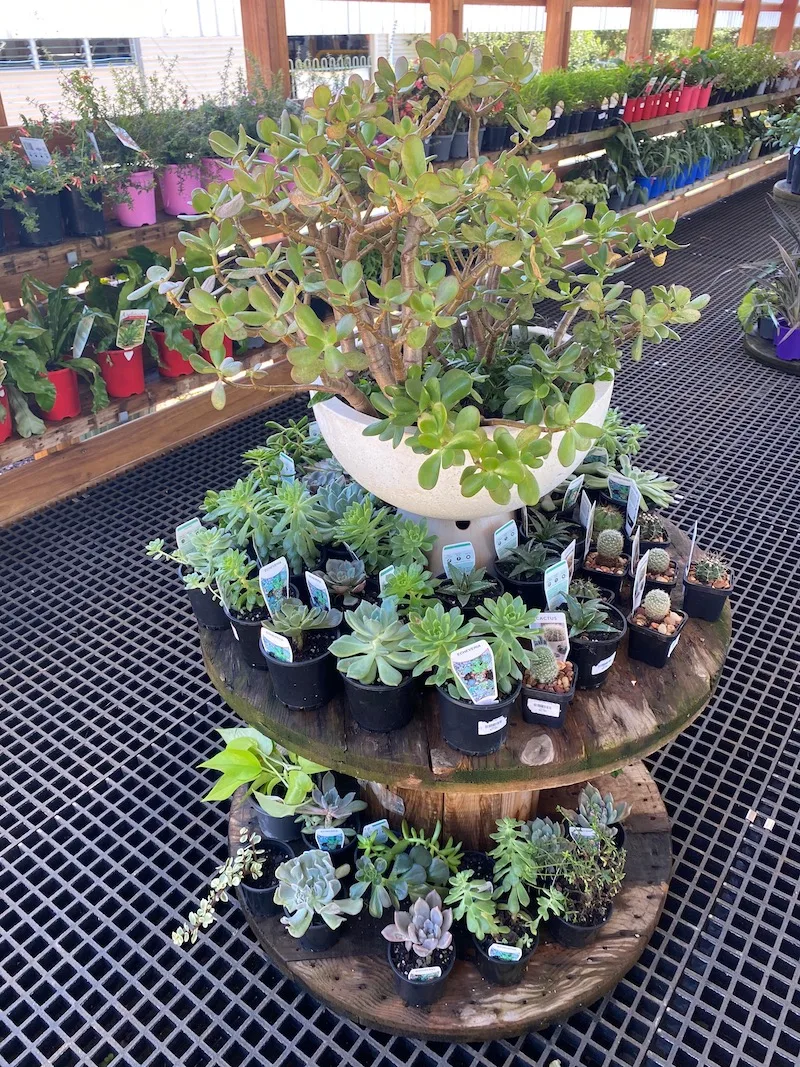 Succulents
And find a gorgeous display of pretty succulents too.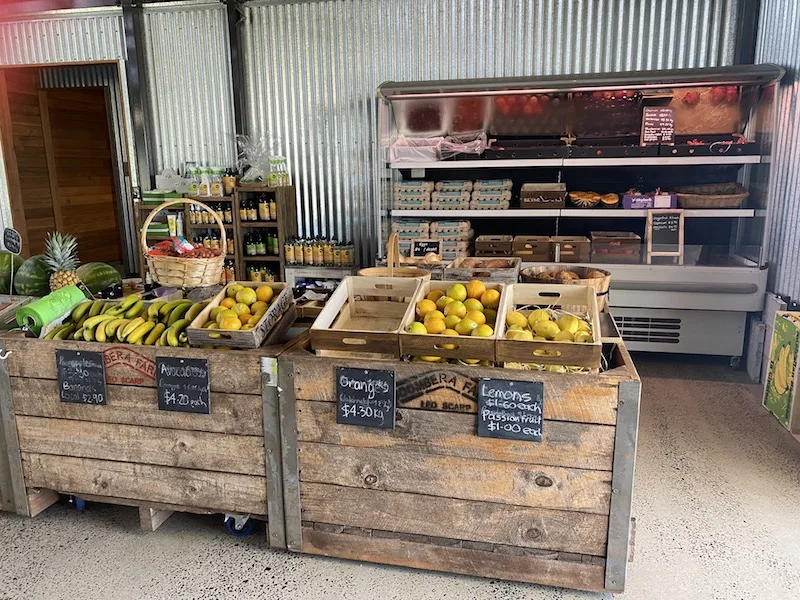 No.7: Cawleys Cottage Gift Shop
To the left of the fresh vegetable fridge in the Grocer, you'll spot the glass door to the Cawleys cottage boutique giftware store.
Head on in.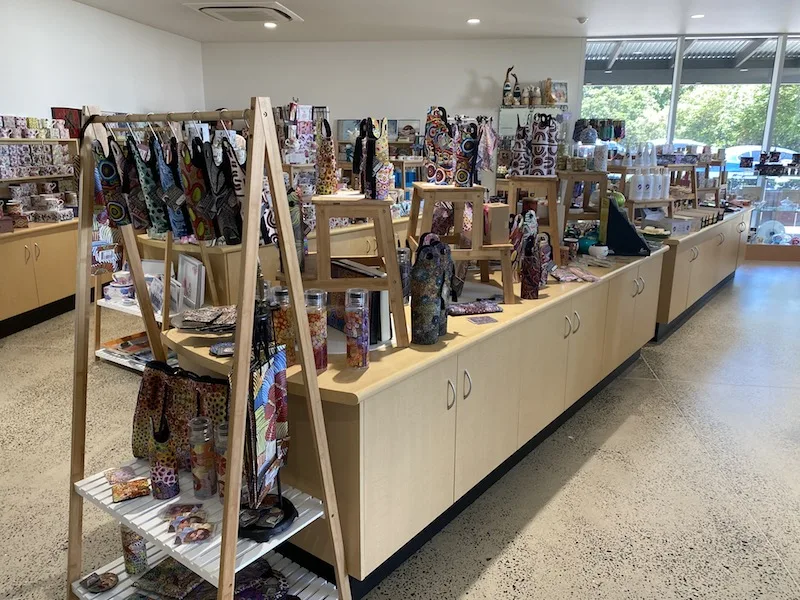 What to buy at Cawley Cottage shop at Summerland Farm House
There are treasures GALORE in here, including:
a huge range of Aboriginal design homewares
Utopia Aboriginal design water bottles & holders, coasters and bags
Printed scarves
Locally made skincare products
Teacups and mugs with Australian flower designs
A GIANT wall of leather bags of all shapes and sizes
ornaments, prints, and postcards
backpacks, and baby bags
calendars and diaries
fashion accessories, jewellery and earrings
handbags, shoulder bags, and more
Open Monday to Sunday, 9am to 4pm
This shop has been fundraising since 1985.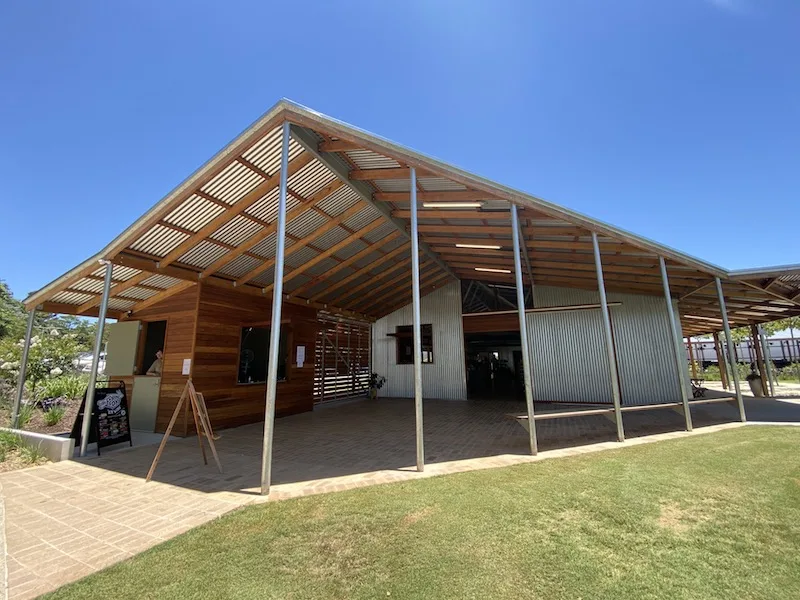 THE INSIDE SCOOP: Summerland House Farm Prices
Correct at time of publication on Roam the Gnome. Please check with venue for updates. We apologise in advance if there have been any changes we are unaware of. All prices in AUD dollars, unless otherwise stated
Address: 263 Wardell Road, Alstonville, New South Wales (near Ballina)
Summerland House Farm facebook: Click here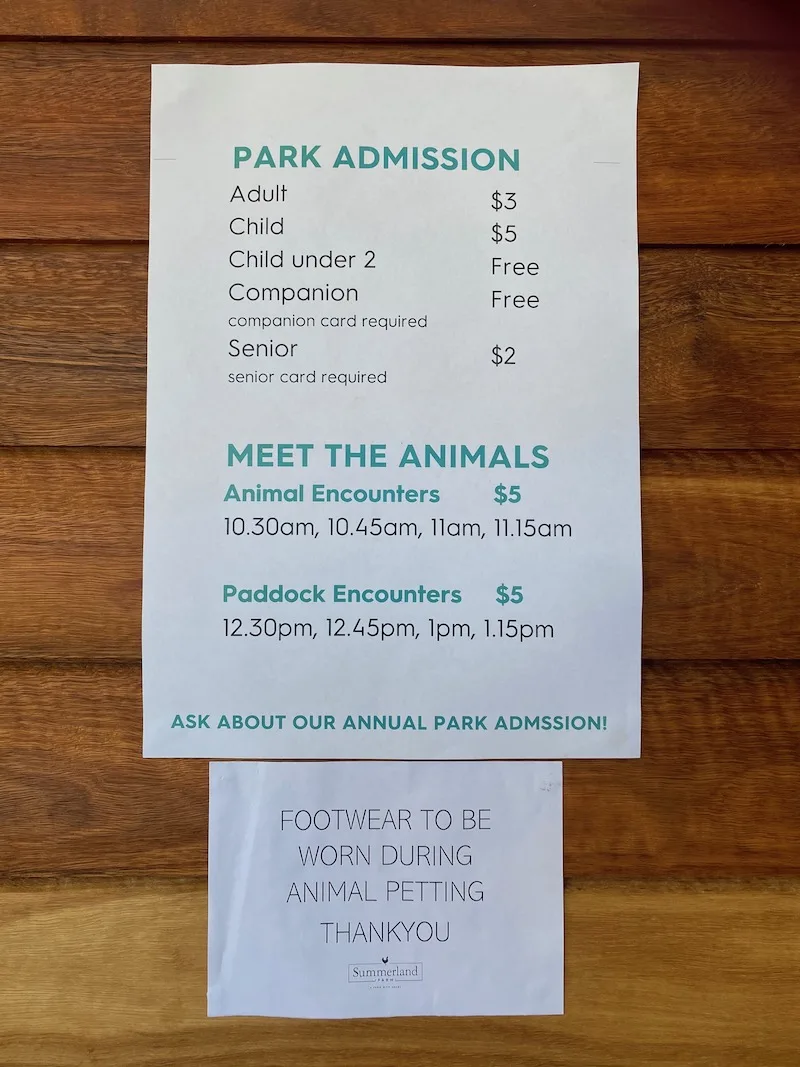 How much is Summerland House Farm entry?
Summerland Farm prices are SUPER CHEAP!
It's one of the best things to do in Byron Bay on a budget.
Children's entry is $5.
Adults are $3!
Seniors are $2.
This includes entry to the water park and adventure playground.
Children under 2 are FREE.
**Animal encounters are extra. See above.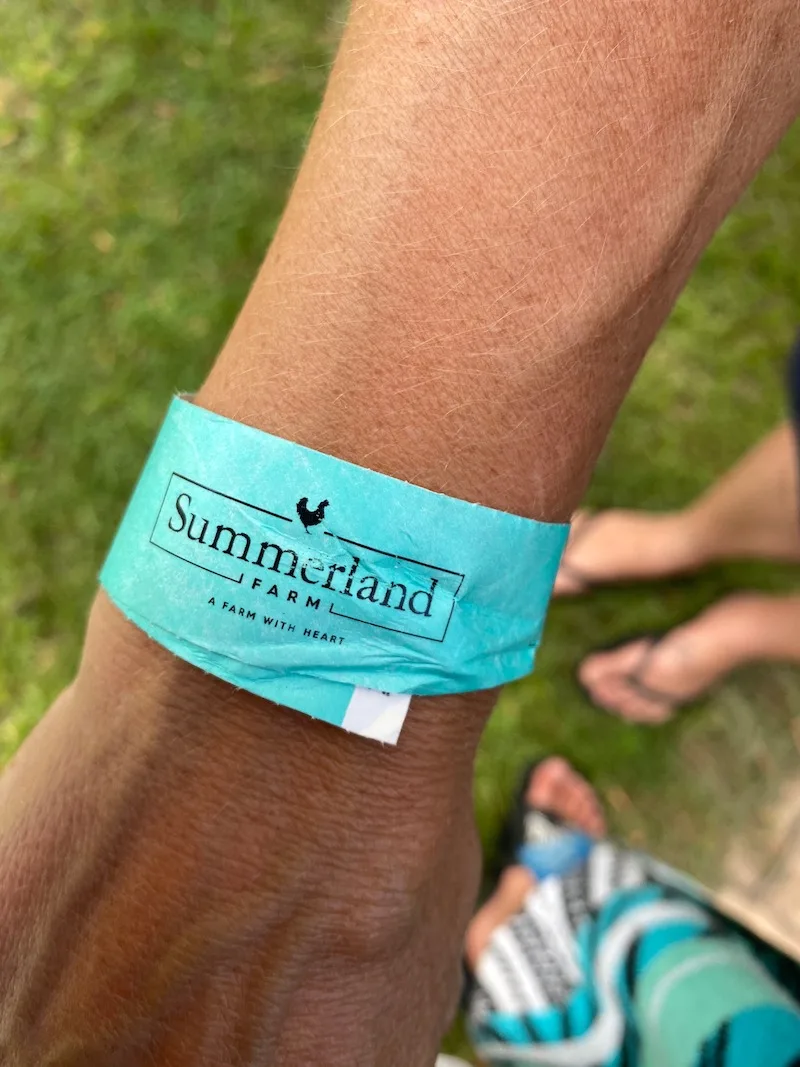 Summerland House Farm Opening Hours
Fun fact: You'll be given a wristband to wear during your visit.
How to get to Summerland House Farm Alstonville
By Car: You really need a car to get to Summerland House Farm, as it's in the country.
Get directions from google maps here.
How far is Summerland House Farm from Byron Bay?
It's 45 km from Jonson Street in Byron Bay to Summerland House Farm.
That's about 40 minutes.
How far is Summerland House Farm from Ballina?
An easy 20km drive.
Takes about 25 minutes along the Bruxner Highway.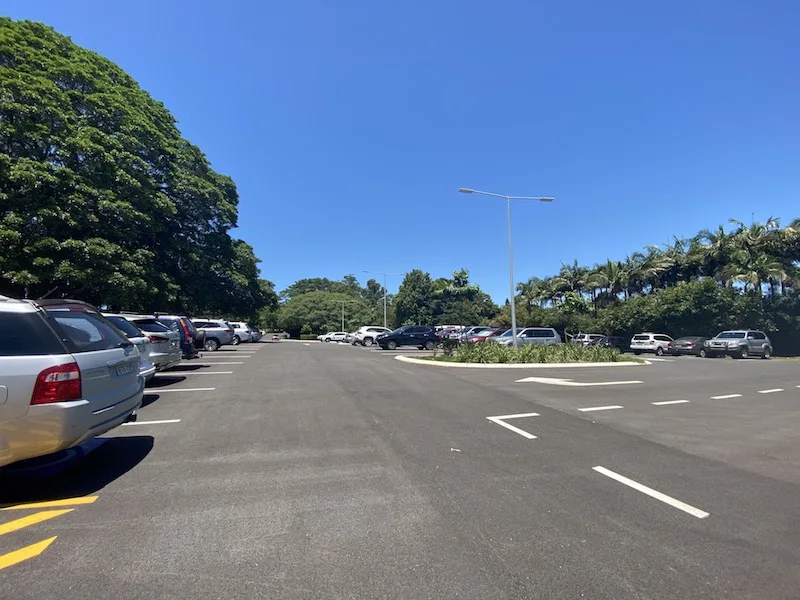 Summerland Farm car parking
Yes, there's a gigantic free car park on site.
Summerland House Farm Map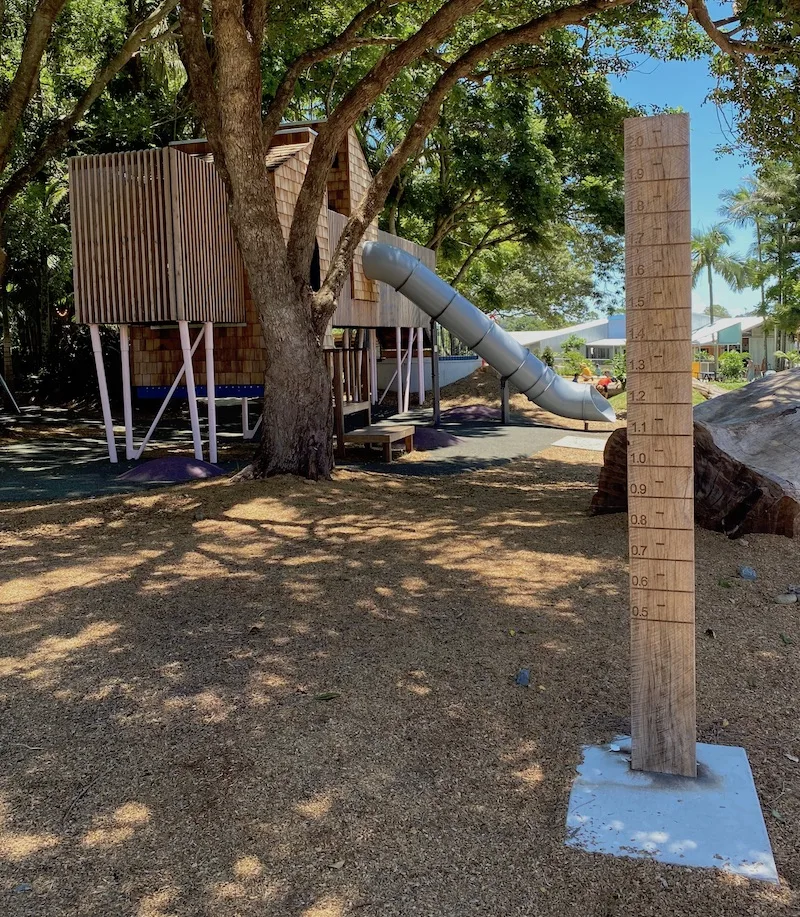 Toadstool Rating: Summerland House Farm reviews
The only thing missing is mini golf but you'll find that at Macadamia Castle instead.

Looking for more things to do in Byron Bay with kids?
Click the blue links below for more things to do in Byron Shire with kids.