INSIDE: The Best Book you can Buy on How to Make Waldorf Toys (Steiner Toys).
We stuffed three plastic drawers full of toys for the three year old inside an already jam-packed kombi van bound for Sydney and the rest of Australia on a year long "Big Lap of Australia" trip.
A month later, when she'd played with NONE of them, bar her retro Magnadoodle, we sent the three boxes of toys home with my dad who was working in town, and freed up a whole bunch of space in the process.
That was the moment I knew that 'toys' were overrated, and that kids can be just as happy with a stick, a few shells, seedpods and a pile of leaves, or variations thereof, to make their own fun.

A few years later, and I found myself working in a Steiner Waldorf kindergarten on the Gold Coast of Australia, in a room FILLED to the brim with:
seedpods
sticks
hand-sanded natural blocks
colourful silk cloths
the odd handmade toy.
(This is just the start of a list of natural materials for children in play)
I've NEVER seen kids play so imaginatively with so little in the way of 'toys'.
But from time to time, the kids would ask me for a specific something to bring to their game, their play, or their celebration.
So I learned to MAKE toys, and helped the children to make handmade toys too.
You can make Waldorf Toys too. Take a look to see how.
Disclosure: This article contains affiliate links. If you make a purchase after clicking on one of these links, we may receive a small commission at NO extra cost to you.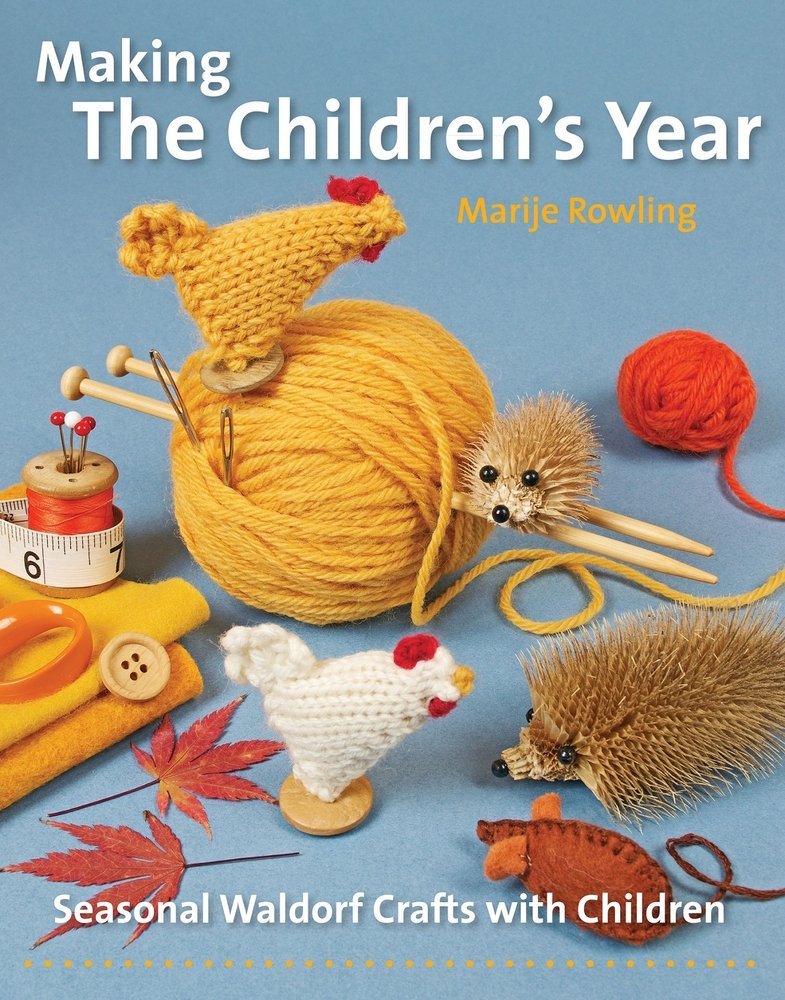 Best DIY Waldorf Toys & Craft to make (Alt: Steiner Toys & Crafts)
Correct at time of publication on Roam the Gnome. We apologise in advance if there have been any changes we are unaware of. All prices in US dollars, unless otherwise stated
This book was the first ever Waldorf craft book I discovered.
Just a few weeks ago, I got the news that this book has been lovingly reprinted as a fully revised edition of the original "The Children's Year" by Christine Fynes-Clinton, Stephanie Cooper, and Marije Rowling.
It has now been reimagined and reissued and renamed as "Making the Children's Year – Seasonal Waldorf Crafts with Children", thanks to an update by one of the original writers, Marije Rowling, 20 odd years after it's release.
The original book, and the updated book about Waldorf Steiner Toys called 'The Children's Year' is a compendium of children's crafts and activities to celebrate the ever-changing seasons of the year.
---
RELATED : Visit the Tokyo Toy Museum – it's a natural wonder!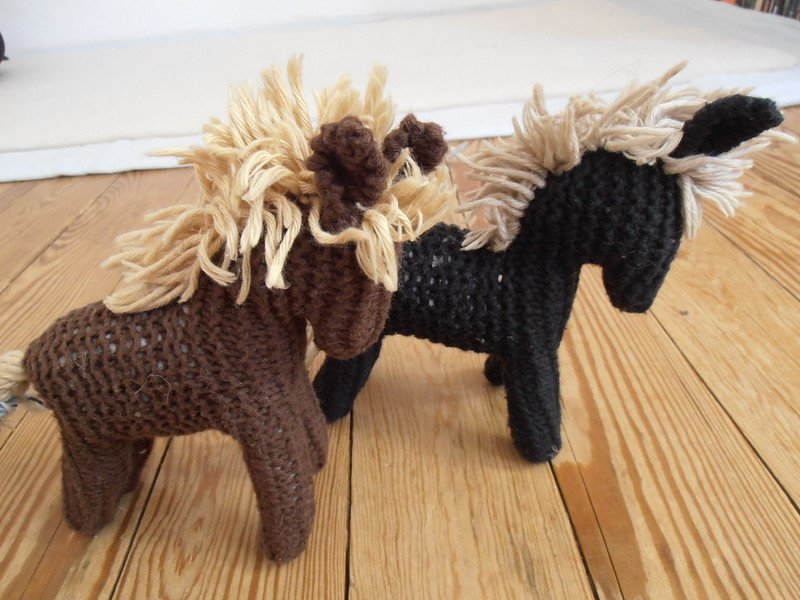 Image credit: Storebukkebruse via Flickr CC BY-2.0
FAQ: What are Waldorf toys?
Firstly, what are Waldorf toys? It's a question lots of people ask.
There is no such thing as 'Waldorf toys' but you will see lots of the same types of things in Waldorf kindergartens and Steiner schools early years programs – handmade animals sewn from wool felt, or knitted, big wool pom poms, Ostheimer figures, rainbow silks, handmade dolls, shelves full of seedpods and blocks.
Sometimes, things are bough,t but making toys is much more inline with the spirit of 'work' as play that the kindy embodies.
The book describes the merit of making toys for children and the importance of toys for imaginative play, but describes toys that are very different to the plastic ones we see in most Department stores and toy shops.
Simple Waldorf Toys to Make
The book includes super simple early childhood education toys such as:
100% wool felt balls
felt ducks & other stuffed animals
pom pom rabbits
simple wooden toys
picture books
ideas for birthday rings
the cutest flower fairy dolls, and
knitted chickens that even a beginner could make.
There are also more complicated crafts, such as doll's clothes and knitting patterns for children's mittens and jumpers.
There are things you can make for the Nature Table – a seasonal display of prompts that is displayed to provide prompts and a subtle wink for children to help them notice the beginnings of the seasonal transitions.
The book has:
props for games
treasure boxes
Christmas crafts,
and Easter crafts.
There are Waldorf autumn crafts, Spring Waldorf crafts, and Winter Waldorf crafts ones, and crafty things to do in summer with kids too.
In fact, there are:
Waldorf toys for 1 year old children to make
Waldorf toys for 4 year old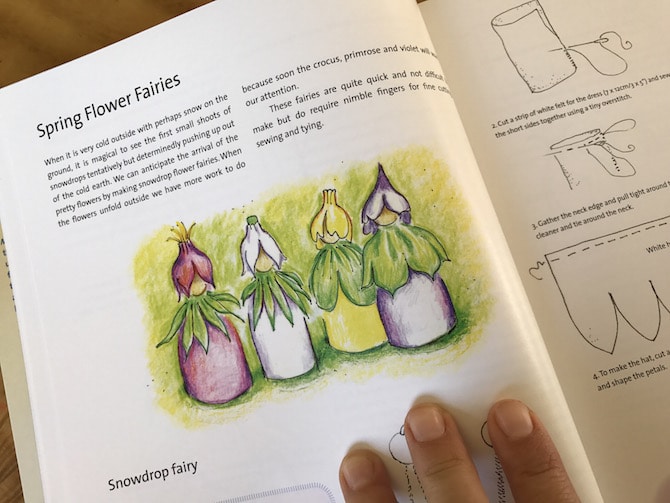 Handmade Steiner Waldorf Toys
One of my favourite parts of that teaching job was MAKING SIMPLE STEINER TOYS for the children to play with.
As a lifelong creative, the chance to felt, sew, paint, sing, dance, move, cook, and garden, while 'working' (not too hard) with children all around me, was a pretty happy way to spend my days.
I made beautiful, purposeful, handmade toys (and more) with the children, EVERY SINGLE DAY for 10 years.

You name it, we made it.
Real life toys and crafts like these below.
Crafts for all the seasons
festival invitations
decorations for the room
rainbow garlands
themed dress up costumes
happy birthday gifts
drawing books and arts projects
birthday posters
birthday books for kids
hand dyed silks
musical instruments
story props and props for circle time
gifts for Mothers Day and Fathers Day
Waldorf dollhouse for our babies and standing dolls
gifts for new babies, and
things to embellish the nature table.
Each thing was loving crafted and cared for, filled with purpose and meaning.
But the toys were the best.
Waldorf educational toys like moving pictures
Simple pulleys and levers for the matchbox dolls to fly across the room
New baby dolls to care for
Knitted clothing to keep the baby dolls warm
Natural wooden toys to ride on and carry things
Learning toys eg for counting, classifying
Standing dolls & toys to tell stories with, and
Steiner toys to boost their imaginative capacities.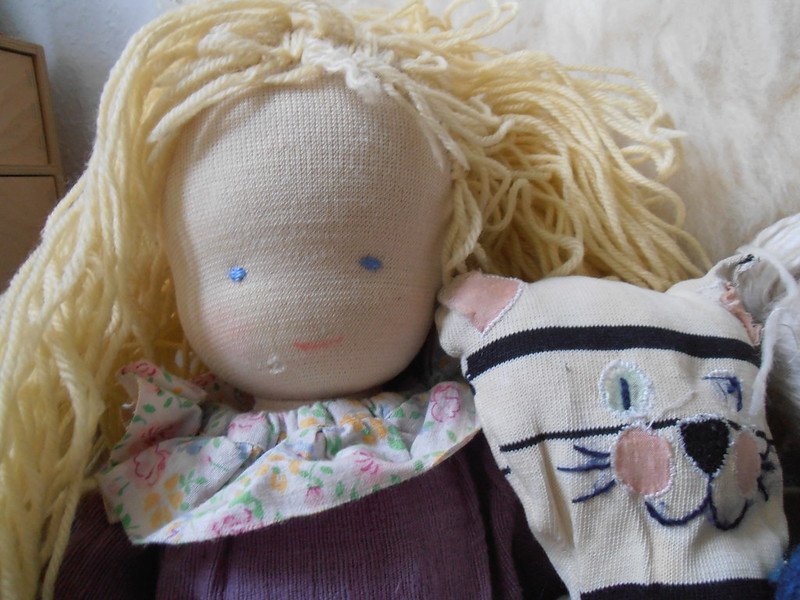 Image credit: Storebukkebruse via Flickr CC BY-2.0
Making Waldorf Dolls (Steiner Dolls) for Travel
One of the first crafts I attempted was to make a simple Steiner doll.
Even now, she's somewhere in one of my memory boxes, a handmade gift of love I can't quite let go of.
There's something special and enchanting about making your own doll using a Waldorf doll pattern.
These Steiner dolls have a magical quality, as somehow they become an extension of who you are, a mini-me with your eye colouring, hair colouring, and a few quirks of your personality.
I started making my first doll using the instructions on page 143 for my daughter, but this first doll never made it to my daughter.
I kept it because she looked like me.
I then made her a different one, a little doll with similar features to her own.
These Waldorf dolls never date, and if there were one thing I would still make for a child who loves to travel with their family, it would be one of these.
A doll is a child's security blanket, friend, and companion, and there's nothing better than having a 'child' sized confidant to tell stories of your new worldly adventures to.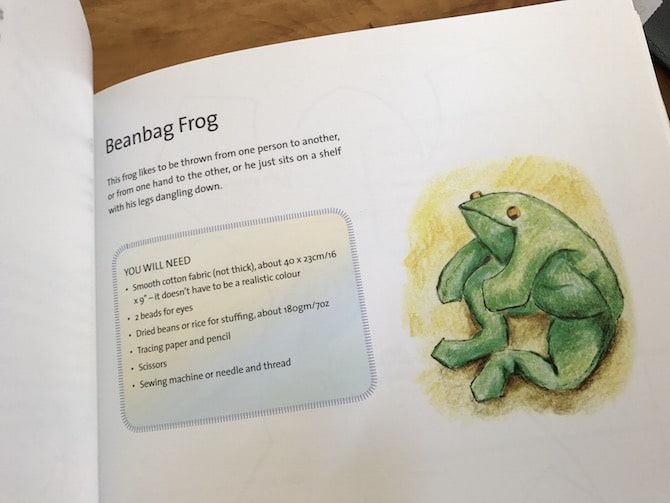 Good Guide to Natural Toys for World Schooling Travel with Kids, & Forest Schooling
Many of the Steiner toys and crafts in the original book were accompanied by simple black-and-white drawings.
Lots of the crafts were, and still are, perfect for homeschooling or more recently, for "worldschooling" curriculums.
Many of them incorporated something of nature and animals, in the years before "Forest Schooling" or "Bush School" was ever a thing.
Most of them were things you could make on the road, or by the road, or when camping, or when stopping for a while.
The original book remains in my pared back, minimalist library even today.
The Children's Year is one of few books that has survived multiple moves, but more importantly, it stays despite my need to minimalise my possessions dramatically.
I just can't get rid of this book, not even to pass it on to a good friend.
That's the sign of a good investment, and a magnificent book.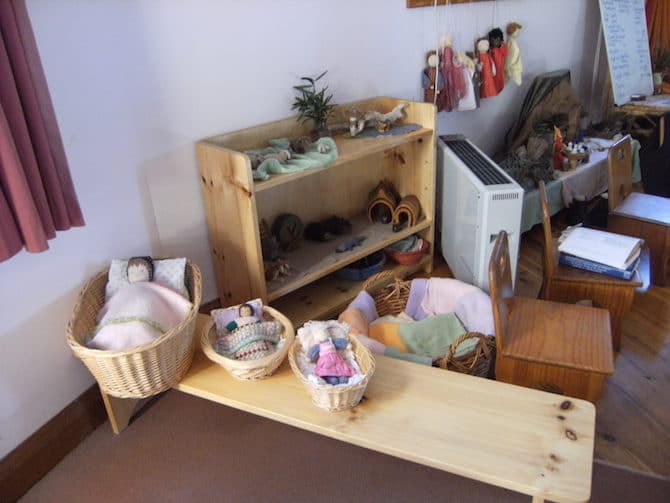 Best Waldorf Toys for babies, toddlers & preschoolers
Making the Children's Year'- Seasonal Waldorf Crafts with Children is simply beautiful, a book for all families, a book for travelling families, and not just Steiner Waldorf -inspired ones.
Simple Hand Work ideas
For those families who love travel, and especially slow travel, this book should be a mandatory item on the family travel packing list, along with a few basic craft supplies such as:
a few pieces of wool felt in natural colors & pastels
needles and thread
a good sharp pair of scissors for cutting fabric & cloth
colourful ribbon lengths, and
balls of 100% pure wool knitting wool.
Add a few of nature's treasures such as seedpods, rocks, leaves and sticks to the mix, along with some found objects such as empty matchboxes, cardboard, and scraps of paper, and you're set.
---
RELATED: The easiest toy to make from nature – Mr Stick Man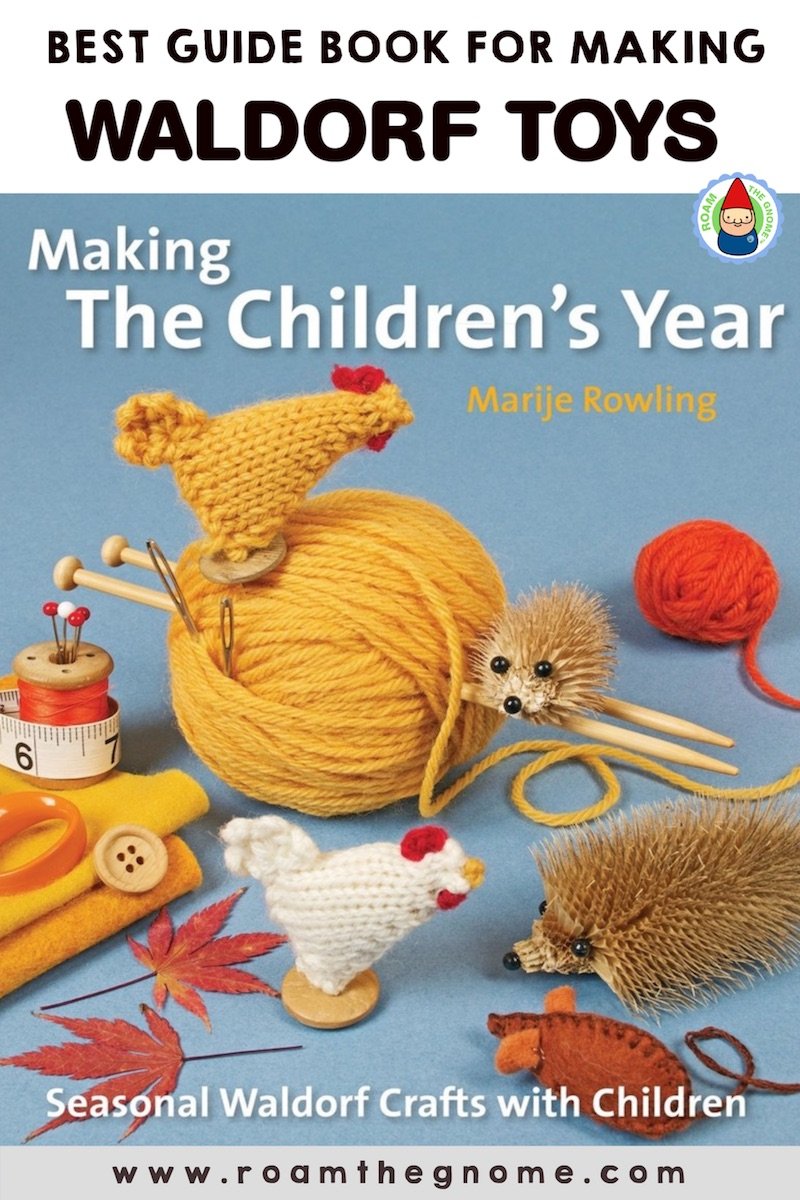 How to make Waldorf Toys for Kids and Families
I cannot tell you how many times I've been saved from the chaos of raising children by giving them the chance to dive into a handmade project.
For anyone on the road with kids, whether that's for a short 10 day holiday, an extended month or two in a foreign country, or a no-end-date world trip, taking time out from sightseeing and busy adventures is not a luxury, it's a necessity.

But staving off the fighting and sibling rivalry that comes with the territory is made easier with a purposeful activity. You'll find plenty of inspiration in this book.

The new coloured illustrations add to the magic and bring the book to life.

I loved it then, but I love the new version even more now.
Toadstool Rating: Making the Children's Year Book Review
You won't regret your purchase and it's likely to end up in your book treasure pile.

Where to buy Waldorf Toys
Try any of these Waldorf toy shops to buy:
Ostheimer toys
Stockmar beeswax crayons and Stockmar paint
Stockmar crayons
rainbow chalk
Lyra pencils
marble runs
spinning tops
blocks
loose parts play
Fagus cars and trucks
wobble boards
stacking and sorting toys
rainbows and natural puzzles
Grimm's people and Waldorf peg dolls
Grapat toys including Grapat Nins
indoor tents
silk play cloths
Montessori toys
Froebels gifts
Waldorf dolls
Waldorf toys for babies
music CD's
dress ups, and more.
Where to Buy Waldorf Toy in America
Where to Buy Waldorf Steiner Toys Australia
Where to buy Waldorf toys in Canada
Lots of these Waldorf stores have free shipping if you order a certain dollar amount of goods, so stock up or buy a gift card for a friend.
Where to buy Steiner Toys UK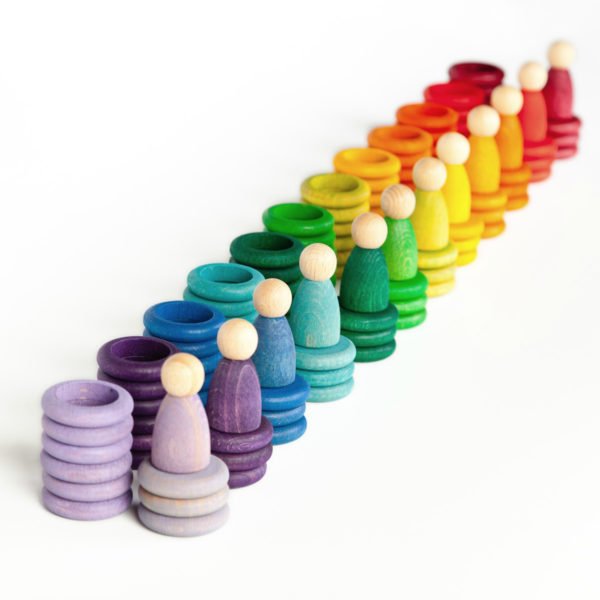 Looking for more Good Books to read?
Click the links in blue below for more book news.