INSIDE: Everything you need to know about this question – Should I bring a stroller to Bali?
Stroller or pram?
Pram or stroller?
Should I bring a stroller to Bali at all?
If you have a child aged 5 or under, the answer is YES.
Take one.
It's a very wise move to take a stroller or pram to Bali, unless you fancy carrying your little one around for hours in the heat while you shop and explore.
We would not go without one, but here's a few tips below so you don't get bogged down by it.
Disclosure: This article contains affiliate links. If you make a purchase after clicking on one of these links, we may receive a small commission at NO extra cost to you.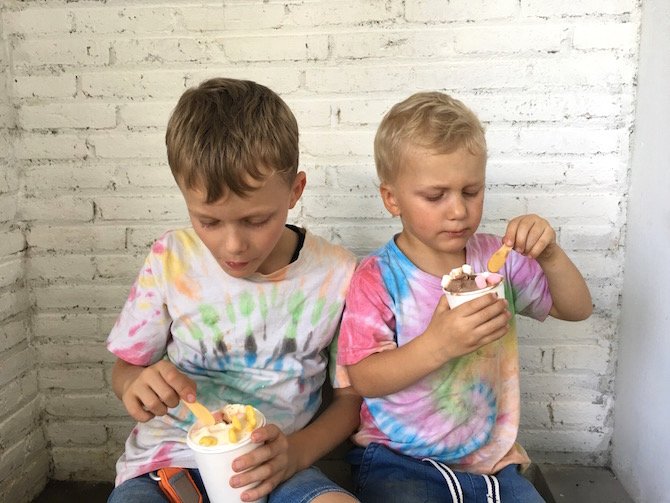 GUIDE TO TRAVELLING TO BALI WITH KIDS
Safety in Bali
Is Bali safe to travel with kids?
In general, Bali is very safe for families and kids.
The biggest challenge are the roads, and keeping small kids away from the traffic, especially in Kuta, Seminyak and Legian as the streets are busy, and narrow, and filled with traffic.
Three year old Jack did do a bolt while we were waiting for ice-cream in Seminyak, and he headed straight towards that main thoroughfare outside Biku restaurant, Jl Petitenget.
The buffer zone of 100 metres of paved shopfront, coupled with a boost of adrenalin in my legs, gave me time to catch him BUT it was too close a call for me.
That was the one day we left the stroller at home.
In hindsight, a bad decision.
If you are asking "Should i bring a stroller to Bali?" the answer is yes.
---
RELATED: Best Bali Travel Insurance Comparison Guide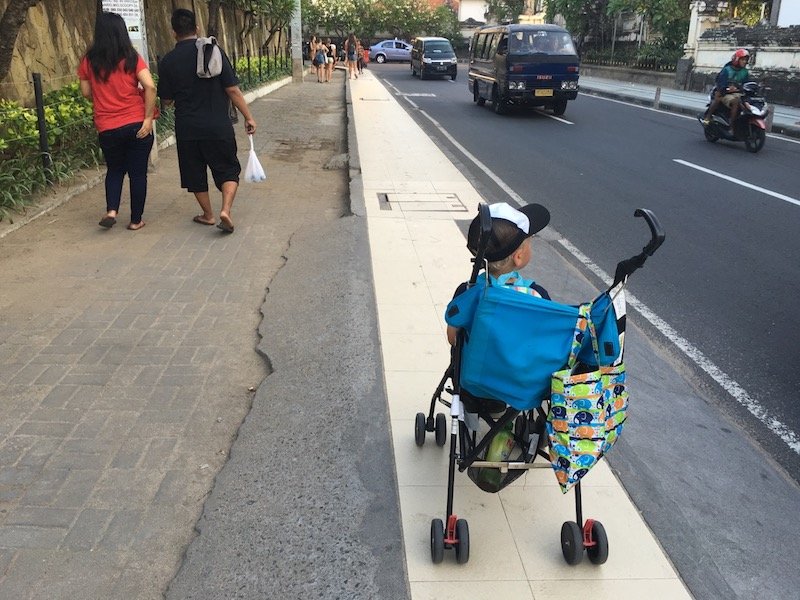 Wrist Harnesses for toddlers
A wrist harness for toddlers might also be a handy thing to have in high-traffic zones in Bali for unpredictable toddlers like Jack.
I wrote about them in a story about preventing lost children, but these tools could be just as helpful in situations like this.
---
RELATED: ULTIMATE Guide of Best Things to do in BALI with Kids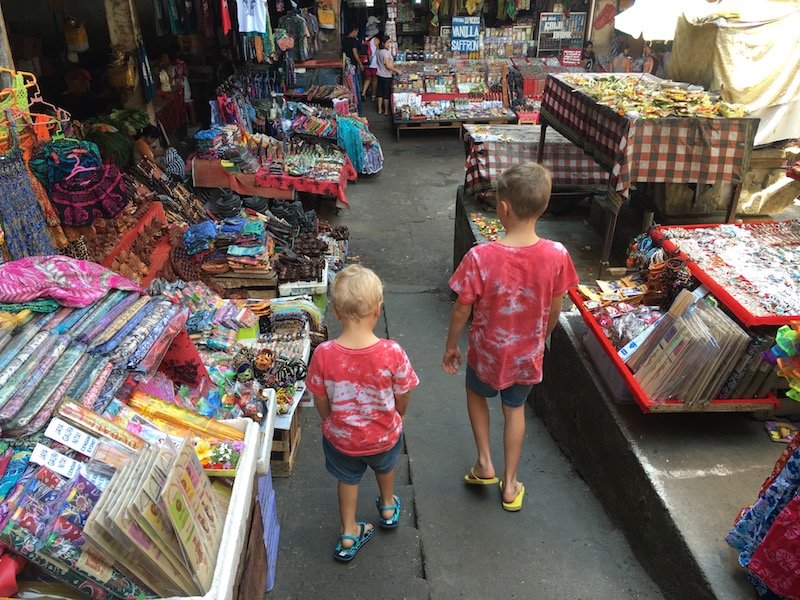 Tips for Taking a Stroller or Pram to Bali with Toddlers
We love using strollers in busy Bali markets too.
It's not always easy to navigate the narrow market paths, BUT at least the child is safe, strapped in, and not likely to hightail it out of sight.
Sometimes, you will have to let them out, but at least you have an instant shopping trolley to carry your purchases!
---
RELATED: Ultimate Bali Shopping Prices Comparison Guide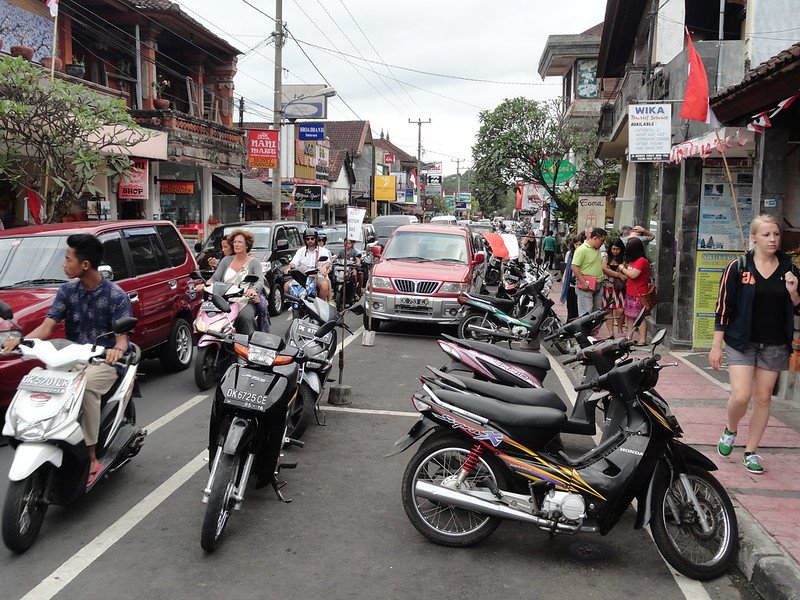 Image credit: Fabio Achilli via Flickr CC BY 2.0
Pram or Stroller in Ubud?
A lightweight narrow stroller is super handy in the Ubud Monkey Forest too.
Ubud is a big place, and there's plenty of walking.
There are quite a few sets of stairs too so be prepared to lift and carry the stroller from time to time.
We tended to leave the empty stroller at the top, if we were only going down and straight back up.
Just don't leave any food of any kind in the storage basket below, in any of the pockets, or on top of the canopy.
Those cheeky monkeys will find it, and chase you for it.
The main road in Ubud and the Ubud Art Market are crazy with local sellers, tourists and traffic too, so keeping the young kids where you can see them is vital.
The road around the Monkey Forest has narrow pathways (sidewalks) on either side but it does get busy, so be prepared to stop and start, or have to navigate around others.
There's no place for the chunky style pram – don't bother lugging that pram to Bali.
For babies under one, use the Ergo.
(It's our baby carrier of choice.)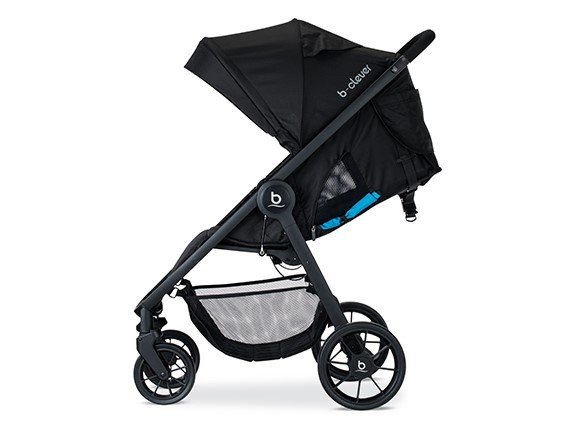 Best travel stroller for kids?
We suggest a lightweight travelling stroller for your family holiday, such as the Britax B Clever stroller for babies and toddlers.
We've heard good things from other family travellers about the stroller Kombi T plus too.
A cheap umbrella stroller, such as this Disney one, or one from Big W or Kmart will suffice for older children who just need a break from a long day of walking and adventuring, when out shopping in Kuta, Legian or Seminyak, or at the markets.
We also use the handles and the lower basket to lug our purchases back to our hotel.
If this stroller is something you won't use once you are back at home, consider passing it on to a Balinese family at the end of your stay.
Provided it's in good shape, someone will be very happy with this.
So did we answer your question "should I bring a stroller to Bali"?
We hope so.
Take the stroller or pram to Bali.
You can always leave it in your hotel or villa if you decide you don't need it, or it will be super handy when you head to the airport for that late night flight home with kids.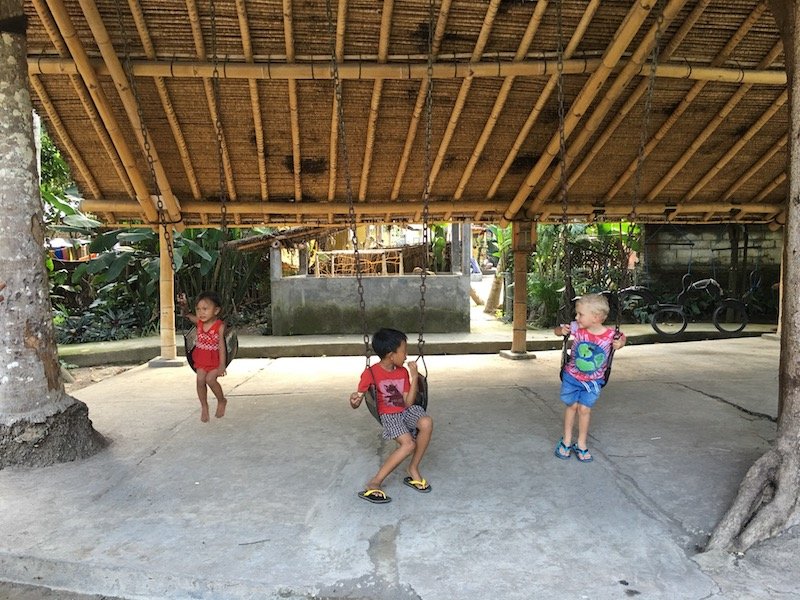 THE INSIDE SCOOP: MORE Tips for Travelling to Bali with a Baby or Toddler
Correct at time of publication on Roam the Gnome. Please check with venue for updates. We apologise in advance if there have been any changes we are unaware of. All prices in AUD dollars, unless otherwise stated
Best Bali Pram Hire Company?
If you can't take one with you for some reason, you can also organise pram hire in Bali through Bali Baby Hire for about $7 per day.
There's discounts for Bali pram rental if you hire their equipment for longer than a week too.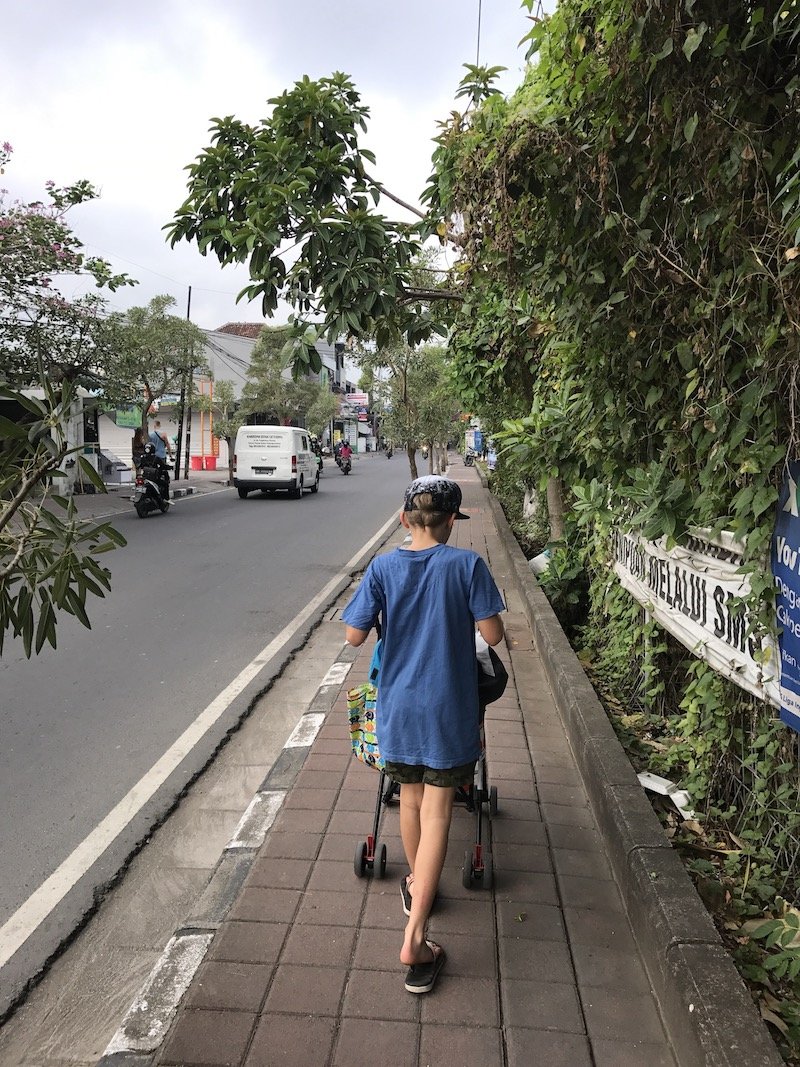 Walking with Stroller in Seminyak
Bali Baby Hire Products
They also hire out baby equipment including:
bed rails to stop toddlers falling out of bed
baby monitors, safety gates
baby bath seats
pottys for toilet training
portacots
high chairs
baby car seat hire
car seat rental for toddlers and preschoolers
baby capsule hire
sterilisers, and
toys and games for babies and toddlers.
You can even hire a microwave!
There's no need to lug it all from home.
The cost of hire is way less than an excess baggage fee.
---
RELATED: What to take to Bali on a family vacation – Packing List Guide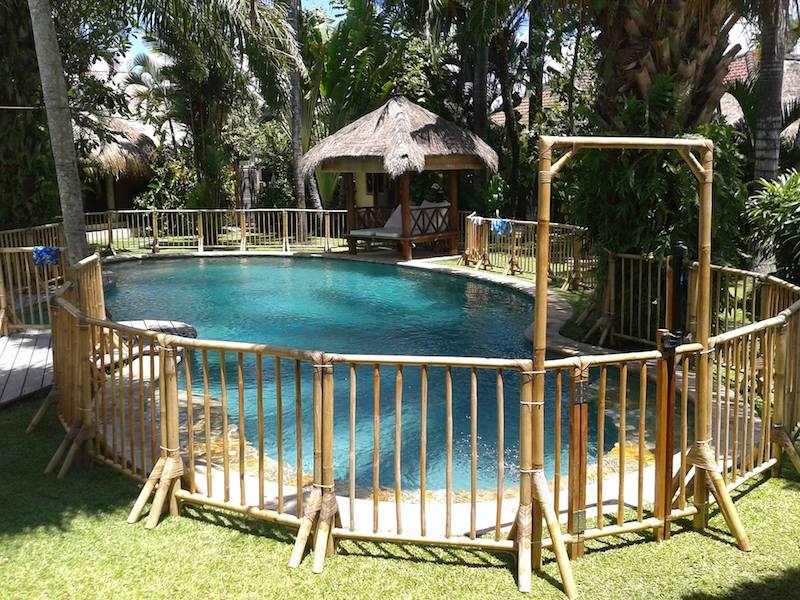 Bali Pool Fence Hire
You can also organise Bali pool fence hire too, either with Bali Baby Hire, or with Bali Pool Fence Hire
If you are staying in a Bali villa with a pool, then your first job is to check on the availability of a fence.
If there's not one, put this job top of your to do list.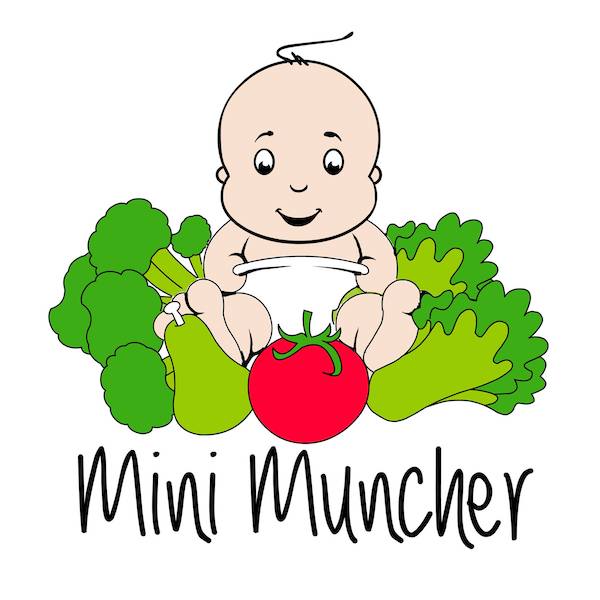 Baby Food Bali Style? Try Mini Muncher Bali
Don't fancy taking baby food to Bali?
Mini Muncher in Bali is THE place to shop for organic baby food in Bali.
They sell:
baby purees
delicious kids snacks like muffins, cupcakes and muesli bars
kids meals including mac and cheese, pasta and bolognese, spinach falafel and vegan options too
They'll even deliver it to your hotel or villa too.
Need a swim diaper? They have those too!
Save time and money on your next Bali holiday with toddler and baby and give them a call.
FAQ: Can you take milk to Bali?
You can, and some families do, especially if you require a nut mylk such as almond milk, or hazelnut milk in UHT cartons as these are not so easy to come by.
But you can always find milk – both powered milk, and Greenfields milk in most supermarkets and convenience stores.
Looking for More Things to do in Bali with Family
Click on the blue links for more Bali ideas below.