INSIDE: Wondering what to do in Piazza Navona? Check out these 7 best things to do in this Roman square with children in tow.
One of the must-do tourist attractions in Rome is the Piazza Navona.
Built on the Stadium of Domitian back in the 1st Century AD, this piazza is an example of Baroque architecture with three famous fountains in the open space in the centre of the stadium-like piazza.
While it's definitely a cultural hotspot and an architecture lovers dream destination, this square is interesting enough for kids, especially on a sunny day! (Unlike the day we visited)
See below for a list of the top things to do in Piazza Navona with kids.
Disclosure: This article contains affiliate links. If you make a purchase after clicking on one of these links, we may receive a small commission at NO extra cost to you.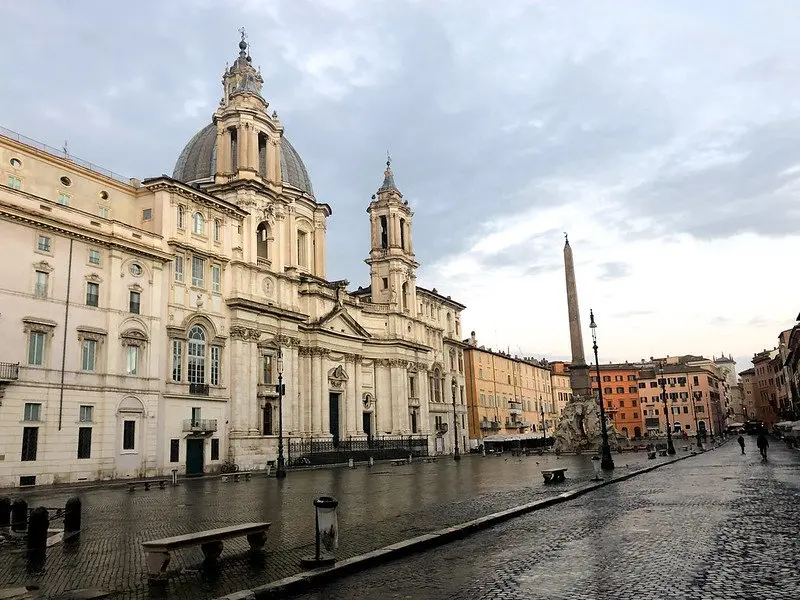 Image credit: Francisco Anzola via Flicker CC BY 2.0
7 BEST THINGS TO DO IN PIAZZA NAVONA ROME ITALY
Take the kids and be sure to check out all these ideas.
---
RELATED: The ULTIMATE Guide to Things to Do in Rome with Kids
PIAZZA NAVONA FACTS!
Read this fun facts about Piazza Navona as you plan your Rome itinerary.
Roman Statues and fountains are so much more fun, when you know a little of their history!
No.1: Piazza Navona Fountains
See the second most famous fountain in Rome!
The main Piazza Navona fountain in the centre of the square is the world-famous Fontana dei Quattro Fiumi or "Fountain of the Four Rivers"
The statue was built in 1651 by the sculptor, Gian Lorenzo Bernini.
The Bernini Fountain of the Four Rivers fountain at Piazza Navona is topped by the Obelisk of Domitian, and is a sight to see.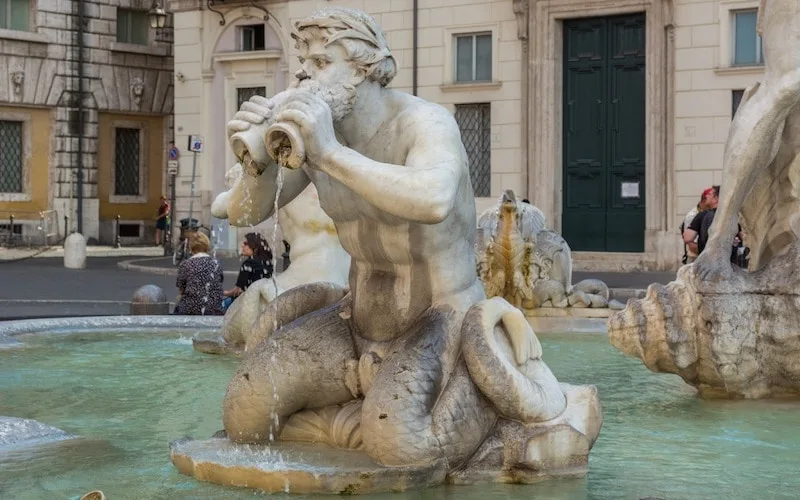 No.2: Piazza Navona Statues
There are two other Famous Roman Statues at Piazza Navona
Fontana del Moro
The fountain at the southern end is the Fontana del Moro.
There's a basin and four Tritons sculpted by Giacomo della Porta (1575).
To which, in 1673, Bernini added a statue of a Moor, or African, wrestling with a dolphin.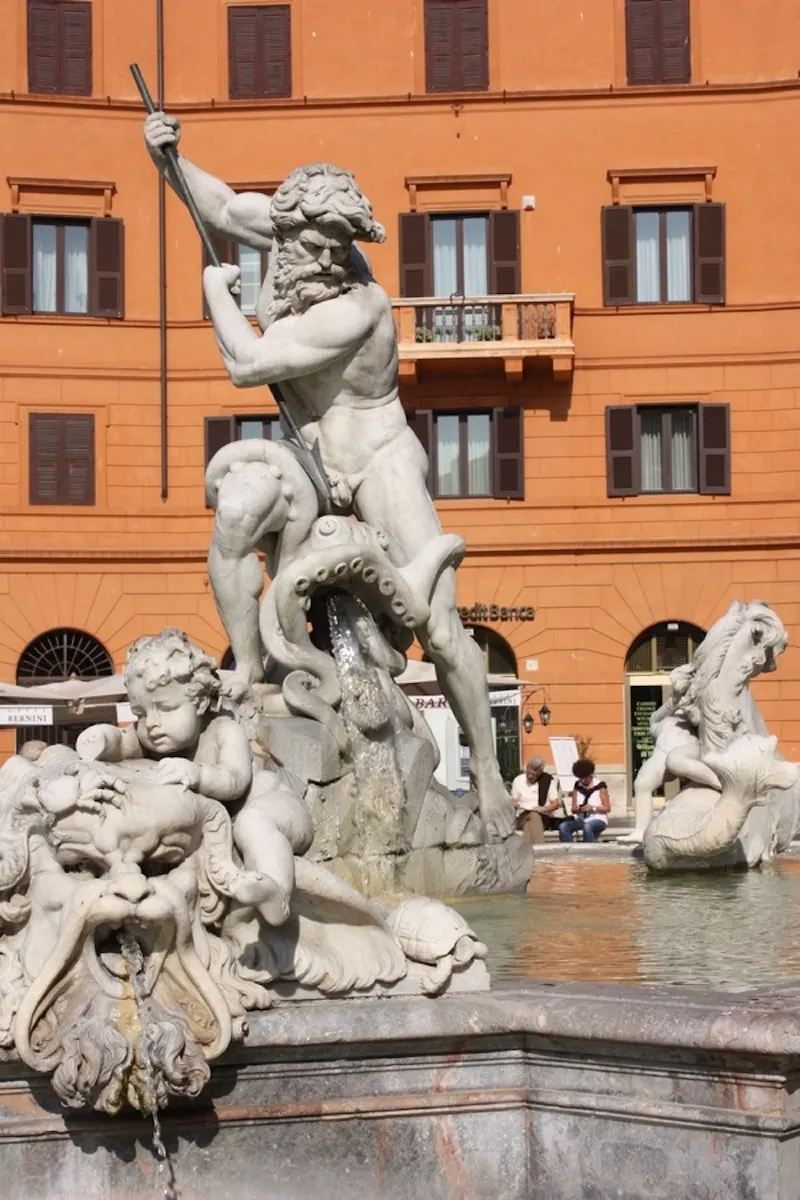 Fountain of Neptune Piazza Navona
The fountain at the northern end of the Piazza is the Fountain of Neptune (1574).
Also created by Giacomo della Porta.
The Statue of Neptune, by Antonio Della Bitta, was added in 1878 to create a balance with La Fontana del Moro.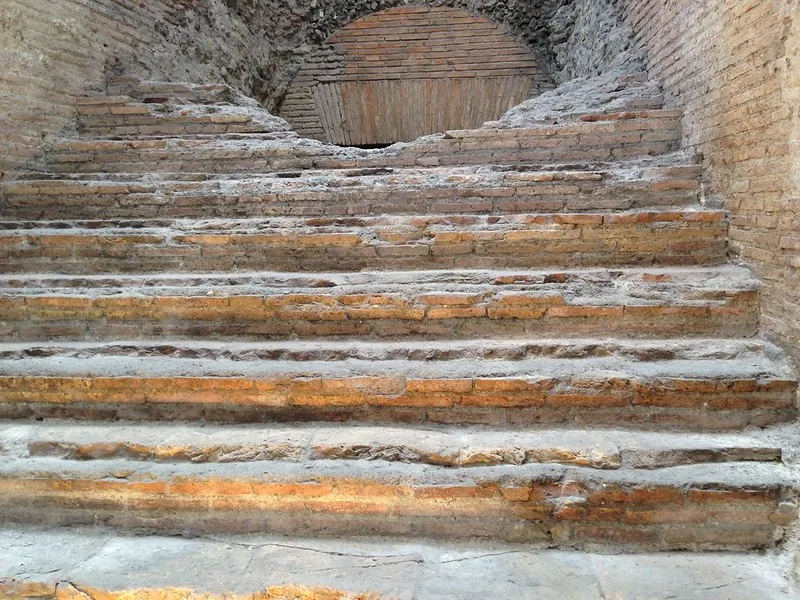 Image credit: Sarah E. Bond via Flicker CC2.0
No.3: See the Stadium of Domitian Piazza Navona underground
Explore the only stadium ever built from masonry in Ancient Rome.
Take a skip-the-line audio guide tour of the ruins of the Stadium of Domitian, a Unesco World Heritage Site.
See amazing reconstructions of the former site of the ancient Olympic Games, located 5 meters beneath the square.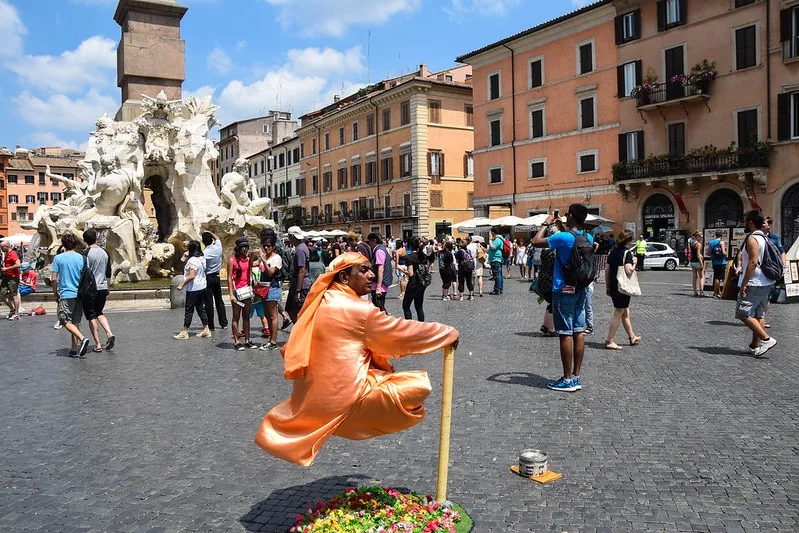 Image credit: Maria Eklind via Flickr CC2.0
No.4: Fun Things to do in Rome for Kids at this Roman Square!
There's Street Entertainment Galore
Be prepared for lots of street entertainment, including:
buskers
portrait painters
silent human statues
The square is filled with stylish people to watch so grab yourselves a gelati icecream cone and find a seat.
Book Now: Take a "Squares of Rome" street tour, with street food, tiramisu and gelato!
Image credit: Tre Scalini
No.5: "Death by Chocolate" – Try the World-famous dessert "Il Tartuffo" at Tre Scalini.
Unless of course, you are planning to indulge in the world-famous dessert "Tartuffo" truffle cake at Tre Scalini cafe-restaurant and ice cream parlour.
Death by Chocolate, created in 1946 by the found of the Ciampini family, is a local speciality and must be tried at least once.
This is one of the top things to do in Rome for foodies.

Image credit: Seanfoneill via Flicker CC2.0
No.6: What to do at Piazza Navona Christmas Market
If you happen to visit Rome on a family vacation during December and up to the first week of January, you'll be delighted by the Christmas Market in Piazza Navona and the atmosphere there.
Go for the Christmas food and the vibe, and you won't be disappointed by the lack of original art, or the array of cheap Chinese imports.
The kids will love picking out a Christmas souvenir or two though!
---
RELATED: The Complete Guide to Rome Italy souvenirs and gift ideas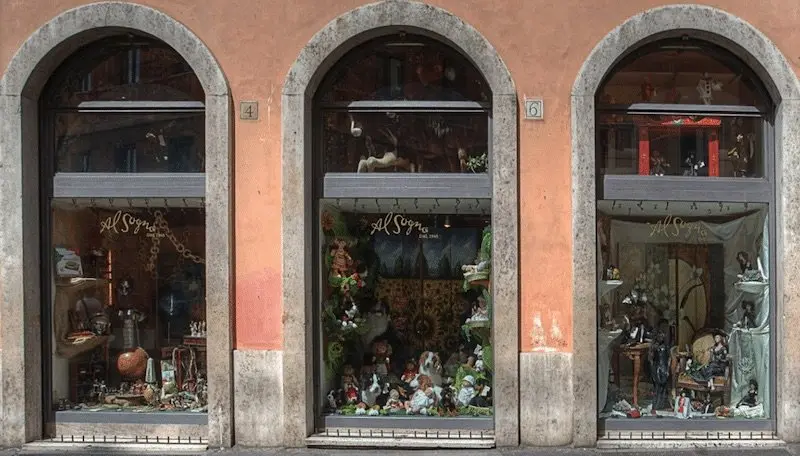 Image credit: Al Sogno toy store in Rome
No.7: Piazza Navona shopping tips
Find the best toy store in Rome for kids and families at the Al Sogno Toy shop at Piazza Navona.
Al Sogno Toy shop in Rome is at one end of the piazza.
Al Sogno Piazza Navona store
In this dreamlike store with a Gladiator and Pinocchio by the front door to greet you, there's:
stuffed animals
teddies
fairy dolls
wooden puppets
porcelain handmade dolls, and
marionettes.
If you are in Rome with kids, this is the Aladdins Cave of Toy Stores in Rome.
Hot tip: Book this kid friendly tour of Rome (with gelato tasting!)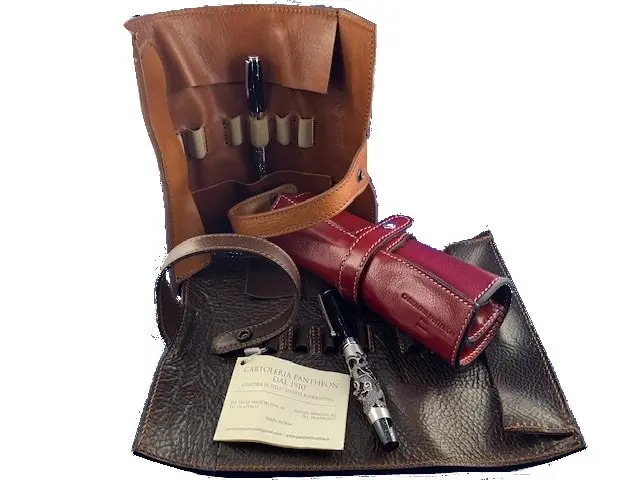 More Shopping in Piazza Navona
No.1: Cartoleria Pantheon, from 1910
Stop by this stylish Italian shop to find:
leather photo albums
leather jewelry holders
leather pen holders (pictured above)
wax letter seal handles made from brass
stationery and pens
Miniature Library ornaments
leather diaries with handmade paper
leather bags for women, and
elegant letter paper.
Shopping for someone who has everything? THIS is your go-to shop in Rome.
Address: Piazza Navona, 42, 00186 Roma RM, Italy

No.2: L'Artigianato Gift Shop
Lovely handmade gifts including colorful ceramics, tea towels, chess games, artistic blown glass, kitchenware, vintage reproductions, coffee making tools, pasta machines, Italian brand toys, and more.
Find these Italian homeware and kitchen brands:
Egan Made in Italy – vintage style Disney cups and mugs, dessert forks, soap dishes. Also a range of quirky Ceramic owls.
Carillon music boxes and retro inspired carousels of Italian design
Bialetti coffee makers and Bialetti coffee beans
Pavoni coffee machines
Marcato pasta machines, drying racks, biscuit machines and hand tools
Giannini Italian kitchenware
Alessi design household objects, kitchen accessories, jewelry, costume jewelry, watches, trays, dishes, tea and coffee services and kettles
Address: Piazza Navona, 84, 00186 Roma RM, Italy
No.3: Society Limonata Roma
Find beautifully designed gifts for the home, including things for the bathroom, bed linen, bedsheets, pillowcases, decorative cushions, towels, tablecloths, napkins, ceramics, clothing, bags and scarves.
Their DRAI bag made from cotton canvas in divine colors is ideal for the beach, or shopping, or travel.
Address: Piazza di Pasquino, 4, 00186 Roma RM, Italy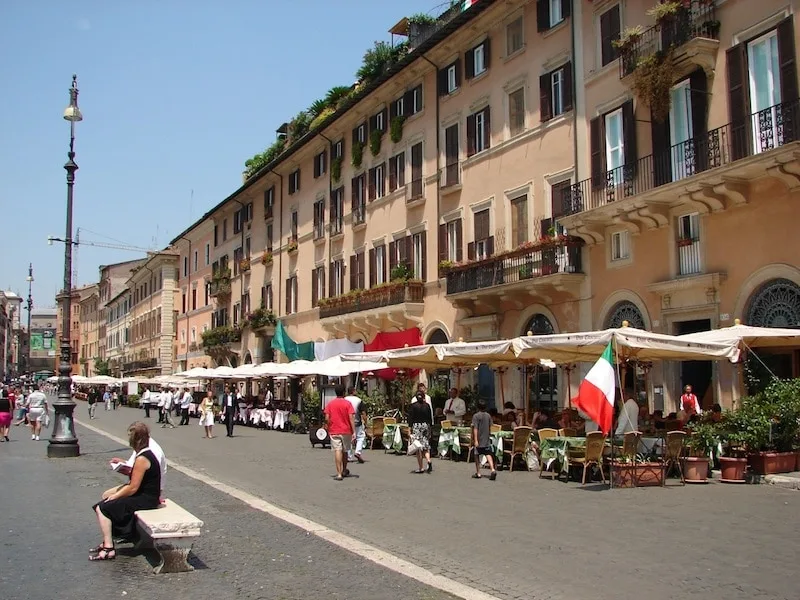 THE INSIDE SCOOP: Best Rome Places to Visit with Kids
Correct at time of publication on Roam the Gnome. Please check with venue for updates. We apologise in advance if there have been any changes we are unaware of. All prices in euro, unless otherwise stated
Piazza Navona Address: Piazza Navona, 00186 Roma, Italy
Opening Hours at Piazza Navona
Entry Fees:
Entrance to the Piazza is free.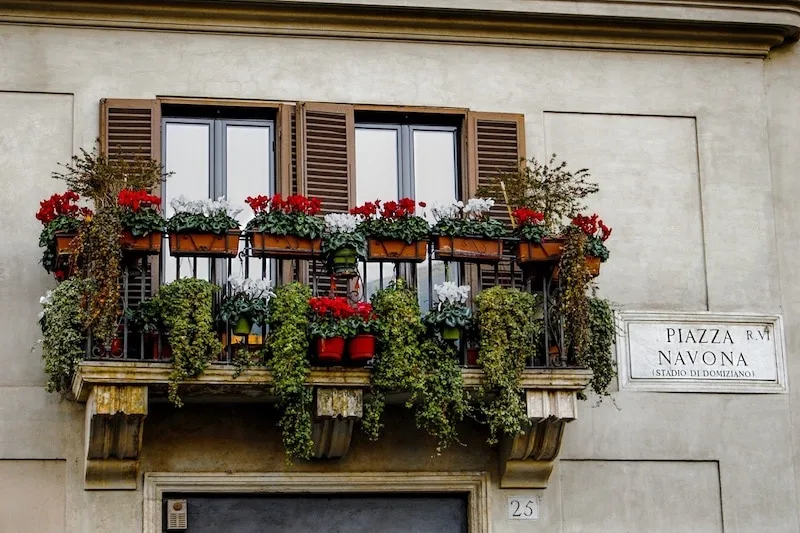 Rome Piazza Navona Map
Check out this Piazza Navona Rome map below.
How to get to Piazza Navona
On foot
Walking is the best option.
You can do a fab tourist loop by starting at the Piazza del Popolo, down to the Spanish Steps, walk to the Trevi Fountain, and arrive at the PN square via the Pantheon.
By Metro: There are no Metro stations nearby.
By Bus: From the Termini, take bus 64, 70 or N15 and alight at the C.So Vittorio Emanuele/S. A. Della Valle stop.
By Taxi or Uber: The square is easily accessible by taxi or Uber.
Click here for detailed directions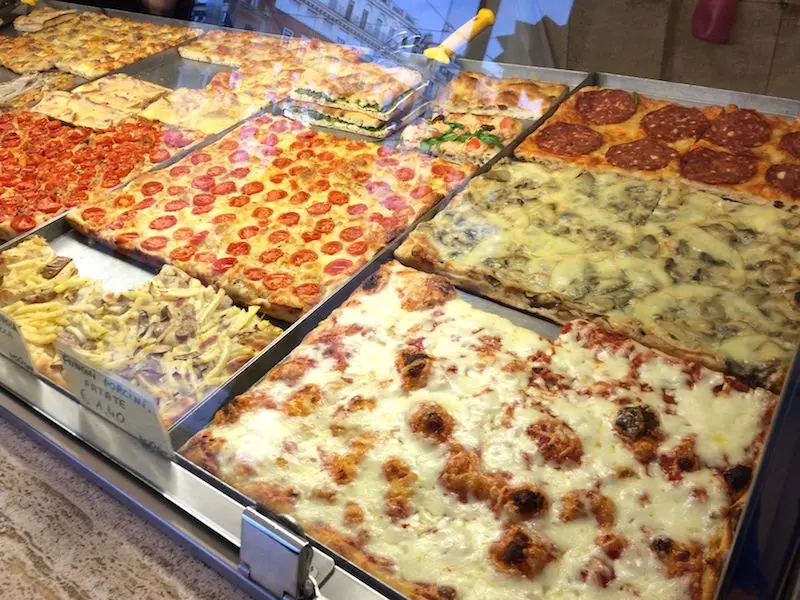 Where to eat at Piazza Navona with kids?
Try Chiostro del Bramante Cafe
Head up to second level to sit in the courtyard.
Via Arco della Pace, 5
Telephone: 06 6880 9035
Open from 10:00 am-9:00 pm.
Need a sweet treat?
Visit Gelateria Tre Scalini.
Hot Tip: We'd suggest finding elsewhere to eat your family meals as the prices here are tourist-level and not so family-friendly.
If you are up for Pizza, our favourite pizza shop is just 400 metres walk away.
FAQ: Facts about Piazza Navona
No.1: When was Piazza Navona built?
It is built on the site of the Stadium of Domitian in the 1st century AD.
No.2: Name the famous Piazza Navona movies
According to IMDB, a total of 39 movies have been filmed in Piazza Navona. These are the most popular.
James Bond Spectre (2015)
John Wick: Chapter 2 (2017)
American Assassin (2017)
Angels & Demons (2009)
The Talented Mr. Ripley (1999)
The Way of the Dragon (1972)
The Great Beauty (2013)
Hudson Hawk (1991)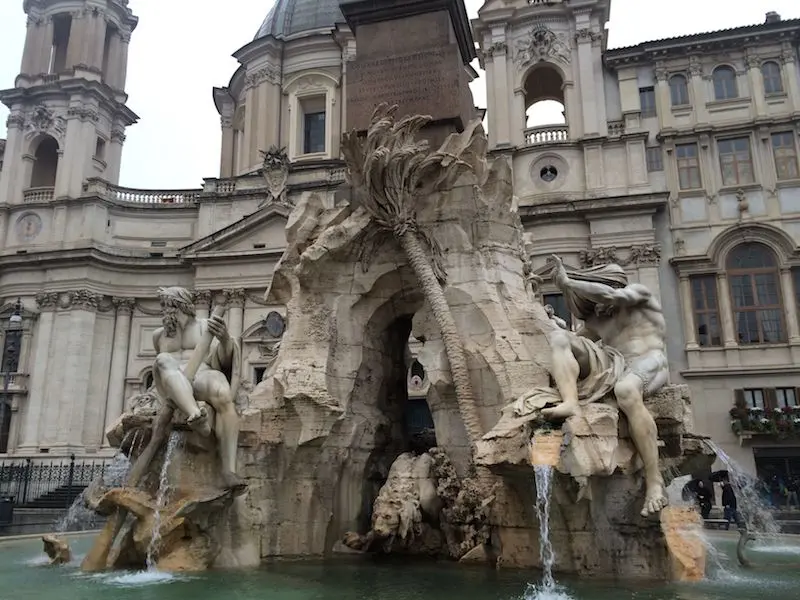 Toadstool Rating: Ancient Rome for Kids
Another ancient square in Rome full of beauty and history.
Stop by this famous piazza in Rome on your wanders.
Other places you must visit in Rome with kids include:
Castel Sant Angelo
the Vatican museums
our favorite Villa Borghese Gardens
the Colosseum, and
the Roman Forum.

Looking for more places to go shopping in Rome?
Click the links in blue below for more Rome ideas.