INSIDE: Take a sneak peek into the Pokemon Center Ikebukuro, the best place in Japan for Pokemon fans.
Childhood Nostalgia claims a victory!
Sunshine City Pokemon Center Ikebukuro is a treasure trove of video games, trading card games, and toys for Pokemon Trainers!
Pokemon Center Ikebukuro is firstly a shop, but for a retro look back into childhood, it's worth a visit, even if you only spend 30 minutes there.
Pokemon Centre Tokyo is a place to share your love of old gameboy games and characters
Pokemon official merchandise is reasonably priced and top quality.
The Pokemon Store Ikebukuro plays gameboy music on the stereo too!
Take a look below for details of the Pokemon Store Japan.
Disclosure: This article contains affiliate links. If you make a purchase after clicking on one of these links, we may receive a small commission at NO extra cost to you.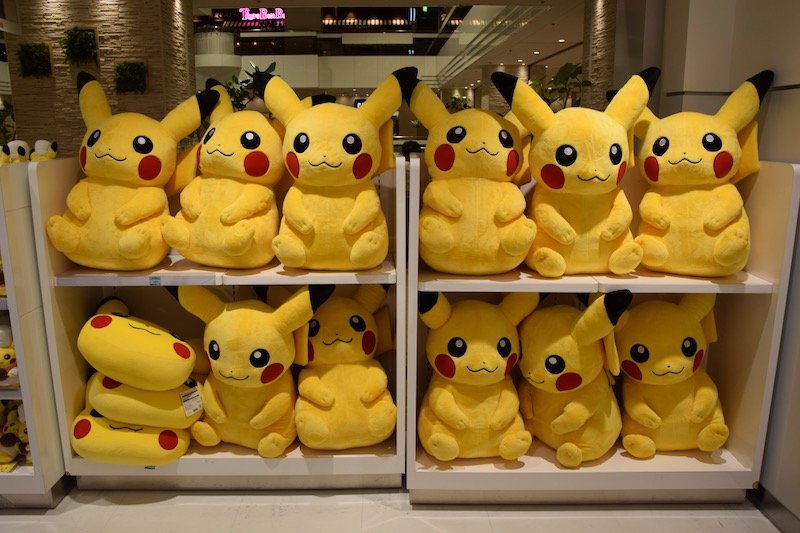 About Pokemon
Pokémon was created by Satoshi Tajiri in 1995. (Yes, that makes both you and me old!)
Did you know that Pokemon is short for 'Pocket Monster'?
It is!
Pokemon began as a pair of video games for the original Game Boy published by Nintendo but has grown into a worldwide franchise based upon the characters.
As well as video games, there are:
Pokemon trading card games
Pokemon animated cartoons and movies
Pokemon comic books
Pokemon toys
Pokemon stationery, and
Pokemon plush dolls.
The only gaming franchise that is bigger is Super Mario!
Sales of Pokemon stuff has exceeded ¥4.6 trillion worldwide (equivalent to 40.5 billion USD!).
The 20th anniversary of Pokemon was celebrated in 2016 with a Superbowl commercial!
2016 marked the 20th anniversary of the release of the original games, with the company issuing re-releases of Pokémon Red, Blue, and Yellow.
2016 also saw the launch of the next generation of games, Pokémon Sun and Moon, and the release of the new mobile augmented reality game Pokémon Go.
---
RELATED: Big List of the Best Things to do in Tokyo With Kids

Shopping for Pokemon Characters at Pokemon Center Ikebukuro
Roam the Gnome's favourite Pokemon (and arguably the most well known) is the little yellow pocket monster known as Pikachu, who is the mascot of the brand.
Dragonites, the orange dragon with two turquoise wings on his back is popular too.
Dragonites have the ability to inner focus which allows it to keep from flinching in a battle.
Check out the statue of Dragonite at the Pokemon Japan store.

What to Buy at the Pokemon Store Tokyo
Die-hard Pokemon-loving kids and families must not miss this place.
There's every kind of cute Pokemon product you can imagine at Pokemon Mega Tokyo, all in one spot.
Note though that there is a huge focus on Pikachu, and not so much on the other Pocket Monsters.
You may, or may not, find your particular favourite in products at the Pokémon center, especially if your Pokemon favourite is a bit left-of-centre.
Best Pokemon Mega Store products
Find Pokemon products at this Ikebukuro Pokemon Center shop including:
Pokemon Gashapon (ガシャポン) capsule toys
Exclusive plush animals and Pokemon plush toys
Exclusive t-shirts and clothing
Pokemon cutlery, plates, bowls (dishware)
Pokemon-themed gift-wrapped food and treats
Pokemon candy
Pokemon stuffed toys
Pokemon Trading cards
Pokemon school supplies and Pokemon stationery
Pokemon Game cartridges
Videos and manga comics
Pokemon Key rings and phone charms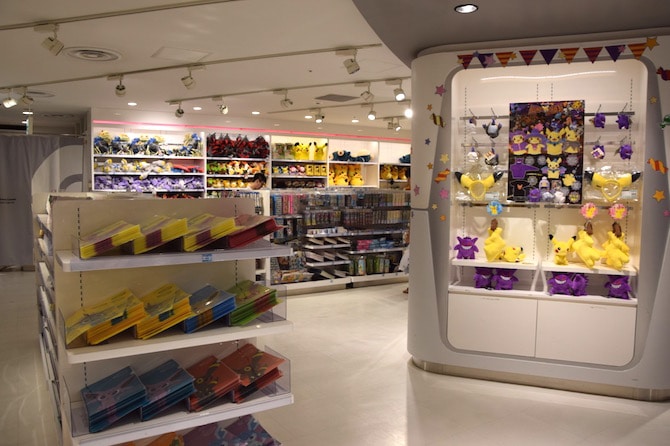 THINGS TO DO AT SUNSHINE CITY POKEMON CENTER
No.1: Cosplay at Sunshine City Pokemon Center?
Visit Sunshine City Pokemon Center on a weekend to see all the people milling about in Cosplay outfits.
(Google Otome Rd Anime Strip for more details.)
No.2: Pokemon Center Trading Stations
There are a few trading card stations at Pokemon Mega Center Tokyo.
This is where you can play the Pokemon trading card game against a Pokemon Center staff member, or against your kids if they know what to do too.
Check our Pokemon instructions guide below.

How to play Pokemon
Players of the games are designated as Pokemon Trainers and in the main series Pokémon games, these trainers have two general goals.
These are to complete the "Pokedex" by collecting all of the available Pokémon species found in the fictional region where that game takes place; and to train a team of powerful Pokémon from those they have caught to compete against teams owned by other Trainers, and eventually win the fictional Pokémon League.
These themes of collecting, training, and battling are present in almost every version of the Pokémon franchise, including the video games, the anime and manga series, and the Pokémon Trading Card Game.
The Pokémon franchise includes 729 revealed species of the title characters.
Pokémon can be organized according to a number of different attributes.
Pokémon may also be grouped into "families" of the Pokémon (eggs/fossils, for example) they evolve (or hatch or revive) from and into.
It is thought that the reason it is so popular with children is that children find kinship and a sense of community with particular characters and their traits, and that this sense of connection to the characters keeps them coming back for more.
(Game play time with their tribe.)
THE INSIDE SCOOP: Sunshine City Pokemon Center
Correct at time of publication on Roam the Gnome. Please check with venue for updates. We apologise in advance if there have been any changes we are unaware of. All prices in yen, unless otherwise stated
Pokemon Center Tokyo Address: Sunshine City Alpa Building, 2nd Floor – 3-1-2 Higashi-Ikebukuro, Toshima-ku, Tokyo, 170-6002
Opening Hours: 10:00a.m. – 8:00p.m.
Entry Fees: Entry is free.
Phone: 03-5927-9290
How to get to Pokémon Center Tokyo
Wondering how to get to Pokemon Center Ikebukuro?
The nearest stations are:
3 minutes on foot from Higashi-Ikebukuro Station (Tokyo Metro Yurakucho Line)
8 minutes on foot from Ikebukuro Station (JR, Tokyo Metro, Seibu Line, Tobu Line)
4 minutes on foot from Higashi-Ikebukuro 4-Chome Station (Toden Arakawa Line)
Directions to Japan Pokemon Shop
From Ikebukuro Station
Go to exit 35 of Ikebukuro Station. Walk down Sunshine 60 Dori, and the underground entrance (escalator) to Sunshine City will be visible on the right-hand side next to Tokyu Hands.
From Higashi-Ikebukuro Station
Walk toward exit 6.7, and a sign should direct you to the "Underground Passage" to Sunshine City.
Map of Pokemon Center Japan
Toadstool Rating: Sunshine City Ikebukurof Pokemon Center 東京
For SUPER FANS, the Pokemon Center in Japan will be a FIVE.
The Pokémon shop in Ikebukuro is definitely the best shop in Tokyo for Pokemon fans.

Looking for MORE SUPER DOOPER FUN things to do in Ikebukuro with kids?
Click the links in blue below for more Tokyo tips