INSIDE: Ultimate Guide to the Pink Dolphins Hong Kong experience!
Wondering where to see pink dolphins in the wild?
If you love to surprise your children with extra special experiences, then taking them on to see the Pink Dolphins on a dolphin watching tour must be on your list.
What are Pink Dolphins in Hong Kong?
Scientifically known as Indo-Pacific humpback dolphins, or Chinese White Dolphins, these dolphins can can be seen all year round as they are a resident species found in the waters of Hong Kong.
The natural habitat of the pacific humpback dolphin is The Sha Chau and Lung Kwu Chau Marine Park, located in the city's western waters.
The dolphin population comes to feed on an plentiful food source from local fisheries.
Learn more below!
Disclosure: This article contains affiliate links. If you make a purchase after clicking on one of these links, we may receive a small commission at NO extra cost to you. Main image: source unknown.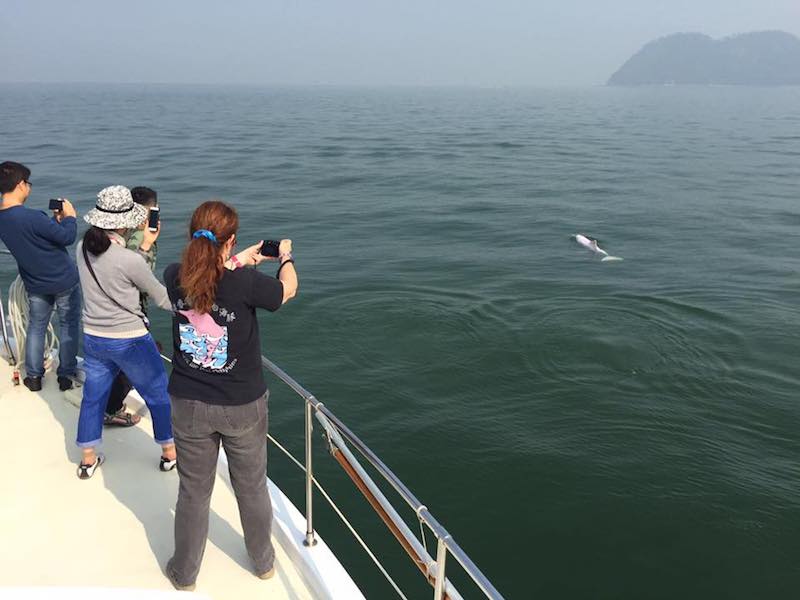 Image credit: Hong Kong Dolphin Watch via Facebook
Where to See Pink Dolphins in Hong Kong
The Pink Dolphin Hong Kong cruise is hosted by Hong Kong Dolphin Watch
Regular dolphin watching tour adventures include:
return-trip coach transport from Tsim Sha Tsui (outside the Kowloon hotel in Kowloon) to Tung Chung New Development Pier on Lantau Island
a three hour dolphin sighting trip aboard a luxury cruiser
Pink Dolphin information sheets
a detailed presentation on the pink dolphins by experienced guides
free light refreshments on board.
Did you know that if you don't see a pink dolphin on your cruise, you can cruise again for FREE!
Advanced booking is required. See the Inside Scoop below for details.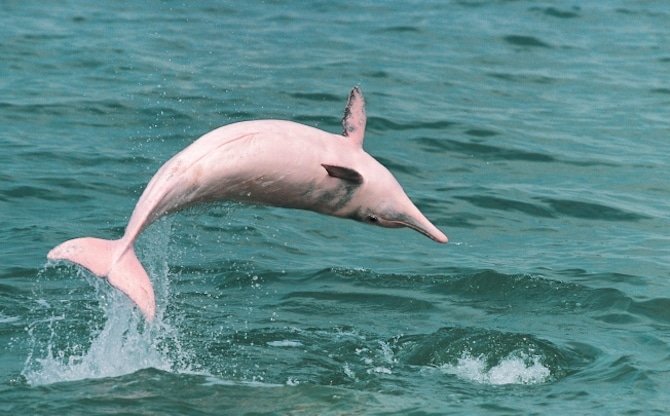 Image credit: Source unknown.
Save the Pink Dolphins Hong Kong habitat
The Pink Dolphins of Hong Kong are facing very real dangers for their ongoing survival.
Every day, Hong Kong produces 2 million tonnes of liquid waste, and 22,500 tonnes of solid or semi-solid waste.
70% of this is untreated, and about 450,000 cubic metres of raw, semi-processed sewage is dumped into the harbour every day, enough to fill 200 OLYMPIC SIZE SWIMMING POOLS.
The Pearl River brings down industrial effluent, municipal waste, and agricultural runoff from a large area of China.
All of this sewage and rubbish affects the immune systems of the dolphins and put them at serious risk of extinction, unless something is done soon.
Habitat Loss and Pollution are two very real dangers facing the pink dolphins in Hong Kong.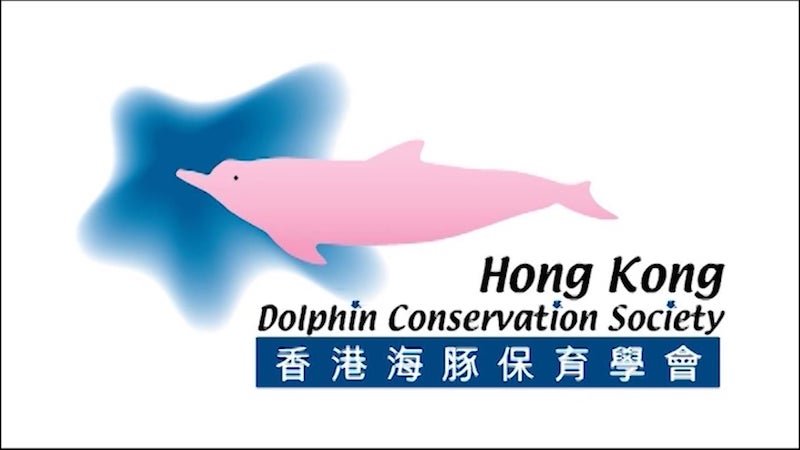 Hong Kong Dolphin Conservation Society needs our help!
Children may like to write a letter to voice their concerns over ongoing development and ask for consideration for these delightful and endangered sea creatures
Send it to:
The Director, Environmental Protection Department
Southorn Centre, 24/F, 130 Hennessy Road, Hong Kong
Or via email to: [email protected] .
Take action and join the Hong Kong Dolphin Conservation Society too.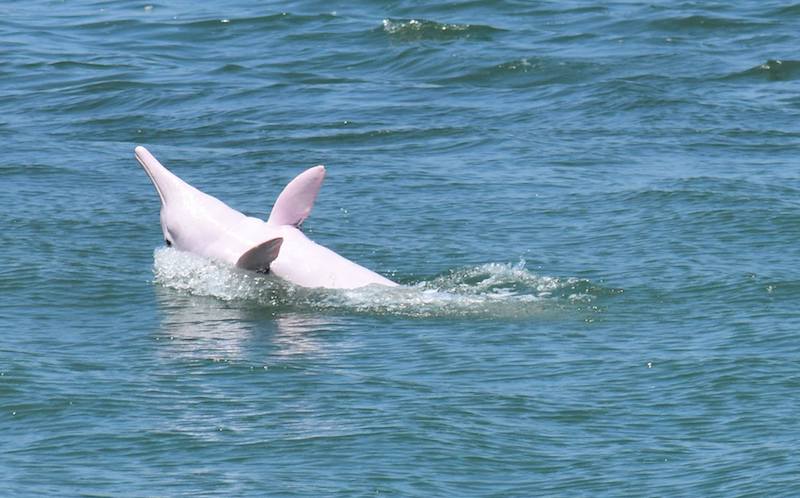 Image credit: Hong Kong Dolphin Watch via Facebook
THE INSIDE SCOOP: Hong Kong Dolphin Watch cruises
Correct at time of publication on Roam the Gnome. Please check with venue for updates. We apologise in advance if there have been any changes we are unaware of. All prices in Hong Kong dollars, unless otherwise stated
Address: Hong Kong Dolphinwatch, 1528A Star House, Tsim Sha Tsui, Kowloon, Hong Kong
Telephone: (852) 2984-1414
Website: Click here
Email: [email protected]
Office hours: Monday – Friday, 9am – 6pm
Opening Hours: How to see pink dolphins in Hong Kong
Scheduled tours run every Wednesday, Friday and Sunday.
Trips are generally scheduled in the morning at 8.50am departure, with occasional boat trips in the afternoons, or on Saturdays when there is demand.
You can also charter the boat for larger groups.
Duration of the tour is 4-5 hours, including transfers.
Entry Fees:
HK$ 460 for each adult
HK$ 230 for a child under 12 (3 – 11 years old)
HK$50 for a child under 3
Advanced booking is required.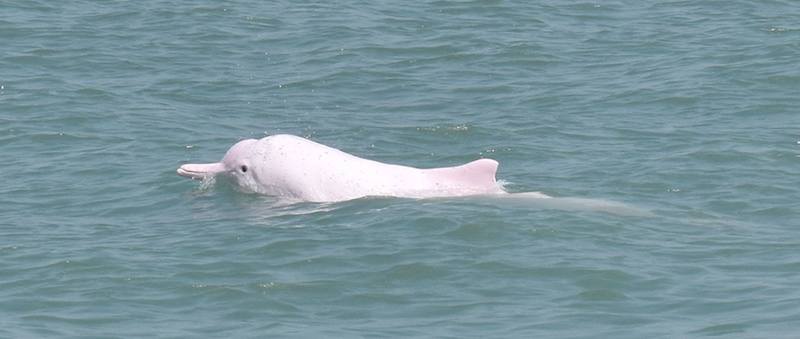 Image credit: Hong Kong Dolphin Watch via Facebook
How to book a Pink Dolphin cruise
Summer tours are busy (July to December) so please book ahead of time.
If you are visiting during the winter months, January to March, you might sight more dolphins than there are people on the boat!
Contact Dolphin Watch by email or phone and let them know:
date and day of trip you wish to book
number of people you wish to book for
pick up arrangements
Pay in person for Pink Dolphin HK tour
Pay in person at least one day before your trip by visiting the office. Please call before starting your journey on 2984-1414 to ensure a staff member will be present.
Pay by Bank transfer for the Pink Dolphin Tour Hong Kong
Or, make a bank transfer to HSBC account at 144-297561-001.
Please notify HK Dolphin Watch after you have credited the relevant amount, and keep the note of transaction to hand to the ticket collector on the day of the trip.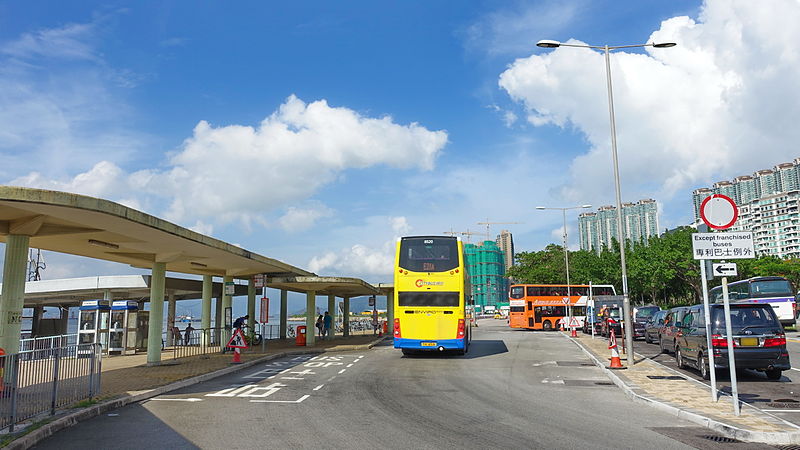 Image credit: Mk2010 via Wikipedia CC BY-SA 4.0
How to get to the Pink Dolphins cruise terminal in Hong Kong
Arrival by coach:
Catch the coach transfer by waiting on Middle Road exactly outside the Kowloon Hotel in Tsimshatsui, Kowloon.
Please be there no later than 8.45am to register with the guide.
Arrival at the terminal direct:
If you prefer to make your own way by MTR to Citygate (Tung Chung station) and then walk to the pier, allow 15-20 minutes walking time from the station.
Take the pedestrian flyover next to the Ngong Ping 360 Cable Car Station to cross the road and follow the way to the seaside.
Please ensure you arrive at the Tung Chung New Development Pier, Lantau by 9:20am.
Follow the map here to get from the MTR station to the Tung Chung boat pier.
(NB: Please specify your arrival preference eg pick-up or by your own way, when making the booking.)
Please note there is no tour desk at the pick-up location.
If you have any questions, contact HK Dolphin Watch by phone on (852) 2984-1414. This phone number operates 365 days a year.
By car:
Parking spaces are very limited at Tsimshatsui, aside from costly.
Don't risk a parking ticket.
The closest car parking is at Citygate.
We strongly recommend making use of public transport.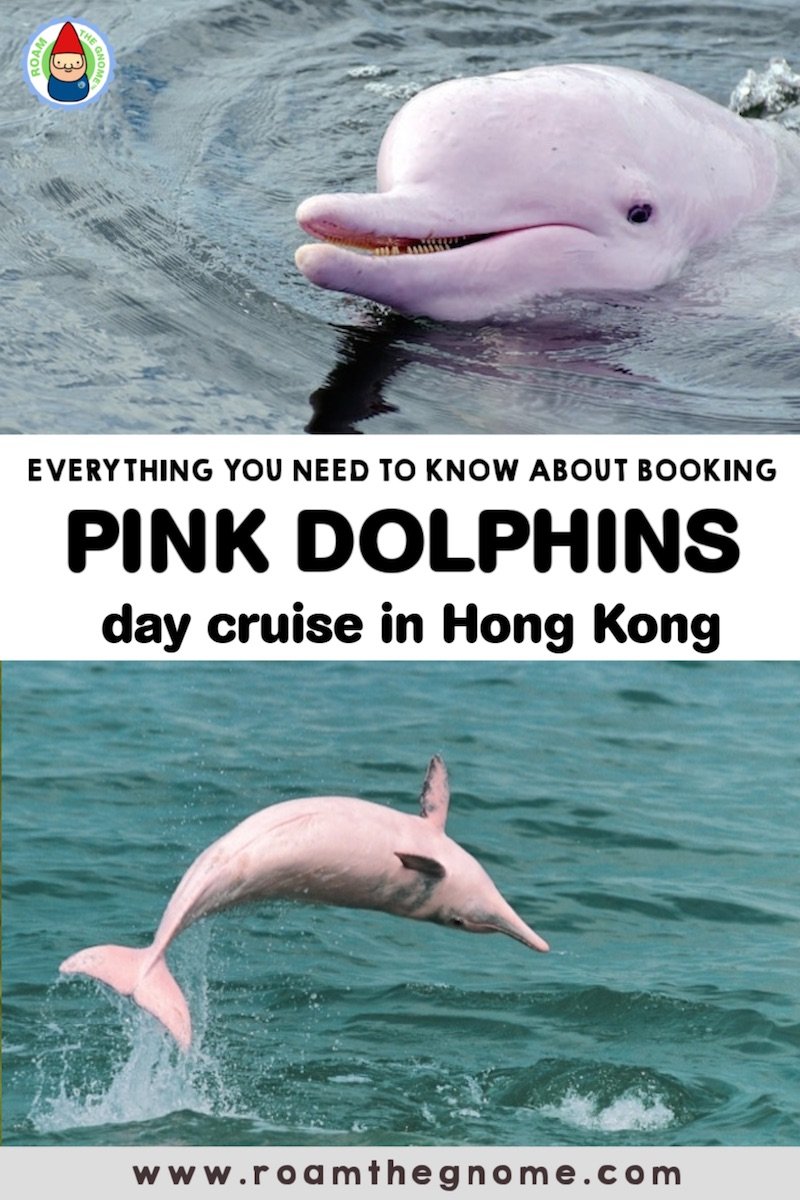 Return Journey:
If you want to return to town quickly, taking the MTR is the fastest means. The bus can take you to the MTR station in CityGate, a few minutes from the Pier.
If time is not a concern, you are welcome to catch the coach back to town. The coach will arrive in Tsimshatsui around 1pm to 2pm, depending on sighting time and traffic.
Map of Tung Chung New Development Pier
Frequently Asked Questions: Hong Kong Pink Dolphins
Are pink dolphins real?
They are very real.
Even though a pink dolphin sounds like a wonderful, magical creature from a Disney fairy tale!
Why are pink dolphins pink?
There's lots of conjecture, but mostly it's believe pink dolphins become pink as part of the ageing process, and actually start out grey.
Some scientists believe that repeated abrasion of the skin surface is part of the reason.
Others say it is "warm blood pumping through vessels close to the skin's surface that gives the dolphins their bubblegum pink appearance."
What do pink dolphins eat?
crabs
catfish
small river fish
small turtles
The pink dolphins in Hong Kong visit the local waters to feed on the scraps sent out to sea by local fisheries.
How many pink dolphins are left in the world?
No one knows for sure.
The first study counted around 250 pink dolphins in the Hong Kong region. But today, that number has dropped to 32.
What they do know is that these pink dolphins are being poached and killed off in huge numbers due to trade, but also environmental habitat damage.
Are pink dolphins endangered?
Yes, pollution poses a huge threat to these pink dolphins in Hong Kong and in the Amazon river.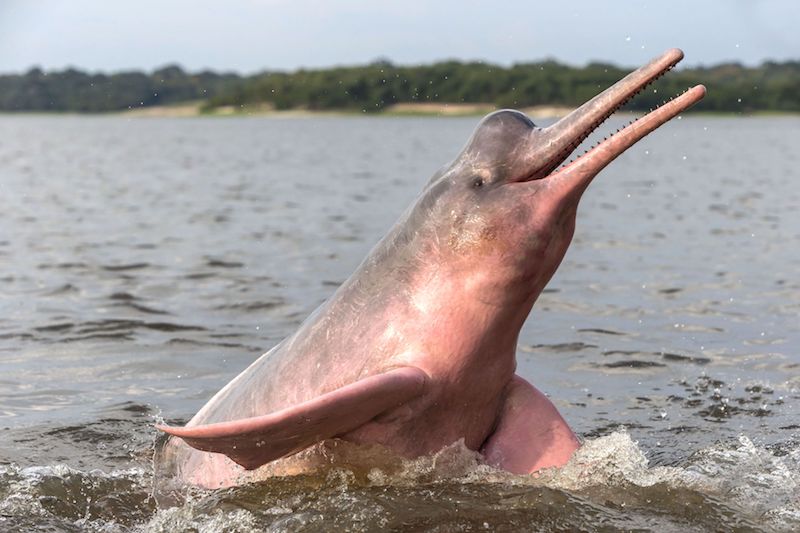 Image credit: Source unknown.
Where do Pink dolphins live?
Rare pink dolphins can be found both in Hong Kong, as mentioned above, and in the Orinoco and Amazon rivers in South America (as pictured above).
The pink river dolphins in Brazil are a freshwater species.
Can you swim with pink dolphins?
Not in Hong Kong.
But yes, you can swim with the Pink river dolphins at a sheltered cove, part of a Dolphin conservation project along the Negro River in the Brazilian jungle.
The Negro river is a major tributary of the Amazon river close to the town of Manaus.
Toadstool Rating: Pink Dolphin Cruise Hong Kong

Looking for More Fun Things to Do in Hong Kong with Kids?
Click the blue links below for more Hong Kong attractions