INSIDE: Everything you need to know about Nippon Animation – the Best Shop to visit in Japan for Japanese Cartoon Character Toys.
Nameko and Rascal are two Japanese cartoon characters that are much-loved by kids all over Japan but, unlike Hello Kitty or Little Twin Stars or other manga characters, they are unknown in rest of the world.
Let's change that.
Say HI to these sweet and gorgeous new JAPANESE CARTOON FRIENDS at the Nippon Animation Official Shop in Sunshine City shopping mall in Ikebukuro, Tokyo.
Located on the 2nd floor at Shop 15, you can't miss Ani*Cute Nippon Animation Official Shop because there's heaps of kids milling about.
Nippon Animation store is close to the Tokyo Pokemon shop too, down the right of the mall as you head out of Namco Namja Town amusement park.
Even if you don't know the Japanese Nippon cartoon characters at all, this kawaii shop has lots to see, and a stash of Japanese plush toys to squeeze.
Read all the details below.
Disclosure: This article contains affiliate links. If you make a purchase after clicking on one of these links, we may receive a small commission at NO extra cost to you.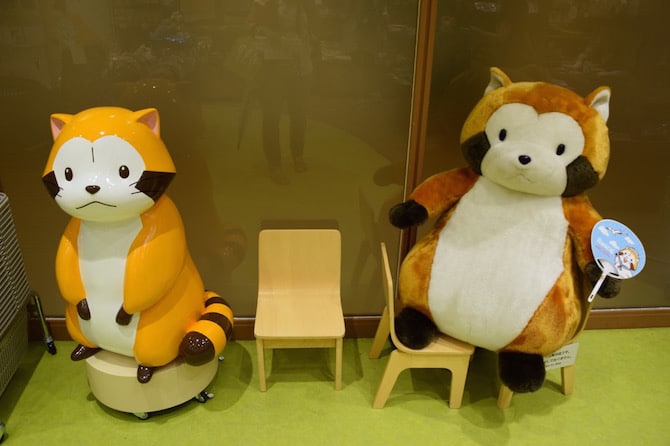 Guide to Nippon Animation Official Shop ANICUTE!
Meet the Characters from the Nippon Animation Anime List that Japanese kids love at the Nippon Animation Official Shop, Ani*Cute
The main characters from Japanese anime cartoons you'll find here at this Nippon shop are Nameko & Rascal, and Rascal the Raccoon.
CUTE JAPANESE CARTOON CHARACTERS
No.1: Nameko & Rascal (see more below)
Nameko is the now famous cuddly Japanese cartoon character based on the slightly slimy nameko (or "pholiota nameko" to be exact) variety of mushroom that's often used in dishes like miso soup.
He was born as a Nippon animation anime character in 2012.
No.2: Rascal the Raccoon
Rascal the Raccoon is a Japanese anime series by Nippon Animation based on the 1963 autobiographical novel, Rascal, Memoir of a Better Era by Sterling North.
The Rascal Nippon animation cartoons are very popular with young Japanese children, with thousands of views per days.
---
RELATED: Big List of the Best Things to do in Tokyo With Kids

No.3: Funassyi
Funassyi is a Japanese mascot character, unofficially representing the city of Funabashi Chiba.
It was created by a citizen of Funabashi with the objective of cheering up local residents and to help promote its hometown.
This Japanese anime character has subsequently appeared at events and festivals, as well as on numerous TV programs and commercials, gaining popularity around Japan.
It has also issued a CD album and several singles, DVDs, starred in its own Japanese cartoon series and opened its own character goods store.
While it remains an unofficial character, Funassyi is used frequently in official events for Chiba prefecture, the city of Funabashi and Japan itself due to its popularity and high name recognition.
You'll find Funassyi toys at the Nippon animation studio shop.

No.4: Chibi Maruko Chan
The sweet Japanese girl, Momoko "Maruko" Sakura (and her family members) from the cartoon, Chibi Maruko-chan.
This Nippon series is written and illustrated by Momoko Sakura.
The Nippon animation series depicts the simple, everyday life of Momoko Sakura, a young girl everyone calls Maruko-chan, and her anime characters family in suburban Japan in the year 1974.
The animated cartoon series is set in the former city of Shimizu, now part of Shizuoka City, birthplace of its author.
Chibi Maruko Chan is arguably one of the best Japanese anime shows for kids on Japanese tv. This cartoon Japanese girl is much loved by all.
(Source: Wikipedia)
MORE Popular Japanese Characters
We think the kids will find it hard to resist making a new friend or two in this place!
AniCute Ikebukuro Shop has lots of famous Japanese cartoons characters for sale.
Most are popular Japanese characters for all ages.

What to buy at Nipponanime Store in Tokyo
This Japanese toy store sells popular Japanese toys
Cute Japanese stuffed animals and Japanese plush animals
Cute Japanese plushies (including giant sized popular Japanese plush toys of Nameko and Rascal)
Japanese soft toys and Japanese cuddly toys
Cute Japanese stationery featuring Nameko and Rascal
Chibi Maruko chan Japanese plush dolls
Themed Japanese candy, Japanese cookies and Japanese chocolate
Bags, backpacks, and tote bags
T-shirts and aprons
Kids clothes
Budget Japanese toys
There's a selection of Japanese baby toys, and Japanese toys for toddlers – all in these well known Japanese toy characters.

Frequently Asked Questions about Japanese Cartoons
No.1: What are Japanese cartoons called?
Anime.
No.2: What is Japanese cartoon art called?
Manga, or anime.
No.3: What was the first Japanese cartoon?
Hakujaden (The Tale of the White Serpent) was released in 1958, and was the first full feature length anime movie in full colour.
No.4: Which is the best Japanese cartoon?
Spirited Away by Studio Ghibli, the only Japanese animated film to win the Best Animated Feature Oscar.

No.5: Is Pokemon a Japanese cartoon?
Pokémon the Series, is a Japanese anime television series, which premiered in Japan on April 1, 1997 on TV Tokyo.
No.6: Where to watch Japanese cartoons?
Here's a list of the top 20 Japanese anime films you should watch.
No.7: Why do Japanese like cartoons?
Japanese people grow up on anime and manga, both on tv and in manga cartoons.
It's like Americans growing up on the Brady Bunch, or the Dukes of Hazard, only in cartoon form.
It's the most obvious answer to the question, why are anime are so popular in Japan?
No.8: Why are Japanese cartoons a global hit?
We think it's because of the super cute characters, iconic heroes such as Dragon Ball Z, and simple storylines that translate across the world.
Lots of people have a soft spot for anime.

No.9: Why do all Japanese cartoons look the same?
Most Japanese anime characters have similar features, both in Japanese cartoons for kids and for adults.
It's a particular Japanese style of animation developed in Japan years ago.
This style of cartooning resonates with many of the next generation of manga illustrators and inspires them to stay true to the original methodology.
No.10: Why do Japanese cartoons have big eyes?
Here's an interesting research article that dips into the possible psychology of this trait in Japanese cartoons.
No.11: Why do Japanese cartoons get nosebleeds?
It often happens when characters get excited—often sexually excited.
It's an odd thing for sure.
No.12: How to draw Japanese cartoons?
This is probably our most popular question.
We recommend buying some Copic markers here, and read the Beginners Guide to Drawing Anime Characters also.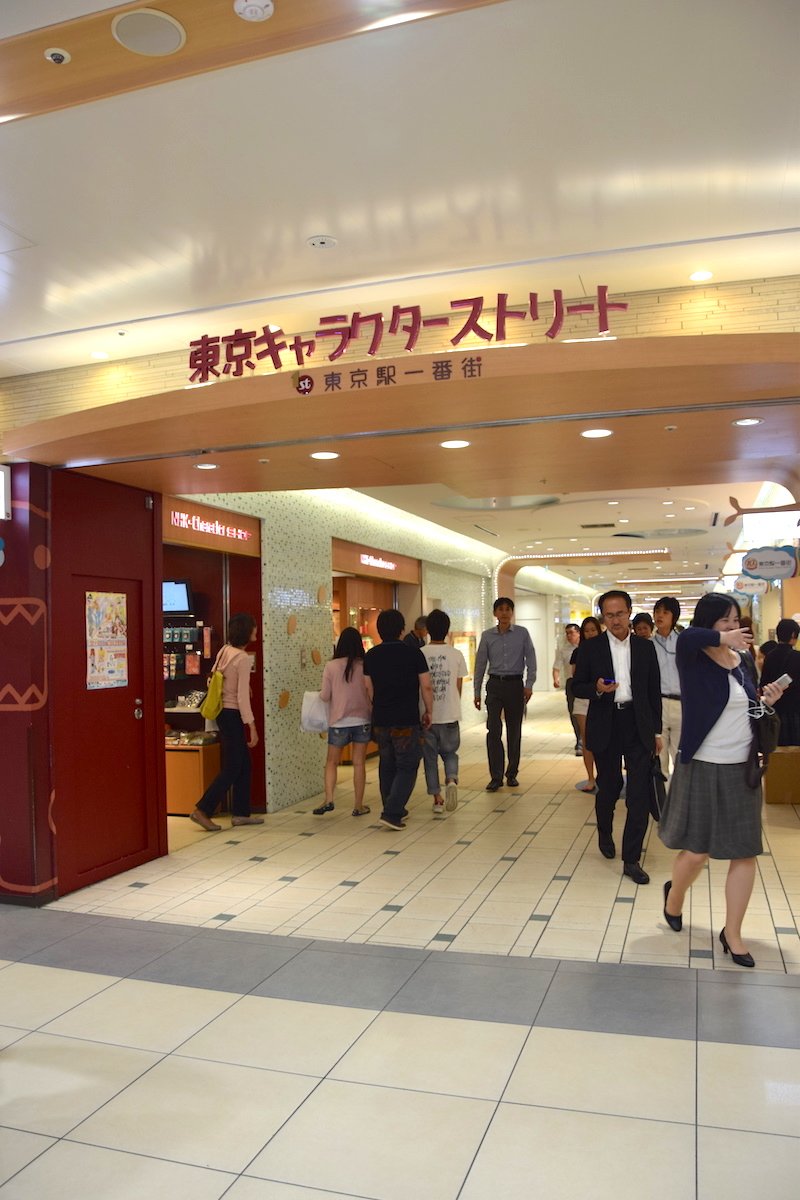 Hot tip: Tokyo Character Street Tokyo Station
Head to Tokyo Character street in Tokyo station.
At this Japanese shopping street, you'll find a whole row of shops selling cute kawaii Japanese brands and toys including:
Doraemon
Super Mario
Hello Kitty
Totoro and Studio Ghibli
Crayon Shin-chan
Jiji Cat
Anpanman anime character
Rilakkuma and Kaoru
Pikachu and Pokemon

THE INSIDE SCOOP: Nipponanimation Official Shop, Ani*Cute
Correct at time of publication on Roam the Gnome. Please check with venue for updates. We apologise in advance if there have been any changes we are unaware of. All prices in yen, unless otherwise stated
Find cute Japanese cartoon characters and more.
Address: 3−1−3 Higashiikebukuro, Toshima-ku Tokyo 170-0013
Opening Hours: Open 10am to 8pm
Entry Fees: Free
Website: Click here
Facebook page: Ani-Cute Japanese Cartoon characters shop
How to get to Nippon Animation Japanese toy shop
Sunshine City Tokyo Japan, 2nd Floor.
Nearest stations
3 minutes on foot from Higashi-Ikebukuro Station (Tokyo Metro Yurakucho Line)
8 minutes on foot from Ikebukuro Station (JR, Tokyo Metro, Seibu Line, Tobu Line)
4 minutes on foot from Higashi-Ikebukuro 4-Chome Station (Toden Arakawa Line)
Directions to Nippon Animation Store
From Ikebukuro Station
Go to exit 35 of Ikebukuro Station.
Walk down Sunshine 60 Dori, and the underground entrance (escalator) to Sunshine City will be visible on the right-hand side next to Tokyu Hands.
From Higashi-Ikebukuro Station
Walk toward exit 6.7, and a sign should direct you to the "Underground Passage" to Sunshine City.
Map of Nippon Animation Ani-Cute Shop
Toadstool Rating: Nippon Animation Studio Shop
The Japanese TV characters are super cute but if your kids don't know who they are, the connection – and perhaps the attention span for browsing the shop – may be limited.

Looking for MORE SUPER DOOPER FUN things to do in SUNSHINE CITY Ikebukuro with kids?
Click the links in blue below for more Tokyo tips