INSIDE: Everything you need to know about the Museum of Fire Penrith Sydney.
For a day out with a difference, take a drive to the Museum of Fire in Sydney.
Be greeted by a 1942 Dennis Fire Engine mounted on a pole 4 metres off the ground at the entrance to the old power station.
This imposing and impressive white brick building now houses a world class collection of vehicles, uniforms, communication paraphernalia, fire fighting tools and protective equipment from the NSW fire brigade history.
Hot tip: Museum of Fire Penrith has a unique play area designed for Junior Fire Fighters!
Read all the details on how to get there, and more, below.
Disclosure: This article contains affiliate links. If you make a purchase after clicking on one of these links, we may receive a small commission at NO extra cost to you.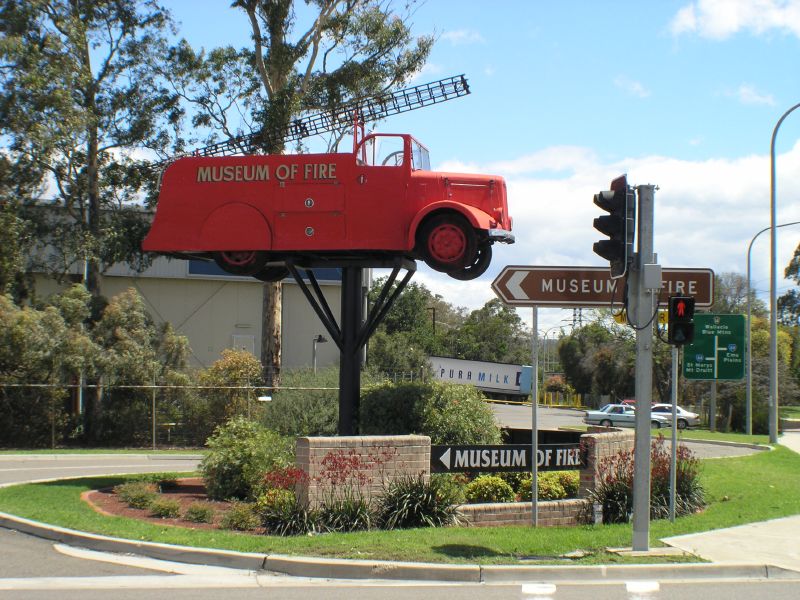 Image credit: Source unknown
Guide to the Museum of Fire Penrith NSW
The Museum of Fire is well known for it's collection of hand drawn, horse drawn, hand operated and steam fire engines.
Plus, there's a bunch of other stuff that will have fire enthusiasts drooling.
Fun facts hidden around the museum fire up the imaginations of visitors, and these can be used as a talking point for family members to share their ideas and stories about the power of fire.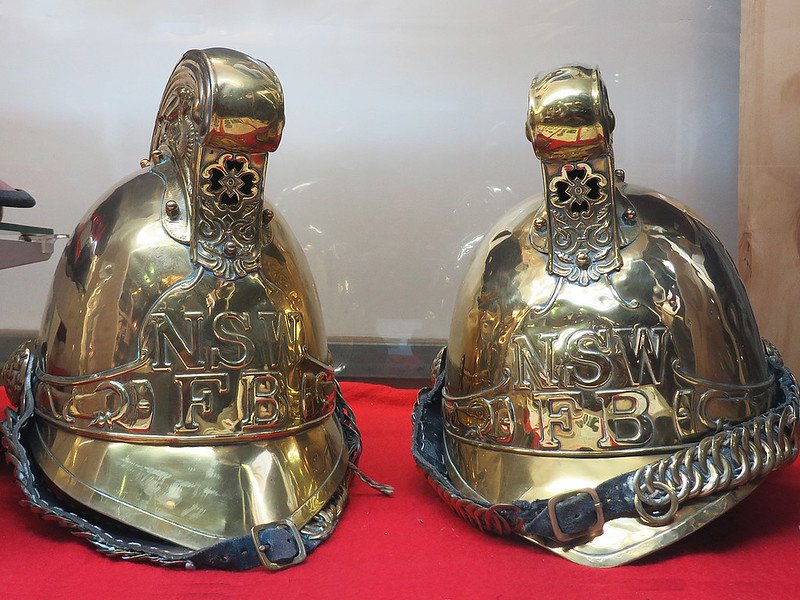 Image credit: Newtown Graffiti via Flickr CC BY-2.0
Penrith Fire Museum Sydney for Kids
Children will delight in seeing the NSW fire & rescue toys and models .
There's everything from children's playthings to serious collectible models, depicting the development of real fire engines.
But more importantly, they will dive into the Junior Firefighter children's play and activities area featuring:
fire safety activities
computer games
puzzles
firefighter dress ups, and
a fire engine simulator.
Kids will be thrilled with their opportunity to "drive" a fire engine!
This hands-on area gives them a good chance to burn some of that pent-up energy from sitting in the car or train.
This place is not just for boys. Girls will find things to amuse and enthral too.
---
RELATED: Ultimate List of the Best Things to do in Sydney with Kids
Image credit: Sv1ambo via Flickr CC BY-2.0
THE INSIDE SCOOP: Museum of Fire Sydney
Correct at time of publication on Roam the Gnome. Please check with venue for updates. We apologise in advance if there have been any changes we are unaware of. All prices in AUD dollars, unless otherwise stated
Address: The Fire truck museum can be found inside the Former Penrith Power Station building, 1 Museum Drive, Penrith NSW
Telephone: 02 4731 3000
Website: Click here
Opening Hours
7 days a week
9.30am to 4.30pm
Closed Good Friday, Christmas Day, Boxing Day and New Years Day
Museum of Fire Penrith Entry Fee
The Museum of Fire Penrith tickets are:
Adults $12
NSW Seniors Card and concession card holders $9
Child (2-13 years) $6
Students (14-18 years) $6
Children under 2 FREE
Family (2+2, or 1+3) $28
Additional children on a family ticket $3.50 each
Image credit: Sv1ambo via Flickr CC BY-2.0
How to get to Museum of Fire Penrith Sydney
By Train:
From Central catch the T1 Western, or, Blue Mountains Line to Penrith Station.
At Penrith Station, exit the overhead walk-way to the north, heading towards the car park (on the opposite side to Westfield).
Take a short three minute walk along the access road to the Museum of Fire.
By Bus:
Catch an M20 Blue Mountains Line bus from the City CBD direct to the Museum. Approximately 1 hour 50 minutes.
This bus leaves hourly Monday to Sunday.
By Car:
From the M4 Motorway, take the Mulgoa Road exit towards Penrith.
Follow Tourist Drive #14 north along Mulgoa Road & Castlereagh Road.
The Museum entrance is located 1km north of the Panthers Entertainment Centre. The entrance is on the right, 50m north of the railway underpass bridge.
Museum of Fire Parking
There's a car park on site, with lots of parking bays
Map of Sydney Fire Museum Penrith
Hot tip: Visit Featherdale Wildlife Park
If you are making a day trip of it, why not visit the Featherdale Wildlife Park too?
Pet a Koala, hand feed a Kangaroo & meet all your favourite Australian animals.
This is a wildlife encounter like no other.
Address: Featherdale Wildlife Park, 217 Kildare Rd, Doonside.
Telephone 02 9622 1644 for details.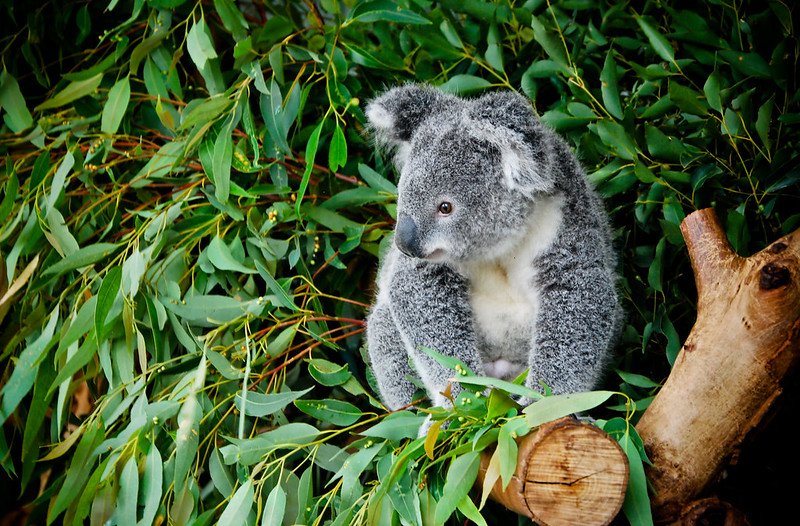 Image credit: May Wong via Flickr CC BY-2.0
10 MORE Things to do in Penrith Sydney & Surrounds
This area is super kid-fun friendly with indoor play parks and mini golf galore.
No.1: Cables Wake Park waterskiing
Check groupon for a discount deal before you go.
405 Jamison Rd, Penrith NSW 2750
No.2: Cables Aqua Park inflatables course
Be sure to book, as there's a limit on how many people can play at one time.
Try groupon for a discount deal also.
405 Jamison Rd, Penrith NSW 2750
No.3: Freak VR
Check out the unique and awesome multiplayer VR experiences here.
iFLY Building, 123 Mulgoa Rd, Penrith NSW 2750
No.4: Museum of Printing
Learn all about the art of letterpress printing at this museum showcasing the age old art and machinery.
Penrith Showground, Ransley Street, Penrith NSW 2750
No.5: Aqua Golf
Putt aqua golf balls into a lake with a big swing, because you can!
Penrith Panthers Complex, 123 Mulgoa Road, Penrith NSW 2750
No.6: BIG TIME 80's style amusement arcade.
Play all day on some of the world's best arcade games and skill testers.
BIG TIME at Saints, Cnr Forrester and Boronia Roads, St Marys NSW 2760
No.7: Kid About Playland
10 Gallipoli St, St Marys. Tel: 02 9623 2222
No.8: Go Bananas indoor playground for kids
Cnr Forester & Boronia Rd, St Marys. Tel: 1300 226 262
No.9: Lollipops Playland indoor playground for kids
233 Mulgoa Rd, Penrith. Tel: 02 4721 8555
No.1o: Unreal Mini Golf
69 York Rd, South Penrith. Tel: 02 4722 9229
Toadstool Rating: Fire Museum Penrith
This fire engine museum is definitely one for kids and families who love antique vehicles, or the show Fireman Sam!

Looking for More Things to Do in Sydney This Weekend?
Click the blue links for more Sydney city attractions