INSIDE: Roam the Gnome's Guide to Mudworld in Brisbane.
Recipe for A Big Day of Fun
Step 1: Take 13 dump trucks FULL of dirt and dump it on on a grassy field.
Step 2: Mix in 1 water truck full of 14,000 litres of water and spray it all around.
Step 3: Add 2000 kids and parents slipping, sliding, squelching, and diving in mud, glorious mud.
This is the Mudworld Festival!
Take a look at what you can expect below.
Disclosure: This article contains affiliate links. If you make a purchase after clicking on one of these links, we may receive a small commission at NO extra cost to you.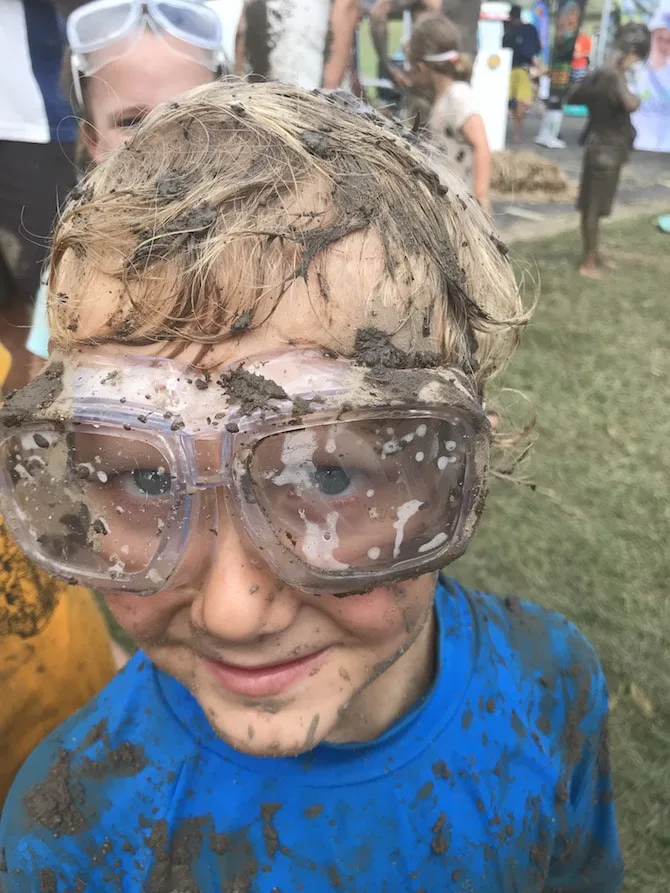 MUDWORLD by NaturePlay Qld.
Mudworld is the BEST Outdoor Festival for Kids!
A two day event dedicated to getting your kids grubby and grimy.
The festival began with 133 cubic metres of screened organic EPA approved topsoil placed upon a grassy field in Limestone Park.
(Luke from Brisbane Soils and Landscape Supplies had the honour of being in charge of bringing that)
Nature Play Qld, the team behind this epic adventure, created five mud 'realms' from this mountain of mud.
All of these realms were devised to get kids down and dirty again, wearing mud-splattered clothes, in this free-range environment.
---
RELATED: Big List of the BEST THINGS to do in Brisbane with Kids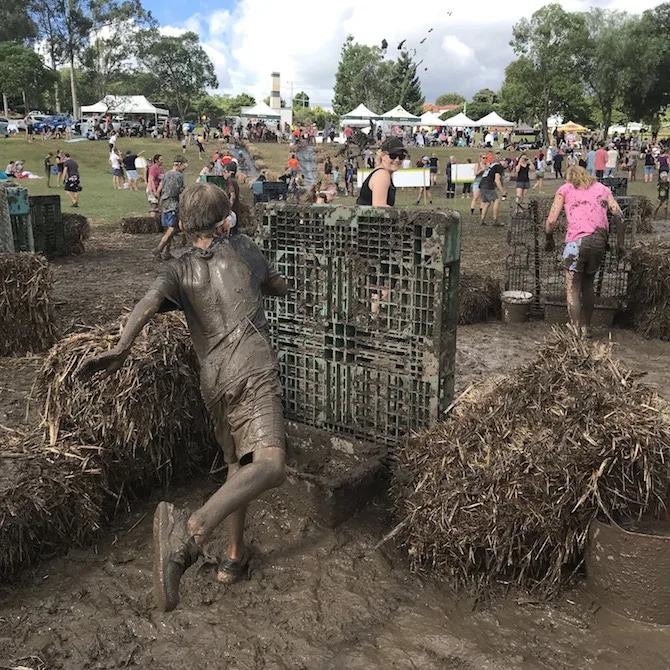 Things to Do at The Mud World Festival Ipswich
"Because that's the fun of it – mud can be washed off, but the memories will stay forever."
You can:
make mud pies
jump in mud
swim and dive in mud shallows
ride mud slides
throw mud balls
cover your mum and dad in mud
The more muddled you get, the better!
This is one place for kids to play in thick mud with their parent's blessing!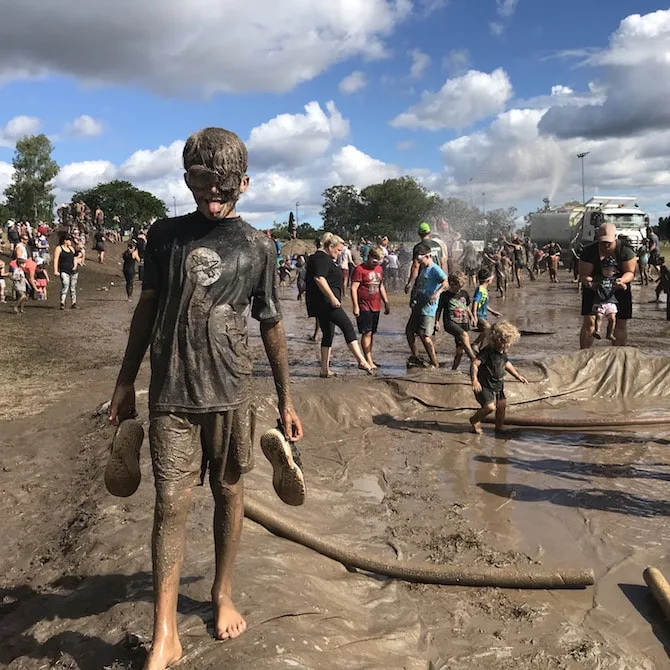 Mud World Brisbane is for all ages
Ned said to me on the way:
"I don't really like mud Mum. I don't think I'll go in".
Two minutes later, he was COATED head to toe, in slippery, sloshy, squelchy mud.
Kids, young and old, and accompanying parents, were delighted by the glories of Mud World.
I guffawed at the adults who were hell-bent on mud vengeance!
Kids were long forgotten in the midst of these mud-flung battles between dad brothers, and extended families!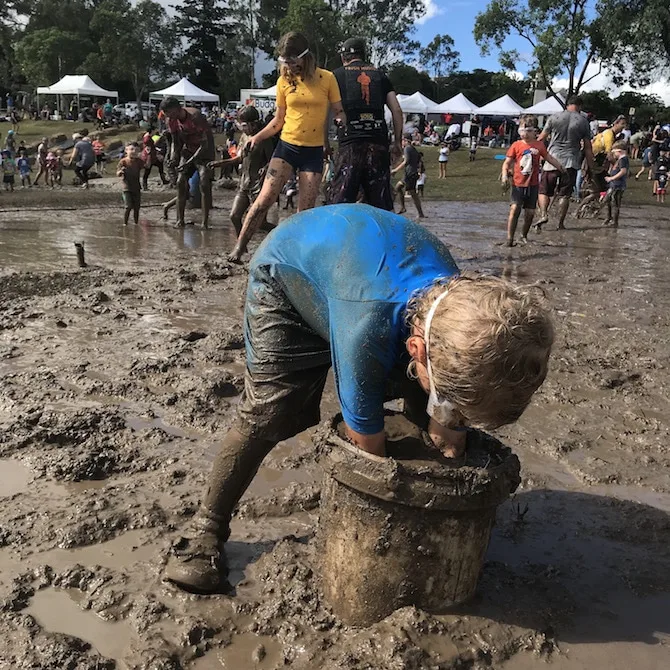 THE 5 MUDWORLD REALMS
No.1: Muddy Monsterland!
The 'Muddling' youngsters under 2 had their own muddy playground with mud kitchens, mud art, and mud sculpture.
This was the place to make mud pies, mud cakes, and sit in a mini pool of mud.
The zone was overflowing with:
spoons
ice cream scoops
buckets and spades
digging tools
cups and bowls
cutlery, and
loose parts including seedpods and pinecones.
It was a hive of activity.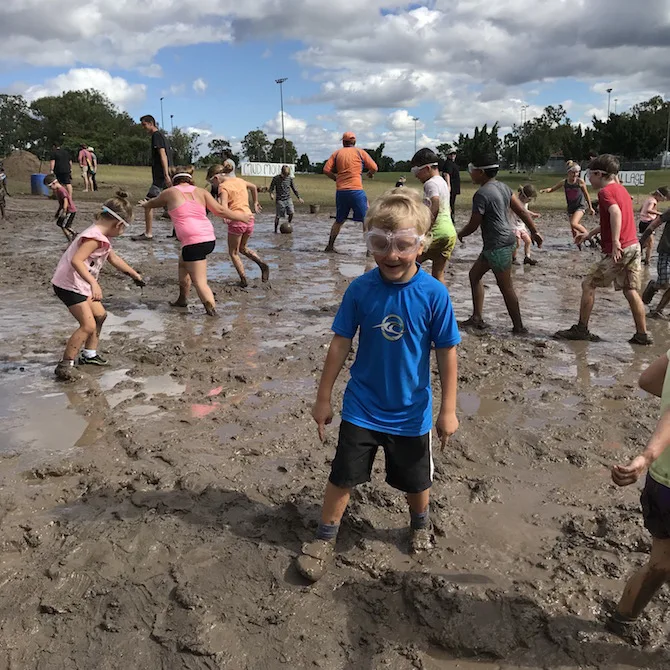 No.2: Mud Village
The centrepiece of Mud World was Mud Village, the best muddy pit and mud puddle you've ever seen.
(The World's Biggest Mud Puddle?)
Jack wasn't impressed when he first laid eyes on it – he could not see the potential of a dried up grassy field.
But 10 minutes into the session, when the first water tank began spraying thousands of litres of water onto dry dirt, Mud World appeared before his eyes:
A sloshy slippery zone of knee deep mud that sucked your shoes in so deep you couldn't move without help!
Mud Village came alive with unexpected and random games of family tug of war, soccer matches, Stuck-in-the-mud, and Statues too.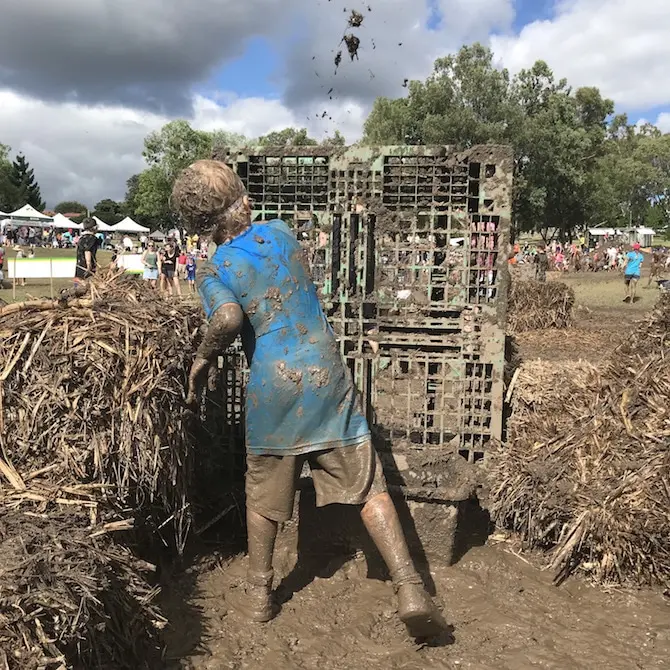 No.3: Mud Mania
But the funniest thing to watch was the Mud Mania Skirmish of Mud.
Alt, "The Danger Zone".
Kids, grandmas, grandpas, aunties and uncles, mums and dads took turns:
hiding behind wooden pallet barricades
ducking and diving
filling buckets of mud, and
tipping buckets of mud over unsuspecting opponents.
This zone was NOT for the faint-hearted.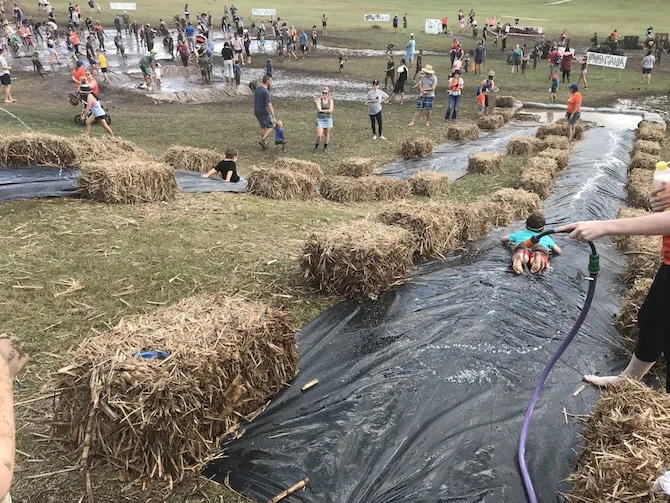 No.4: Land Slide
To the left, two handmade slip-and-slides ended in a pool of mud.
Volunteers hosed kids down before take off, and drizzled soapy bubbles on the track to give them maximum slip.
Jack went HEAD first.
I covered my eyes with my hands, unable to watch!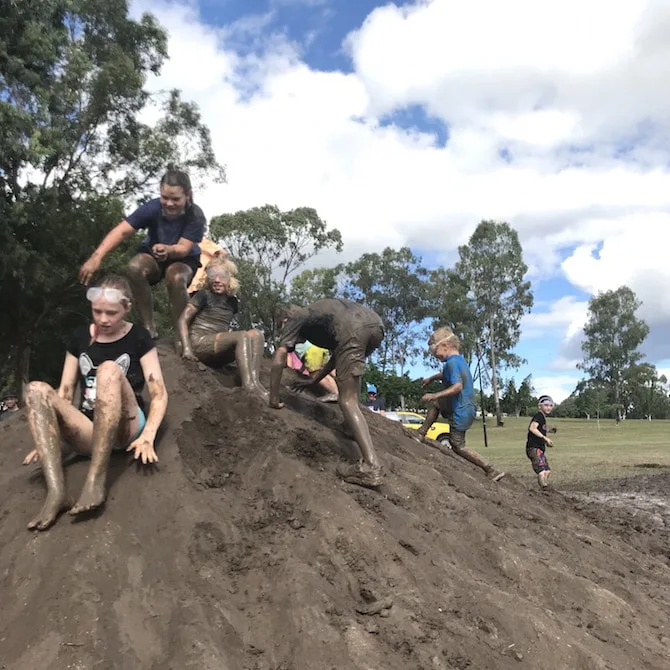 No.5: Muddy Mountain
High up on the hill, two monster mountains of mud became an anthill of kids climbing up, and sliding down the natural slides their little bums had carved into the side of the mud pile.
Half the battle for kids was getting up the sides of the Mud Mountain peak without sliding unintentionally back down.
I spotted a few face plants in this quest!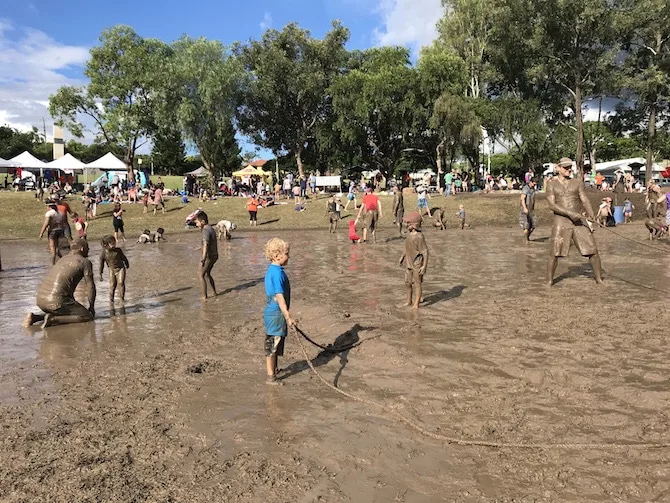 Cleaning up after Muddy Wonderland
My kids were shivering cold after an hour in the mud pit, and the "Mudling" population diminished in size around this time, with lots of other kids feeling the same pain.
Only die-hard Mud Lovers lasted the full 2.5 hours session.
Do head to the free wash down stations provided by Mudworld well before the end of the session, or risk facing a GIANT queue while you shiver in the cold.
There's NO WAY you could transport the kids home without a wash, so plan ahead and get in before the crowds.
The water in the wash down stations was COLD, and all the kids were shivering and shaking.
Some children were crying and upset.
Hot tip: Dress the kids in swimmers and "rashies", as these are the easiest to remove once they are covered in mud.
What to bring to Mudworld Festival
Bring a fluffy but OLD towel TO the wash down station so you can wrap the kids straight away.
BYO plastic bag to put the muddy gear in so you can get it home safely and without covering your car in mud
Warm drinks in a thermos for afterwards (a hot Milo would go down a treat!)
Warm clean tracksuit (top and bottom)
We couldn't rescue the shoes – they went straight into the bin – but our mud-covered clothes came up good after a wash.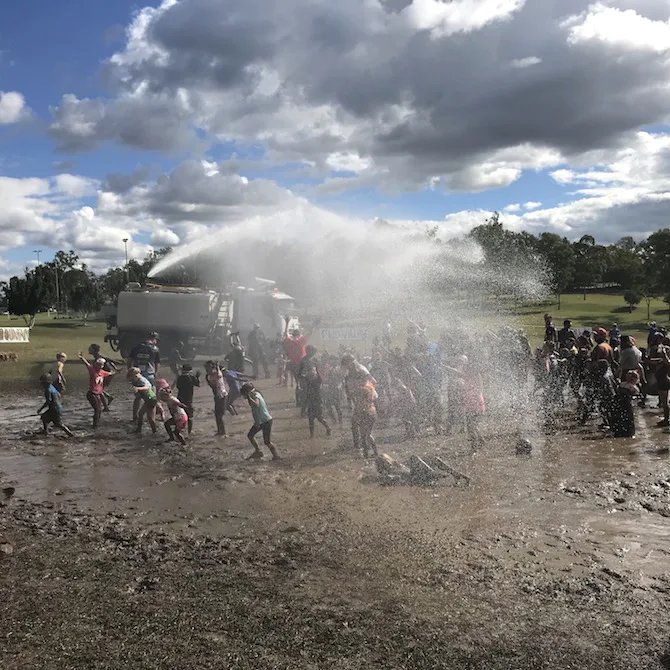 Mudworld Merchandise
Nature Play QLD is a not for profit organisation supporting outdoor free play across Queensland.
A range of Mudworld merchandise is available including:
a themed Mud World t-shirt
a Mudworld hat
Sales of these products, along with entry fees to the event, support Nature Play QLD to inspire kids to get off their devices and outdoors into nature more often.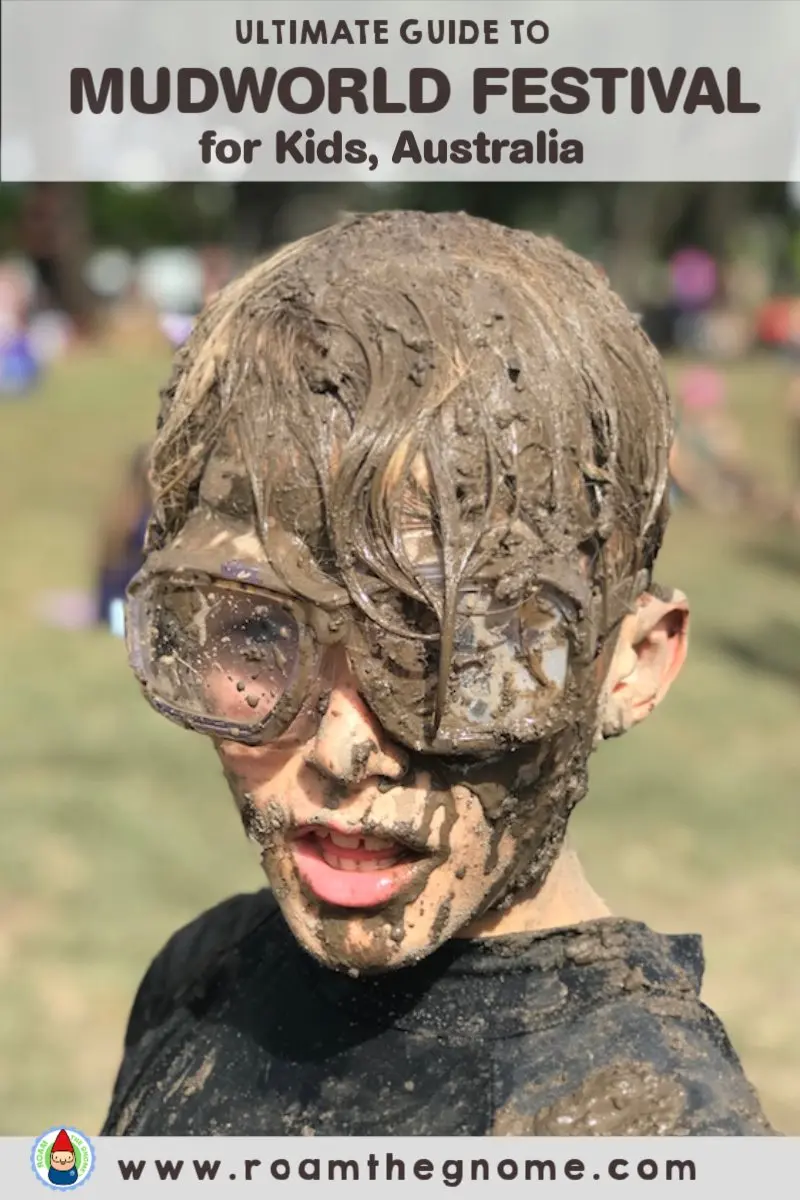 THE INSIDE SCOOP: Mud World Festival Brisbane
Correct at time of publication. Please check with venue for updates. We apologise in advance if there have been any changes we are unaware of.
Address: Next Event Locations TBA (Brisbane, Ipswich & Gold Coast)
Website: Like FB to find out about next Mud World events (Or contact Nature Play, or subscribe to their newsletter)
Mud World photos on Instagram
Visit the hashtag #MyMudWorld to see all the fun that was had over the weekend.
Toadstool Rating: Mud World

Looking for MORE Fun Things to do in Brisbane with kids?
Click the blue links below for more Brisbane tips