INSIDE: Roam the Gnome's Review of the BEST Travel books for kids by Lonely Planet
Roam the Gnome is our collective effort to encourage kids and families to 'Go Places' and to do this with as least amount of rubbish-making impact as possible.
Our goal is to provide inspiration and ideas for your family travel bucket list.
The cool stuff, the amazing, the wild, the fun, and the quirky cute.
It's a big world out there but we (Roam and I!) dig deep, to showcase ONLY the best kid-friendly travel around, along with tips and tricks for travelling with kids.
Travelling with little companions is not always easy but it's worth every single hassle, tantrum, airport stuff-up, and the heavy all-the-family-stuff-in-one suitcase that you lug about.
Show us something to make these travel with kids adventures easier, and we are all over it!
Which is why we LOVE this new initiative from our favourite travel guidebook, Lonely Planet.
It's called Lonely Planet Kids and they too want to invite you to see the world.
Come explore the world of Lonely Planet Kids below – the top travel books for kids!
Disclosure: This article contains affiliate links. If you make a purchase after clicking on one of these links, we may receive a small commission at NO extra cost to you.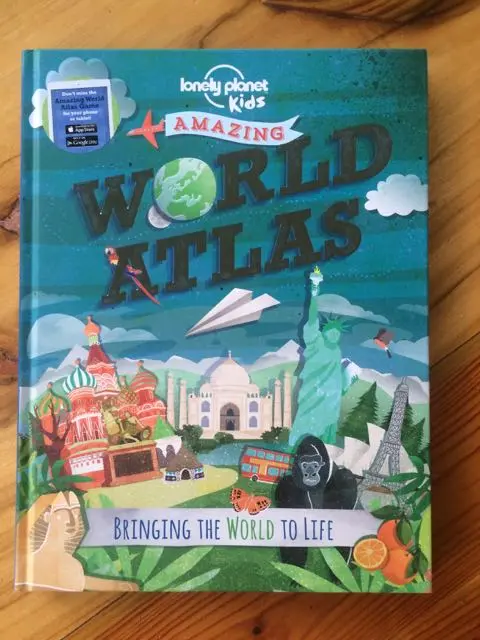 BEST TRAVEL BOOKS FOR KIDS?
Correct at time of publication on Roam the Gnome. We apologise in advance if there have been any changes we are unaware of. All prices in US dollars, unless otherwise stated.
No.1: Lonely Planet Kids World Atlas
Lonely Planet Kids aims to kick-start the travel bug and open kids' eyes and mind to the world around them.
These children's books about traveling around the world showcase the quirky facts, amusing tales and inspiring stores that bring our planet to life.
We've been lucky enough to take a sneakie peek at two books in the new range of kids travel books.
The first one, Lonely Planet Kids Amazing World Atlas, is a brightly coloured book with page after page of worldly information.
This Lonely Planet travel book thrilled my travel loving boys.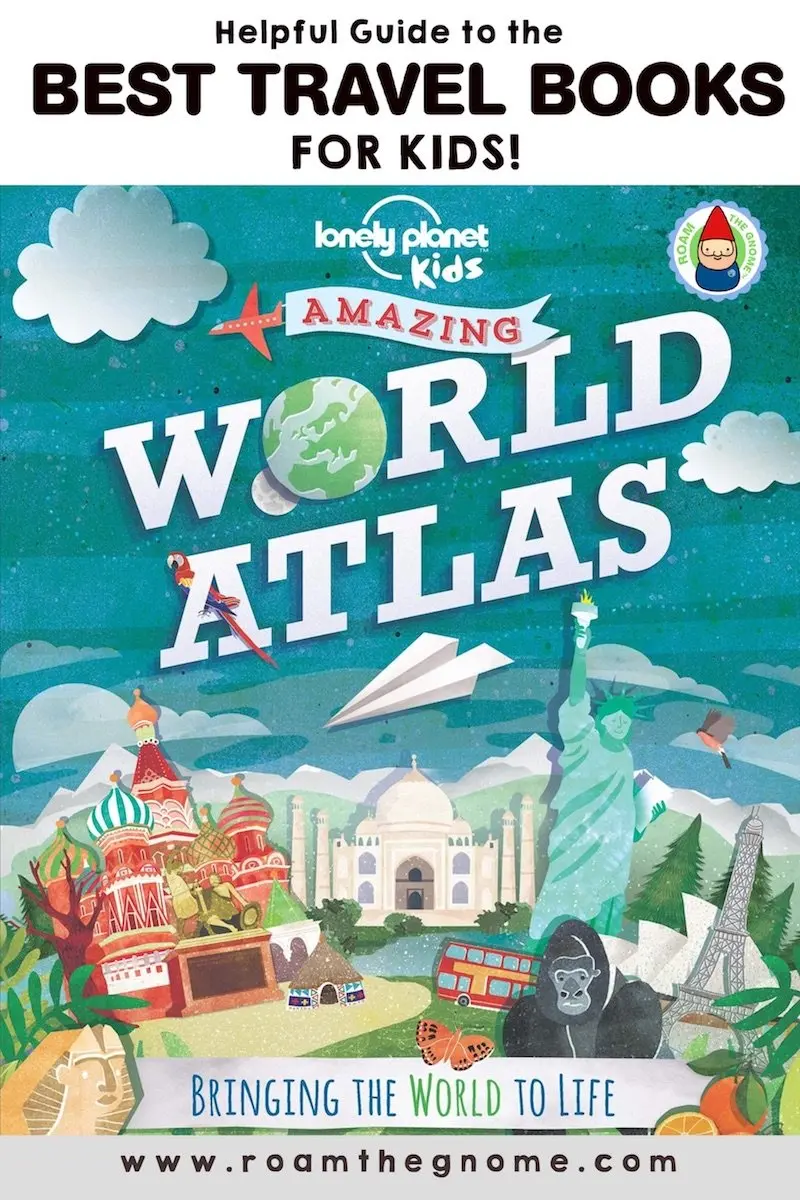 The Best World Atlas for Kids
There's…
an overview of Planet Earth in space and a quick look at the solar system
a description and explanation of time zones (so helpful when trying to explain 'jet lag' to the kids!)
info about the weather and climate in different zones in the world, population data, and guidance to understanding maps
Followed by the Inside Scoop, a country by country navigation into:
history
top spots
tourist destinations
animal facts
currency descriptions, and
produce.
But it's the little FACTS boxes scattered throughout the book that really capture my attention…
and Ned's!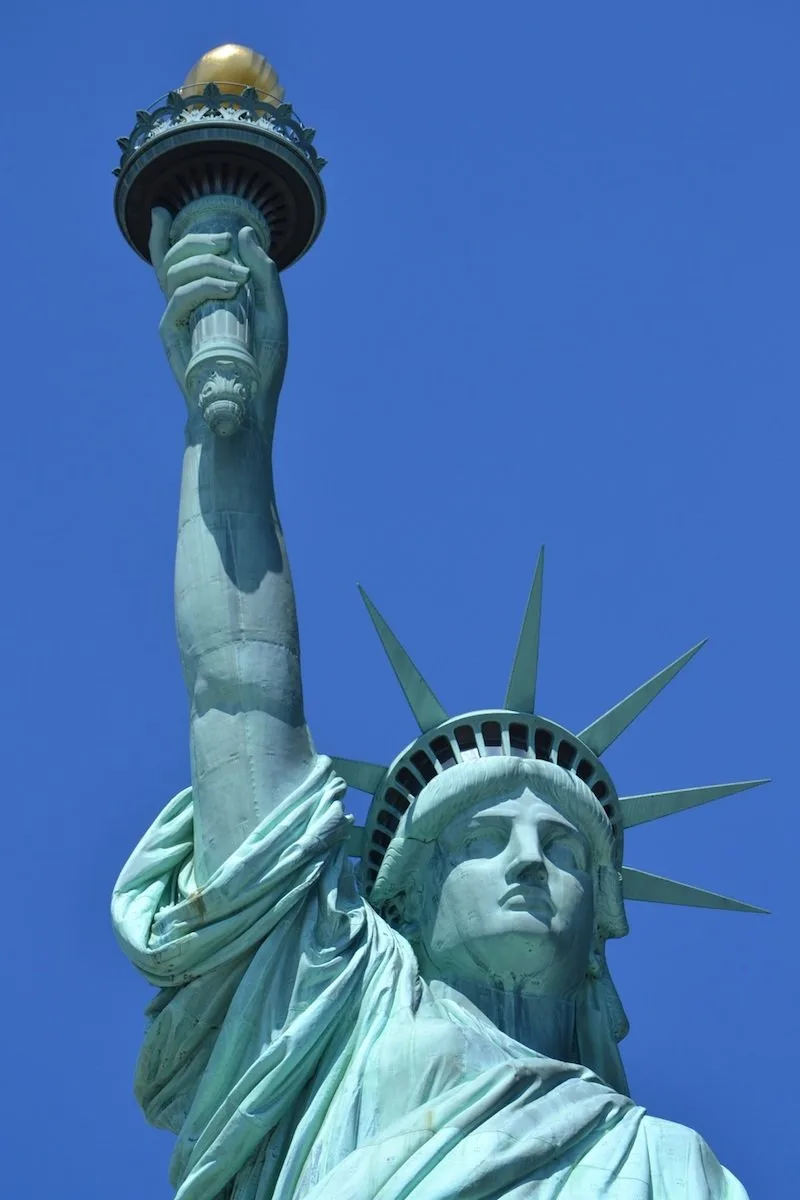 Image credit: PX here Public domain
The Lonely Planet for Kids World Atlas Facts!
Ned thinks it's pretty amazing that those seven spikes on the Statue of Liberty in New York, the same ones we saw in March, represent the Seven Continents.
(I did not know that!)
He's intrigued and a little grossed out to find out you can eat "Roasted Big-Bottom Leafcutter Ants" in Columbia.
And now he really really REALLY wants to head to Komodo Island now that Grandpa has just been to see these prehistoric lizards.
(See page 106 in the book for a quick peek at one!)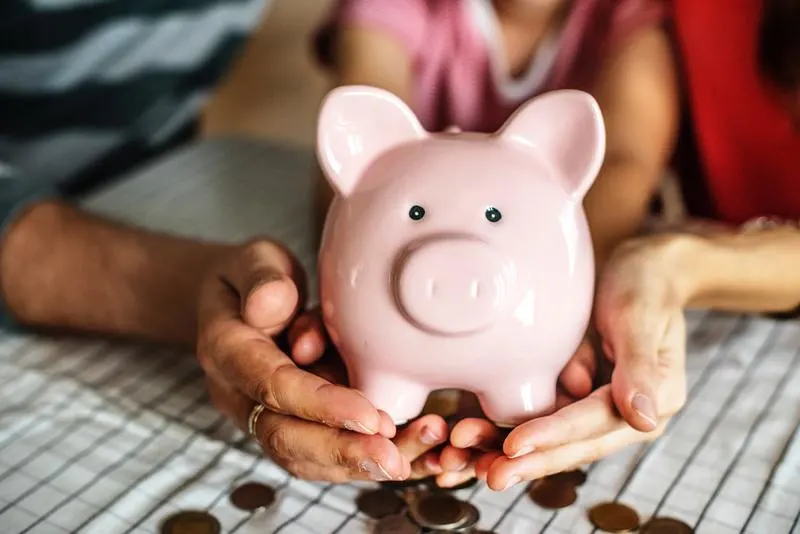 Image credit: rawpixel.com form PxHere
The Lonely Planet Books for Kids
As for me, I'm a lover of ANYTHING that will encourage my kid's love of travel.
But this book in the wrong hands might be dangerous.
There's SO MANY places to explore, who could ever want to sit at home in the lounge watching tv?
There goes your savings budget!
Best thing of all, you don't have to lug this big book thing around with you on your next plane trip either.
(Save the book for home.)
There's an APP!
"Amazing World Atlas Game" is available in the App Store or on Google Play.
This kids atlas is a great Christmas Gift idea for all those children who harbor their own dose of wanderlust, or for a child who is fascinated by maps.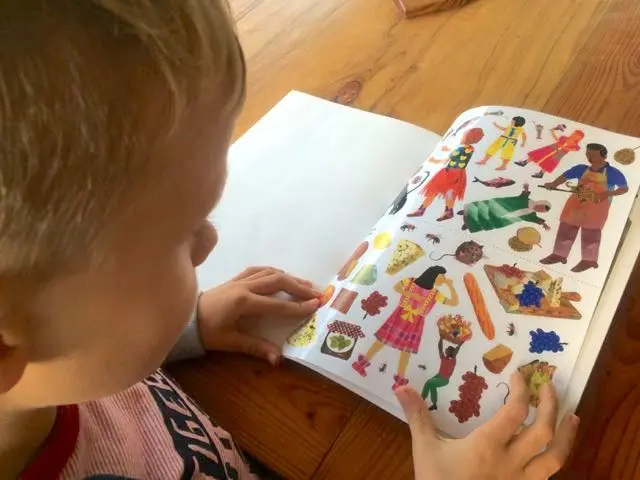 No.2: The Lonely Planet Sticker Books for Kids
There's also three Lonely Planet Kids Sticker and Activity books series, PERFECT for planes, trains and automobiles.
There's busy-bee potential…. a bunch of fun games and puzzles and sticker fun inside these wildlife books for kids to keep them occupied for hours.
Quiet times may just be on the way.
Once again, Ned spotted the animals in our Lonely Planet children's book, Adventures in Smelly Places, and that was it.
The animal hunt was ON.
He really hasn't put it down since, and keeps going back to move the stickers about the page.
Jack's keen to get in on the act too but Ned's all over this one.
As kids love these, duplicates might be a sensible idea.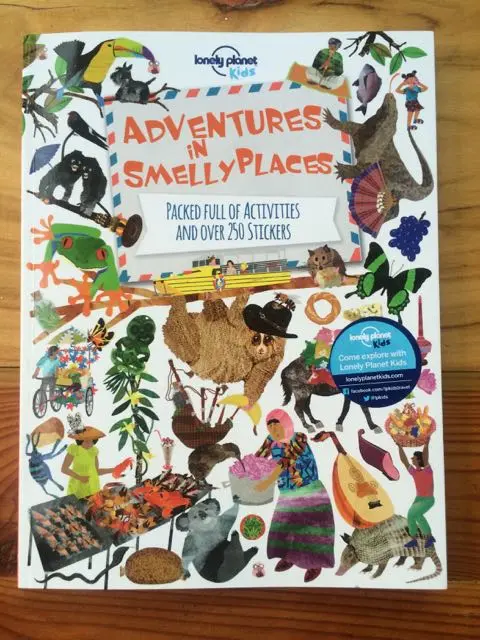 No.1: Lonely Planet Adventures in Smelly Places
Poohy!
Kids can explore and learn about some of the SMELLIEST places in the world in these little kids travel guides.
Can you imagine my eleven-year old son and how awesome he thinks this is!
Smelly and stinky is his catchphrase, along with awesome loud burps.
Don't even get me started…
In the book, kids can explore the stinky stench of a bat cave in America, the eye-watering aroma of a smokehouse in Scotland, and the heady perfume of a rose oil factory in Turkey.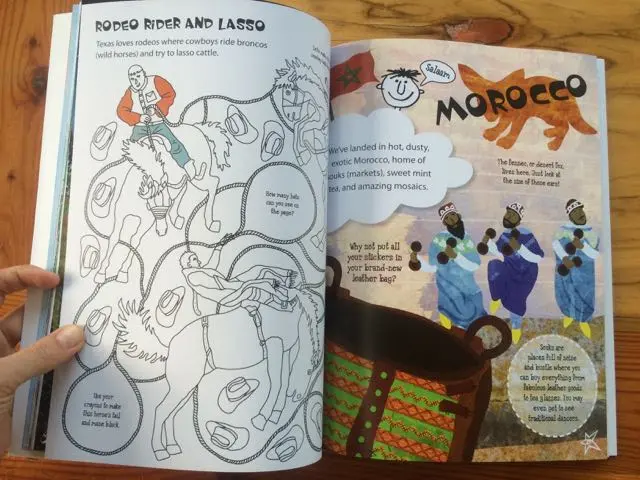 Activities for kids
In this book, kids can decorate:
real-life locations like smelly Seal island in South Africa
the acrid leather tanneries of Fez
a fabulously fragrant vanilla plantation in Costa Rica, and more!
Buy now on Amazon: The Lonely Planet Adventures in Smelly Places sticker book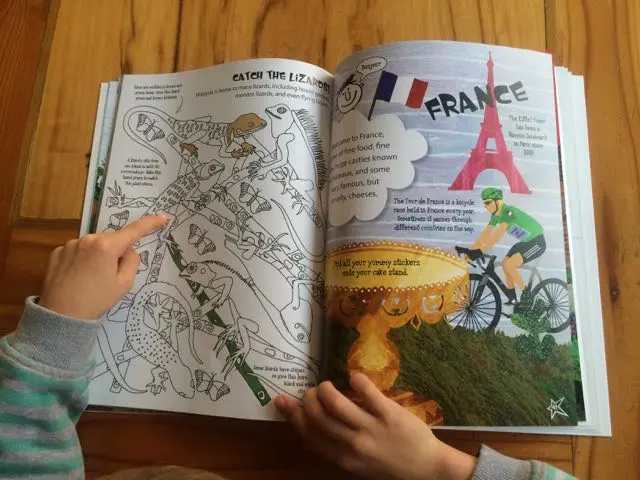 MORE The Lonely Planet Travel with Kids Book Options
No.2: Lonely Planet Adventures in Famous Places
Come and explore some of the most famous places in the world in this children's book about exploring the world.
Explore the ancient pyramids of Mexico, the spectacular Takayama Festival in Japan, and the jumbo sized Addo Elephant Park in South Africa.
Decorate real-life locations like the White House in Washington DC, the historic Tower of London, and picturesque Lake Pichola in Udaipur and more!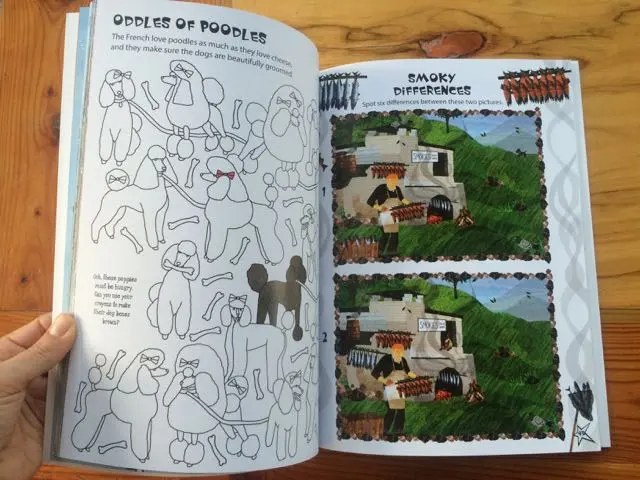 No.3: Adventures in Wild Places
This book is wild.
Explore wilderbeest on the Serengeti, spy giant pandas in China, and look for the friendly Red Sea dolphins in Egypt.
Decorate real-life locations, like the Galapagos Islands, and the Australian outback too.
These children's books about travel are a fun introduction to many new places, people, culture and food around the world.
Fun Lonely Planet Activity Books on a budget!
Each of these Lonely Planet activity books retails for around $10 US, and has over 250 reusable stickers to match the theme, along with its very own fold-out surprise to make and collect.
And while they say the books are recommended for children ages 3-5, I'm going to go out on a limb here and say they got that wrong!
I'm thinking ages 3 – 9 at least.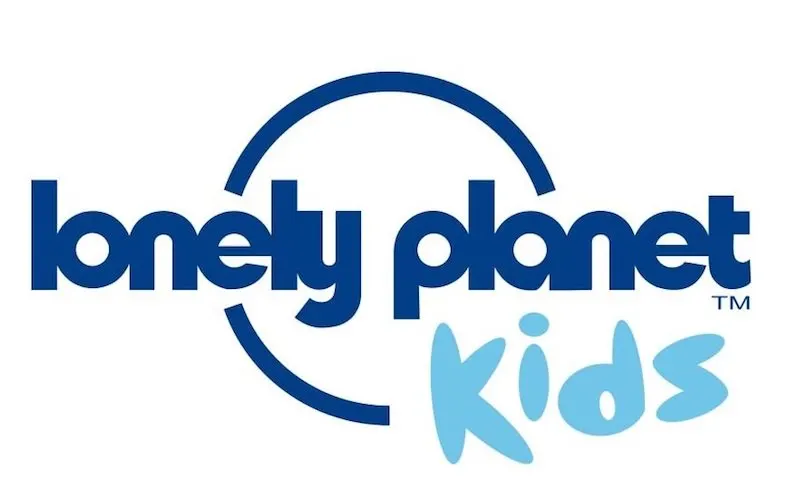 The Lonely Planet Kids is on Twitter and Facebook too!
Lonely Planet has also launched the Lonely Planet Kids Twitter @lpkids and Facebook pages to help grown-up wanderlusters everywhere inspire the little ones in their life about the world!
Through Lonely Planet Kids, the team hopes to share their love of travel, their sense of humour and their continual fascination with what makes the world the diverse and magnificent place it is.
Don't forget the hashtag…. #lpkids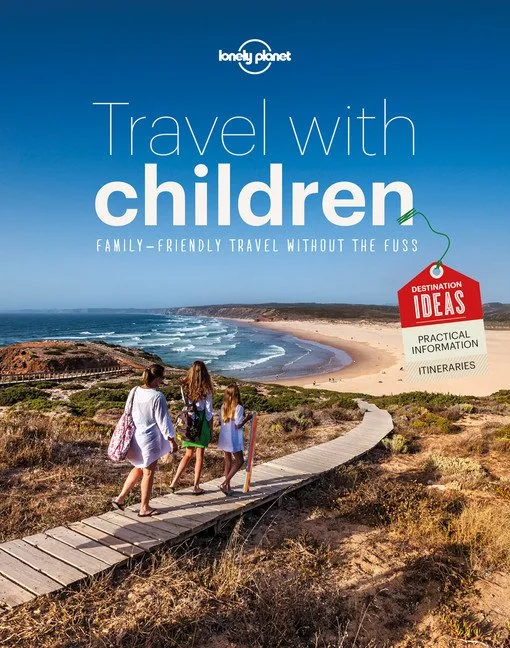 Inspirational The Lonely Planet Travel with Children Books
I can't finish without telling you this.
Did you know that the 6th EDITION of their super amazing book, Lonely Planet Travel with Children, is now available?
(I still have the FIRST edition on my bookshelf. Now that's showing my age.)
This newest edition is a country-by-country overview of the best things to do when travelling with kids and family including:
the top spots for bucket list family adventure
the must-do itinerary ideas
tips on getting around with kids
the costs and budget tips, and
all the other 'need to know' stuff.
This book is going to ruin me.
As if we don't have enough places on our family travel bucket list.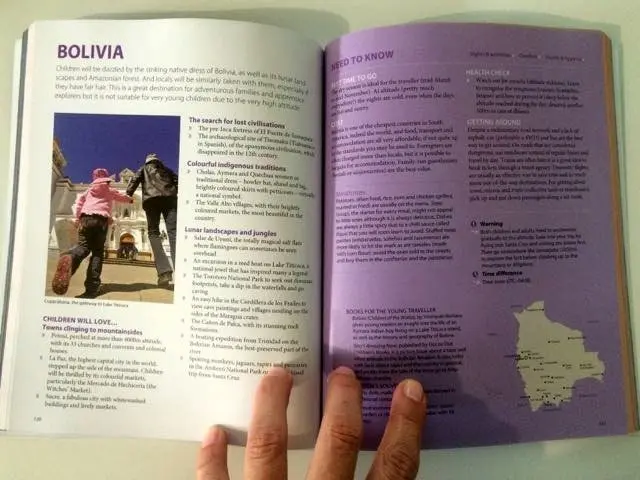 There's 89 COUNTRIES listed here.
Now we have even more to see, and super fun kid friendly stuff to do.
(Someone please send the winning lotto ticket.)
Toadstool Rating: Children's Books about Travel

Looking for more good books to read?
Click the links in blue below for more book news