INSIDE: Looking for unusual places to stay in London? Check out the Complete Guide to the Bedbugs Sleepover at the Zoo with Kids!
Would your kids LOVE the idea of sleeping overnight in the BIG BUG HOUSE at London's ZSL Zoo?
Do they love adventure by torchlight?
Are they aged 7 – 11 years old?
If so, and you are looking for unusual places to stay in London, your family is in luck.
This London for kids experiences is a SUPER FUN thing you really can do.
London Zoo BEDBUGS SLEEPOVER AT THE ZOO with KIDS is an EPIC ADVENTURE!
Disclosure: This article contains affiliate links. If you make a purchase after clicking on one of these links, we may receive a small commission at NO extra cost to you. Image credits: ZSL London Zoo.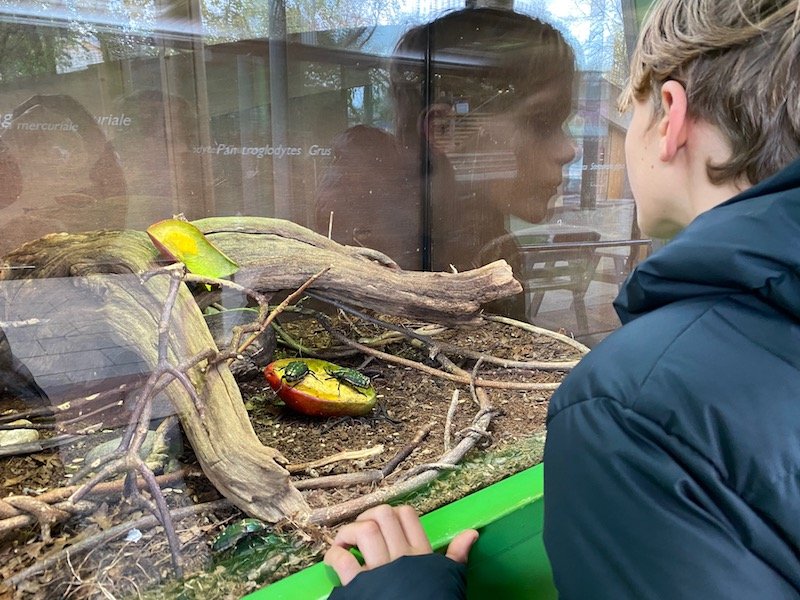 Fun at the London Zoo Bedbugs Sleepover with Kids
The centrepiece of this London experience for kids is the opportunity to sleep in the B.U.G.S! (Biodiversity Underpinning Global Survival) biodiversity and conservation exhibit, surrounded by over 140 species of backbone-less bugs and creepy crawlies such as insects, spiders, and millipedes.
Just for fun, the B.U.G.S exhibit has a few few mammals, birds, reptiles, amphibians and fish to keep things interesting.
Luckily, none of these bugs have ever escaped… YET!
They may not be the kids favourite zoo animals yet, but they will be by morning.
Fingers crossed, your experience won't be itchy or scratchy, but SUPER FUN!
---
RELATED: The ULTIMATE List of Things to Do in LONDON with Kids
Fun Things to Do at a Sleepover?
A London Zoo bedbugs sleepover is definitely one of the most unusual places to stay in London with family.
Take a look.
Here are some of the things included at the Bedbugs Sleepover at London Zoo with kids.
Explore the zoo by torchlight, and wake up to the sounds of the animals.
Fun games and activities
Imaginative story-telling
Keeper talks – all animal themed of course!
Goody bags for the kids
A t-shirt to take home for all kids
Hot drinks all night for the adults
Eat a continental breakfast at London Zoo the next morning before you head home!
A morning tour of the zoo before it opens to the public, and
Access to the London Zoo for the day after your stay
Dedicated hosts for the evening keep you safe and sound.
Everyone attending the London Zoo Bedbugs Sleepoever bunks in with everyone else, but boys and girls sleep in separate areas.
---
RELATED: The Ultimate Guide to LONDON ZOO for Kids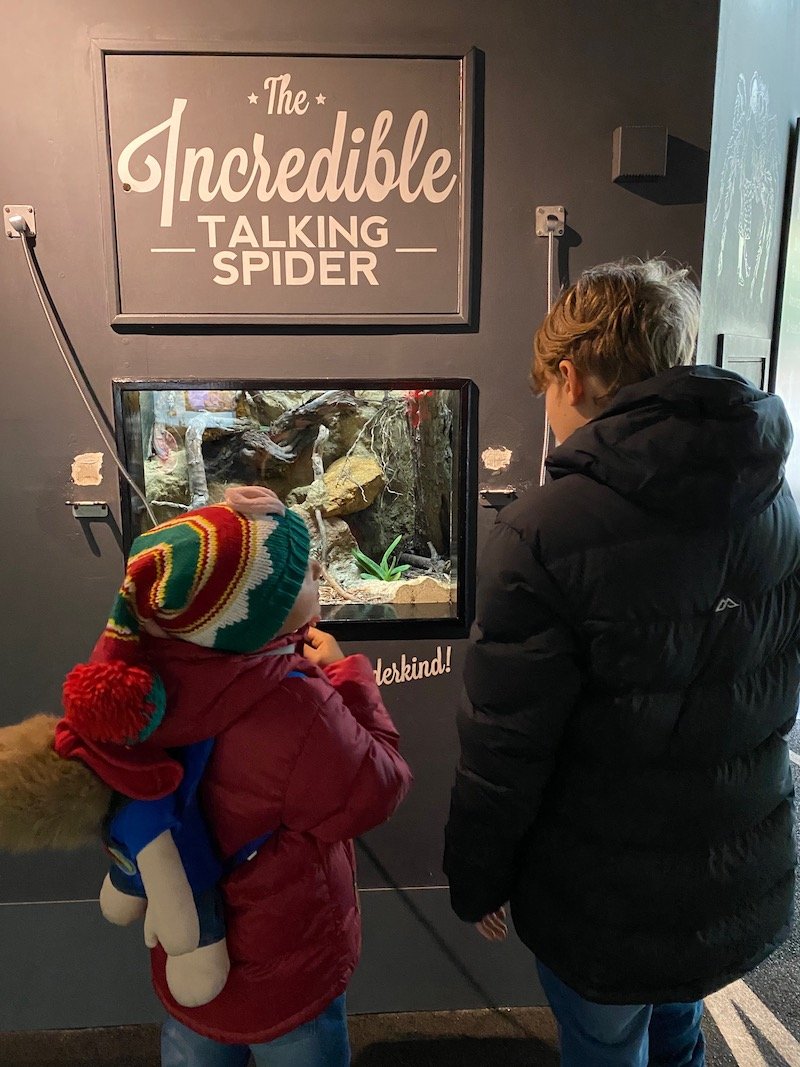 Watch out for these London Zoo animals at Bed Bugs London Sleepover!
Take a look at the things you can see at this overnight stay in London.
The amazing leaf cutter ant nest at the entrance, walking out on their ropes where you can see them carrying leaves many times their own weight, right before your eyes (please don't touch!)
Huge locust swarm display
Cockroach sink (yeuch!)
Micrarium for miniature wildlife, like brine shrimps and Daphnia
Giant orb spiders on their webs
Cave crickets (look into the bubble if you dare…)
Weird naked mole rats in their underground tunnels
Incredibly beautiful moon jellyfish tank
See directly into the hive of the Honeybees
Discover why maggots are useful…
See Bali starlings in their aviary, only a handful of which survive in the wild
Spot our cute little rare Golden mantella frogs
Polynesian tree snail breeding room, many species of which are extinct in the wild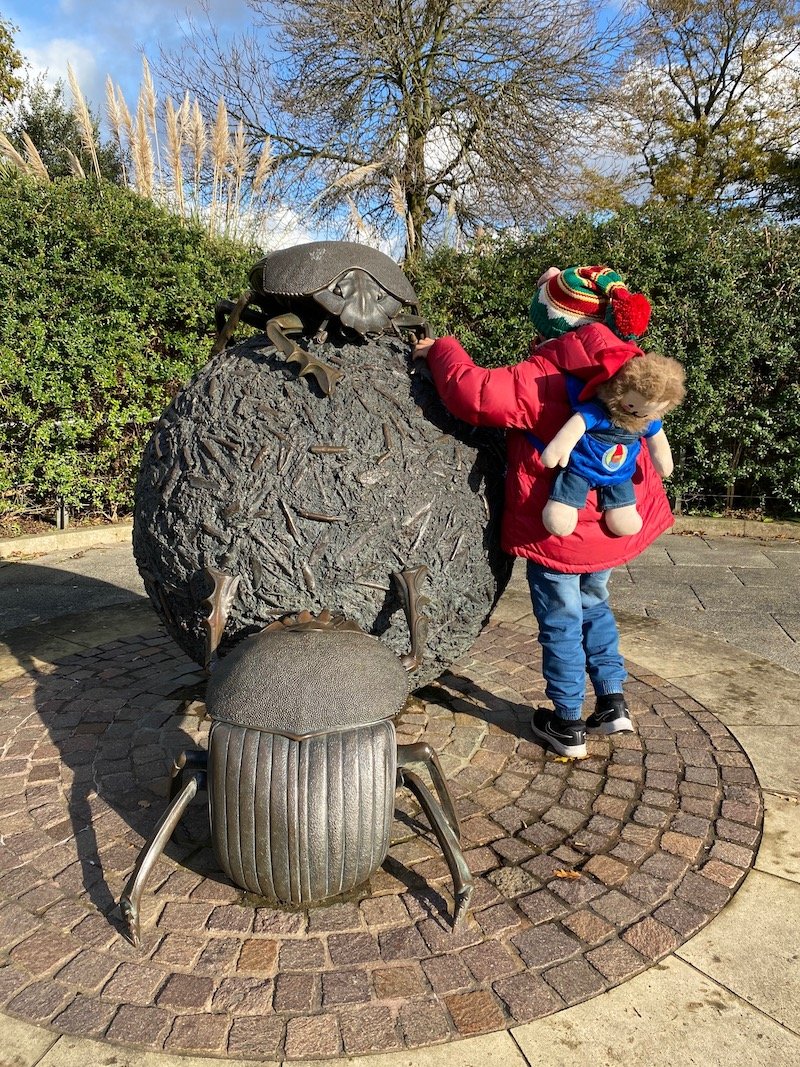 THE INSIDE SCOOP: London Zoo Sleepover "Bedbugs" in B.U.G.S
Correct at time of publication on Roam the Gnome. Please check with venue for updates. We apologise in advance if there have been any changes we are unaware of. All prices in British pounds, unless otherwise stated
Address: London Zoo, Regent's Park London NW1 4RY UK. London Zoo bedbugs experience is a unique experience at a family friendly destination in Central London.
Telephone: 0344 225 1826 to discuss any queries you may have.
Website: Click here
Email: [email protected]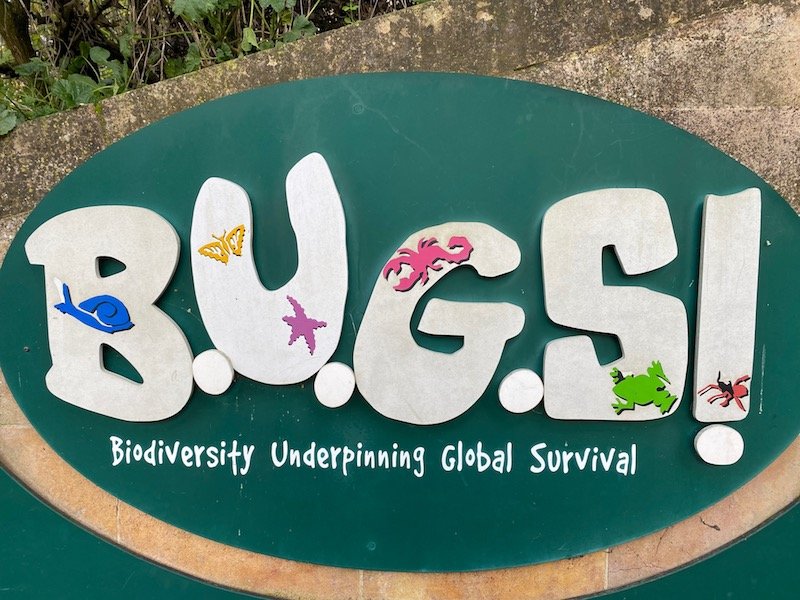 How much does the Bedbugs London Sleepover at the Zoo cost?
The London Zoo Bedbugs Sleepover with Kids costs:
£75 per child
£75 per accompanying adults, and
£67.50 ZSL members per night.
Members get a 10% discount on tickets.
Full payment is required at the time of booking.
Price includes:
Full day entry into ZSL London Zoo (on day of departure, after the Bedbugs sleepover finishes at 10am)
Free car parking (for night of sleepover and day of departure)
All activities and exclusive tours during sleepover, as above
Accommodation in BUGS for the night
Breakfast (usually pastry, piece of fruit, yogurt and drink)
Experienced hosts who will ensure a safe and enjoyable experience
Goody bags for all children
Storage for your bags the following day while you enjoy the zoo
Participants will be allowed entry into the Zoo for the sleepover at 19:00pm, so please try not to arrive earlier than 5 minutes before the start time as you'll need to wait outside.
Looking for special places to stay in London with kids?
This is one of those cool places to stay in London on a budget that can't be beat.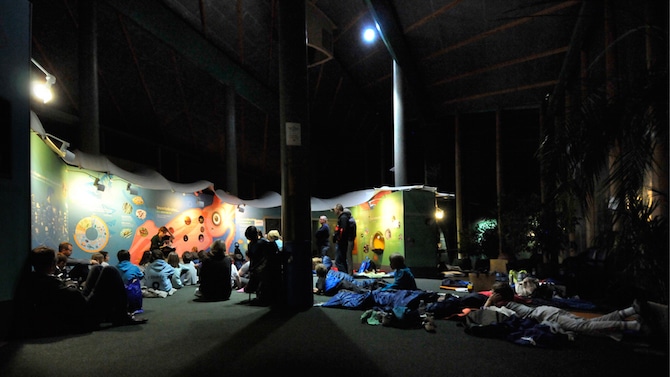 Frequently Asked Questions about the London Zoo Overnight experience
No.1: What is the age requirement?
Children need to be aged 7 – 11 year olds.
Unfortunately, children younger than 7 cannot join in due to health and safety reasons
No.2: How many people can join in the Bedbugs Sleepover at once?
60 places are available per sleepover.
BedBUGS runs on selected dates April – November.
Please book early to avoid disappointment.

No.3: Where do you sleep?
All participants will sleep in BUGS, but boys and girls have separate sleeping areas. For this reason, please ensure the following is adhered to:
1. For an all-girl group, you will need 1 female adult for every 5-6 children
2. For an all-boy group you will 1 female or male adult for every 5-6 children
3. For a mixed sex group you will need 2 female adults or 1 female and 1 male adult for every 5-9 children
4. Female adults may sleep on either side of the gallery however male adults may only sleep in the male area of BUGS.
All groups need to have an adult with them throughout the night.
The minimum size of a group must be one child and one adult, although please be aware that this experience is suited to slightly bigger groups.
London Zoo recommends a minimum group size of two/three children, plus accompanying adult.
There are toilets nearby for the groups to get changed in.
No.4: Will I get any sleep?
Mmm…. it's a possibility but not a guarantee. 😉
Group leaders do encourage quiet after lights off, but it's pretty exciting to sleep at the London Zoo and chatter is to be expected.
It IS one of the unusual places to stay in London for kids AND their parents!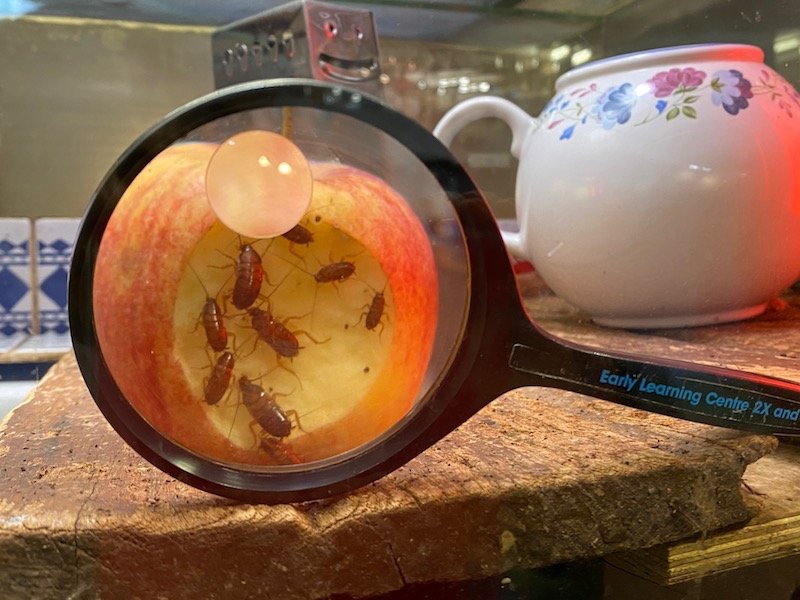 What to bring to the London Zoo Bedbugs Sleepover with Kids
What should you bring to Bedbugs?
Clothes to sleep in, or pyjamas.
Sleeping bag and a pillow
Camping mat
Toothbrush and toothpaste
An evening snack and drink
A torch
Jacket or heavy jumper for the night tour (if it rains, we will supply the children with waterproof ponchos. Adults will need to bring their own).
An extra blanket if the weather is cool. (September – November)
An evening snack and drink per person. Please eat dinner before arriving at the zoo as the evening break will not be until approximately 20:15pm.
Please do not bring items of financial or sentimental value, inflatable mattresses or camp beds.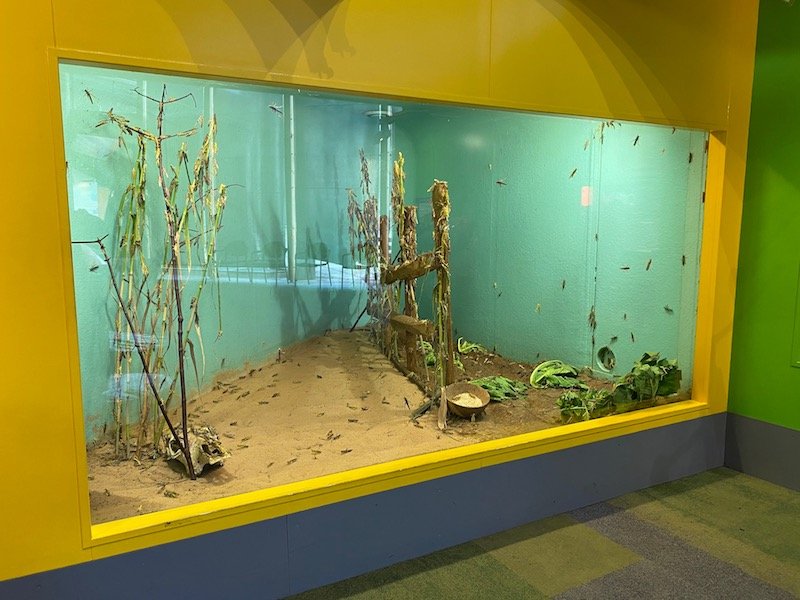 How to get to London Zoo Sleepover Bedbugs
By train: The nearest tube stations are:
Camden Town (15 minute walk) or
Baker Street (15 minute bus ride on 274).
Please note that Regent's Park tube station is a 25-minute walk from the Zoo.
Click here for travel options to London Zoo Bedbugs Sleepover for Kids
London Zoo Parking for Bedbugs
Yes, if you are an accompanying adult participating in the sleepover you are welcome to park in our visitors car park for free.
Once you enter the Zoo you will not be allowed to revisit your car until the sleepover finishes at 10.00am.
London Zoo Map
Toadstool Rating: Unusual places to stay in London with family
If you are looking for unusual places to stay overnight in London, book a stay.

Looking for MORE FUN THINGS TO DO in London with Kids?
Click the links in blue below for more London tips.