INSIDE: A London Itinerary 4 Days Long.
Traveling to London for the first time?
Want to know how many days to spend in London to see all the big sites and visit all the London must see attractions?
Take a look at our round up of what to do in four days in London.
Disclosure: This article may contain affiliate links. If you book a product or service after clicking on one of these links, we may receive a small commission at NO extra cost to you.

LONDON ITINERARY 4 Days of Non-Stop Fun
These are the main tourist attractions you shouldn't miss on a London trip.
Mix and match these days to suit your schedule or the weather.
You can also move them around so you don't miss predetermined schedules of big London events, such as the Buckingham Palace Changing of the Guard.
You can also use these London itinerary ideas for 1 day in London, 2 days in London, 3 days in London, or stretch them out over 5 days in London.
You can definitely adapt these 1 day in London itineraries for families too by taking more time, and adding some extra playgrounds or kid friendly shops in London into the picture.
Hot tip: Organise an oyster card so you can use the London tube easily.
Correct at time of publication. Please check with venue for updates. We apologise in advance if there have been any changes we are unaware of. All prices in pounds, unless otherwise stated.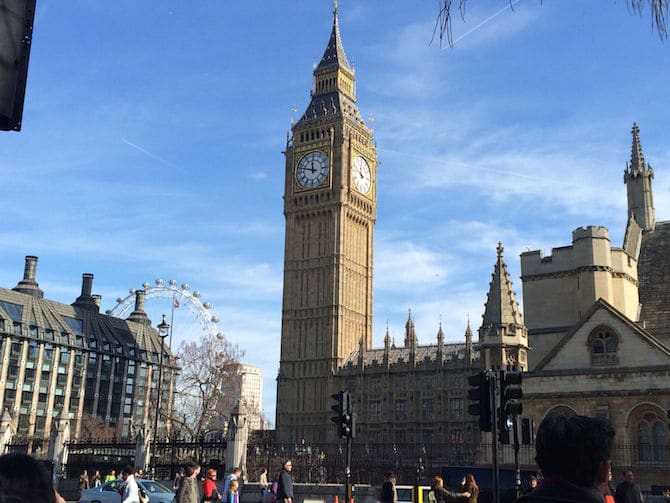 DAY ONE IN LONDON
This is the ultimate London one day itinerary for people who want to stay close to the action on the Thames River and Central London.
Big Ben & Southbank
Start your day at Big Ben to snap a selfie.
Wander across the Westminster Bridge.
Turn left and head down to Southbank.
Pick up a healthy bite to eat at Pret A Manger.
Wander along the Queen's Walk, past County Hall at Southbank.
County Hall
If you are travelling with kids (or not), allow some time to visit one or more of these London attractions at Southbank and County Hall:
Shrek's Adventure London
SEA LIFE Centre London Aquarium
Namco Funscape Arcade Games Centre
Build-a-Bear Workshop at Westminster Bridge
The London Dungeon
Hot tip: Save money and book Merlin's Magical London Pass – it gives you entry to Madame Tussauds, SEALIFE London, The London Dungeon, Shrek's Adventure, & general admission to the London Eye.

London Eye
Continue wandering along until you arrive at the Coca Cola London Eye.
Book this London Eye Skip the Line Tour, and head up in a London Eye capsule with a real life guide, who will tell you all the best stories about the London sights you can spy from up high.
(Read our review of this London Eye experience here)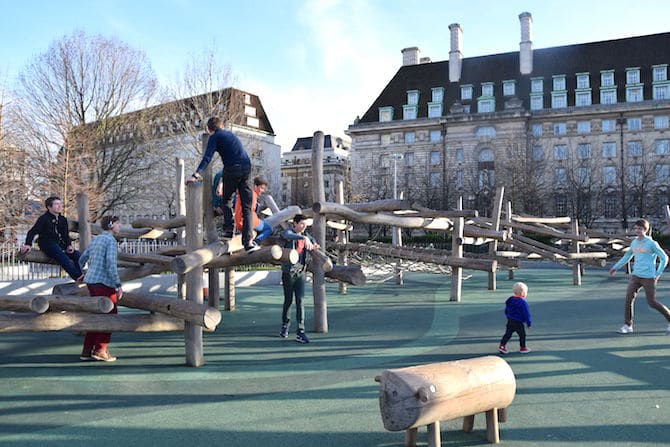 Jubilee Gardens playground
Give the kids 15 minutes to run off some of their energy at the Jubilee Gardens nature playground just past the London Eye. It's tops!
READ MORE: The Best London Playgrounds
Borough Market
Detour to see the Nelson Mandela statue near Royal Festival Hall.
Continue following the Queens Way, taking in the London city atmosphere, all the way to Borough Market. The walk from Southbank to the market takes about 30 minutes.
Borough Market is a huge undercover food and farmer's market under the railway lines. Enjoy morning tea trying all the best British baked goods, pastries and cakes, and some of the best London street food too.
The Borough Market is the best place in London for London food souvenirs including:
artisan chocolates
London kitchenware
local wines
nut butters
oils and vinegars
spices, preserves and condiments.
You can also pick up cheese, deli meats, freshly baked sourdough bread, olives, and more for a London picnic.
Give yourself an hour or two to explore.
When you are done, wander past the London Bridge and down to the Tower Bridge.
It's about 15 minutes walk.

Tower Bridge Exhibition & Glass Walkway
Book Tower Bridge exhibition tickets with a Thames River hop-on hop-off cruise to use for the return journey, and head into the Tower Bridge exhibition.
If you are lucky, you may see a Bridge Lift through the glass floor walkway at the top. If not, the Tower Bridge glass walkway is a pretty spectacular experience anyway.
Especially with kids!
There's an app full of hands-on interactive learning about Tower Bridge.
READ MORE: All you need to know about the Tower Bridge Glass Walkway Exhibition with Kids

Tower of London
From the viewing platform, you'll see the Tower of London. Head there next.
On the opposite side of the River Thames is a historic castle – the Tower of London.
The mediaeval Tower's official name is Her Majesty's Royal Palace and Fortress of the Tower of London.
The highlights of the Tower of London include:
Access to the Tower of London, a UNESCO World Heritage Site
Admission to the exhibitions, including the Crown Jewels
The iconic Yeoman Warder tour
Live historical re-enactments
Children's activity trails
Hot tips: Pick up a printed map from the Tower ticket desk and entrance points. Need to update Instagram? You're in luck with free wifi here.
Book Now: Skip the Line Tickets to Tower of London – Get your Guide

Thames Cruise
Finish your day with a Thames River cruise from the Tower of London back to Westminster Bridge and Big Ben.
Hot tip: Hungry? There's plenty of restaurants at Southbank if you want to eat before you head home.
Head home to rest up for day two in London.
Reverse the Day if you like
You can reverse the activities of the day if you choose.
If you do, and are travelling in London with kids in tow, book this early morning Thames River Cruise and Tower of London Family Tour.
You'll be some of the first people to enter the Tower of London, before the bulk of the crowds arrive.
Or you can book this Tower of London Early Access Tour and watch the famous Opening Ceremony.
You'll also be the first into the Jewel House to see the crown jewels without the crowds.
DAY TWO IN LONDON
If you only have a few spare hours, and want to know what to do in London in one day, pick this one. It's the day to embrace the ceremony and pomp of London royalty.
Buckingham Palace Changing of the Guard
Enjoy a slow start to the day, and make your way to Buckingham Palace to watch the Changing of the Guard.
The whole ceremony moves between three locations: Buckingham Palace, St James's Palace and Wellington Barracks.
If you are visiting in peak summer of June and July, the ceremony happens daily. Otherwise plan to visit on a Sunday, Monday, Wednesday or Friday.
Check the schedule before you go to avoid disappointment. Be mindful that the ceremony can be cancelled at the last minute too.
NB: There is no ceremony on rainy days.
Start at St James Palace
Our tip is to head down towards St James Palace on Marlborough Road (near Clarence House where Prince Charles lives) and be in place to watch the Old Guard being inspected, and hear the music of the St James Palace band.
(You need to be here by 10.15 am)
Follow the Old Guard as they march towards Buckingham Palace, along The Mall.
Then squeeze in and find a spot on the steps of Victoria Memorial.
This is a good spot to see all the comings and goings including the ceremony on the forecourt of Buckingham Palace, and the the Horse Cavalry as they ride on by.
Not confident you'll be in the right spot at the right time? Book this Changing of the Guard walking tour and you'll see it all.

Alt: Household Cavalry Museum
If crowds are not your thing, head to the Changing The Queen's Life Guard at Horse Guards Parade in London.
The ceremony takes place at 11.00am Monday to Saturday, and at 10.00am on Sunday.
Arrive at opening time and you can watch the horses and the troopers through the glass as they prep for the ceremony, and have an early advantage to find a good spot to watch the ceremony itself.
There's lots to do at the Household Cavalry museum for everyone, including kids. Make use of the audio guide that gives you all the history and information of these Royal traditions.
Kids can dress up in a a regiments uniform. Take a pic!
Book now: Discount tickets for the Household Cavalry Museum (Get your Guide)
St James Park & The Birdcage Walk
Pop into the St James Playground – it's a cute nature playground for kids in London.
Churchill's War Rooms & Westminster Abbey
Do a loop to see the 1000 year old Westminster Abbey to marvel at the exquisite Gothic architecture and the breathtaking panels of stained glass windows.
Next, head to Churchill's War Rooms.
This is the place where Winston Churchill and his cabinet took shelter during the dark days of WWII. It's also the place where he practiced his famous wartime speeches.
10 Downing Street is just a few minutes walk from here too.
Trafalgar Square and the National Gallery
Take some time out at Trafalgar Square after that busy morning to people watch, and soak up the London atmosphere. Trafalgar Square is named after the Battle of Trafalgar, a war between Britain, France and Spain in 1805.
See the 175+ year old Nelson's Column, the four monumental bronze lion sculptures who guard it, and sit by the fountains.
Trafalgar Square was once well known for it's feral pigeons but word on the street is that they are no longer a problem.
Head inside the National Gallery for a quick look at famous paintings by Monet, Rembrandt, Michelangelo, Raphael, Leonardo da Vinci, and Botticelli. Be sure to see Sunflowers by Vincent Van Gogh while you are there.
Stop by the Portico gift shop on your way out the pick of London souvenirs with a design edge, and National Gallery gifts and books.
Entry to the National Gallery is FREE!
The National Portrait Gallery
Directly behind the National Gallery is the National Portrait Gallery at St Martins Place, with over 215,000 works including 11,000 portraits, drawings, miniatures and sculptures.
Admission is FREE too.
Pall Mall, The Ritz, Park Lane & The Savoy
See how the other half live by wandering along the streets of Mayfair, and taking a peek inside the Dorchester, London Hilton on Park Lane, and the Ritz.
Book a world renowned afternoon tea, the quintessential British experience at either the Ritz Hotel London or Claridge's London.
(Take a look here at the Ritz afternoon tea special offers.)

Hyde Park & Princess Diana Memorial Playground
Wander into Hyde Park, past Serpentine Lido to see the Princess Diana Memorial Fountain, and make your way to Kensington Palace.
Hot tip: Take the kids to the wondrous Princess Diana Memorial Playground quick smart. Be prepared for a queue to get into this Peter Pan themed playground.
There's a cafe outside the gates to grab a coffee or lunch.
Kensington Palace
Book entry tickets to London's Kensington Palace apartments and spend an hour or two perusing the King's State Apartments and the Queen's State Apartments, and grounds.
The ticket includes two new exhibitions to celebrate the 200th anniversary of Queen Victoria's birth at Kensington Palace, Princess Diana's home before she passed in that tragic accident.

London Science Museum & Natural History Museum of London
If you are not into palaces, make your way to the London Science museum on Exhibition road, and/or the Natural History Museum.
Take a look at our reviews of both places:

Harrods
Finish the day with some shopping at the ever fabulous Harrods Department store.
Be sure to pick up a signature Harrods shopping bag, a classic Paddington Bear doll, and a Gold Harrods Bar (of chocolate) to add to your London souvenirs collection.
Image credit: Wilson Hui via Flickr CC2.0
DAY THREE IN LONDON
A day to visit all the best London shopping destinations.
Covent Garden
Start the day right at Covent Garden, one of the most famous shopping destinations in London.
Visit Benjamin Pollock's Toy Shop, Pylones store, Burberry, Jo Malone London for British bespoke fragrances, Paperchase for stationery, the Moomin shop, and Cath Kidson for funky fabulous bags and London homewares.
If you happen to visit on a weekend, stop by the Apple Market and head to the Love Ceramics stall for very cool London street signs.
Don't miss the London Transport Museum while you are here.
Even if you don't visit the Transport Museum in Covent Garden, do take a look at the gift shop. There are excellent and unusual London gifts and souvenirs to be found here.
If you love museums, you should also visit the British Museum, about 12 minutes walk away.
Piccadilly Circus
Wander towards Piccadilly Circus and check out all the shops on the high street.

Regent Street & Oxford Street
Spend the rest of the day wandering up through the classic architecture and heritage-listed buildings that line Regent Street, and into Oxford street, and Conduit street.
This area is the best London shopping for gifts and souvenirs to treasure.
Don't miss:
Zara Regent Street
Zara Home
Timberland
Ted Baker
Boots chemists
H&M
Liberty London
John Lewis
Selfridges
Marks and Spencer
Stop for lunch at the Spaghetti House at Palladium House, 1 – 4 Argyll St, Soho. (Opposite Liberty London)

Image credit: Anonymous via Flickr CC 2.0
Book tickets for a London Theatre Show, or enjoy a drink at the Savoy Hotel.
Head back to Covent Garden and the theatres around Drury Lane at night to take in the magnificent theatre atmosphere.
See the Lion King at the Lyceum Theatre or School of Rock at the Gillian Lynne theatre, or enjoy a drink at the world famous Savoy hotel.
READ MORE: The ULTIMATE GUIDE to the BEST LONDON SOUVENIRS for family and friends

DAY FOUR IN LONDON
Camden Markets or Portobello Markets, or Brick Lane Markets
Start your day with a market visit to one of London's famous markets.
Portobello Road Market is in Notting Hill, the location of the film "Notting Hill" starring Julia Roberts and Hugh Grant. It's a real life antiques market in London, selling bric-a-brac, London street food, vintage clothing, and more.
This one is not so good for kids as it can get very crowded, and it's a bit boring for them.
Unless they love crepes.
Camden Markets are the best bet for cheap bargains.
There's a fun hippy left-wing atmosphere, cute stuff to buy, and toys for the kids.
Brick Lane markets are the best for food from all cultures at a bargain price. Stop by Spitalfields indoor market on your way for handmade crafts and goods made by the makers themselves.

Regent Park London
When you've shopped yourself silly, head to Regent Park for a tranquil wander through one of the Royal Parks.

London Zoo
Finish the day at London Zoo, home to the exhibit, Land of the Lions, modelled on a real life African village.
There's a Reptile house, Penguin Beach, and lots of walk-through exhibits.
Plus, a brand new adventure playground for kids.

Looking for MORE FUN THINGS TO DO in London with Kids?
Click the blue links below for more London travel ideas:
Disclosure:
Main image credit: Jean-Marc Astesana
This website contains references to products and services from our favourite brands. Some of these are affiliate links. If you make a purchase or booking after clicking on one of these links on Roam the Gnome™, we may receive a small affiliate commission at NO COST to you. For our Disclosure and Disclaimer statements, and an explanation of our Advertising policy please click here
Roam the Gnome™ is a participant in the Amazon Services LLC Associates Program, an affiliate advertising program designed to provide a means for sites to earn advertising fees by advertising and linking to amazon.com, amazon.co.uk, amazon.ca. Amazon and the Amazon logo are trademarks of Amazon.com, Inc. or its affiliates.
Thank you in advance for your support in helping us to grow Roam the Gnome Family Travel™ Website Directory. Bookmark this page to keep us safe and sound.