INSIDE: Roam the Gnome's Guide to Gemfest Lismore Showground.
Lismore Gemfest is the place to dig for crystals and fossick for gems!
It's a top day out for kids in the Byron Shire.
Want to know all the things to do at Lismore Gemfest?
Take a look at our guide below.
Disclosure: This article contains affiliate links. If you make a purchase after clicking on one of these links, we may receive a small commission at NO extra cost to you.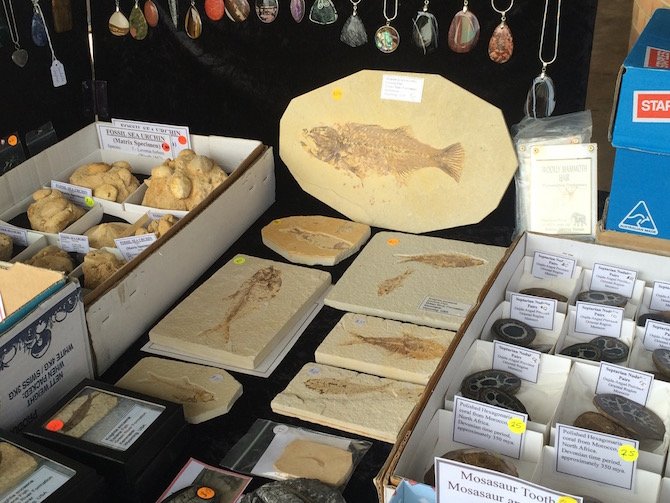 Lismore Gemfest 2021
This is one of the best family friendly activities to do when you are in Byron Bay shire.
The annual Lismore Gemfest is on Saturday 15th and Sunday 16th May 2021 at the Lismore Showgrounds.
My kids LOVE this event, hosted by the Lismore Gem and Lapidary Club, and so do Roam the Gnome and I.
2021 is the 30 year celebration!
That's right. 30 years of the Lismore Gem Fest.
It's only $5 entry for adults, $1 for kids under 12, cash only, at the gate.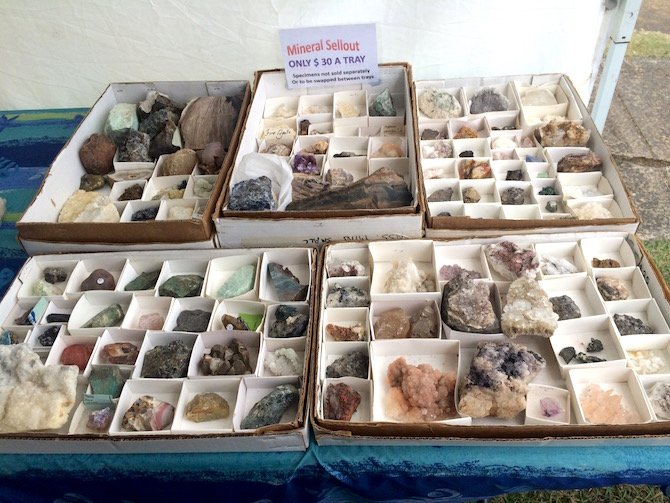 Gemfest Lismore Showgrounds
Lismore Gem Fest is the biggest rural show in NSW.
The Lismore showgrounds that plays host to this event has retro-style showground buildings, animal stables, and sheds.
It's so Australian!
Laid back country living at its' best.
Pack some healthy snacks, and make a move on.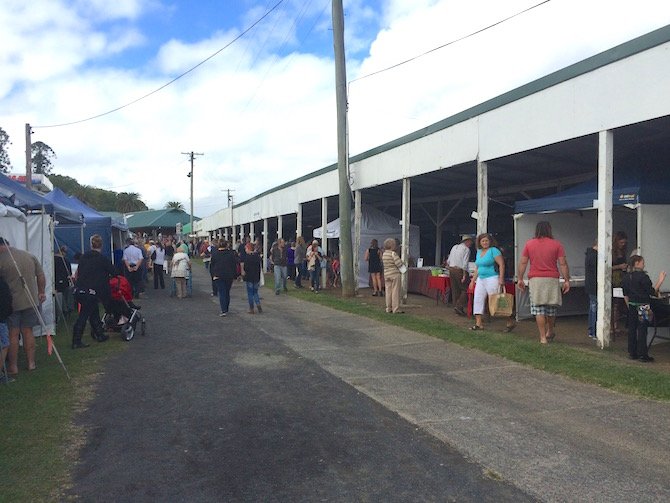 Australian Gemstones Expo
Because this crystal extravangza is held quite close to the Byron hippie heartland, I assumed this place would be filled with bright and colourful 'hippies'.
I expected lots of dreadlocks, barefeet, flowing skirts, the smell of patchouli, and that I'd be walking along to the beat of reggae.
So I was quite surprised to see that this was not the case at all!
You'll find:
Over 140 Tailgaters and Dealers over two massive days
Displays of Minerals, Gems, Fossils, Jewellery and Equipment from all over the world.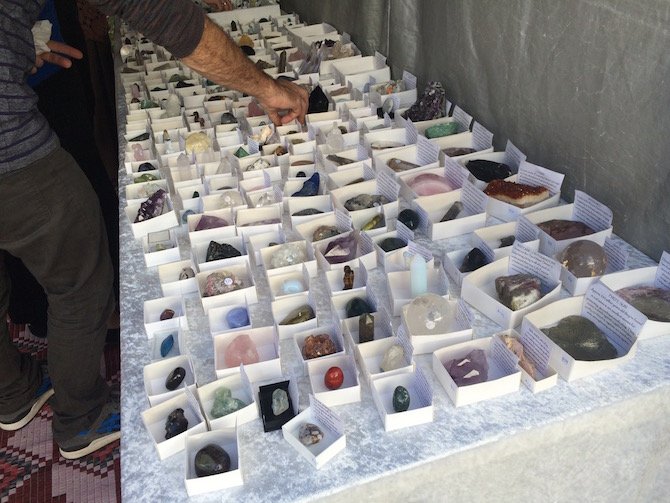 Gemfest Lismore collectors
Turns out 'gem collecting' is big serious business and there are LOTS of people who travel the country, from digging site to digging site (fossicking might be the more accurate term) on their quest to find precious gems.
Then they meet up at these kinds of events all around Australia to sell their Australian gems and treasured finds to other gem lovers.
---
Book Now: 1/2 Day Tour to Crystal Castle Mullumbimby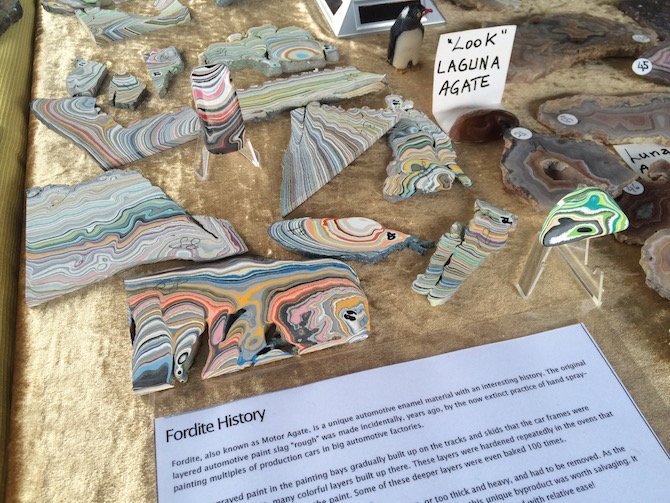 Lismore Festival Gems for Sale
There are LOTS of different treasures for sale along the main drag of stalls.
Australian fossils
meteorites
agate slices
rainbow-painted fordite, and
huge crystallised chunks of amethyst.
Open Air Section
This section is the tricky bit when you are there with kids.
How can kids navigate past all those pretty stones and bright sparkly things WITHOUT TOUCHING?
It's an impossible ask.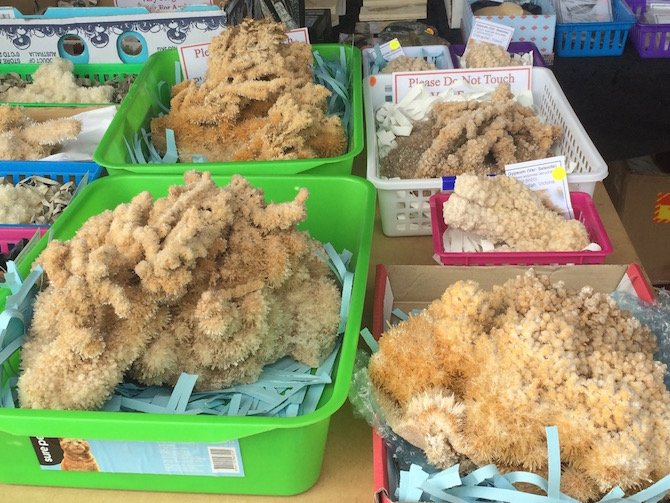 Pretty, but don't touch!
Come prepared with a stroller to contain that touchy-feely toddler!
A few of the stall holders can be a bit grouchy towards the kids.
Some are over-the-top protective of their wares, even when the bigger kids are only looking, and NOT touching.
That's never fun.
Best to avoid the grumpy bums, and move on.
We took a quick look as we wandered by, and then headed straight towards the kids activities where they can dig in and get more hands-on with the stones.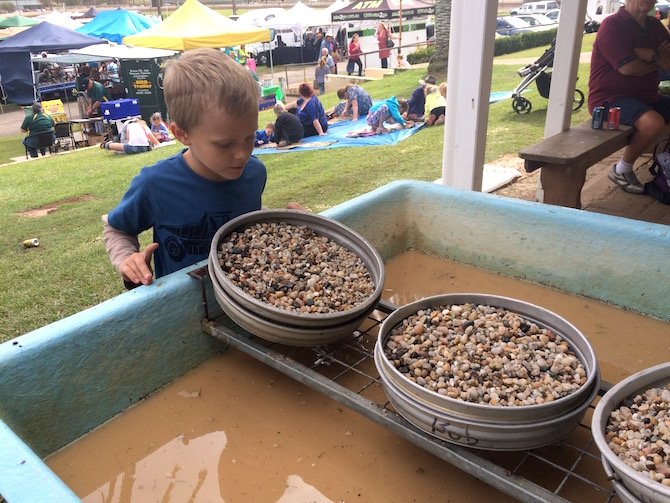 LISMORE GEM SHOW ACTIVITIES FOR KIDS
There's LOTS of activities for kids at Lismore Gemfest including:
crystal dig
gem fossicking
microscope experimentation
face painting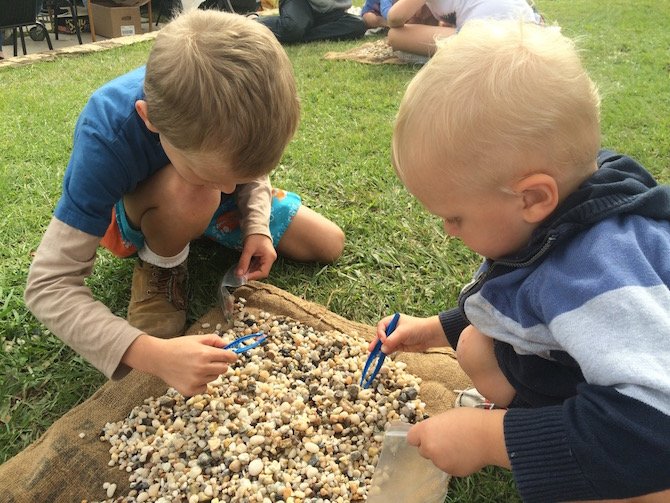 No.1: Gem Fossicking
The most fun activity is the Gem Fossicking or "Crystal Dig".
Sieve the tumbled stones
Kids scoop up a big sieve of smooth tumbled stones that are then drained.
Organisers then put the stones onto a piece of hessian, out on the grass, and give the kids a pair of plastic tweezers.
Kids then spend the next 30 or minutes hunting for real gems and crystals.
The lovely people manning the stall didnt even charge for Jack but gave him his own pair of tweezers and bag to collect treasures too.
Those generous acts of kindness always make my day when travelling out and about with the boys.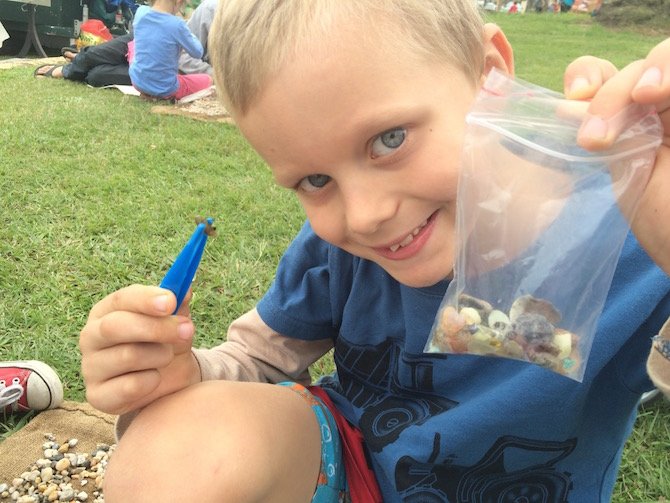 Best Party Game!
You could easily replicate this Lismore Gemfest activity at home for a kid's party.
You just need:
a big bag of fine stones or gravel (fish tank gravel is perfect)
a small bag of tiny crystals to sprinkle through the gravel
a bucket of water to soak them in before you scoop
some carpet squares or hessian to lay the stones on during the dig, and
some pairs of tweezers.
These plastic ones are perfect.
Look out for them in chemists, or you might find a supply for sale at the Lismore Gemfest if you look hard enough.
Hot tip: Grab a delicious takeaway chai before you pay your $2 for this activity, then everyone will be happy.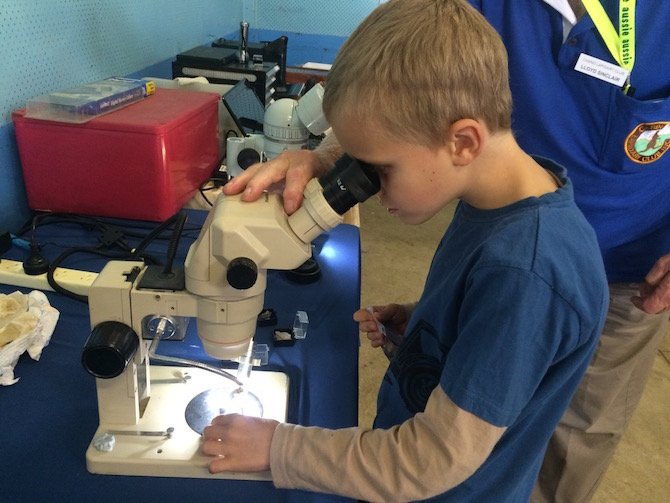 No.2: Microscope Discovery
Indoors, the kids could look at their gems under the microscope.
For Science loving kids, this is as much fun as finding the crystals.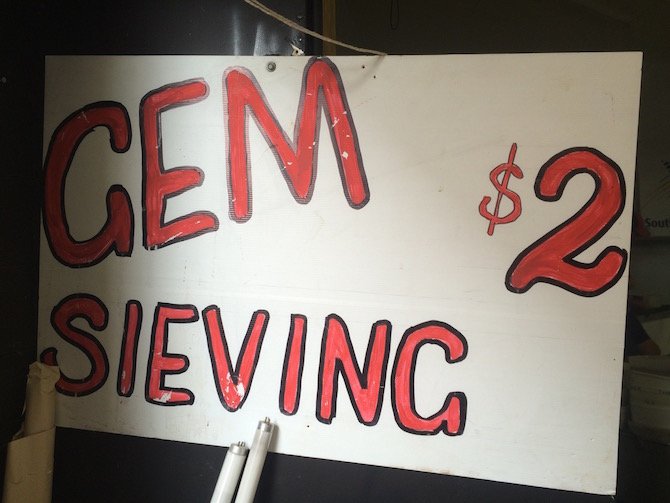 No.3: Sand Sieving for Crystals
This was another activity: dry fossicking for gems with a sifter.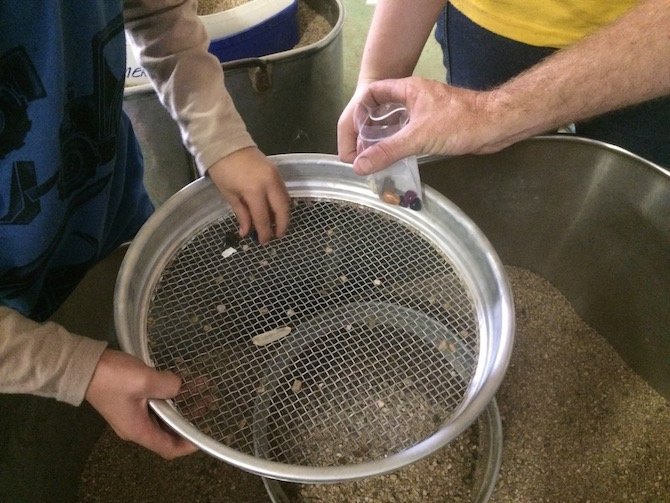 Hunting for gems
Ned and Jack thought this game of gem sieving was great fun.
For the cost of $2, it's a top activity you can't miss.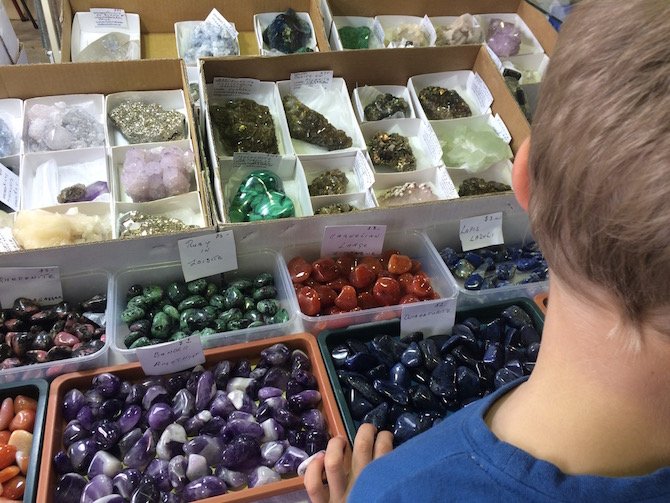 Lapidary Supplies Australia
Find all your lapidary supplies at the Great Hall of Gems in the Lismore showground hall.
You'll find:
drilling tools
starter kits
abrasives
tumbling tools and tumblers machines for rock polishing and metal polishing
templates
saws, diamond blades, saw parts
adhesive products
final polishing tools
wax sticks
felt polishing disks
safety and protective equipment
books
fossicking kits, tweezers, fossicking sieves, standard gold pans
folding shovels, specimen jar
gem grabbers, electronic scales
chisels, rock picks
The vendors in this hall are much more kid-friendly and tolerant of children who've just stumbled upon THE BEST TREASURE SHOP IN THE WORLD!
Look at all those tumbled stones.
It's a rainbow kaleidoscope!
Kids can choose a bag of tumbled stones each here for a couple of dollars each.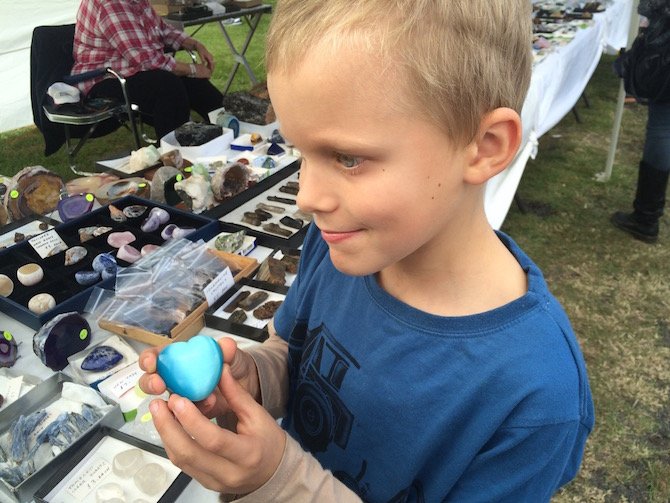 Great Hall of Gems
There's also plenty of treasures behind lock and key in glass cabinets here, including Australia's National Gemstone, the Opal.
Children can gaze at:
sapphires
gold nuggets
precious jewellery, and
opals to their heart's content.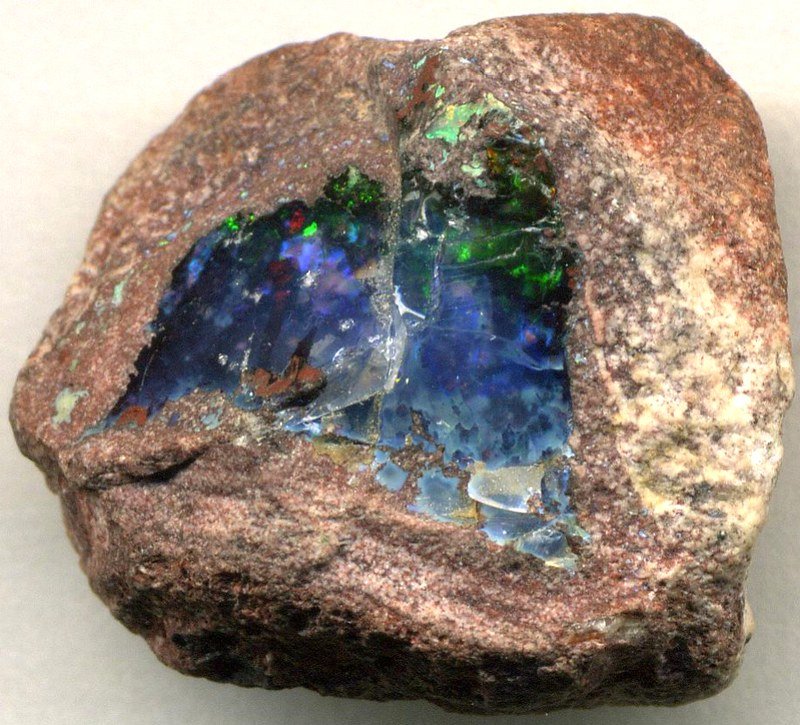 Image credit: James St John via Flickr CC BY-2.0
National Gemstone of Australia
Australia's opals are the most coveted gem from Australia, a precious and high quality stone revered for it's colour bursts!
Australia's Opal is known to Indigenous people as the "fire of the desert".
Black Opal from Lightning Ridge is the most famous, and the colours – red, green, blue, violet, magenta or yellow- blast against the black background.
In fact, Australia has the largest expanse of opal fields in the world. Gems include:
black opal
white opal
crystal opal
fire opal, and
boulder opal.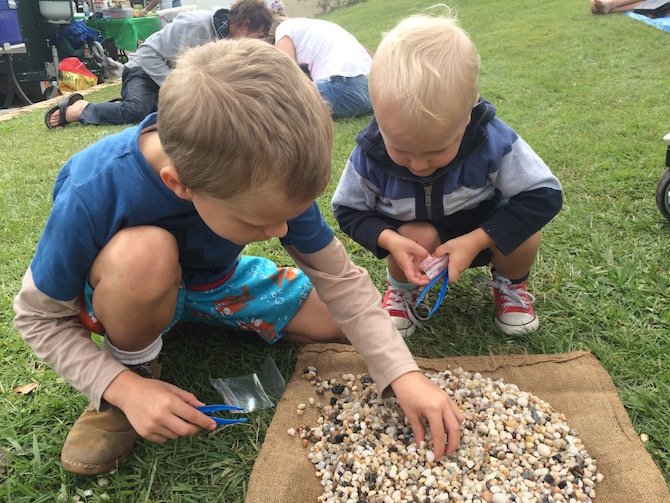 Raffles, Festival food trucks, and Lucky Gate prizes
Bring a good supply of cash, and eat lunch on site.
There's quite a few food trucks here and you can choose between:
hot potatoes
sausage sandwiches
pies
wraps, and
other goodies.
Plus there's ice cream.
Don't forget the ice cream. Kids won't let you!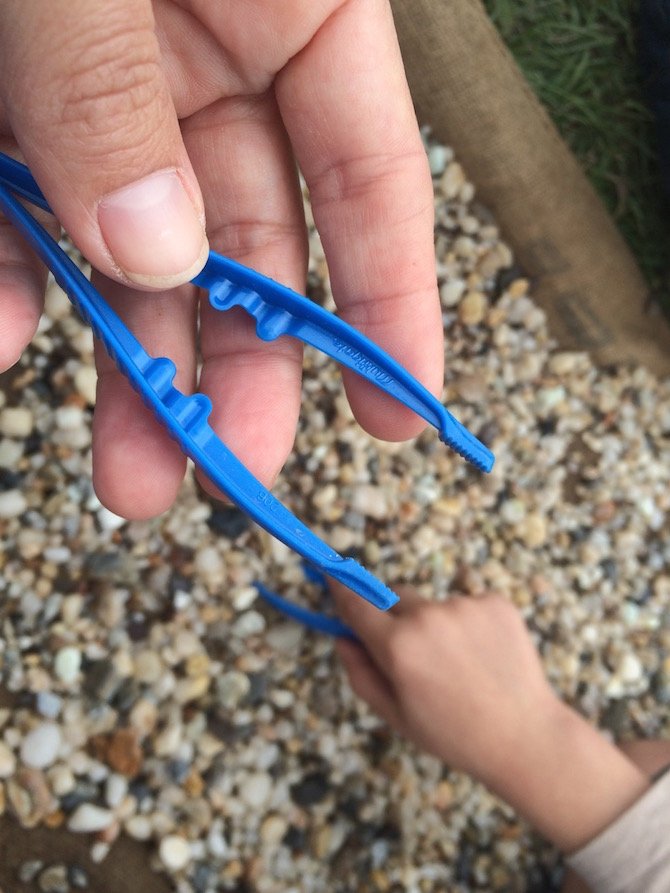 THE INSIDE SCOOP: Lismore Gem Show 2021
Correct at time of publication on Roam the Gnome. Please check with venue for updates. We apologise in advance if there have been any changes we are unaware of. All prices in Australian dollars, unless otherwise stated
Address: Lismore Showground, Alexandra Parade, Lismore
Telephone: 02 6621 2733
Website: Click here
Opening Hours
Saturday 9am to 5pm
Sunday 9am to 3pm
Entry Fees: FREE!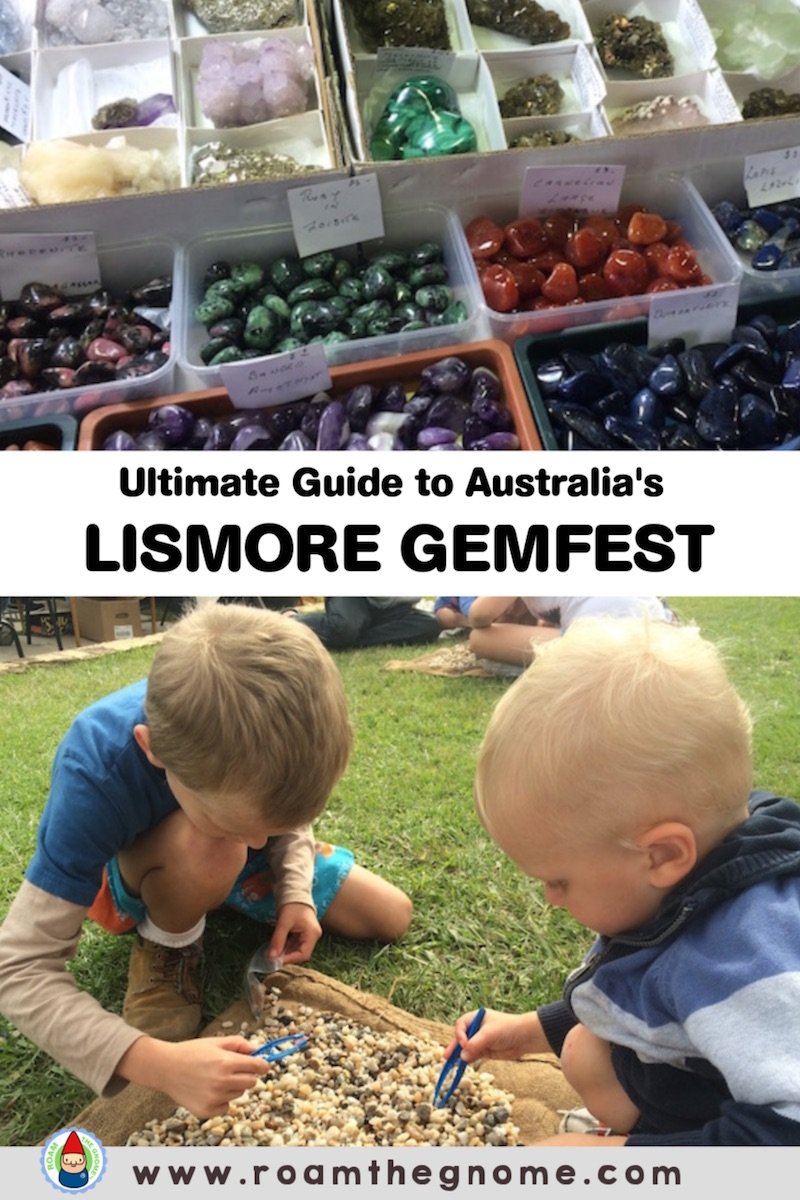 How to get to Lismore Showgrounds
Lismore is located on the Bruxner Highway providing easy access via car. Lismore is within 2.5 hours drive of Brisbane and approximately 8.5 hours of Sydney.
By Train:
CountryLink services are available from Sydney to Casino with a change over and rail bus from Casino to Lismore.
The rail bus arrives into the Lismore Train Station
It's a 15-20 minute walk to the showgrounds from the station, or 5 minute cab ride (131 008).
By Car: Click here to add your current location for google map directions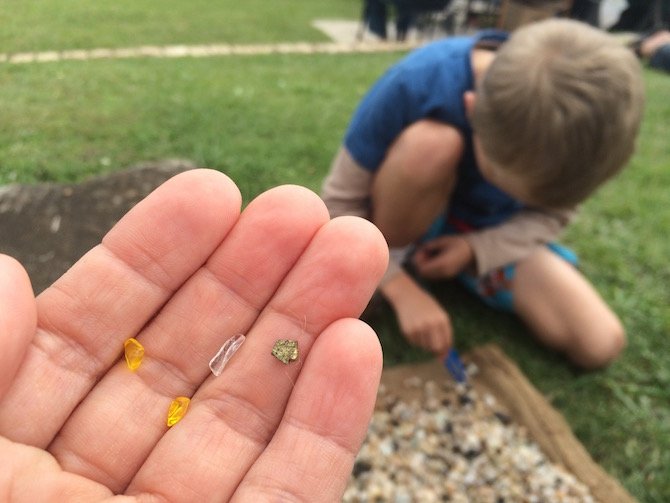 Parking at Lismore Showgrounds
Parking is on-street around the showground and is free.
Be careful as you cross the road to go in. Hold the kids' hands. It's pretty busy with cars and people all about.
Lismore Showgrounds Map
Toadstool Rating: Lismore Gem Show
A fun day out for kids and families.


More Lismore Events
Lismore Lantern Parade & Festival
This annual event is the jewel in the crown in this region. Take part in lantern making workshops, lantern crafts, kids workshops, buy delicious fruits
Tropical Fruits Fruitopia Fair Day
Fruitopia Fair day is the Tropical Fruits' annual family fun day. Click here for details.
Nimbin Roots Festival
3 day celebration of Roots music, Old Blues, Folk, Old Timey, Folk Rock and Traditional music set in venues around the colourful town of Nimbin.
Lismore Carboot Market
200+ stalls on the 1st and 3rd Sundays of the Month, from 7.30am to 2pm, at Lismore Shopping Square, Uralba St, Lismore.
Find:
handmade outdoor furniture, recycled tools & hardware, timbercraft
fashion, clothes, shoes, accessories, jewellery
crystals; candles;
recycled books, CDs DVDs & vinyl records
antiques & collectables
craft
toys
For the kids, there's face painting, and slot-car racing too.
Lismore Vintage and Handmade Markets
Monthly outdoor vintage market held at Northern Rivers Conservatorium, 152 Keen St, Lismore.
Find antiques and retro fashion, homewares and collectables at this local arts market.
Looking for more fun things to do in Byron Bay area, New South Wales?
Click the blue links below for more Byron Bay Shire attractions.