INSIDE: Tractor Rides, Animal Feeding & Playground Fun at Lillydale Farmstay Brisbane QLD
What fun there is to had at Lillydale Farmstay Brisbane Qld!
Less than 2 hours from the Gold Coast and Brisbane, our visit to Lillydale Farmstay was – in Ned's words – THE BEST DAY OF HIS LIFE.
I guess having the lend of a little white lamb to follow you around for most of the day is pretty cool.
Her name was Snowflake.
We met her when we took a bottle of milk to her paddock for feeding time and she kept us company, leaping and bounding around, as we continued our Lillydale farm day trip adventure.
That's just one of the fun things to do at Lillydale Farmstay near Brisbane.
Read our guide below for more!
Disclosure: This article contains affiliate links. If you make a purchase after clicking on one of these links, we may receive a small commission at NO extra cost to you. With thanks to our hosts, Bec, Doug and Pam Hardgrave who invited us to experience a Lillydale Farm day trip.


Everything you need to know about Lillydale Farmstay Brisbane QLD
Lillydale Farmstay is a one-stop shop for a weekend country stay for the family.
If you are looking for a quiet getaway, with plenty to do, surrounded by nature and bordered by majestic mountains, and lots of free space for the kids to run off their excess energy, THIS is the place.
It has been a working beef cattle farm for the past 40 years.
But families are also invited to enjoy a day trip, full of wonderful farm activities, learning and fun.
---
RELATED: Big Guide of Fun Things to do in Brisbane with Kids
Meet Farmer Doug and Farmer Pam
Meet Farmer Doug and his wife, Farmer Pam.
Lillydale Farm has been their home for almost 40 years.
For the past 16, they've been welcoming visitors to come enjoy their hospitality too!
Meet Bec
Be greeted by Bec, your gracious host, who plays the role of registered wild-life carer, Kids club educator, Saddle Club teacher, office magician, and is the one who keeps the place spick and span.
She's also one of Doug and Pam's three daughters!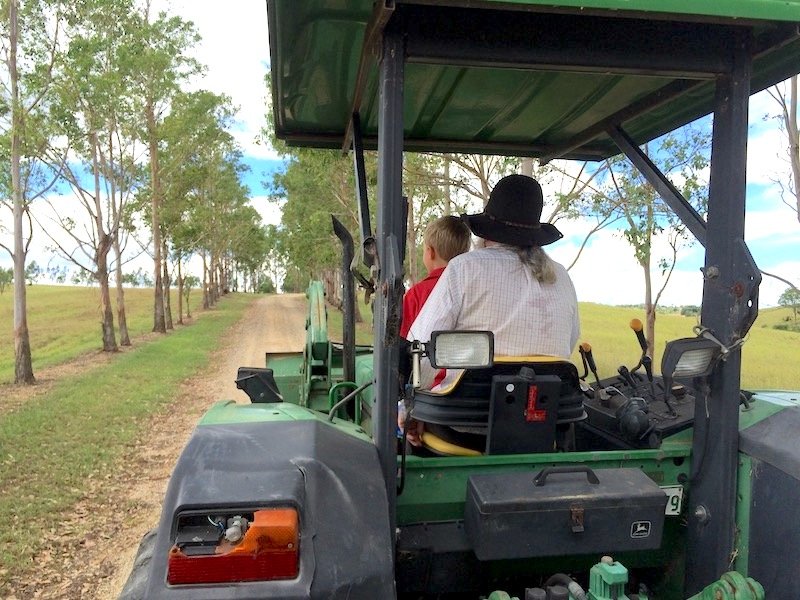 Best Things to do at Lillydale Farm with Kids in one day
Here's a quick rundown of the things we experienced in one day.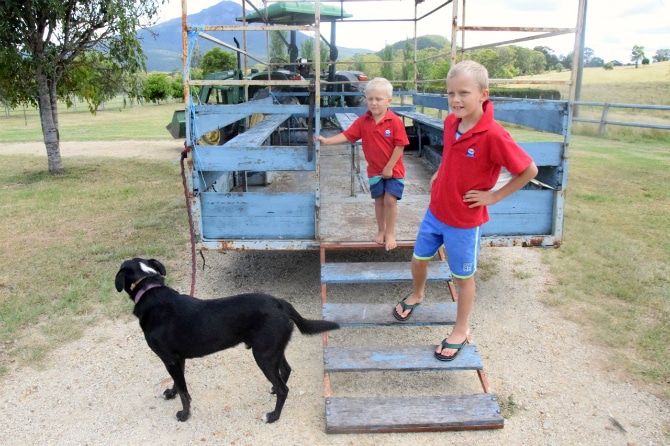 No.1: Take a Tractor Ride
Take a tractor ride to see the expanse of the 300-plus acre property.
While bumping around, there's a chance you may see Australian wildlife:
kangaroos
koalas and
goannas!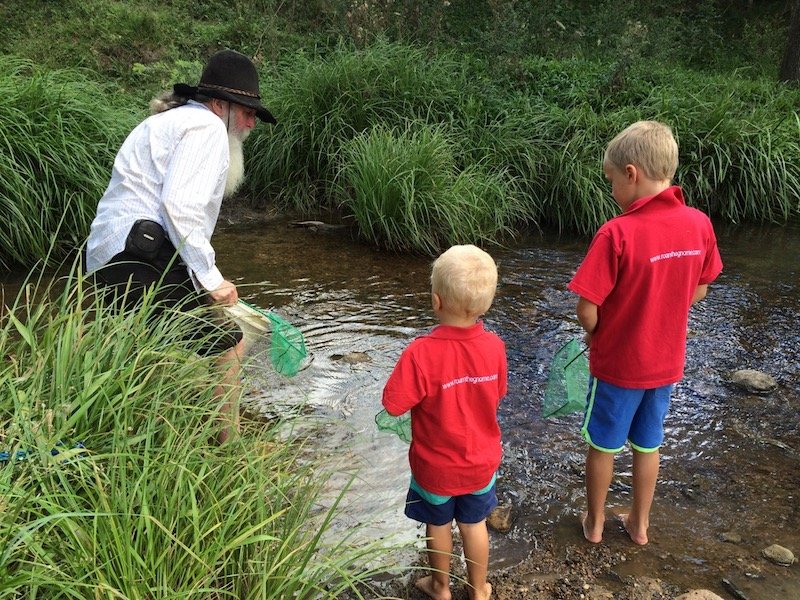 Creek Walk
We drove down to the creek for a nature walk.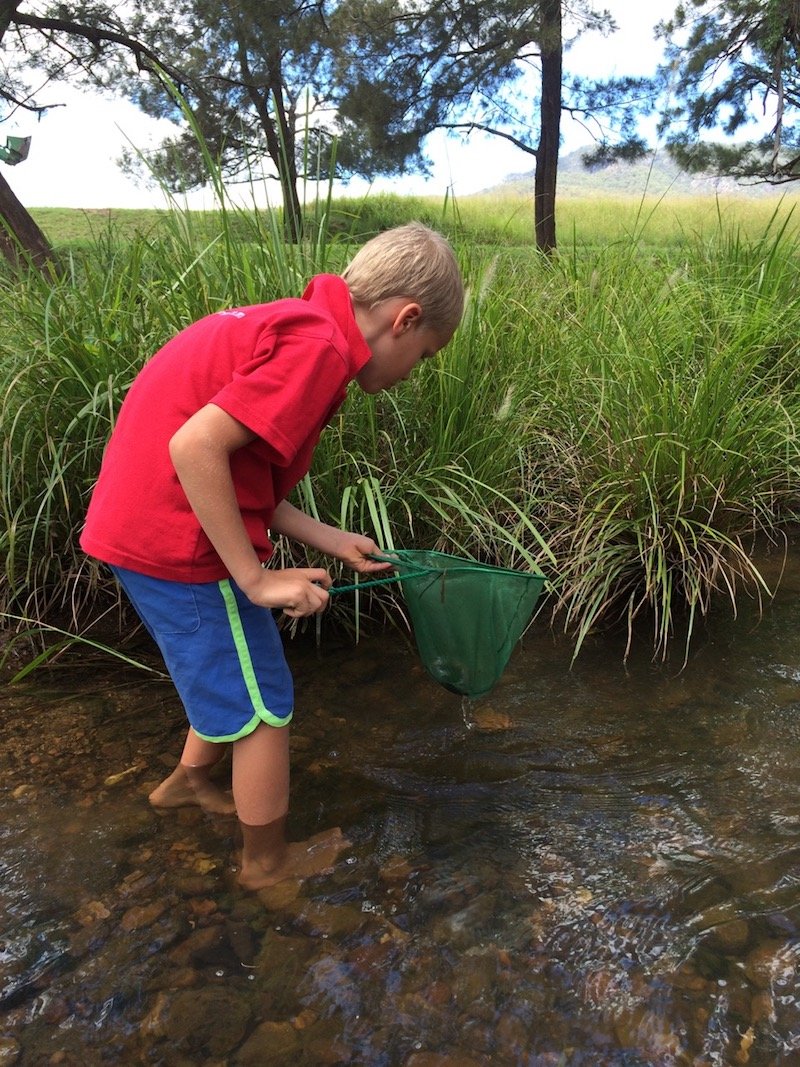 Catching Fish
Scotty taught the boys and Roam the Gnome how to catch tiny fish with nets there.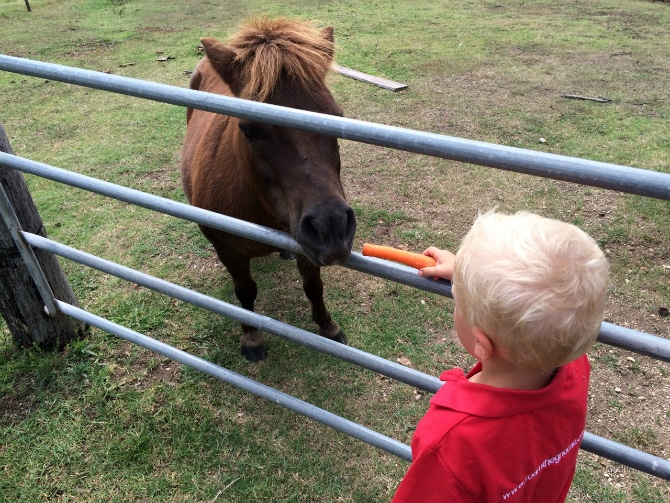 No.2: Meet the Farm Animals
Meet all the animals in the family.
First up, Taffy and BJ, the shetland ponies.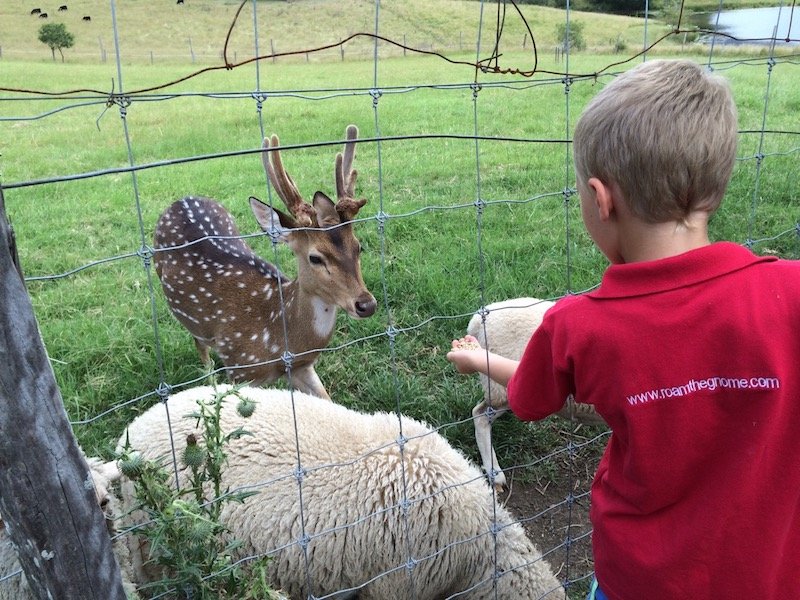 The deer, Rango and Rainbow.
Peppa and George, the Pigs.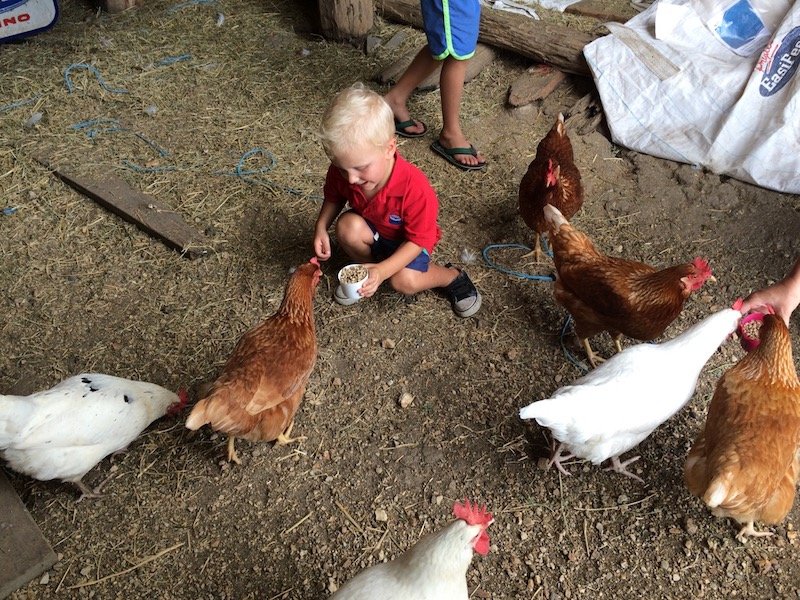 Oh, and Brooke the Chicken.
Fun Fact: All the chickens at the farm are called Brooke.
That's because they all 'brooke, brooke, brooke' as they waddle around.
Funny!
No.3: Feed the Farm Animals
Take an Animal feeding tour and bring:
grain for the chickens
milk for the lambs
carrots for the ponies, and
grain for the piggies.
(Tour operates twice daily)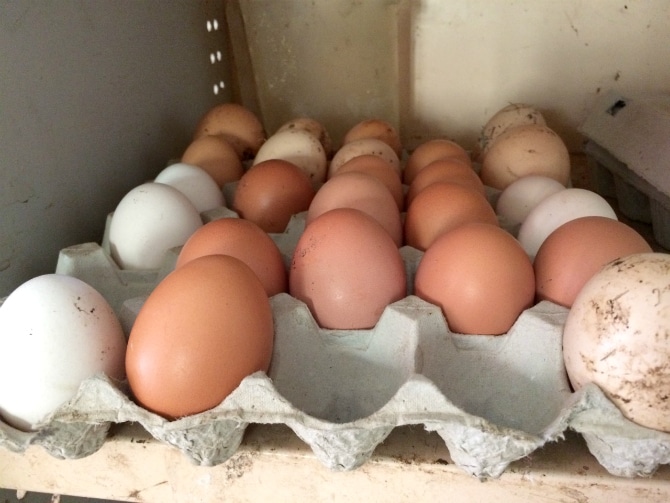 No.4: Collect the eggs
Collect the eggs for breakfast.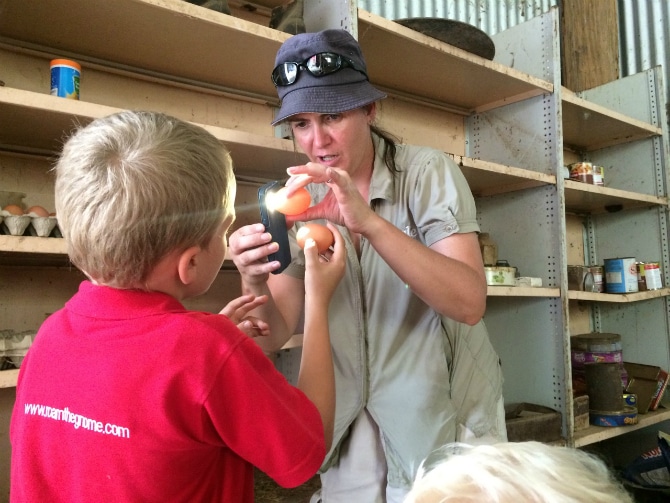 How do you know if there's a baby chicken inside a freshly laid egg or not?
That's easy.
Pop the egg up to a torchlight, peer through the brittle shell and see for yourself!
(Thanks to Bec for that tip!)
No.5: Milk Daisy the cow
Budding farmers need to learn how to milk a cow, and here the kids will be given a chance.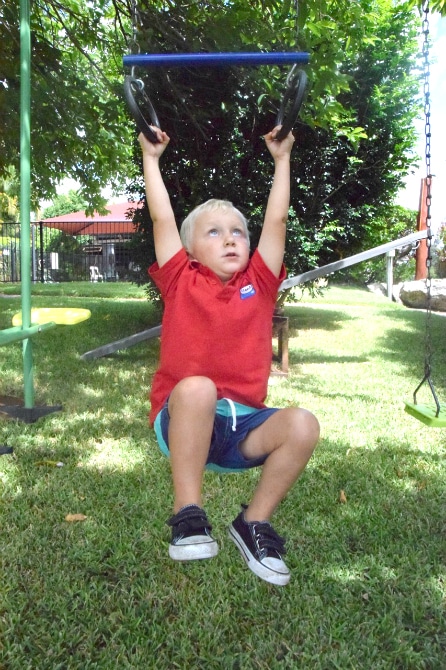 No.6: Play on the Lillydale Farm playground
Enjoy the cheerful kids playground.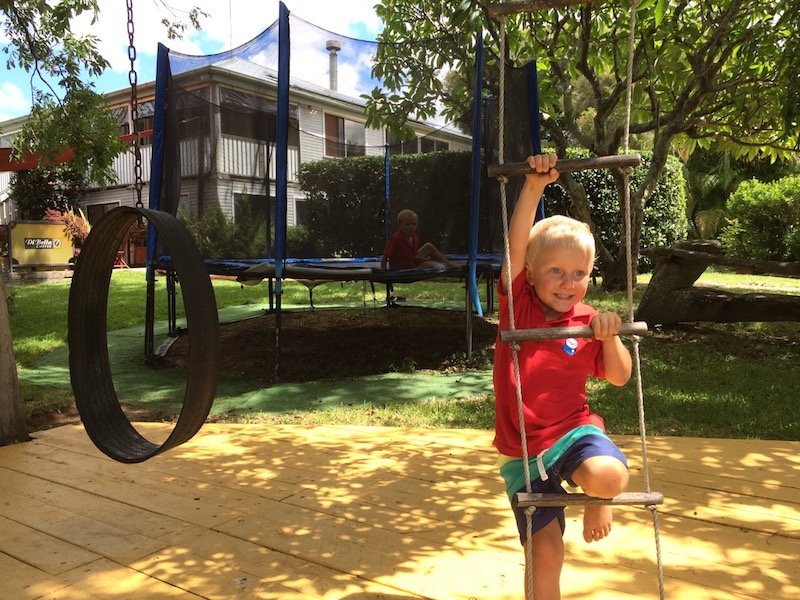 There's:
a trampoline
hopscotch
tyre swings, and
a swing set, nestled under the shade of the trees
No.7: Lilly Pilly Hedge Maze
Get lost in the Lilly Pilly Hedge Maze.
This one is fun for the whole family, especially if the goat follows along!
No.8: Pick the veggies
Harvest in-season veggies and herbs from the veggie patch, and use them in your salads and dinners.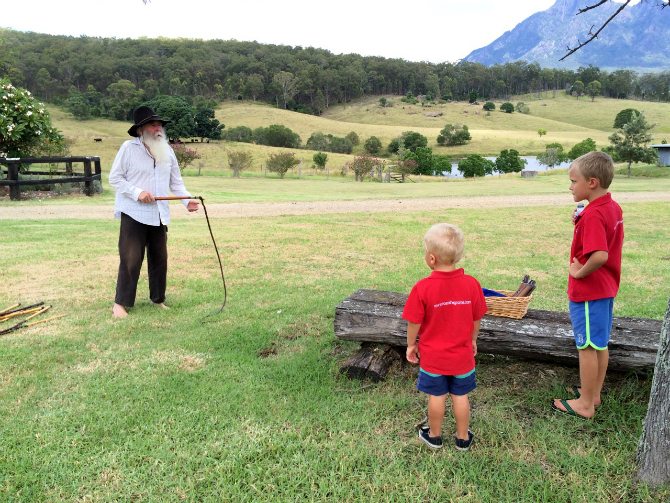 No.9: Meet Scotty, the Farm's Resident All Rounder
Laugh with Scotty, Lillydale Farm's resident larrakin who's also a tractor-driving, boomerang-throwing, whip-cracking whiz.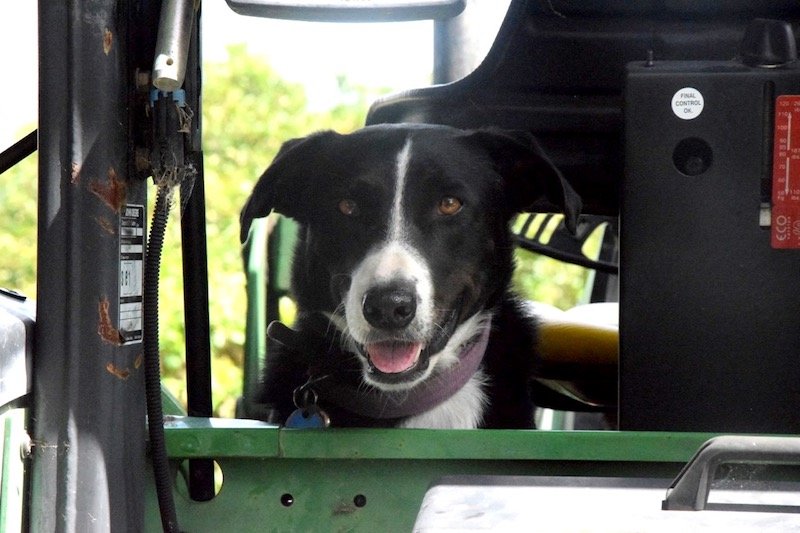 You'll also meet his dog, Cobber.
(Scotty's dog Cobber, has his own facebook page? Check it out)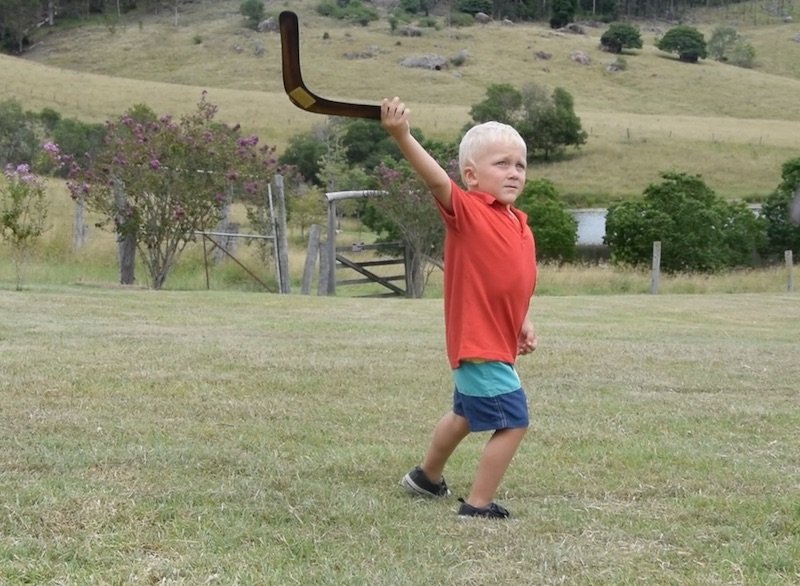 Learn to throw boomerangs.
Perhaps even have a turn at whip cracking!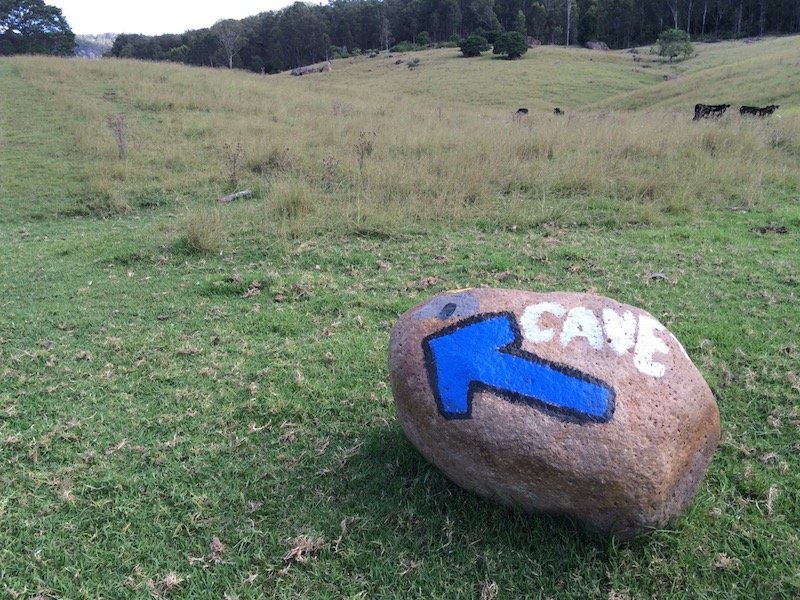 No.10: Visit the Dinosaur Cave
Take a hike up to the Dinosaur Cave on the hillside.

You never know what you might find!
There may even be BONES.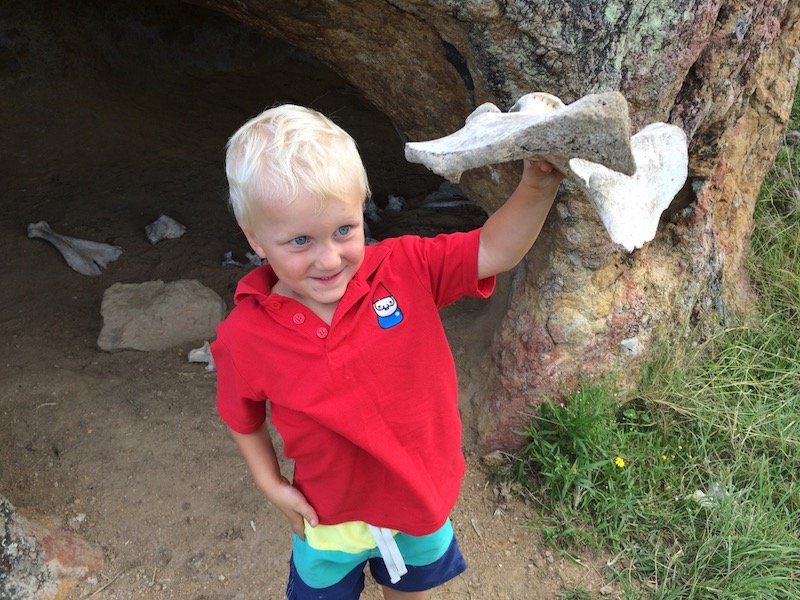 My boys LOVED this adventure!
And so did I.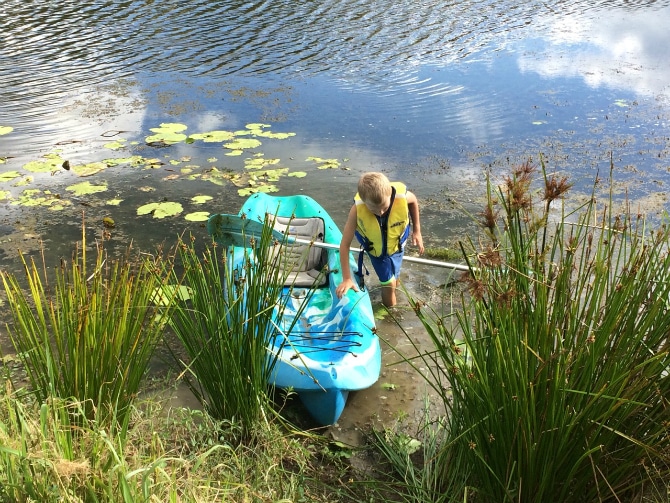 No.11: Kayaking on the Dam
Go for a kayak on the dam.
This dam is the water source for the entire farm so be sure to keep it clean.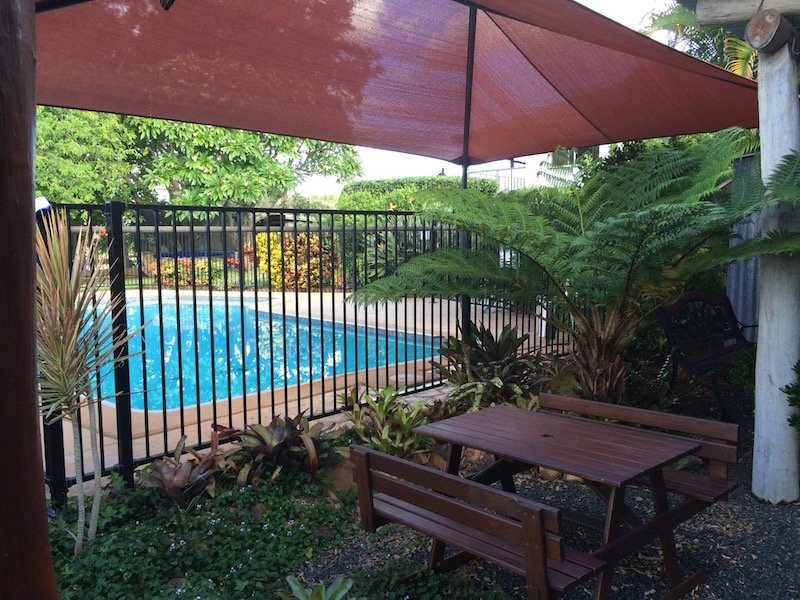 No.12: Go for a swim
Swim to your heart's delight in the pool.
BYO swimmers, towels and a fresh change of clothes.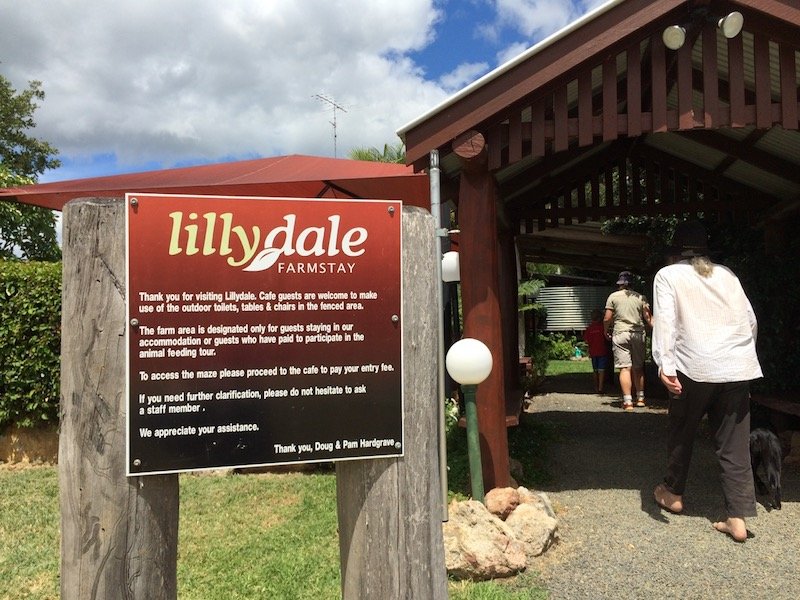 MORE Things to do at Lillydale Farmstay
If you are interested, the team can also arrange:
pony and horse rides, and lessons (and Saddle Club)
guided bushwalks
mountain climbing expeditions
fishing rod hire
a visit a local dairy
to light a bonfire and toast marshmallows
They'll even organise wine tasting and massages for over-worked parents to enjoy!
Relaxation time?
That's when the kids have gone to bed!
Next time, we're going to stay overnight and enjoy two full days of country fun.
It's top of Ned's bucket list to return here soon.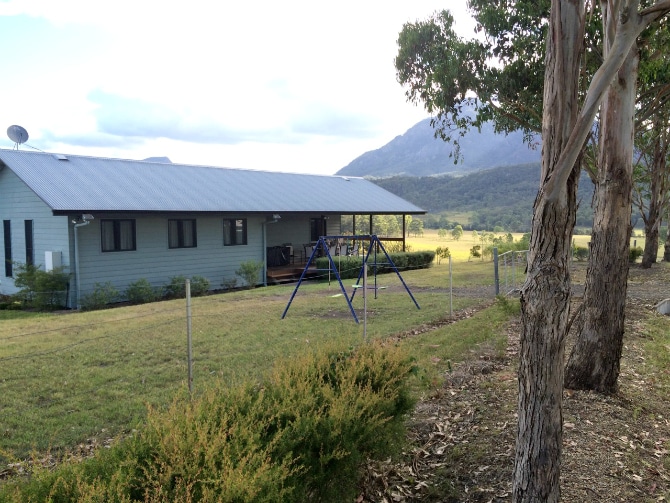 Lillydale Farmstay Accommodation Options
If you decide to make a weekend of it, there's two choices of 4.5 star accommodation on this farmstay near Brisbane.
Homestead Rooms
The first is to stay in one of three Homestead Rooms.
These family-friendly rooms are self contained, with:
kitchenette
shower and toilet facilities
air conditioning
TV and USB charging, and
outdoor sitting areas.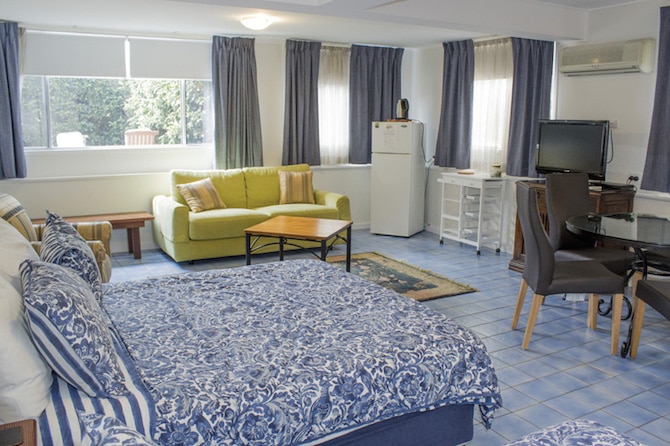 The three rooms range in size and shape, to suit everything from couples, to small families with young ones, to larger families or those with teens.
One thing they have in common is access to the warm and inviting Guest Lounge – with:
a fireplace
pool table, and
cosy lounges.
It's the perfect getaway spot after the kids have gone to sleep (and within cooee distance too, so no worries there!)
Rooms start from $295 per night.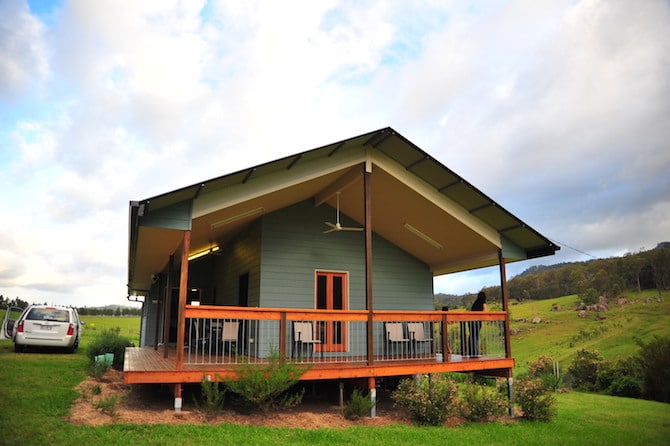 Eco Cabin
The other accommodation option is the Eco Cabin.
With two bedrooms, full kitchen facilities, two bathrooms, outdoor eating area, and an outdoor gas BBQ, you might never want to leave.
Located on your right as you drive in to Lillydale, the Eco Cabin is 1km from the main homestead – a 2 minute drive or a short walk/bike ride.
It's the perfect spot for a big family gathering – with:
a king size bed and bathroom ensuite in the first bedroom
two king singles in the second, and
two double sofa beds and a single bed in the lounge.
All accommodation options have minimum night stay requirements.
Please contact Lillydale Farm on (00 61) 7 5544 3131 for more info or book online here.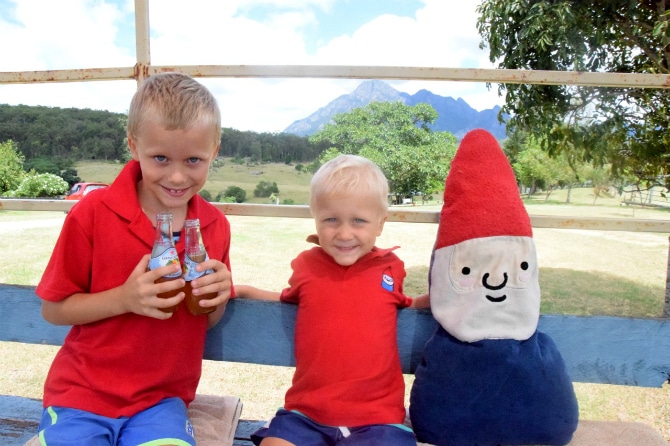 Where to eat at Lillydale Farm Brisbane
We suggest bringing your own food.
It's a fair hike back to town (40 minutes to Beaudesert or Boonah).
Bring these foods to see you through:
Eggs
bacon, sausages or steaks
turkish bread
milk, cereal
OJ or apple juice
tomatoes, salad stuff
bread for toast and sandwiches
sandwich fillings
vegemite, honey, jam
a few snacks and treats, and
the essential coffee and tea supplies, and sugar if you need a little sweetness in your day.
Oh, and don't forget a bag of marshmallows just in case!
Lillydale Farmstay also offers meal packs and pre-ordered cooked meals for those staying overnight, but these must be arranged in advance.
---
RELATED: Ultimate Guide of the Best Picnic and Road Trip Foods & Snacks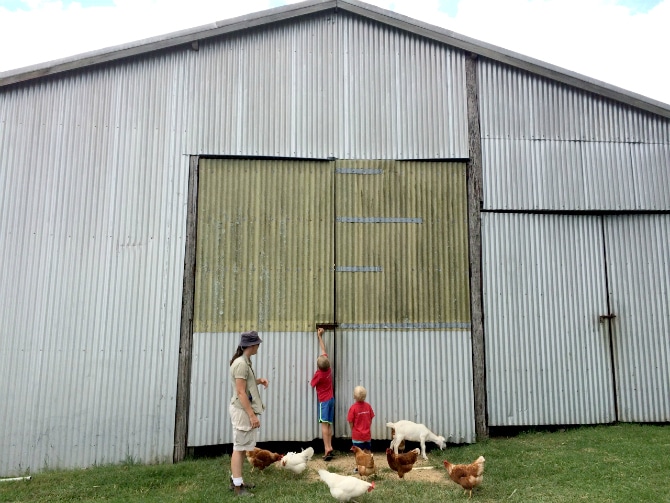 Did you know?
Eco Certified Advanced EcoTourism Status
Lillydale Farm has Eco-Certified Advanced Ecotourism status for their work in sustaining the environment and koala corridors habitat protection.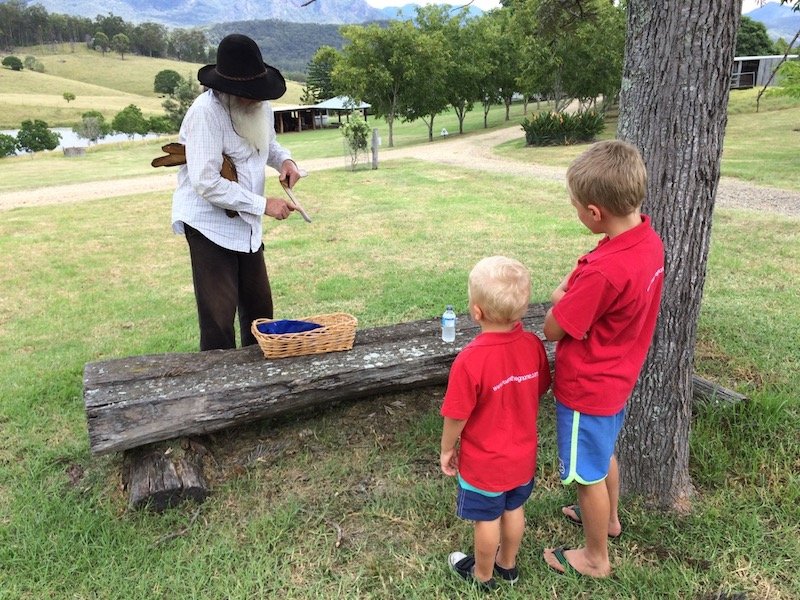 QLD Tourism Awards Hall of Fame
Lillydale Farm has been inducted into the Queensland Tourism Awards Hall of Fame!
They won three years in a row!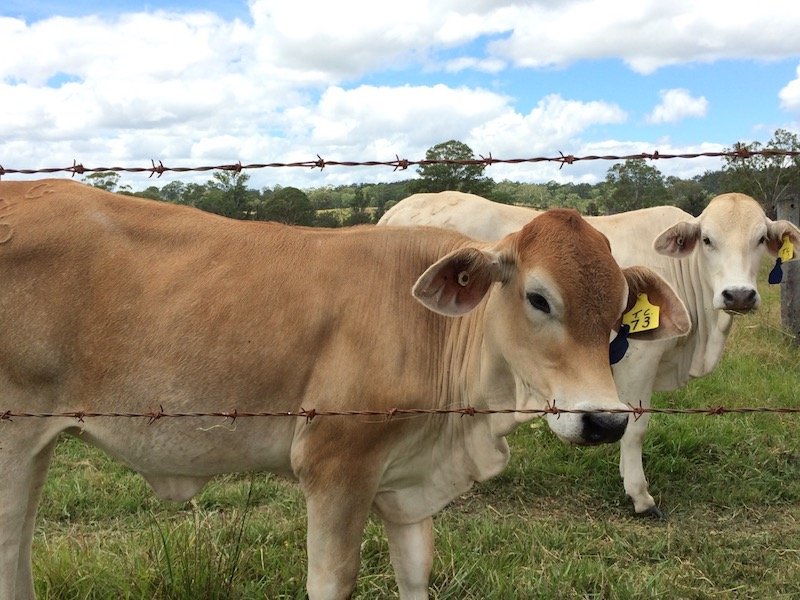 THE INSIDE SCOOP: Lilydale Farmstay Brisbane
*** Unfortunately, Lillydale Farmstay is now permanently closed***
Correct at time of publication on Roam the Gnome. Please check with venue for updates. We apologise in advance if there have been any changes we are unaware of. All prices in Australian dollars, unless otherwise stated
Address: 821 Upper Logan Road, Mount Barney QLD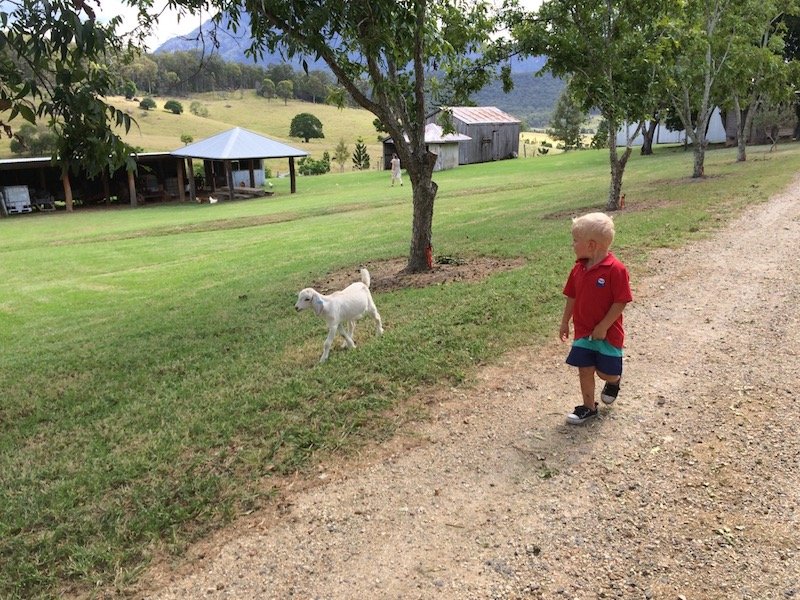 Day Tripping at Lillydale Farm
For those wanting a day trip only, there's three options: Animal Feeding Tours, Full Day Tours, or an Easy Farm Day for the Family.
Morning tea may be included for day visitors. Please ask when booking your tour.
There's plenty of shaded areas, and picnic tables for a picnic lunch or snack break.
How much is a Lillydale Farmstay day trip?
Prices start from $70 AUD per person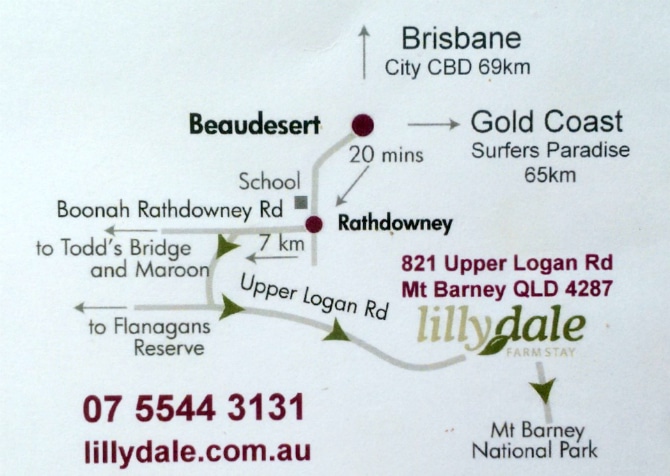 How to get to Lillydale Farmstay near Brisbane (a little mudmap for you!)
The only way to get to Lillydale Farm as a family or small group is by private car (your own or a hire car) or by arranging a drop off/pick up.
The roads are sealed so there's no need for a 4WD.
Do be careful on the roads, as there are many twists and turns on the way, plus spectacular scenery that will be clamouring for your attention!
Try:
You can always fly in by helicopter too!
Pterodactyl Helicopters are happy to arrange transfers. Contact Captain Mike at [email protected]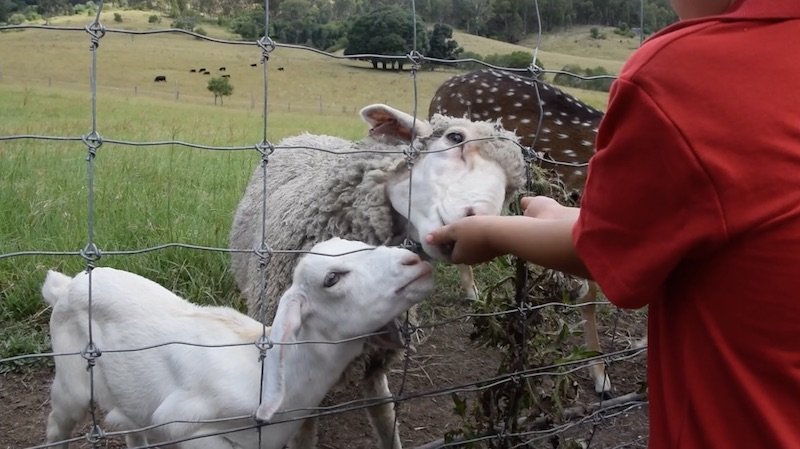 By Car:
Travelling south from Brisbane, take Beaudesert Road, this name changes to Mt Lindsay Hwy.
Travelling west from the Gold Coast, take Beaudesert Nerang Rd to Beaudesert.
Continue on through Beaudesert and into the township of Rathdowney.
On the south side of town, turn right after the state school, onto Hwy 93 (Rathdowney-Boonah Rd).
Take the next major left on to Upper Logan Road (if you go over Todd's Bridge you've gone too far).
At the next 'T' junction turn left and continue along Upper Logan Road (also signed to 'Yellowpinch').
If you get at all confused follow the signs to Mt Barney National Park to the end of the bitumen.
'Lillydale' signs on your left announce your arrival.
Just up the winding, tree-lined driveway is your country retreat!
Lillydale Farmstay Map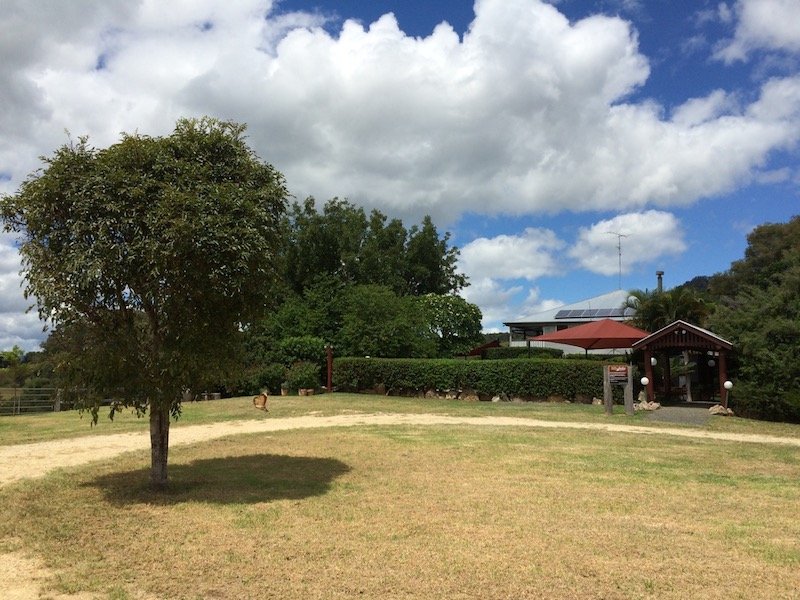 Parking at Lillydale Farm
Parking is on the grass at the venue.
Toadstool Rating: Lillydale Farm Stay near Brisbane
If Ned had his way, this farm stay activity would rate as 10 TOADSTOOLS!


Looking for more fun things to do in Brisbane with kids?
Click the blue links below for more Brisbane tips