INSIDE: Everything you need to know about Laguna Park Playground.
If you are visiting the Gold Coast with kids, you need to know about Laguna Park playground.
Laguna Park fenced playground is down the southern end of the coast, in the suburb of Palm Beach but not beach side.
It's hidden among the houses.
Which makes it one of the best kept secrets of the Gold Coast things to do for kids.
Take a sneak peek at this fun Gold Coast playground below.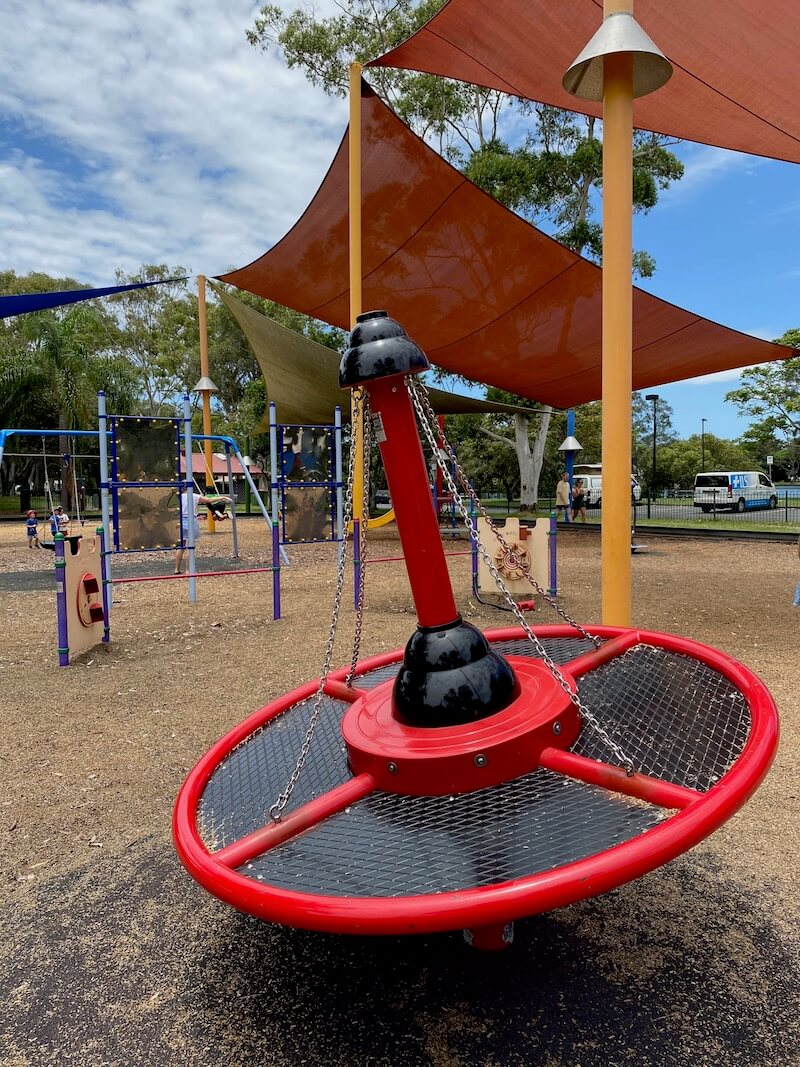 THE INSIDE SCOOP: Laguna Park Palm Beach
Disclosure: This article contains affiliate links. If you make a purchase after clicking on one of these links, we may receive a small commission at NO extra cost to you
This is one of the two best parks in Palm Beach.
First of all because it's fully fenced, and keeps kids away from the lake next door.
The other is Palm Beach Pirate Park.
It's one of the best Gold Coast playgrounds too, and you can hit both in one day.
RELATED: Big Round Up of the Best Playgrounds on the Gold Coast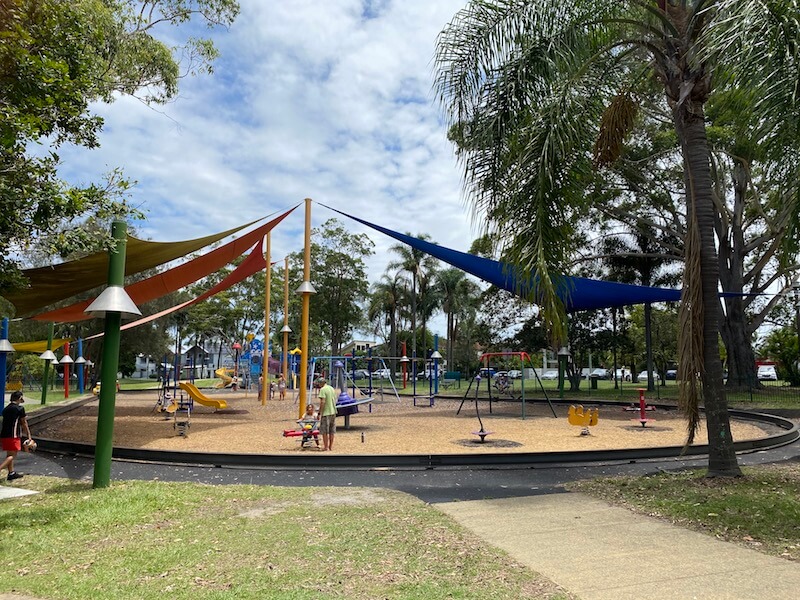 Best Things to do at Laguna Playground Gold Coast
Palm Beach Laguna Park playground is HUGE.
It's divided up into four sections:
Giant Fort playground
Pirate playground
Monorail track ride
General playground inside the monorail pedal ride track (including Laguna Park Liberty Swing)
Check out each section below.
RELATED: Top 20 Best Things to do on the Gold Coast with kids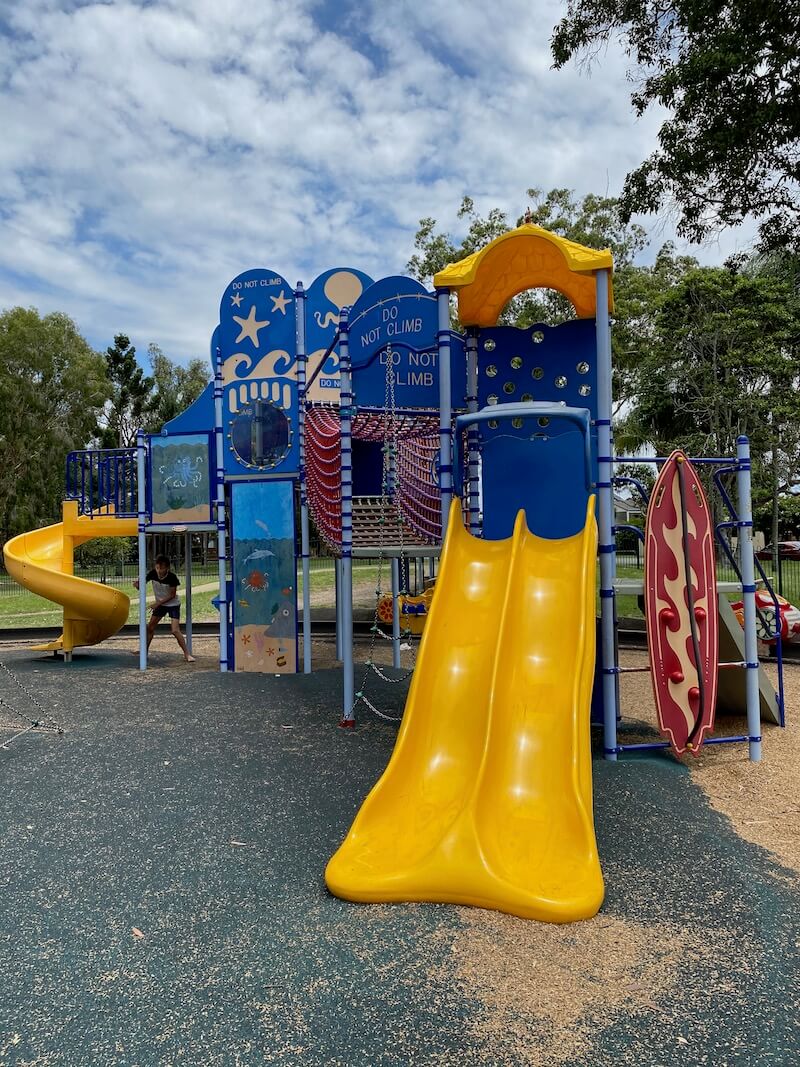 No.1: Palm Beach Laguna Playground Fort
The Laguna Park fort is a HUGE three storey climbing playground.
There's:
a twisty slide
dual slides for racing
tunnels, and
climbing stairs to get in, up and around.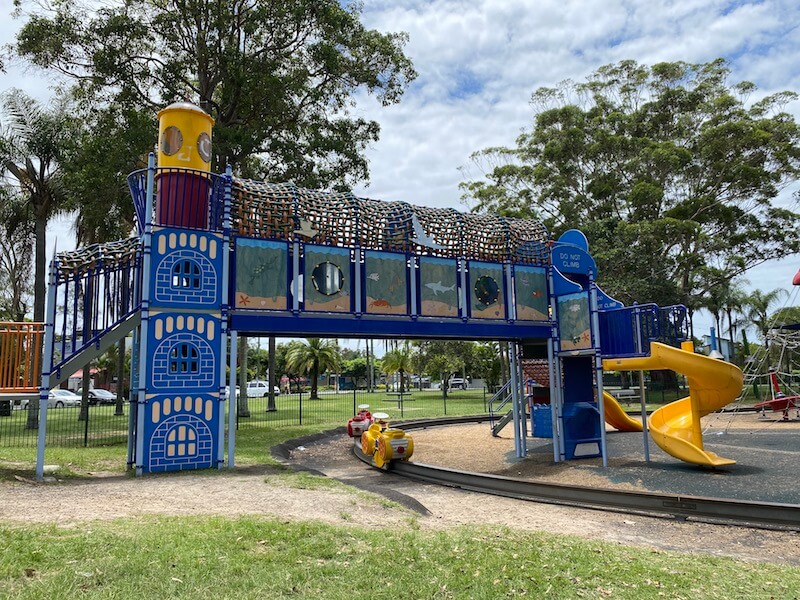 The fort straddles the monorail track.
There's viewing platforms for kids to watch their friends from up high.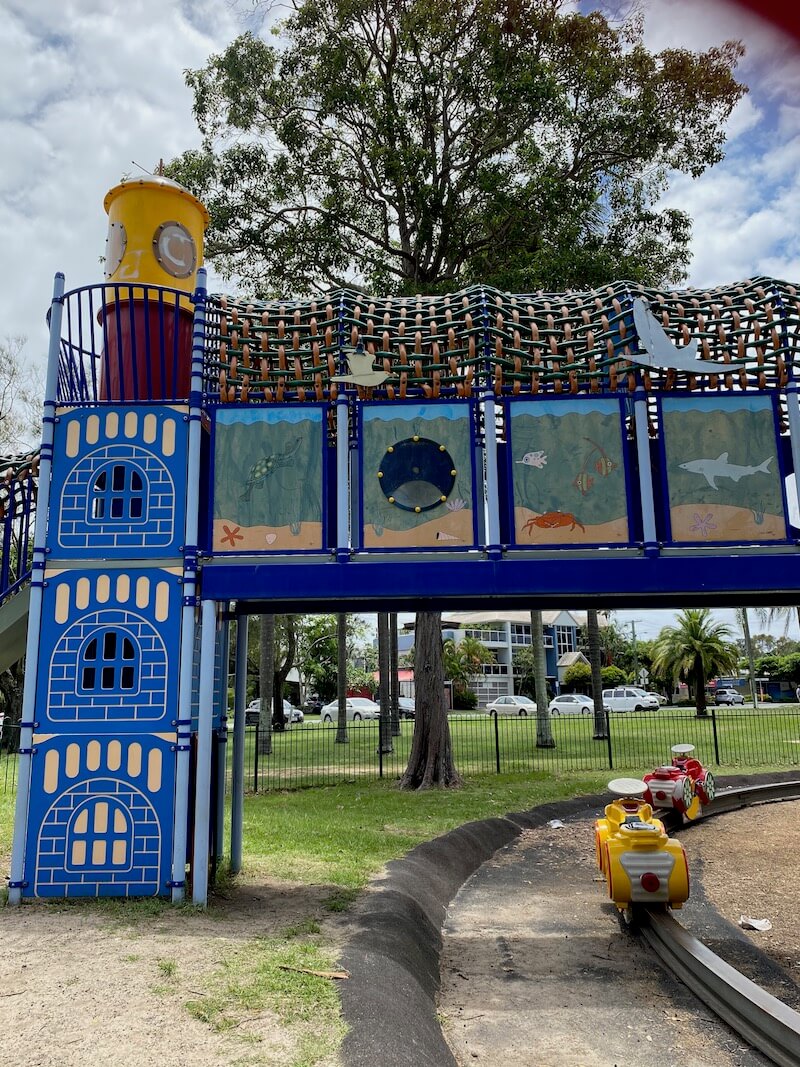 It's also OCEAN themed!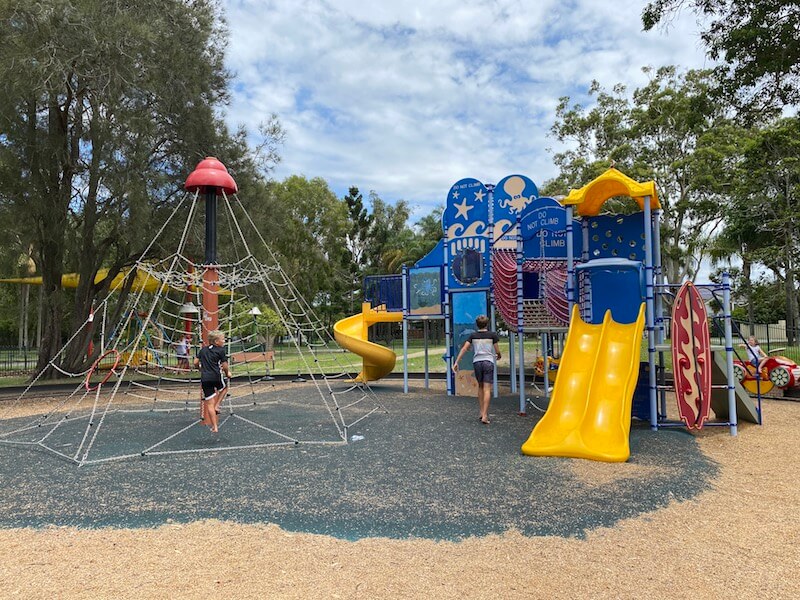 Check out the Surfboard climbing wall on one side.
Next to the fort, you'll see a pyramid climbing structure too.
RELATED: Best Gold Coast Suburbs for Family Holidays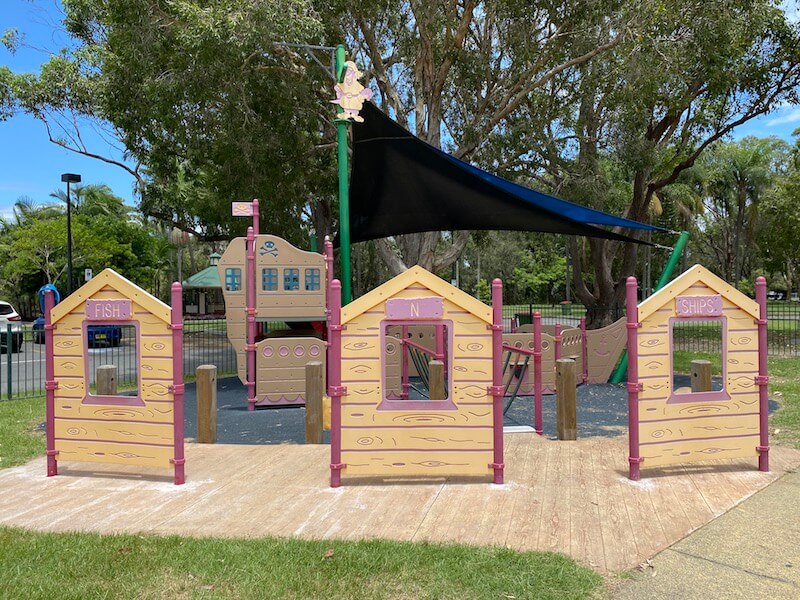 No.2: Pirate Boat playground
If you stand with the fort behind you, you'll spot this to your right.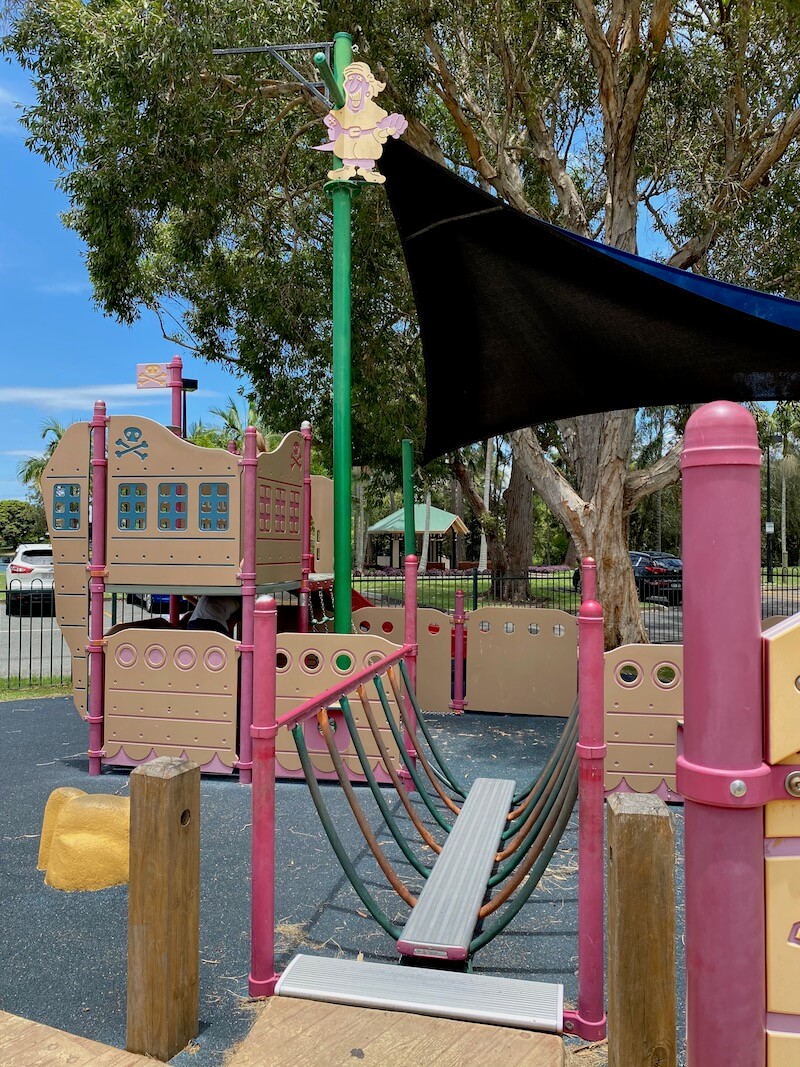 Walk the rope bridge and you'll spy a pirate boat.
And a skull and cross bones flag!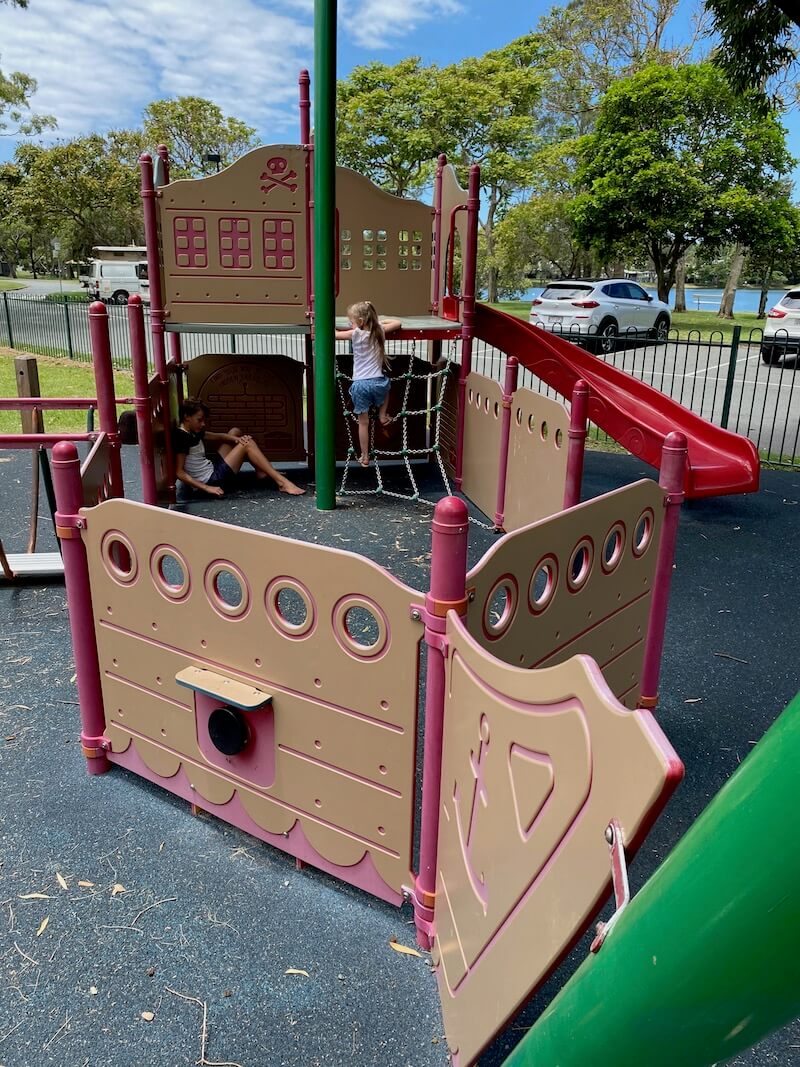 Kids can climb the chain link ladder to get to the upper level lookout.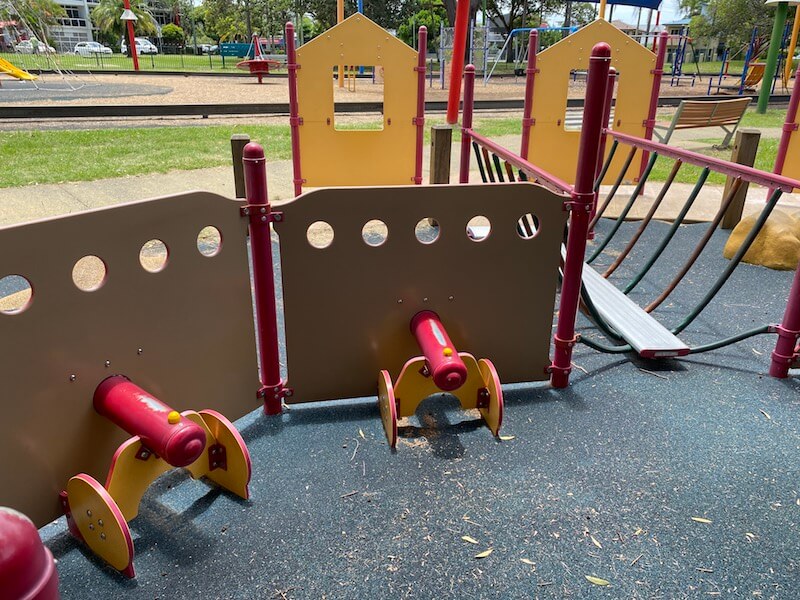 Or hide out behind the cannons to stop unwanted guests!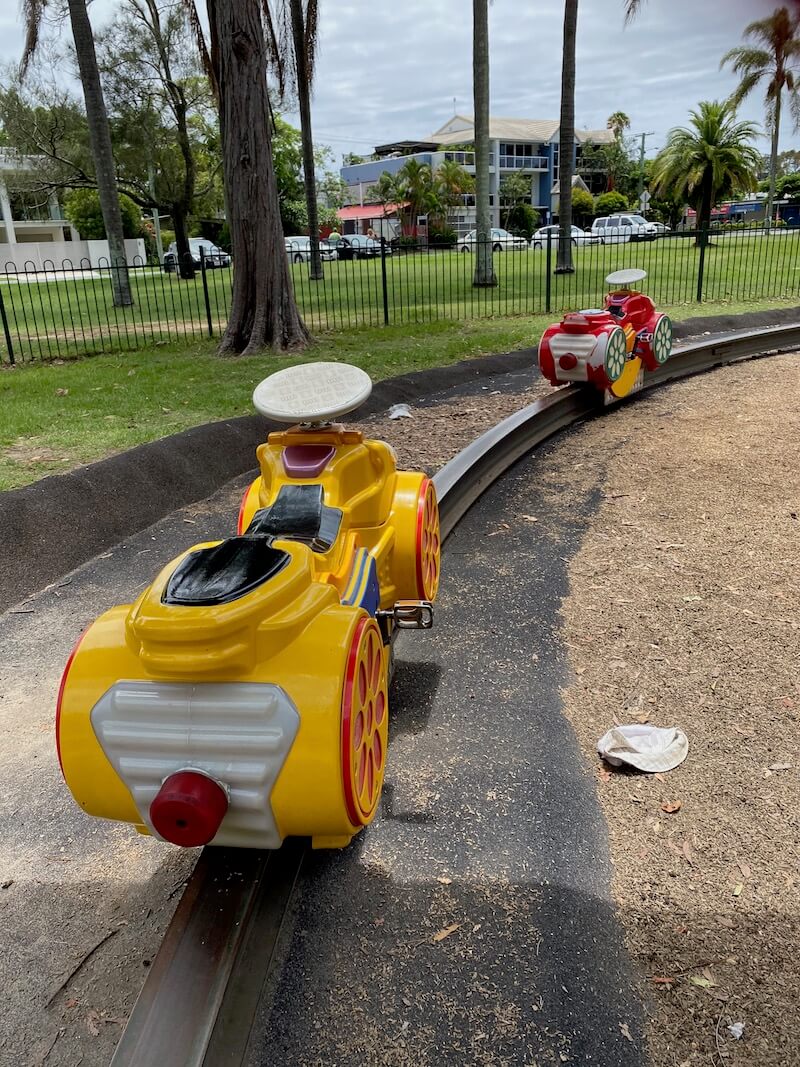 No.3: Pedal Power Monorail ride
The highlight for most kids (and parents) at this local GC playground is the monorail ride.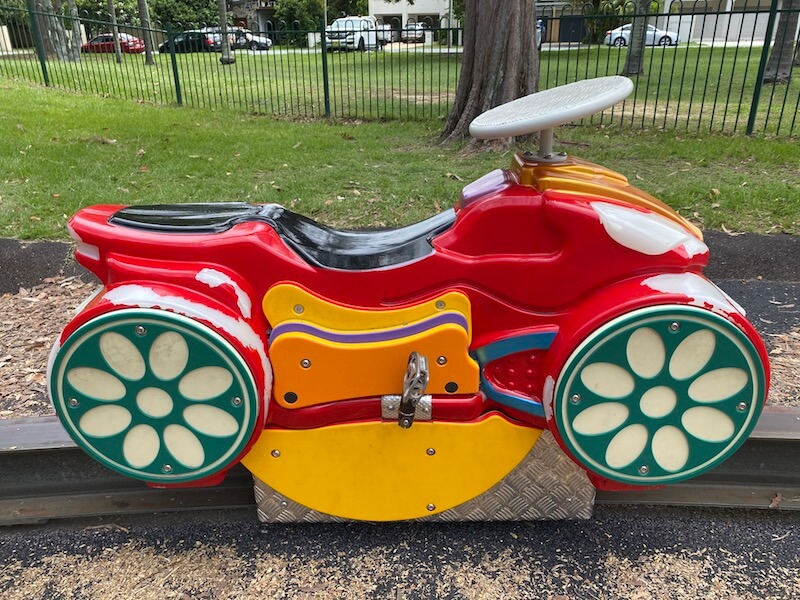 Newly updated, these monorail cars have been resigned to stop stray fingers from getting stuck underneath.
There's two cars, and each car seats two.
Kids may need a push to get going, and they love nothing more than mum or dad helping them out to beat the other team.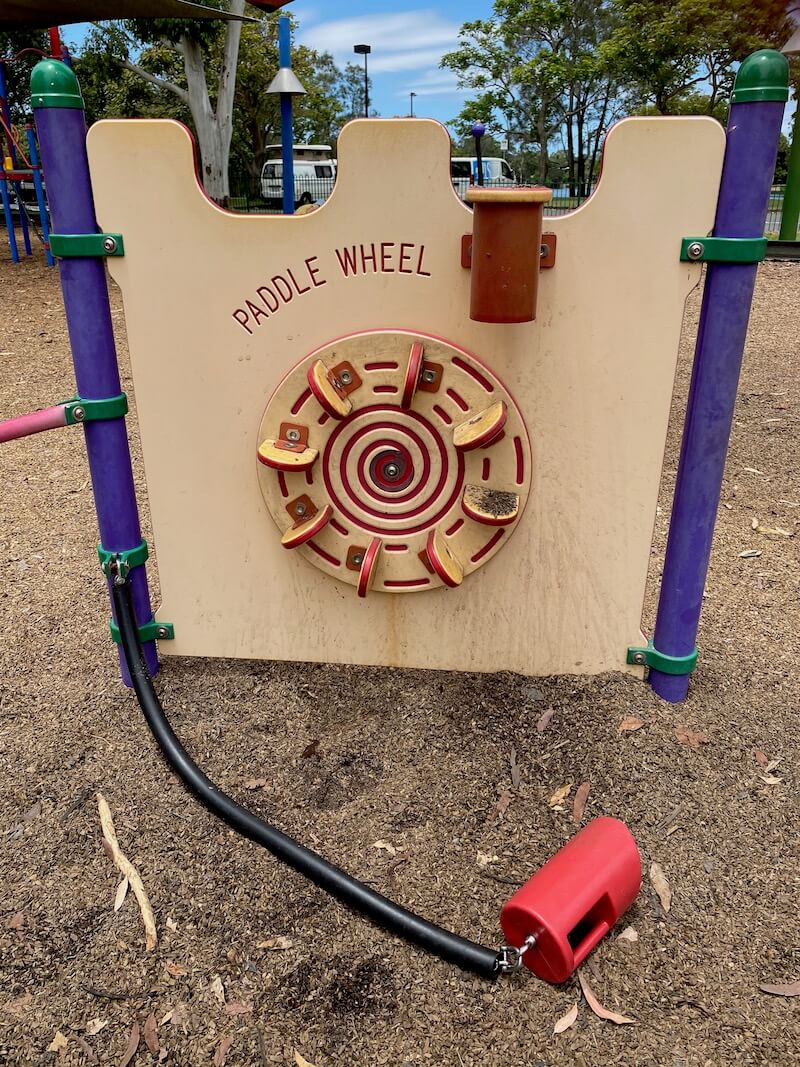 No.4: More Laguna Park Playground Equipment
Scattered around the park are MORE things to do.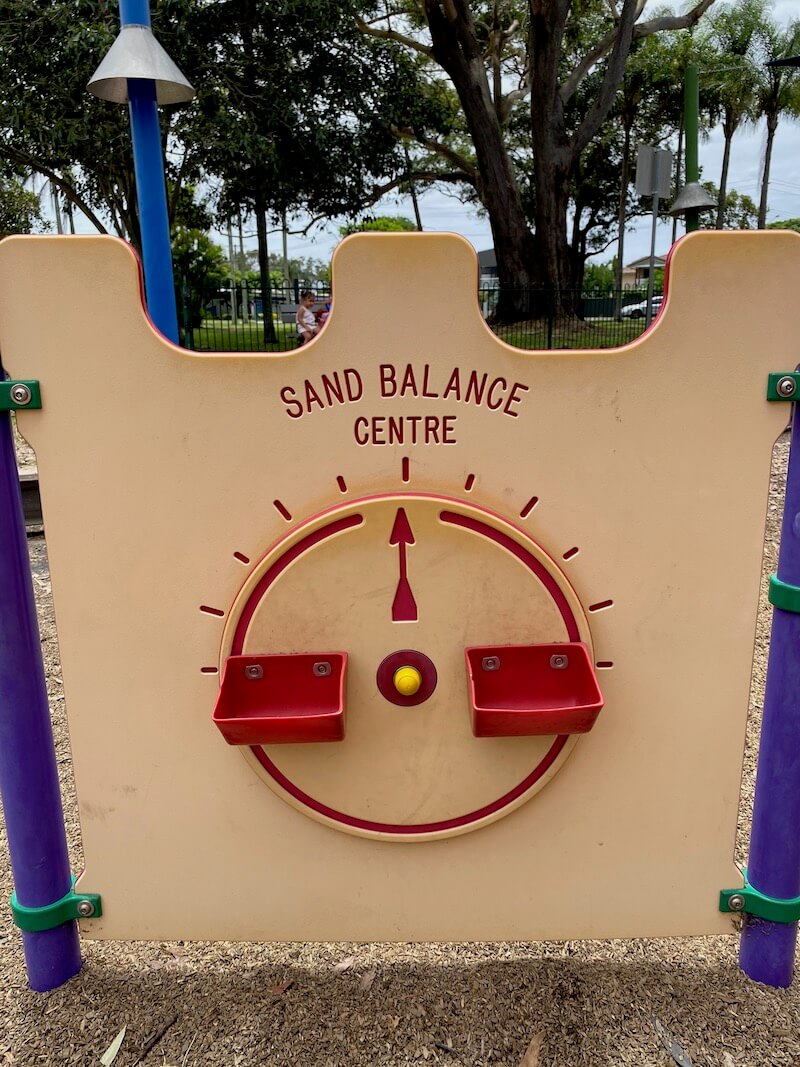 No.1: Activity centres
There's a paddle wheel game.
And a sand balance centre.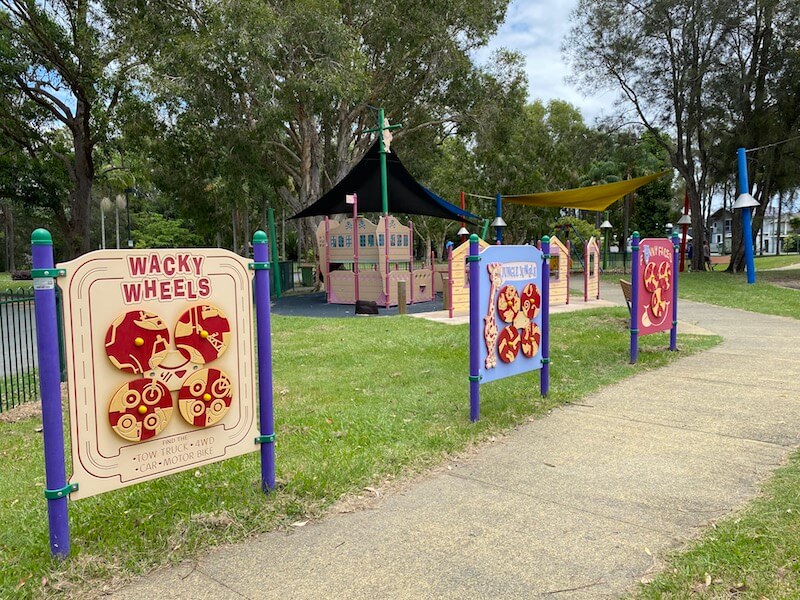 Plus, wall activities including these three.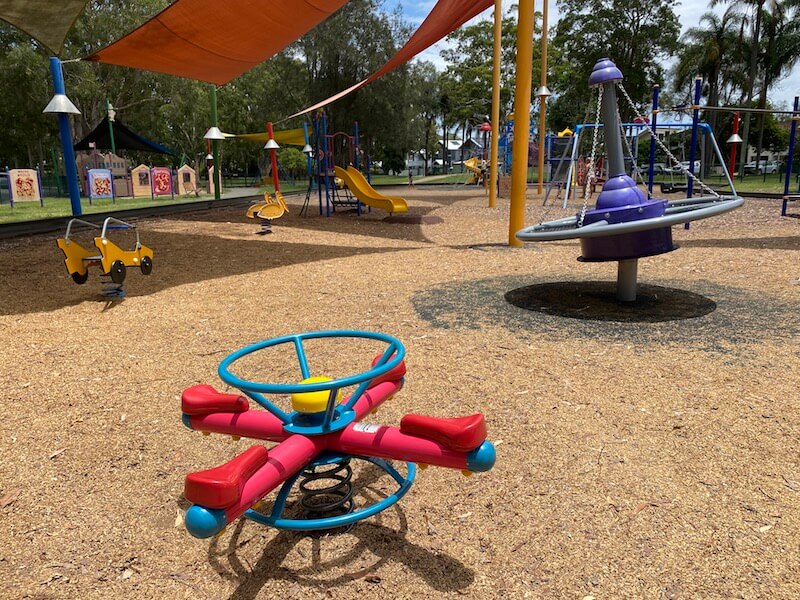 No.2: Seesaws
This four person seesaw is good for kids under 5.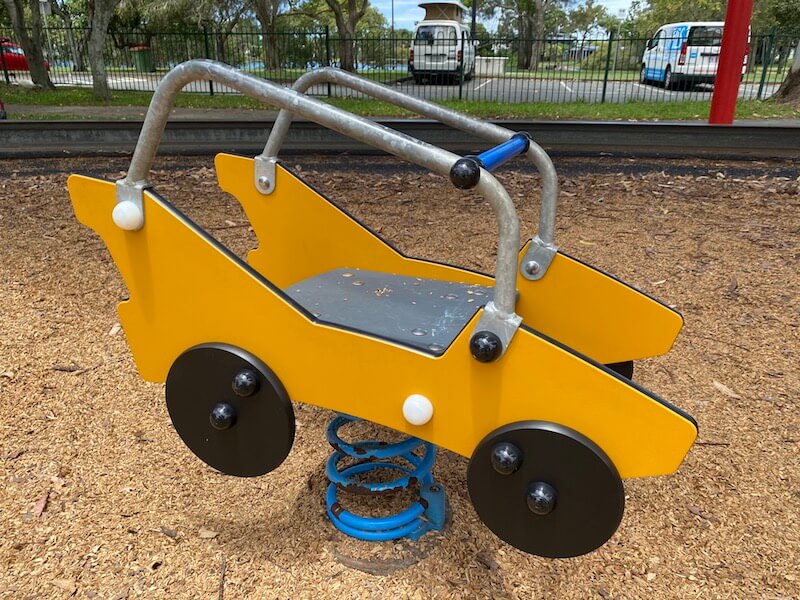 No.3: Toddler Rockers
And toddler wobble cars (and a pelican too!)
Hot tip: Did you know you can feed wild pelicans on the Gold Coast?
(It's not far from here, at Tweed Heads)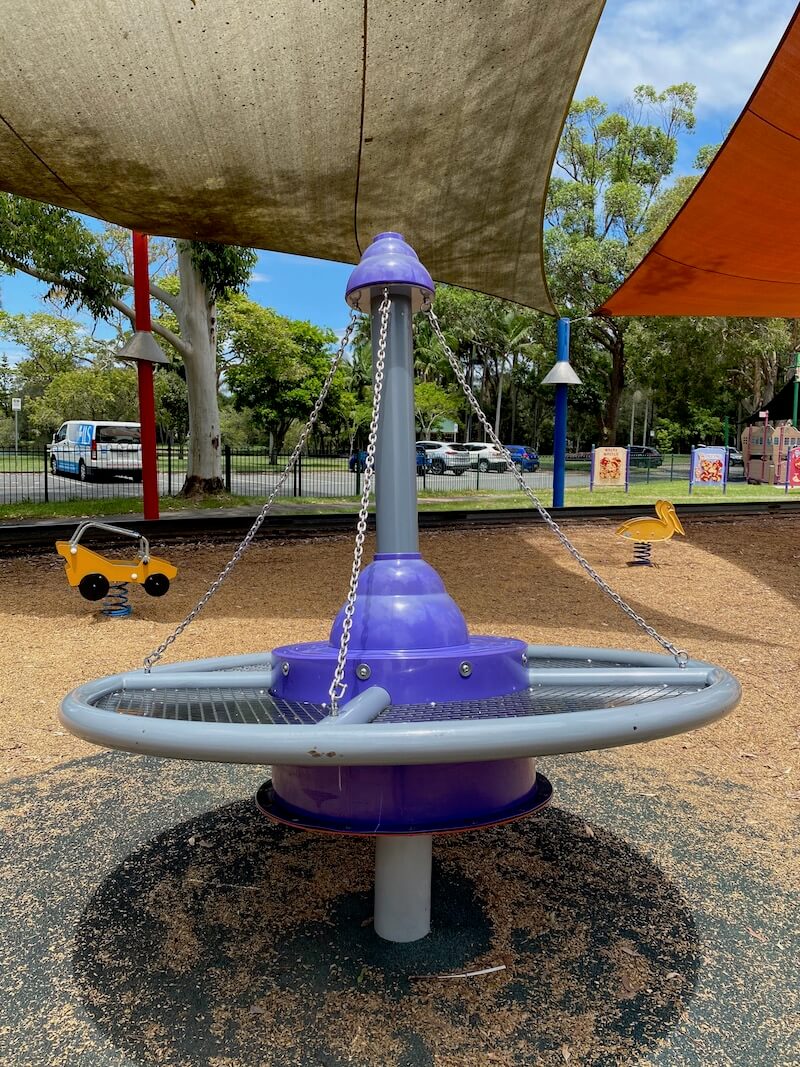 No.4: Stand up spinner
One for the young at heart too!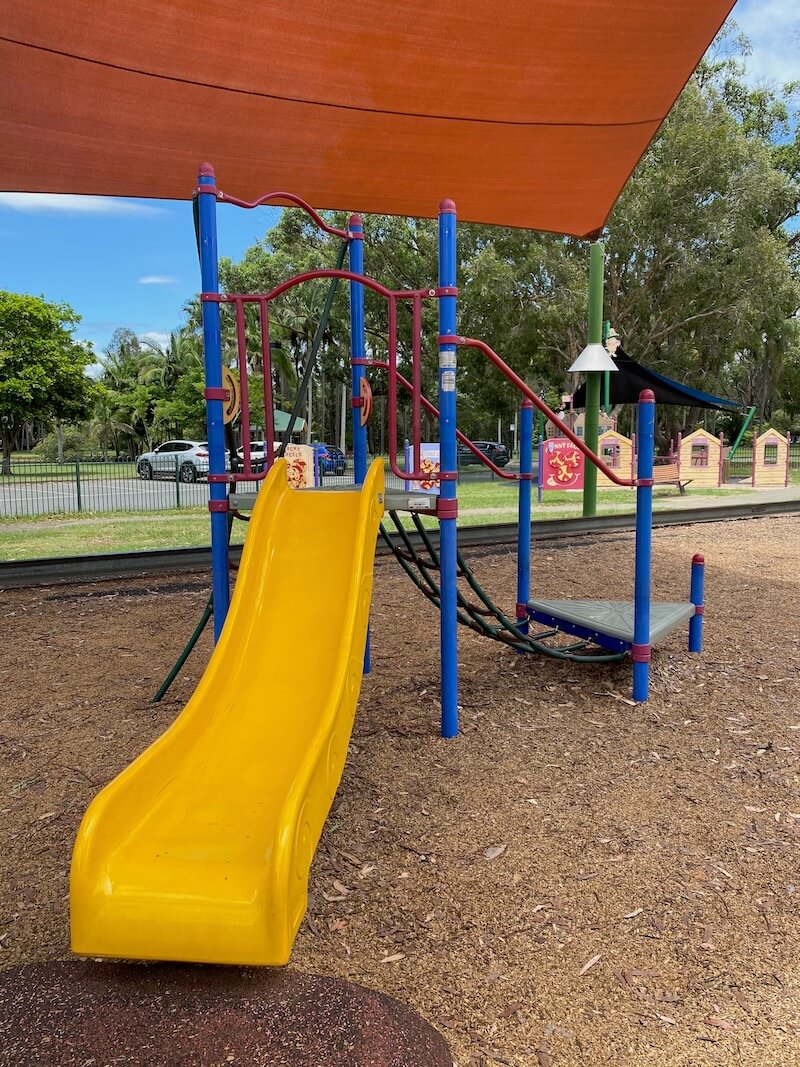 No.5: Toddler playground
There's a small climbing fort for the younger kids too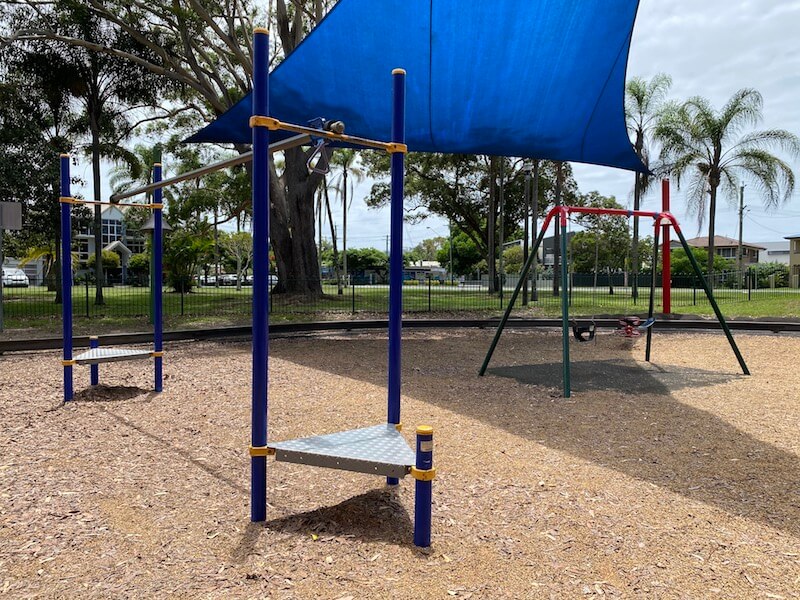 No.6: Swings and zip line
Swings for big kids and toddlers, and a short slide bar too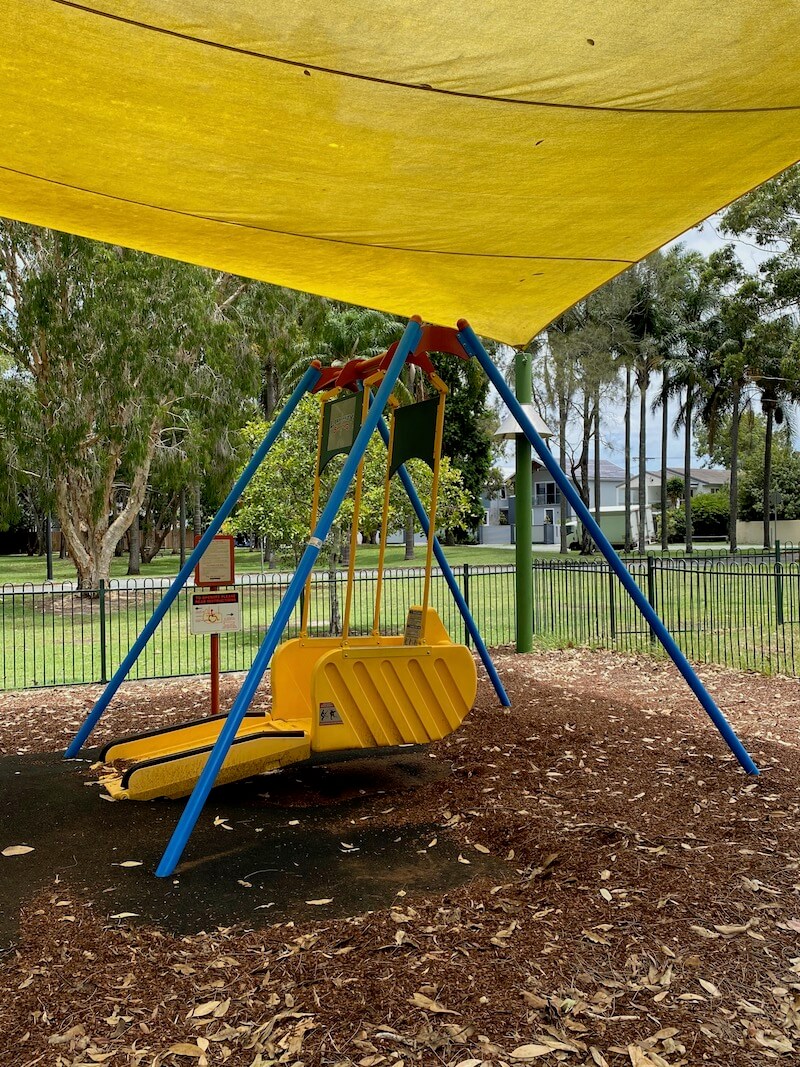 Laguna Lake Park Liberty Swing & Accessibility
Children of all abilities can access Laguna Park playground.
(Pick up the key before you arrive. Details here.)
There's also this all abilities swing too.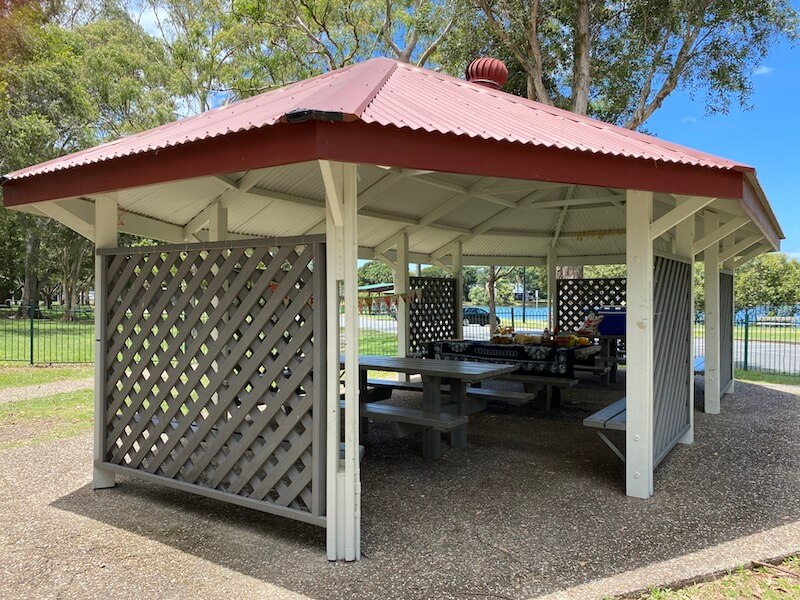 THE INSIDE SCOOP: Facilities at Laguna Park Palm Beach QLD
Correct at time of publication on Roam the Gnome. Please check with venue for updates. We apologise in advance if there have been any changes we are unaware of. All prices in AUD dollars, unless otherwise stated
Where is Laguna Park on the Gold Coast?
Address: 130 Laguna Ave, Palm Beach QLD 4227
NOTE: Laguna Avenue is kind of a ring road. The playground road entrance is on the part of the road that runs almost parallel to the GC highway, not the bit that joins Second Ave.
Opening hours: Sunrise to sunset
What to bring: Bring your mossie spray and sunscreen.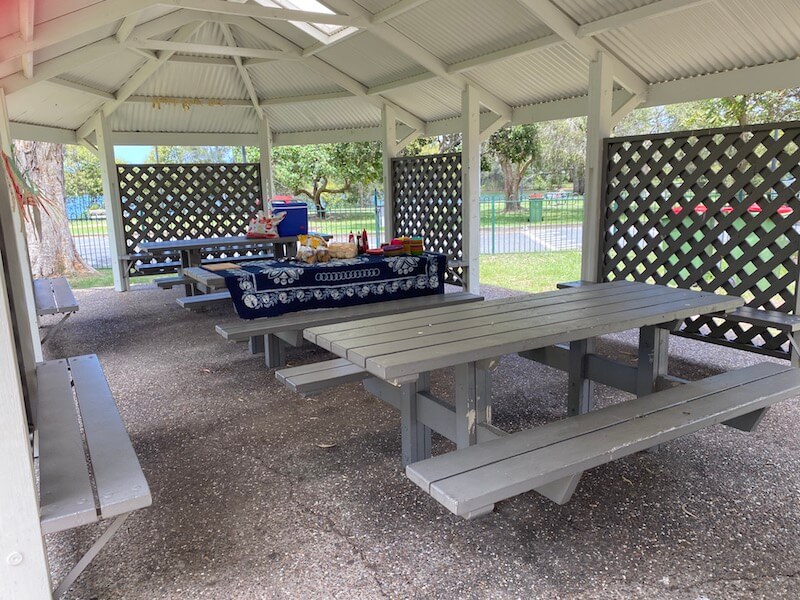 Laguna Park picnic tables
BYO bbq or picnic supplies and enjoy lunch in one of the Laguna Park picnic areas.
There are three tables inside this hut, plus bench seating.
There's a water bubbler just outside the hut too.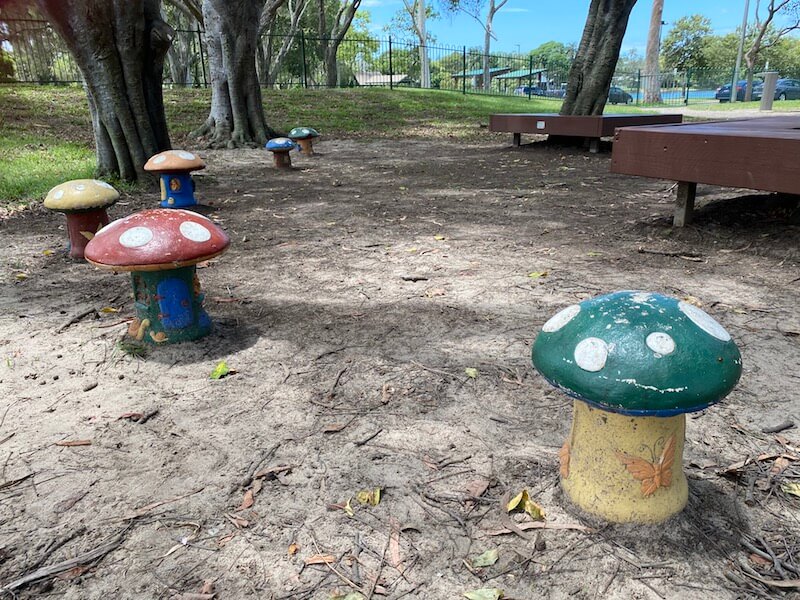 MORE picnic benches & toadstool seats
There's also seating platforms and bench seating throughout the park for impromptu gatherings or picnic eats and snacks.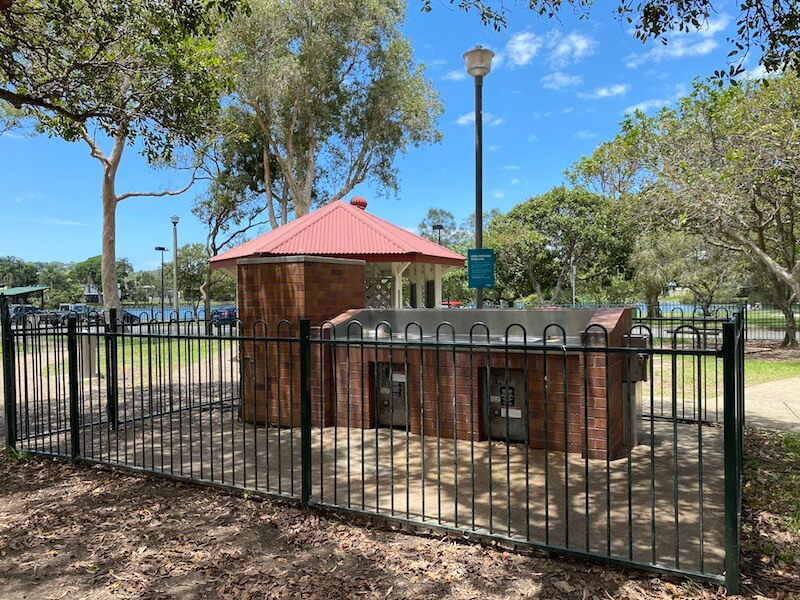 Laguna Park BBQs
Yes, there are BBQ facilities.
FREE of charge!
BYO paper towel and cleaning stuff in case you arrive before council does.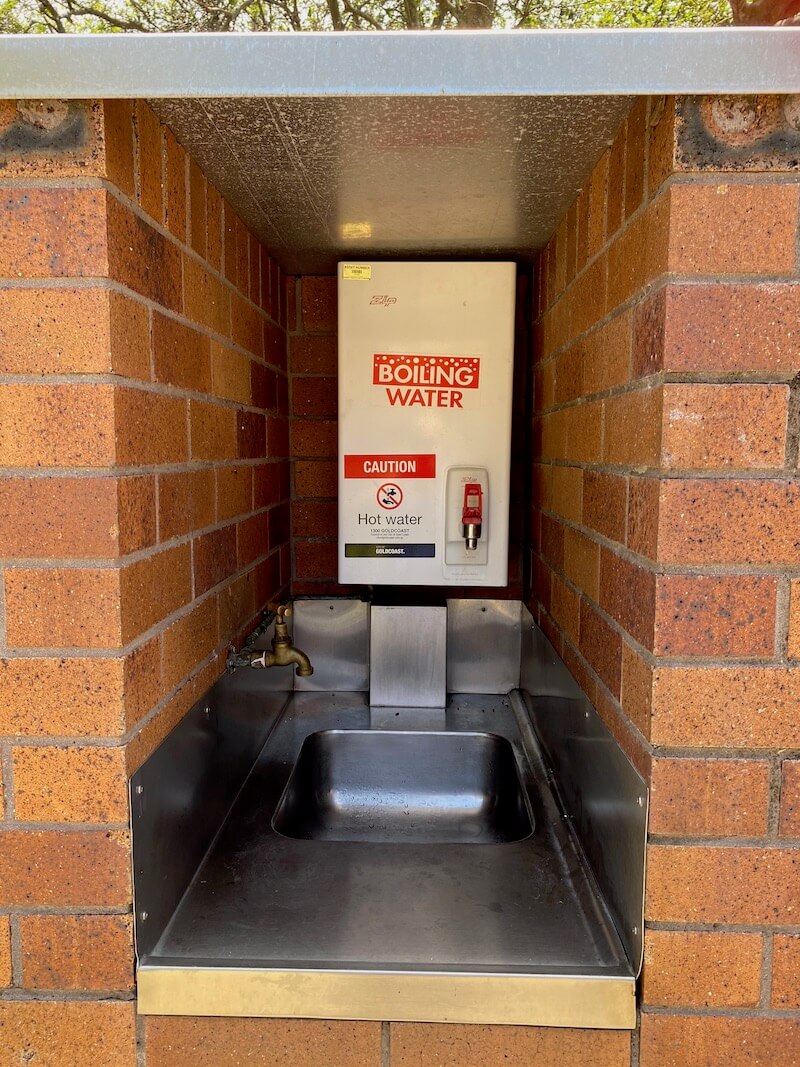 Is there hot water at Laguna Park Palm Beach Gold Coast?
Yes.
BYO mugs and teabags.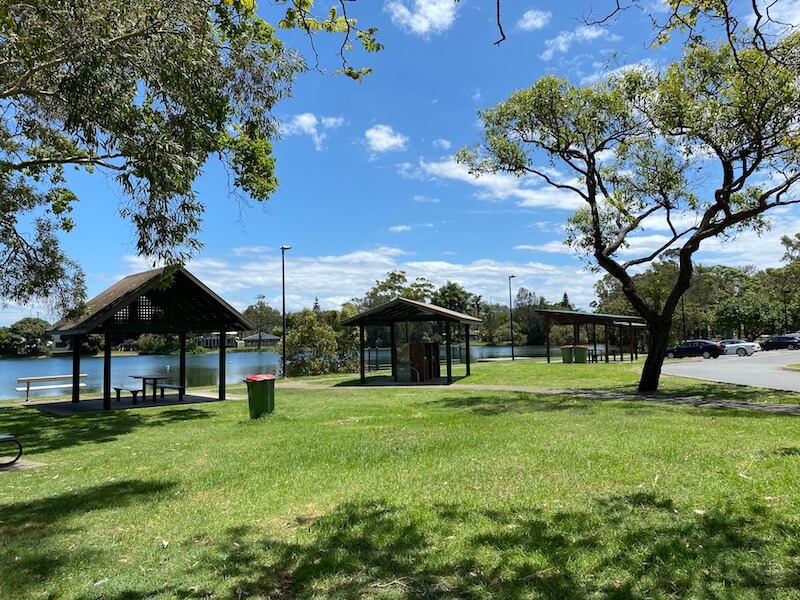 Laguna Park picnic area
Outside the fenced playground, there are MORE undercover tables, chairs and BBQ facilities.
Beware the lake if you have small children with you.
Laguna Park toilets
The only downside to this park is that the toilets are at least 50 metres walk from the playground.
That's a big walk for toddlers who are busting.
They are not always open either, if council are running late.
Just a heads up.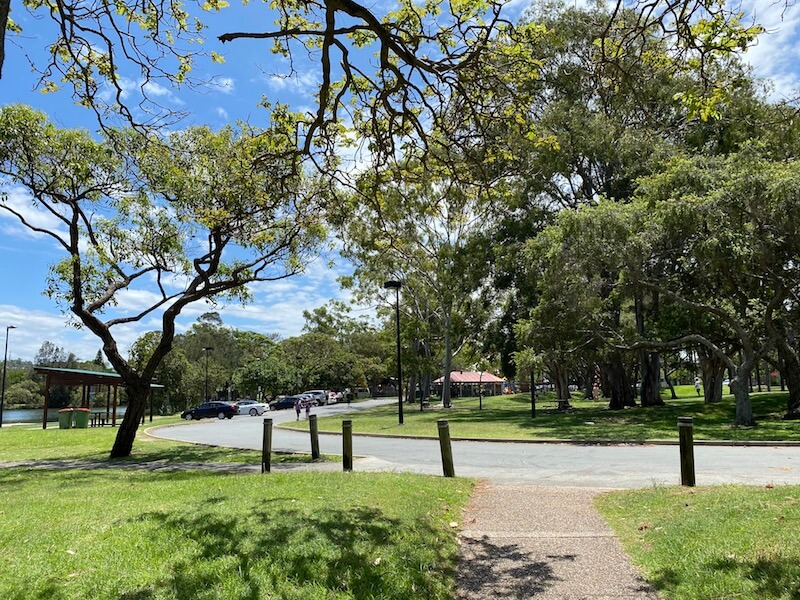 How to get to Laguna Park Palm Beach QLD
By Car: Click here for google map directions
By Bus: You can get here by bus. Catch the bus to Palm Beach and alight on Thrower Driver. (Ask the bus driver for the closest stop)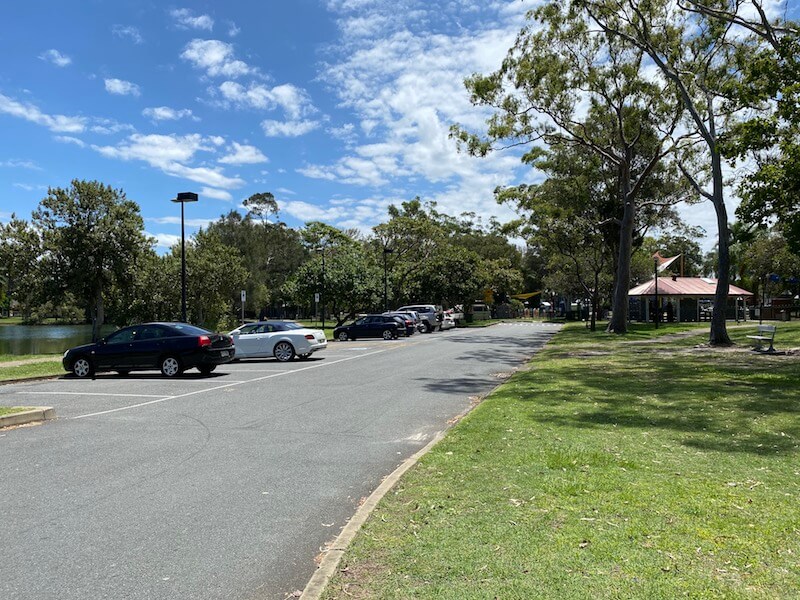 Parking at Laguna Park Palm Beach
There's lots of free parking all along the lakefront, as you drive in off the Laguna Avenue.
(Pictured above)
Laguna Park map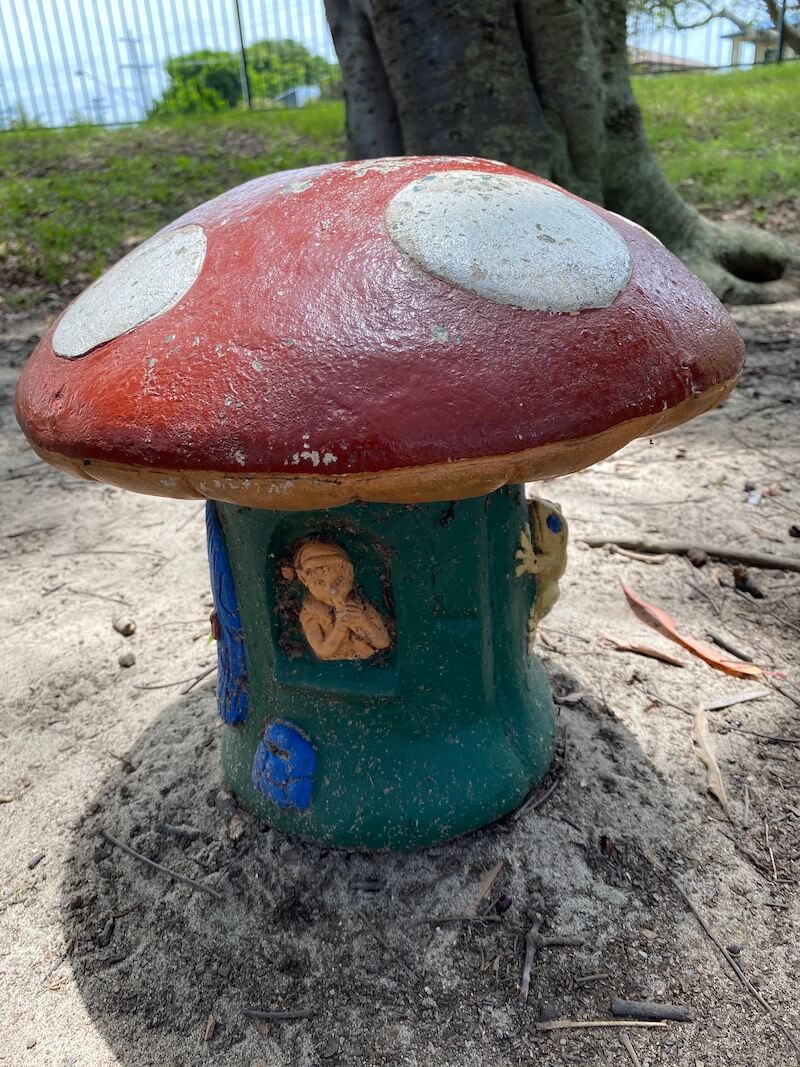 Toadstool Rating: Laguna Park GC

Looking for more things to do on the Gold Coast with kids?
Click the blue links below for more Gold Coast and Surfers Paradise tips