INSIDE: Everything you need to know about the Keramas Aero Park restaurant in the sky!
There's plenty of restaurants in Bali surrounded by rice fields and sky-high flying kites, but did you know there's one Bali restaurant where you can eat INSIDE a giant aeroplane?
A Boeing 737-400 Series to be exact?
It's true!
Read on for details of the Keramas Aero Park restaurant experience.
Disclosure: This article contains affiliate links. If you make a purchase after clicking on one of these links, we may receive a small commission at NO extra cost to you.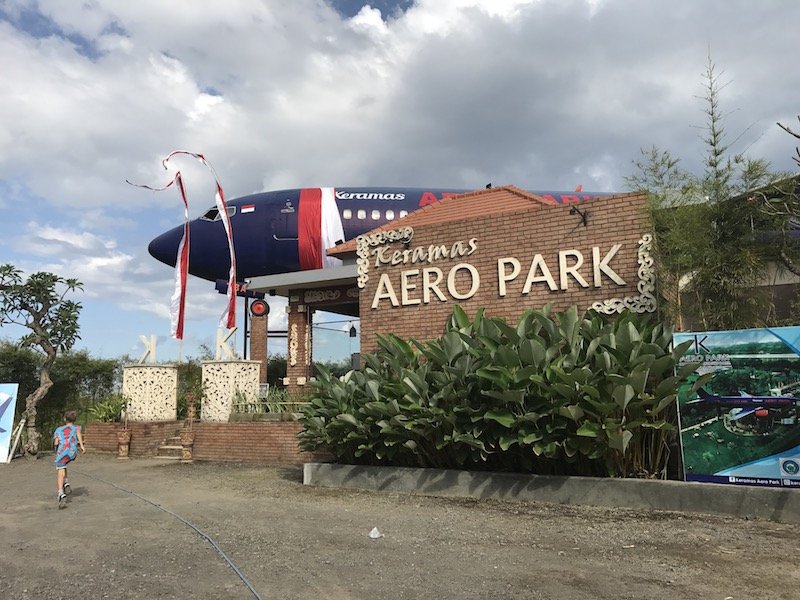 Guide to Keramas Aero Park Bali
This quirky fun restaurant and awe-inspiring photo opportunity can be found at the Keramas Aero Park along the Keramas Beach section of the Ida Bagus Mantra bypass.
Keramas Aeropark opened on October 15, 2016
Surprisingly, this Bali airplane restaurant is not yet high on the radar of most foreign backpackers, adventurers and family travellers.
So, THIS is a jolly story and unique Bali experience to share with your friends!
---
RELATED: Ultimate Guide of the Best Things to do in Bali with Kids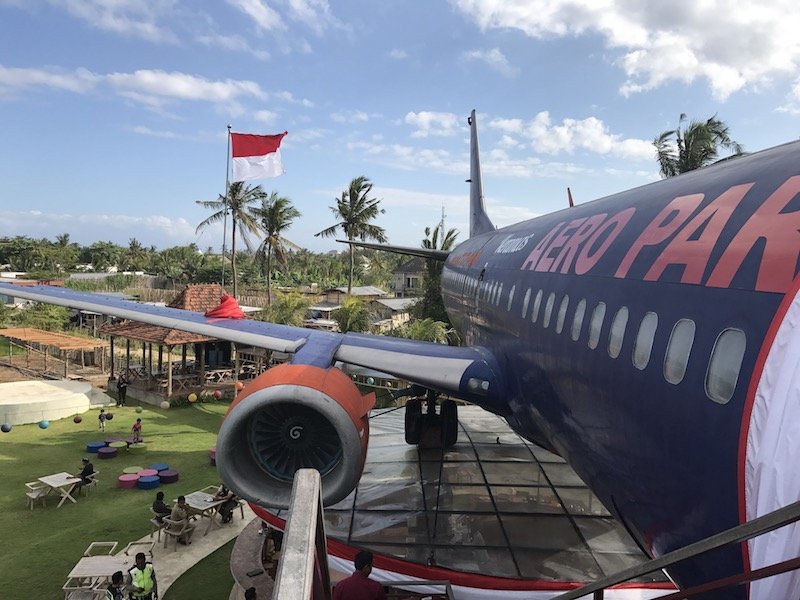 Keramas Aero Park Restaurant
The Keramas Aero Park is a cool place to visit with kids in Bali.
There's a giant grassy area where they can run around, without making too much noise or annoying other guests.
That's a win on all accounts.
The Aero Park Inflight Restaurant where you dine INSIDE the plane might be a different story.
Inside the Bali airplane restaurant
It's a tight squeeze in there, and sounds are MAGNIFIED, so it's best for kids who are aged at least 6 years old if it's busy.
Eating inside the plane is definitely NOT for toddlers, or preschool children aged 3 to 4 years old who have not yet grown out of tantrums, unless it's quiet with few other people around.
It's better for everyone to save this experience until the kids are older so they, and you, can enjoy it more.
We didn't book ahead, so we didn't have the option of eating in the airplane at all.
The staff let us pop our heads in to take a peek (half the fun!)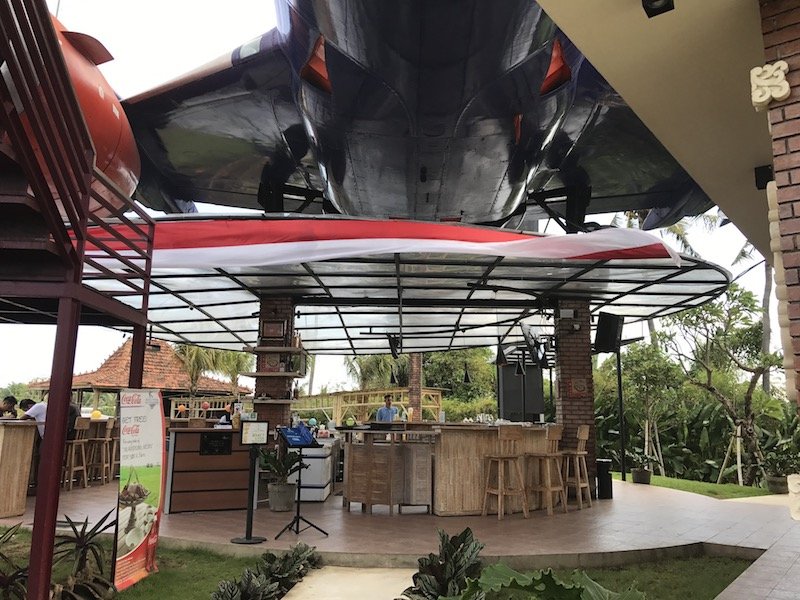 Aero Garden Restaurant
There's seating for meals downstairs if the same thing happens to you.
Hot tip: Don't let it. Book in advance!
We opted for a cold drink.
Luckily, the drinks on the menu are mouthwatering!
Downstairs, the Aero Garden has views over the Helicopter Pad, & The Joglo and Ground Bar is located under the fuselage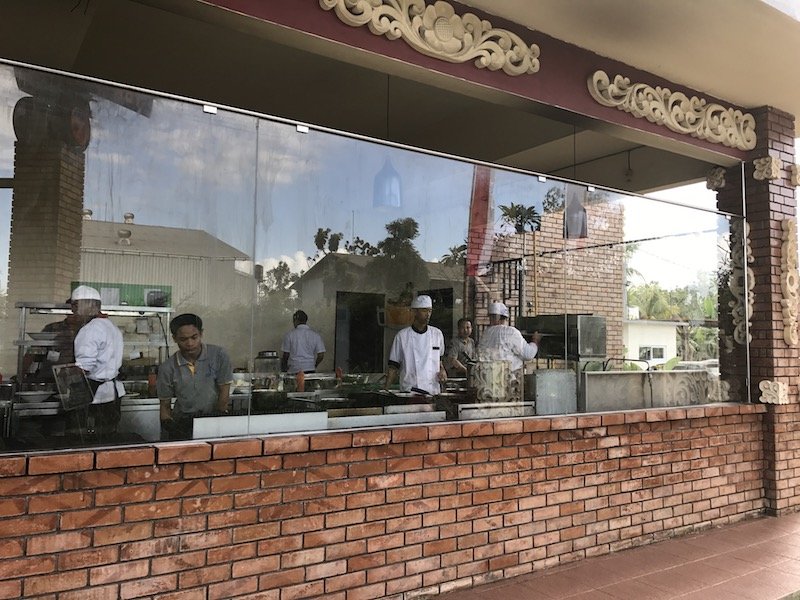 Menu choices at Keramas Aero Park Menu
The Keramas Aero park Bali menu is above average.
Ala carte menu options for the Inflight Menu inside the aeroplane include a variety of traditional Balinese and Indonesian dishes including:
grilled chicken in Lombok spicy sauce
traditional Balinese roasted duck
simmered Thai prawns and vegetables in creamy lemongrass sauce, and
Thai curry
Plus, a variety of western dishes including:
grilled pork chops,
bbq spare ribs
smoked salmon crepes
salads
Vegetarian options including quesadilla, vegetarian nachos, and bean curd steak.
The Garden Alacarte menu has pizza, club sandwiches, beef stroganoff, and pasta dishes too.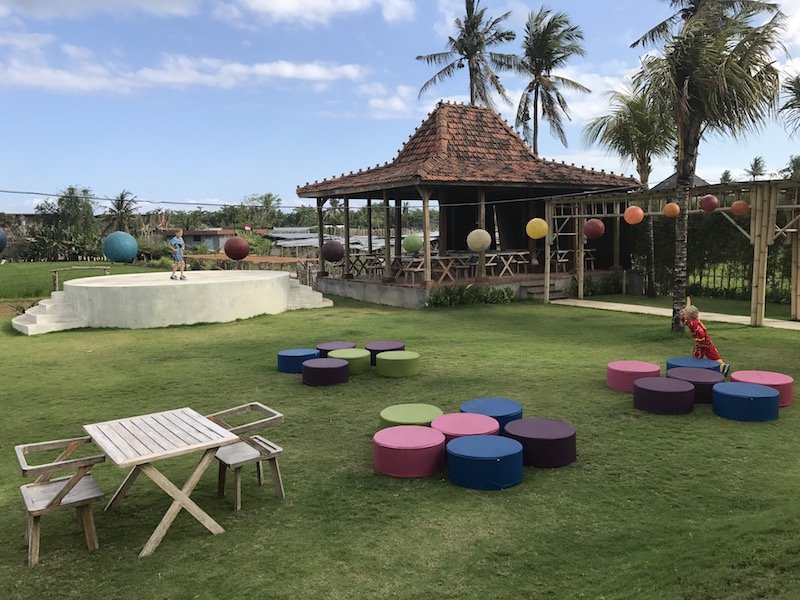 The Kids Menu at Keramas Park
The kids meals at the Keramas Aeropark are named after superheroes!
That's a win.
They can choose from:
grilled chicken sausages (Batman)
chicken wings (SuperWings)
Vegetable Tempura (Doraemon) and

sauté p

rawns (Astroboy)
There's ice-cream, banana fritters, or fruit cocktails for dessert.
Find all the options on the Bali Airplane Restaurant menu here.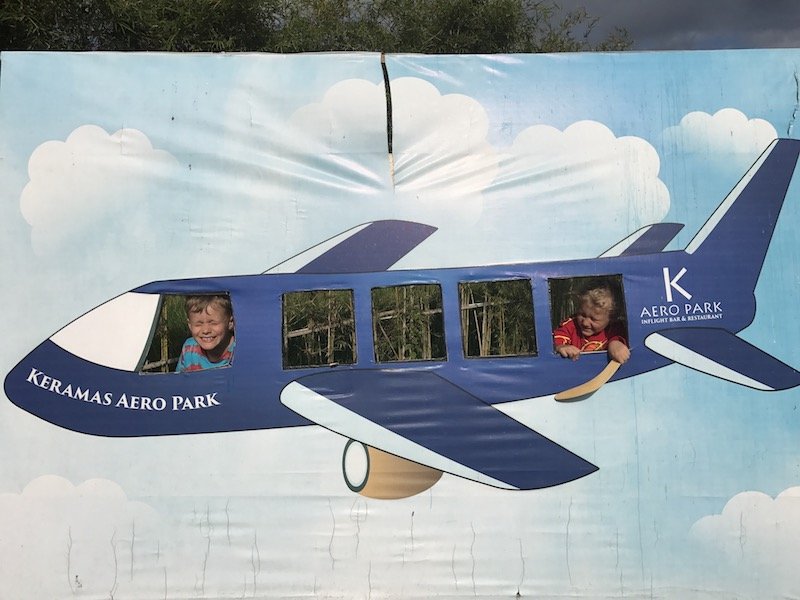 How much does it cost to eat at Keramas Aero Park restaurant and bar?
Prices are mid-range.
Plenty of meal options for around the RP 70,000 – RP 80,000 mark ( $7-8 AUD), and right up to RP 150,000 ($15 AUD)
Kids meals are RP 34,000 to RP 39,000 (under $4 AUD) – a bargain!
Keramas Aero Park Drinks menu
Soft drinks start at RP 19,000 ($2 AUD).
Fresh juices, smoothies, mocktails and milkshakes cost around RP 35,000 – RP40,000 ($3.50 – $4 AUD).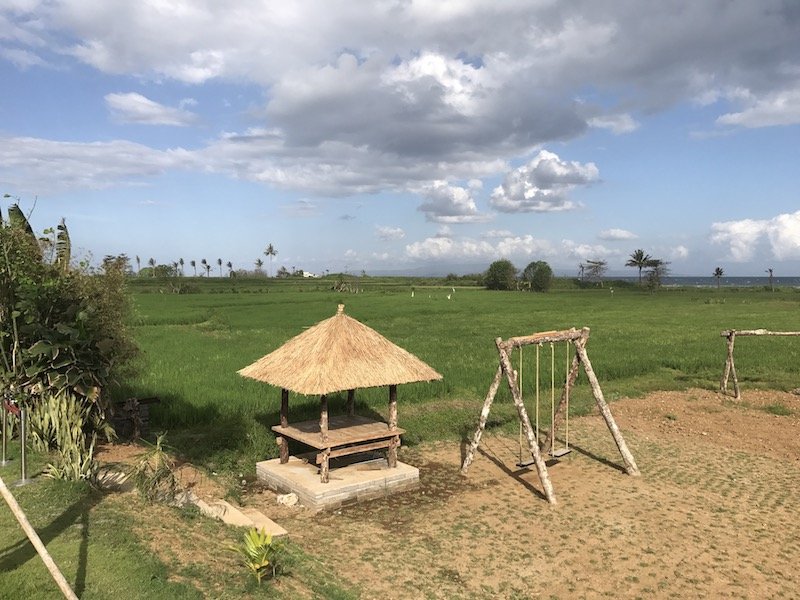 Keramas Aero Park playground
This is another of the best things to do in Bali with kids.
Make a stop.
There's a small basic kids playground with swings, and a climbing frame too.
Keramas WaterPark Bali
The Keramas Water Park is a 12 minute drive away too.
It's another Bali tourist attraction in the Gianyar area, along with Bali Safari and Marine Park.
Kids love:
the giant slide
the toddler water park
the wide yellow slide into the big pool, and
the climbing nets and bridge.
There's a giant Bali swing, ATV driving, paintballs, a foam party, and a zipline too!
Find it at Jl. Maruti, Keramas, Kec. Blahbatuh, Kabupaten Gianyar.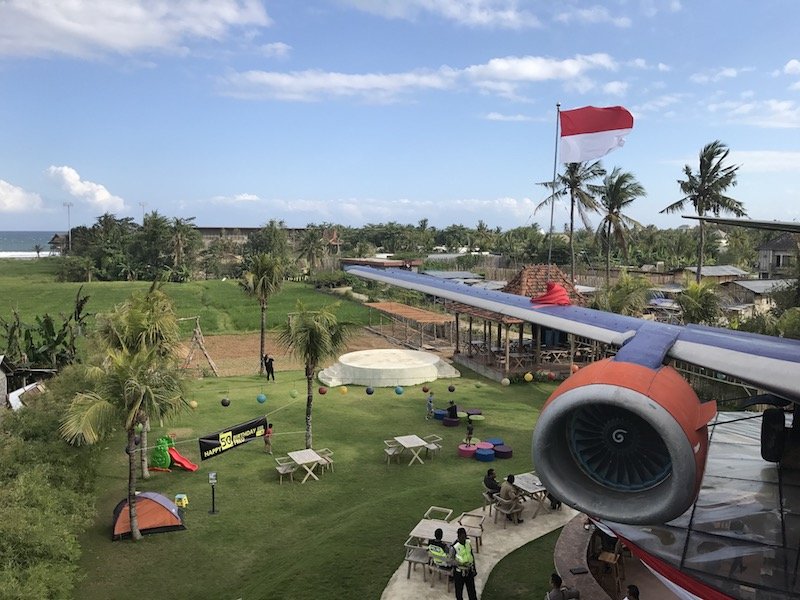 THE INSIDE SCOOP: Keramas Aeropark
Correct at time of publication on Roam the Gnome. Please check with venue for updates. We apologise in advance if there have been any changes we are unaware of. All prices in AUD dollars, unless otherwise stated
Address: Jl. By Pass Prof. Ida Bagus Mantra KM 28, Keramas, Gianyar – Bali. It is minutes away from Keramas Beach, and Komune Resort and Beach Club Bali.
Telephone:+62361 479 1830
Email: [email protected]
Website: Book a table (inflight or garden area) at Keramas Aero Park
Keramas Aero Park Opening Hours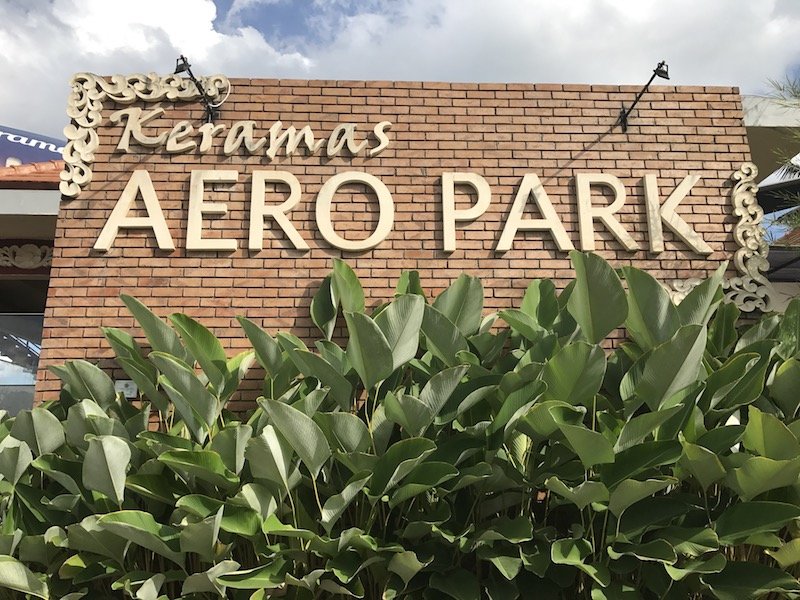 Keramas Aeropark Entry Fees
Free entry to view the plane.
Cost of the meal to eat inside the airplane.
Be sure to book via their website (above) if you want to eat INSIDE the restaurant
Keramas Aero park prices
Check the website above for special lunch or drinks promos available during your visit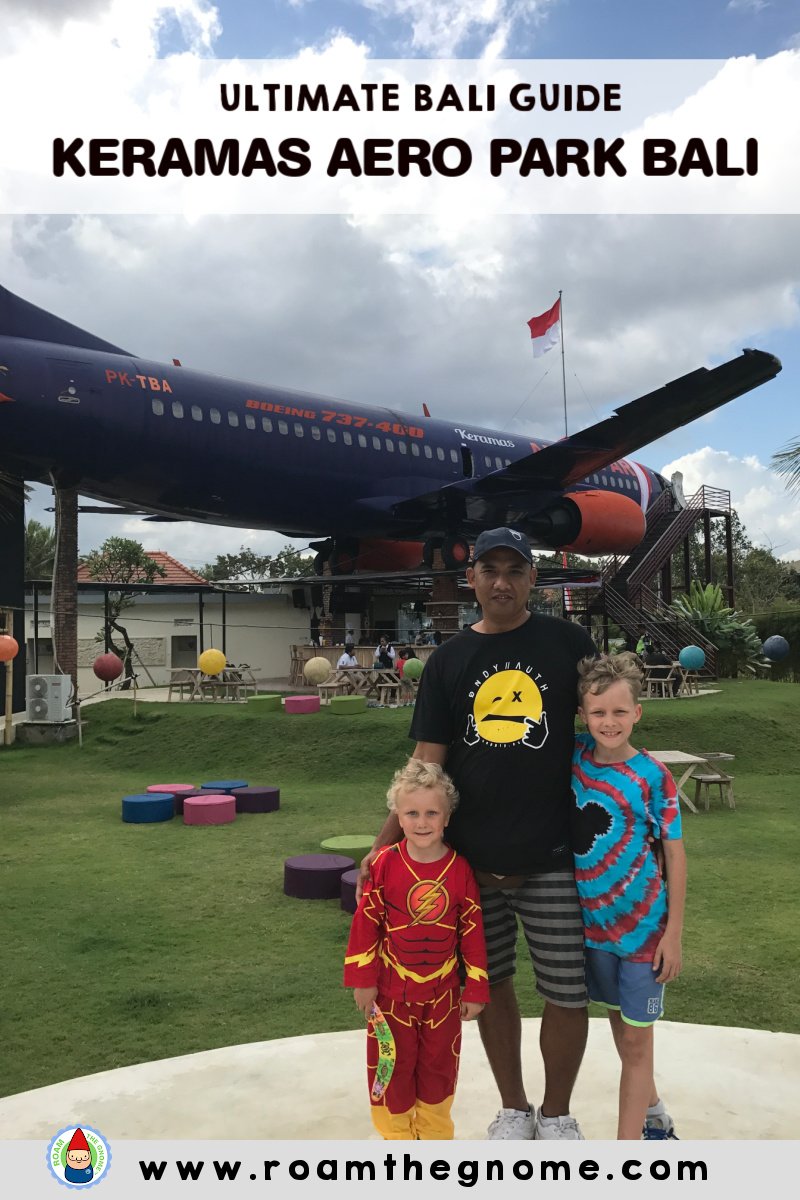 How to get to Keramas Aero Park Gianyar near Bali Safari Park
By private driver: Book a Bali Driver for a day. Read our review of our favourite Bali drivers here.
By taxi: Click here for details of how to book a Bluebird taxi
Keramas Aeropark Parking
Free parking available in the carpark in front.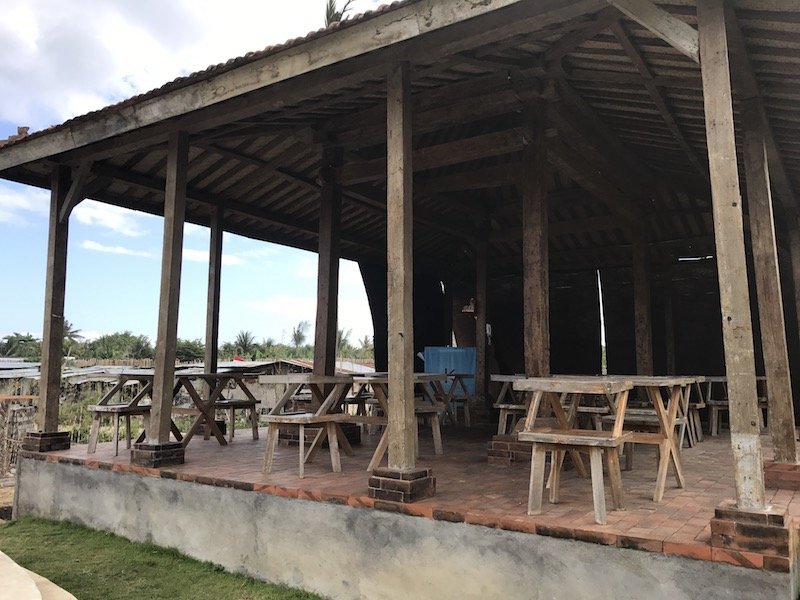 Frequently Asked Questions about Keramas Bali
Where is Keramas Bali?
In Gianyar, on the east side of the island.
About a 50 minute drive from the Ngurah Rai airport.
How long does it take to get to Keramas from Kuta?
50 -60 minutes drive.
Keramas Aero Park is 31 km from Kuta via Jl. By Pass Ngurah Rai and Jl. Prof. Dr. Ida Bagus Mantra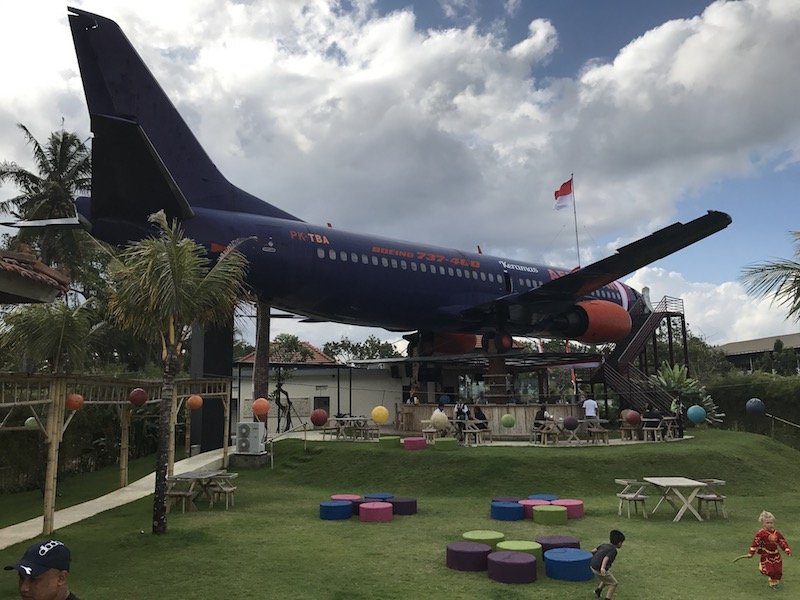 How long does it take to get from Ubud to Keramas Aeropark?
41 minutes drive via via Jl. Raya Mas
How long does it take from Bali Safari and Marine Park to Keramas Aeropark?
5 mins drive via Jl. Prof. Dr. Ida Bagus Mantra
Social media: Follow Keramas Aeropark on Instagram
Keramas Map
Facilities at the Airplane Restaurant in Keramas
Toilets: Yes, on site.
Disability access: Difficult.
Shade: Not on play areas. Eating areas shaded.
Enclosed: Yes, away from road
Ground cover: Grass in play area
Do let us know if you want us to share more of Bali off the beaten track?
Toadstool Rating: Fun things to do in Bali for kids
The only downside is how far it is from Kuta and Seminyak, but if you are headed to the Bali Safari park, stop off on your way home.


Looking for MORE fun restaurants in Bali for kids?
Click the links in blue below for more Bali tips