INSIDE: Roam the Gnome's Guide to Aire de Jeux, the Jardin des Tuileries Paris Playground.
Looking for a park in Paris near the Louvre Museum with kids playground facilities for older kids AND play areas for little ones too?
The Jardin des Tuileries garden has the answer!
Take a look below.
Disclosure: This article contains affiliate links. If you make a purchase after clicking on one of these links, we may receive a small commission at NO extra cost to you.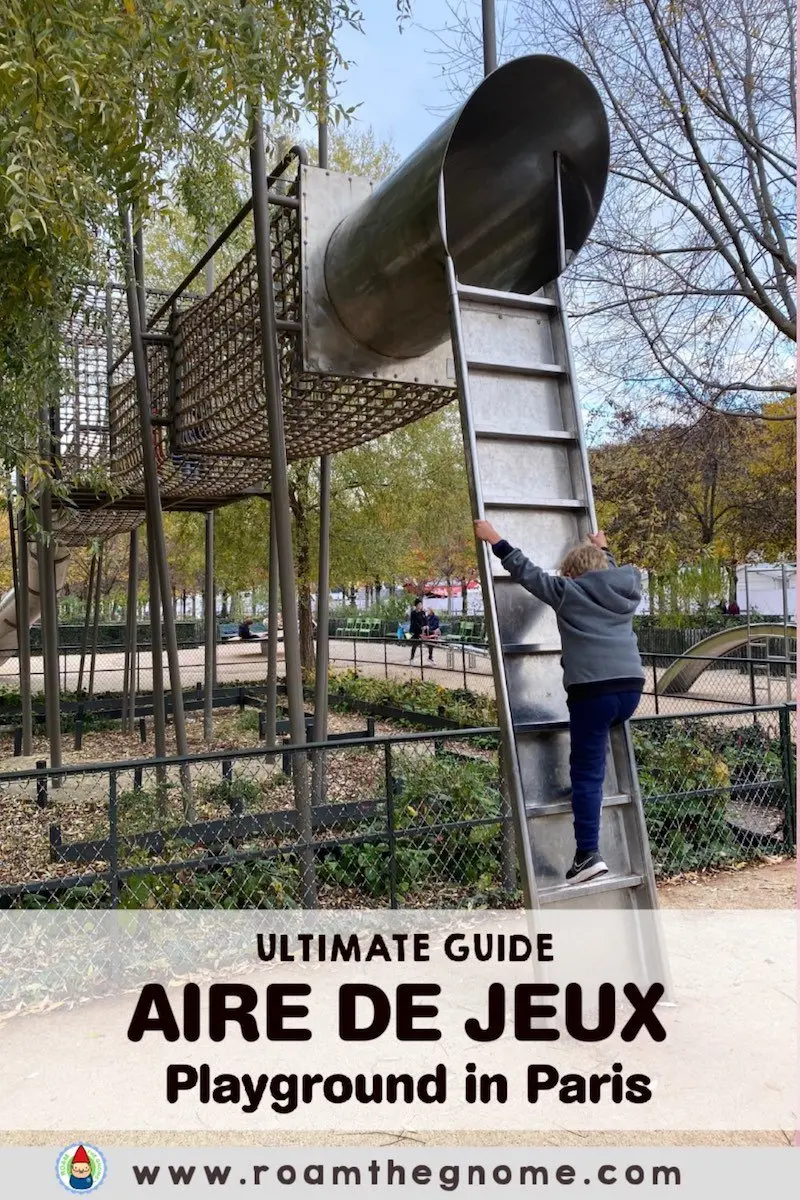 Aire de Jeux at Jardin des Tuileries Paris Playground
Highlight of the Aire de Jeux playground in Paris is the GIANT fort.
Featuring a steep ladder access, it limits access to the younger kids, so the bigger kids and teens love it.
---
Hot Tip: Book a specially designed 2- hour family tour of the Louvre with kids.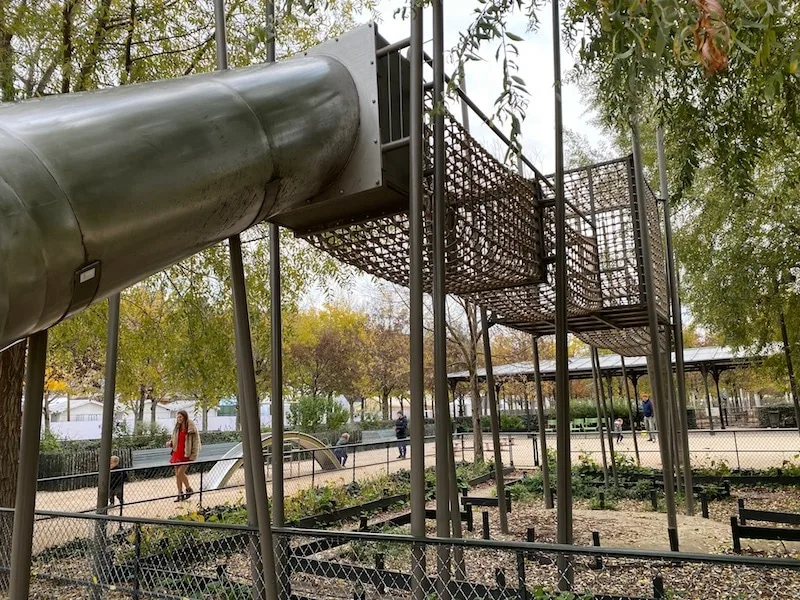 Aire de Jeux fort
The climbing cages play area looks like something from Ninja Warrior, a relic of army training camps.
Inside and up high, it's a top spot to hang out with new friends!
---
New to Paris? Book this easy going family tour of the main Paris sights with games and quizzes for the kids!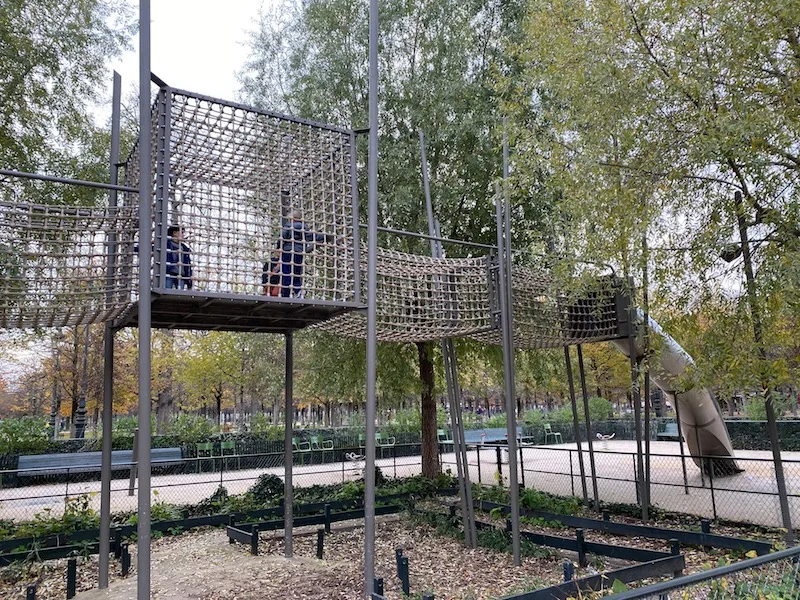 The Best Paris Playground Slide
The Aire de Jeux slide is a winner too.
It's fast and fabulous.
---
More Fun for Kids in Paris? Book this kid-friendly scavenger hunt of the Covered Passages to explore REAL Paris!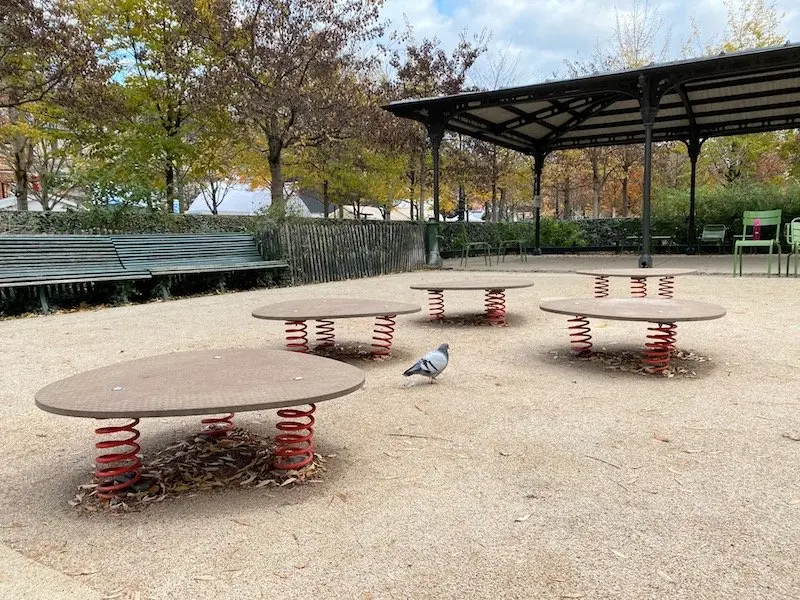 Equipment at this Paris Playground for Toddlers & Preschoolers
On all four sides of the park surrounding the fort, there's more play equipment for younger children, including these bouncer pads.
---
RELATED: Ultimate Round Up of ALL the Best Paris Playgrounds for kids!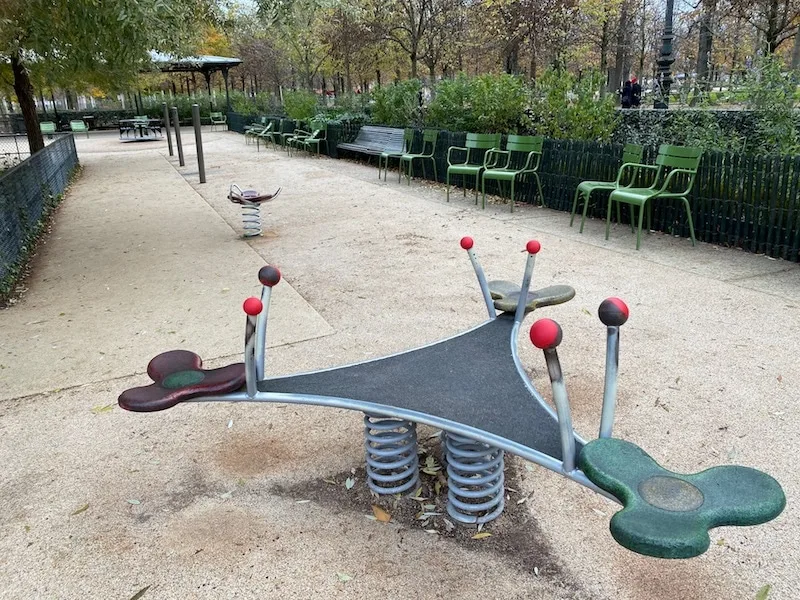 SeeSaw
This three-way bouncy see saw is ideal for children under 5.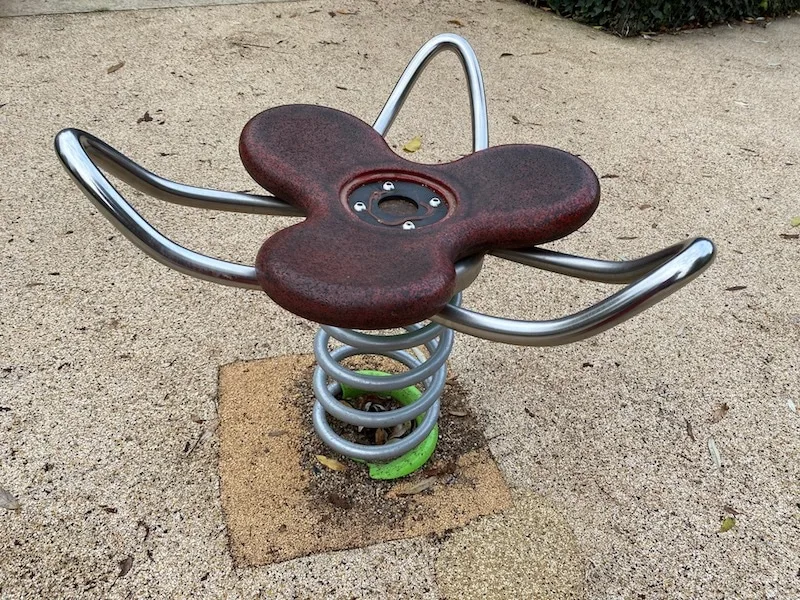 Flower Bouncer
This bouncer is good for kids over 2 too.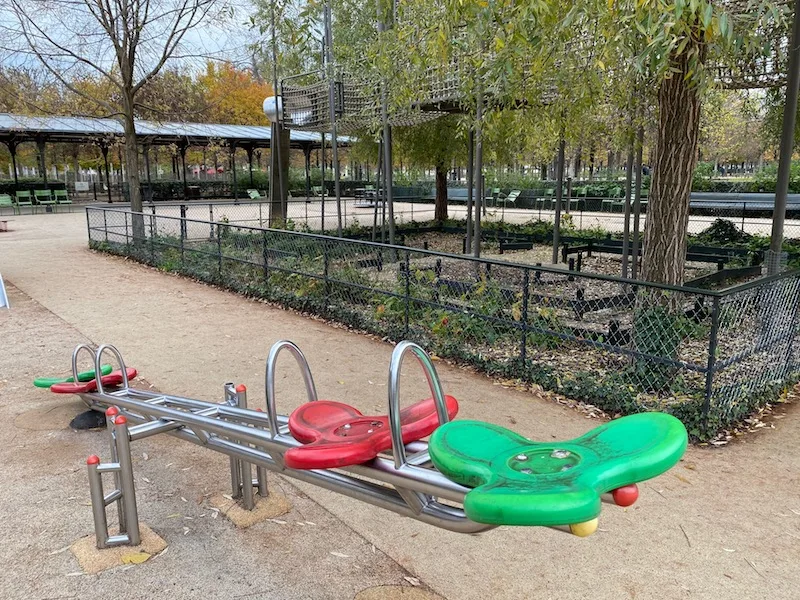 Traditional Seesaw
This one seats four.
Perfect when there's a crowd.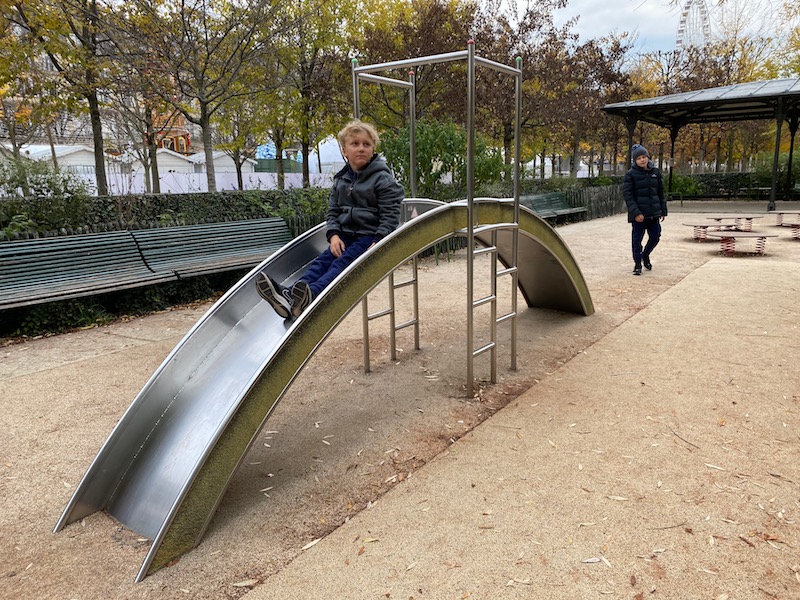 Rainbow Climber and Slide
This is one for both younger children and older ones.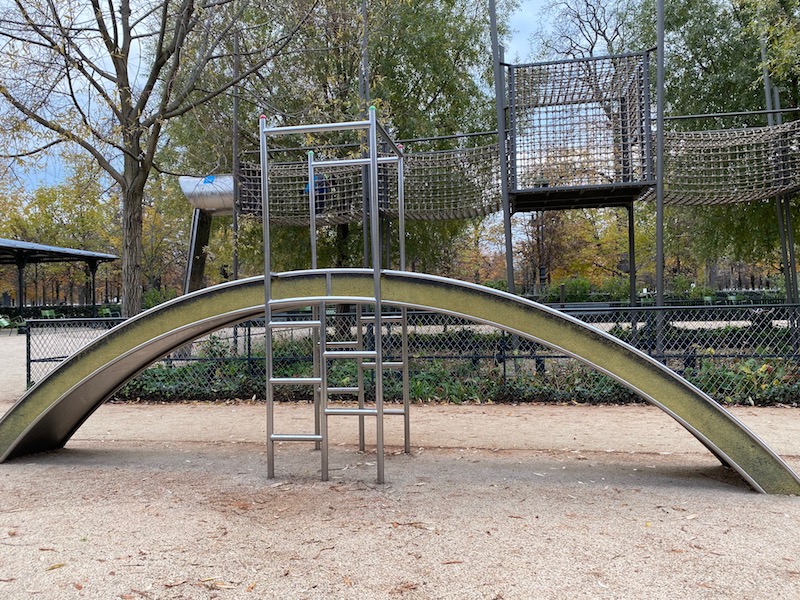 Parkour equipment
My boys made use of it as part of their game of Parkour.
Then they played 'the floor is lava' challenge.
That's the game where they can't touch the ground as they bound around the place, from equipment to equipment.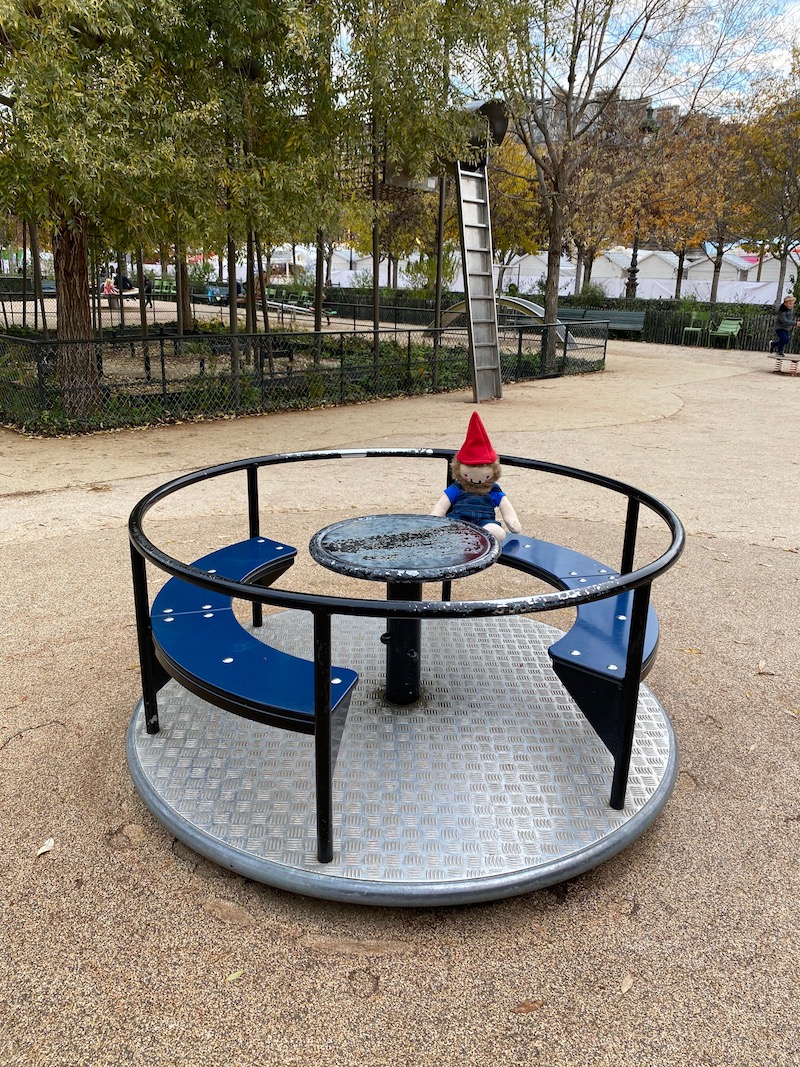 Roundabout
But no one can resist an old school roundabout merry go round!
Even Roam the Gnome wanted a go!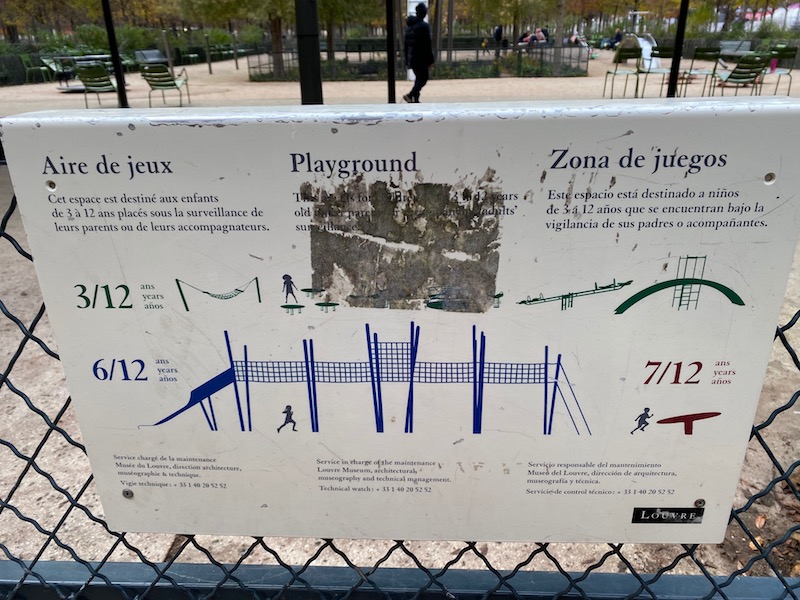 Paris Playground Equipment Guide
This is the age guide for the playground equipment at the Jardin des Tuileries park.
Notice there's also:
a hammock swing, and
balancing disk
These are not seen in our pics.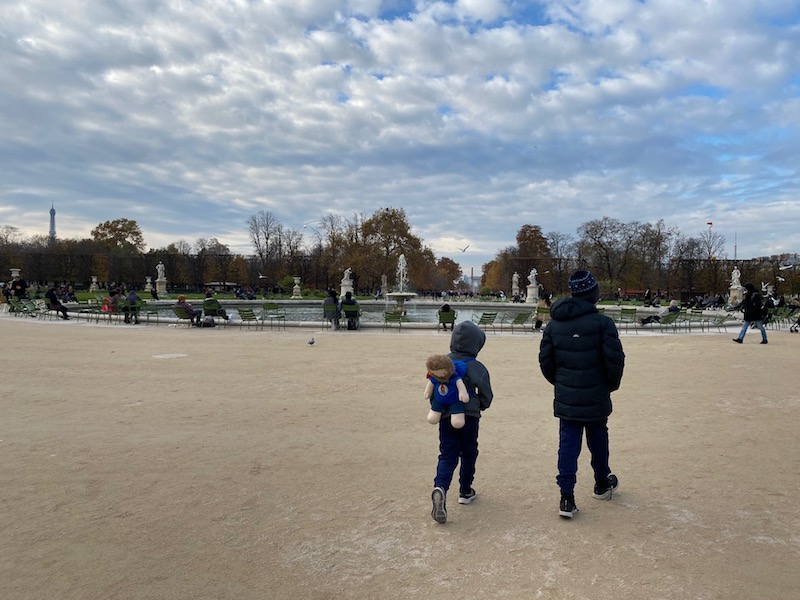 Inside Jardin des Tuileries – the Garden next to the Louvre
The playground can be found inside the Jardin des Tuileries gardens in Paris near the Louvre.
When you walk in the park entrance nearest the Louvre, you'll see the Tuileries pond.
Walk past this for another stretch, and the playground is hidden in amongst the trees on the right side.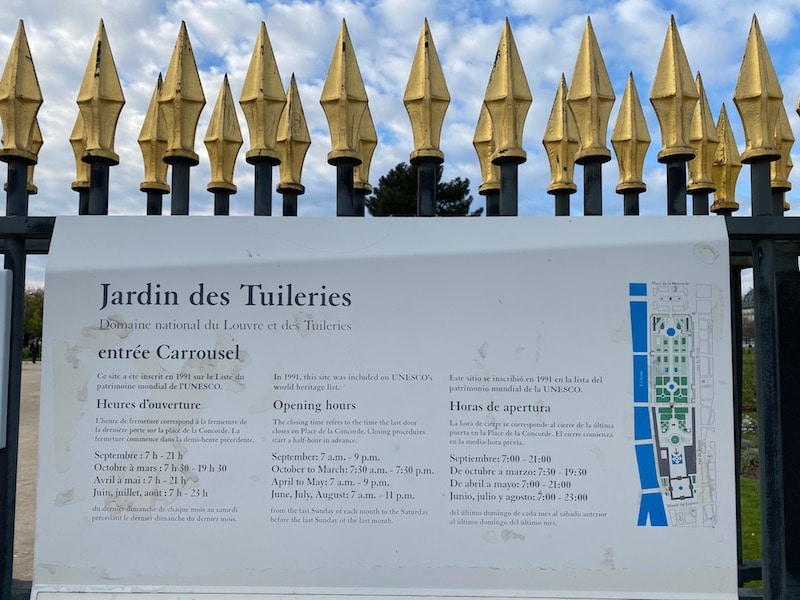 THE INSIDE SCOOP: Jardin des Tuileries playground in Paris
Correct at time of publication on Roam the Gnome. Please check with venue for updates. We apologise in advance if there have been any changes we are unaware of. All prices in Euro, unless otherwise stated
Address: Rue de Rivoli, Paris 75001
Entry Fees: Free!
Jardin des Tuileries opening hours
September 7am to 9pm
October to March 7.30am to 7.30pm
April to May 7am to 9pm
June – August- 7am to 11pm
How to get to Jardin des Tuileries Playground
The easiest way is to walk from the Louvre.
Cross the road in front of the Louvre (standing with your back towards the Louvre pyramid) and walk towards the Jardin des Tuileries gardens.
Walk through the first garden until you come to the Jardin des Tuileries gates, as pictured above, with golden tips on the fenceline.
When you reach the gates, you are at the Entry point, as see in yellow at the bottom of the map above.
Walk straight, past the pond, for another two blocks.
The Jardin des Tuileries playground is HIDDEN in amongst trees and equipment on the right hand side.
You have to look hard to spot it!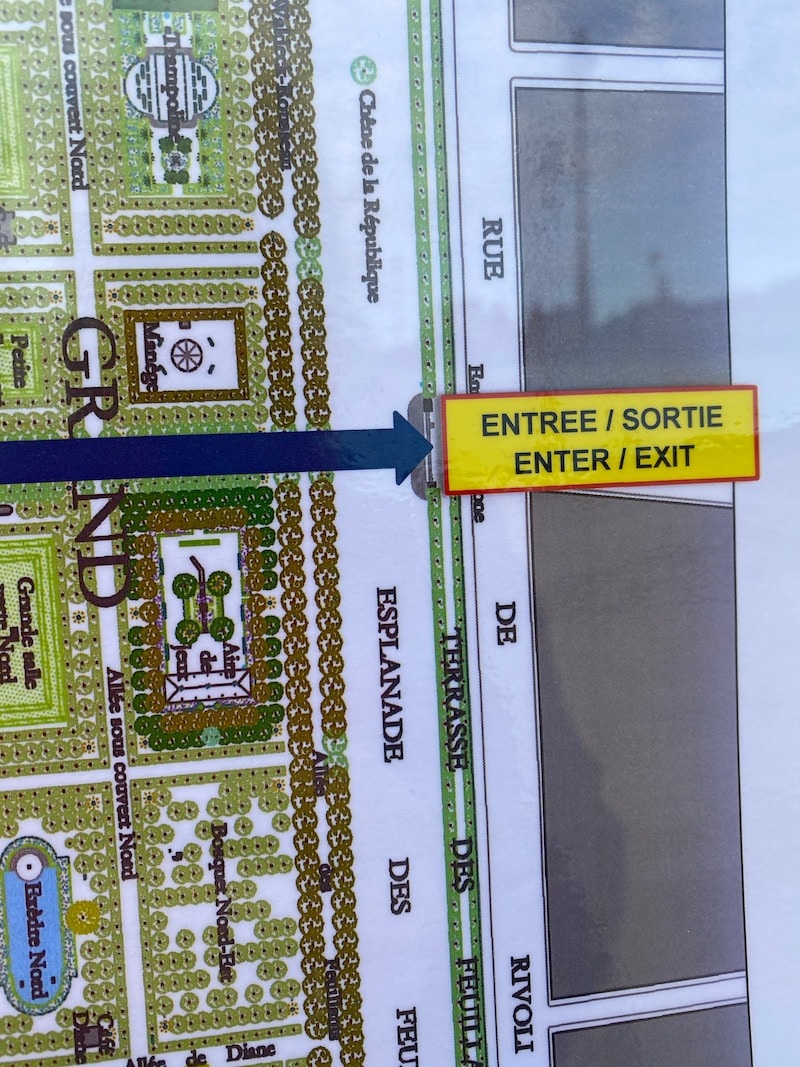 Alternative Entry to Jardin des Tuileries Paris Park
The alternative entry point is to walk down the Esplanade des Feuillants (alongside the Rue de Rivoli) and enter through the side entrance, pictured above.
The Esplanade plays host to the Paris Christmas markets during November and December.
Map of Jardin de Tuileries Aire de jeux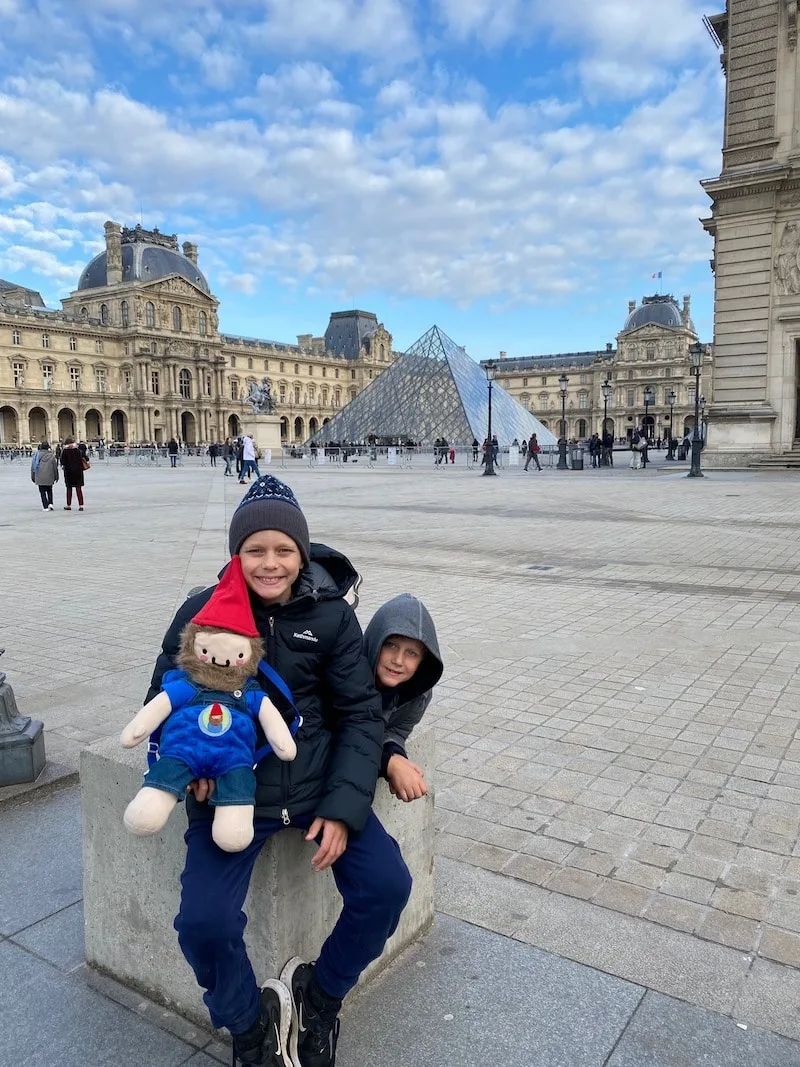 Getting to the Louvre in Paris
Follow these Louvre directions.
By Metro: Lines 1 & 7 (Station: Palais Royal – Musée du Louvre); Line 14 (Station: Pyramid)
By Bus: 21, 24, 27, 39, 48, 68, 69, 72, 81, 95 & Open Top (Bus Stop is in front of the Pyramid)
Velib bicycled hire stations near the museum:
n ° 1015: 2 place A. Malraux
n ° 1023: 165 Saint-Honoré street
n ° 1014: 5 rue de l'Echelle
n ° 1013: 186 rue Saint-Honoré
By car: an underground car park is accessible by Avenue du Général-Lemonnier every day from 7 am to 11 pm.
By Batobus: "Louvre" stop, François-Mitterrand platform
Hot tip: Don't visit the Louvre without reading our Guide to the Louvre in Paris with Kids first!
Toadstool Rating: Aire de jeux Playground in Paris
This is one of the best playgrounds in Paris CBD, and worth a stop in between art galleries, museums, shopping, eating and walking adventures.
This is one of the best parks in Paris too, and while there's lots of tourists milling about, there's also plenty of locals to observe.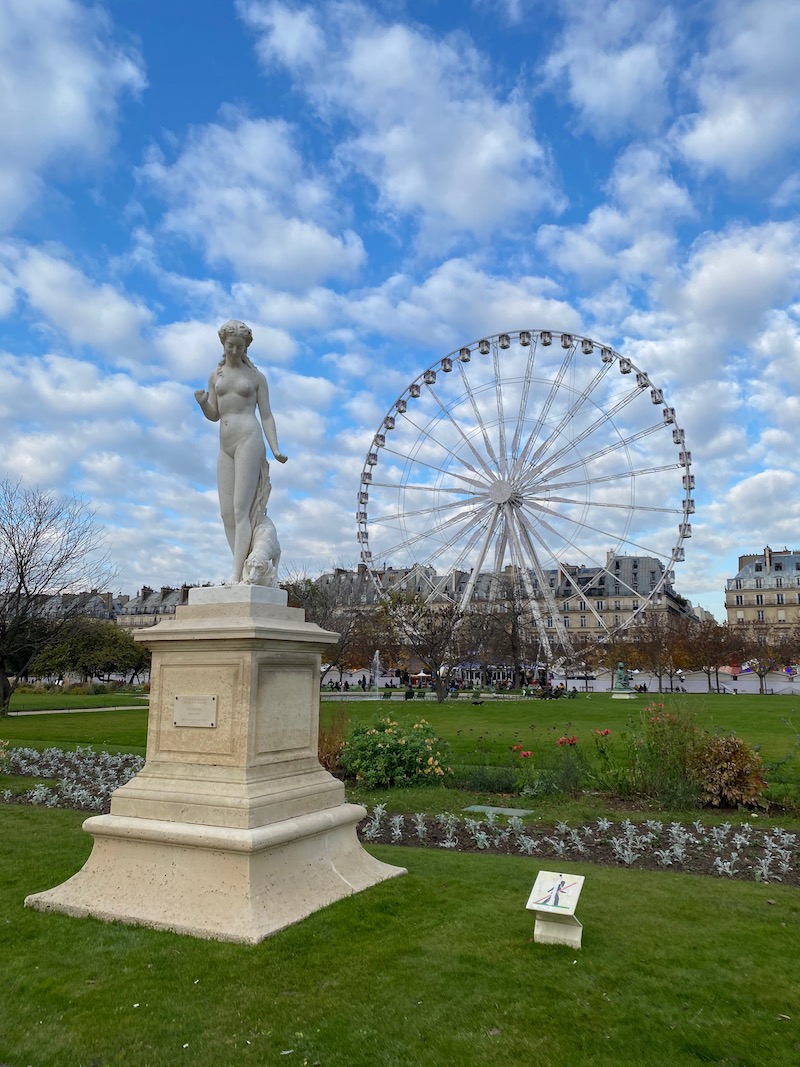 Looking for More Things to Do in Paris with Kids?
Click the links in blue below for more Paris ideas.