INSIDE: Complete Guide to the Iittala Outlet Store in Santa Claus Village
Did you know there's an Iittala Arabia Outlet store in Santa Claus Holiday Village?
The Arabia Iittala outlet store in Rovaniemi has a HUGE selection of Finnish design products in store from these Finnish brands at reduced costs:
Fiskars
Hackman
Iittala
Arabia
Shop staff are friendly and ready to help you find that special something.
The stock is ever changing, so there's no guarantee anything pictured here will be available during your visit, but you can be guaranteed there will be something equally fabulous.
Take a sneak peak below at the top 13 things to buy at Iittala outlet Rovaniemi.
Disclosure: This article contains affiliate links. If you make a purchase after clicking on one of these links, we may receive a small commission at NO extra cost to you.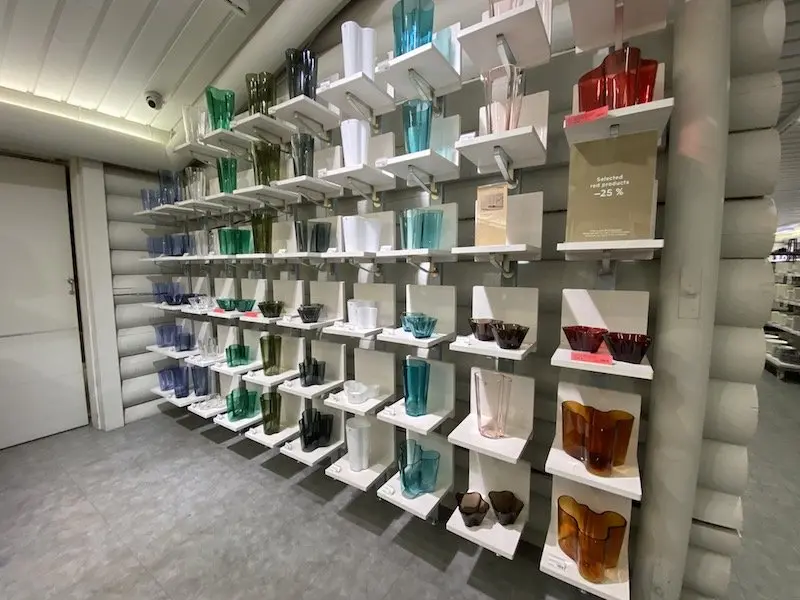 GUIDE TO IITTALA OUTLET ROVANIEMI
Iittala is an iconic Finnish glassware company, founded in 1881.
Iittala has a strong focus on timeless design, evident in such ever popular glass pieces such as their iconic vases, and dishes.
In more recent times, Iittala has broadened their palette of materials, and now supplement their glassware creations with treasures made from ceramics, metal and wood including the popular and stylish cookware Tools designed by Björn Dahlström in 1998.
Iittala's history is broad, with influences and input from many different talented designers from Finland.
Interested and want to know more of the history of Iittala glassware?
Click here to read about their many designers and creators involved in Iittala design over the years, and a timeline of growth and company change.
---
RELATED: The Complete Guide to Planning a Lapland Christmas Trip for families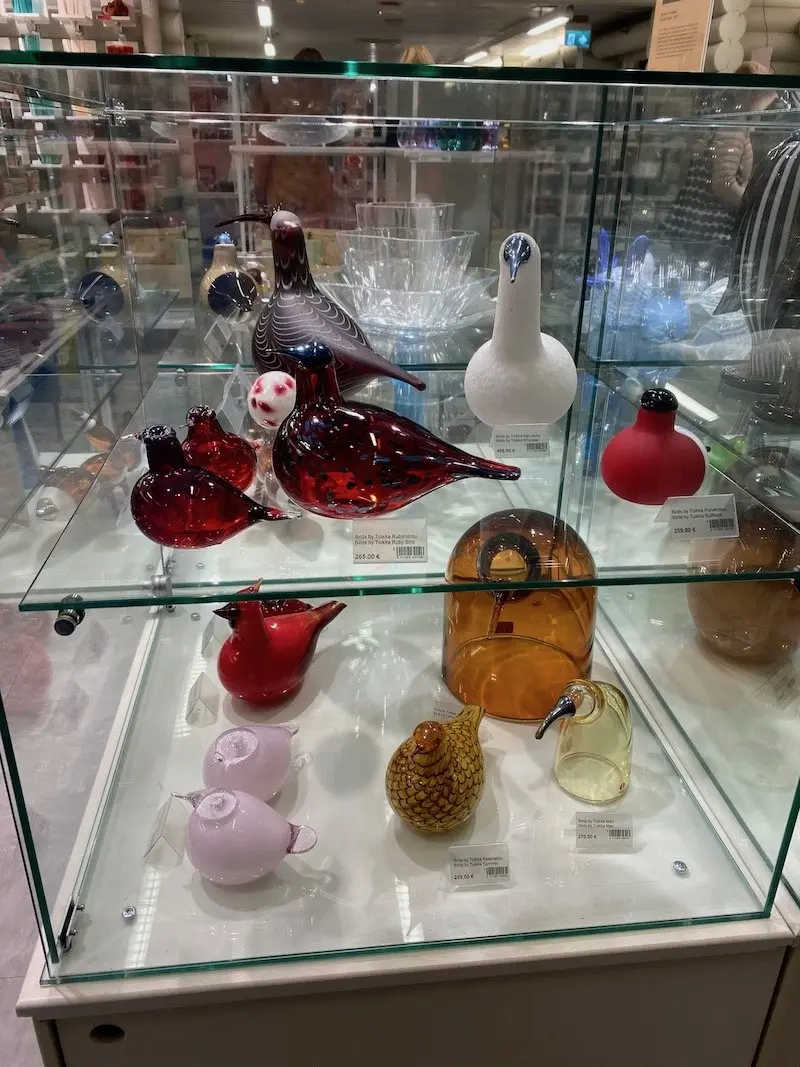 No.1: Iittala Glass Birds by Toikka
A much coveted glassware collectible is one of the Birds by Toikka glass birds collection by Oiva Toikka.
Made since 1962, they continue to be in demand.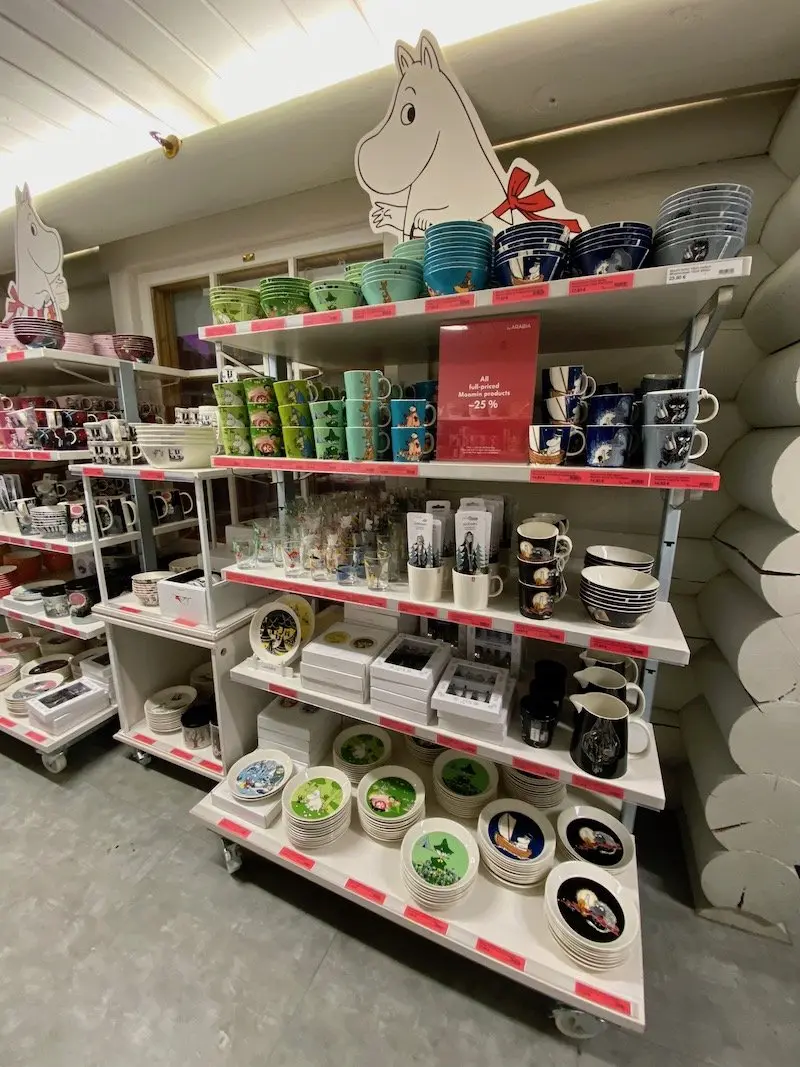 No.2: Moomin glassware by Iittala
In recent times, Iittala created a range of Moomin glass tumblers to accompany a range of ceramic Moomin plates, bowls and Moomin made by their sister company, Arabia.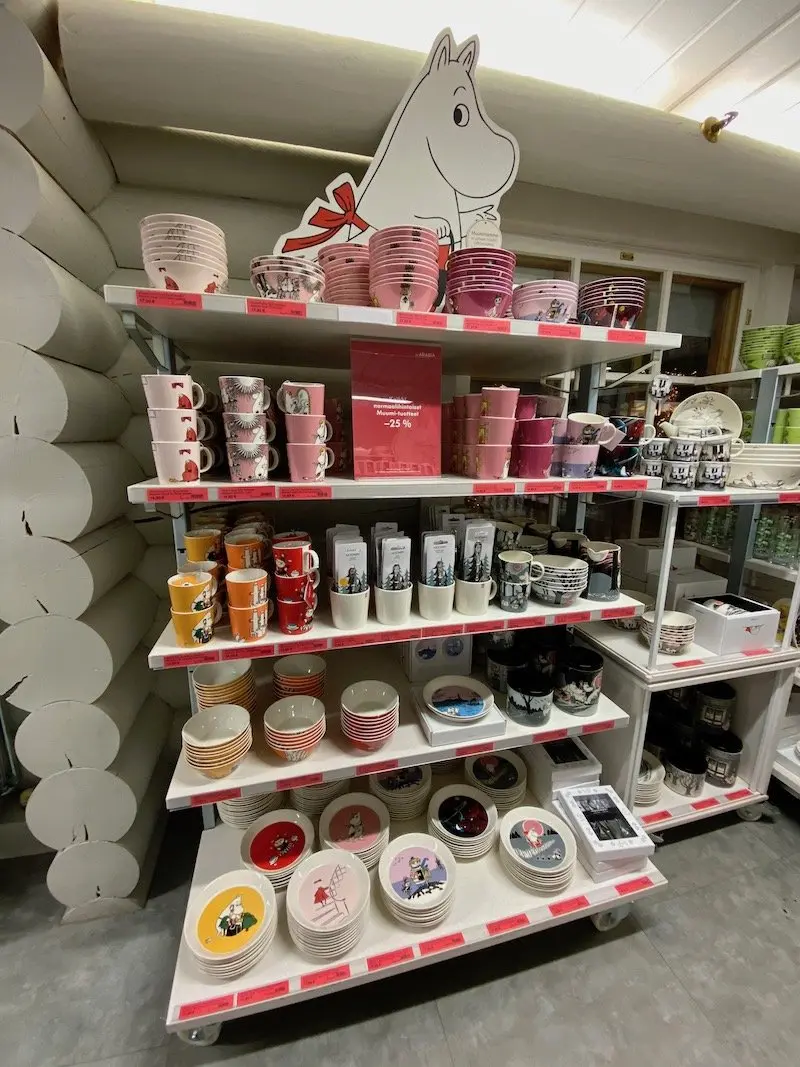 No.3: Moomin by Arabia
Moominvalley characters were created by the author/illustrator Tove Jansson's for her hugely popular Moomin tales stories.
Moomin trolls are one of Finland's most famous exports, and anything featuring a Moomin character makes a unique and adorable souvenir from Finland for friends and family.
Arabia's popular range of Moomin cups, bowls, plates, cutlery, and mugs can be found in the Iittala shop in Santa Village.
There's a giant selection of designs to choose from, so there's something for everyone.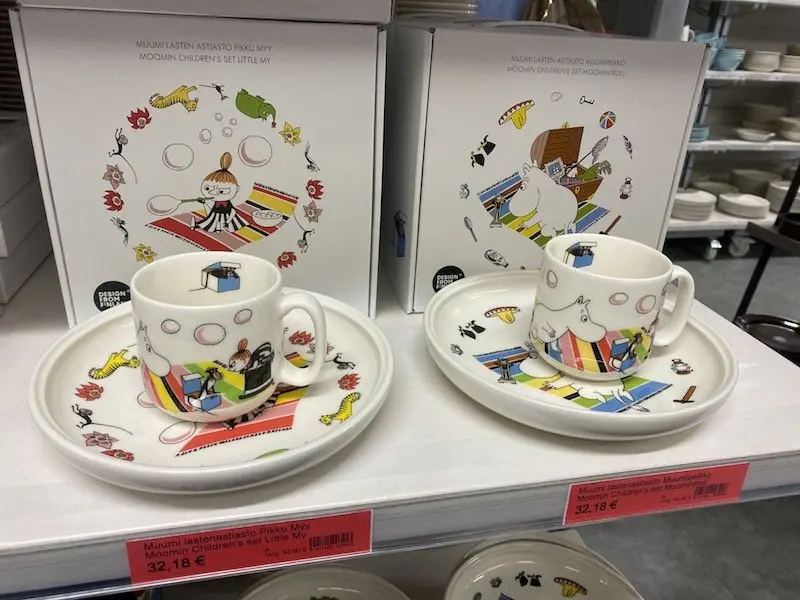 No.4: Moomin Children's Set – Little My & Moomintroll
Fingers crossed you can time your visit to the Iittala shop in Rovaniemi with a sale like this one so you can stock up on Moomin children's dinnerware.
No.5: Moomin Milk Jug & Moomin Cutlery Sets by Hackman
All the iconic Finnish brands are in on the Moomin act.
Hackman created a cake server as well as Moomin Celebration Spoon Set.
(Muurla also makes Moomin enamel tumblers)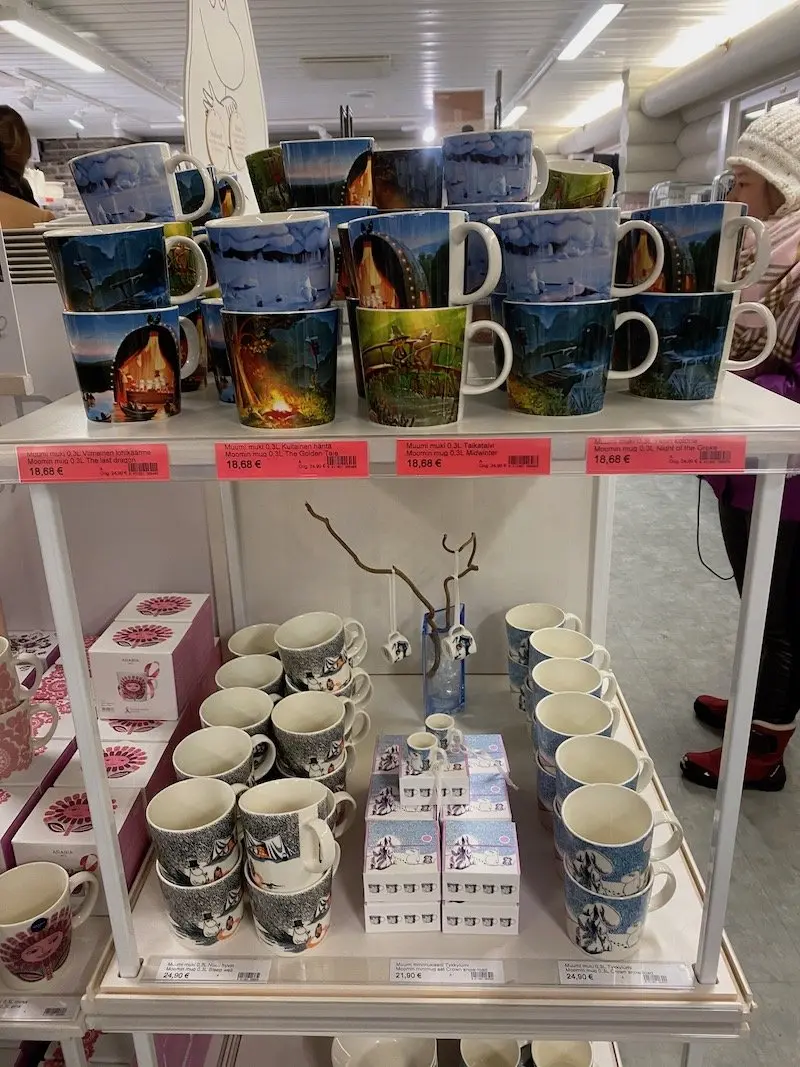 No.6: Best Moomin Mugs
Muumi mugs come in all kinds of designs including:
The Last Dragon
The Golden Tale
Midwinter
Night of the Groke
There's also Arabia Moomin Mini Mugs.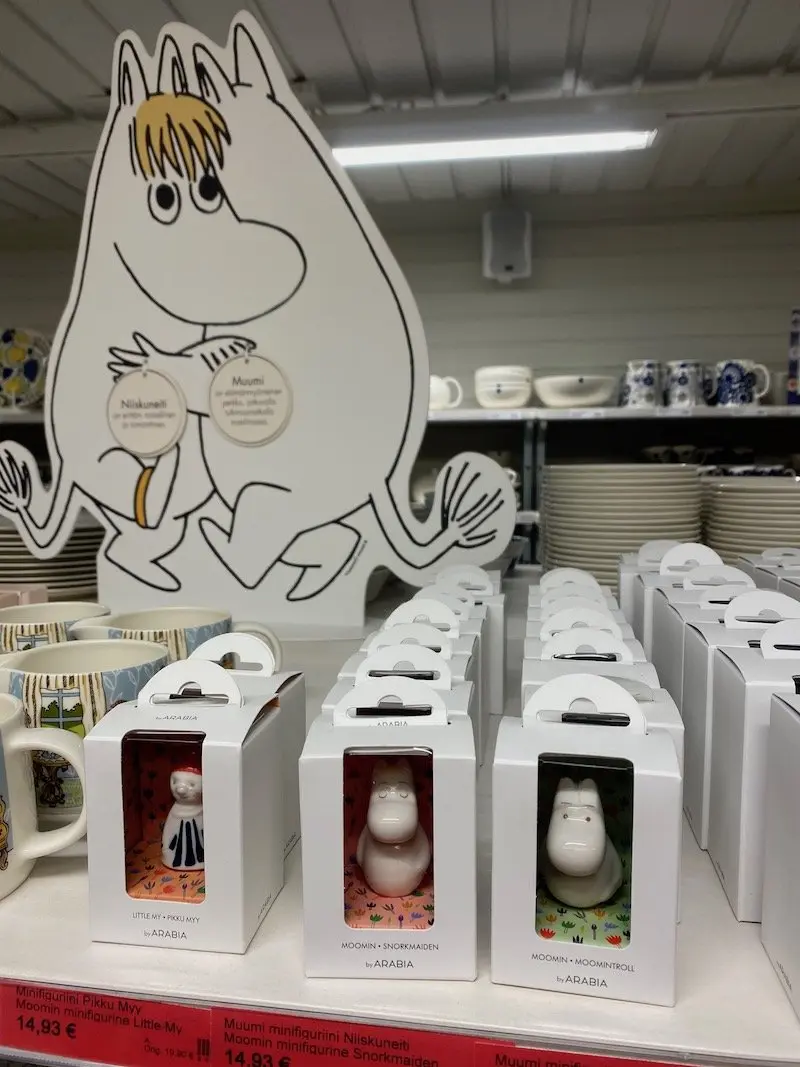 No.7: Best Moomin Minifigurines
If you have enough mugs in the cupboard, why not adopt a small ceramic Moomin character figure by Arabia.
Ceramic minifigurines , designed by Tuulikki Pietilä in the 1990's, are lovingly made and painted by hand, so each one is unique.
Add one of these Moomin ceramic figures to your Moomin collection.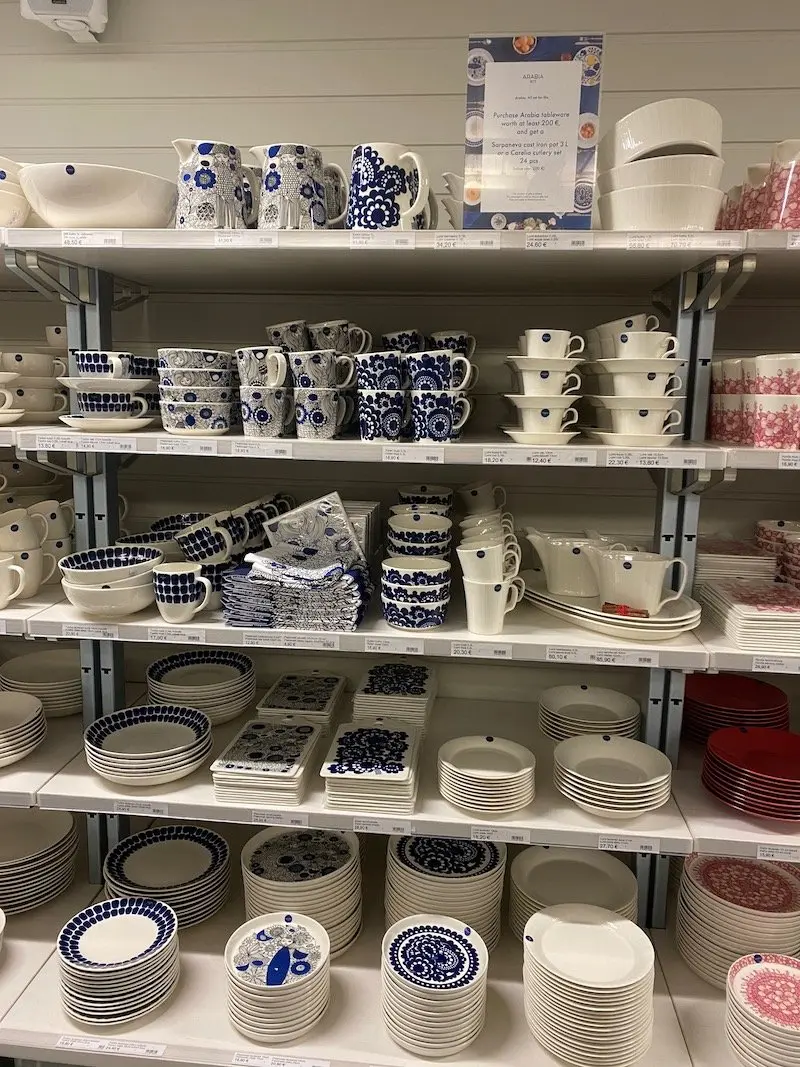 No.8: Iconic Arabia Dinnerware
Start a new collection of dinnerware by choosing one of the many different Arabia tablewear designs, or mixing and matching your favourites.
Pictured above, bottom left, is the Tuokio design.
Next to it, the Pastoraali plate, and then Esteri (the dark blue design, center bottom).
Collections include:
mugs
coffee cups
teacups and saucers
breakfast bowls
side dishes
dinner plates
serviettes
oven mitts
porcelain serving platters
oval dishes
gravy boats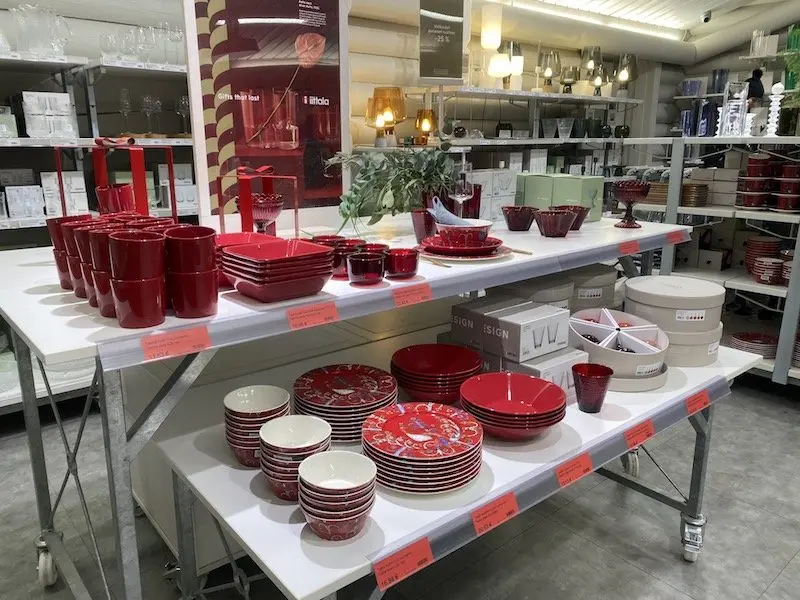 No.9: Arabia Collections by colour
The shop full of Iittala collections is a wonder for the eye, with products grouped stylishly by colour or design.
There's Iittala glasses, bowls, vases, and serving platters for days!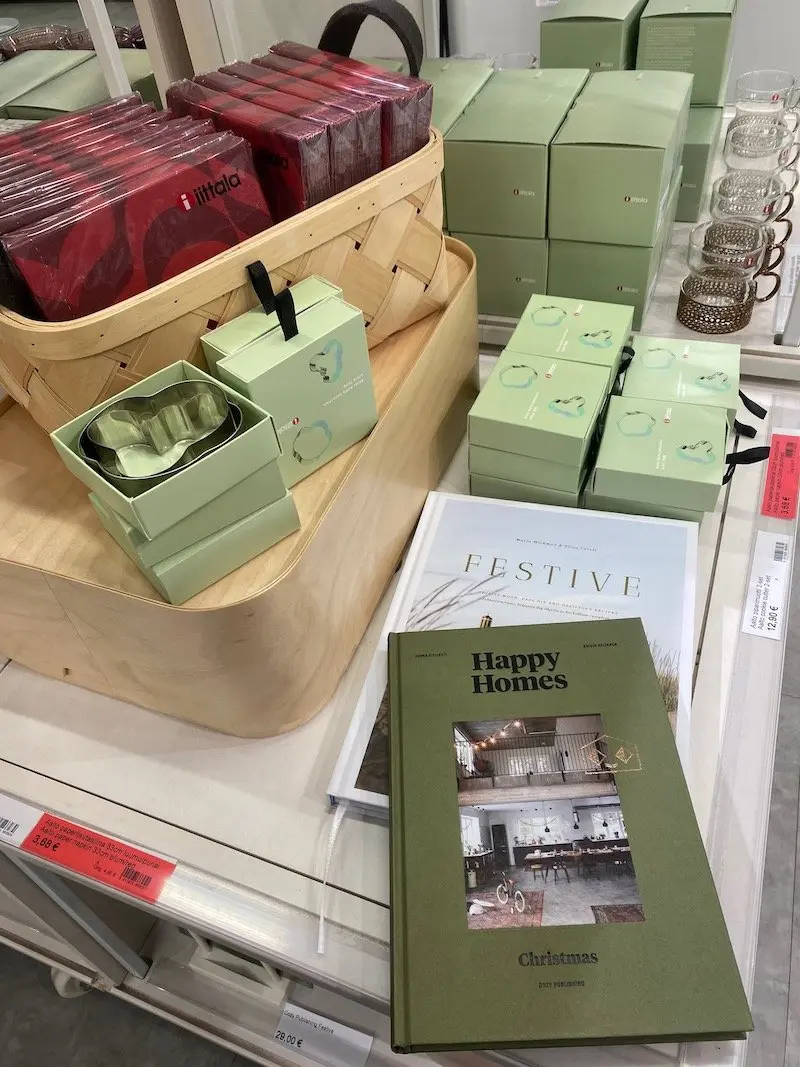 No.10: Iittala Christmas Gifts & Books
Scattered around the shop, you'll find miscellaneous items including:
design books
Iittala candle holder, and
trinkets, like these Iittala cookie cutters.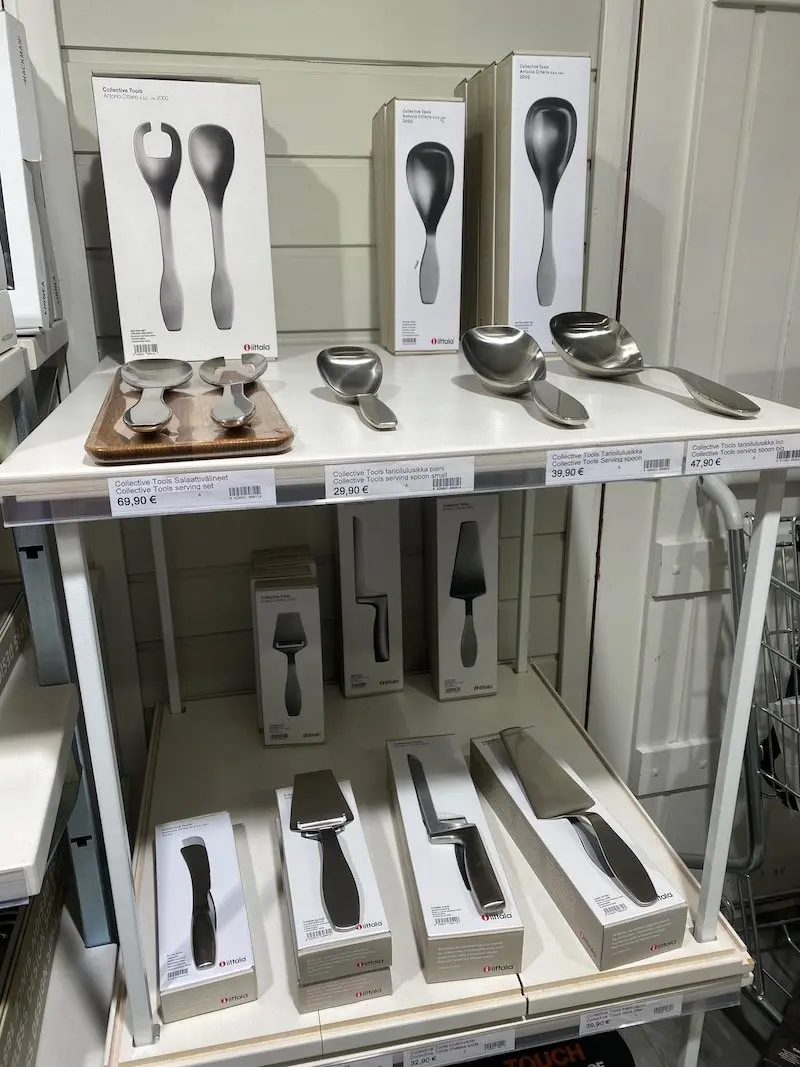 No.11: Iittala Collective Tools and Kitchenware
Have you ever seen such beautifully designed cheese slicers, serving spoons, salad server sets, and cake slices?
Put the Iittala Collective tools serving set on your wish list.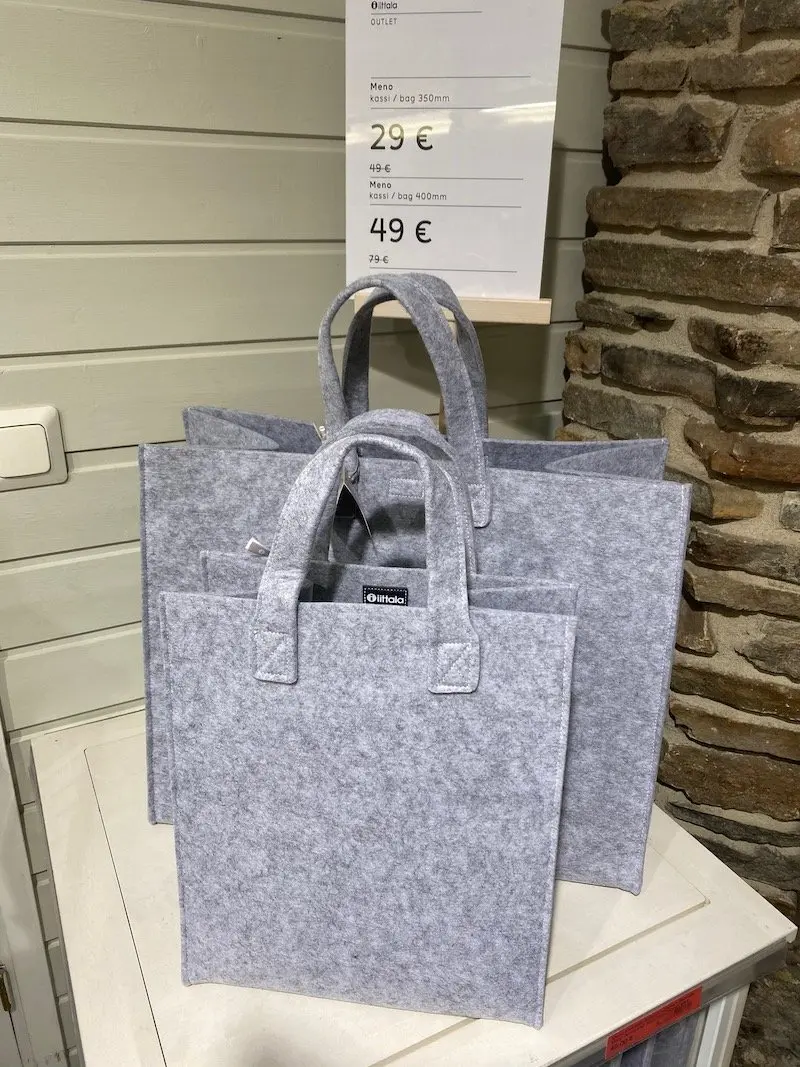 No.12: Iittala Felt Bags
Simple but stylish design never goes out of fashion.
No.13: Fiskars Iittala outlet
Yet another brand with a connection to Moomin.
Everybody needs a pair of Moomin kitchen scissors, don't you think?
These are the perfect gift for a dedicated but quirky foodie with a sense of humour.
THE INSIDE SCOOP: Iittala Outlet Napapiiri
Correct at time of publication on Roam the Gnome. Please check with venue for updates. We apologise in advance if there have been any changes we are unaware of. All prices in euro, unless otherwise stated
Address: Iittala Outlet Napapiiri, Joulumaantie 1, 96930 Rovaniemi, Finland
Telephone: + 358 20 439 3572
Website: Click here
Email: [email protected]

Iittala Opening Hours at Santa Village
Open Monday to Sunday 9am to 7pm
Please note, hours of trading may be extended during the busy Christmas season.
Hours subject to change without notice.
Iittala Sale
The Iittala outlet store is always well priced but you can find some products are marked down even further than normal.
Don't miss it.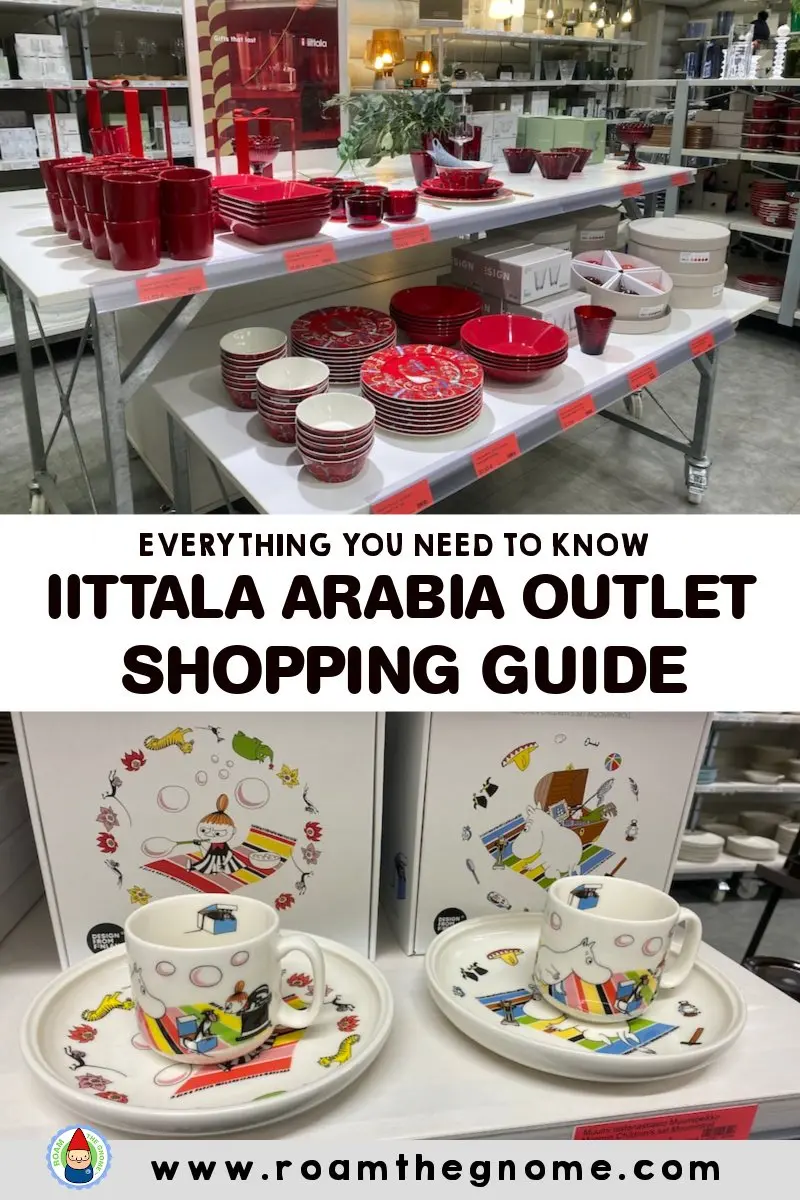 How to get to Iittala Outlet Finland Santa Village
Iittala outlet Napapiiri is located in the Santa Claus Office building in the heart of Santa Claus Village in Rovaniemi.
It's as central as can be.
How to get to Santa Claus Holiday Village Rovaniemi
You can take flights to Lapland Rovaniemi from London via Helsinki.
Or you can fly to Helsinki, and catch the train there and back.
Or fly to Helsinki, take the overnight train to Rovaniemi one way, and fly back to London with Finn Air (as we did.)
From Rovaniemi Airport or Rovaniemi train station to Santa Claus Holiday Village, you can either:
catch the Santa Express Bus
book a taxi
if you are staying in a Santa Claus Holiday Village cabin, you can call for a free private transfer pick up when you arrive at the airport (not train station, unfortunately)
Iittala Outlet Store Rovaniemi Map
Toadstool Rating: Iittala Shop in Santa Village Rovaniemi
The only problem is getting our purchases back home from Rovaniemi city without breakage or without exceeding our excess luggage limits! This Iittala shop is a delight.


Looking for more shopping & activities in Santa Claus Village?
Click the blue links for more Lapland tips below