INSIDE: Roam the Gnome's Guide to Hong Kong Avenue of Stars
The refurbished and revamped Hong Kong Avenue of Stars has reopened along the Hong Kong Victoria Harbour waterfront!
Created with the vision of paying tribute to those Chinese and Hong Kong nationals that put Hong Kong on the map through the art of filmmaking, the Hong Kong Walk of Fame is back, drawing all the visitors!
Take a look.
Disclosure: This article contains affiliate links. If you make a purchase after clicking on one of these links, we may receive a small commission at NO extra cost to you. Main image credit: Robert Foo via Google maps.
Image credit: Life Enjoy via Googlemaps
Hong Kong Avenue of Stars Walk of Fame
The main feature at this homage to "Hollywood of the East" with views of the Hong Kong skyline is the Walk of Stars, similar in nature to the Hollywood Boulevard Walk of Stars.
Hong Kong Avenue of Stars Reopening
The new exhibit at the Victoria Harbour Avenue of Stars features over 100 newly designed, copper colored, celebrity hand prints set into a hardwood railing at waist height, rather than risk being damaged or worn out by foot traffic.
Scan the QR code with your smartphone and you can access the stars' biographies and their selected movie clips.
Celebrating Hong Kong Celebrities
The downside to the Hong Kong Avenue of Stars is that many of the stars, actor and actress people may only be recognised by Chinese nationals, with the exception of Bruce Lee, Kung Fu fighter, and Mr Jackie Chan, and the cartoon character McDull.
That's the biggest difference between this HK Avenue of Stars, and the Hollywood Walk of Fame in Los Angeles (near the fabulous Magic Castle Hotel).
There, my kids had some kind of connection or at least a recognition of some of the people and character name on the stars.
Hot tip: Learn some names before you go.
---
RELATED: Check out the Avenue of Comic Stars Hong Kong near Toy Street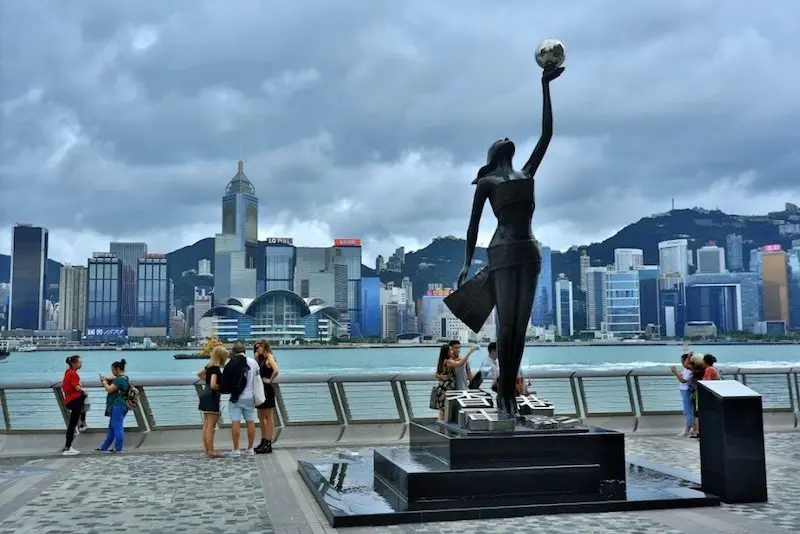 Image credit: Source unknown via Googlemaps
HKFAA Statue (Hong Kong Film Awards Association)
One of the highlights of the Hong Kong Walk of Stars is the giant replica of the Hong Kong Film Awards statue.
The HKFA statue is awarded for achievements in filmmaking, and is presented by the Hong Kong Film Awards Association.
It was first awarded in 1982.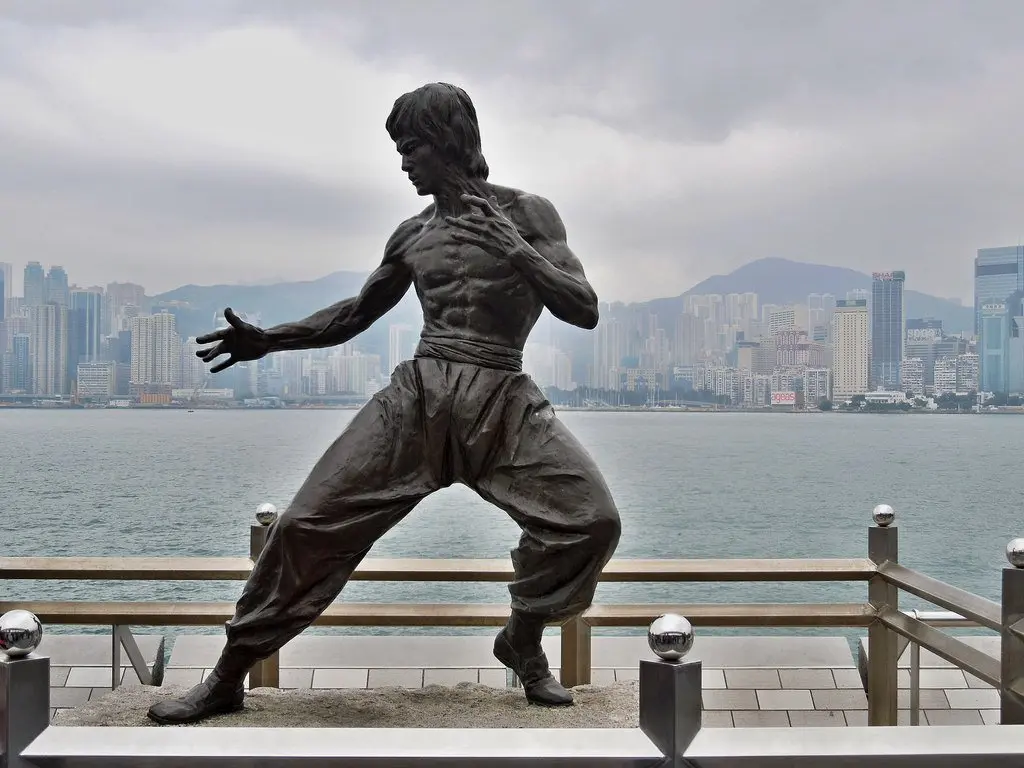 Bruce Lee at the Walk of Stars Hong Kong
The newly revamped Bruce Lee sculpture at the Hong Kong Avenue of Stars has been designed with the ethos of Bruce Lee's philosophy of "Be like water".
Bruce Lee, the statue of Anita Mui, and the HKFAA statue, are now water features.
There's a modern tech feat woven into these two main refurbished figures – you can now take a selfie, and interact with these two superstars using Augmented Reality AR technology.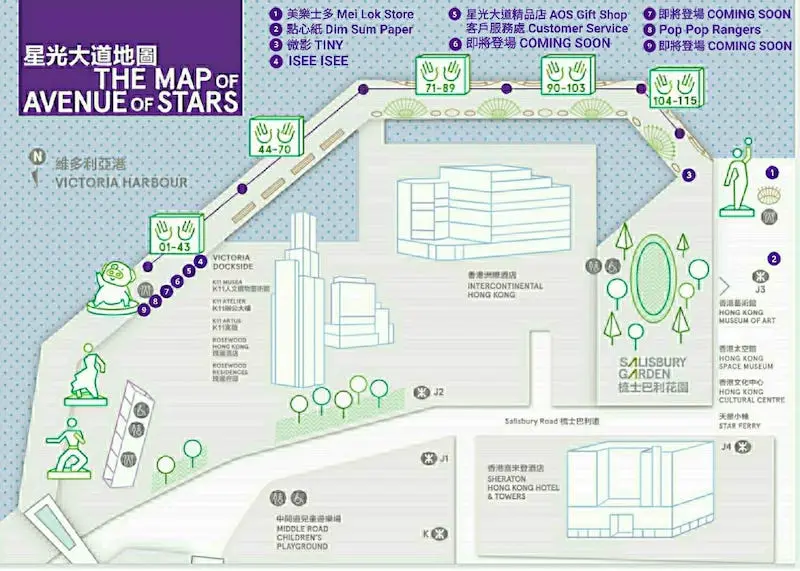 Image credit: Avenue of Stars
Hong Kong Avenue of Stars Map – Arbour
The one big thing that stands out is the new Arbour seating.
These four giant 4 metre high seating platforms are an EYE CATCHING feature on the waterfront.
Redesigned by renowned landscape architect James Corner, in collaboration with other players, the entire waterfront area is an ode to H20.
Find them at the Salisbury Garden end of the Avenue of Stars walk, close to the HKFAA statue.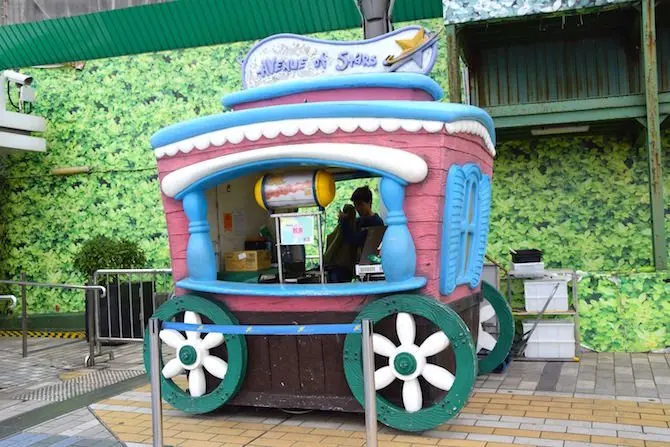 What to eat on the Tsim Sha Tsui Promenade
Have you ever tried Shredded Squid?
We saw three of these Squid stalls along the Avenue of Stars promenade.
The squid is sliced, then grilled, then popped into a shredding machine.
Doesn't that sound deliciously appealing? (NOT).
It's a 'thing' in Hong Kong.
You'll also find:
Dim Sum at Dim Sum paper
Mei Lok Store selling snacks, drinks and toys, reminiscient of a retro Hong Kong tuckshop
ISEE iSEE sells handcrafted ice pops, and hot drinks during winter
POP POP Rangers popcorn stand
---
RELATED: Fun Foods to Try in Hong Kong with kids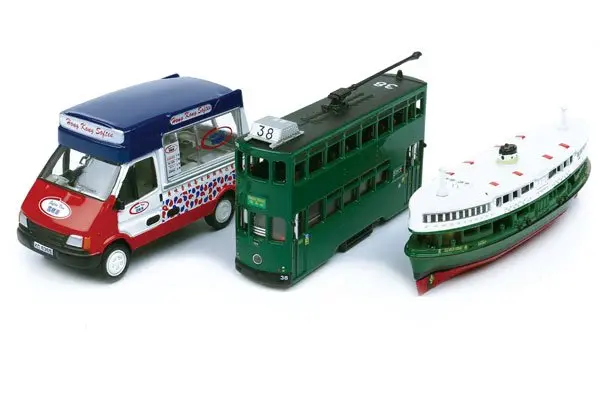 Hong Kong Souvenirs to buy at the Avenue of Stars Hong Kong
Avenue of Stars Gift Shop
The Avenue of Stars Gift Shop sells:
Bruce Lee souvenirs
McDull souvenirs
t-shirts
postcards
other special gifts
Mei Lok Store souvenirs
Mei Lok Store also sells a few nostalgic Hong Kong toys from yesteryear.
TINY
Visit TINY, the Hong Kong toys and models shop.
They design and make different scales of local featured model cars, figures, and diorama, including replicas of:
the Hong Kong Trams
the Star Ferry
Hong Kong Taxi's, and
the Peak tram.
---
RELATED: Ultimate Guide to all the Fun Public Transport you can ride in Hong Kong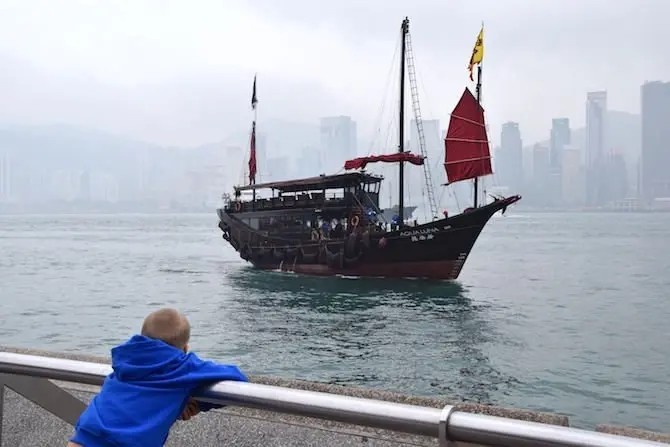 Aqua Luna on Victoria Harbour
The only point of interest to Ned other than the Bruce Lee sculpture, (and his opportunity to practice a few Kung-Fu kicks, high-jumps and cartwheels) was the boats on the harbour.
He was pretty impressed with the 'junks' (Chinese junk boats).
It's possible to sail on a junk boat cruise on Victoria Harbour too.
This one lets you jump on and off, all day long, to four different locations around Hong Kong.
Image credit: Chris Hoare via Flickr CC BY-2.0
Symphony of Lights viewing at night on Victoria Harbour
Avenue of Stars Hong Kong Light Show
At night, head to the Avenue of Stars to find a good viewing point for the Symphony of Lights performance on the harbour.
You can see and hear the Symphony of Lights on Tsim Sha Tsui Promenade in front of HK Cultural Centre and the Museum of Art, including the elevated viewing deck (our pick of the top spot for viewing).
Or you can watch it from Golden Bauhinia Square in front of the Hong Kong Convention and Exhibition Centre on the other side of the harbour.
Book a Symphony of Lights Cruise Tour
You can also book the bestselling Symphony of Lights Chinese Cruise Tour, with a complimentary drink included, through Get your Guide.
Relax on a lounge bed, drink in hand, during this 45 minutes harbor night cruise.
Soak up the sights and sounds of Hong Kong's fantastic skyline while being entertained by Hong Kong's famous lights, laser and music show – "A Symphony of Lights".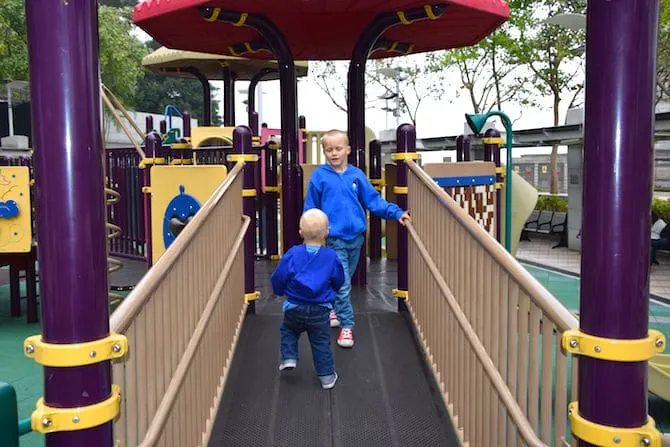 Middle Road Playground near Hong Kong Promenade of Stars
If you do happen to pop by this area, there's a big playground close by.
Check the Middle Road playground out here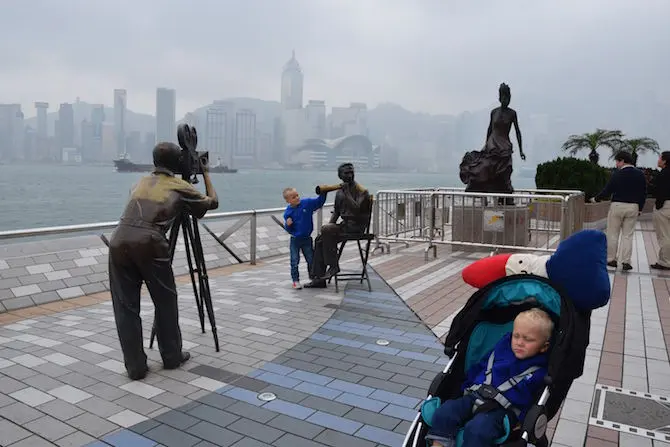 THE INSIDE SCOOP: Avenue of Stars Hong Kong
Correct at time of publication on Roam the Gnome. Please check with venue for updates. We apologise in advance if there have been any changes we are unaware of. All prices in HK dollars, unless otherwise stated
Address: Tsim Sha Tsui Promenade, Salisbury Rd, Tsim Sha Tsui East, Hong Kong
Website: Click here
Customer Service Counter: Located near Victoria Dockside entrance.
Opening Hours: 24 hours
Avenue of Stars Hong Kong entrance fee: It's FREE!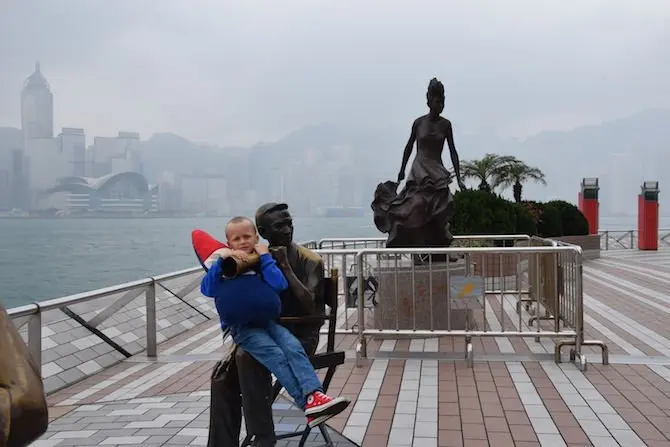 How to get to Avenue of Stars Promenade in Tsim Sha Tsui
By MTR:
Head to MTR East Tsim Sha Tsui Station, Exit J; or Tsim Sha Tsui Station, Exit E.
Walk towards Salisbury Road then cross at the pedestrian crossing
By Star Ferry: Catch the ferry from Central or Wan Chai to Tsim Sha Tsui. Walk for approximately 10 minutes to the avenue.
Map of Avenue of Stars Promenade in Hong Kong
Toadstool Rating: Walk of Fame Hong Kong
The Ave of Stars Hong Kong is a beautiful place to wander in the late afternoon sun.


Looking for More Things to Do in Hong Kong with Kids?
Click the blue links below for more Hong Kong attractions on Hong Kong Island, Kowloon, The New Territories and Lantau Island