INSIDE: Roam the Gnome's Insiders Guide to the Hiroshima Children's Museum.
Hiroshima is not known for its' kid-friendly activities, but dig a little and you'll find parks, playgrounds and THIS fabulous museum.
It's about a 10 minute walk from the Hiroshima A-bomb dome, the Peace Memorial Park, & the Sadako Hiroshima Peace Memorial.
Walk over to the other side of the main road, and wander to the museum surrounded by beautiful parkland and with a life-size train to climb on board and play on just outside.
The museum will likely be full of Japanese kids having a raucous ball as they squeal, shriek, run around and be kids.
(It's refreshing, as a lot of the time when you see Japanese kids, they are so well behaved and quiet, and considered in public.)
You may be the only foreigners there.
Quick, take a look inside!
Disclosure: This article contains affiliate links. If you make a purchase after clicking on one of these links, we may receive a small commission at NO extra cost to you.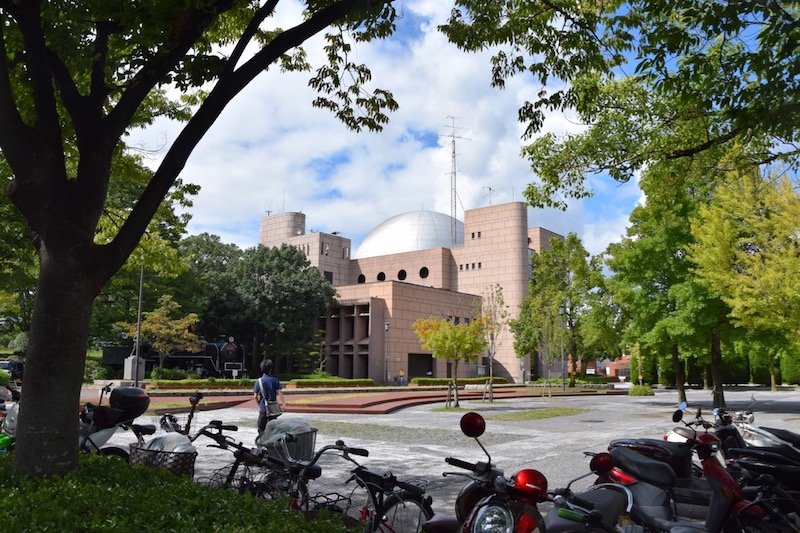 Best Places to Visit in Hiroshima for Kids
I love watching my kids play with other kids in children's museums like this one in Hiroshima, despite the language barrier and few common words spoken.
Body language and sign language is EVERYTHING.
But play is universal.
Kids know how to do it.
---
RELATED: Read the true story of Sadakoandthethousandcranes
Best Things to do in Hiroshima with kids
The Hiroshima Children's Museum is FOUR storeys of hands-on activities.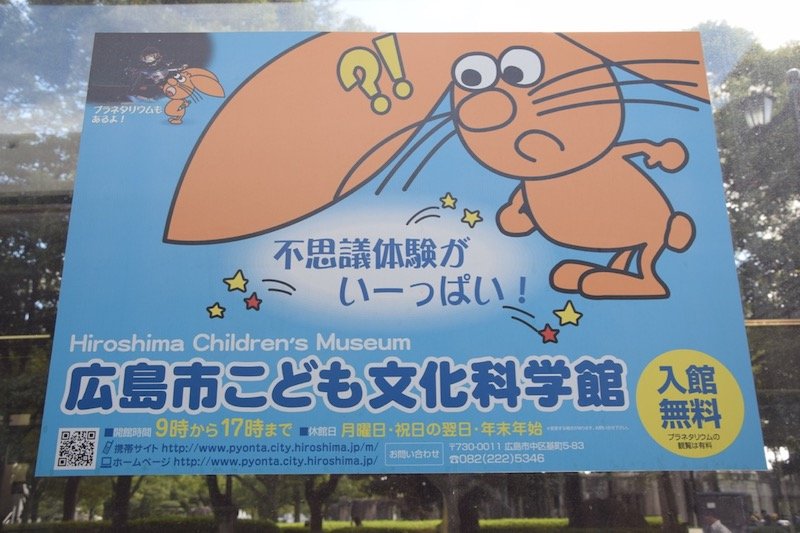 How to play
Instructions are mostly in Japanese, with the odd scattering of English (or pseudo English) words.
Most activities can be worked out by the pictorial instructions, or by watching the kids in front of you play the game and copying their lead.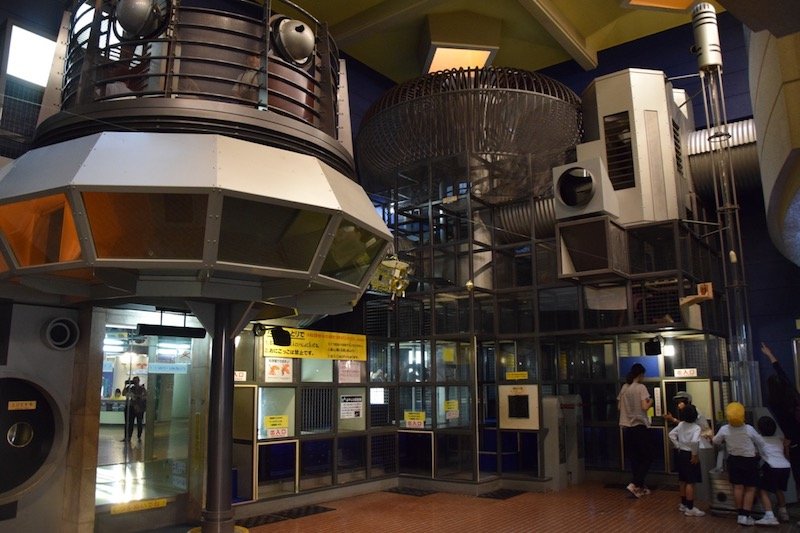 Best Attractions in Hiroshima Children's Museum
FIRST FLOOR
The centrepiece of the Hiroshima Childrens Museum is the Science Adventure Gym with access on both the ground floor, and the one above.
This space-age hi-tech gadget playground reminds me of Doctor Who, and the Daleks, with:
coloured glass
steel
rings
metal shapes
grates and bars
All this creates a fun scientific environment for kids to explore.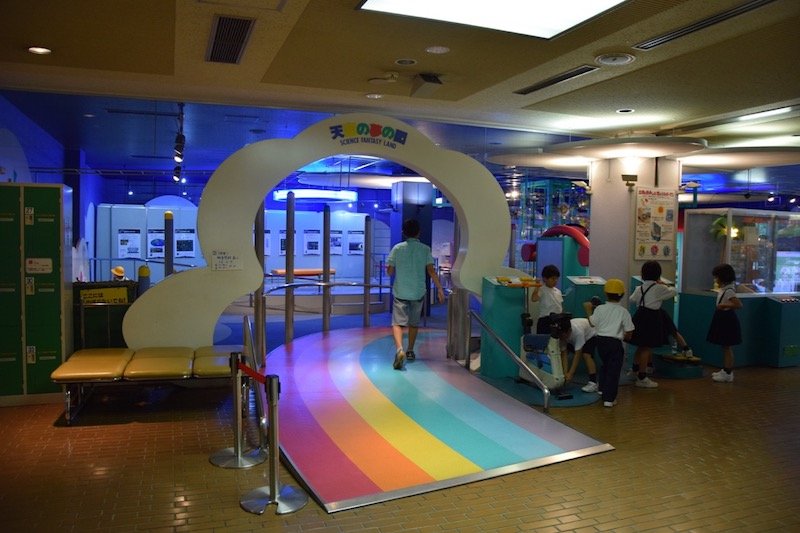 Rainbow Pathway
There's also a rainbow brick road leading to Science Fantasy Land.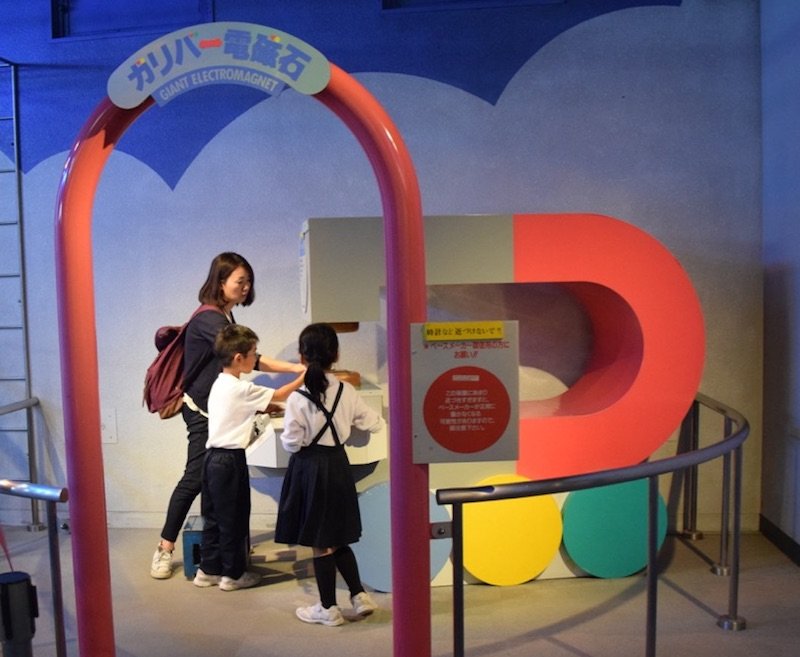 Science Fantasy Land.
Inside, there's:
a Giant Electromagnet
a "How fast can you run" track.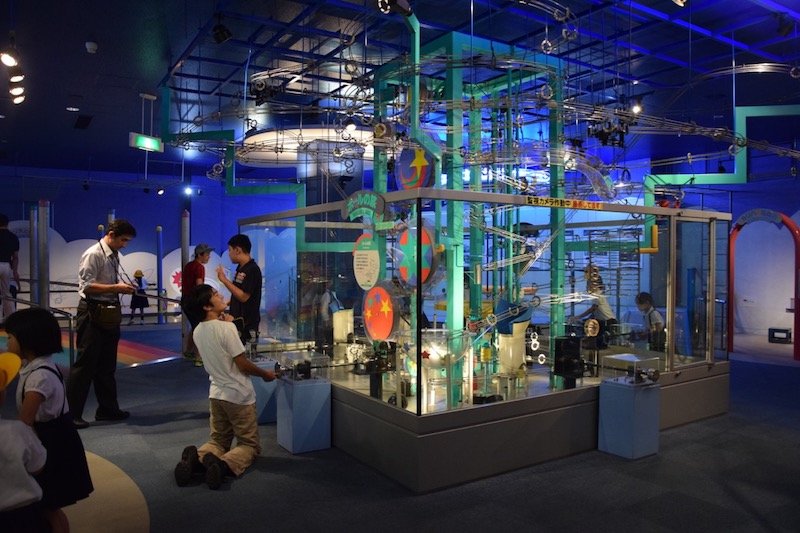 Hiroshima Energy Machine
There's also a smaller version of the Ball Maze Energy Machine we loved in the Hong Kong Science Museum.

SECOND FLOOR
Dr Scitech's Lab on Level Two has all the hands-on activities for kids where they are encouraged to:
press buttons
twirl dials, and
spin rotors.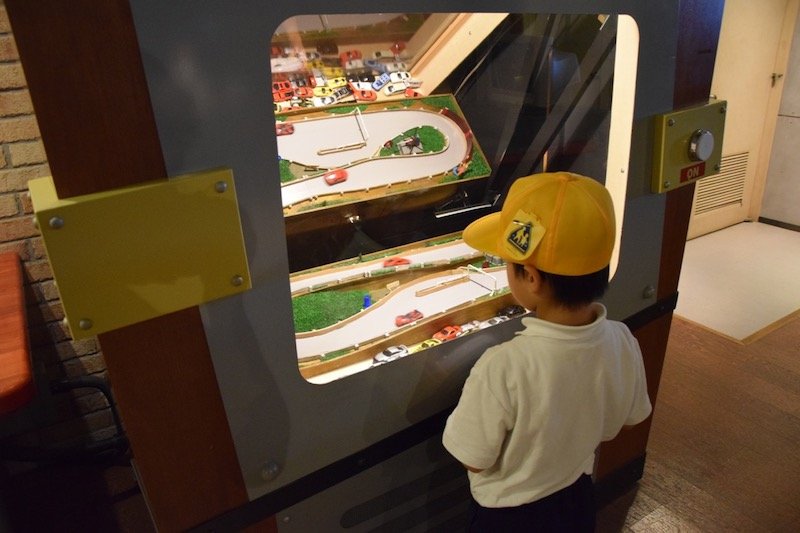 Also keep an eye out for:
model trains
a Virtual Reality tv game based on farm life
an earthquake model that shakes when you spin the wheel, and
a bunch of computer games with Japanese instructions.
The kids loved the Green Screen game, where suddenly you were swimming in the ocean with a Great White Shark!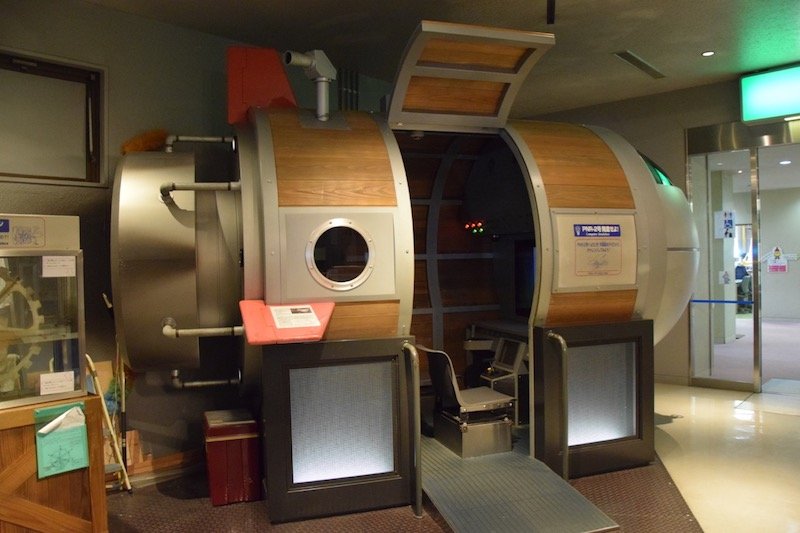 Space capsule
The space capsule to sit in and fly was intriguing too.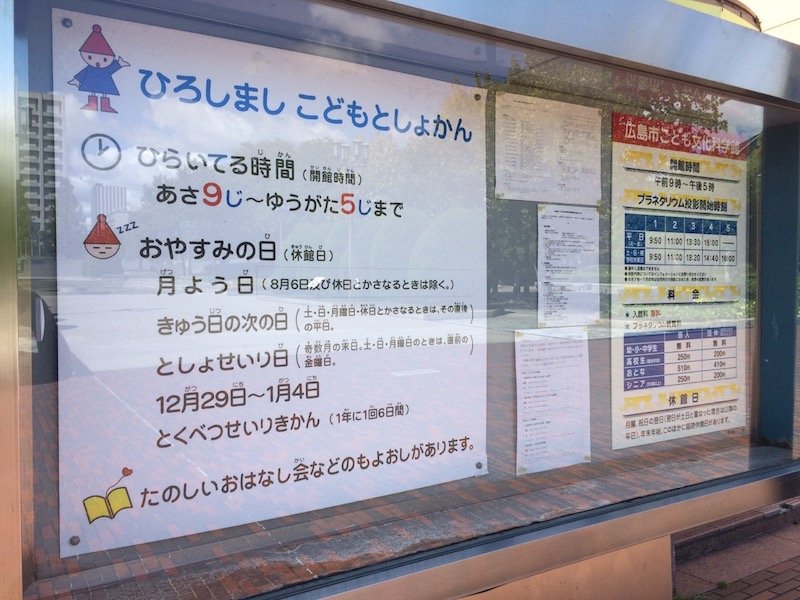 THIRD FLOOR
Visit the Astronomy exhibition, and then the Crafts and Science room on this floor to see:
models
crafts
dioramas and
Science displays by the local kids.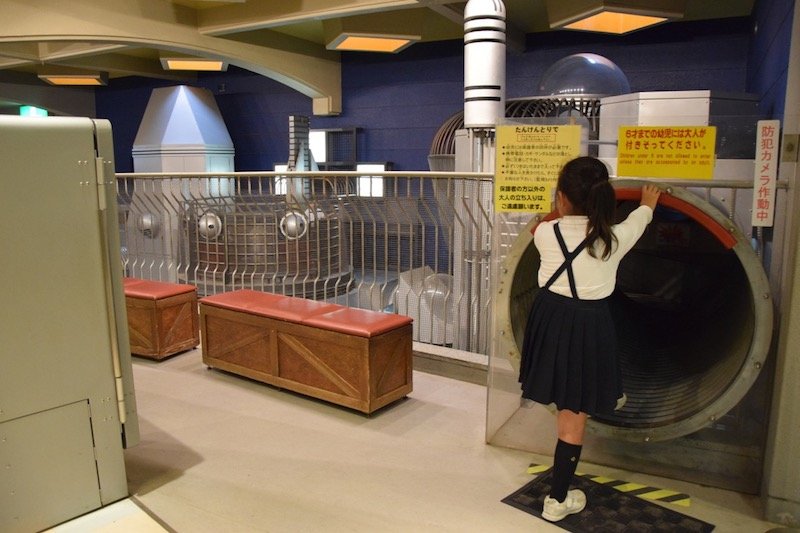 FOURTH FLOOR
Level four is host to the Planetarium, and the Ham Radio room. Learn all about communication & space travel too.
Allow at least 3 hours to see and do it all.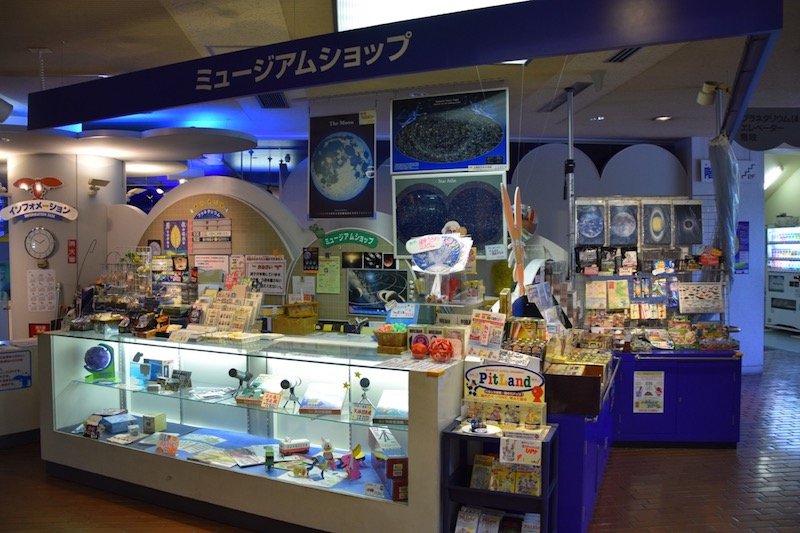 Hiroshima Children's Museum Shop
Guaranteed, you will not be able to leave the Hiroshima Kids Museum without buying at least one toy/gadget/science experiment.
Luckily, this cute Japanese souvenir shop in Hiroshima has:
quality toys
telescopes
world maps
atlases
world globes
science experiments
science books (in Japanese but with diagrams and pictures)
gadgets galore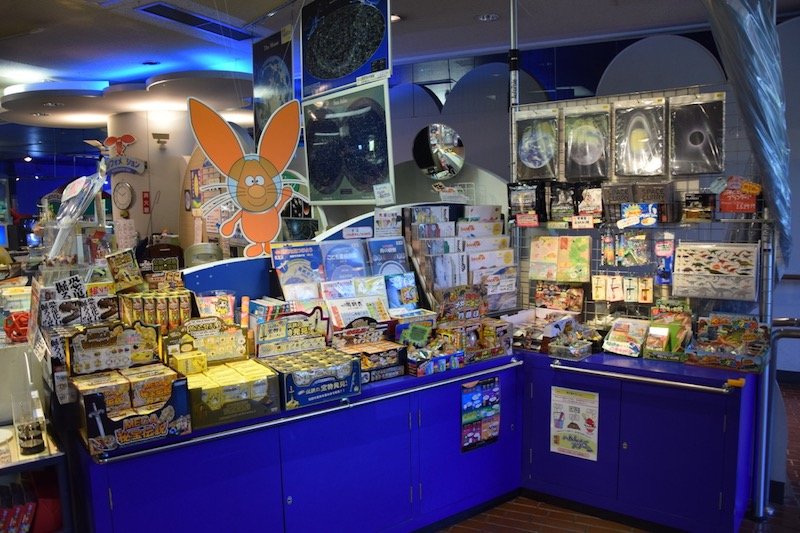 Pocket Money souvenirs
Look out for the stand full of lots of 'pocket money' priced items such as bouncing balls, planet postcards, stickers, pencils and stationery.
I'd visit the museum just for the shop.
It's that good.

Hiroshima in One Day with Kids
If you are visiting Hiroshima with kids in one day, here's a suggested Hiroshima itinerary to follow:
Start with the A-bomb dome and Sadako's crane.
Follow this with a visit to the Peace Museum if your kids are over 8 -10 years old.
Enjoy lunch and let the kids play in the grounds of the Hiroshima Peace Park (there are a number of simple playgrounds in the vicinity- look on google maps to locate them)
Head to the Hiroshima Kids Museum after lunch for a couple of hours.
Hiroshima Childrens Museum is an air-conditioned space where you can let the kids roam free.
This makes it a good place to catch your breath and allow yourself a few minutes peace to reflect upon the atrocities of war, and digest all you've seen and heard without the kids in your face.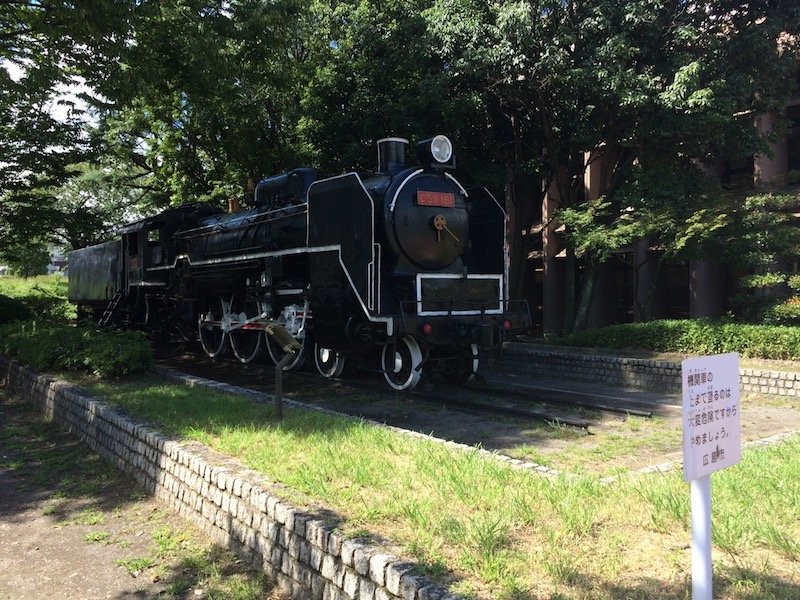 Visit the steam train
There's also a historical steam train carriage outside from long ago.
Kids can climb up the ladder and play around it.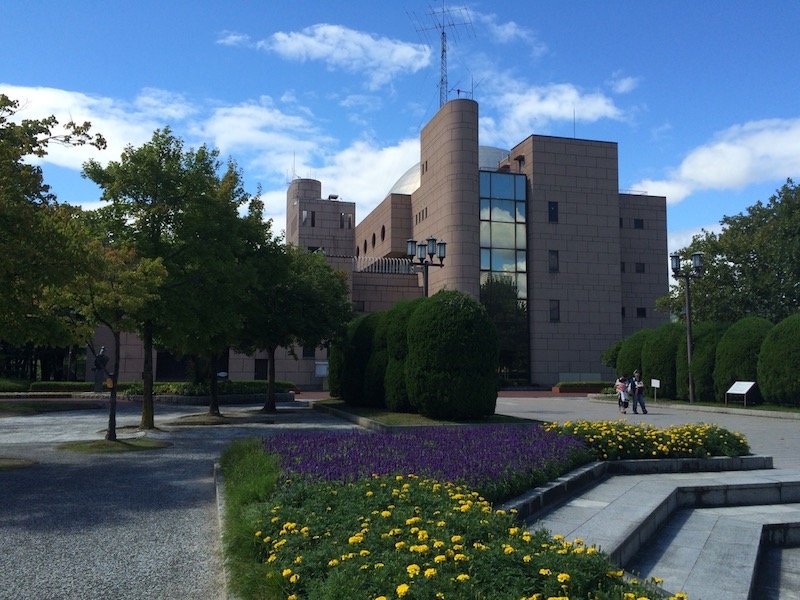 THE INSIDE SCOOP: Hiroshima Activities for Kids at the Hiroshima Childrens Museum
Correct at time of publication on Roam the Gnome. Please check with venue for updates. We apologise in advance if there have been any changes we are unaware of. All prices in yen, unless otherwise stated
Address: 5-83 Motomachi, Naka Ward, Hiroshima City, Hiroshima, 730-0011, Japan
Telephone: 082-222-5346
Email: [email protected]
Website: Click here
When is Hiroshima Children's Museum Open?
Opening Hours: 9:00 – 17:00
Hiroshima Children's Museum is closed every Monday, the day after National holidays, Year-end and new year holidays (from Dec.29 to Jan.3)
How much is Hiroshima Children's Museum?
Entry Fees:
Admission to the museum is free
The Hiroshima planetarium is also free for children.
There is a fee for the planetarium for adults, pensioners, and high schools students. See below for pricing.
Hiroshima Planetarium fees
Children – Free
High school students – 250 yen
Adults – 510 yen
65 years old and older – 250 yen
Planetarium opening times:
Weekdays (Tues to Fri) 11:00, 13:00, 14:00, 15:00
Sat, Sun, National and School holidays: 10:00, 11:00, 13:00, 14:00, 15:00; 16:00
Planetarium show is about for 50 minutes.
How to get to Hiroshima Children's Museum
By Tram/Streetcar: If you take a streetcar, get off at the A-bomb Dome stop. (It takes about 20 min. from Hiroshima sta.) Then, walk for 300m from the stop.
Parking: As we have no parking available here, please take public transportation.
Map of Hiroshima Childrens Museum
Nearest takeaway coffee and/or food options: Cafe Jardin, and Subway are close by. Click here for more food options.
Toilets: Yes, including baby change table
Disability access: Yes, lift access to higher floors. Wheelchair friendly.
Closest playground: Motomachi nature play plaza is in the same park as the museum, walking the opposite direction to the A-bomb dome, on the left.
Notes:
The Hiroshima Children's Museum was last reviewed in 2020.
Toadstool Rating: Best Places to Visit in Hiroshima for Kids
A fabulous find.

Looking for More Fun Things to Do in Hiroshima with Kids?
Click the blue links below for more Hiroshima attractions.
Visit Hiroshima Peace Park and Sadako Crane for a child-friendly experience of Hiroshima