INSIDE: Take a peek at the Beloved Hans Christian Andersen Statue Central Park .
Hans Christian Anderson is the father of Fairy Tales we all know and love.
Pay homage to this talented fellow at the Hans Christian Andersen Statue in Central Park, New York City.
The Hans Christian Anderson statue monument is a bronze figure of Hans Christian Anderson, a man noted worldwide for his contribution to children's literature with his children's stories and fairytales.
Take a look below for details.
Disclosure: This article contains affiliate links. If you make a purchase after clicking on one of these links, we may receive a small commission at NO extra cost to you.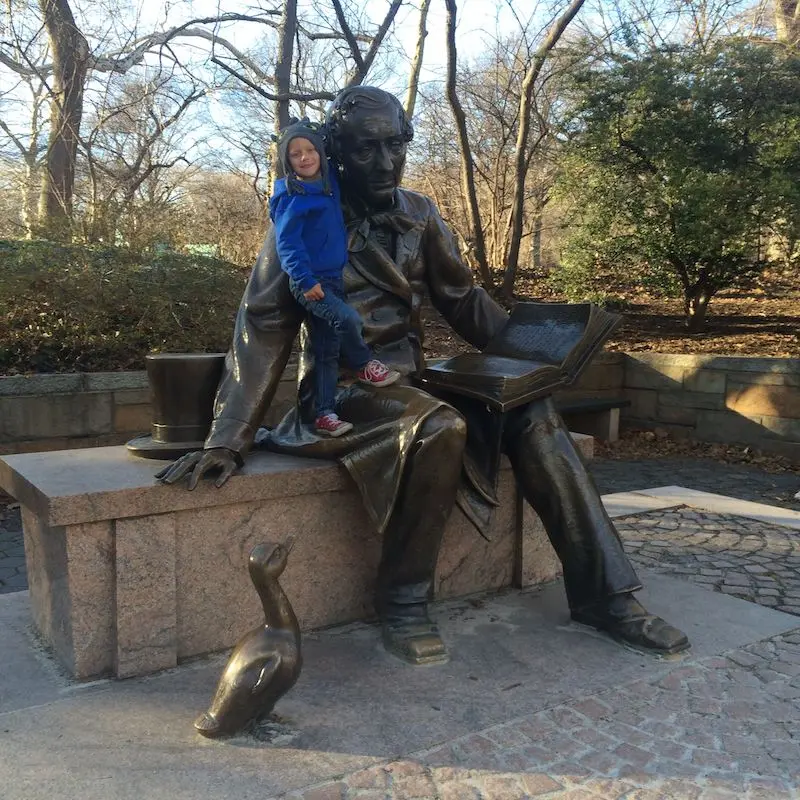 Hans Christian Andersen Statue Central Park
This statue is of an elderly Anderson, the acclaimed Danish author, seated on a park bench with an open book.
The book is opened to a chapter of the fairy tale, the Ugly Duckling by Hans Christian Anderson.
His beloved duck, cast in bronze, is on the ground, gazing up at him.
It's sweet.
---
RELATED: ULTIMATE guide of unique things to do in New York with kids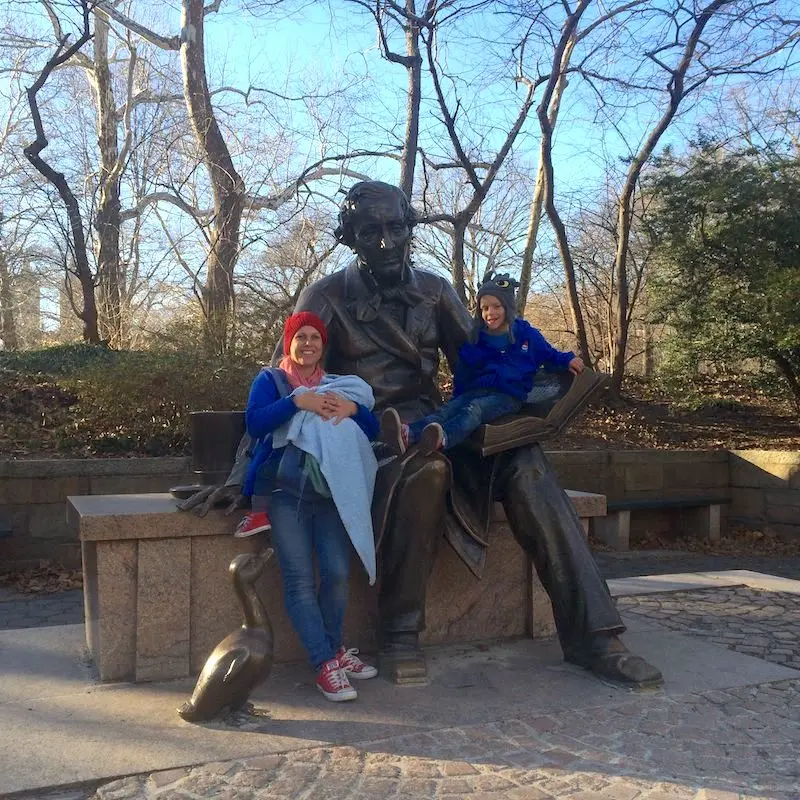 The Hans Christian Anderson Central Park New York Statue loves a cuddle!
Like thousands of other children before him, Ned couldn't resist a cuddle, and in fact, children are welcome to touch, climb on, and around the Hans Christian Anderson statue.
(Interaction is also encouraged at the Alice in Wonderland sculpture on the north side of the pond.)
Hans Christian Anderson Books
The Danish author was a prolific writer, with thousands of published works to his name, but he was most famous for his children's fairy tales.
Most famously, he was the Little Mermaid author.
(You can visit the Little Mermaid Statue in Copenhagen too if you are ever headed that way!)
Filled with lessons of virtue, courage, resilience, overcoming adversity, love, and acceptance, his stories have been translated into more than 125 languages.
The stories and their characters have inspired ballets, plays, animated films, live action films, Disney movies, and Disney parades.
Hans Christian Anderson Stories
Here's a collection of well-known Hans Christian Anderson books.
The Ugly Duckling
The Princess and the Pea
The Emperor's New Clothes
The Snow Queen
The Little Match Girl
Thumbelina
The Little Mermaid
Central Park Hans Christian Andersen Summer Storytelling Events
Since 1957, on Saturdays during the summer, New York City's children have clustered around Hans Christian Andersen's statue near Conservatory Water in Central Park.
They arrive to hear his and others' fairytales, folk stories, and stories, retold by a dedicated group of professional storytellers.
For more information and a full schedule of events, please visit The Hans Christian Andersen Storytelling Center.
---
RELATED: Guide to Hiring Sailing Boats on Conservatory Water Pond (like in the Stuart Little movie)

Where to eat in Central Park near the Hans Christian Andersen Statue NYC
Try Snack Shack in the copper-roofed Kerbs Boathouse OR Le Pain Quotidien.
Both can be found at Kerbs Boathouse Central Park at the Conservatory Pond.
It's 2 minutes walk from the statue around the pond.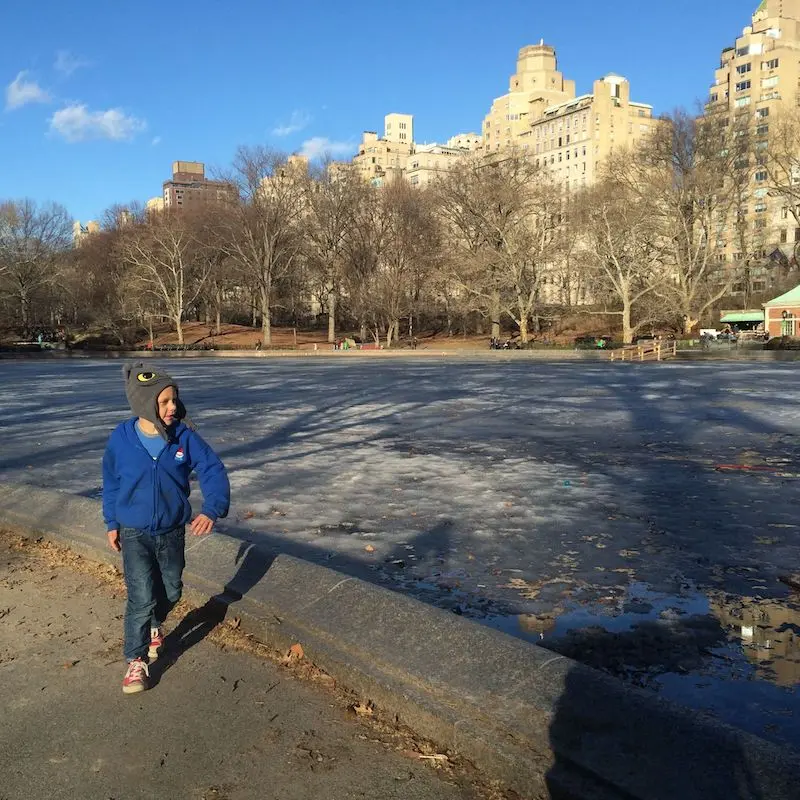 THE INSIDE SCOOP: Hans Christian Andersen Statue Central Park
Correct at time of publication on Roam the Gnome. Please check with venue for updates. We apologise in advance if there have been any changes we are unaware of. All prices in US dollars, unless otherwise stated
Where is the Hans Christian Andersen statue in Central Park?
Address: The Hans Christian Andersen Statue is on the west side of the Conservatory Water Central Park Pond at East Side at 74th Street.
Telephone: Call 212-310-6600 – Monday – Friday, for information 9:00 am – 5:00 pm
Central Park Opening Hours
Central Park is free and open to visitors 365 days a year.
Central Park opens at 6:00 am and closes at 1:00 am.
Kerbs Boathouse Cafe is open from sunrise till dusk.
Central Park Entry Fees
Free
How to get to Central Park in New York
Our tip: Take the subway to Central Park.
By Subway Train: Q train (Yellow line). Stop at Lexington Av – 63 St Subway Station
By Subway Train: 4, 6 Train (Green line): 72 Street or 77 Street Station
On Foot: Enter at the E 72nd St entrance and walk down the hill
By Taxi/Uber: Exit at E 72nd and 5th Avenue
By car: We recommend public transport.
Parking at Central Park
There is no parking in Central Park.
Many parking garages are available nearby.
Directions to the Statue in Central Park Map
Interactive Central Park Map: Find cafes, toilets, playgrounds and more here.
Hans Christian Andersen Monument Map
Facilities in Central Park
Toilets: Yes including baby change table
Disability access: Yes
Closest playground: Billy Johnson Playground
Shade: Shady trees
Enclosed: No fences. Keep an steady eye on small children near the water.
Ground cover: Concrete
Picnic tables: Yes – for Cafe patrons only
Electric BBQs: No
Water Bubblers/fountains: Yes
Scooters and Bikes: Yes
Dogs: On leash only.
Toadstool Rating – Hans Christian Andersen Duck Statue
He wrote the kids' favourite "The Little Mermaid" – pop by with the kids to say hello!

Looking for MORE Super Fun Things to Do in NEW YORK CITY with Kids?
Click the blue links below for more New York travel tips