INSIDE: Roam the Gnome's Guide to Goomeri Pumpkin Festival QLD
Goomeri Pumpkin Festival is the only festival in Australia where you get to hurl a pumpkin down Policeman's Hill just for the fun of it, to see just how far it will go.
First and second place win a big cash prize in both the Adult and Junior divisions, and there's $1000 up for grabs for the person whose pumpkin lands in the Lucky Spot!
Plus, if you win, your name goes on the Goomeri Pumpkin Festival Honour Roll. Now that's a claim to fame you'll want to share with your family and friends forever more.
Goomeri Pumpkin Festival is Australia's BEST DAY OUT!
Take a look below for details!
Disclosure: This article contains affiliate links. If you make a purchase after clicking on one of these links, we may receive a small commission at NO extra cost to you.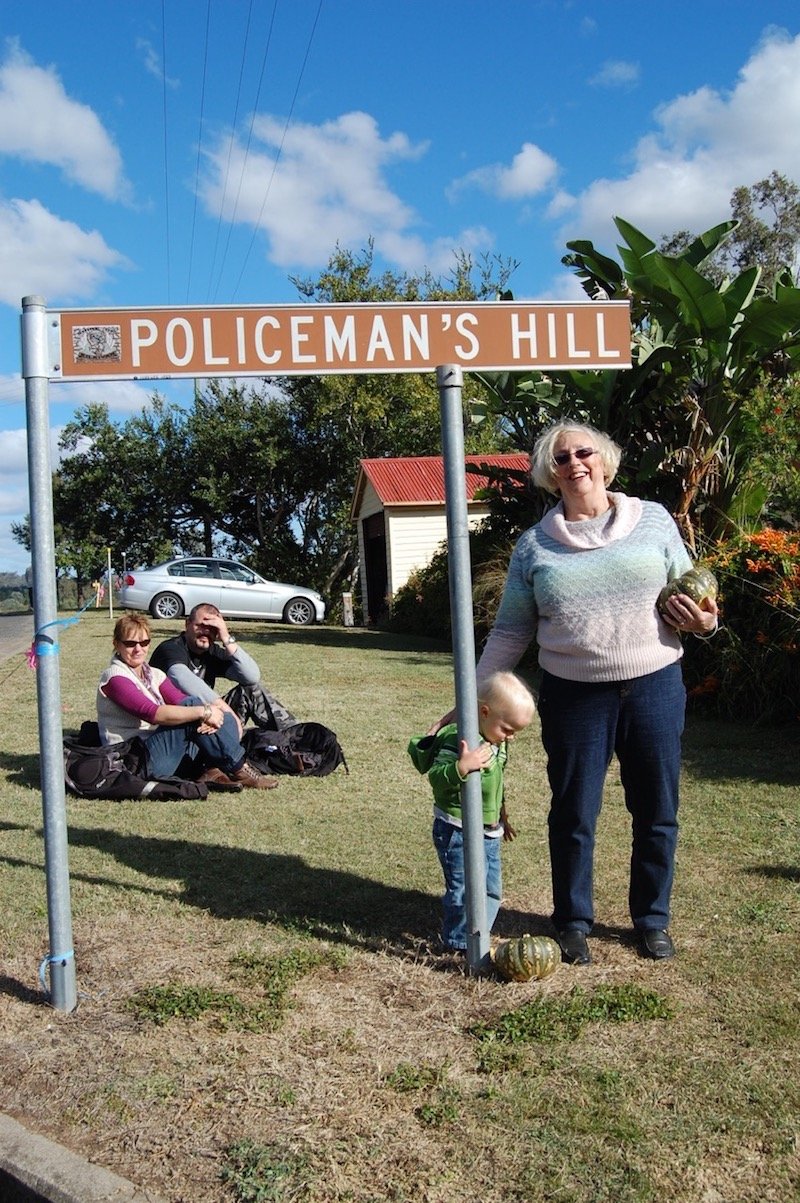 The 25th Annual Goomeri Pumpkin Festival 2021
We couldn't have loved this quirky family-friendly festival more.
There's so much to do, see and eat at this great pumpkin festival.
Start the day at 6am with a BBQ breakfast, then wander Goomeri township to soak up all the pumpkin goodness.
Hot tip: Bring your own snacks and healthy picnic food for the road trip – here's a comprehensive collection of delicious new picnic food ideas!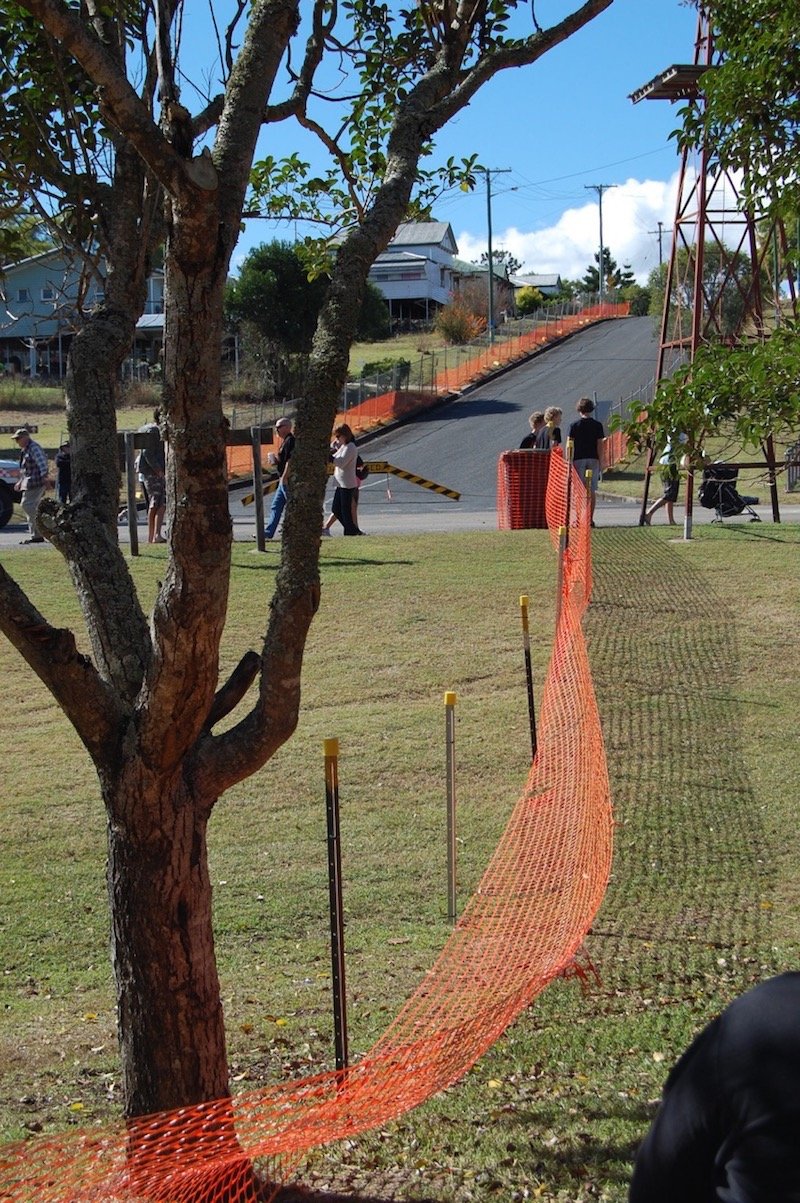 Policeman's Hill Goomeri
And take your first look at Policemans Hill, home of the Great Pumpkin Roll competition.
If you don't feel a frisson of excitement, you're doing something wrong!
But that's not the only activity or entertainment on offer.
On the Pumpkin Festival Goomeri schedule, there's
a hugely entertaining pumpkin-filled street parade
Pumpkin Power Shot Putt, a Pumpkin Pull, Pumpkin Patch Snatch, Pumpkin bowls, and more pumpkin competitions during the day
pumpkin foods – pumpkin pie, pumpkin cakes, and the best pumpkin soup you'll ever taste
a pumpkin decorating competition
a brand new "Dash for Cash" competition
market stalls and souvenirs
Plus, all day entertainment including music on the main stage, roving entertainers, a Pumpkin Pageant, and cooking demos
That's just some of the reasons why the Goomeri Pumpkin Festival was voted Number 24 in RACQ's 150 Must Do's in Queensland!
The Goomeri Pumpkin festival will be held this year on (TBA)
Pumpkin Festival Precincts
Pumpkin Central
Within Pumpkin Central you will find:
Registration booths for "The Great Australian Pumpkin Roll", Pumpkin Bowls, Pumpkin Power Shot Put and Pumpkin Pageant and the brand new Pumpkin Patch Snatch
Giant Pumpkin Competition
Decorated Pumpkin Competition
Goomeri Pumpkin Festival Merchandise
Festival Programs
Goomeri Pumpkin Festival Information
Live Entertainment on BGA Stage
Coffee/food vendors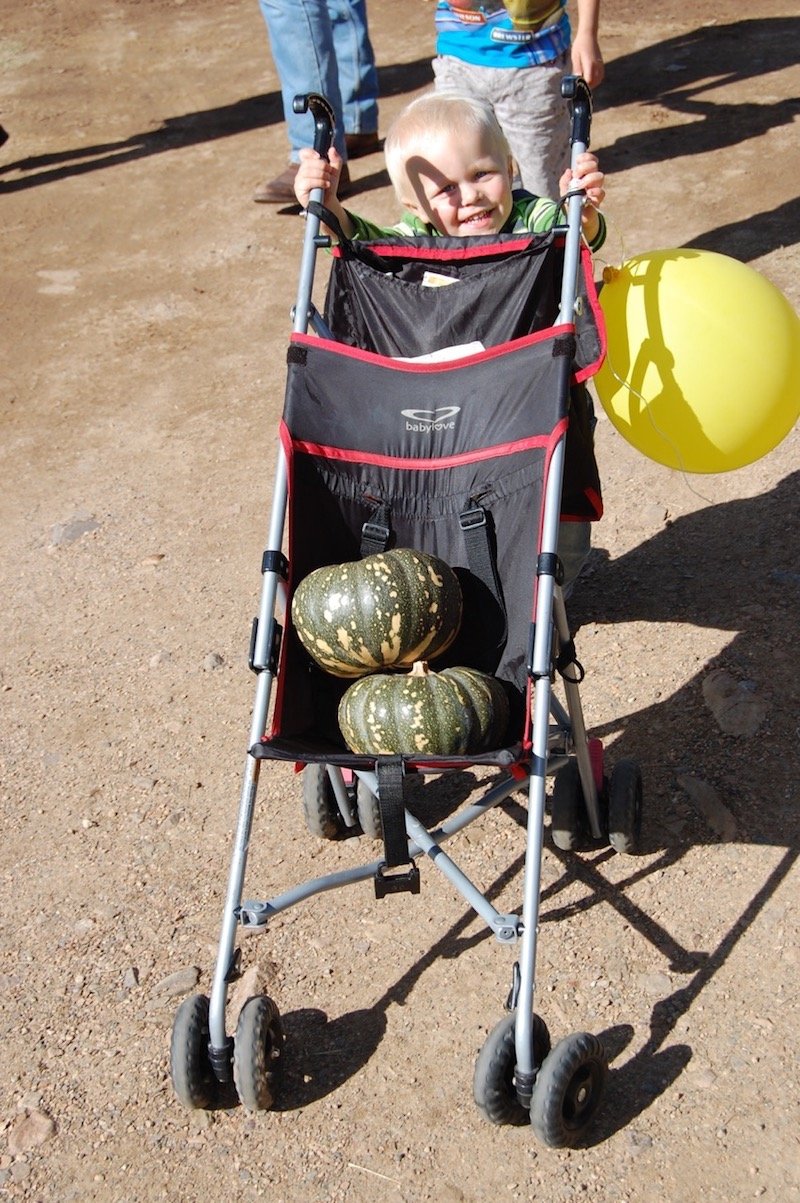 Main Stage- Railway Yards Precinct
The Main Stage at the Goomeri Pumpkin Festival has moved from it's original site in Dickinson Park to its new site accross the road in the Railway Yards Precinct.
Stay around for the Presentation Ceremony for festival winners to be held at 3.30pm
The Main Stage Program is coming soon.
Celebrity Chef Stage Cooking Demonstrations & Gourmet Destinations Precinct
The Celebrity Chef stage is located in Dickinson Park, Burnett Highway at the northern end towards the tennis courts.
Grab yourself a seat out of the sun and watch all the action of local chefs cooking up a storm using produce from local growers and producers.
Yes, you can taste test!
Yes, you can try and buy the best produce, condiments, sauces, and products to take home.
Look out for the Celebrity Chef Program, coming soon.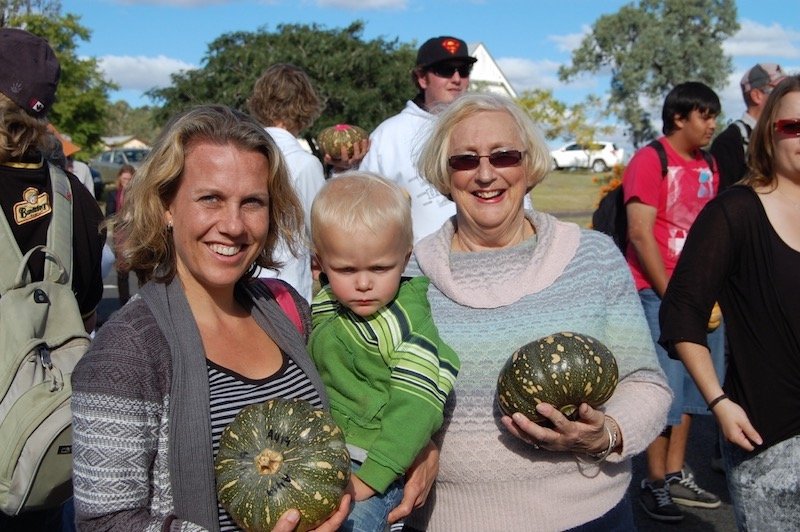 4 BEST THINGS TO DO AT GOOMERI PUMPKIN FESTIVAL
No.1: The Great Pumpkin Roll!
Pumpkins Registered and Ready to Go
The main drawcard is the Pumpkin Roll competition, as mentioned above.
First up, buy your pumpkins and have them marked and registered under your name.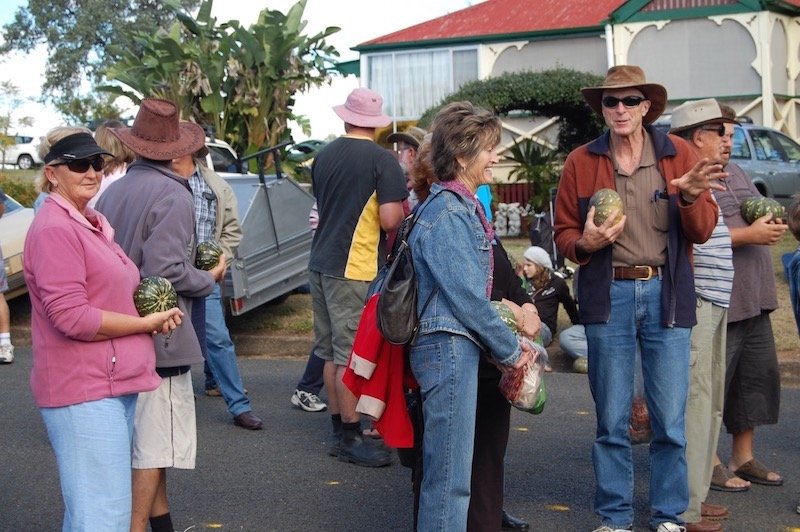 Then join the throngs of people at the top of Policeman's Hill, waiting their turn to roll.
This is a jovial affair, and a top way to meet both locals and people from all over Australia, and the world.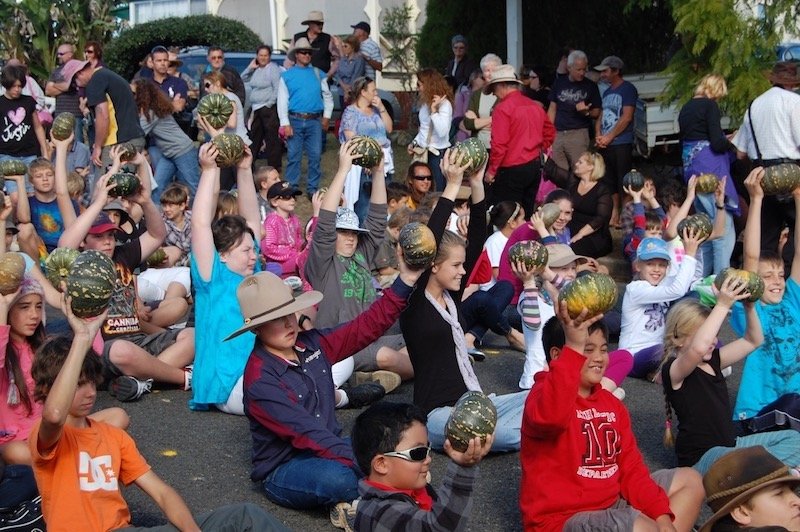 No.2: The Pumpkin Roll Kids Race at Goomeri Festival
First up, the kids race.
Children are lined up in rows of 10, and row by row, are then invited to stand, ready-set-go before rolling their pumpkin down the hill with all their might!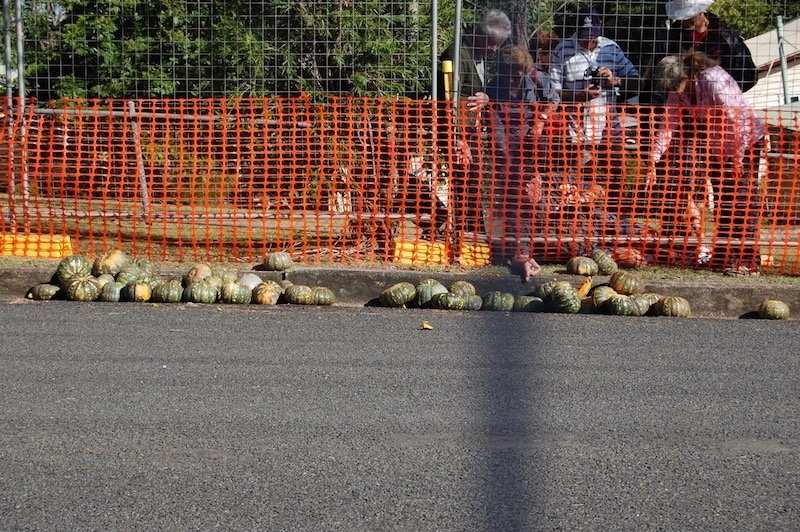 Pumpkins roll here, there and everywhere!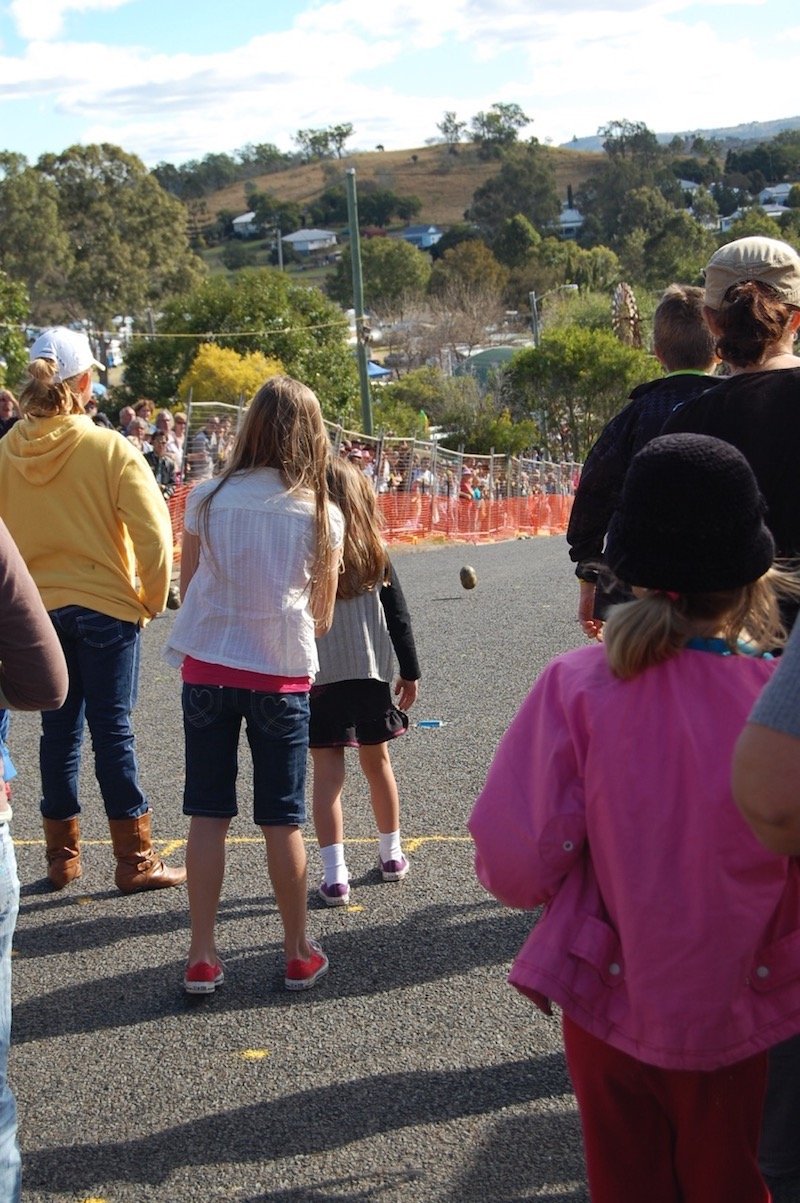 It's a spectacular sight.
With many, many pumpkin casualties left lying, smashed up and broken, innards falling out all over the roadside.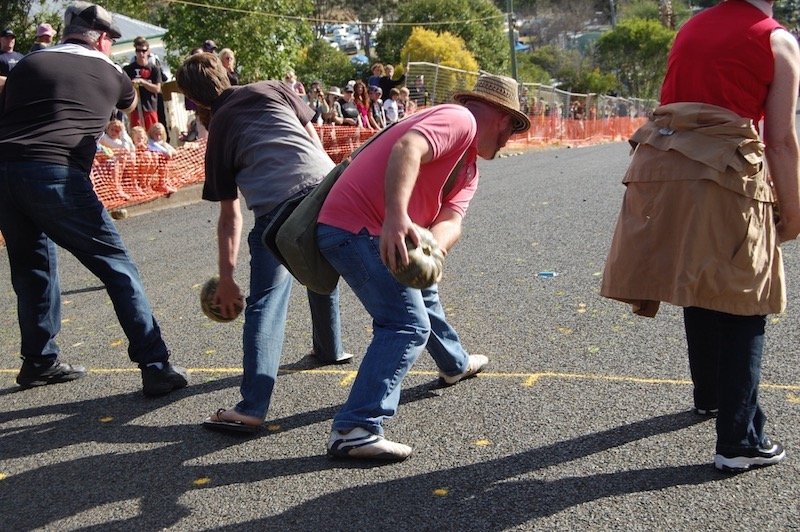 The Pumpkin Roll Lineup
But there's no mucking about in the adult's race.
There are serious competitors who are out to win the title!
Winners are announced at the end of the final day, as the celebrations wind down, on the main stage.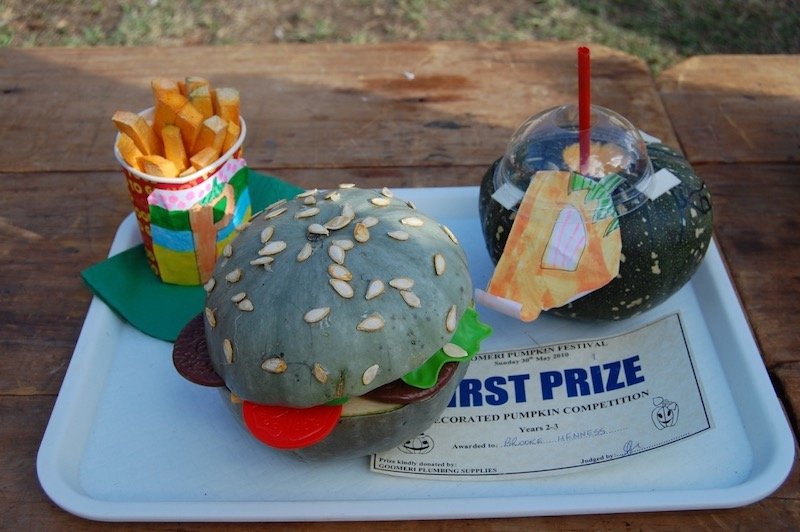 No.3: Best Dressed Pumpkin Competition
Two events deserve a special mention.
The Best Dressed Pumpkin comp is a must see.
We guarantee you will see things here that you've NEVER seen before, including this Pumpkin Fast Food Delivery!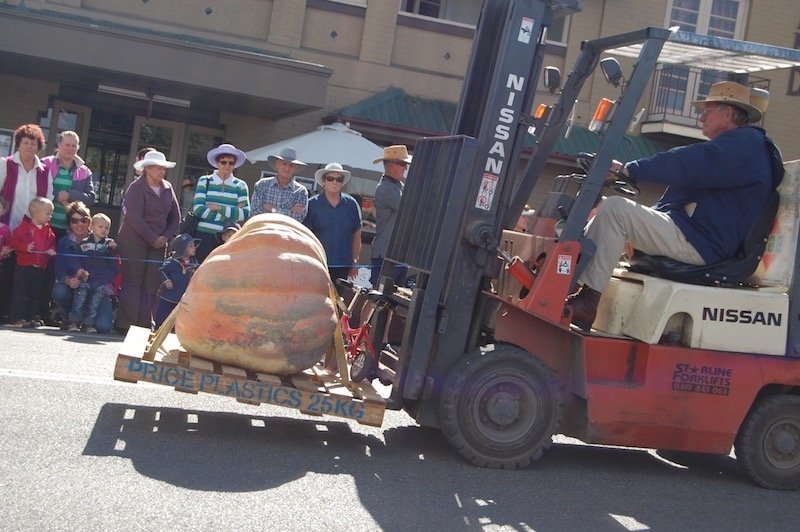 No.4: The Outback and Heritage Street Parade
The other highlight is the Pumpkin Parade.
Keep an eye out for the winner of the Largest Pumpkin competition – it's so big, only a forklift can carry it.
What to eat at Goomeri Pumpkin Festival
There's plenty of food trucks serving all the normal festival food:
hot chips, pies, and dagwood dogs
baked potatoes
fish and chips
curries and Mexican takeaways
pancakes and ice cream
coffee and tea
But our recommendation is to head inside the hall to find gallons of homemade pumpkin soup, served with a side of bread and butter.
At just a few dollars a pop, you can pop back for more, and more.
You'll want to!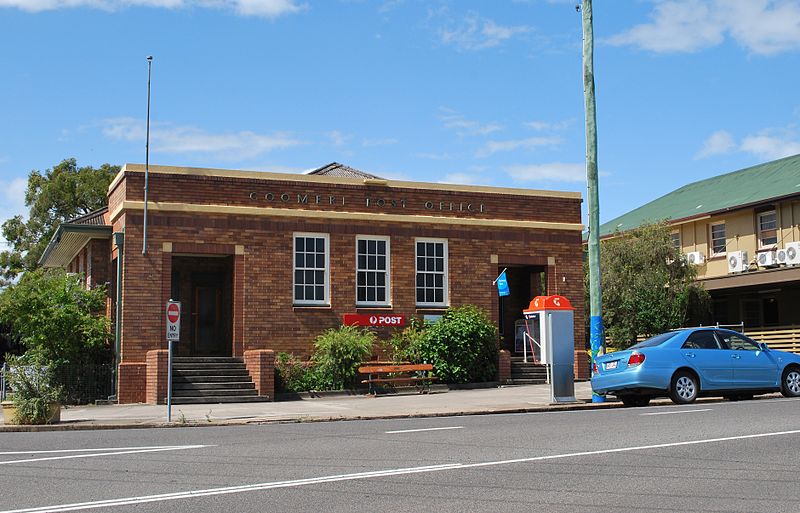 Image credit: Mattingbgn via Wikipedia CC BY SA 3.0
Stay for the Whole Day, or make a weekend of it!
The Goomeri Pumpkin Festival is now held over TWO days – Saturday and Sunday.
That means double the fun, and more activities and attractions including:
Twilight Markets will be held from 3pm to 8pm in the new Market Square located in the Railway Yards Precinct. Food will be supplied by local community organisations including the SES, Goomeri Lions, Goomeri Pumpkin Festival, Coffee Road Mobile Cafe and local businesses. Live entertainment will be held throughout the markets on the Main Stage.
Sportsground BBQ Breakfast and a cake/coffee stall from 7am at the Goomeri Sportsgrounds
Moffatdale Ridge Wine Tasting from 11am
The Cooloola Community Orchestra will hold a concert from 1.30pm – 3.30pm in the Hall of Memory on Boonara Street
There's a Photography Competition Display on all day in the Goomeri Festival Pop up shop
Whether you go for both days, or just the Festival Day on Sunday, you'll be joining thousands of people at the funniest festival in Australia.
If you don't have a gigantic smile on your dial all day long, then I'll eat pumpkin until I turn orange.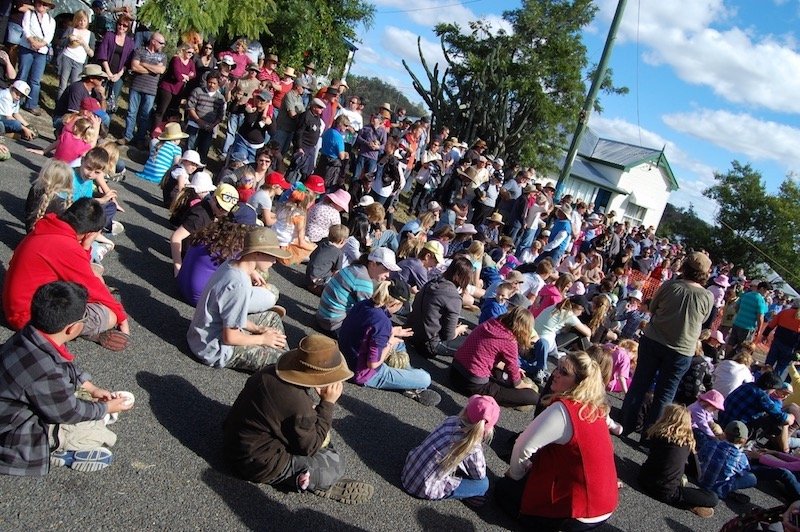 THE INSIDE SCOOP: Goomeri Pumpkin Festival
Correct at time of publication on Roam the Gnome. Please check with venue for updates. We apologise in advance if there have been any changes we are unaware of. All prices in AUD dollars, unless otherwise stated
Address: Goomeri Township, Burnett Highway
Phone: 0484 629 424
Email: [email protected]
Website: Click here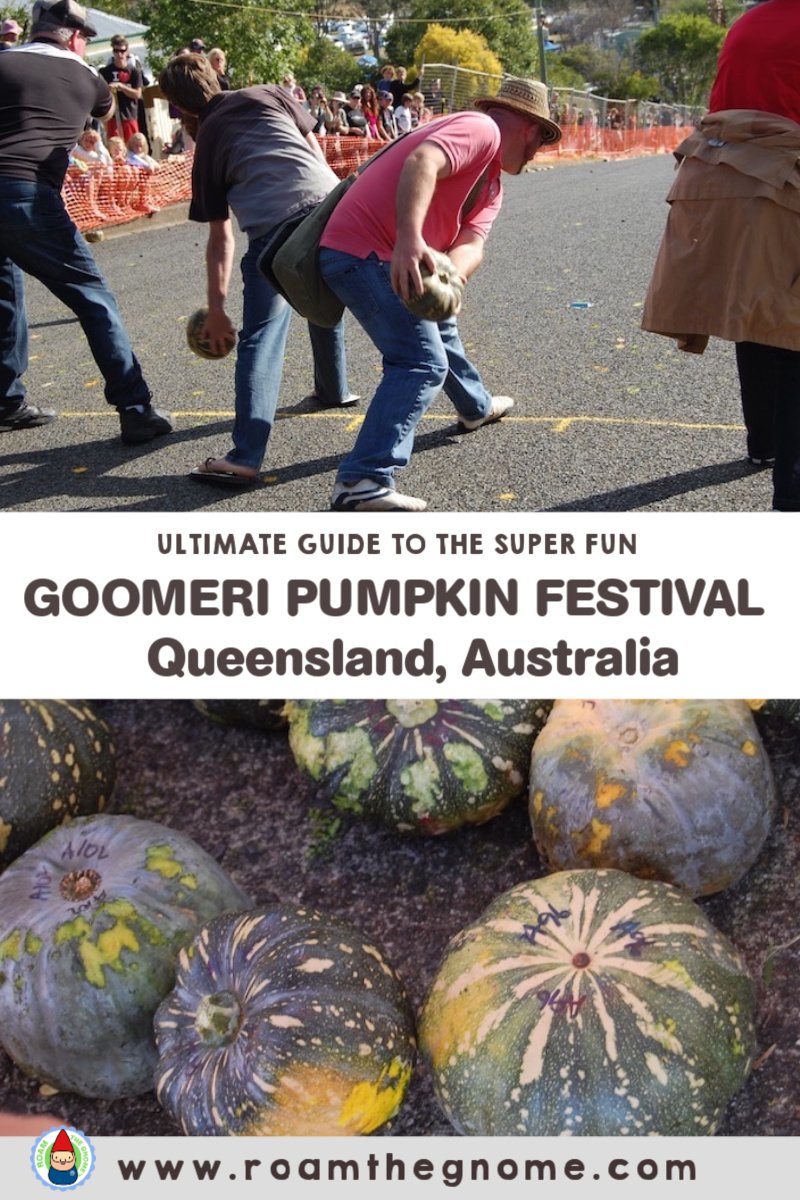 How to get to Goomeri Pumpkin Festival
Goomeri is located in the Gympie Regional Council district, on the Burnett Highway, approximately 250 kilometres north-west of Brisbane via the M1 and Bruce Hwy (or 235km if you take the A17 D'Aguilar Hwy and A3 Burnett Highway which runs between Nanango and Goomeri).
The journey is around 3 hours long.
Goomeri is 142 kms from Noosa Heads, an hour and 45 minutes drive time.
Or 78km from Gympie, just under an hour's drive.
Click here for google map directions from your location.
Goomeri Festival parking
The local SES will be managing parking and traffic flow during the event.
Please follow their directions.
Park only in designated areas below, or risk a fine!
Parking is available on the Goomeri State School oval at a reasonable rate of $2.00 for the day. Proceeds go to Goomeri State School. Disabled Parking available.
Parking is available in Alec McIntosh Park, located across from the Town Hall on the Wide Bay Highway.
Parking is available on the road reserve on the south-western side of the Burnett Highway, near the bridge on the southern approach to the Goomeri township.
Goomeri Map
Where to stay in Goomeri?
Looking for accommodation in Goomeri for the Pumpkin fest? Try one of these:
Goomeri Motel
Located near the intersection of the Burnett, Bunya and Wide Bay Highways, Goomeri Motel has country comfort motel style, providing modern, comfortable and quiet 3 star accommodation.
Book 2 bedroom, family room, queen rooms, or queen twin single rooms.
Prices start from $120 AUD to $175 approx per night.
This one's IN town.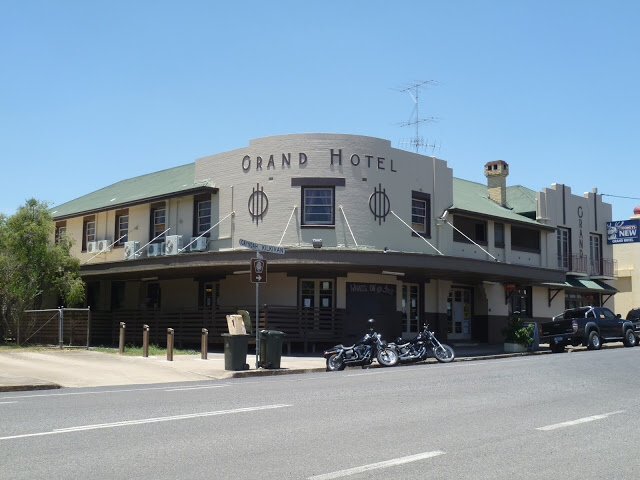 Image credit: Steve E
Joes Grand Hotel
This classic Art Deco Hotel was built in 1943, but has recently undergone a total renovation, but retains the charm of olden times.
The hotel can house up to 40 people in a combination of doubles and twin singles, all in upstairs accommodation, accessed via the bistro lounge.
Room rates start from $50 a night.
Phone (07) 4168 4131 to book.
Murgon City Motor Inn
Book Murgon City Motor inn for clean and comfortable accommodation at affordable rates.
There's single, standard and deluxe rooms, plus warm and friendly country service.
It's simple budget priced accommodation, perfect for a night or two.
Yallakool Caravan Park
The wward-winning Yallakool Caravan and Recreation Park on BP (Bjelke-Petersen) Dam is located about 12 kms North of Murgon, it's popular with anglers, campers, bird-watchers and water-sports enthusiasts all year round.
We highly recommend booking your hotel or motel accommodation WELL in advance of the festival as it books out quickly.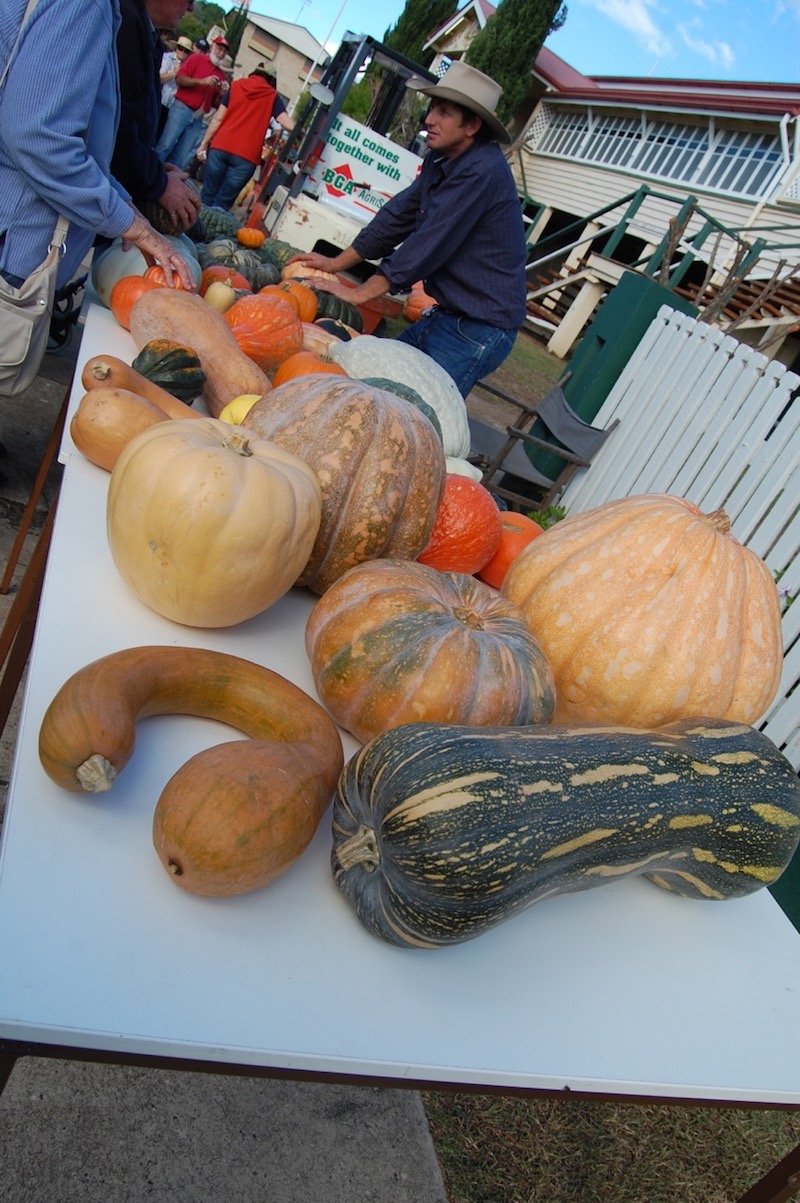 Camping at Goomeri Pumpkin Festival
Goomeri Pumpkin Festival Camping
Book a campsite for Goomeri Pumpkin Festival at the Goomeri Sports Ground Campground City.
Per night, $20 per site.
Book online or call the Pumpkin Festival Inc on 0484 629 424
Goomeri Pumpkin Festival Tent City
There's now a tent city set up and ready for you to move in
Book a twin share tent, a single tent, or a triple share ten
One night for three people in a triple share tent without linen or extras costs $200 AUD
You can hire camp chairs for $10 each, camp tables for $25 each, a single bed linen pack for $60 per person, or a double bed linen pack for $85 per bed.
A twin share tent costs $180 for two people per night, not including linen.
(Prices subject to change)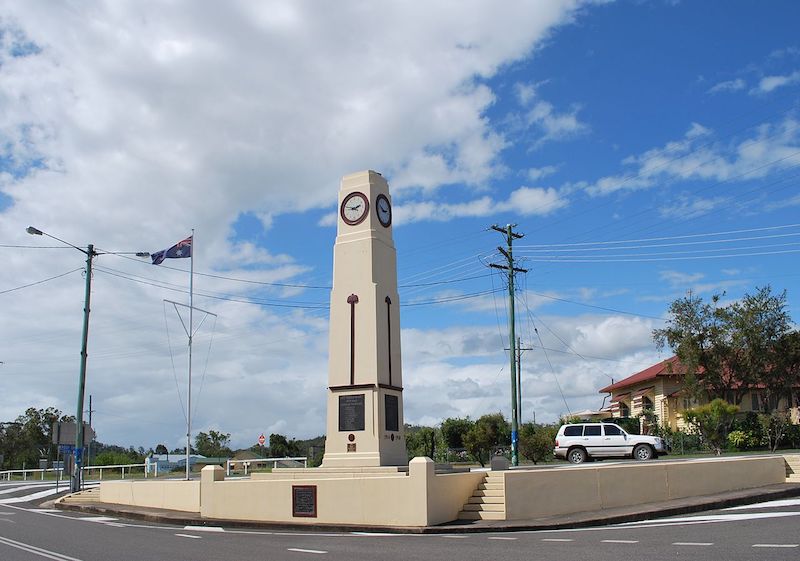 Image credit: Mattingbgn via Wikipedia CC BY SA 3.0
Looking for More Fun Things to Do around Goomeri with Kids
No.1: Heritage walk around Goomeri
Take a leisurely stroll around the town and look at all of the engraved plaques which describe the buildings and businesses which were a part of Goomeri's history. Visit the Heritage and Information Centre to get a Walking tour map.
No.2: Check out local memorabilia
Visit Goomeri Heritage and Information Centre – have a look at the display of memorabilia.
No.3: See the Town Clock
Look at the town clock in the centre of town – take note of the 'missing numbers', which are letters (Lest we forget).
No.4: Hall of Memory
See the heritage listed Hall of Memory in Boonara Street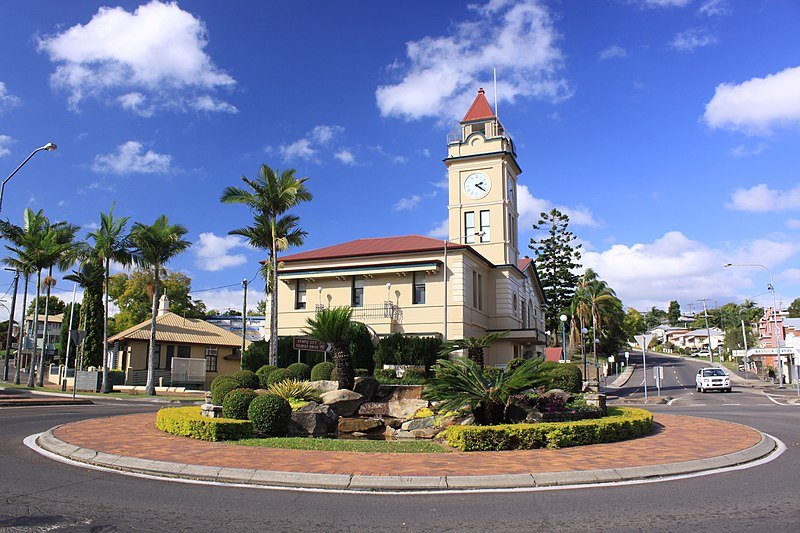 Image credit: Thirumurugan Ponnusamy via Wikipedia CC BY SA 4.0
More Things to Do in South Burnett Shire & Gympie region
Murgon
Murgon Dairy Museum
Boat Mountain Conservation Park
Bjelke-Petersen Dam
Follow the Barambah Wine Trail
Wondai
Wondai Timber Museum
Art Gallery
Kilkivan
Kilkivan Museum
The Chimney – remains of a pre-1900 copper smelter (10 minutes from town)
Mudlo Gap Conservation Park – 20 mins from Kilkivan – dry rainforest walk and picnic area
Gympie
Gympie Gold Mining and Historical Museum
Gympie Memorial Park
Take a ride on the Mary Valley Rattler tourist train
Toadstool Rating: Goomeri Pumpkin Festival Reviews
Top weekend away.

Looking for more things to do in Brisbane and the Sunshine Coast?
Click the blue links below for more Brisbane & Sunshine Coast fun