INSIDE: Roam the Gnome's Guide to the BEST Family Hotel Hong Kong has to offer!
The Gold Coast Family Hotel in Hong Kong has created something so cool, we are jumping out of our skins to get back there for a weekend stay.

What's so special you ask?
It's their EIGHT designer themed hotel rooms that kids are just going to go gaga over.
This is top notch family accommodation in Hong Kong, designed with kids in mind!
Take a look!
Disclosure: This article contains affiliate links. If you make a purchase after clicking on one of these links, we may receive a small commission at NO extra cost to you.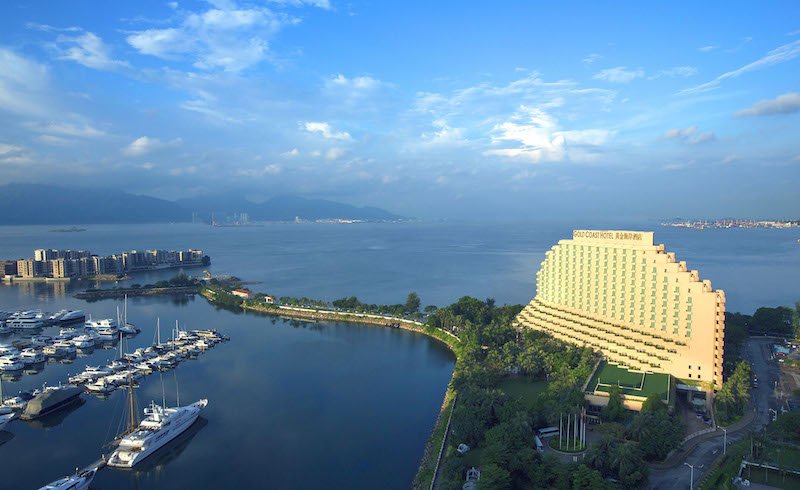 BOOK A STAY AT GOLD COAST FAMILY HOTEL HONG KONG
This hotel is about the closest thing you'll find to a family resort in Hong Kong.
The geometric design hotel sits on Golden Beach and overlooks a marina in Castle Peak Bay, and is 4km from the town of Tuen Mun.
All rooms have free Wi-Fi, flat-screen TVs, minibars, and tea and coffee making facilities.
There are:
four restaurants on site
two outdoor pools, and
a whole bunch of kids areas (see below for details.)
For those mums and dads who like to exercise while on a trip, you'll be happy to know there's a gym and spa too.

While only 30 minutes from the hustle and bustle of down-town, this family hotel Hong Kong takes you away from the noise and the pressures of a CBD after a big day out.
It's green, and scenic, and inviting!
Plus the THEMED FAMILY ROOMS for families keep the kids happy too!

Image credit: Martin Ng via Flickr CC BY-SA 2.0
SIX THEMED HOTEL ROOMS IN HONG KONG
Lined with realistic themed wall paper, loaded with decorations, and fitted out with themed furnishings, your kids will be propelled into the land of imagination and storytelling.
There's two types of family friendly packages:
Full privileges
Room with breakfast buffet only
With every FULL privileges stay, receive:
One night's accommodation in a Racing Car Room with Seaview Balcony
Breakfast buffet for two adults and one child
Take part in a "Kids Check-In" session and receive a personalised name badge
A "The Engine Refuel" afternoon tea set for two adults and one child (available from 3-6 pm on the arrival day)
A special gift upon completion of the in-room "Treasure Hunter" games
Plus, there's a special birthday cake for any child celebrating a birthday during their stay.
These packages make this the top Hong Kong hotel for a family of four.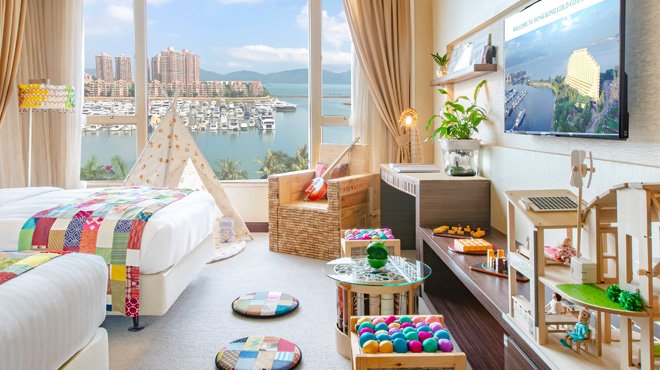 No.1: Book the GREEN room!
Here's a new concept for a family vacation.
At Gold Coast hotel, you can book this green upcycled room package!
Stay here, and your kids will have access to everything you love about an eco-friendly sustainable lifestyle:
eco friendly toys
upcycled furniture
natural toys made from sustainable timber and recycled fabric
an array of organic snacks
thoughtful artwork and design
Overnight guests can join in a "Tree Hunt" game while exploring the grounds of the hotel, and there's a chance to tour the hotel's very own farm. (Locals can take a potted plant home as a gift.)
BYO Toiletries & Towels
You do need to bring your own towels, toothbrushes, toothpaste and slippers for your stay, as in the spirit of green living, throwaway one-use products just don't belong.

No.2: Ding Dong Tram Room at Gold Coast Hotel in Hong Kong
Ding Dong! Ding Dong!
To dive into a truly authentic Hong Kong experience, you need to catch a Ding Dong Tram.
Imagine sleeping in your very own Ding Dong tram too?
That's next level.
The walls showcase Hong Kong's bustling street and city life too.
Every little nuance has been taken care of, from the wooden trunk seating to the transport-inspired bedding and cushions.
Watch as your kids replay their Hong Kong experiences before bedtime.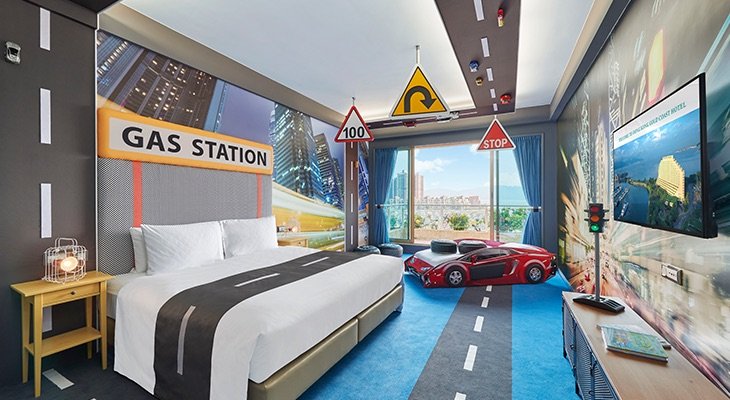 No.3: Racing Car Themed Room at Gold Coast Hotel in Hong Kong
Follow the road track carpet into this Formula 1 inspired room.
Spot the race car track on the ceiling!
Check out the racing car tail lights on the walls.
Be thrilled by the sight of the checkered flag curtains.
Then spend the night sleeping on a race car bed, complete with control panel and steering wheel.
Book the full package and enjoy treasure hunt games, themed workshops, a mini train ride, a zipline ride, and afternoon tea.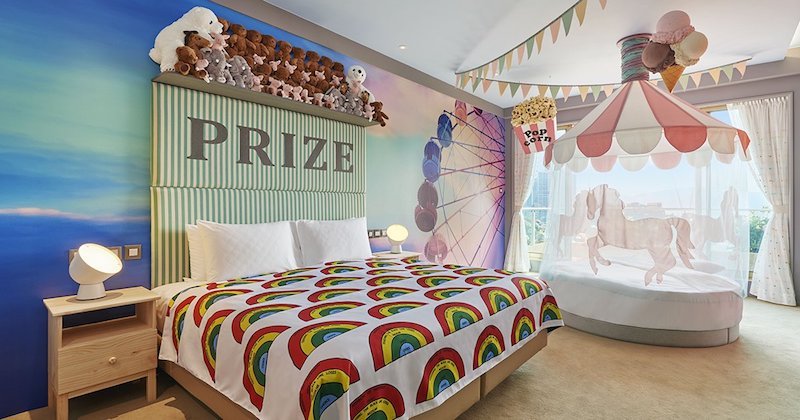 No.4: Carnival Themed Room
If your little ones love clowns, and rainbows, games arcades and funfair prizes, and merry go rounds, this is the room to book.
Bright and colorful, it's a child's dream come true.
But good luck trying to explain that the plush toy prizes above the bed are props only!

No.5: Dinosaur Themed room Package
Any Dinosaur Tamer's in your family?
Or wannabe Jurassic Park keepers?
Then this is YOUR room.
Sleep in the middle of a forest with dinosaurs roaming round!
Yep, there's a giant T-Rex skeleton, and dinosaur egg pillows too.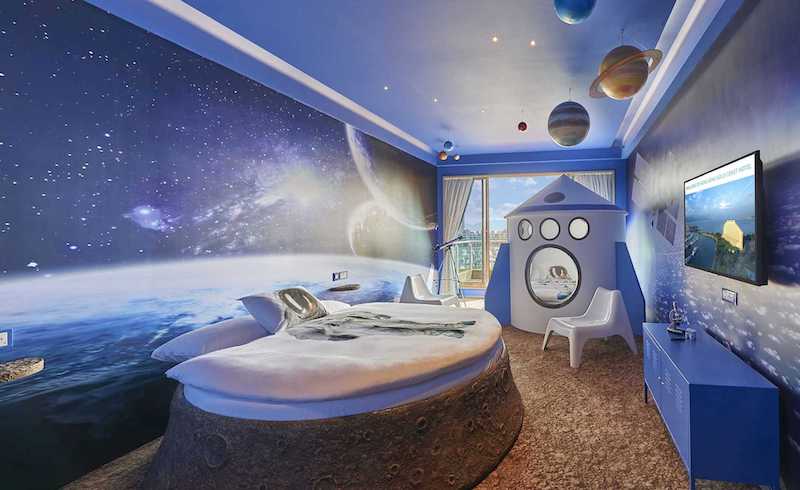 No.6: Blast off into the Galaxies in this Space Themed Room
Of all the rooms, this would be Roam the Gnome's favourite!
That Rocket Bed for the kids is truly out of this world.
But Roam loves that HE gets to be an astronaut on the big crater bed too.
Look at that cool Astronaut bedding.
The kids and you will love the in-room telescope too.
What can you find in the galaxy above?
Kids will make an "Astronaut Mosaic Design and Ceramic UFO Painting" in the craft session included too.
How could we not rate this as the number one recommended hotel in Hong Kong for family stays? There's no better.

No.7: Swashbuckling Pirate Adventure Land room
Take off to your very own Treasure Island with a Pirate Getaway.
Shiver me timbers!
The turquoise waters of the Caribbean will lull you to sleep on the Pirate Galleon.
Kids sleep in the adorable jellyfish palace hung with crystals and jewels and treasure from the seas.
We love the decoration in this room:
friendly sea animals
maritime flotsam and jetsam, and
treasure chests to store your loot.
Kids will design a tote bag and paint a ceramic pirate ship.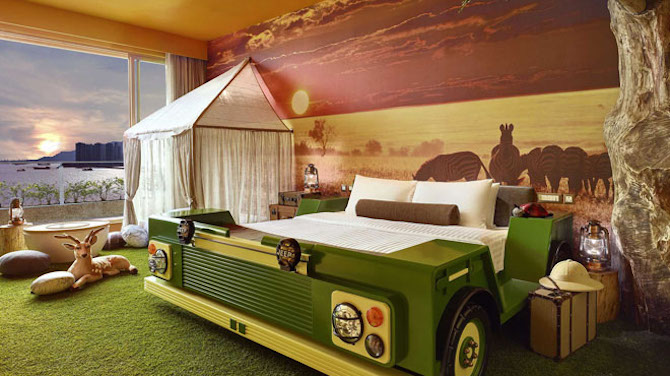 No.8: Be like Tarzan & sleep in this Jungle Safari room
If wild animals, 4WD jeeps, and adventure is your kid's thing, book this room.
This wildlife paradise comes complete with a safari jeep bed for the big people, and a camping tent for the little ones.
There's even a campfire table for night time snacking!

No.9: Magical Princess Room at Gold Coast Hotel
If you plan on visiting Disneyland while you are in Hong Kong but aren't staying onsite, booking a stay in the Magical Princess room at Gold Coast hotel will enchant your little ones just as successfully.
Kids can:
wander through the forest to their very own elegant royal carriage bed
sleep under a crystal chandelier and
be bathed in starlight.
The prancing horses on the carpet are a special touch!
Fairytale motifs – unicorns, pretty blooms, mirrors, jewels, and glittering tiaras – abound.

Amenities at Gold Coast Hotel in Hong Kong
This family hotel Hong Kong sure does know what kids want!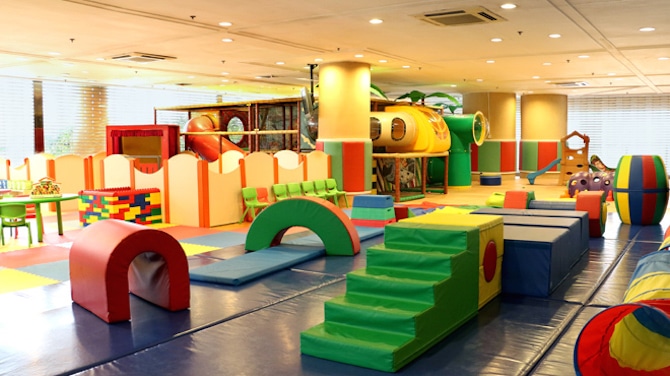 Hong Kong Family Hotels with Pools
Not only do they offer the best themed room set ups, they have not one, not two, but FOUR kid zones:
Kids island with it's swirly-whirly climbing frames
The Sandpit zone
The Waterpark splash and run area, and
the Indoor Kids Zone.
Plus, there's those two pools for the whole family to use.
They'll never want to leave!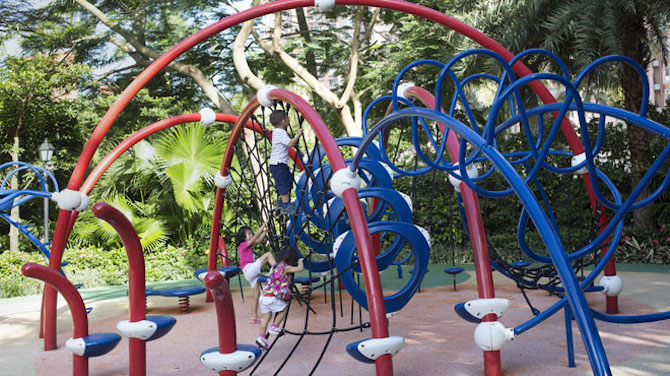 Kid's Island is an outdoor playground play space for kids.
As Hong Kong is lacking in modern, accessible and cool playgrounds, this will be a highlight of the kids vacation in Hong Kong.
Organic Garden
The Gold Coast Hotel also has an organic farm and a herb garden where hotel guests can experience the fun of sustainable farming while helping to protect the environment!
THE INSIDE SCOOP: Best Hotel in Hong Kong for Families
Correct at time of publication on Roam the Gnome. Please check with venue for updates. We apologise in advance if there have been any changes we are unaware of. All prices in HK dollars, unless otherwise stated
Address: 1 Castle Peak Road (Castle Peak Bay), Tsuen Wan, Hong Kong
Telephone: (852) 2452 8888
Website: Click here
Email: [email protected]
How to book a stay at Gold Coast Hotel in a themed family room
Packages to stay in a themed room start at $2888 HK dollars (Monday to Thursday), $HK3088 on Fridays and Sundays, or $3588 on Saturdays and Public Holidays in a themed room with a balcony, for two adults and one child.
Another child can be added to this package for $HK450.
As an example, the Dinosaur Room Package includes:
one night's accommodation in a Dinosaur Room with Seaview Balcony
Breakfast buffet for two adults and one child
participation in the "Kids Check-In" session at Indoor Kids Zone (kids receive a personalised name badge)
a "Dinosaur Park" afternoon tea set for two adults and one child
a special gift upon completion of the in-room "Treasure Hunter" games
One session of Dinosaur themed workshop
complimentary Wi-Fi
complimentary access to Indoor Kids Zone, Water Park, Kids Island, swimming pools and gymnasium and
complimentary shuttle bus service between the hotel and Tsim Sha Tsui (subject to availability).
Families also receive two outdoor games for one child (3-6pm on the arrival day)
Gold Coast Ziplines for child aged 6 or above (Two rides)
Mini Train Ride for child aged 3 – 9 (One ride)
You can book connecting rooms in some of these packages.
Make an enquiry or book your stay here.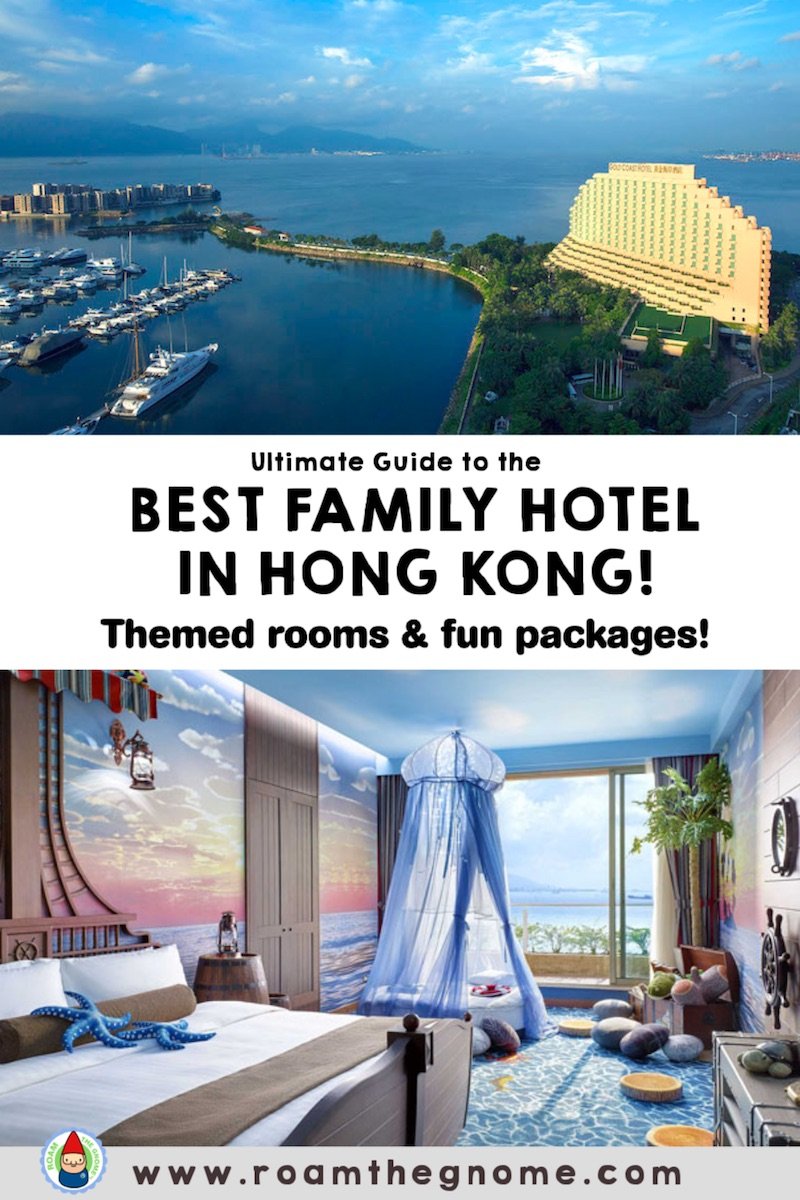 How to get to Gold Coast Hotel in Hong Kong
The Hong Kong Gold Coast is within easy reach via public transport.
By MTR: Take MTR Bus Route K51 or K53 (during peak hours) at exit C2 and get off at Golden Beach MTR station
By Bus: The airport bus A33 departs from the airport at 5.50pm daily to Golden Beach station. Trip takes 60-85 minutes. Full fare is HK$27.70 per person per single trip.
By taxi: From the Hong Kong international airport, expect to pay approximately HK$250 per trip. Maximum 4 passengers.
By hotel shuttle: The hotel shuttle bus transports you to and from Tsim Sha Tsui in around 35 minutes. Approximately $6 USD per trip per person)
Parking:
Parking at the hotel costs HK $50 per hour, or HK$250 for 24 hours Sunday to Friday, or HK $400 Saturday and public holiday eves.
Map of Gold Coast Hotel
Toadstool Rating (by the kids): BEST Family Hotel Hong Kong
This hotel in Hong Kong tops our list of FUN hotels to stay in Asia. It's our pick of family friendly hotels in Hong Kong.
If you are looking for the best place to stay in Hong Kong with family and kids, book now.
While it's not super close to Victoria Harbour, Central, or most tourist attractions in Tsim Sha Tsui, the distance from the busyness of the CBD is refreshing!


More Family Hotels in Hong Kong to research
Grand Hyatt Hong Kong family hotel
Four Seasons Hotel (Hong Kong luxury stay)
Mandarin Oriental Hong Kong hotel (luxury stay)
Ocean Park Marriott
Cordis Hotel Hong Kong
Looking for More Things to Do in Hong Kong with Kids?
Click the blue links below for more Hong Kong attractions on Hong Kong Island, Kowloon, The New Territories and Lantau Island