INSIDE: The Complete Guide to FDNY Store and FDNY Fire Zone for Kids.
Step inside the FDNY Fire Zone with kids to experience what it's like to be a firefighter in New York today.
Kids can Play Firefighters at FDNY Fire Zone.
Children can dress up in a firefighter's uniform and FDNY jacket, and 'drive' the fire truck.
(There's FDNY fire gear in a few different sizes.)
Then they'll get the surprise of their life when the wailing sirens and flashing lights starts! It takes this pretend play experience to the next level.
If the sirens and lights haven't gone off during your visit, ask the staff to set them off.
The siren call was the highlight of our trip to the Fire Department New York Fire Zone!
If you are visiting New York with kids, stop in for a look.
There's also the FDNY store (details of what to buy below)
Disclosure: This article contains affiliate links. If you make a purchase after clicking on one of these links, we may receive a small commission at NO extra cost to you.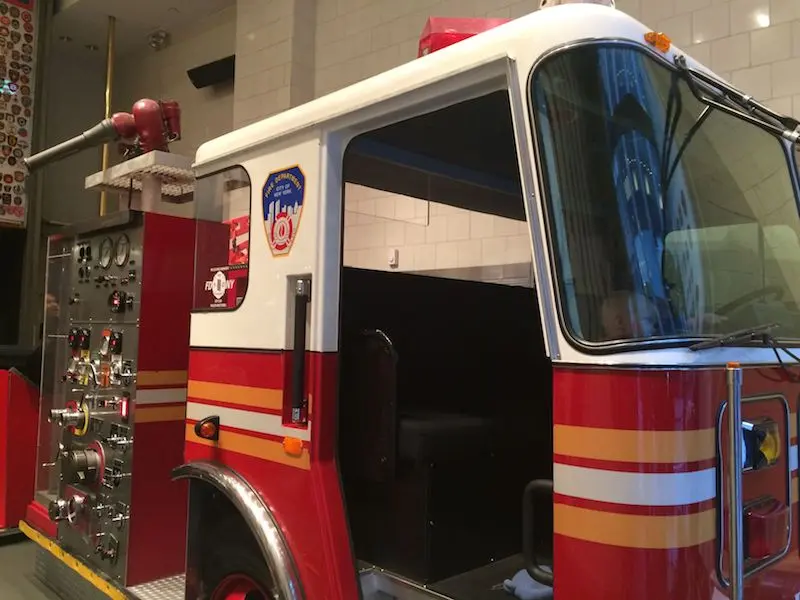 Guide to the FDNY Fire Zone Attraction
First up, this place is NOT the same place as the New York City Fire Museum!
(The New York City Fire Museum is at 278 Spring Street, about a kilometre north of the One World Trade Center building, in the Greenwich Village area.)
PS: Just in case it's not entirely obvious, and you are still wondering what is FDNY, it stands for Fire Department New York.
---
Related: The Ultimate Guide of Best Things to do in New York with kids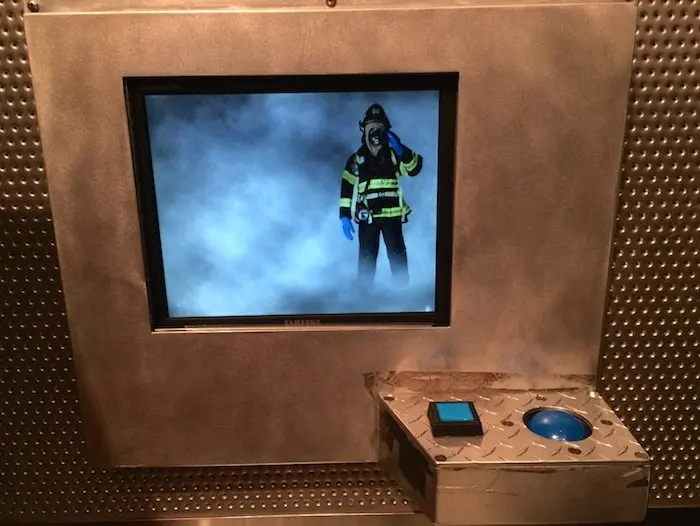 FDNY FireZone Rockefeller Center
The FDNY Fire Zone in the Rockefeller Center is an interactive play space for kids and families to learn more about fire safety through hands-on activities and dress ups.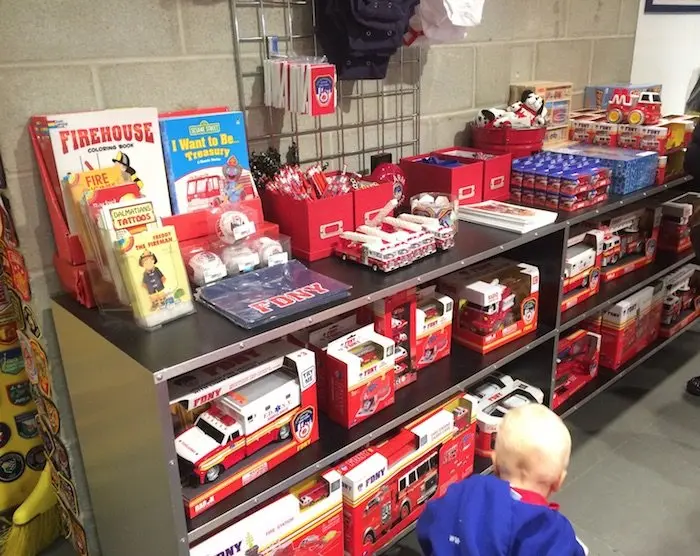 Guide to the Official FDNY Store Rockefeller Center
The Official FDNY Store NYC
The FDNY shop inside is where you can purchase official FDNY logo clothing, toys and more here too!
It also has the FDNY official store full of souvenirs with FDNY logos.
The FDNY store NYC is run by the FDNY Foundation in association with the New York Fire Department.
The FDNY Gift Store is the place to pick up all your licensed FDNY clothing and souvenirs.
It's not very big, but they have quite the selection.
If you want to find where to buy FDNY shirts in NYC, this is the place.
FDNY clothing and FDNY apparel
FDNY shirts
FDNY hoodie
FDNY t shirts
FDNY stickers
FDNY fleece jacket
stuffed toy dogs
fire-themed toys
FDNY books
FDNY model fire trucks
FDNY wrist bands
FDNY coffee mugs
FDNY flags
FDNY miniatures and ornaments
the official FDNY firefighter calendar
firefighter shirt dress ups
firefighters t shirt
The Official FDNY Logo
All goods are emblazoned with the official FDNY logo.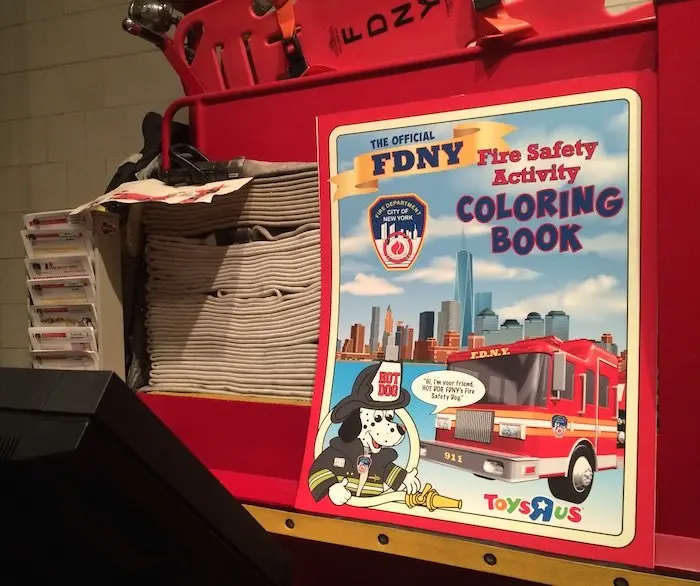 FDNY Fire Safety Learning Center
The New York Fire Zone is also New York City's state-of-the-art fire safety learning center.
At the New York Fire Zone, kids can:
climb on a realistic fire truck and get behind the wheel
play with the buttons in the fire truck cabin and pop on a seatbelt too
dress up in real fire fighter outfits (bunker gear jackets)
meet a real NYC firefighter
touch hands-on exhibits to learn about fire
If you ask nicely, the staff will give the kids a coloring in book too!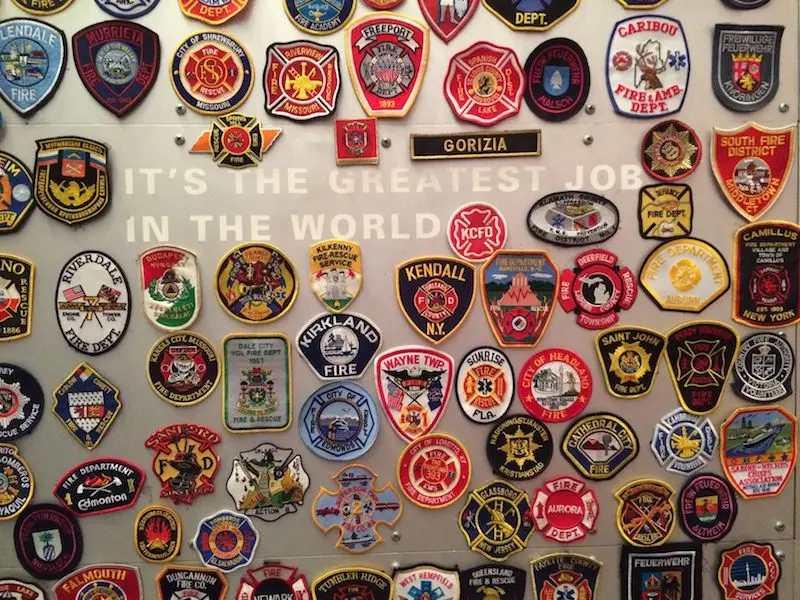 Things to do at the FDNY Fire Museum Store
Looking for more things to do at the New York fire department NYC attraction?
Check out the FDNY Fire Department NYC helmet displays.
There is such a variety of fire hats of all shapes and sizes.
Look and see if your country's firefighter logo patch is on the wall of embroidered "Coat of Arms".
These patch collectibles come from fellow Fire Departments around the world.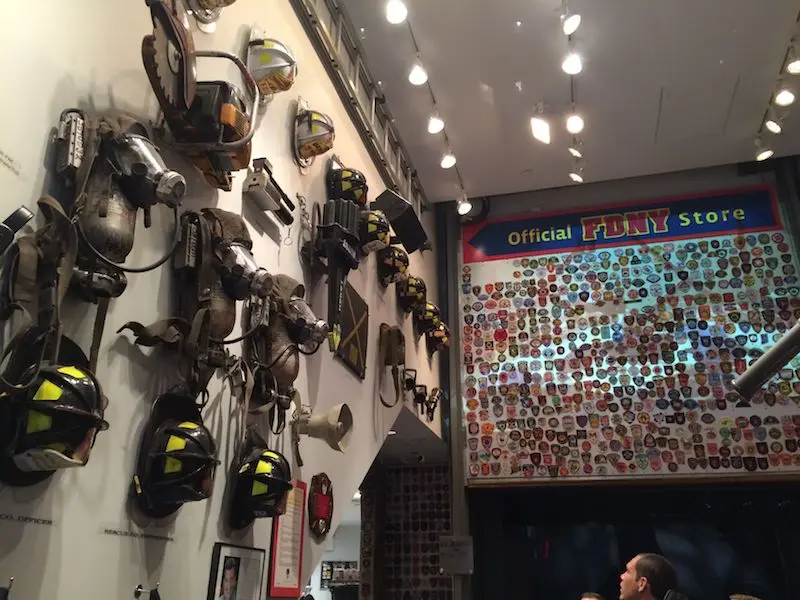 Fire Simulator at FDNY Fire Shop
At the heart of the New York Fire Department Fire Zone experience is a simulated fire experience, for kids 5 and over, and their families.
(Younger children are welcome to join in if you think they won't be too scared.)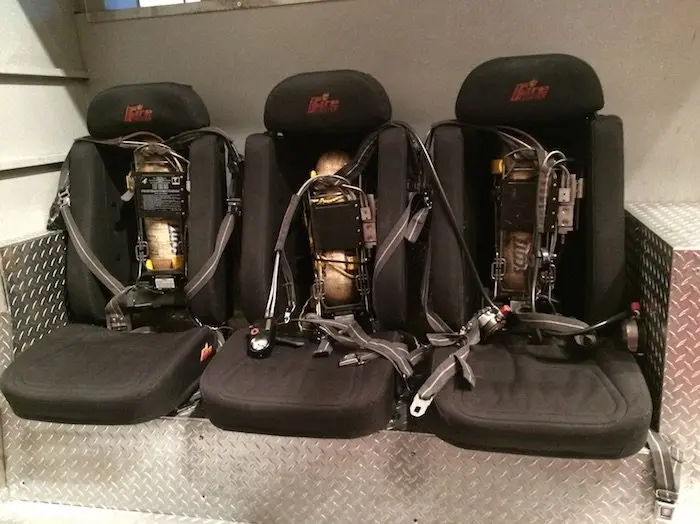 Special Effects!
The innovative fire simulator at NY fire store uses special effects and multimedia to help teach visitors about fire safety, and what to do in case of a fire emergency.
A retired NYC firefighter leads the way, along with a facilitator guide to walk visitors through the interactive presentation.
The goal of the presentation is to make sure you know how to eliminate fire hazards in your home. They also want you to get serious about creating an fire escape plan for your family.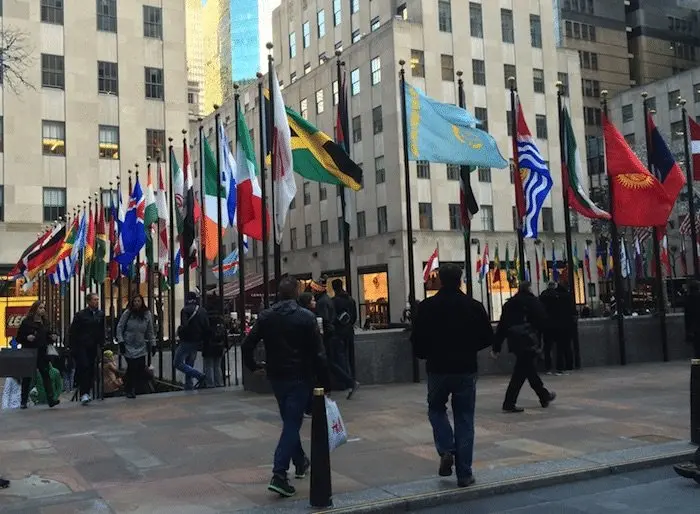 New York Attractions near the FDNY Fire Zone Store?
Midtown is the home of the Chrysler Building, Empire State Building, iconic public buildings like Grand Central Terminal and the New York Public Library, and it's all within 5 minutes walk of the FDNY Fire Zone.
You can also:
browse the iconic fashionable boutiques of Fifth Avenue
visit the Rockefeller Center to experience towering Art Deco grandeur
skate on the famous Rockefeller ice rink if it's winter time, and
shop up big at the fabulous LEGO Brick Store New York inside.
Where to eat at Rockefeller Center
There's tonnes of family-friendly food and drink options in and around the Rockefeller center, including food and drink options for families on the go such as:
Subway
Blue Ribbon sushi bar
Jamba Juice
Magnolia Bakery
Pret a Manger, and
Starbucks.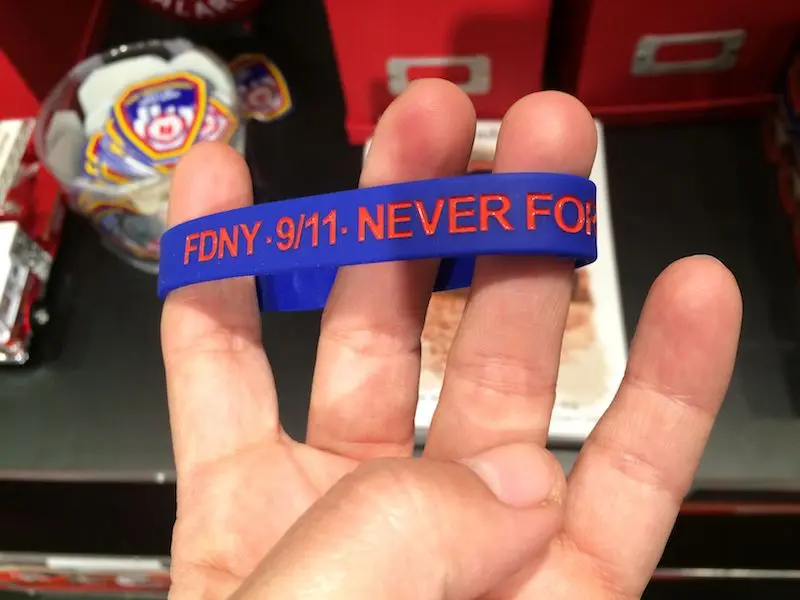 THE INSIDE SCOOP: FDNY Fire Zone Store
Correct at time of publication on Roam the Gnome. Please check with venue for updates. We apologise in advance if there have been any changes we are unaware of. All prices in US dollars, unless otherwise stated
The NYPD Fire Zone is an official non profit organization.
Address: The FDNY Store location is located at Rockefeller Center, adjacent to Radio City Music Hall.
The street address is 34 West 51st Street
, New York, NY 10020.
It's between 5th and 6th avenue, just next to the Radio City Music Hall.
Look up – the FDNY flag above is the signal you are in the right place. You'll find the FDNY Fire Zone NYC attraction on site too.
FDNY phone number: +1 212-698-4520
Website: Click here
FDNY Store Opening Hours
Monday – Saturday: 9:00 AM – 7:00 PM
Sunday: 11:00 AM – 5:00 PM
FDNY Fire zone prices
General admission to the FDNY Store and FDNY Fire Zone is free.
The Fire-Safety Presentation is $6.00 for adults and children and $2.00 for seniors.
Those with a New York Pass can attend the Fire Safety Presentation for FREE!
The Fire Zone is an activity included in the City Pass too.
How to get to FDNY Fire Zone and FDNY Gift Shop
By Bus: M5 or Q32 along 5th Ave. Disembark at 5 Av/w 50 St. Or M7 to Av of the Americas/w 51 St
By Subway Train: D or F line to 47-50 Streets – Rockefeller Center station. Or a 1 or 2 train to 50th St station.
By Car/Taxi/Uber: Disembark at Rockefeller Center on West 51st street between 5th and 6th Ave.
FDNY Fire zone Parking
Many parking garages are available nearby.
FDNY Fire Zone Map
Facilities at FDNY Fire Zone
Toilets: Yes.
Disability access: The FDNY Fire Zone is fully wheelchair accessible.
Closest playground: Heckscher Playground at Central Park south
Toadstool Rating.
Pop in to shop a whole range of FDNY souvenirs for friends and family.
Plus, if the kids are super interested in the world of NY firefighters, it's a fun hour or so.

Looking for MORE Super Fun Things to Do in NEW YORK CITY with Kids?
Click the blue links below for more New York activities.