INSIDE: The Ultimate Guide to Europe Travel can be found at this Europe Travel Blog, Roam the Gnome™. Updated 2019.
Roam the Gnome's EUROPE TRAVEL BLOG is a one-stop shop for SUPER DOOPER FUN ideas & activities for family travel in Europe with Kids.
Europe is a world schooling dream.
There's nothing in the world that can beat real life experience, visiting age-old structures such as the Colosseum in Rome, or the home of the world's largest collections of art and sculpture, the Louvre in Paris.
Books are a good start, but a visit in real life? PRICELESS.
Europe is home to innovative hands-on museums for kids too.

Things for Kids to do in Europe
Visit the Rome Explora museum, or the Cites de Science museum in Paris for starters. Both these museums blew us away!
And then there's the SHOPPING in Europe.
Italian leather handbags, Pinocchio, Ladurée macaron's and Parisian food halls.
Need we say more?
Take a look at our collection of travel tips for European travel with kids below. We're slowly gathering all the best places in Europe for kids.
Disclosure: This article may contain affiliate links. If you book a product or service after clicking on one of these links, we may receive a small commission at NO extra cost to you.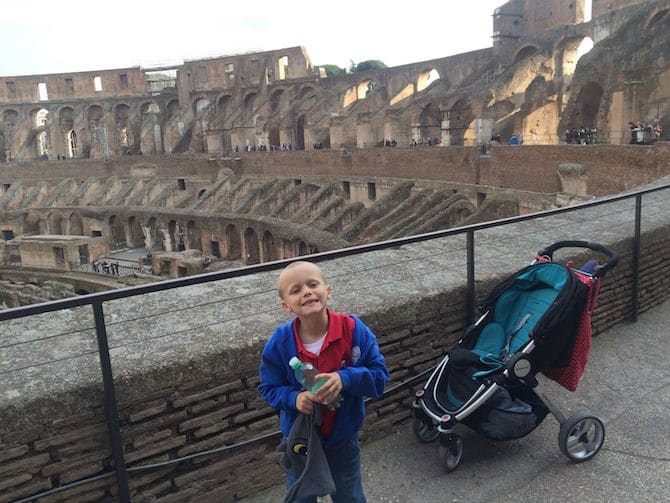 Roam the Gnome's Europe Travel Blog Tips
Correct at time of publication. Please check with venue for updates. We apologise in advance if there have been any changes we are unaware of. All prices in local currency.
Travelling around Europe with kids is the best way to make history come to life.
Visit the Big Sites:
But don't miss the places where local families go.

Our best tips for travelling Europe with kids?
Find the local family magazines, and look for the local playgrounds.
These two sources are the best real life opportunities for insider tips on where to take your kids in Europe.
We always check to see if there's a children's museum in the city, or any dedicated children's galleries at the bigger museums.
We also search local facebook groups to find upcoming events in town, and things that will be happening during our visit.
If you are visiting Europe with kids, Roam the Gnome Family Travel Blog will help save you time, stress & save money when planning to BOOK YOUR NEXT TRIP!
We love to research tips for travelling in Europe, including how to travel smart in Europe, and the best way to travel Europe.
You'll find the best European holidays for families, super fun tour ideas, and plenty more fodder for unique places to explore here too.

FEATURED CITIES – EUROPE WITH KIDS
Destination: Europe for Kids
Europe with kids should be on your bucket list. Plan a stay for as long as you can but ideally at least four weeks.
Look out for the free stuff – there's always at least one day a month where you can enter museums and art galleries for free.
We LOVE free entry.
Saving a few dollars on entry tickets means we have more spending money to try more of the local food, pick up the odd souvenir, and buy one or two big-ticket experience such as the Gladiator Training Tour we did a few years ago.
Rates up there as one of the BEST things we've ever done.
(Here's a link to the tour we booked through Get your Guide. I tried to book independently by asking our Airbnb host to call and enquire, but we were told booking a tour via this platform is the only way to access this awesome Gladiator experience.)
Europe with kids is awesome.

Holidaying in Europe with Kids
Take a look at these cities below.
PARIS TRAVEL BLOG
Bonjour!
Let's face it. When you think of Paris, taking the kids is not the first thing that comes to mind. But there's SO much to do in Paris with children in tow.
There's EPIC playgrounds for starters.
And there's little we like better than visiting a new adventure playground, especially if we want to meet locals and find out the best places in Paris to visit with kids.
There's also one of the best children's museums we've ever been to. So good, it's split into two. One for the little kids, and one for the 7-12 year olds.
Do visit the Eiffel Tower at least once. (Fancy climbing the stairs for a different experience than most? Check out this tour.)
Ditto the Louvre museum.
(We wrote a very comprehensive guide to the Louvre museum with kids, including the best time to visit, and our tips on having the best experience there)
But it's the quirky stuff we love best.

Our best tips for travelling Paris with kids?
The biggest challenge in Paris is the language. It's not always easy to find local magazines, family guides or information in English.
And while many local Parisians do speak English, it's a 50/50 chance whether they will speak it with you.
Which is why we LOVE the Tourist Offices.
It's one place you're almost guaranteed to find a friendly face with all the inside information on things for families to do in Paris.
Hotel concierge desks and AirBNB hosts are other good people to ask. Cross your fingers you find one who has their own kids! These people have a hidden wealth of knowledge.
Click here for the ULTIMATE GUIDE TO THE BEST PARIS POINTS OF INTEREST FOR KIDS AND FAMILIES
---
ROME TRAVEL BLOG
Rome with Kids is a hoot. There's pizza for starters. Plenty of pizza. (Hot tip: THIS is the best pizza in Rome)
And pasta too. So that takes care of the fussy eaters. There's little chance of a toddler throwing a HANGRY tantrum either. Rome for the win.
You can visit the very cool Explora Children's Museum in Rome – it's within walking distance of our favourite Roman park, the Villa Borghese.
And we found the best street for buying Italian leather handbags in Rome.
Did I mention ITALIAN THICK HOT CHOCOLATE?

Our best tips for travelling in Rome with kids?
Italians are the best.
Friendly, happy to help, kind. The best locals in the world to meet.
Ask a question, and they'll be sure to answer you with way more detail than you expected.
We adore Rome, and can't wait to have the opportunity to head back.
Take a look at some of the Rome adventures that await you and the family.
Click here for the ULTIMATE GUIDE TO THE BEST THINGS TO DO IN ROME WITH KIDS
---

HEADING TO LONDON?
Extending your vacation in Europe with kids?
Heading to London next?
Why not? London is an epic destination for kids. We really had no idea until we started exploring and writing about all our adventures. There are hundreds to be had.
We head back soon for another lot of adventuring in this scenic cosmopolitan city, England's capital.
Need inspiration? We have plenty! Take a look below.
Click here for the ULTIMATE GUIDE OF THE BEST THINGS TO DO IN LONDON WITH KIDS
---

LOOKING FOR MORE FUN CITIES TO VISIT WITH KIDS?
We'd love to help. Click the links in blue below for our Ultimate Destination Guides.
Disclosure:
This website contains references to products and services from our favourite brands. Some of these are affiliate links. If you make a purchase or booking after clicking on one of these links on Roam the Gnome™, we may receive a small affiliate commission at NO COST to you. For our Disclosure and Disclaimer statements, and an explanation of our Advertising policy please click here
Roam the Gnome™ is a participant in the Amazon Services LLC Associates Program, an affiliate advertising program designed to provide a means for sites to earn advertising fees by advertising and linking to amazon.com, amazon.co.uk, amazon.ca. Amazon and the Amazon logo are trademarks of Amazon.com, Inc. or its affiliates.
Thank you in advance for your support in helping us to grow Roam the Gnome Family Travel™ Website Directory. Bookmark this page to keep us safe and sound.