INSIDE: Roam the Gnome's Review of the Dyson V6 Portable Vacuum.
Clean up quick with the Dyson V6 portable vacuum!
Take it on your next road trip to keep your car free of all the sweet snack crumbs, rogue hair, & leftover junk food scraps.
Want to know if we recommend it?
Take a look at our review of features below, and check out the toadstool rating we gave it.
Disclosure: This article contains affiliate links. If you make a purchase after clicking on one of these links, we may receive a small commission at NO extra cost to you.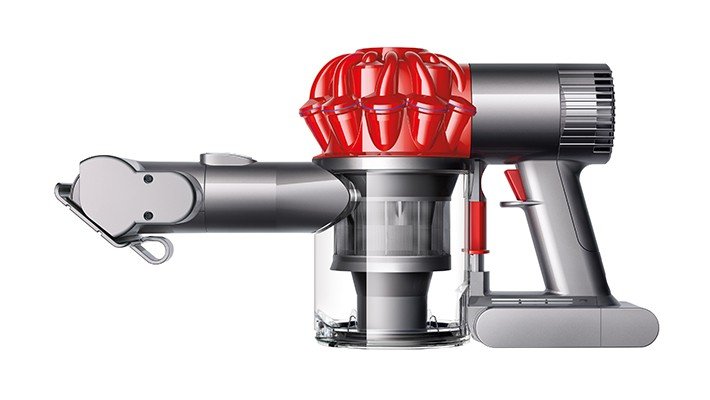 Ultimate Guide to the Dyson V6 Portable Vacuum Cleaner
The Dyson V6 Car and Boat vacuum is a small portable vacuum, designed for quick cleans of your car and boat interior.
This cordless vacuum (and a charger) is small enough to take on the road.
This news made my day because while I love road trips, I don't love it when my car turns into a feral junkyard rubbish pit.
That mess.
Those tiny crumbs.
Those bits stuck in hard to reach places.
Those unknown UFO's that need a good poke to dislodge them.
Uggghhhh!
It's enough to make me want to vomit.
Our hot tip is to take a portable Dyson V6 handheld vacuum with you everywhere you go!
You can also turn this vacuum, favored by lots of road-trip loving families, into a most powerful stick vacuum by simply purchasing an extension wand and a compatible docking & charging station.
---
RELATED: The Best List of Healthy Road Trip Snacks for Family Travel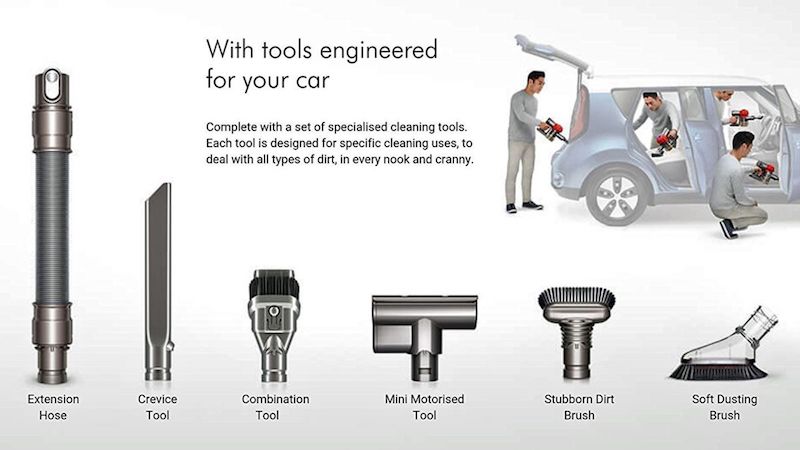 Dyson Vacuum Tools List
This boat and car vacuum comes complete with a:
stiff bristle brush for stubborn ground-in dirt
crevice tool, the long thin attachment for getting into tiny places
extension hose
combination tool, see below
mini-motorized tool for upholstery, and
mini soft dusting brush for areas where you need to take extra care not to scratch, such as the console.
a 2 year warranty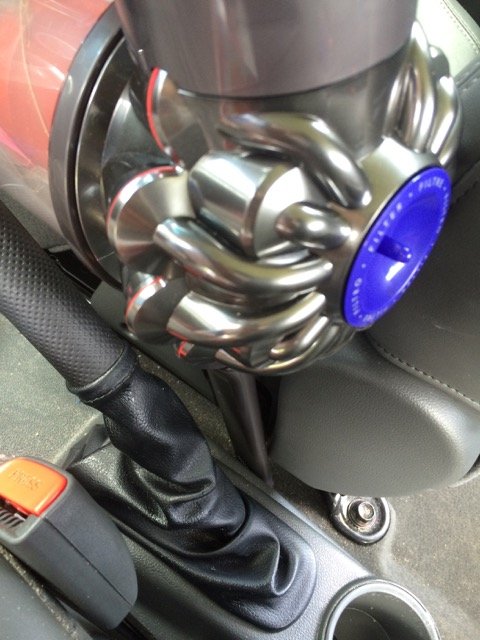 Dyson Vacuum Crevice tool
So this little beauty, the Dyson V6 Car & Boat vacuum will be coming with me on every road trip from now on.
Look how easy it is to get those crumbs that fall down in between the seats with this crevice tool attachment.
That's because of the powerful suction. It's surprising.
I'll never have to reach down to try and dislodge something with my finger ever again.
Downside is the battery life is only 20 minutes max power mode.
It's enough time to clean a car if you are quick, but not quite enough for a deep clean. It means you may have to recharge the battery to finish the job.
On balance, I'd still vote for using this cordless vacuum versus one you have to plug in and deal with the hassle of the cord.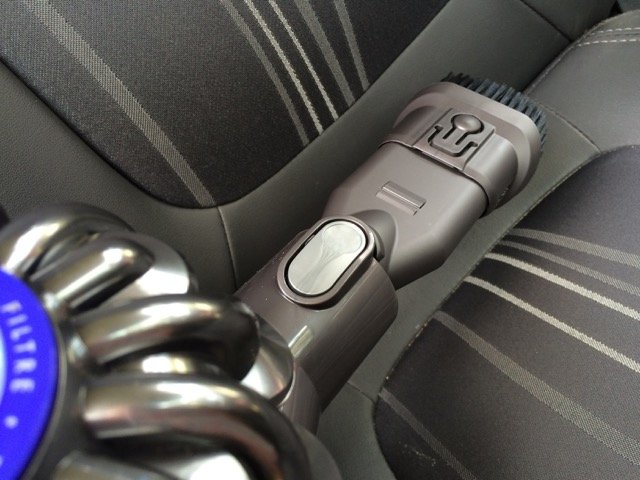 Dyson V6 Cordless Vacuum Combination Brush Head
This is my favourite vacuum head.
It's a piece that has a brush with very soft bristles, just right for the upholstery without scratching.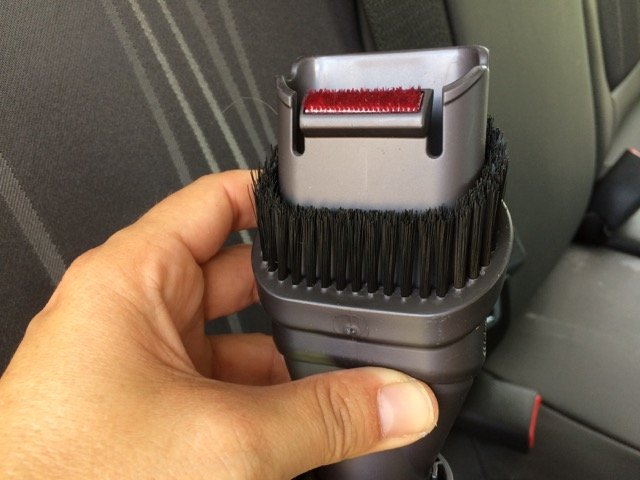 Search and Rescue
But need something a little more vigorous, you just press the button and slide the bristles downwards to reveal a vacuum head that can dislodge the most stubborn of food stains or wedged in dirt from the floor.
Between the long 'search and rescue' crevice tool above, and this one, you've all your road trip holiday incidents (mishaps?) covered.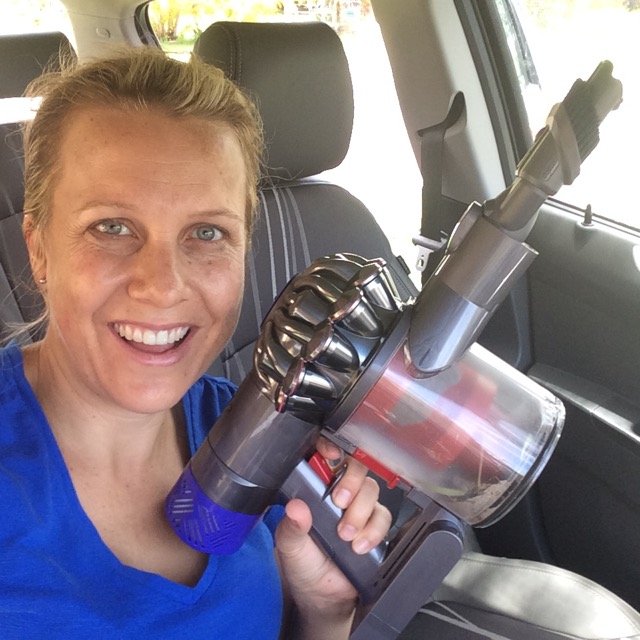 Dyson Vacuum Cleaner Lightsaber!
Who needs a lightsaber?
I have my very own Dyson with a push button trigger!
It's my weapon of choice when it comes to cleaning and battling road trip remnants.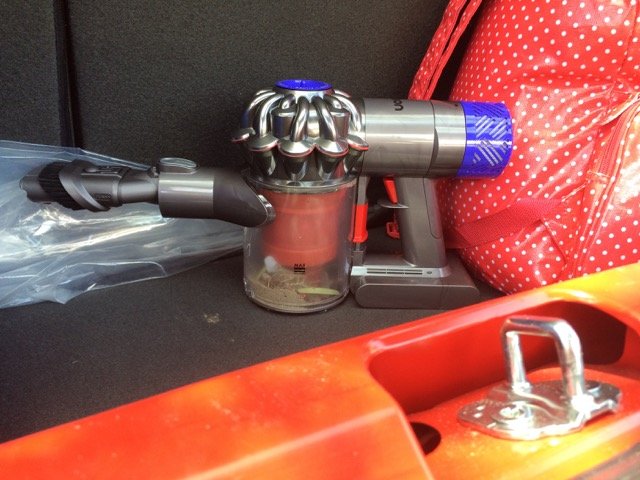 Best Handheld Vacuum for the car
Look, I'm not lying when I said this Dyson Handheld V6 vacuum is small enough to fit into the car.
My Holden Barina Spark must have one of the smallest boots on the market, but the Dyson V6 portable vacuum is near the top of my list of 'necessities for road trip travel' and will be one of the first things packed, no matter what.
What's your top travel tip for keeping the car clean on road trips?
THE INSIDE SCOOP: Dyson Vacuum for Car
Where to buy Dyson vacuums?
Click here to purchase a portable Dyson V6 handheld vacuum
How much is the Dyson V6 Car + Boat Handheld Vacuum Cordless?
Compare prices before buying but somewhere under $350.
Toadstool Rating: Dyson V6 Handheld Vacuum Review
The Dyson vacuum solves the problem of road trip car mess.


Looking for more travel tips?
Correct at time of publication on Roam the Gnome. We apologise in advance if there have been any changes we are unaware of. All prices in US dollars, unless otherwise stated
Click the link in blue below for more helpful tips.