INSIDE: Roam the Gnome's Ultimate List of Disney Tips with Toddlers.
Walt Disney World in Orlando, Florida has always been on my America travel hit list and so, like it or not, I was taking the kids there on our last round-the-world trip.
Let's be honest.
I wasn't taking a Disney World trip FOR THE KIDS at all.
I'm the one who has been dreaming of a Disney World vacation, ever since I lived in Florida as a 19 year old backpacker for six months at Ft Lauderdale, and NEVER made it there, even though it was just hours away.
Disclosure: This article contains affiliate links. If you make a purchase after clicking on one of these links, we may receive a small commission at NO extra cost to you.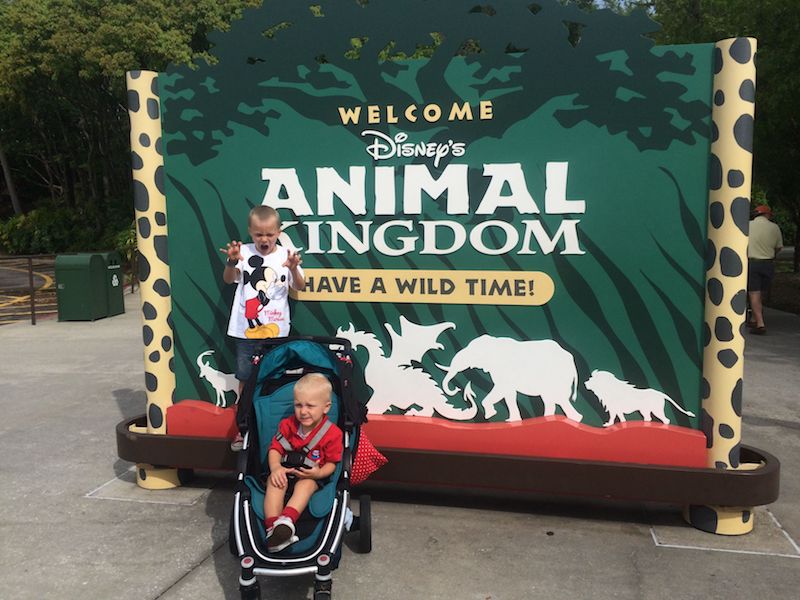 Is Visiting Disney with a Toddler even possible?
With a six year old and almost-two year old in tow, I did wonder for a moment about how much we'd actually be able to do.
Would we be able to ride the Magic Kingdom rides with toddlers in tow?
Would we be able to take our stroller on the Disney bus?
Would the kids cope with long days?
Would the kids cope with all the crowds?
Would they need a nap every day, and how would I manage that (while not missing out on stuff I wanted to do)?
How would the kids cope with queuing?
I even asked myself if maybe I shouldn't postpone our Disney vacation till …….. later.
You know, when the little one was maybe 10 or so.
Surviving Disney World with kids while by myself was a real concern!
But I didn't want to wait that long so I just went ahead and booked.
"Suffer the consequences", and all that.
I did a little research to determine the best kid-friendly hotel nearby etc, but my budget really made that decision for me in the end. Yay for those kinds of decisions that makes things quick and easy.
(Don't you think? Sometimes too much choice is mind-numbing and paralysing.)
I did more research to find out about taking your toddler to Disney World BUT I simply didn't find the answers I was looking for in one easy spot.
BUY NOW ON AMAZON: The Best Disney Baby & Toddler Stroller in Minnie Mouse design!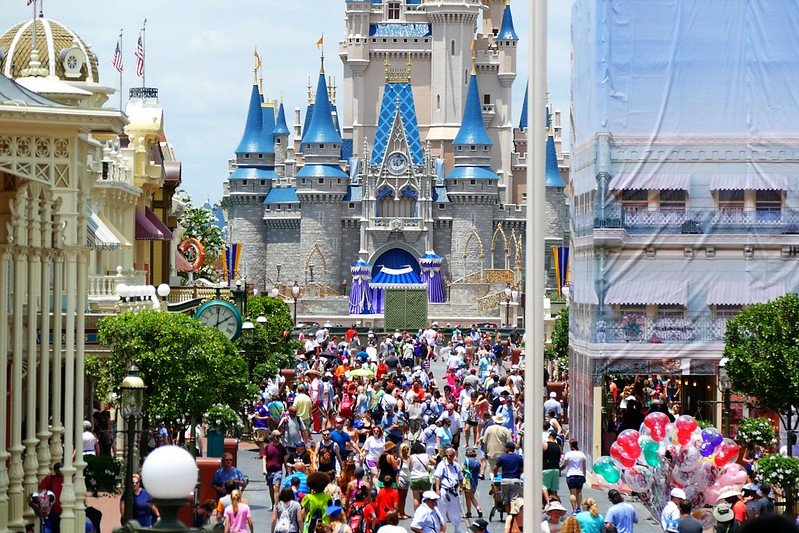 Image credit: Marada via Flickr CC BY-ND 2.0
30 Best Disney Tips with Toddlers
So, here are the answers to the questions I had about visiting Disney World with toddlers.
Perhaps you'll find them useful too.
I'm all for sharing info to make the magic of Disney (and it really IS magic!) a possibility for EVERYONE – toddlers or no toddlers!
Add your own tips in the comments below.
---
READ MORE: The Epic Guide of SPECIAL THINGS TO DO AT DISNEY WORLD with kids
Image: Photopass Supplied
Tips for Taking Toddlers To Disney World
Correct at time of publication on Roam the Gnome. Please check with venue for updates. We apologise in advance if there have been any changes we are unaware of. All prices in US dollars, unless otherwise stated
We've categorised all these Disney tips into 7 sections:
THE PEP TALK (JUST GO!)
RIDE
PLAY
WATCH
EAT
STAY
LAST MINUTE REMINDERS
---
RELATED: The BEST Disney Workshops you can join in at Disneyworld, Disneyland & Online!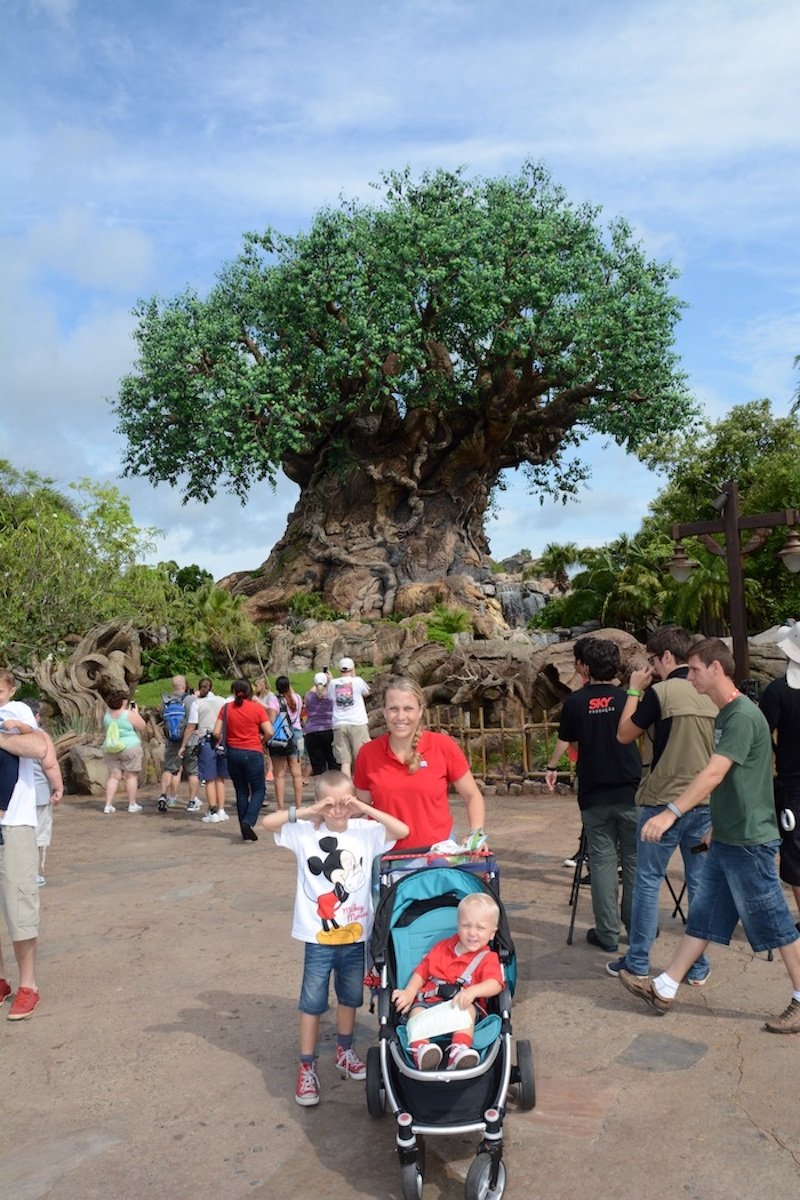 THE PEP TALK – BOOK A DISNEY VACATION!
No.1: Book a Disney Vacation, because YOU don't want to miss out!
Never EVER let your children stop you from traveling, or doing the things YOU want to do. Children are adaptable, and resilient.
Never forget that.
If I can travel around the world for FIVE weeks by myself with my two kids (one of whom was a very oppositional toddler!), YOU CAN TOO.
If there's one thing i've learned in 25 years of parenting, it's that the only things I regret are the things I DIDN'T do, because of some misguided pre-conceived idea about the 'right' way to raise children.
Please learn from my mistakes, and NEVER put off for later what you can do now.
Book the Disney trip!
Disneyworld REMAINS HIGH on my bucket list of places to take children, as the whole damn place is SUPER KID FRIENDLY.
Staff are awesomely helpful, kind, and smiley, and I can tell you, after some of the glares and stares you get on airplanes, public transport and in restaurants in the real world when you bring the kids, it is SO REFRESHING to know everyone at Disney Parks has your back.
Plus, Disney is so SAFE for families.
You enter the Disney bubble the moment you arrive at the check-in desk, and can enjoy a breather from the constant worry of bills, job security, and family welfare.
Yes, you need to keep an eye on your kids so they don't wander off, but to be honest, if you did lose them, you couldn't be in a better place.
Disney cast members are well trained & there are well-practiced systems to get your kids back to you as quickly as possible.
GO! Just go!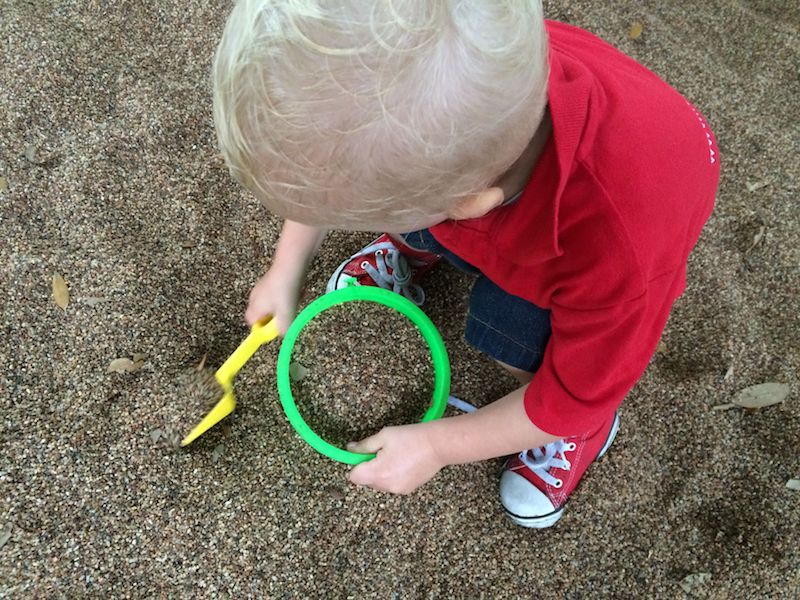 No.2: Be flexible like a Yogi!
Stay open minded and realistic as to how much you can do in a day.
Be sure to:
factor in rest breaks with ice-cream
be prepared with a travel stroller and ergo carrier
carry a well-packed Disney backpack with snacks, drinks, wipes, hand sanitiser, spare diapers and a change of clothes, AND
find places where the kids can jump, skip, hop for at least 10 minutes without irritating other Disney guests
There are secret little playgrounds at Disney World you need to know about.
You'll find them in each of the four Disney World parks.
Bookmark the list above and keep it handy.
Be sure to grab your own 'refreshment' (coffee!) on the way so you can enjoy the Disney playground as much as they do.
Twenty minutes of 'free play' for the kids while you sit down and rest the balls of your feet, OUT OF THE WAY of determined ride-goers, is a win.
Even more so if you can snack on a Disney treat.
They are SO good.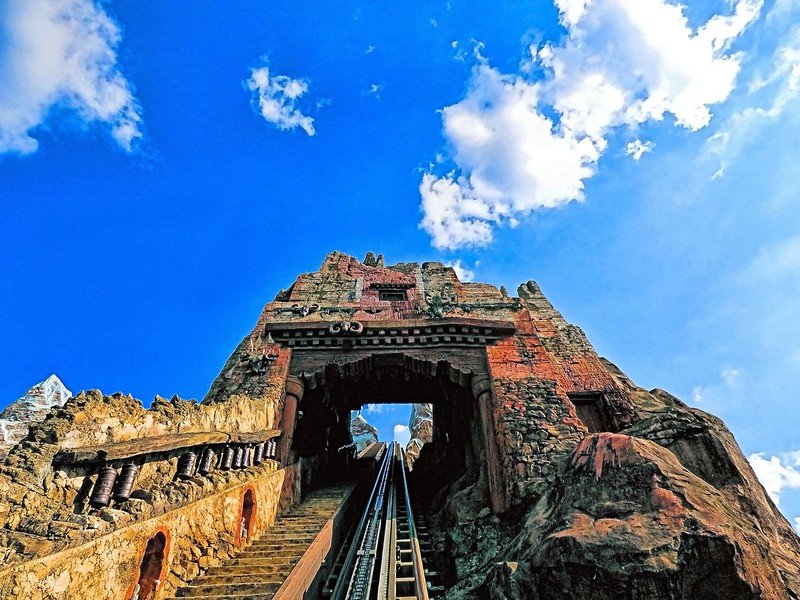 Image credit: Jennifer Lynn via Flickr CC BY-2.0
No. 3: Make peace with your Disney itinerary
Make a pact to let go of what you can't do THIS TIME, and be at peace with what you CAN DO.
Do not compare what you achieve at Disney in a day, with anyone else.
We walked past or around EVERY one of the big famous ride at all four parks:
the famous Space Mountain, Splash Mountain, and the Big Thunder Mountain Railroad at Magic Kingdom
The Twilight Zone Tower of Terror and Star Tours at Hollywood Studios
Expedition Everest, and Kali River Rapids at Animal Kingdom
Soarin', AND Test Track at Epcot
AND I COULDN'T HAVE CARED LESS.
Despite the fact I DO LOVE big scary rides.
Being with my little people and seeing the magic of Disney through THEIR eyes was way more fun than any Big Disney Ride.
All the more reason for us to return again too!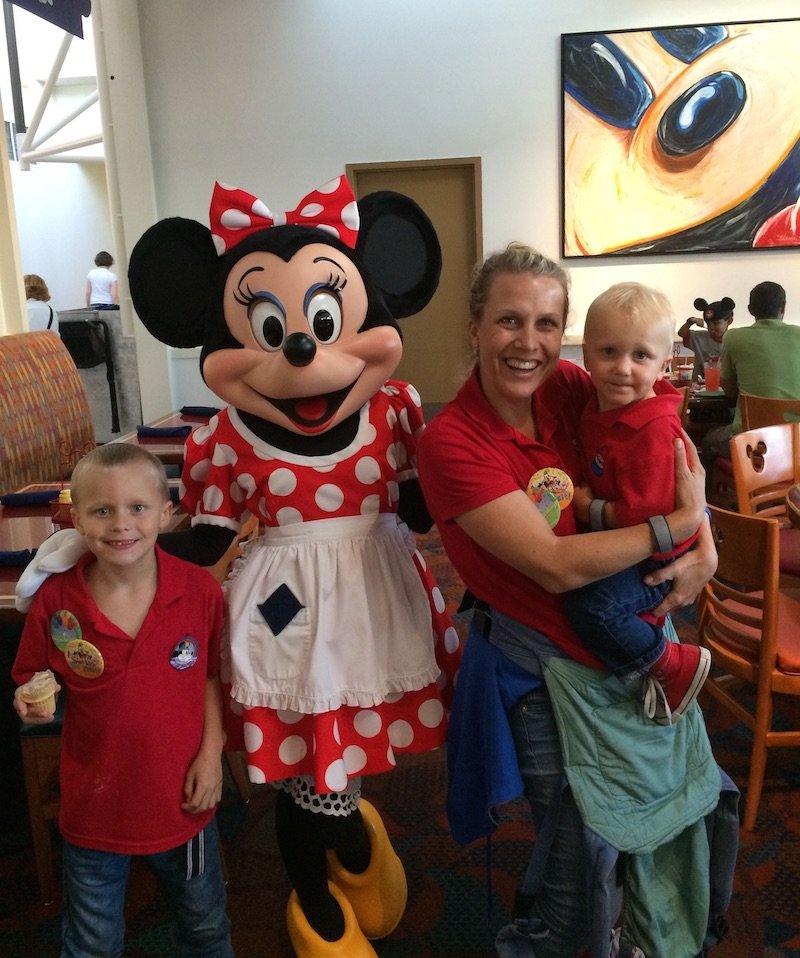 No. 4: It's never too early to introduce your children to Mickey and Minnie.
As Walt Disney himself said, "Remember, it all started with a mouse."
Pay homage to the great fellow himself and while you are there, don the ears.
It's the done thing!
BUY NOW ON AMAZON: The original Walt Disney World Mickey Mouse hat with ears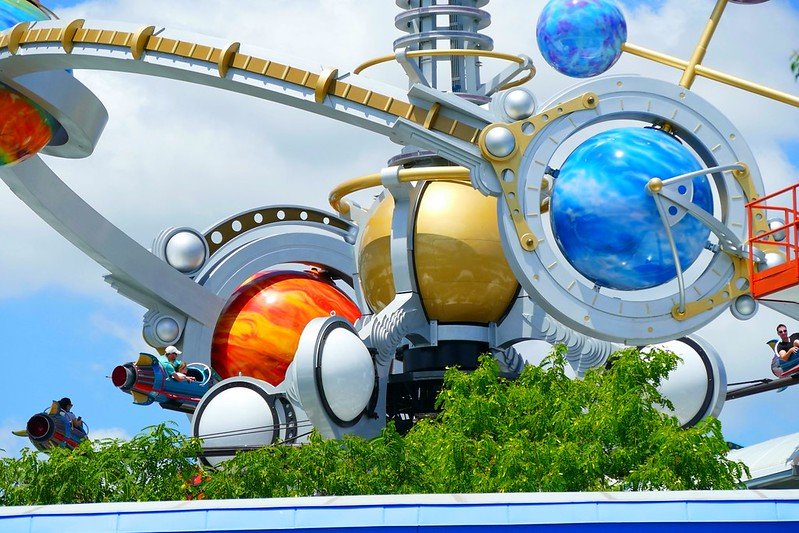 Image credit: Marada via Flickr CC BY-ND 2.0
BEST DISNEY WORLD RIDES FOR KIDS
No. 5: Disney World Rides for Kids
Stick with the kid-friendly program of rides for kids at Magic Kingdom, Epcot, Animal Kingdom and Hollywood Studios , and I guarantee you'll hardly have to queue at all.
In five days of visiting parks, we stood in ONE queue (Toy Story Midway Mania) for 80 minutes.
BUT that wait was worth every minute.
(DO NOT MISS THIS RIDE!)
We went from kid-friendly ride, to kid-friendly ride, to kid-friendly ride, and apart from Toy Story, the long wait was 15 minutes.
AND it was Spring Break.
Want to know how we did that?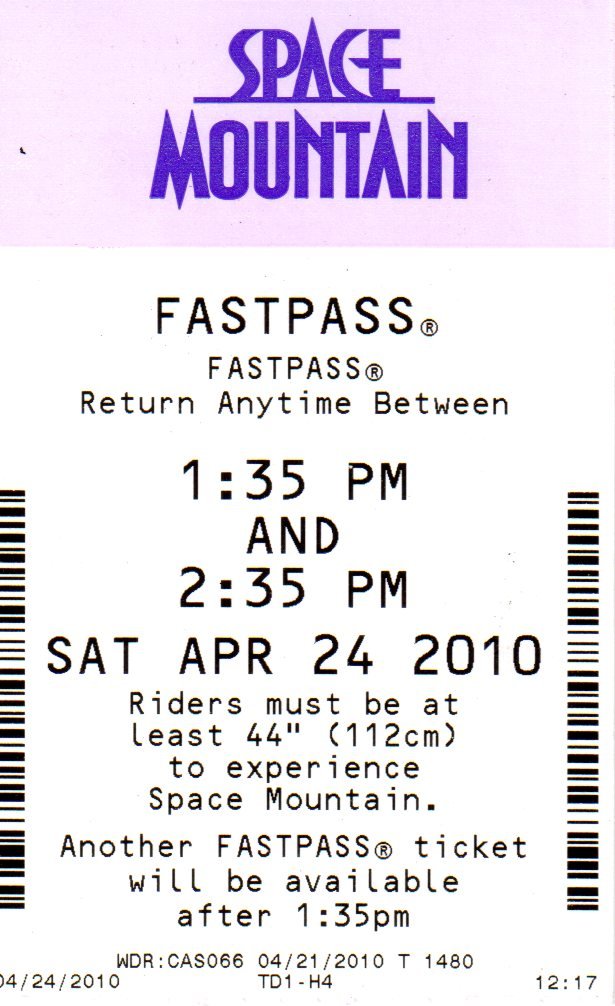 Image credit: Joel via Flickr CC BY-ND 2.0
No.6: Disney FAST PASS Privileges on Property.
One of the benefits of staying at a Disney Hotel on a vacation package is that you can pre-book your Fast Passes UP TO 60 DAYS IN ADVANCE.
That's THREE quick ride entries guaranteed per day.
Get online and do it.
I repeat, get online and book those Fast Passes as early as your booking will let you.
You need a bit of a plan so that you don't waste time walking from one end of the park to the other to use your passes.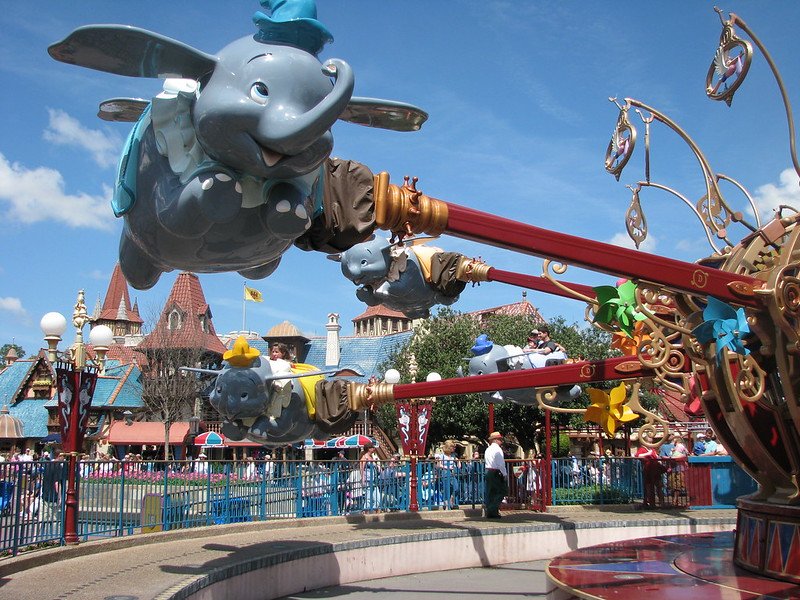 Image credit: Chris Harrison via Flickr CC BY-2.0
How to plan your fast passes
The goal is to book your Fast Passes so that you enter the first ride about mid-way through your Fast Pass time slot (each Fast Pass gives you a window of one hour so if your time was 9.20am to 10.20am, you'd head there about 9.50am and try and squeeze another ride or attraction in before that too).
By the time you've worked your way through the crowd and taken your ride, there will be just enough time to walk to the next ride and jump straight in the Fast Pass line.
We'd grab a snack on the way to the third ride and arrive in the first part of the window for that one.
THEN we'd quickly find a Fast Pass Booth and book another!
In this way, we pretty much skipped all the lines.
Fast Pass Tips
At Walt Disney World, we managed to grab SEVEN fast passes both days, AND rode all the kid's rides AND returned a few times to our favourites at night too.
Kids rides are nowhere near as popular as the big rides, so we found it pretty easy to grab the next available time slot with no waiting around at all.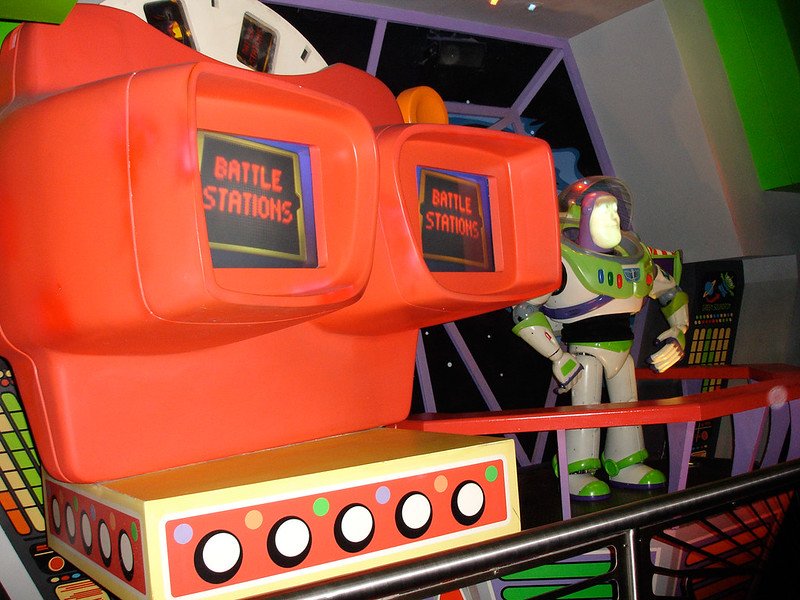 Image credit: Daryl Mitchell via Flickr CC BY-SA 2.0
No. 7: Ride Size at Disney World
There was always room for the three of us in one ride seating configuration (whatever it may be – capsule, cab, boat, car, people-mover, train carriage, saucer, spinning car, magic carpet, tea cup …), so no-one ever had to miss out.
Standard capacity is two adults, but most ride seats are roomy enough to fit two adults and one small child, or one adult and two children. Unless it's a roller coaster type ride, where the third person would need to travel in the row behind.
But we never had to separate on child and toddler rides at Disney World.
The unexpected thrill of most of the kids rides, along with the theatrics, beauty, familiar songs, AND interactiveness on some rides absolutely made my day.
It wasn't uncommon for Jack to take a quick nap in the Ergo while we stood in the short queue, but I knew better than to leave him asleep for the actual ride.
A gentle nudge and he was awake and raring to go, desperate to be a big boy too.
Jack, almost two, was equally thrilled AND could participate just as well as his big brother. And as long as I was prepared to hand over the joystick to the toddler, all was well.
Mostly, we shared the joystick and challenged Ned together (Toy Story Mania at Disney's Hollywood Studios), or I strategically gave Jack a button to press while I directed the blaster towards the target (Buzz Lightyear Space Ranger Spin at Magic Kingdom).
My inner competitive streak was out in force and there was no way I was going to sit back and watch when it's much fun!
SO MUCH FUN.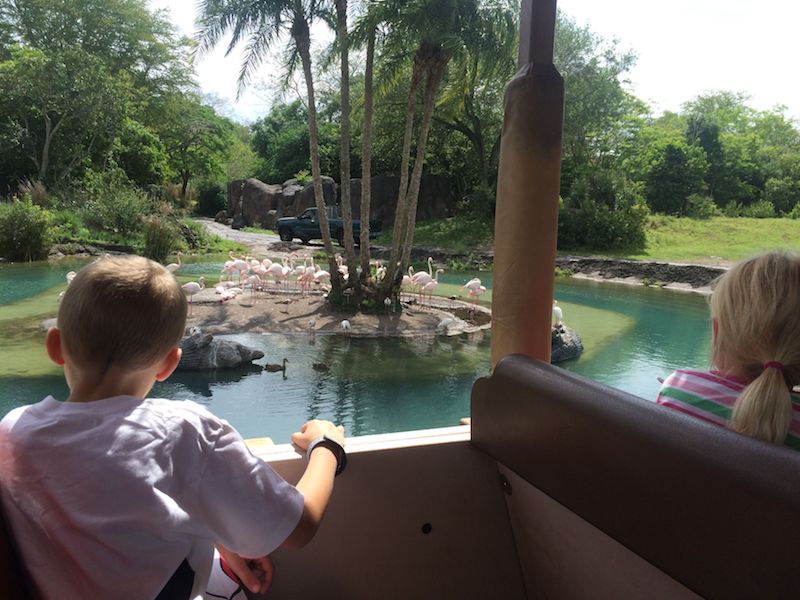 THE BEST DISNEY WORLD RIDES FOR TODDLERS
Planning a Disney World itinerary for toddlers and bigger siblings?
Put these Disney World rides for kids on your list.
YOU will get a kick out of them too.
Best Rides at Animal Kingdom For Toddlers
Kilimanjaro Safaris (go first thing in the morning for your best chance of seeing the animals up close and active.)
Tricera Top Spin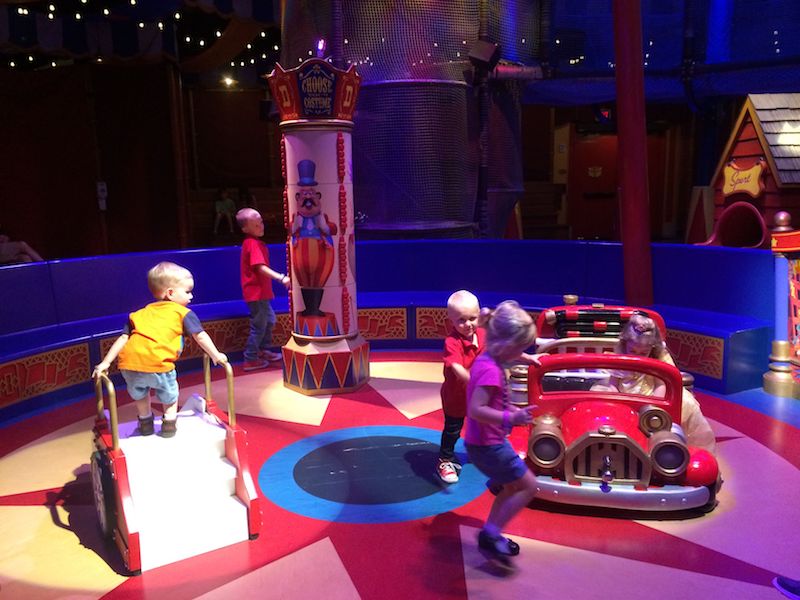 Best Magic Kingdom Rides for Toddlers & Preschoolers
The Magic Flying Carpets of Aladdin. A little bit scary, if you ask me!
Jungle cruise. Old school pun humour and fibreglass animals make for an enjoyable laugh-out-loud voyage. If you have a wildlife warrior like my Ned, be sure to jump on board. And keep an eye out for Pygmies. You just never know what they'll be getting up to.
It's a Small World. An oldie but a goodie.
Peter Pan's Flight. Our favourite ride of all. VERY VERY POPULAR and there's a reason for this. Grab an early in the day Fast Pass if you can.
The Many Adventures of Winnie the Pooh. If by chance you happen to miss out on a Fast Pass, at least this queuing area has interactive games and things for the kids to do. Innovative and helpful idea for families with toddlers.
Dumbo the Flying Elephant. Another one that deserves a medal. When you enter the queue, you are given a beeper (like those in takeaway restaurants) and invited into the Big Top to wait. Children can run about (amok?) in the elevated tunnels, slide and carouse around instead of pouting and becoming a little grumpy bum in a long, long queue. A much-loved tradition. You can't miss it.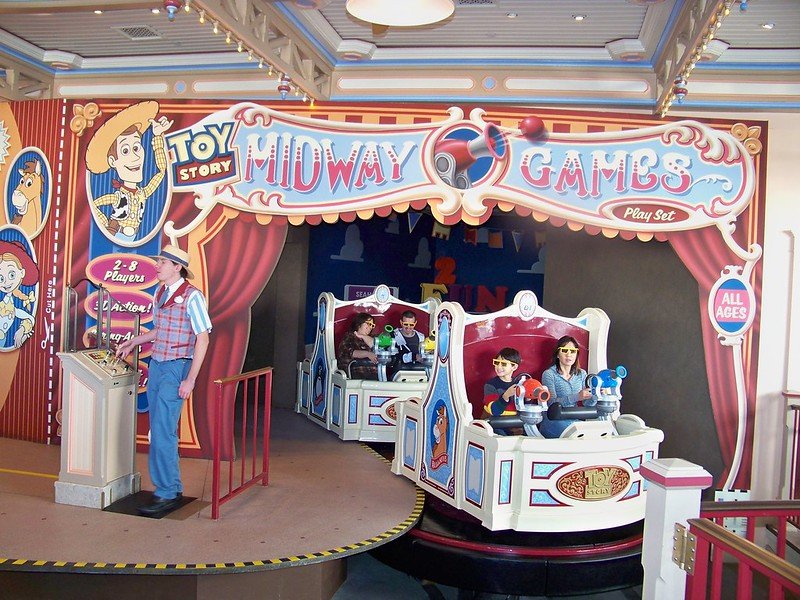 Image credit: Loren Javier via Flickr CC BY-ND 2.0
Best Rides at Hollywood Studios for Toddlers
Toy Story Midway Mania – this INTERACTIVE ride is the best ride for toddlers in Disney World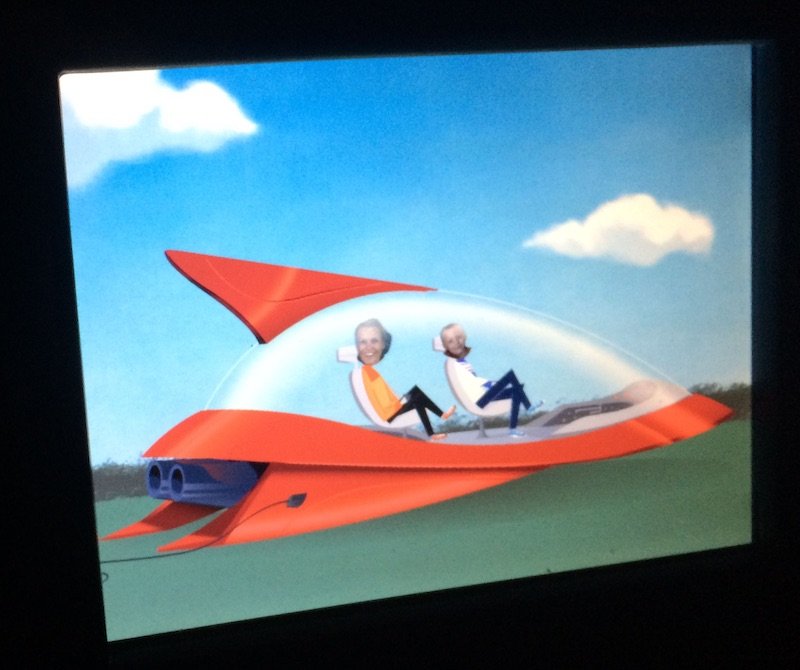 Best Epcot Rides for Toddlers
Spaceship Earth. Hot tip: Be sure to take part in the questionnaire close to the end of the ride, and find out where your answers lead!
Living with the Land – a surprisingly interesting trip through the research stations and food production areas of Epcot- it's really good
Based on rides alone, the best Disney park for toddlers is definitely Magic Kingdom.
With Animal Kingdom a close second.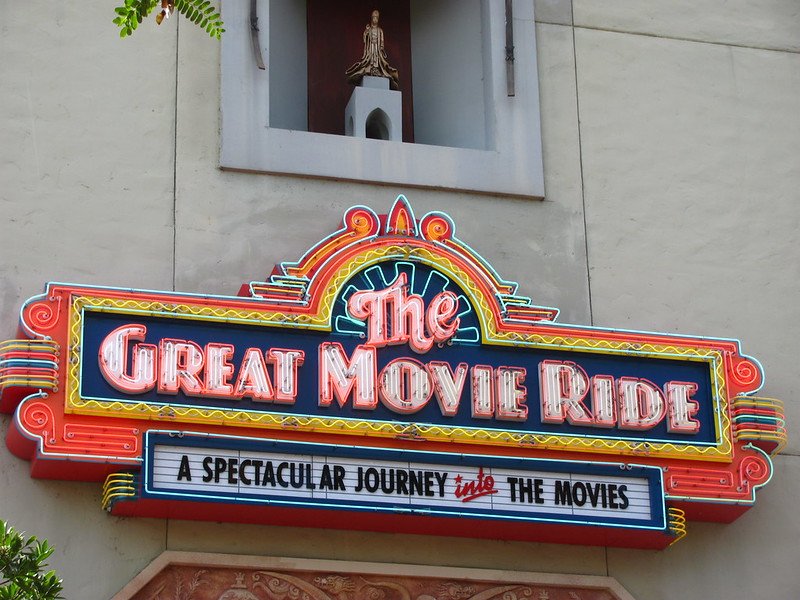 Image credit: Jeremy Thompson via Flickr CC BY-2.0
No.8: Forgo "The Great Movie Ride"
…at Disney Hollywood.
This was the most boring ride for kids at Disney World.
Thank goodness, it's now gone.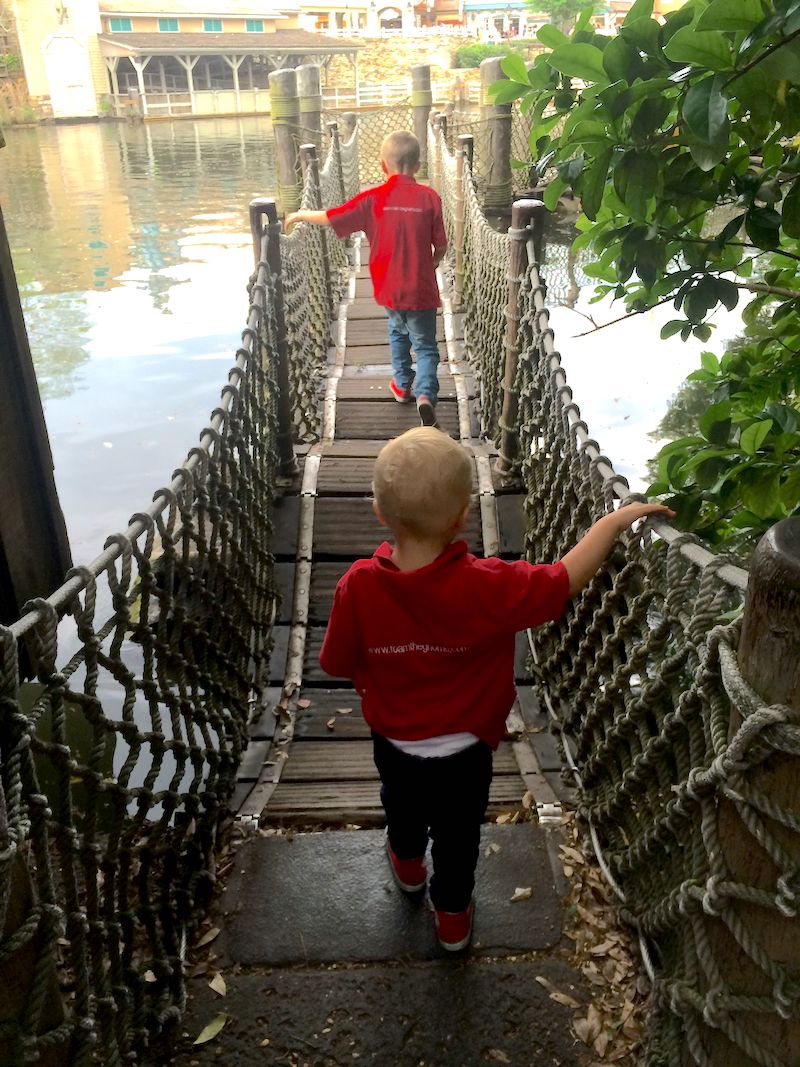 DISNEY PLAYGROUND TIPS
No. 9: Tom Sawyer Island
Tom Sawyer Island at Magic Kingdom is a highlight of the day's adventures at Disney world for kids.
Read all about it here.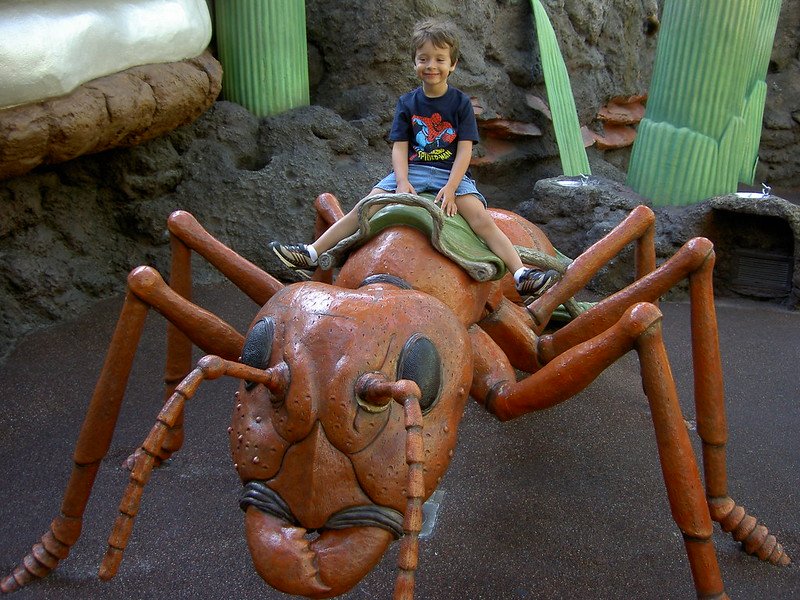 Image credit: Andrew Gatt via Flickr CC BY-2.0
No. 10: Check and recheck the opening times
Check the opening and closing times for different attractions WITHIN each park.
I presumed (wrongly) that everything stays open until close.
Not true.
Cue BIG tears when we ate an early dinner first before heading over to the "Honey I Shrunk the Kids Movie Set" adventure playground, only to find it had closed five minutes before we got there… at 7pm.
We had planned a whole hour of fun before Frozen.
I was SUPER SAD to miss this one out… maybe even more so than the kids as it was a top priority and I knew they'd love it.
I'm even sadder now it's gone.
Boo hoo. Boo hoo hoo….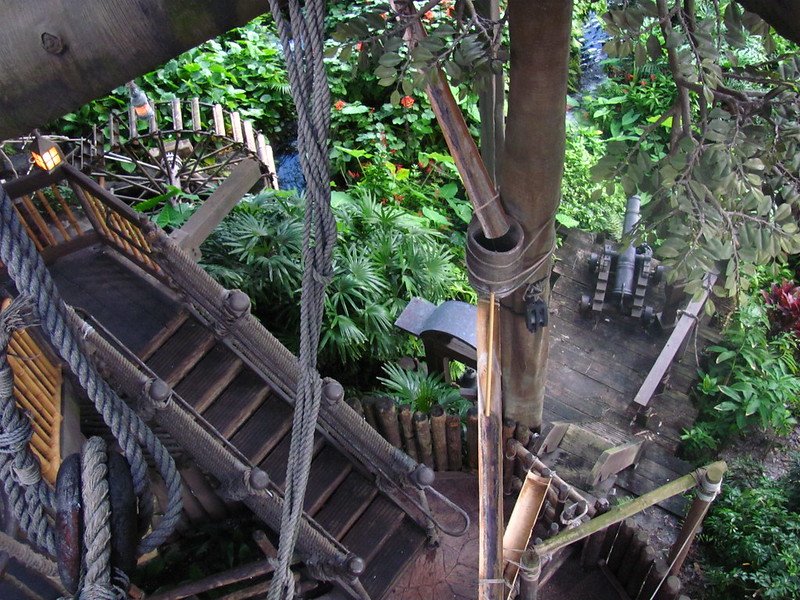 Image credit: Loren Javier via Flickr CC BY-ND 2.0
No.11: Ditch expectations.
Swiss Family Robinson Treehouse was a bit of a letdown to me.
I've been dreaming of climbing this gigantic treehouse for many a moon since childhood, and I imagined it to be something like the Magic Faraway Tree from the Enid Blyton books, with nooks, and crannies, and secret hideaway spots, and 'magic'.
Instead it was a roped-off, one-way walk up a pathway that wound up, around and back down without any kind of adventure for me at all.
If I could use one word to describe it, I'd vote for "sterile".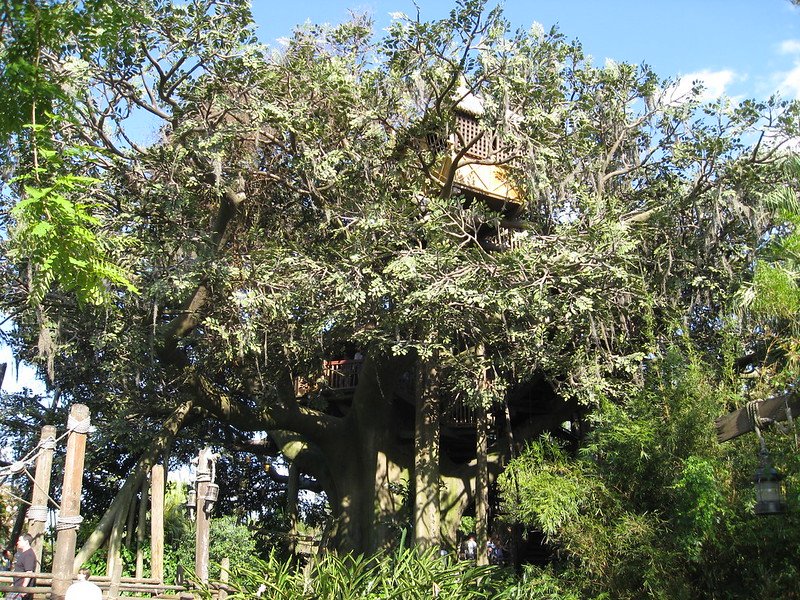 Image credit: Patrick Barry via Flickr CC BY-SA 2.0
Swiss Family Robinson Treehouse at Magic Kingdom
Disappointing as a reality check against MY dreams, BUT Ned and Jack both thought it was EPIC FUN.
Given, it was night time, dark, and full of shadows, and the path was eerily lit by 'candlelight' beams AND it WAS the first 'ride' we encountered on our first evening of Disney explorations.
Perhaps if one can put aside romantic notions of yesteryear, it might be worth a meander for the littlies.
Tires them out if nothing else!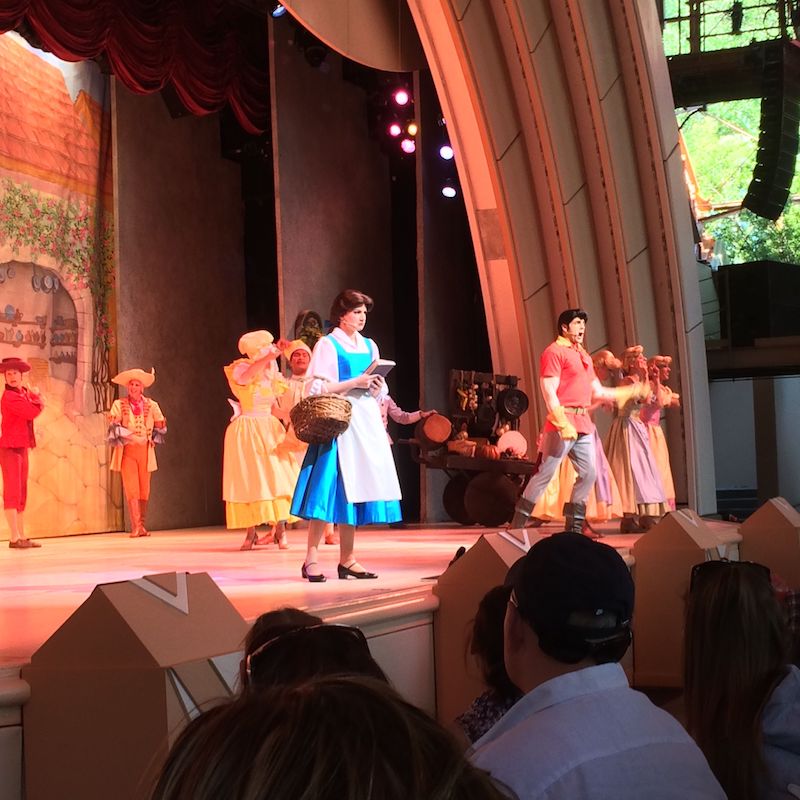 BEST DISNEY WORLD SHOWS
No. 12: See the big, wild, colorful Disney shows at Disney World.
Who knew that you could experience "The Lion King" in full blown musical mode at Animal Kingdom?
(I did not.)
The Disney Animal Kingdom Lion King show is spectacular.
Or watch the magical stage show of Belle and the Beast, as a compelling aroma of sweet flowers floods the your nostrils as you sit in the audience?
Omg.
This scent is what I imagine Love Potion 99 smells like if it were a real thing.
Simply Irresistible.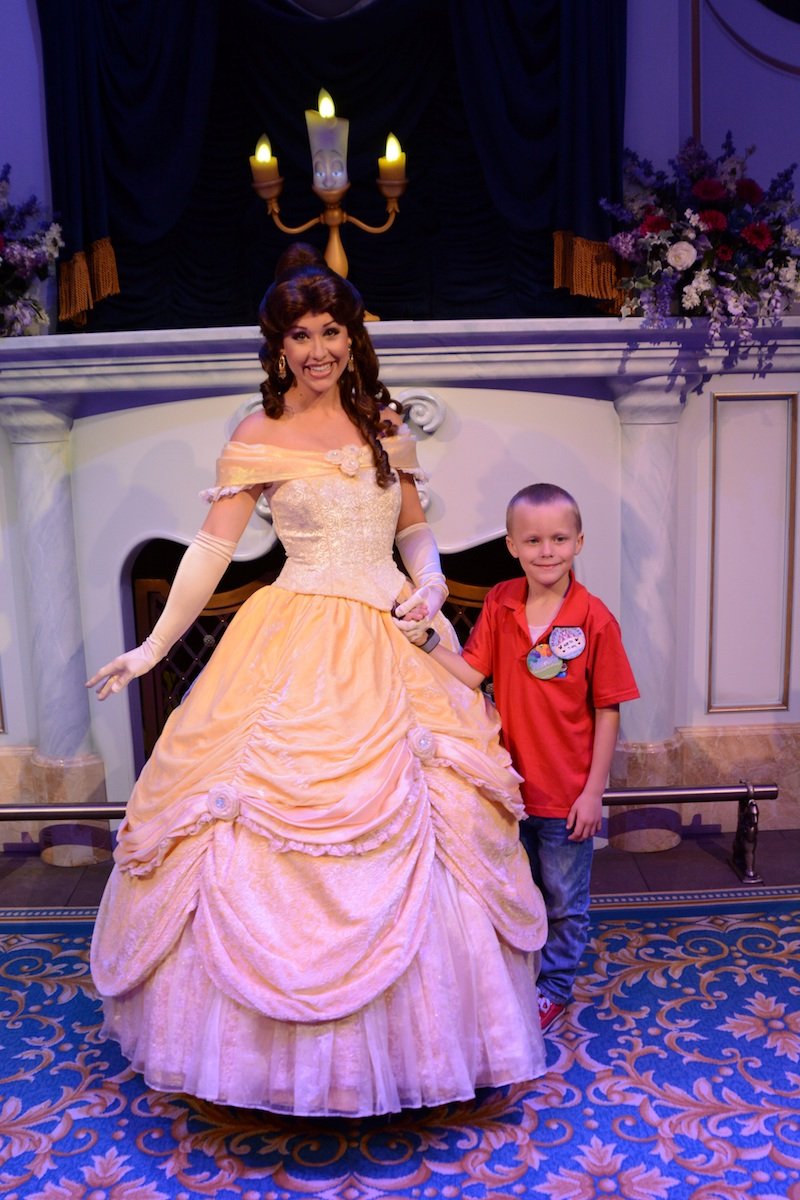 No.13: Beauty and the Beast Pantomime at Magic Kingdom
Or TAKE PART in a hands-on interactive story pantomime with "Beauty" and the Beast in the Beast's castle?
Ned played the role of a knight, and despite being shy, did as he was asked perfectly.
The shows are worth the entry price to Disney World alone!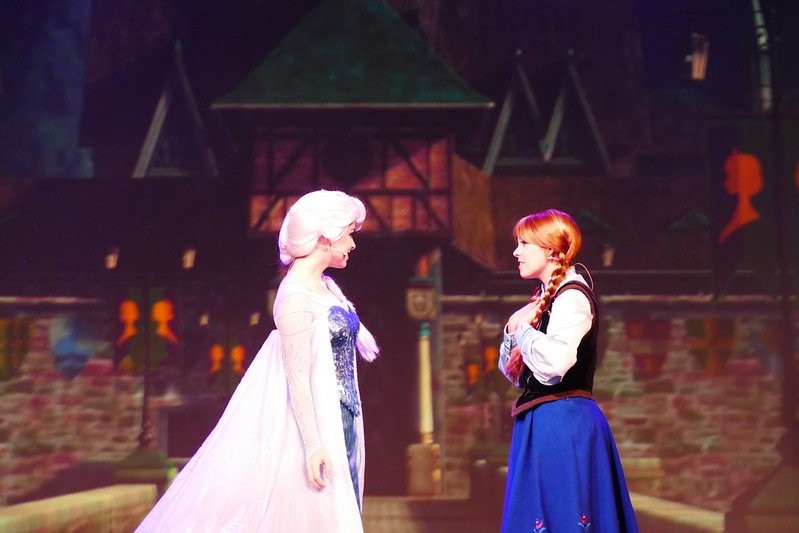 Image credit: Marada via Flickr CC BY-ND 2.0
No.14: HOT TIP – The Frozen Singalong
Disney's Hollywood Studios First Time in Forever: A Frozen Sing-Along Celebration is, as you would expect, a hot ticket.
It is, in my opinion, the best of the lot.
We laughed, cried, got a little nostalgic, and sang our hearts out– along with the rest of the audience.
It is a crack up… let me tell you.
I won't give it away, but put this on your MUST-DO list.
Super dooper fun!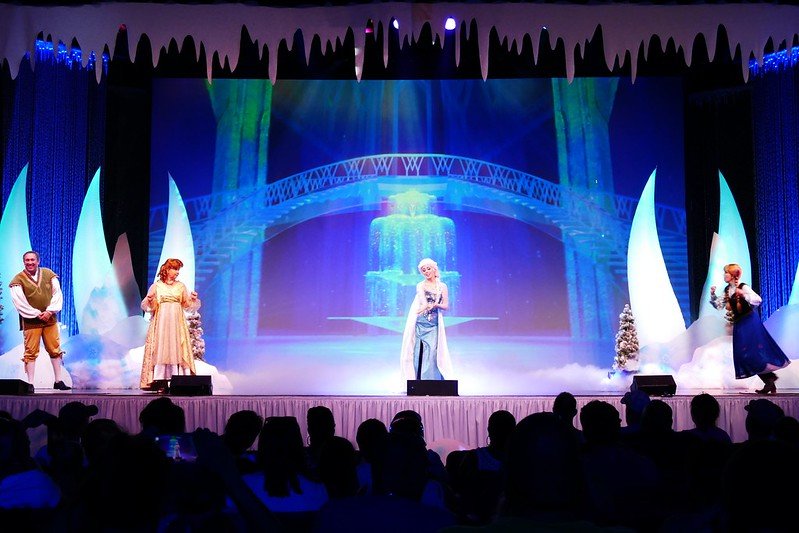 Image credit: Marada via Flickr CC BY-ND 2.0
Hot tip: Book a fast pass for Frozen Singalong
Make Frozen Singalong your NUMBER ONE Fast Pass choice as far out as you can, (eg 60 days if you are staying in a Disney Hotel!).
Put Toy Story as a strong NUMBER TWO or THREE, depending on the windows of opportunity you are presented with.
Ideally, you want both BEFORE lunchtime, so you have time to snap up a few more Fast Passes at booths along the way.
I pre-booked fast passes for Disney Hollywood just three days before our visit and ended up with an 8pm seating for the Frozen Singalong, which completely stuffed up our chances to use the Fast Pass system in the way above as we couldn't risk letting it go.
You can't book a fourth Fast Pass until the first three have been used, which is why we ended up with an 80 minute Toy Story Midway Mania wait.
Not only that, Hollywood Studios closed not long after the show finished, so we couldn't even catch up a few extra rides when the majority of kids and families had left.
We had to leave too.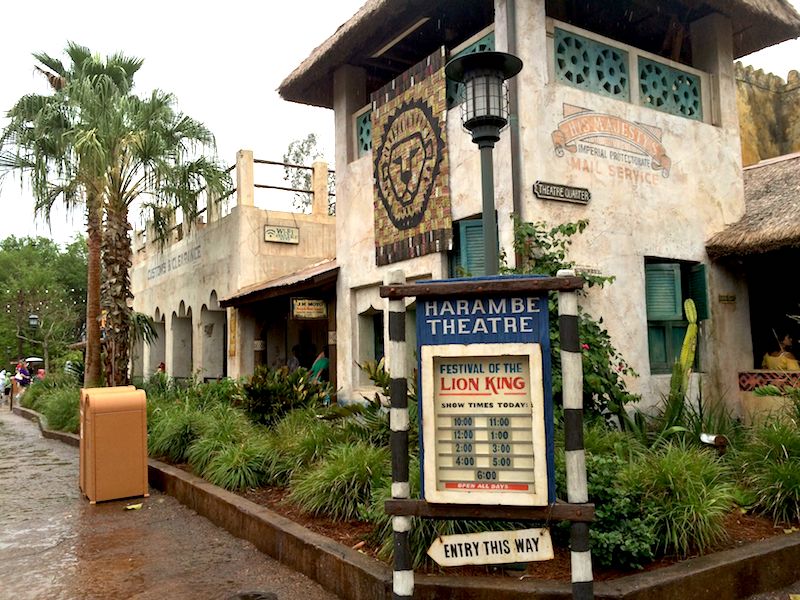 THE BEST SHOWS AT DISNEY WORLD LIST
Be sure to put these Disney World shows on your hit list.
The Best Disney Animal Kingdom Shows for Kids
Lion King
All singing, all dancing, live action theatrical fun, featuring all the Lion King characters in the round.
It's Tough to be a Bug!
Hot Tip: sit back, right back, in your chair during the Bug show. Nope, I'm not giving any clues. Just trust me and lean into the chair.
Finding Nemo
It was raining and soggy, and I completely missed THIS memo, but everyone we met that day kept asking us if we'd seen it, so it MUST be good.
Let us know what you thought!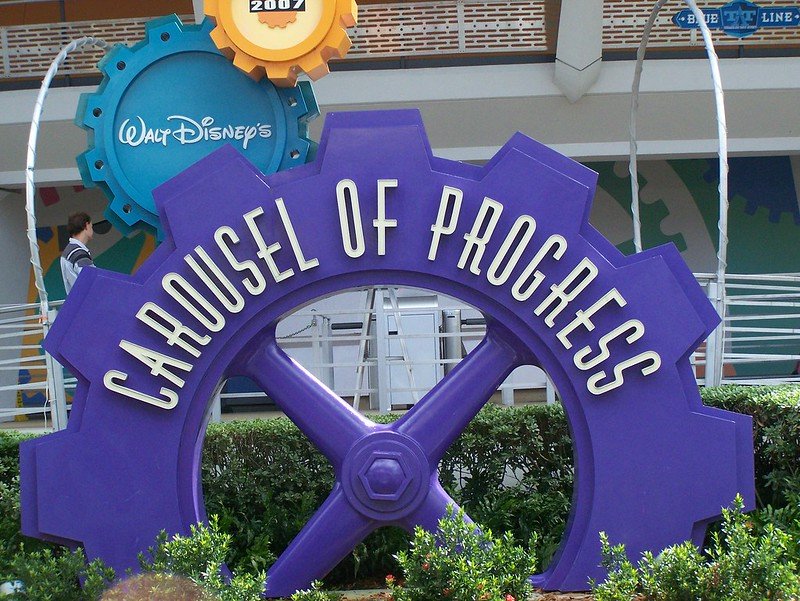 Image credit: Matt Dempsey via Flickr CC BY-SA 2.0
Disney World Magic Kingdom Shows for kids
Walt Disney's Carousel of Progress.
Unexpected find of the night.
Ned LOVED this. And you'll come out singing… I guarantee it!
Under the Sea- Journey of the Little Mermaid
An adorable recreation of this charming story.
Enchanted Tales with Belle
The interactive show I mentioned earlier is a must do.
Monsters Inc Laugh Floor.
Hope and pray you are NOT in the firing line.
But oh so funny, at the expense of the one who is!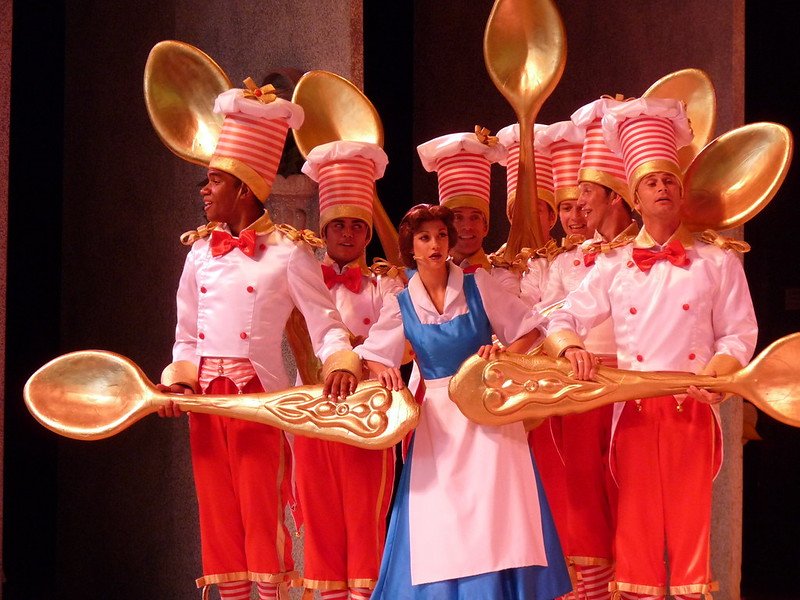 Image credit: Leigh Caldwell via Flickr CC BY-SA 2.0
Disney's Hollywood Studios Shows for kids
Frozen Singalong.
See above.
Beauty and the Beast Live on Stage
As mentioned above.
My other favourite spectacular, but I could be biased as this film is close to my heart.
I cried.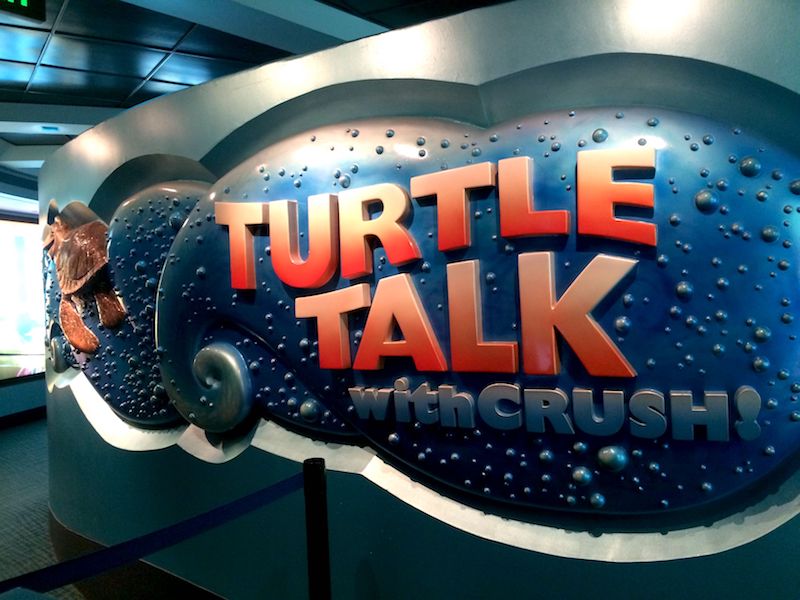 Epcot Shows for kids
The Seas with Nemo and Friends.
Turtle Talk with Crush.
Both heartwarming AND interactive.
Great shows to maintain toddler attention.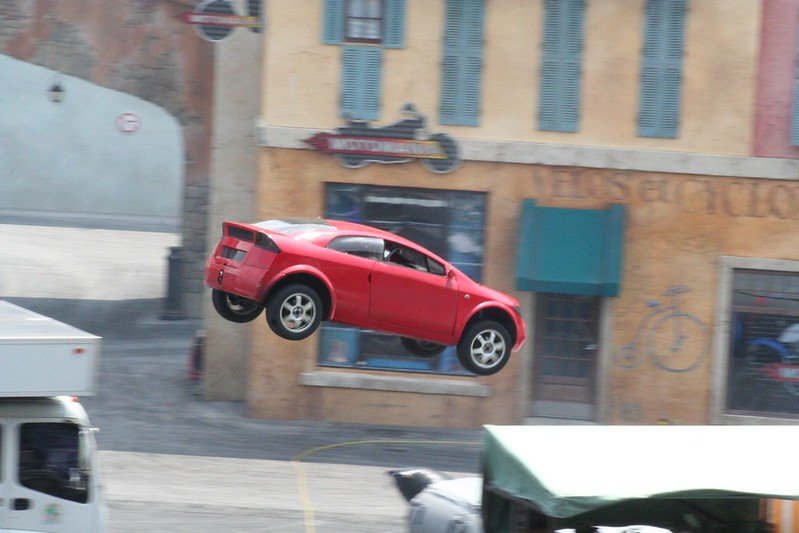 Image credit: Jeff Christiansen via Flickr CC BY-SA 2.0
No. 15: Ditch the '"Lights, Motors, Action" Extreme Stunt Show.
While it's big on car chases, and explosions, this one is more suited to tweens and teens.
I took the boys, as I had a vague feeling it would include "Lightning McQueen" (and perhaps "Mater" too?)
It did…
for all of two minutes.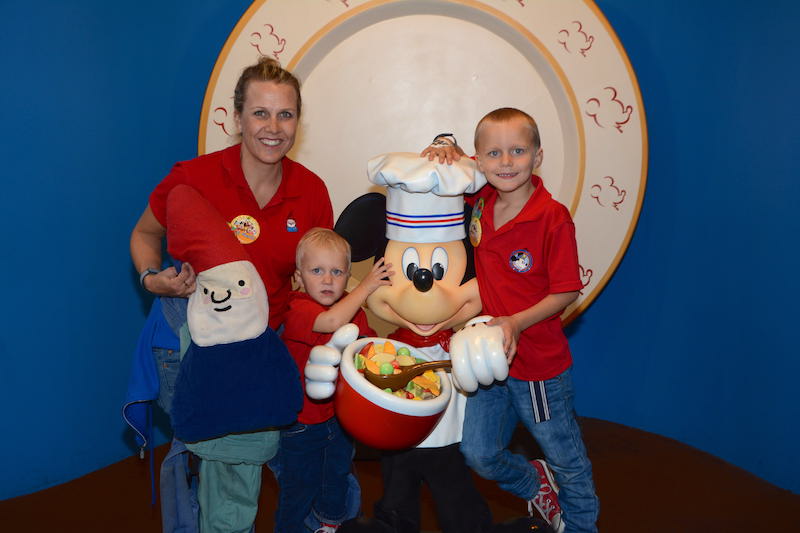 TIPS FOR EATING AT DISNEY WORLD
No.16: Book the Disney Dining Plan
This is the best decision ever.
Our Disney Dining Plan cost worked out to be $65 US per day per day for Ned and I.
(Jack was 'free' and was allowed to eat with us too.)
The Dining Plan at Disney included a refillable cup we could fill up with hot chocolate each morning at our hotel to kick start our day.
(Yes, coffee is available too!)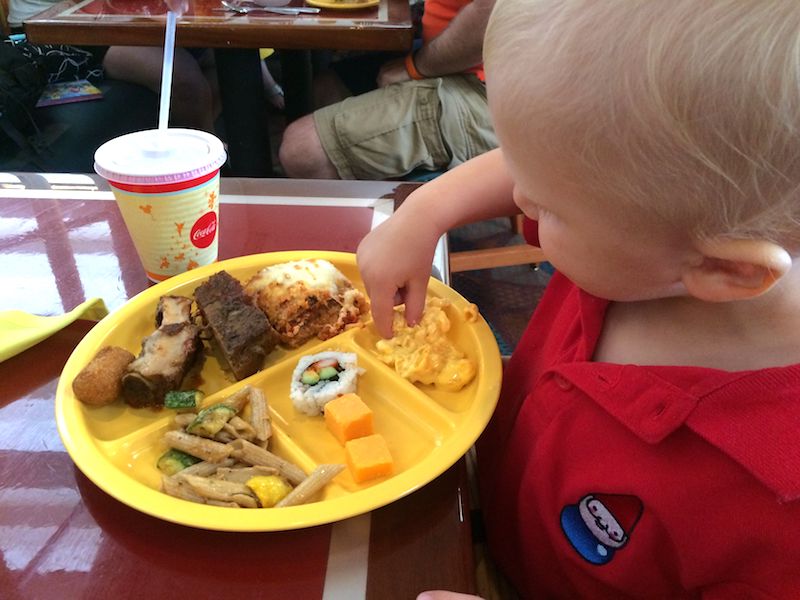 The meal plan for us included:
Two snacks credits (things like a bucket of popcorn, a hot drink, a piece of fruit, or something bakery-style like a muffin or cupcake)
Two Quick-Service meals with a main meal item, a drink and a dessert in each (a bit like grabbing a meal at a fast-food joint with choices like pizza, subs, sandwiches, pasta, etc, with a bottle of juice/milk/soft drink, and a cake, donut, yoghurt or custard) and,
Two Table-Service meals (includes the option to book a character meal! See no. 17 and no. 18 for more details).
We did not pay for one single other bit of food during our six days and never went hungry, leaving our spending dollars for fun things like souvenirs and toys.
I also LOVED the freedom of it, just swiping our band at the counter to 'pay' and the fact that the structure of the plan stopped squabbles.
Would I do it again?
I wouldn't go without it.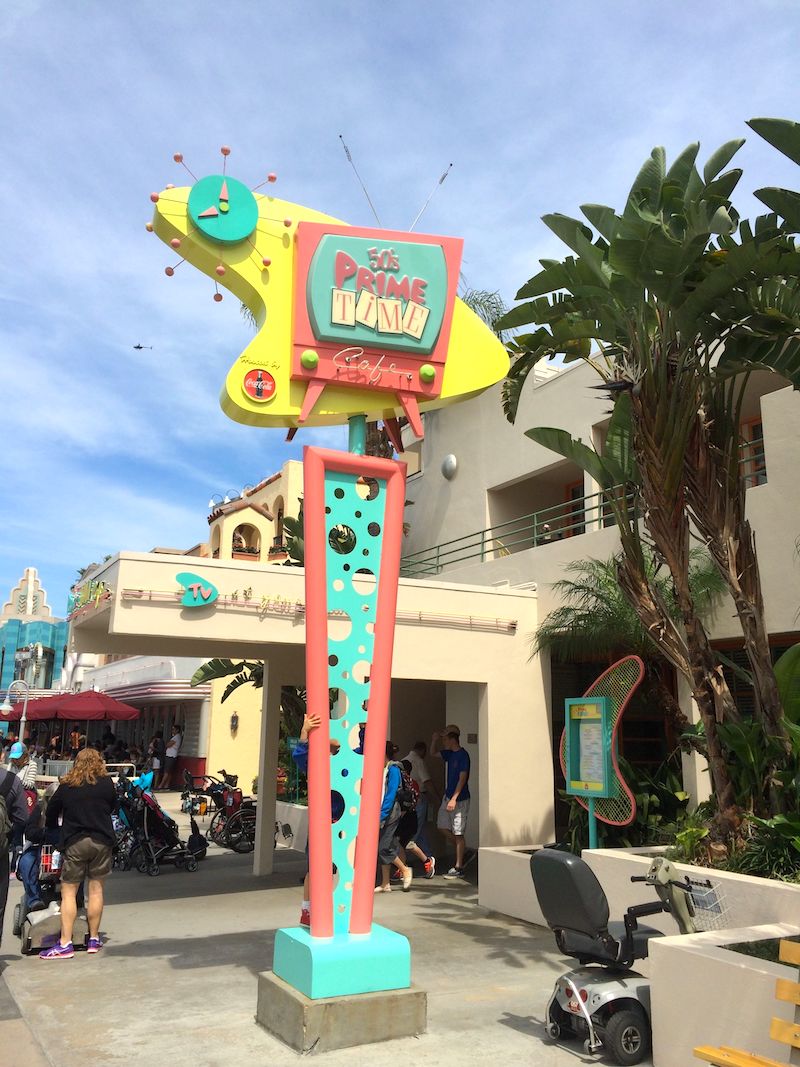 No. 17: Lunch at the 50's Prime Time Cafe.
My favourite food experience at any of the parks, with a hilarious in-character cast member serving, AND my favourite food too.
Oh my…
I had the the sampling of Mom's favourite recipes.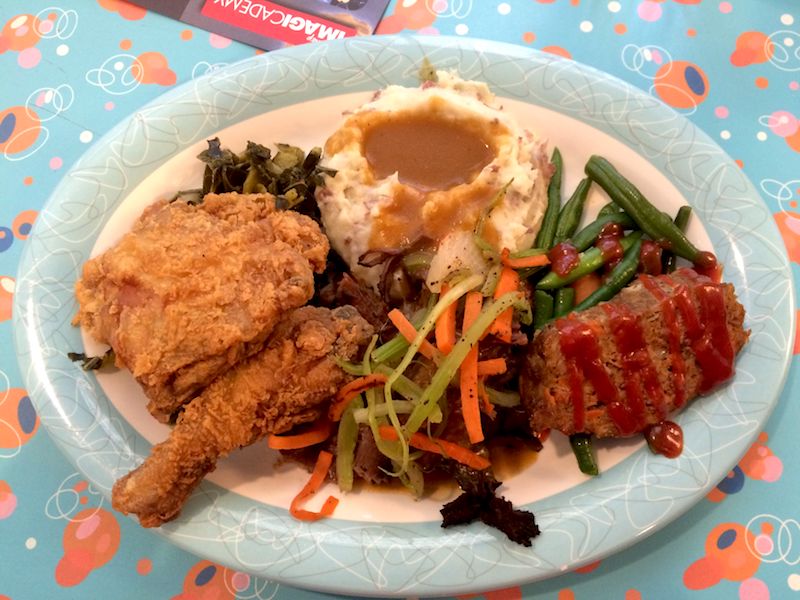 50's Prime Time Cafe Sampler Platter
The Prime Time Sampler is Golden-fried Chicken, Fork Tender Pot Roast, and Traditional Meatloaf with all the fixings.
Delicious comfort food has never been so good.
I added a REAL VANILLA MALT to boot.
Without exaggerating, this remains the best drink I've EVER drunk in my whole life. My mouth still waters at the thought.
Take me back!
Check out the 50's Prime Time Cafe menu to see what takes your fancy.
(We booked on the dining plan and it was such great value.)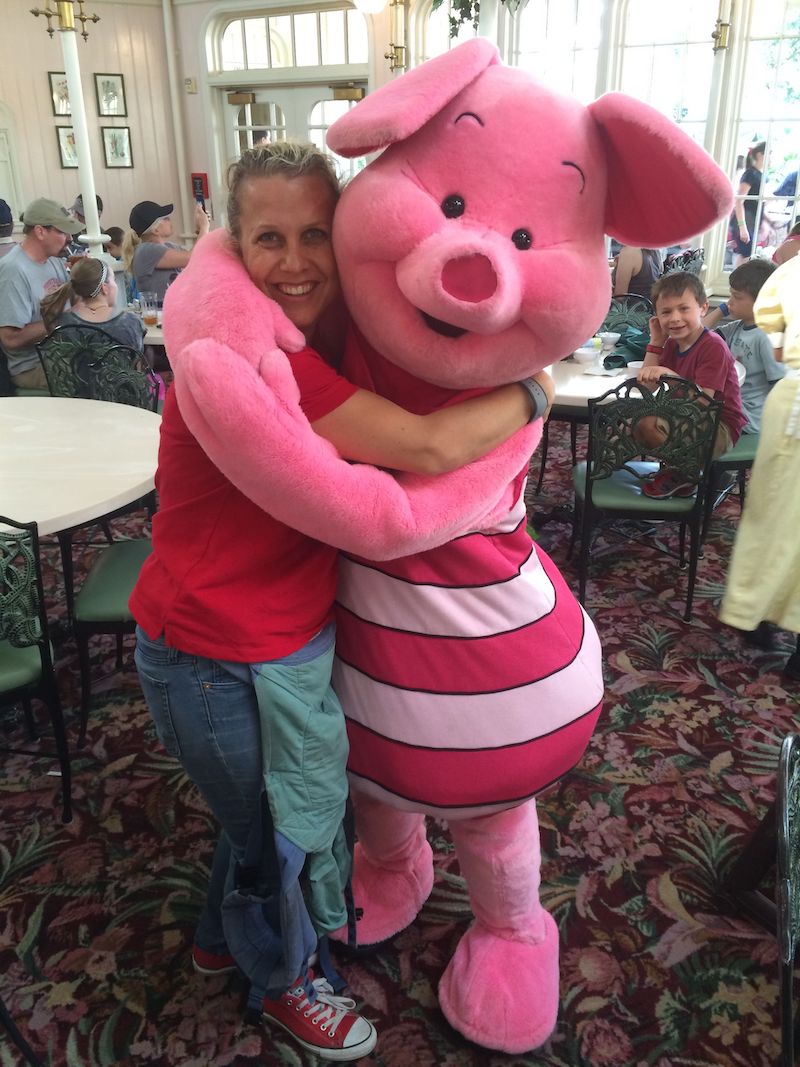 No. 18: Book a Disney Character Meal or three…
I wasn't shy about booking a character meal at Disney World.
I booked a Disney World character meal for FOUR out of five meals on our dining plan.
That took a bit of skilful planning.
A 10pm hover around the computer on the 180th day BEFORE our due date of arrival.
As soon as the time clock clicked over, I jumped on and booked the five restaurants including my chosen eating times in quick succession.
I hovered around the 5.30pm or 6pm seating for the character dining and this turned out to be just perfect- the right time for a rest and regroup, before gearing up for the nighttime plan.
Plan to be at most character meals or experiences for about an hour.
That's about how long it takes to sit down, order your drinks, order your meal or choose it from the buffet, nibble a dessert, pay your tip, and gather your things.
Be mindful of this when booking your later-in-the-day fast passes.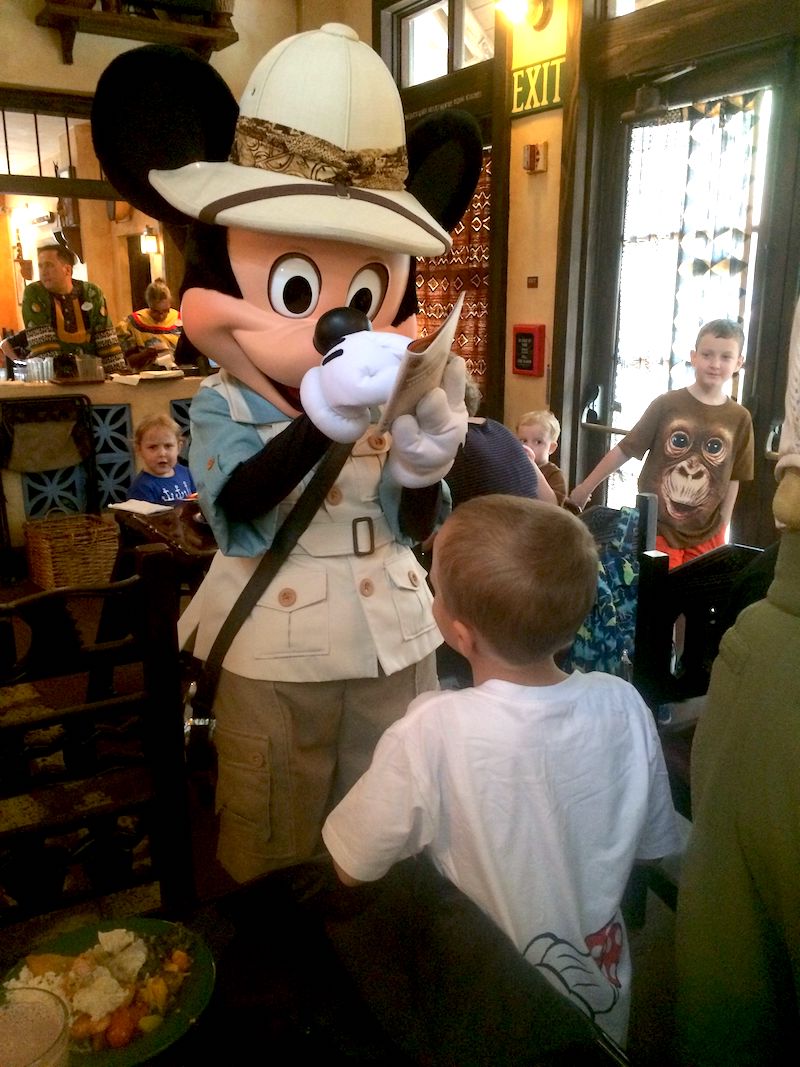 Tusker House Character Meal
No. 19: Save time with table service meals at Disney World
If you are visiting Disney World with toddlers, character meals are one of the BEST time-savers ever.
You sit down, service staff take care of your menu choices or direct you to the buffet, and all the while, the characters on duty roam about the room, visiting table after table after table in an orderly fashion following a predetermined route.
The characters continue to rotate throughout your meal.
For example, at the Crystal Palace Character Meal at the Magic Kingdom Park, you may see Pooh first, then Piglet, then Eeyore, then Tigger.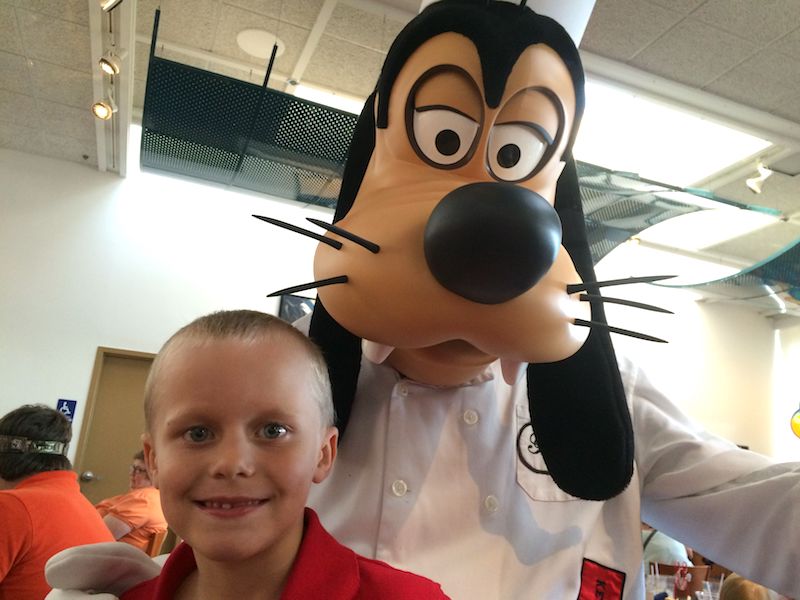 Chef Mickeys at Disney World
See all the Disney Characters
Miss a character?
Simply stay a few more minutes till the next one comes around.
Eating lunch or dinner, AND being able to take photos with all your favourite characters WITHOUT having to stand and waste time in a queue is worth every cent!
Book on the Disney dining plan and it's even more affordable.
And doesn't everyone love a good buffet?
Side note: the restaurant food at all our character meals was SUPERB, with:
delicious flavors
fresh food, regularly replenished
a HUGE variety of choice for adults and kids
The kids buffet at Disney World restaurants always included macaroni and cheese if you needed it, but in my opinion was a bit junk-foody and bland BUT the kids were allowed to eat from the normal buffet in any case.
Ned ate fresh grilled salmon, I repeat, fresh grilled salmon… at every stop.
So did I. (Along with a sampling of every dessert on offer.)
Spoilt!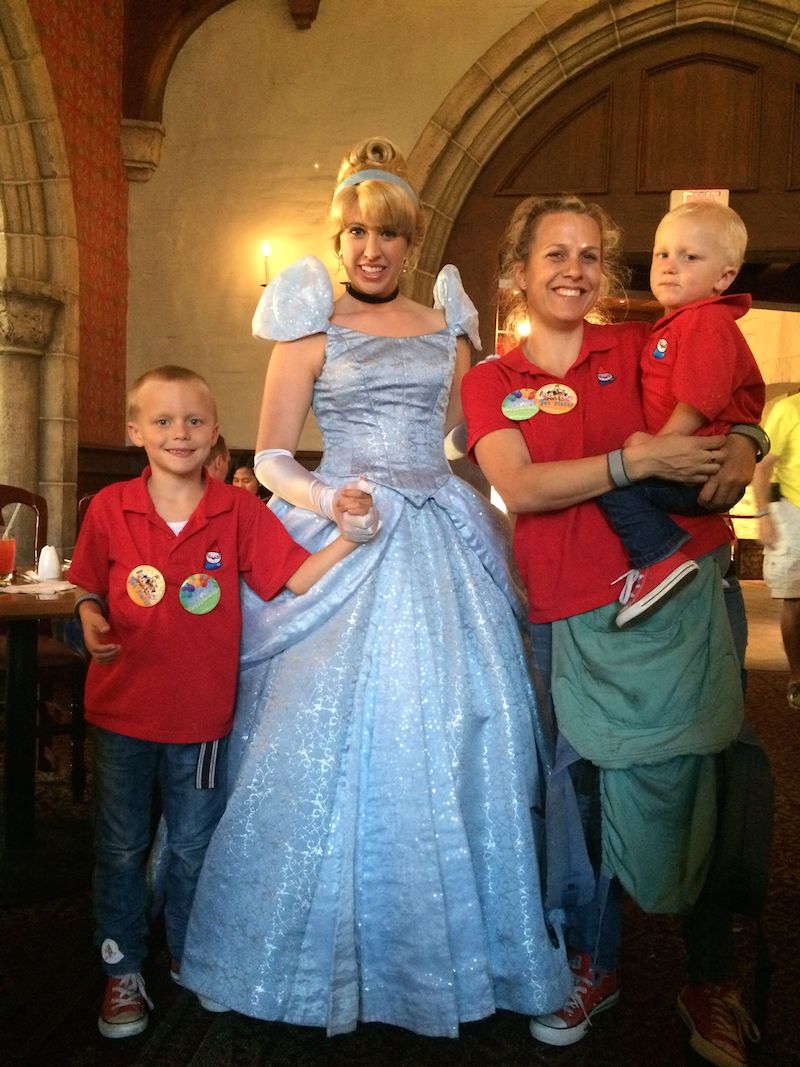 No. 20: Akershus Royal Banquet Hall Castle at Epcot with the Princesses.
The chance to eat with the Princesses at Disney World is a once in a lifetime adventure.
We met Belle at the entrance of Epcot Akershus Royal Banquet Hall in Norway for a photo opportunity.
Cinderella, Ariel from Little Mermaid, Snow White, and Aurora (Sleeping Beauty) walked around the castle, greeting each table, one by one, as we ate.
Later in the proceedings, the princesses gathered for a special dance and all the children were invited to tag along behind their favourite princess for a little waltz.
While Ned was too shy to get up and dance, and Jack was a bit overwhelmed by the whole experience (oh my… five pretty princesses in one place!) all the kids were beaming.
I LOVED this Princess Storybook Dining at Akershus Royal Banquet Hall character meal and venue.
And the food, including a chance to pick from a Norwegian buffet for the entree and a tray of Norwegian sweets to try, was delicious!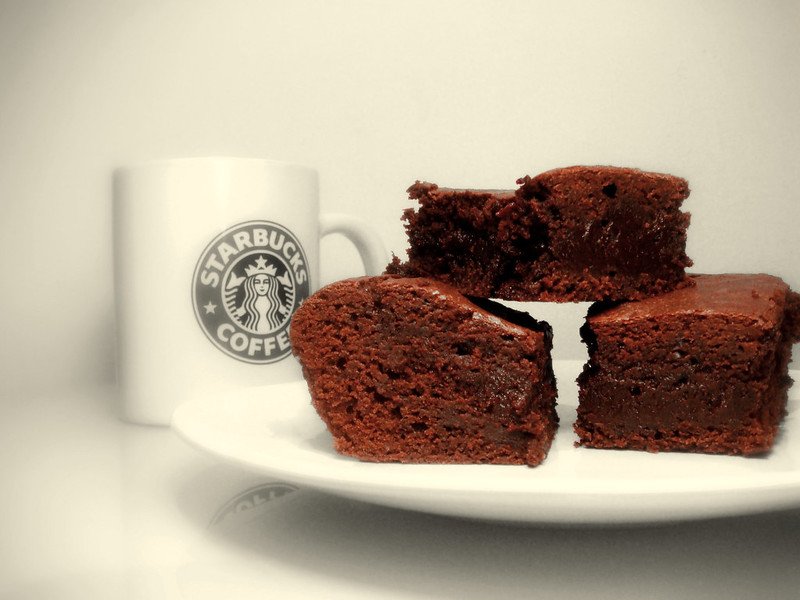 Image credit: Kurtis Garbutt via Flickr CC BY-2.0
No. 21: Don't deny yourself a Starbucks Chocolate Brownie
Head to Starbucks on Main Street in Disney World for a sweet ending to your days at Magic Kingdom.
The bakery in Starbucks on Main Street had a pretty awesome selection of cakes.
It was difficult to choose the perfect midnight feast.
I stuck with an old favourite, and was richly rewarded with a mouthful of thick gooey chocolate yumminess.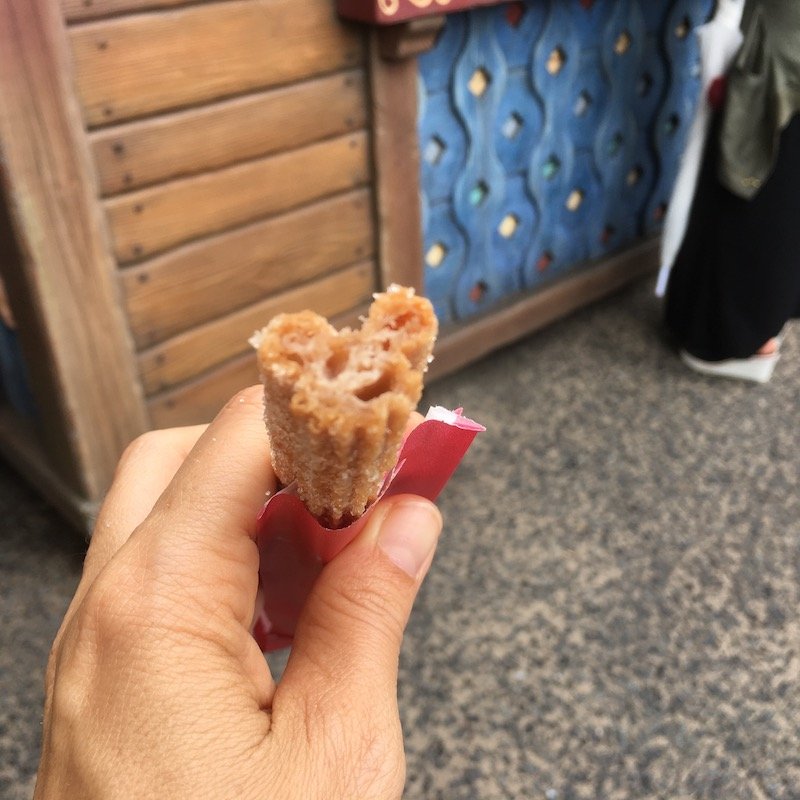 No. 22: Go on a search for Mickey shaped snacks!
We found eight Mickey Mouse themed snacks at Disney World:
Mickey Mouse Pretzels
Mickey Mouse churros
Mickey Mouse chocolate bars
Mickey Mouse macarons
Mickey Mouse ice cream sandwich
Mickey Mouse chocolate candy (Mickey Mouse rice treat)
Mickey Mouse chocolate covered apples (also called "Mickey Mouse candy apples")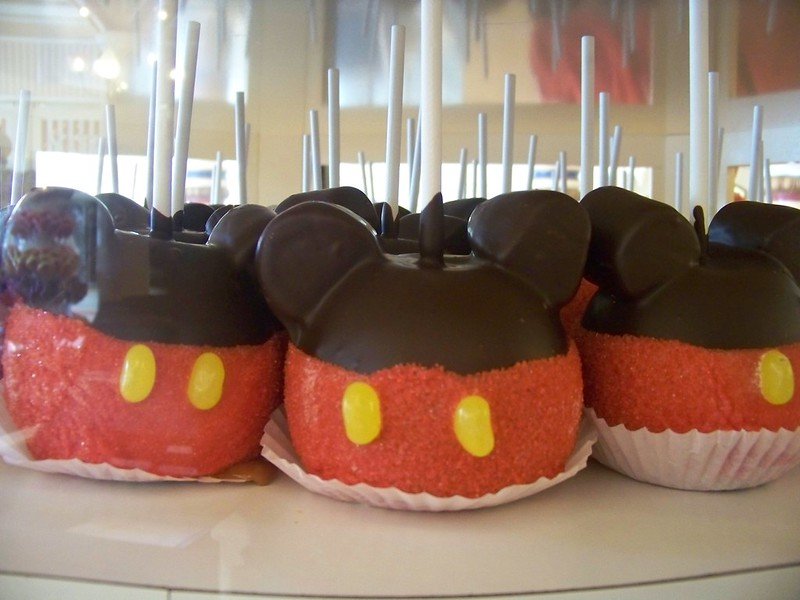 Image credit: Marada via Flickr CC BY-ND 2.0
More Mickey Mouse snacks at Disney World
But there are plenty more Mickey Mouse snacks in the Disney parks!
Can you beat our record?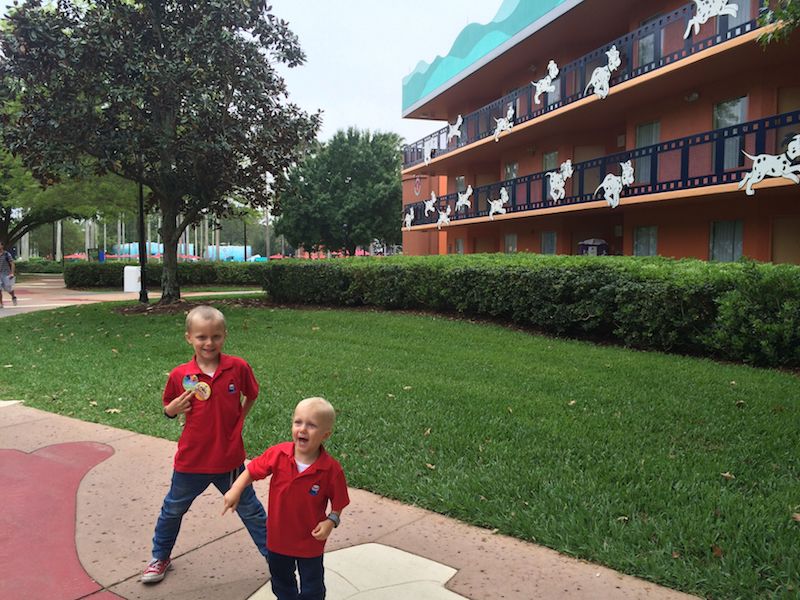 WHERE TO STAY AT DISNEY WORLD HOTELS
No. 23: Disney All Star Movies Resort.
Disney All Star Movies hotel is perfectly perfect for the all-round family holiday.
Cheap and cheerful, but NOT dingy.
Let's face it, no-one is at Disney World to hang out in the room.
The hotel is just a place to rest your head before getting up at the crack of dawn to do it all over again.
BUT, the best bit about Disney All Stars hotel is how much fun it is for kids!
There's a fab Disney buzz!
Failing that, the closest hotel to the entrance of Magic Kingdom is the Contemporary Resort.
It's just a walk away from the Magic Kingdom entrance gates.
(Or catch the monorail from Contemporary Resort to Magic Kingdom. It stops INSIDE the resort itself!)
If you are planning naps, at least on your Magic Kingdom days, book this hotel.
---
RELATED: The BIG List of Disney Hotels on Property Comparison Guide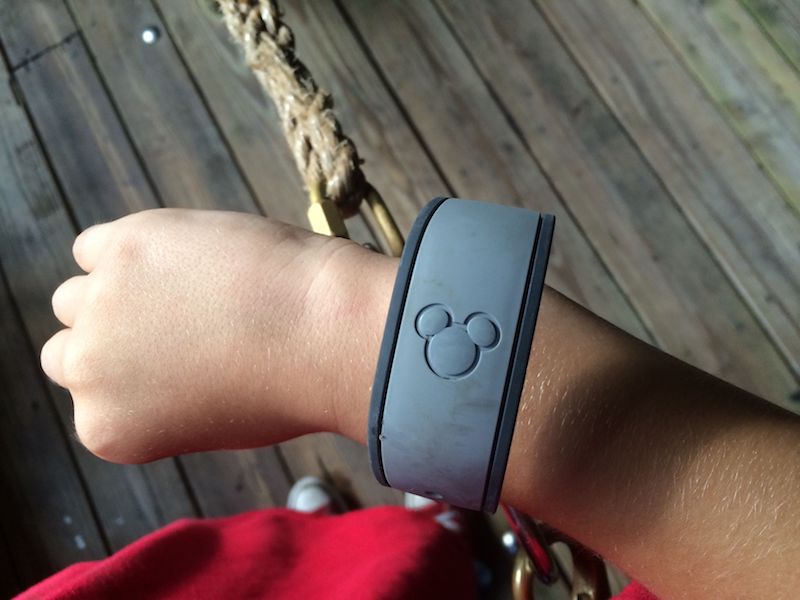 MORE DISNEY TIPS AND TRICKS
No. 24: Disney Magic Bands.
The only crap thing about a Disney stay was that as travelers based in Australia, we couldn't have our magic bands posted to our home.
That meant collecting our magic bands at arrival when we checked in.
So we received the grey ones.
Plain, boring and ugly.
(Grey magic bands… Disney, what are you thinking??? ANY other colour would be an improvement. )
Through "My Disney Experience" website, you are supposedly given an option to customise them with a colour.
I didn't see that before we arrived, nor do I know if it is even possible for non-US citizens.
BUT a grey magic band is still a MAGIC BAND!
A Magic Band is the quickest way to:
gain entry to parks
use your fast passes
enter your hotel room, and
buy goodies via your credit card without having to dig through your handbag.
No. 25: Catch the Magical Express bus to Disney World.
Scratch that.
Buses.
Take advantage of the Magical Express Bus FREE pick up from the airport if you are staying at a Disney resort.
(This alone saves you at least $50 bucks in taxi or uber ride each way. Disney World is a good 30 minutes from the airport to the Disney resort area.)
Not only that, your vacation starts from the moment you get off the plane.
Disney staff are SO helpful and keen to make your holiday a time to remember, they go out of their way to bring extra magic to the kids too.
Think:
Disney stickers
Disney badges
Disney colouring-in books.
Disney World Buses
Then there's the Disney World shuttle buses from your Disney resort to your park of the day.
Just choose the right line outside your hotel, and wait for the bus to appear.
We never waited more than 10 minutes EVER and every bus driver was jovial and friendly, and happy to give me a hand with the stroller if I needed it.
The rides to the parks are short- 10 minutes or so – and we loved chatting to our fellow bus travellers about their plans for the day, their surprises, or their top finds.
Everyone is on vacation so there's no better time to chat!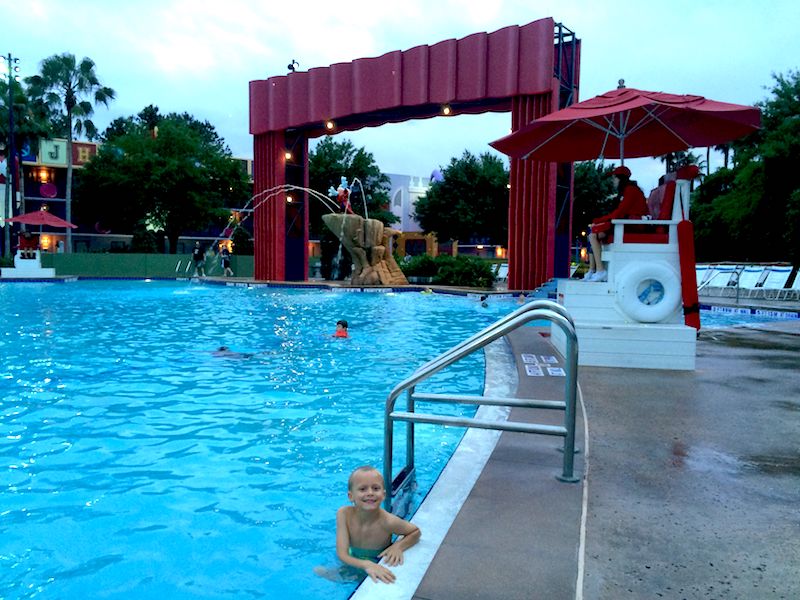 No. 26: Plan at least one lazy rest day at Disney World
A Disney World rest day in your vacation gives you the opportunity to soak up Disney magic at 'home'.
At Disney All Star Movies, there's:
two pools
a food hall
a games arcade room
a playground
Disney caricature artist on site
a souvenir shop
FREE Disney movie screenings in the lobby
You need a day just to let the kids explore all that!
I didn't plan a rest day at Disney, and it meant we only had limited time at the end of long days for Ned in particular to explore.
We were all a bit bummed about that.
---
Read more: Insider review of Disney All Star Movies at Walt Disney World Resort here (update coming soon!)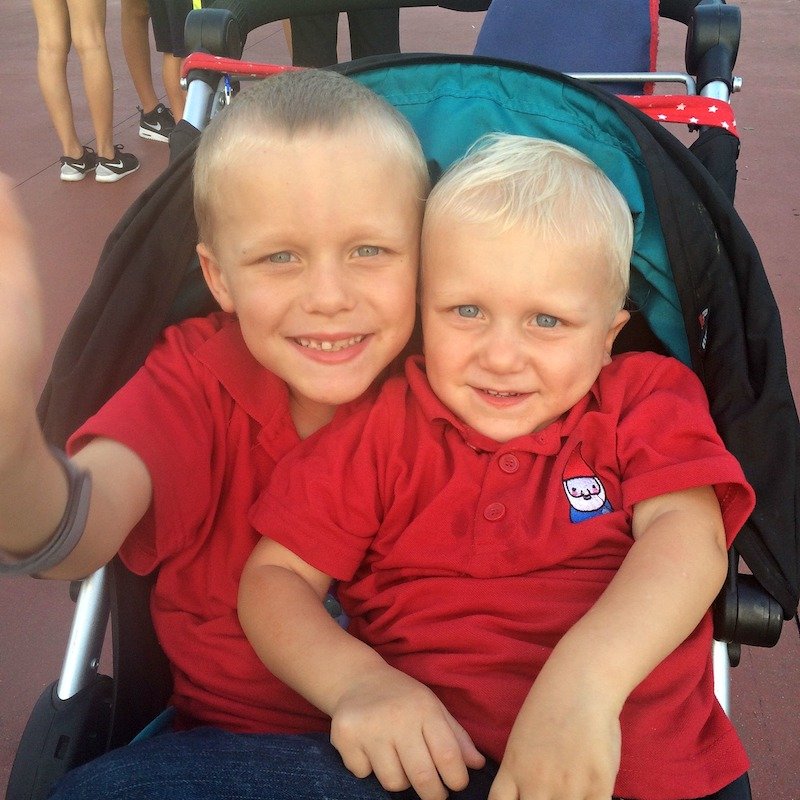 STROLLERS AT DISNEY WORLD?
No. 27: Can you bring your own stroller to Disney World?
YES! Take your stroller to Disney World.
It's no hassle at all.
I seriously contemplated hiring a double one at the park (for about $200 for the week- oh heck!) but I decided to chance it and bring my own, hopeful it wouldn't be too difficult or too bulky or too cumbersome to get on and off the Disney shuttle buses to the parks.
I took my ergo carrier for Jack too, so Ned was able to sit in the stroller from time to time for a rest from walking.
As the night grew long, both boys often squeezed into the stroller together!
(We took a sturdy Britax travel stroller. Take a look at our review here. But if you are looking at something lighter, try this Disney umbrella stroller for toddlers. It has Minnie Mouse on it!)
Do not waste your money on stroller hire unless you absolutely have to.
Save your money for fun stuff, like shopping for souvenirs at Disney World (see below for details on what to buy at Disney World.).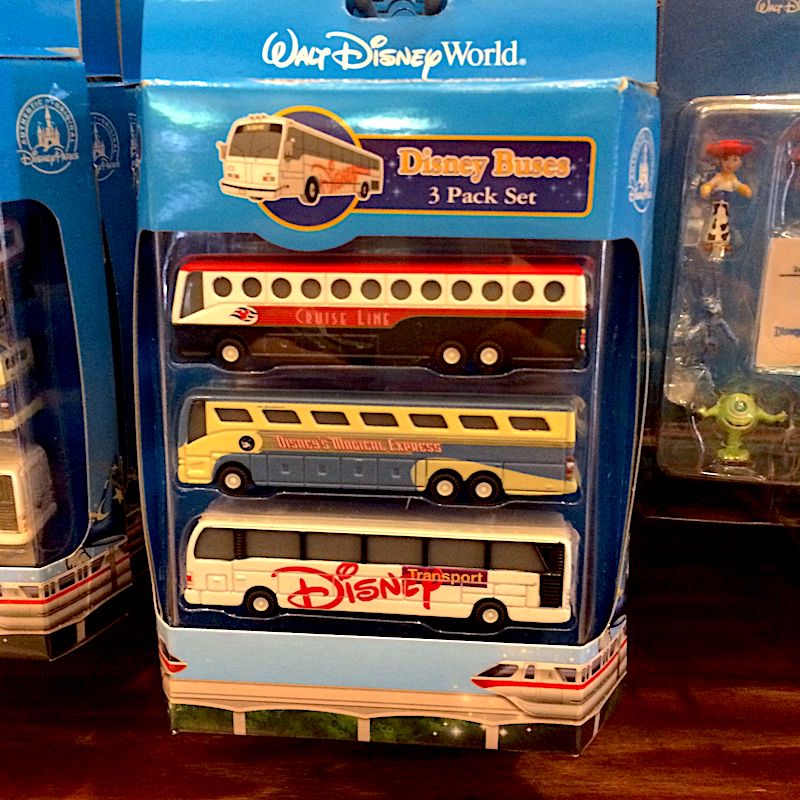 TIPS FOR BUYING DISNEY SOUVENIRS AT DISNEY WORLD
No. 28: Find your focus when it comes to buying Disney souvenirs.
There are SO many Disney World souvenirs to choose from, including exclusive Disney World souvenirs like this three-pack of Disney buses.
If you don't want to waste all day at Disney World souvenir shops, you need a plan.
I find it SO much easier to dissuade or redirect children (and especially determined toddlers) away from a random Disney shop purchase when we have a 'theme' of favorite souvenirs to focus on and stick to.
We also can't resist Disney souvenir pennies to add to our pressed penny collection book.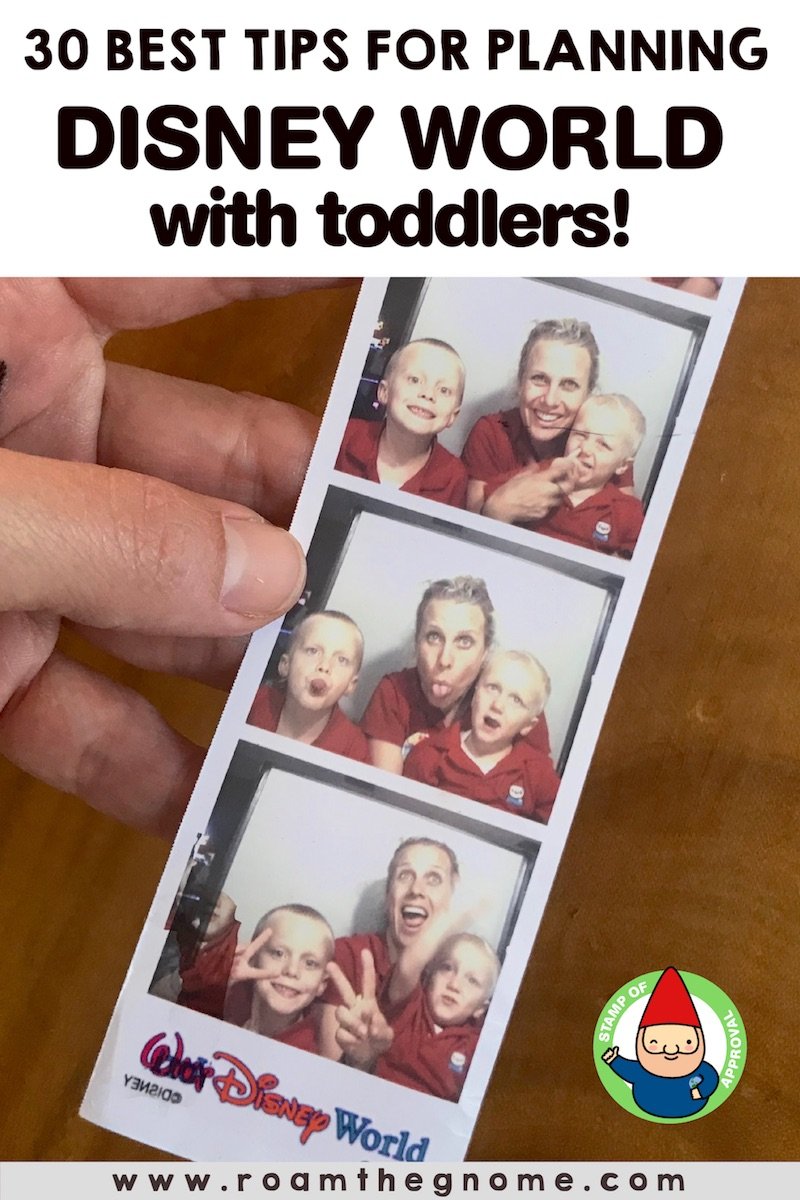 Here's some ideas of Disney souvenirs themes:
small Disney soft toys
Disney dress up costumes
Disney photo booth pics
Disney accessories
Disney snow globes
Disney t-shirts
new pair of Disney shoes
small pieces of Disney jewellery (eg Alex and Ani bracelets)
Disney earrings
Disney collectibles
Disney handbags and Disney purses
Disney die cast cars
Disney themed-USB sticks and electronics
Disney Christmas ornaments
Disney key rings
or pressed pennies at Walt Disney World
Don't forget fun postcards to frame back home too.
PS: The verdict's out on the Disney Photo Pass. I loved our few pics but I think next time, we'll put that $200 to good use elsewhere.
READ MORE: The ULTIMATE A-Z GUIDE OF THE BEST DISNEY SOUVENIRS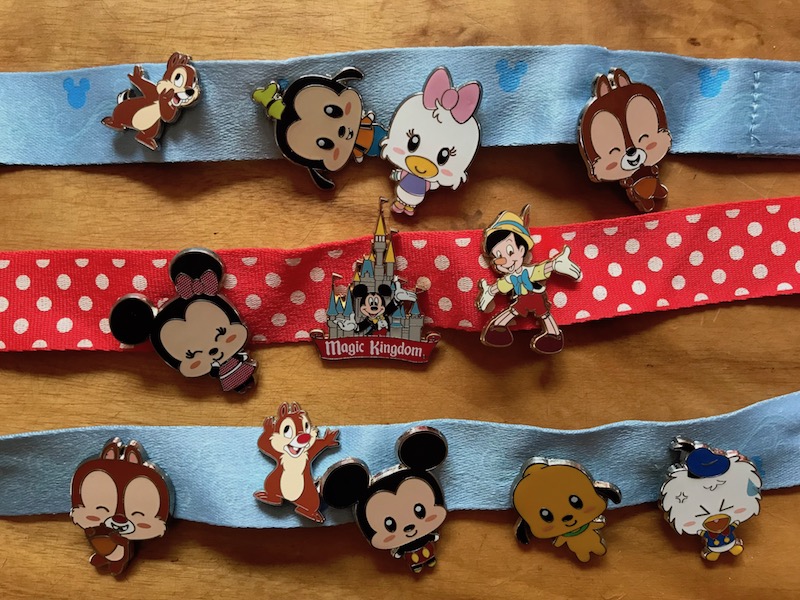 No. 29: Join the Disney Pin Trading Tribe.
We'll talk in depth about pin trading soon but for now, all I'd say is jump in with both feet!
There's something a bit magical and kind of fun to join the 'cool gang' and whether or not you think DISNEY pin trading counts in the hipster stakes, the kids do!
Why not make THIS your souvenir focus like we do?
As cabin luggage only travelers with limited space, we've agreed on Disney pins. The boys pick out a new Disney Pin every time we visit a Disney park.
Yes, $7 – $8 as a starting point to buy a Disney Pin is a tad excessive for a DISNEY pin badge.
BUT if you limit your spend to one pin per child per day, the kids will be so focused on finding the best one, there'll be no time to dither and dally about with all the other (much more expensive) souvenirs on offer.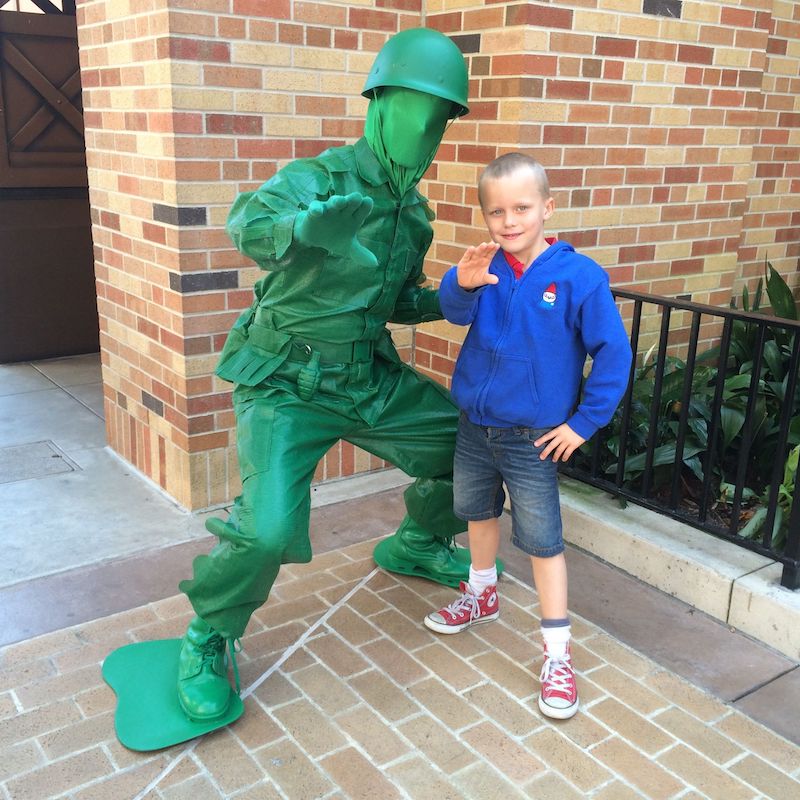 No. 30: Think once, then book your Disney vacation!
If there was one last thing I could say to you about taking your toddler to Disney World, it's don't even think twice.
Think once, and then book.
This not-just-once-in-a-lifetime trip is worth every pretty penny, and a toddler's enthusiasm and goodwill towards this fun adventure will create magic memories for the whole family.
Have a ball!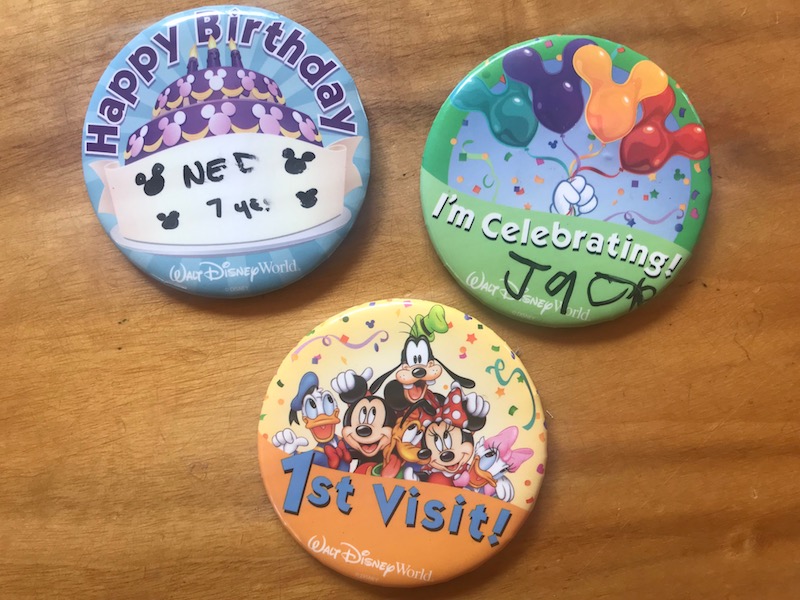 Roam the Gnome Toadstool Rating Guide – voted for by the kids!
Disney World with toddlers and preschool aged kids is a winner.

Looking for more Disney Tips and Tricks?
Click the links in blue below for more Disney magic.