INSIDE: The Complete Guide to Prospect Park Children's Corner Brooklyn.
Did you know there's a special place, just for kids in Brooklyn's Prospect Park?
It's called Children's Corner at Prospect Park in New York.
There's a bunch of fun stuff to do for all ages.
Let's take a look.
Disclosure: This article contains affiliate links. If you make a purchase after clicking on one of these links, we may receive a small commission at NO extra cost to you.
FUN THINGS TO DO AT PROSPECT PARK CHILDREN'S CORNER
Wondering what to do at Prospect Park children's corner?
Visit Prospect Park to join in 11 Prospect Park kid activities you shouldn't miss.
PS: There's a Prospect Park APP!
Click here for download it for Apple and Android phones.

Guide to Children's Corner Prospect Park
The first four things to do at Prospect Park are at the Children's corner.
Take a look.
No.1: Prospect Park Zoo Children's Corner
Don't miss the most popular exhibit at Prospect Park Zoo – the Sea Lion Court!
There's also 125 species of animals from around the world to check out:
Western Grey kangaroos from Australia
a Red Panda from Asia
Hamadryas Baboons and
local farm animals too.
Check out the Discovery Trail, and the Nocturnal House for a game of eye-spy the night creature.
The best thing for kids is the Discovery Center, a whimsical play space designed to connect the youngest visitors with nature and help shape them into future nature conservationists.
Kids can interact with animals, conduct a pretend vet check-up, or get the scoop on poop at this Children's Corner learning center.
Open 11-3pm weekends.
Prospect Park Zoo cost
Prospect Park Zoo admission is $9.95 for adults, $6.95 for kids aged 3-12, $7.95 for adults, and FREE for those under 2.
Prospect Park Zoo hours
Prospect Park Zoo hours are 10-5pm (10-5.30pm on weekends) during spring/summer months, and 10-4.30 for the rest of the year.
Check out the Prospect Park zoo map before you go.
Prospect Park Zoo directions
The zoo is located near numerous subway and bus stops.
You can take the Q, B, or the local Franklin Ave.
Shuttle (S) to Prospect Park Station, or the B41 local bus to the entrance on Flatbush Ave.
Visit the directions page on the website for further information and driving instructions.
Prospect Park Zoo parking:
Free parking is available on Flatbush Avenue.
Prospect Park Zoo is at 450 Flatbush Avenue, Brooklyn, New York 11225.

No. 2: Prospect Park Carousel
For $2, kids and adults can ride this elegant (and wheelchair accessible) Brooklyn carousel.
There's 51 carved animals on board – everything from the standard horses, to:
lions
giraffes
a deer and
dragon-led chariots!
Then there's the familiar "travelling fair" music from the Calliope, a keyboard instrument resembling an organ but with the notes produced by steam whistles, to send you back in time.
Plus, you can ride the Carousel during the warmer months.
No.3: Lefferts Historic House
The Lefferts Historic House is an 18th century home transformed into a Family Museum
It's a place where kids can learn history through hands-on activities.
At Lefferts House Prospect Park kids can:
learn about and use traditional tools
try candle making, butter churning, and sewing
play with old-fashioned games and toys
tour the house and see displays of rooms from yesteryear
join in the fun of gardening, planting crops in Spring, harvesting in the Fall, and watering and weeding in between.
Admission is $3 for adults, and free for children under 16.

No.4: Prospect Park Audubon Center at the Boathouse
Audubon Center at the Boathouse is a historic NYC landmark.
It's a state of the art facility dedicated to natural education and wildlife presentation, the go-to place for nature play schooling.
There's a bunch of nature trails to explore in this restored natural habitat, Discovery Tours (pop into the Audubon Center's Visitor Centre for details)
Bring the kids to join nature activities each weekend.
Free admission for everyone.
MORE THINGS TO DO IN PROSPECT PARK BROOKLYN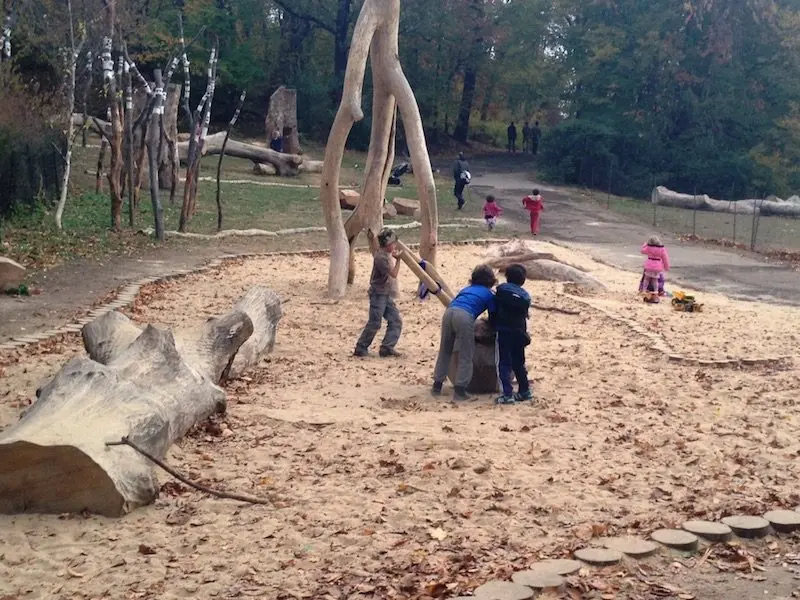 No.5: The Natural Playground Prospect Park
Zucker Natural Exploration Area is the name of the natural playground in Prospect Park.
This Prospect Park playground is a breath of fresh air, both literally and figuratively for city based children.
The Prospect Park Alliance used trees damaged by storms and other materials from within the Park to engage children with nature and encourage unstructured play.
The Prospect Park nature playground was voted one of the best places for kids to engage with nature by New York magazine.
No.6: See a concert at the Prospect Park Bandshell
The Prospect Park concerts bandshell is the place for outdoor open-air entertainment in Brooklyn during Spring and Summer.
There's concerts, rock music, jazz, world music performances, children's shows, and movie screenings too.
A number of events are FREE to the public!
The annual "Celebrate Brooklyn" festival is also held in the Bandshell.
There's:
food vans
big artists on stage, and
activities for the kids.

No.7: Lola Star's Dreamland Roller Disco
This is a must-do activity in Prospect park.
Buy a ticket to Lola Star's Dreamland Roller Disco at Lakeside in Prospect Park
It's a themed, dress up, immersive roller skating experience that will transport you into a fabulous retro roller disco "dreamland."

No.8: Go Ice Skating at Prospect Park Ice Skating Rink
Go Ice Skating at Samuel J. and Ethel LeFrak Center at Lakeside Prospect Park on one of their two outdoor winter rinks.
The Prospect Park skating rink is open November to early April.
From $7 weekdays. $7 ice-skate rental hire.
Find current ticket prices here.
No.9: Get wet at the Splashpad
There's a splash pad for kids at the LeFrak Center and it's FREE for kids under 12.
The destination in Brooklyn on a hot day.
Open daily, 10am to 7pm during Spring and Summer.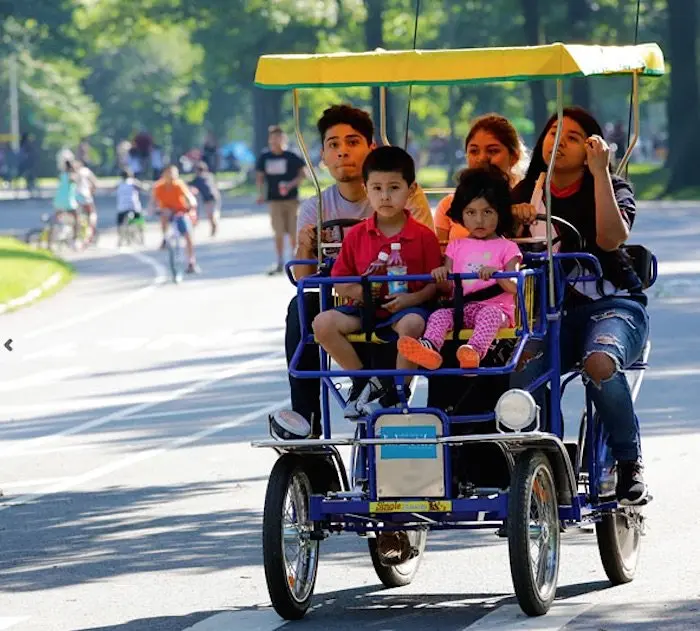 Image credit – Lakeside Prospect Park
No.10: Hire Pedal-Powered Bike Cars to fit the whole family
Yes, you can do this too.
Pedal cars are super fun for kids and the whole family.
There's regular bikes, cruisers, kids bikes and tandems available too.
Find all the details and pricing here.

No.11: Visit the cool Vanderbilt Playground Prospect Park
This Prospect Park Vanderbilt Playground is one of a few children's playgrounds in Prospect Park.
We visited this Prospect playground on a snowy day, and it was heaps of fun.
But if you visit this Prospect Park children's playground in the warmer months, there's a water splash zone too.
Check out our review Lincoln Road Playground Prospect Park here.
Where to eat at Prospect Park?
Popeyes Lousiana Kitchen and Wendy's burgers are at the Flatbush Ave/Empire Blvd intersection nearby.
The Zoo has the the Sea Lion Store and Café featuring freshly prepared sandwiches, salads, and lots of healthy snacks.
Find food options at Lakeside also.

THE INSIDE SCOOP: Childrens Corner Prospect Park
Correct at time of publication on Roam the Gnome. Please check with venue for updates. We apologise in advance if there have been any changes we are unaware of. All prices in US dollars, unless otherwise stated
Address: The Prospect Park Childrens Corner starting point is on Flatbush Ave, Brooklyn, NY 11225, USA
Website: Prospect Park
Opening Hours: See individual descriptions above
Entry Fees: See descriptions of attractions above for entry fees.
How to get to Prospect Park Brooklyn
By Bus: B41 local bus to the entrance on Flatbush Ave
By Train: Take the Q, B, or the local Franklin Ave. Shuttle (S) to Prospect Park Train Station
By Car: Use this directions page for further information and driving instructions
Parking: Free parking is available on Flatbush Avenue.
Children's Corner Prospect Park Map
Facilities
Prospect Park Bathrooms
Visit the bathroom at the Prospect Park Zoo, or find other Prospect Park bathrooms on this map.
Disability access: Varied. See attraction websites for details.
Shade: Trees.
Enclosed: All these Prospect Park attractions are away from traffic.
Ground cover: Various.
Picnic tables: Bench seating in park.
Electric BBQs: No
Water Bubblers/fountains: Yes
Scooters and Bikes: Yes
Dogs: On leash only.
Toadstool Rating – Childrens Corner Prospect Park

Looking for MORE Super Fun Things to Do in NEW YORK CITY with Kids?
Click the blue links below for more New York ideas