INSIDE: Roam the Gnome's Fun Christmas Guide to Christmas Carols in the Domain 2020 Sydney
Driving 900 kilometres in one day to be at Australia's biggest free Christmas Concert held in the heart of Sydney last year?
Were we mad?
Would we make it in time?
Could we beat the holiday traffic?
That was the question on everyone's lips!
But yes we did it!
Made it on time to the best Christmas event of the year in Sydney, the Woolworths Carols in the Domain concert.
Want to visit too?
Read our guide below, featuring everything you need to know about this much loved Sydney Christmas Carols show.
Disclosure: This article contains affiliate links. If you make a purchase after clicking on one of these links, we may receive a small commission at NO extra cost to you.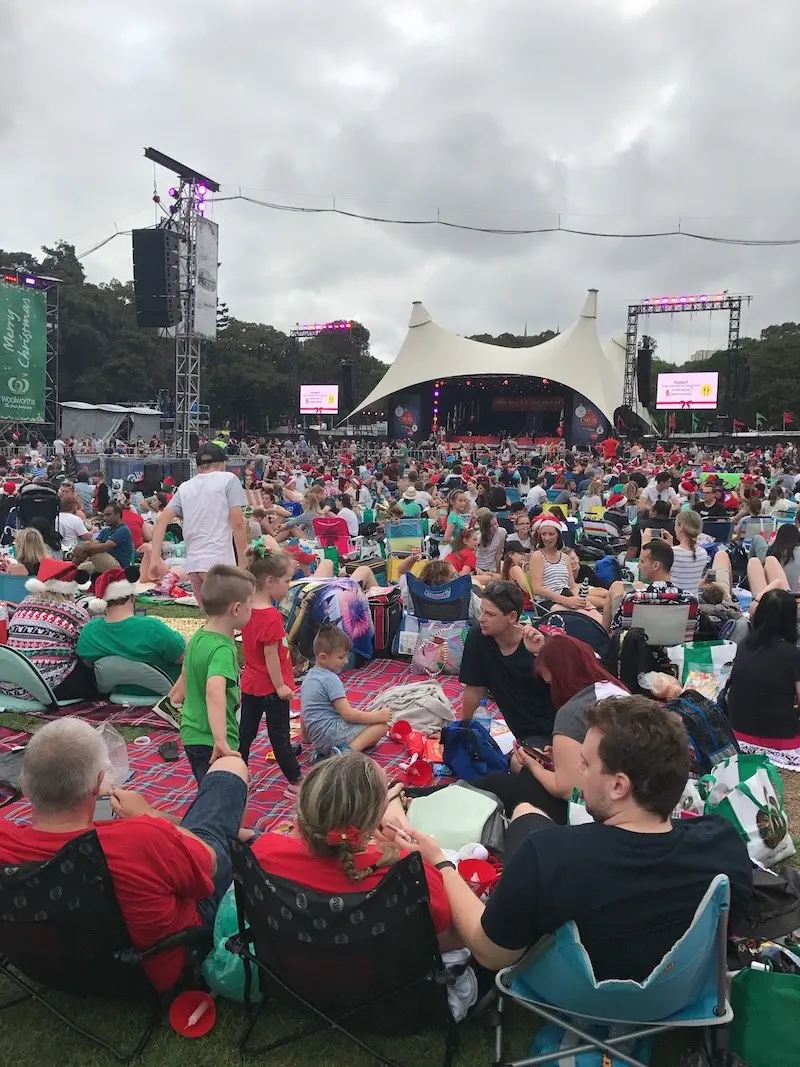 Woolworths Carols in the Domain 2020
The Woolworths Carols in the Domain 2020 is Sydney's largest Christmas Carols, beaten in size only by Melbourne's Christmas Carols in the Sidney Myer Music Bowl, but never beaten in spirit.
It's a favourite childhood memory, attending as we did as kids, year after year, with our family and cousins – a family tradition cemented in stone that lives on with the next generation.
It's possibly my favourite day on the calendar, bar Christmas Day itself.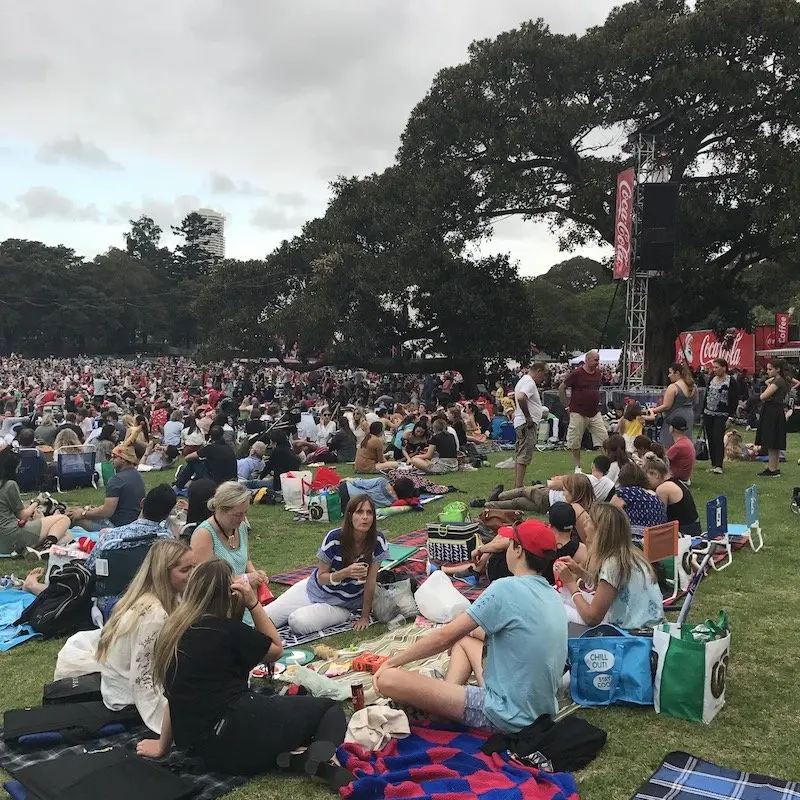 Christmas Carols in the Domain Sydney
Find Christmas Spirit in bucketloads at the Christmas event in Sydney.
Join thousands of other Australian locals, tourists, expats, & backpackers to wait for Santa's appearance on stage.
There's something in the air at this grand event, a Christmas spirit I've yet to replicate elsewhere, and something I desperately need to share with my kids.
Join in the fun, the singing, the hoopla, and feel the spirit of Christmas pierce your heart this year.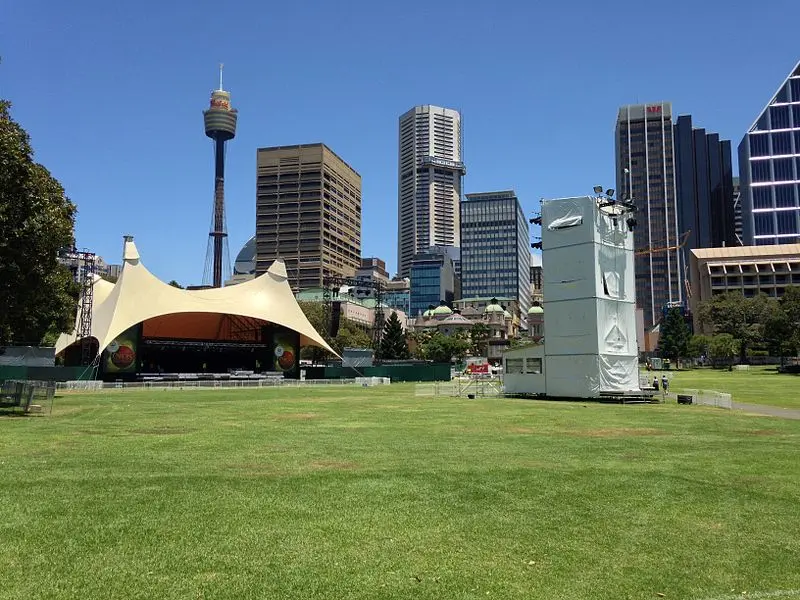 Image credit: Stuart Midgley via Wikipedia CC BY SA-4.0
The Best Sydney Christmas Carols
Which is why, at 6am on the morning of December 17th last year, the morning after my sister's wedding celebration, we packed the car and set off from Byron Bay, with SYDNEY'S DOMAIN CARPARK in our GPS sights.
We drove for 10 hours and 35 minutes driving to arrive on time.
Our day's driving included:
three McDonald's drive-throughs for Chai Lattes
76 lightning-fast toilet stops
three free cups of tea at Driver Reviver stations
a late lunch at Taree for Pizza Subway, and
multiple reapplications of Magnesium spray to the lower calves to prevent restless legs (the bane of my existence)
30 minutes later, we were settled on our picnic rug, meeting up with family and friends.
---
RELATED: Ultimate List of the Best Things to do in Sydney with Kids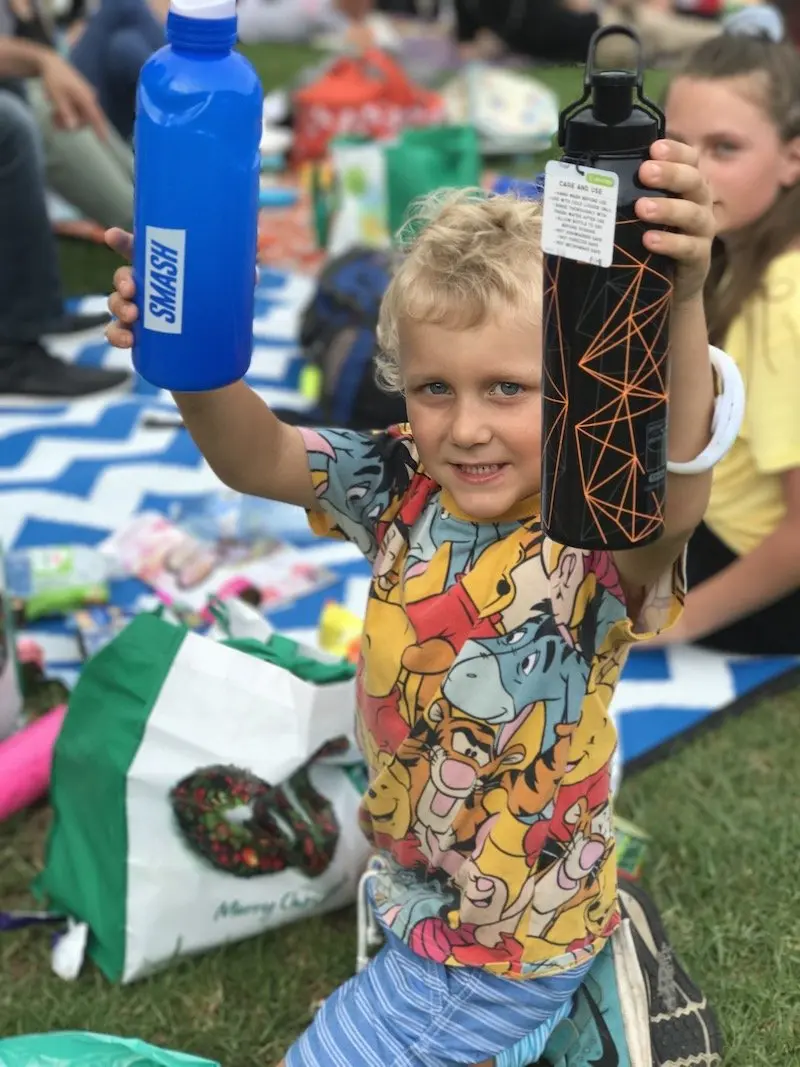 Woolworths Carols in the Domain Candle Bag
The first thing to do when you arrive is to buy your Sydney Carols in the Domain Candle Bags.
This year, the Salvation Army celebrates their 38th year as the charity partner of Woolworths Carols in the Domain.
It's a once-a-year chance for the Salvos to sell these famous candle bags and raise necessary funds that will be used to make food hampers, gift food vouchers, and donate toys to families and children who otherwise might miss out this Christmas.
A word on the Salvation Army Candle Bags: DO NOT BE A MISER and walk on by.
Candle Bags at Carols in the Domain cost $25 bucks a bag, with the money going straight to the Salvos for all the hard work they do, and it's filled to the brim with over $100 worth of donated samples.
Buy one for each of your kids. These bags are worth every cent.
What's inside the Salvation Army Candle Bags?
You'll find all kinds of fun treats, food samples, and more inside the Salvos Christmas Candle bag including:
coffee capsules
museli bar snacks
dried noodles
Sipahh straws
tins of tuna
Arnotts biscuits
body lotion
mosquito spray
Last year, there was two Smash drink bottles, and a Disney toy too.
Opening the Salvos candle bag was the highlight of the night when we were kids, and it's just as much of a highlight for kids now.
It's like Christmas has come early!
The Three Most Important Items in the Salvos Candle Bag
There are three things in the bag you'll need on the night for Carols by Candlelight.
a New Idea magazine with the handy pull-out Carols Songbook so you can sing along with the stars
wax candles to light and wave about with the crowd of revellers
the all important plastic candle holders to stop those inevitable hot candle drips burning little hands.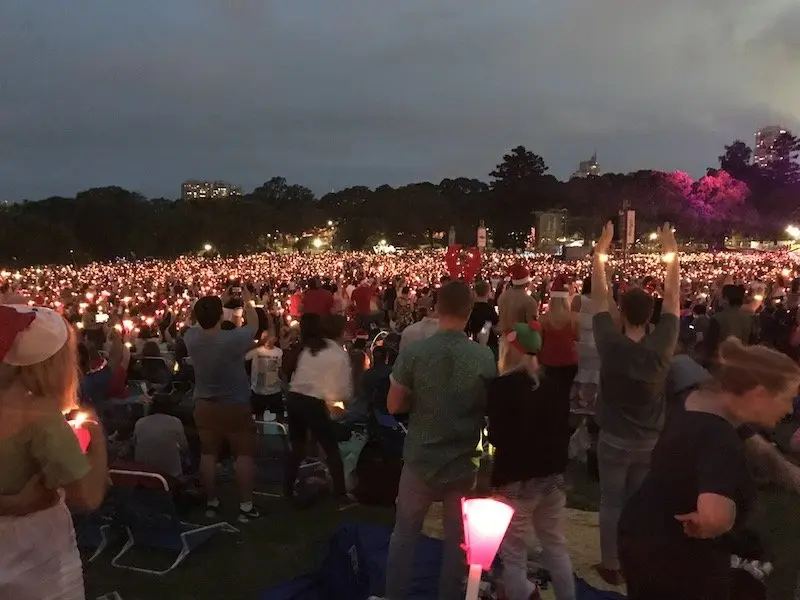 The Carols in the Domain Artists
The Carols in the Domain 2020 line up will be spectacular as usual.
Over the past few years, big names have graced the Domain carols stage including:
The Wiggles
Adam Brand
Vanessa Amorosi
Lucy Durack
Paulini
Samantha Jade
Justice Crew
Isaiah Firebrace
Todd McKenney
Troy Cassar-Daley
Katie Noonan
CBD (yes! those boys from the 90's!)
Shannon Noll
The cast of Wizard of Oz musical
Mickey Mouse
Justine Clarke
Young stars of the Australian Opera
Be the first to see the Carols in the Domain list of artists
(Check back later in the year for the announcement of the Carols in the Domain singers for 2020)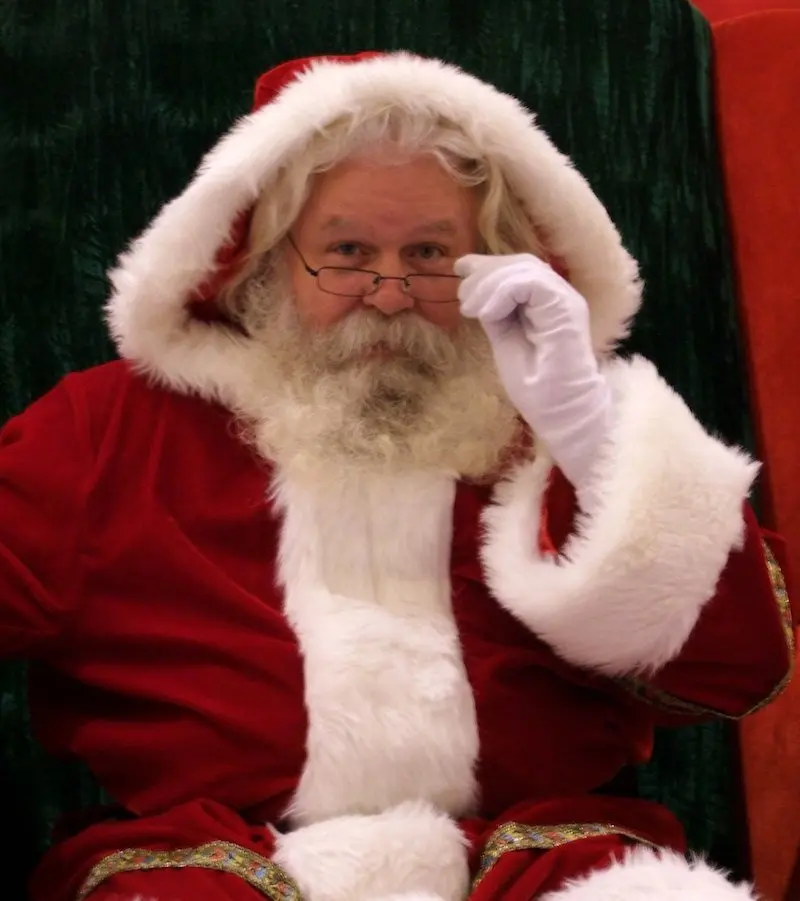 Image credit: Lady Dragonfly via Flickr CC BY 2.0
The Carols in the Domain Program – Santa Visit
Of course, Carols in the Domain wouldn't be right without a visit from the most important man himself, Santa.
Santa usually arrives later in the evening's show at this Christmas celebration, so if you have small children, do make sure they have an afternoon nap so they don't miss him.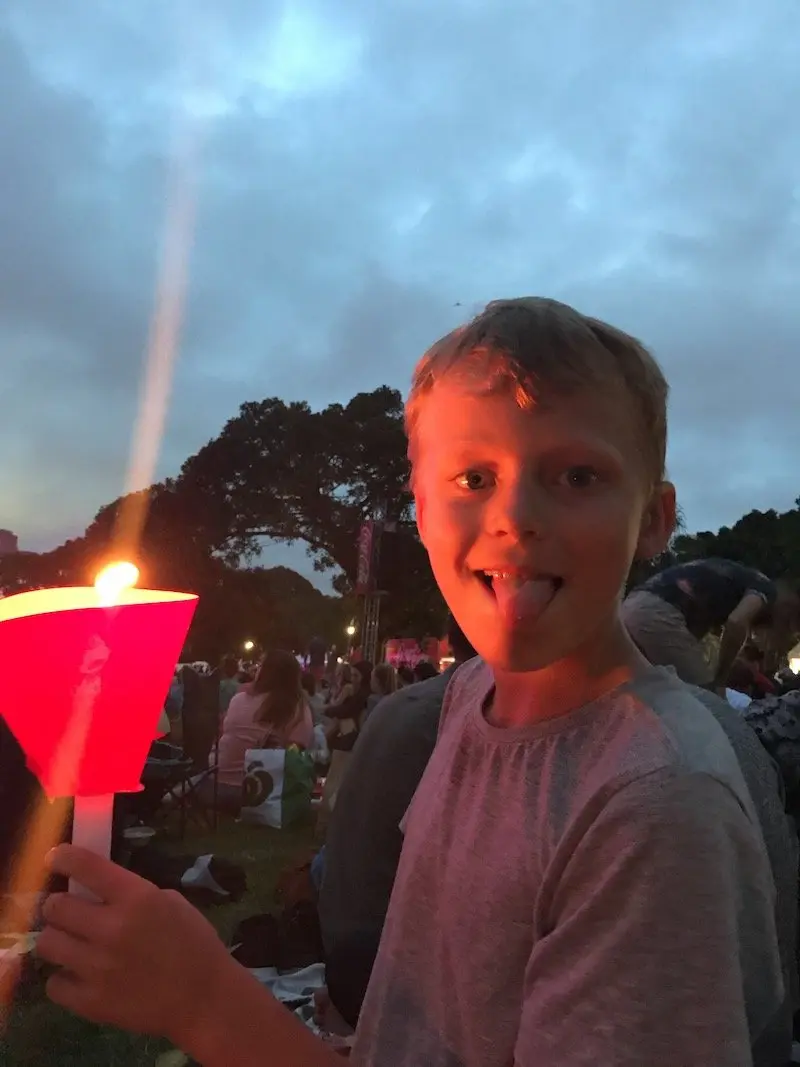 Best Australian Christmas Songs
The Australian musicians & entertainers sing a mix of old favourites and modern Christmas tunes.
There's also the odd Australian Christmas song thrown in too, including
Aussie Jingle Bells by Bucko and Champs
Six White Boomers
Go Santa Go by the Wiggles
Keep an ear out!
---
RELATED: Big List of the best Aussie Christmas songs (Find lyrics, melodies and more)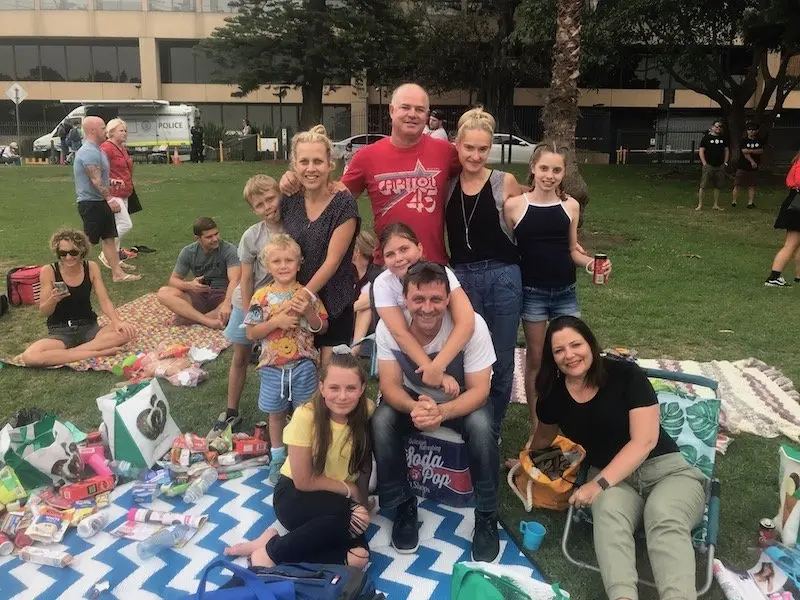 THE INSIDE SCOOP: FAQ Best Christmas in Sydney Event!
Correct at time of publication on Roam the Gnome. Please check with venue for updates. We apologise in advance if there have been any changes we are unaware of. All prices in AUD dollars, unless otherwise stated
No.1: Where is Carols in the Domain held?
The Carols in the Domain location is The Domain, 34 hectares of open space in Sydney's CBD, located at St Marys Rd, Sydney New South Wales..
No.2: When is Carols in the Domain this year?
2020 dates to be announced soon.
No.3: Is Carols in the Domain free?
Yes, general seating is free.
Although you may like to give a donation, or buy a Salvation Army Candle Bag where all profits go towards helping Australians in need.
You can buy Carols in the Domain VIP tickets if you don't want to lug picnic rugs etc in with you.
No.4: VIP Carols in the Domain tickets
Choose between a premier reserved beach chair style seating area or the general admission reserved lawn area (no chairs allowed, strictly ground cover only).
Carols in the Domain ticket prices for 2020 are:
Adults – to be updated
Children – to be updated
Family pass (2 adults & 2 children) – to be updated
Seniors – to be updated
Children 2 and under are free on adult's lap.
Reserved areas will be open from 3pm, entry is by printed ticket or mobile device only.
All guests must be seated by 7.15pm.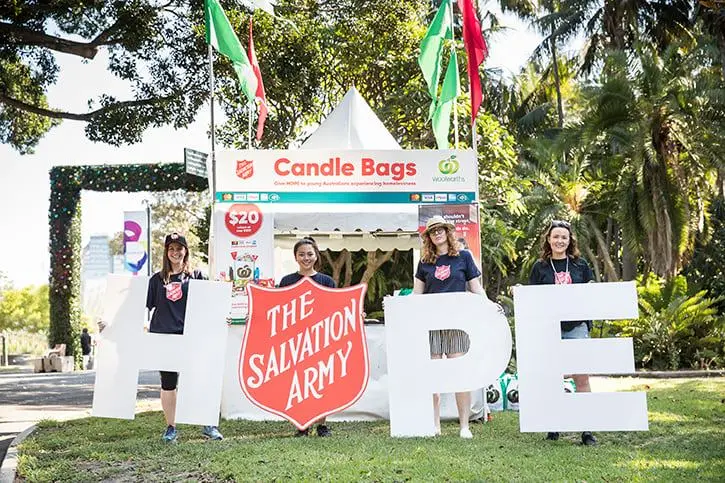 Image credit: Carols in the Domain Sydney
No.5: Hot tip: Carols in the Domain rehearsal
The Carols in the Domain dress rehearsal is another way to see the show. This is normally held the evening before the show.
Book VIP tickets, or bring a picnic blanket to snag a spot on the grass.
'Seats for Salvos' will be available at this year's dress rehearsal.
Book tickets for VIP and reserved seating areas and your funds will go direct to this much loved Australian charity arm.
$18 for adults, $12 for children and $60 for a family (2 adults and up to 4 children) on the comfy beach chair seating. Seating opens at 4pm, general admission.
No.6: What time does Carols in the Domain start?
Woolworths Carols in the Domain commences at the family friendly time of 7.45PM.
But arrive early to grab a spot and be there for all the fun of free food samples, activities for the kids, and pre-show entertainment
Activities, food & fun start from 12pm, entertainment is from 3pm, and the main event starts on the dot of 7:45pm!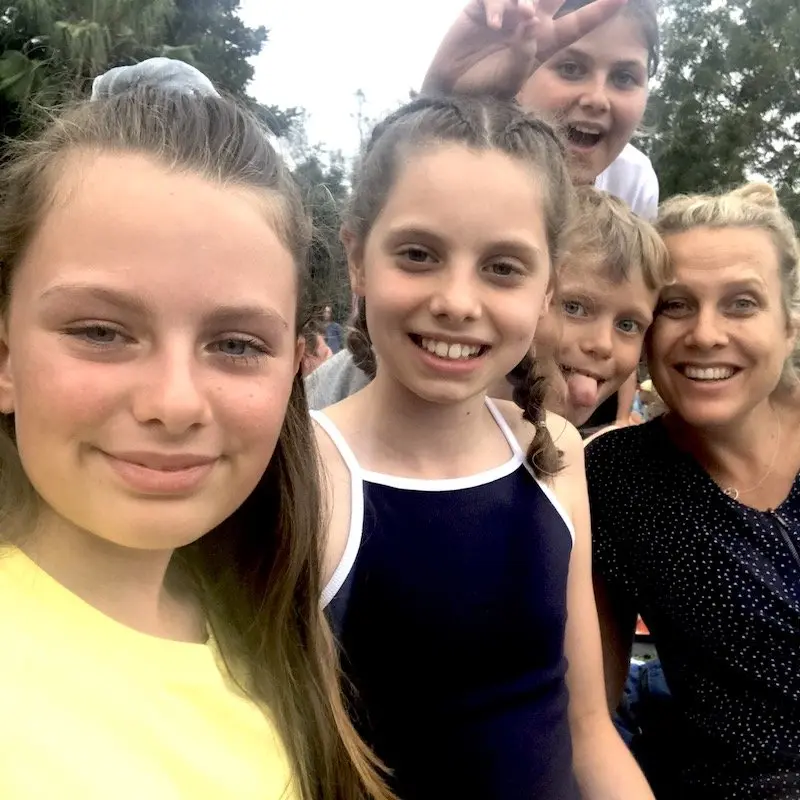 No.7: What to bring to Carols in the Domain?
BYO Picnic Rug.
We love our Chevron picnic mat from Recycled Mats.
(These mats are made from 100% recycled plastic bags. Good for you, and the environment, snazzy and easy to clean too!)
BYO food and drink, especially water bottles.
While you can waste time lining up with the hoards, we recommend bringing your own cheese platters, BBQ chicken and rolls.
And chocolate. (Thank me later.)
It's Christmas!
No.8: Watch Carols in the Domain on TV
Watch it live on the Seven Network at 8.00 pm.
No.9: Where to Watch Carols in the Domain online
Catch the Carols in the Domain live streaming on Facebook.
Carols in the Domain CD
No.10: Carols in the Domain Facebook Page
Keep up to date with artist announcements, ticket sales, weather updates, and more on the Carols in the Domain Facebook page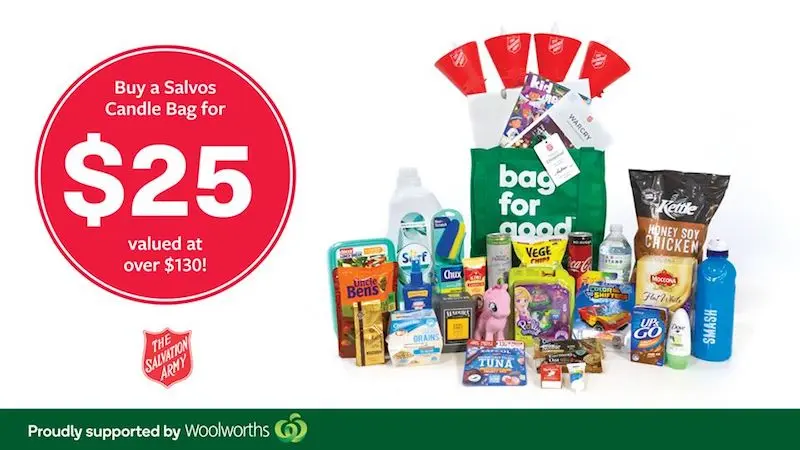 How to get to Carols in the Domain in Sydney
By Train:
Martin Place (T4 – South Coast Line) is the nearest station
St James and Circular Quay (T2 – Airport, Inner West and South Line and T3 – Bankstown Line) are also an easy walk.
By Bus:
Buses stop at Martin Place and Circular Quay
the 441 route (Balmain via QVB Building) leaves York Street, Town Hall on weekdays, 10 am – 5 pm and stops outside the Art Gallery of NSW.
The 200 route (Chatswood to Bondi) stops in Macquarie Street during peak hours on weekday mornings and evenings.
The Sydney Explorer Bus also includes the Domain on its route.
By Foot: The domain is an easy five minute walk from the main CBD
By Car: Click here for google map directions
Carols in the Domain parking
Book your carpark online ahead of time for the secure undercover Domain Carpark. (Don't miss out)
Hot tip: Park on the bottom level for a quick exit.
24 hour metered parking is also available on Mrs Macquaries Road, Hospital Road and Macquarie Street.
Mobility parking is available near the Wolloomooloo Gate and outside the Art Gallery of NSW.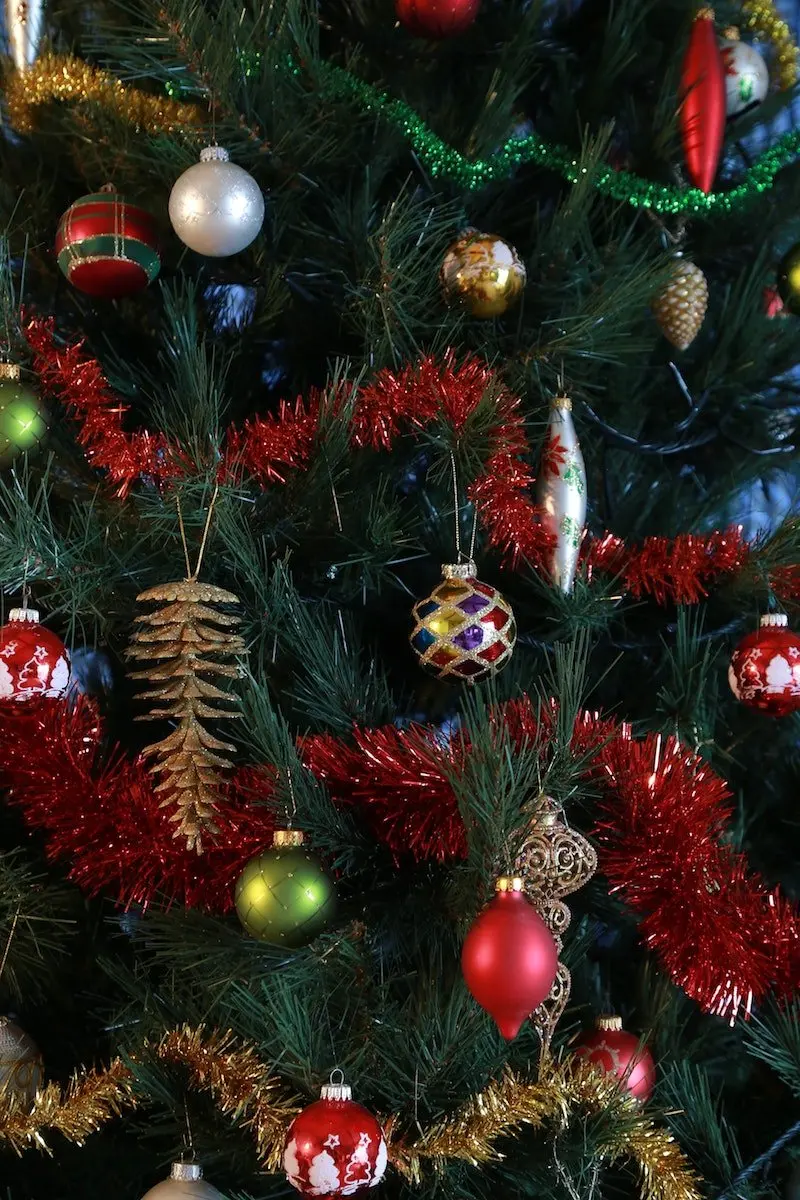 Image credit: Nareeta Martin via Unsplash
Facilities at Carols in Domain
Rubbish Collection: Do collect a rubbish bag from one of the volunteers at the site and clean up after yourselves. It makes a huge difference when everyone lends a helping hand
Toilets: There's plenty of clean toilets on site, and the lines move quickly. Hooray for that.
Water Bubblers: Yes, there are water fountains on site, but best to bring your own water bottle for the whole family.
Toadstool Rating: Australian Christmas Carols Sydney
Hot tip: Give your kids your business card, or write your phone number on their arm. This place is madness, and losing a child in the darkness would be no fun.

Looking for More Things to Do in Sydney This Weekend?
Click the blue links for more Sydney city attractions