INSIDE: All the frequently asked questions about jerky including can beef jerky go bad?
Here's the answers to a whole bunch of questions you too might have about the ultimate snack food!
See if your burning question is answered below.
Disclosure: This article contains affiliate links. If you make a purchase after clicking on one of these links, we may receive a small commission at NO extra cost to you.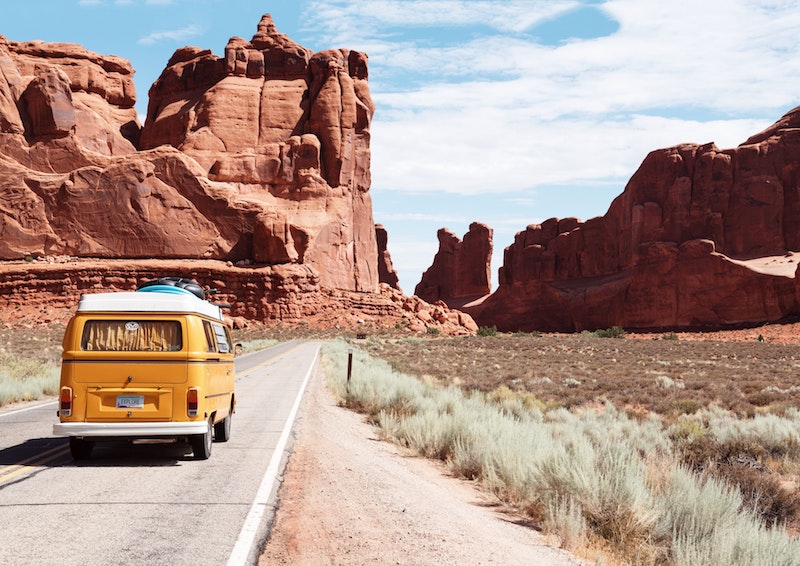 Image credit: Dino Reichmuth via Unsplash
Q1: Can beef jerky go bad in a hot car?
Thankfully, no.
Unlike fresh food and perishable food, dried meat jerky will not be affected by the heat inside a car.
The worst that may happen is the jerky goes a little hard and chewy.
That's what makes jerky such a good hiking food, and travelling snack food.
(Here's a whole bunch more in our healthy road trip snacks list guide)
But if you are at all worried, bin it and buy a new pack for your road trip.
How to tell if beef jerky has gone bad over time?
It will smell, or be rock hard, or have a strange taste, or have discoloured.
Sometimes, you'll see a covering of mould or mildew on the dried meat if it has spoiled.
Don't risk food poisoning.
If it is at all suspect, for example if you've found an opened pack in a long lost container, put it in the compost bin and buy a new packet.
What happens if you eat bad beef jerky?
If you are lucky, at worst you'll find yourself with a mild stomach ache.
If you are at all concerned, head straight to the emergency room or visit your doctor.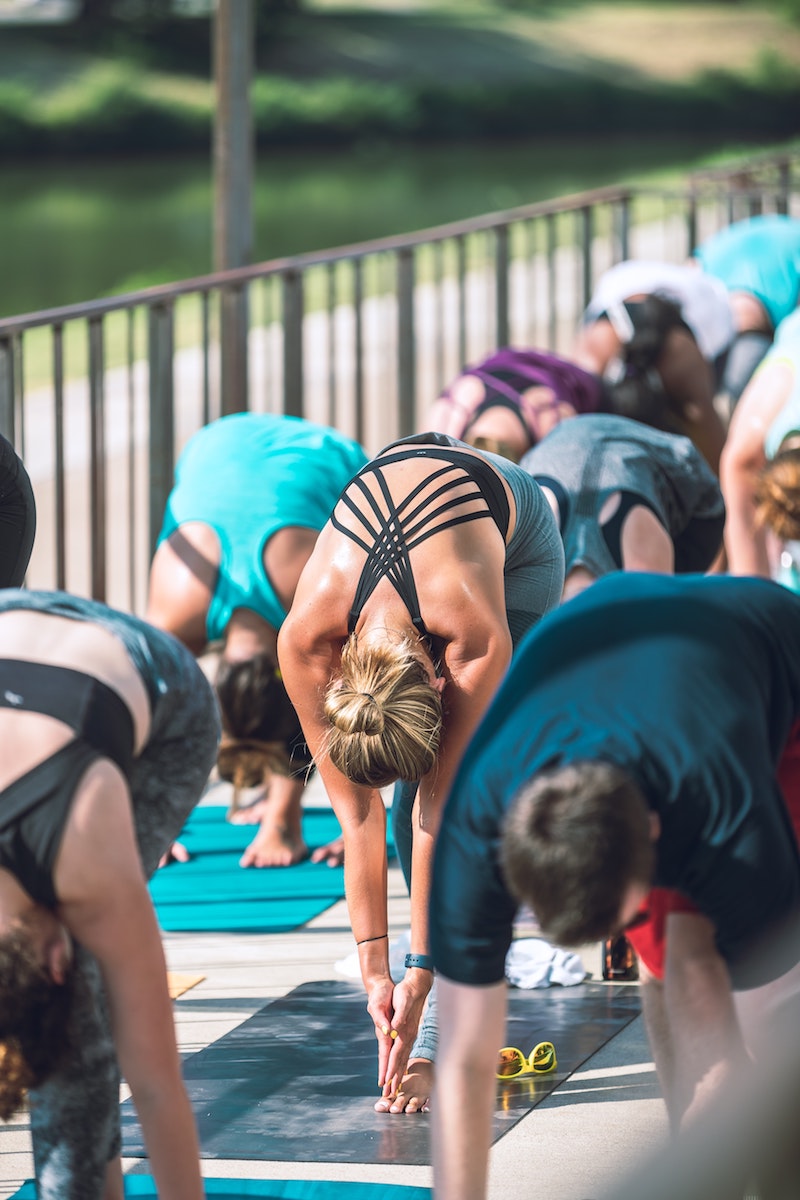 Image credit: Nate Johnson via Unsplash
Q2: What are the best beef jerky benefits?
Here's the top 5 benefits of eating jerky.
This dried meat snack food is:
a protein, so a quick fuel boost for your body
full of iron, zinc and b vitamins to keep your immune system firing
a lean meat, with most of the fat removed, so you can eat it guilt free!
a quick easy snack for when you are on the go (and can be eaten anywhere!)
light and easy to carry so you can take it with you on day trips, to the gym, in your handbag on busy workdays, and on vacation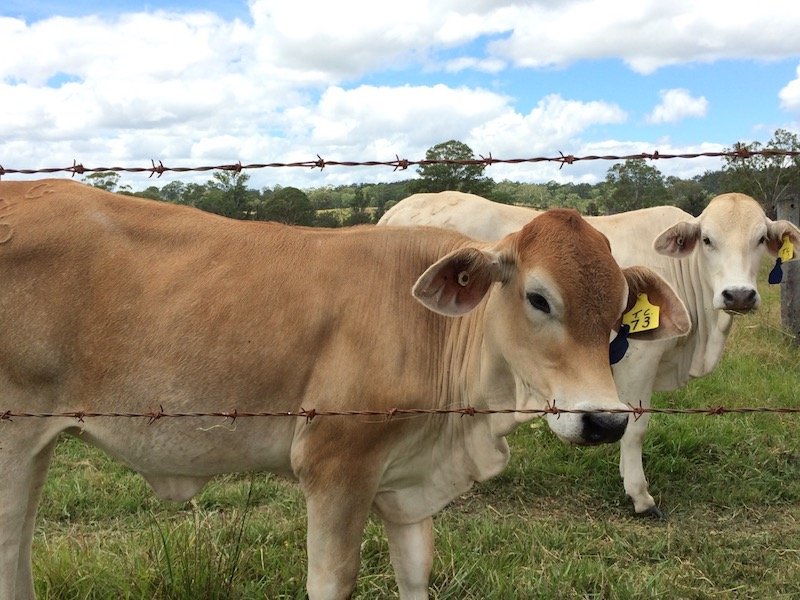 Q3: What animal is beef jerky made out of?
Beef jerky is made from beef, which is from cow.
But did you know you can also buy:
Noble VEGAN jerky made from premium, non-GMO tempeh and marinated with seasoned garlic and pepper.
Kings VEGETARIAN jerky made from 100% plant protein
FRUIT jerky made from fruit purees (a delicious sweet treat if you are trying to limit sugar and chocolate for a particular reason!)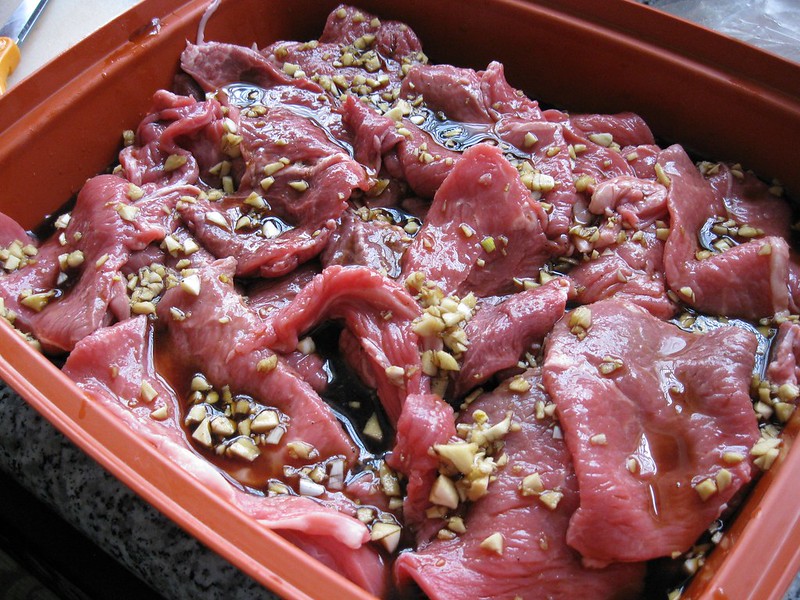 Image credit: Arnold Gatilao via Flickr CC BY 2.0
Q4: What is the best meat for beef jerky?
What cut of meat is the best for beef jerky?
Arguably, the best cut for beef jerky is:
eye fillet
flank steak, or
a top round steak.
Is chuck roast good for beef jerky?
It's not the optimum cut because it needs to be trimmed but it will do if you have nothing else.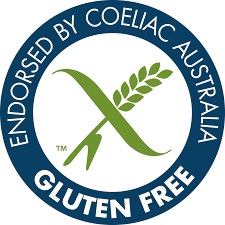 Q5: What are the best gluten free beef jerky brands in Australia?
Coeliac Australia endorses Kooee beef jerky.
It's the only beef jerky in Australia with the Coeliac Australia tick!
This means Kooee jerky passed the test showing no detectable gluten, as per the Australian Standard, because they marinate the meat in soy-free coconut aminos sauce.
Most other beef jerky brands in Australia are marinated in a soy sauce base, plus other chosen flavours, so you can't be 100% certain.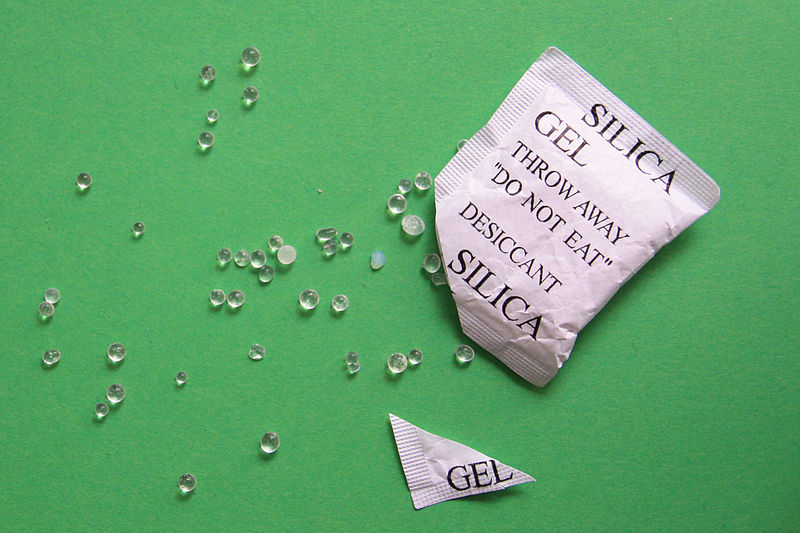 Image credit: Silver Spoon via Wikipedia CC BY SA 3.0
Q6: What is in the packet in beef jerky?
The little packets inside the jerky bag contain silica gel moisture absorbers.
Silica gel is a drying agent that works to draw moisture out to stop the food from spoiling, going mouldy or stale.
The silica gel packets are called desiccants – a hygroscopic substance used as a drying agent.
Hygroscopic means to absorb moisture from the air.
Sometimes, silica packets are referred to as oxygen absorbers, oxygen scavengers, oxygen packs but this is a misnomer. Silica gel packets only absorb moisture and do not absorb oxygen.
What happens if you eat the packet in beef jerky?
Silica gel is non toxic but they can be a choking hazard.
The silica pellets don't get absorbed or digested.
If you accidentally ate them, they pass right through your digestive tract and out the other side when you next poo.
What happens if you accidentally cooked silica gel packet from beef jerky?
It differs, depending on if the packet remains closed or is open.
But silica gel should not touch food.
To be on the safe side, throw the affected food away.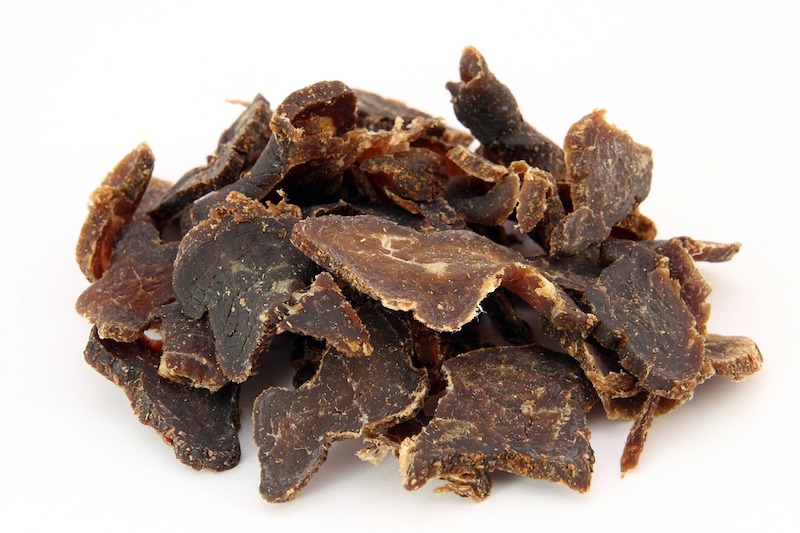 Image credit: Shutterbug75 via Pixabay
No.7: Why doesn't beef jerky need to be refrigerated?
Beef jerky has been air-dried to remove all the moisture and being a dehydrated food, it can be stored in the pantry, just like dried fruit.
Storing beef jerky in mason jars
A mason jar is the perfect air tight container to store beef jerky once the packet has been opened.
Put the silica gel packet from the pack into the jar too.
This will help to keep out the moisture, and keep the beef jerky dry.
Can beef jerky be frozen?
The answer to the question 'can you freeze beef jerky' is yes!
You can freeze your unopened packets of beef jerky to make them last longer – an extra 12 months or so.
Avoid putting your opened packets of beef jerky in the fridge as freezer burn is a potential issue.
Eat it all up instead!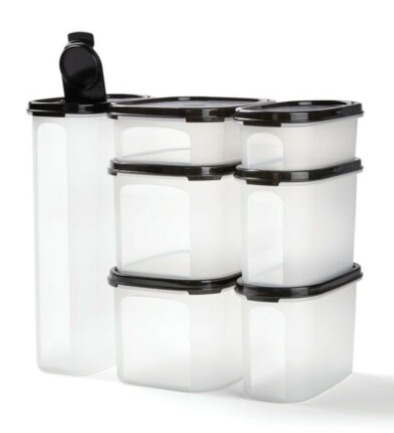 Q8: Does beef jerky go bad?
Beef jerky does have a shelf life.
Check your packet for details of the process and expiration date.
How long is beef jerky good for? The timeframe is normally between 12 months and two years.
The salt content of the beef jerky acts as a natural preservative, giving it a longer shelf life time if kept in cool dark part of your cupboard.
Once the packet is opened, store in a vacuum sealed container such as Tupperware modular mates (a great airtight container) or a glass sealed container to make it last as long as possible.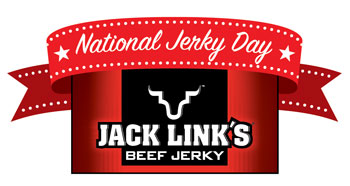 No.9: When is National Beef Jerky Day?
National Jerk day is on the June 12th each year!
Celebrate by trying this peppered beef jerky recipe, or this homemade healthy jerky recipe.
These homemade jerky recipes show you the drying process, how to package it up properly and how to store jerky.
Fun fact: Did you know that beef jerky is the second most popular snack, after potato chips, according to Neilsen studies on consumer spending.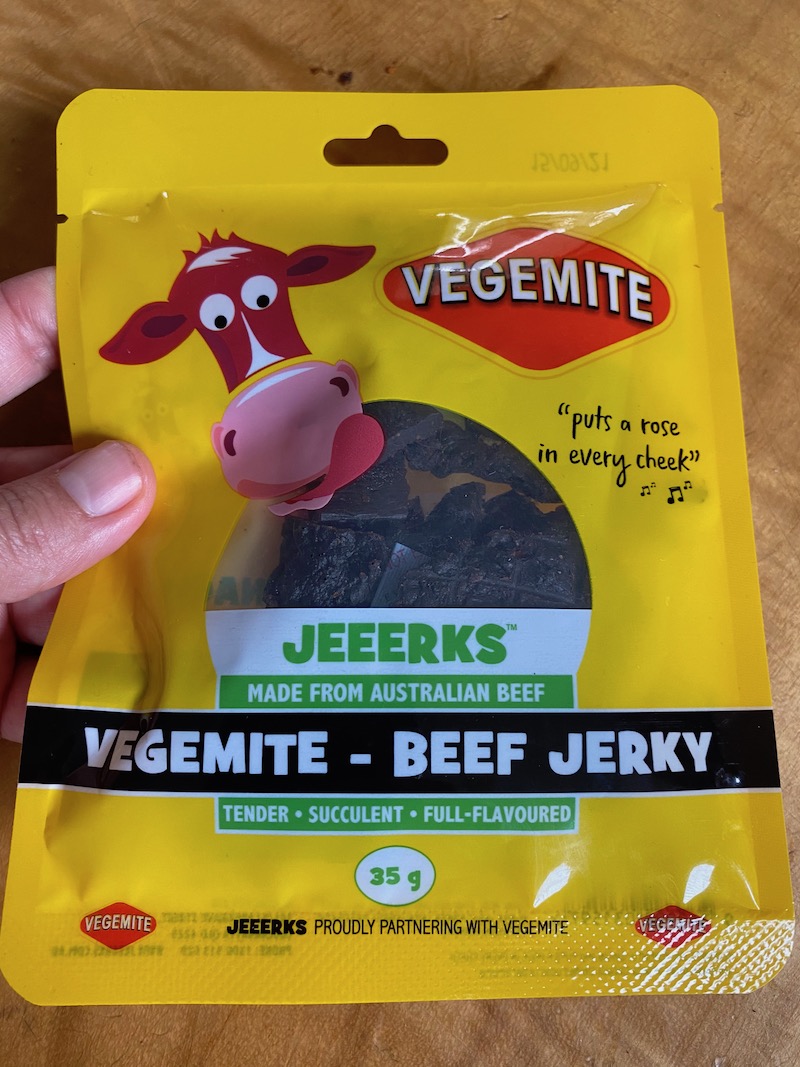 No.10: What is the best beef jerky Australia has to buy?
The best beef jerky brands Australia has to offer include:
JEEERKS beef jerky from the Sunshine Coast (the creator of VEGEMITE jerky!)
Jack's Links jerky
Byron Beef Jerky (a local fave)
Best Beef Jerky brands Australia
Click here for a round up of the 10 top beef jerky brands in Australia.

Where to buy Beef Jerky online Australia?
If you are partial to one particular brand, then by all means buy commercial jerky direct from their online store.
Check the guide on the best Australian beef jerky brands above for tips.
But if you are looking to buy beef jerky and want to try a few different flavours or companies, search the shopping lists at big health food shops or bulk buy stores such as: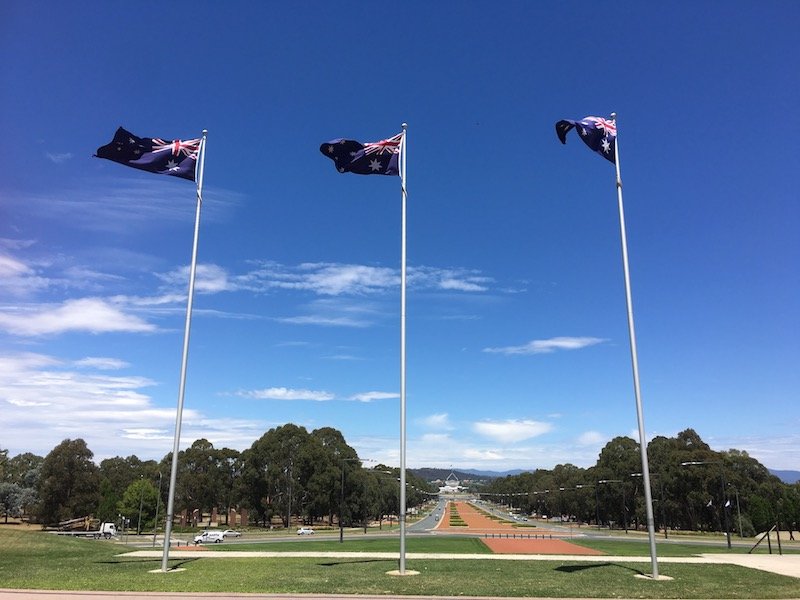 No.11: Where to buy beef jerky in Australia?
Click here for a round up of the best places to shop for jerky in:
Canberra
Sunshine Coast
Brisbane
Gold Coast, and more.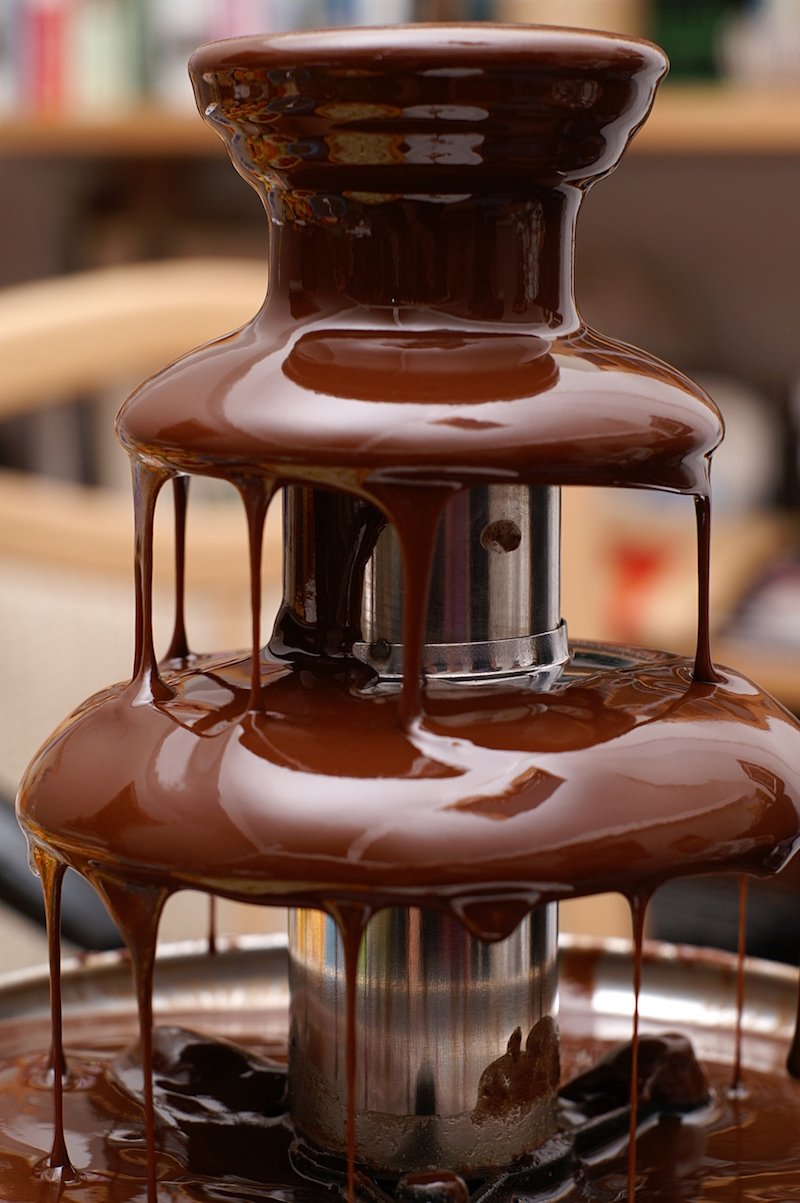 Looking for more fun food ideas?
Correct at time of publication on Roam the Gnome. We apologise in advance if there have been any changes we are unaware of. All prices in AUD dollars, unless otherwise stated
Click the blue links below for more food recipes and tips