INSIDE: Roam the Gnome's Comprehensive Britax b Clever Stroller review
Looking for a Stroller that is tough enough to travel the world (or at least your local neighbourhood?)
The brand new Britax B Clever Stroller should be your go-to.
It's a 2020 update to the Britax Agile Plus Stroller that we took around the world in 2015, when Jack was 2.
We can't fault it.
Take a look at our Britax B Clever stroller review below.
Disclosure: This article contains affiliate links. If you make a purchase after clicking on one of these links, we may receive a small commission at NO extra cost to you.
Read our Britax B Clever Stroller Review
When it comes to moving my young kids around the place, I want it to be as easy as possible.
For a while there, I resisted a stroller completely, preferring to carry my littlest guy in my favorite front-loading Ergo baby carrier.
But the "little nugget" (a very Australian term for a solid, sturdy kid) kept on growing, and there was no way I could keep carrying him safely without doing major damage to my back.
I wanted an all-in-one lightweight stroller for our family vacation that could function as:
a baby mover
a luggage mover
a high chair and,
a 'toddler restraint' for when I needed 5 minutes break to navigate the subways of New York, or the traffic and chaos of Rome Italy.
We chose the Britax Agile Plus Stroller by Steelcraft, but it's no longer available.
The new update is the Britax B Clever Travel stroller.
It's a copy of the one we had, a little more square in shape, but BETTER in style and usability!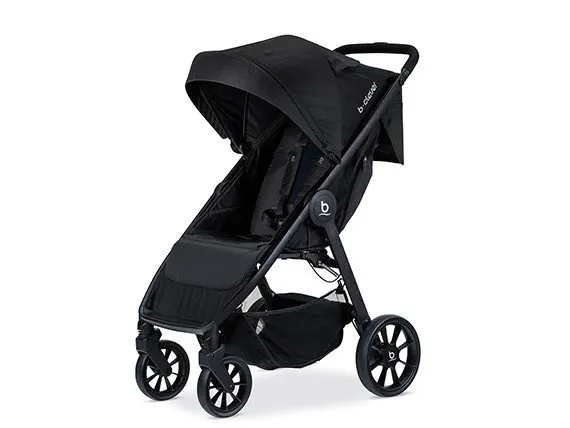 Best Light Stroller for Travel
It's the best light travel stroller on the market as far as we are concerned, weighing in at just 21 lb.
More importantly, it can be carried, when quick folded by a one hand action, origami style, in either your left or right hand.
Folded down, it minimises to 22″ wide, 28″ high and 28″ deep, and stands upright by itself when folded, as long as the canopy is tucked in correctly.
That makes it the best stroller for air travel too, as you don't have to wrangle the stroller AND the kids while you are handing over your boarding passes, or attempting to buy subway tickets. It stands alone.
This is the travel stroller for kids from birth up to 50lbs in weight, or about 5- 6 years old, depending on the child.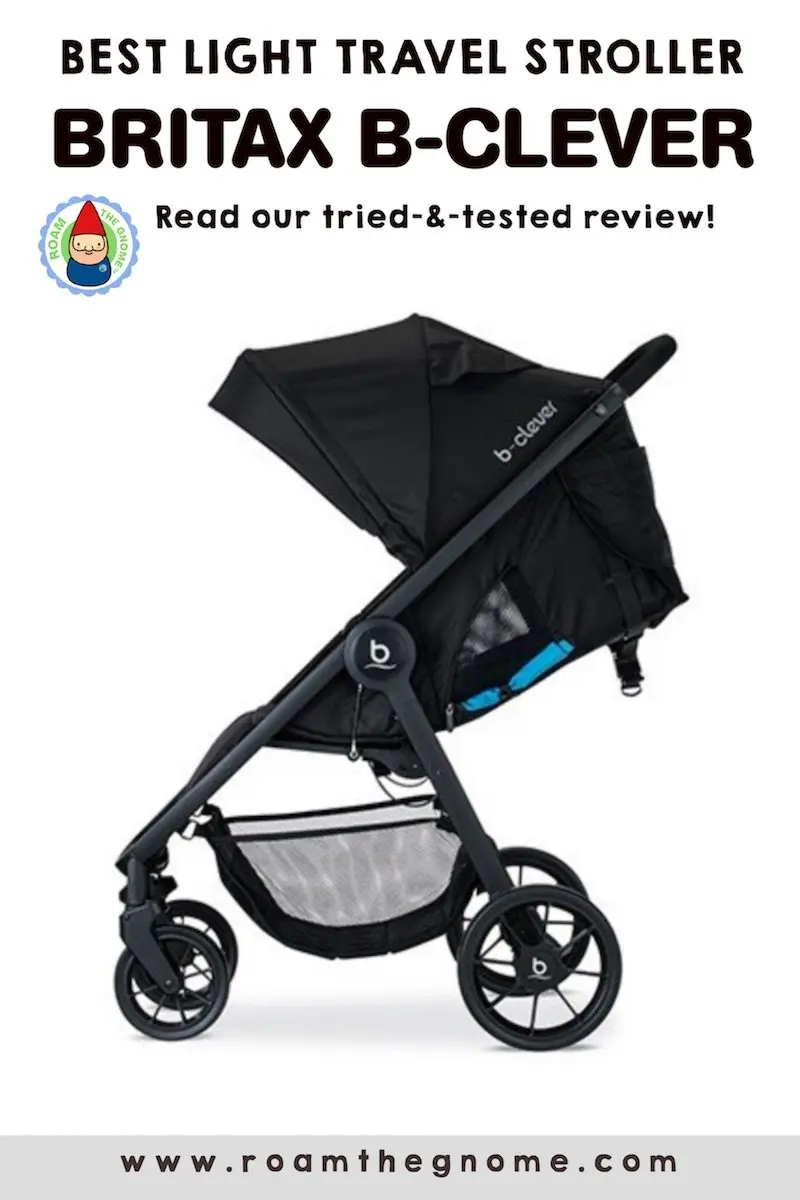 MORE Features of this Best Compact Travel Stroller
No.1: Airflow
The stroller is made from heavy duty steel, but the seat cover is super soft and spill-friendly – in that it is easily wiped, washed and cleaned up after the inevitable. But keep those wet wipes close by.
Made from a breathable fabric that's designed to keep the kids cool, and with the addition of a mesh seat back and sidewalls with vents, all helps to promote airflow and keep the mold away.
Both you and your child will love the peek-a-boo window too, I've no doubt.
All this air flow makes the stroller perfect for hot summer days.
No.2: Stroller Storage
The stroller has a huge storage basket underneath for:
baby bottles
recyclable water bottles
unnecessary sweaters
odd socks, and
all the snacks.
If you've always got a diaper bag with you, you'll be happy to know it fits underneath, unless you're lugging the kitchen sink.
No.3: One Push Brake
Featuring a one-push brake (making it super easy to stop on the run), adjustable foot rest, and changeable push-handle height, it's the ease of steering that wins me over.
No.4: No Arguing with the Front Wheels
There's four wheels on this stroller, which helps to keep it balanced, with swivel front wheels, so you can push it where it needs to go, without fighting a zombie battle.
No.5: Extendable Sunshade
I'm also a big fan of the stroller's super-extendable sunshade, keeping babies and toddlers out of the sun most of the time, but it also gives the kids a little privacy when they sleep.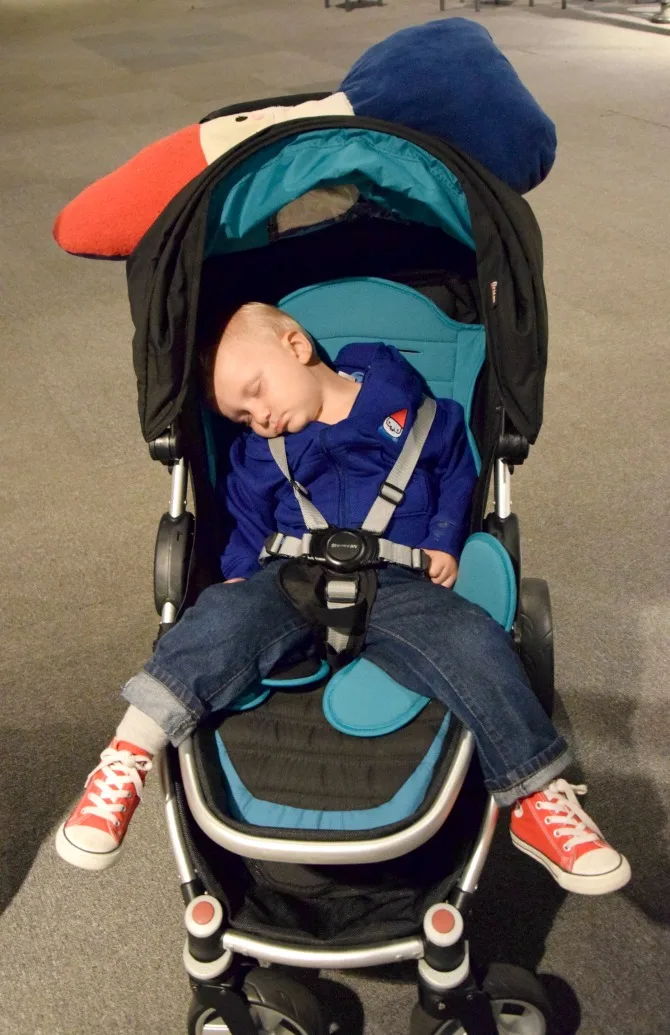 No.6: Reclining Seat Positions
The stroller seat lays back almost flat when it's time for their nap too, unless they fall asleep before you have a chance to change the recline, like Jack above.
To do so, adjust and lengthen the two straps behind the seat so that the chair seat falls back.
That move is supposed to be easy to do with one hand.
But I struggled with two!
There's an art to it, I'm sure.
No.7: Stroller height
When upright, the stroller stands just 40″ high , so nice and compact for getting around cities and busy streets, as well as robust enough with tough wheels and All-wheel suspension to scoot around bush tracks, and over uneven ground in national parks.
Thankfully, the stroller does NOT have a tray and cup holder included.
That was the biggest fault on the old version.
Good in theory, but an absolute pain when it was time to fold the stroller down, as it needed to be removed and stored somewhere first.
I'm glad it's gone.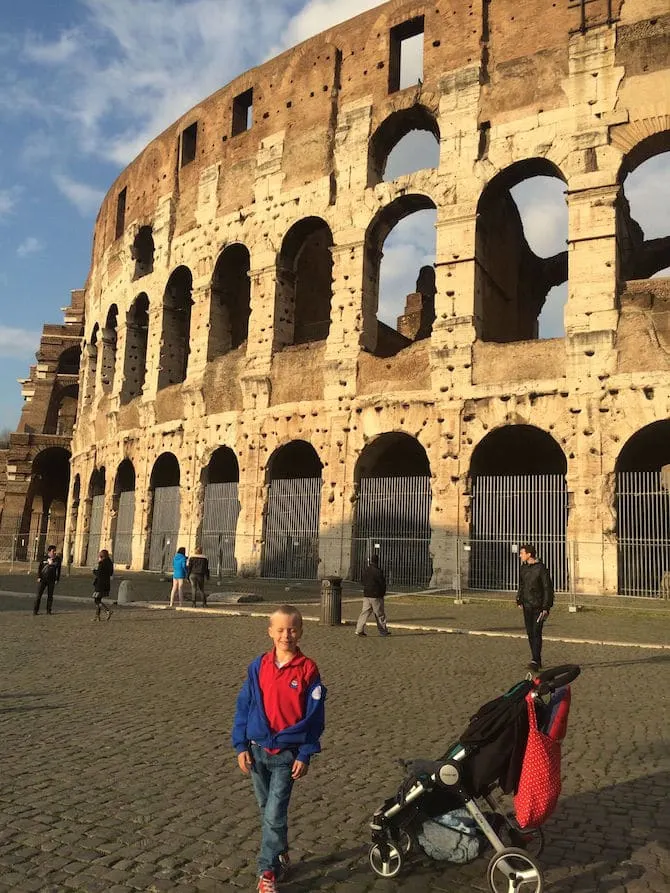 Strength of a Britax B Clever Travel System
The B Clever Britax travel stroller from Britax is strong & powerful like a Roman Gladiator!
The most important feature is how strong and sturdy this travel stroller is.
We accompanied it up and down escalators, over rocky ground, on bushwalks, on tracks by the beach, and through busy cityscapes.
We threw it in taxicabs and UBERS, folded it up on buses and trams, and it's been carried up-and-down-and-up-and-down many a staircase to subway platforms and the Tube.
It walked miles and miles and miles through Central Park, London Town and Los Angeles carrying BOTH boys, and traveled as airplane cargo numerous times, manhandled and thrown about by baggage staff.
I refused to pay an inflated fee for stroller hire at Disneyland, and we managed 5 days of DISNEY theme park shenanigans and super-tired little bodies and feet with them sharing the seat, well above the load limit, and it didn't falter once.
Britax strollers truly live up to their 'agile' status, especially over old Roman cobblestoned streets near the Colosseum, so perhaps it might be better named the 'Russell Crowe' for it's gladiator-like attributes:
sturdiness
formidable strength, yet
light on its' feet!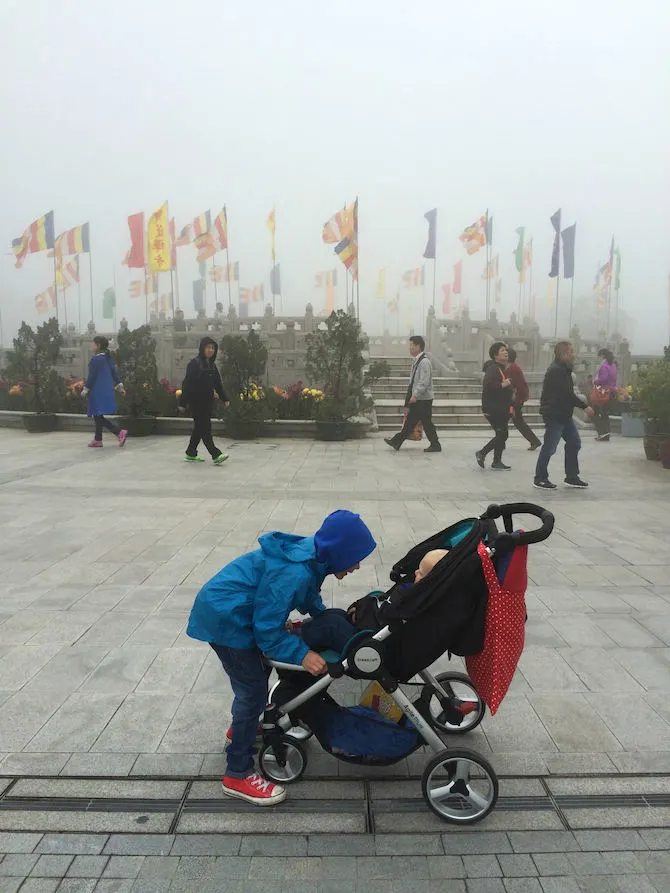 Hong Kong Ngong Ping on a misty day
Britax Travel System Stroller with Infant Car Seat
This Britax Stroller B Clever travel stroller set includes Britax infant car seat adapters so you can convert to a travel system, making life easy, and saving money at the same time as you can use one product for two uses.
As always, Britax child safety is their number one goal.
How the Britax Stroller Travel System Works
The Britax car seat and stroller travel system has a click and go adapter, which means you can click your Britax infant car seat into the stroller in a matter of seconds.
FYI, we didn't need this feature.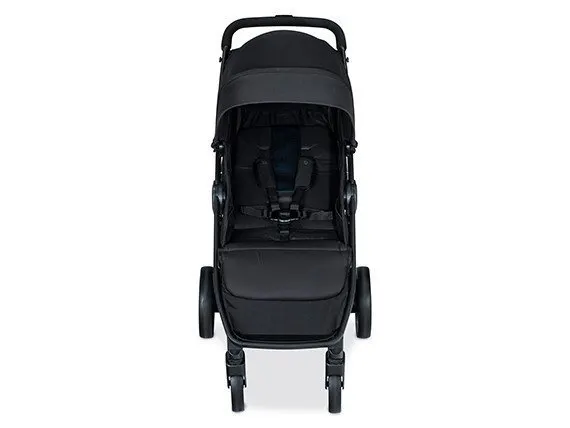 What I don't like about the Britax B-Clever Travel System
I love everything about this stroller EXCEPT for the harness straps on the seat.
Those things drove me batty during our trip, and they are the same ones on the updated version.
The 5-point harness clips together using THREE separate pieces.
It's like the world's worst puzzle for an exhausted parent.
A brain tease.
A nightmare for a solo-travel mama, trying to stop a little toddler escaping my clutch and running back to play.
I'm not sure that they consulted any moms during the design process.
FAQ – How to collapse a Britax Stroller
Check out this helpful video above, on how to fold britax stroller.
It's a similar process with the Britax travel stroller.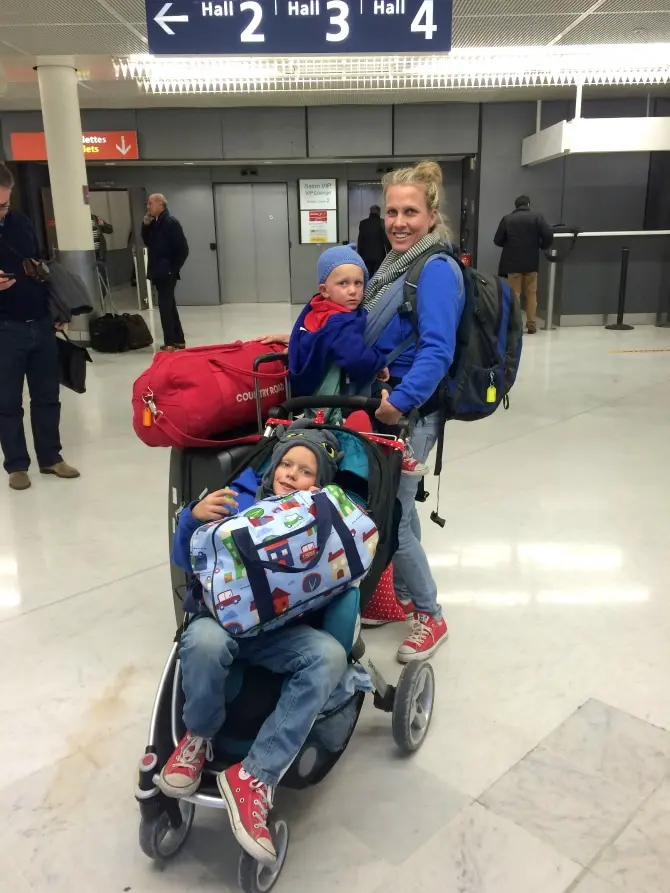 At the Airport, going from Paris to Rome
THE INSIDE SCOOP: NEW Britax B-Clever Stroller
Britax contact: Click here
Where to buy a Britax Stroller
Click here to buy now on Amazon.
Britax B Clever Stroller specifications
Harness Slot Heights: 10.5″ / 12.5″ / 15″
Seat Back height: 18″
Stroller Pockets:
The stroller has a pocket behind the push handle for things that you need easy access to, like house keys, smart phone, and purse.
There's also small mesh pockets on the side of the seat for small toys or a pacifier.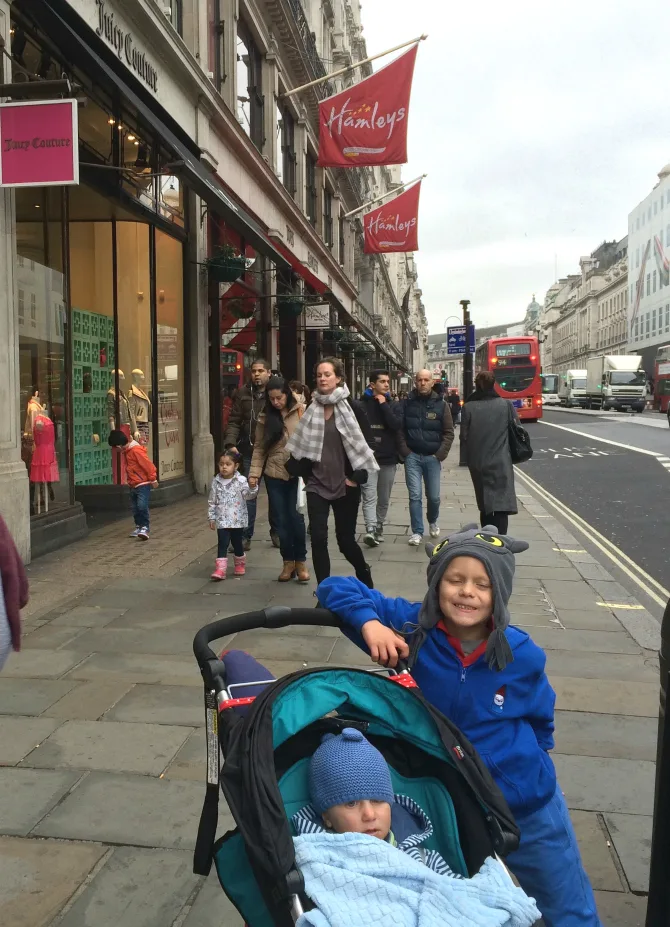 The World Famous Hamleys Toy Shop in London
Best Travel Stroller for Toddler Travel Around the World!
Here's a little whip-around-the-world flashback with our Britax Agile Plus Stroller in tow.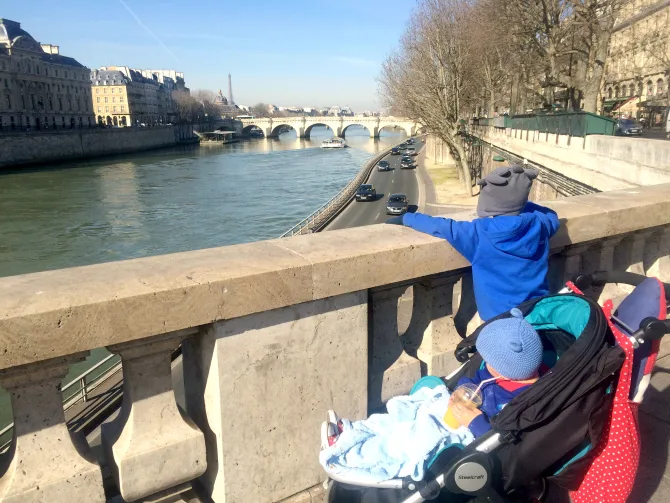 Crossing the Seine River in Paris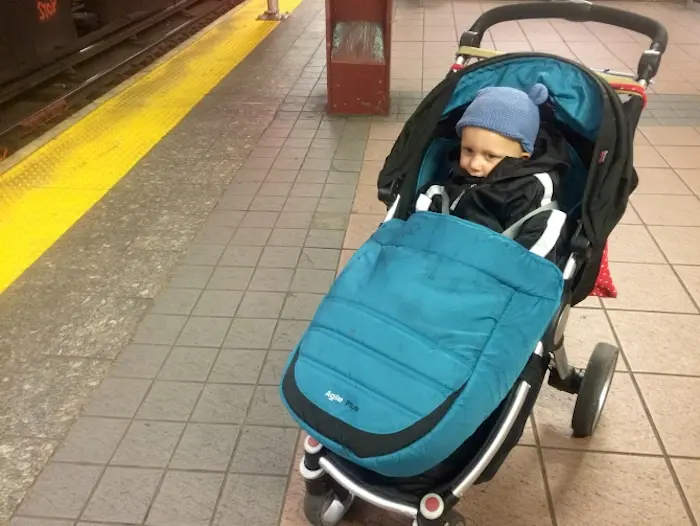 New York City, Waiting for the Subway Train, and FREEZING!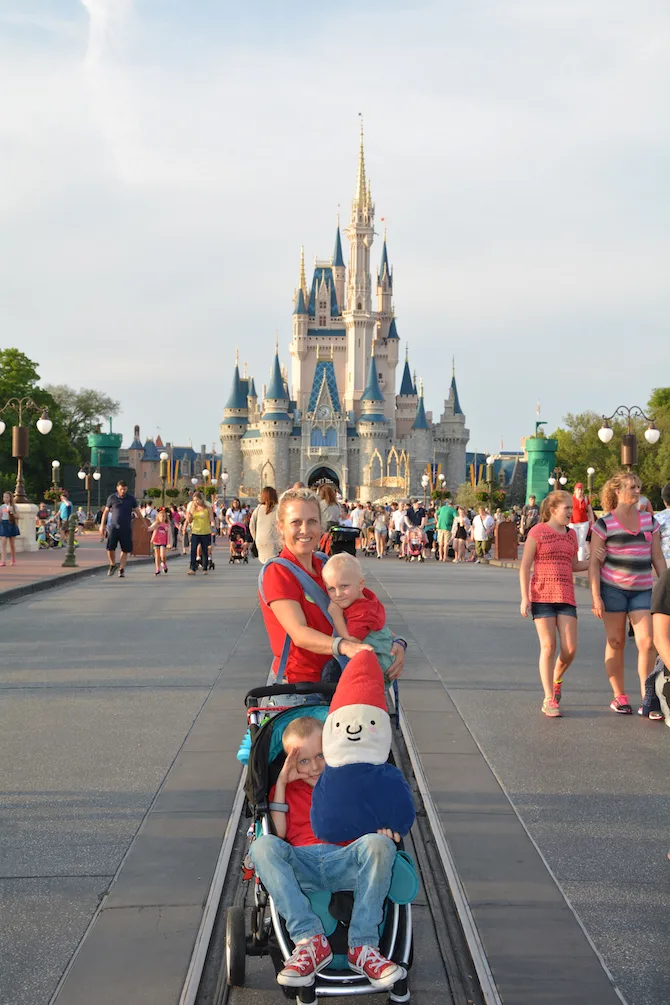 Disneyworld Magic Kingdom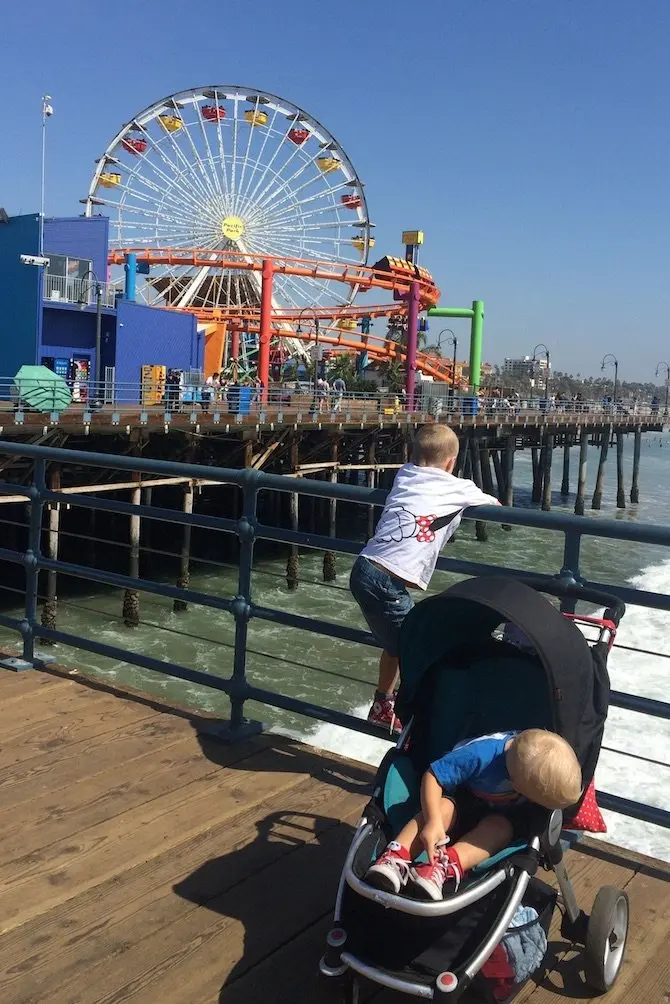 Los Angeles Santa Monica Pier
Toadstool Rating: Britax Stroller Reviews
I chose Kingfisher Blue for our Britax stroller, a cheery change from black, making it easy to spot in stroller parking bays all over the world!
The new B Clever Stroller from Britax also comes in Teal.
Questions about our britax b-agile travel system stroller reviews? Email [email protected]

The Best Cities to Travel with Kids?
Correct at time of publication on Roam the Gnome.
Planning a trip soon?
Check out the latest travel news in our Roam the Gnome's Ultimate Guides to our Favourite Cities below.