INSIDE: The ONLY Lapland Planning Guide you need to book Lapland 2021/22 Christmas independently.
If you are looking to book a Lapland Christmas 2021, arriving there sometime in November or December, we have plenty of resources to help.
First up, the complete guide to Planning a Lapland Christmas experience for families
Second, check out the section below titled: EVERYTHING you need to know about booking a Lapland 2021/22 vacation.
The most important thing is to book your Lapland accommodation for your Lapland 2021/22 trip.
We strongly recommend booking the SANTA CLAUS HOLIDAY VILLAGE hotel cottages, cabins or suites.
This means you stay onsite, IN the actual Santa Claus Village itself.
A hotel stay IN Santa Claus Holiday Village has no equal.
Take a look to see why.
Disclosure: This article contains affiliate links. If you make a purchase after clicking on one of these links, we may receive a small commission at NO extra cost to you.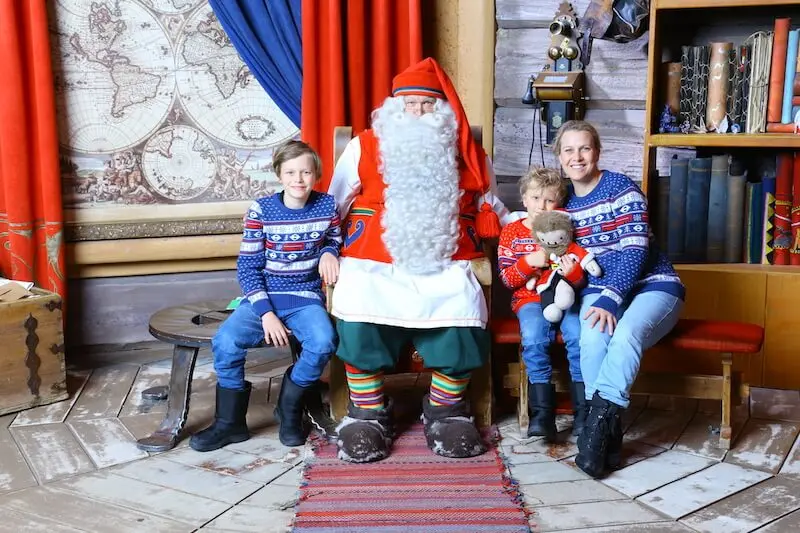 THE INSIDE SCOOP: Lapland 2021/22 Holiday Planning
Correct at time of publication on Roam the Gnome. Please check with venue for updates. We apologise in advance if there have been any changes we are unaware of. All prices in euro, unless otherwise stated
Do everything in your power to save up enough money to stay here, even if you have to beg, borrow, steal or sell your Grandma.
(Spare Grandma. We recommend becoming minimalists, and selling all your excess stuff online. You can thank me for the tip later.)
I'll say it again.
Do everything you can to book a stay at Santa Village Hotel Cottages.
CHECK LATEST PRICES FOR SANTA CLAUS HOLIDAY VILLAGE ON BOOKING.COM
There is NOTHING like staying IN the village.
(The pain of the bill will soon be forgotten!)
Take a sneak peek at our stay here for ALL the reasons why this is our top choice of Rovaniemi accommodation.
Image credit: Rob Philips
THREE More Santa Claus Village Hotel Options for a Lapland Christmas Holiday
If you are visiting WITHOUT children (you'll be surprised how many people are!), a stay at one of the other Santa Village hotels would be a suitable alternative, as you'll still be ON LOCATION!
Location is THE most important thing here.
No-one – especially kids – wants to leave this magical snowy forest place at the end of a day to hop back on a bus or in a car to Rovaniemi town.
Don't do it unless you have absolutely no alternative.
CLICK HERE to take a look at our review of the other three hotels in Santa Claus Village.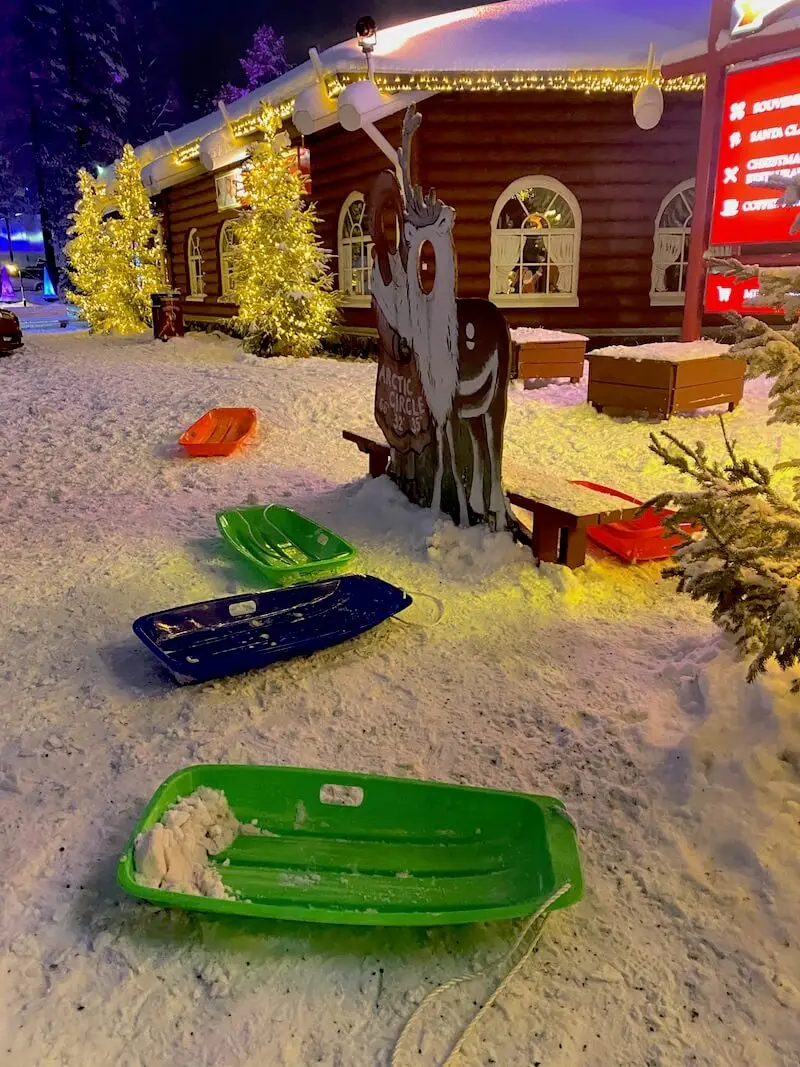 Cheap Holidays to Lapland Christmas Village
The cheapest way to Lapland is to book a day tour.
Check out these companies to compare prices for short breaks to Father Christmas:
Santas Lapland
Tui Lapland
Santa Claus Trips
Inghams Lapland
Santa Holidays
Magic of Lapland (.net)
Do your research and read all the reviews to find out which is the recommended and best Lapland day trip company.
If a day trip to Lapland is all you can manage, at least try to wrangle a good few hours of FREE TIME in your tour to hang about at the Santa Claus Holiday Village, so the kids can play in the snow, weather permitting of course.
I guarantee you, all they'll want to do is ride the sledges like all the other kids.
You'll find brightly coloured snow sleds all over the village.
They are for the use of paying guests staying onsite, but you'll find sleds by every tree, snow mound, outside the Christmas House restaurant, and Three Elves restaurant.
Do feel free to borrow one if there's no 'owner' about.
It's the definition of a sharing economy!
Playing on the mounds of snow, and down the slopes is a highlight for most kids, and they want to do it for HOURS.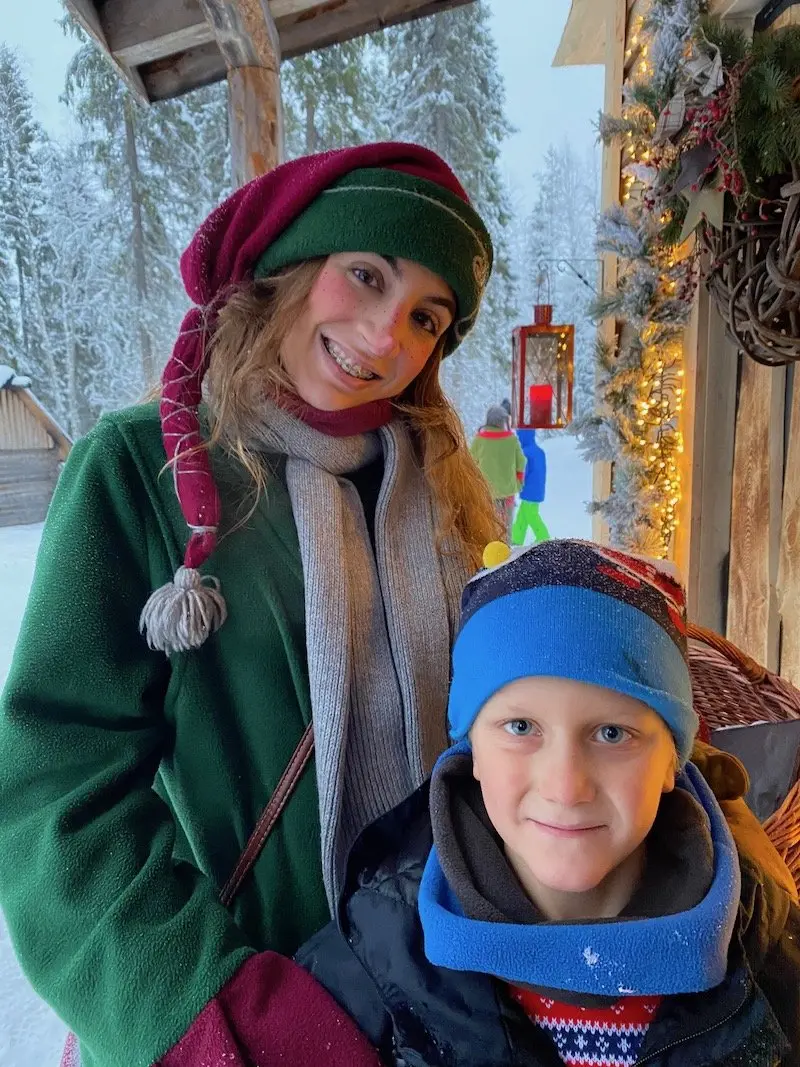 EVERYTHING you need to know about booking a LAPLAND 2021/22 HOLIDAY
Now you've booked your hotel, it's time to whip out a word document, or excel sheet, or whiteboard, and start taking notes!
(If you still haven't booked your accommodation in Lapland, click here to book now before the Santa Village hotel is sold out for your chosen dates.)
Here we go, in order of importance: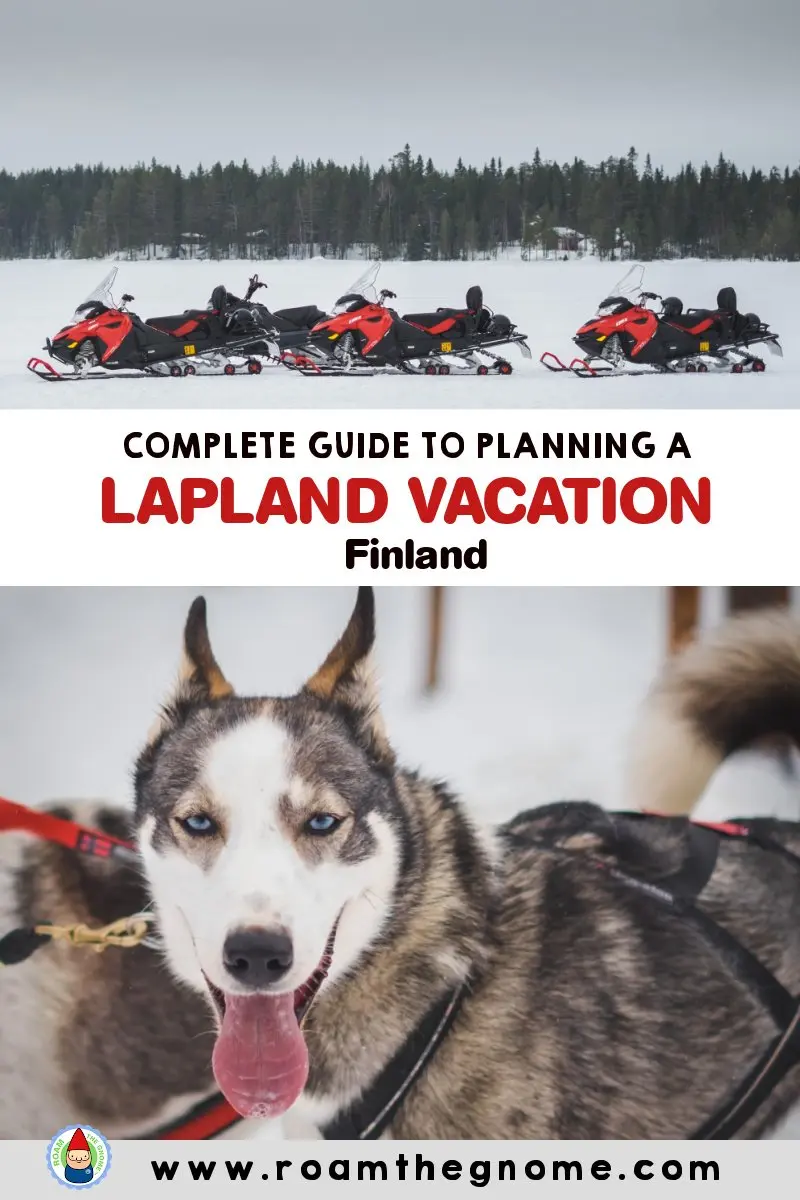 THE BEST LAPLAND TOURS in Rovaniemi (Don't miss out)
These are once-in-a-lifetime Lapland adventure tours.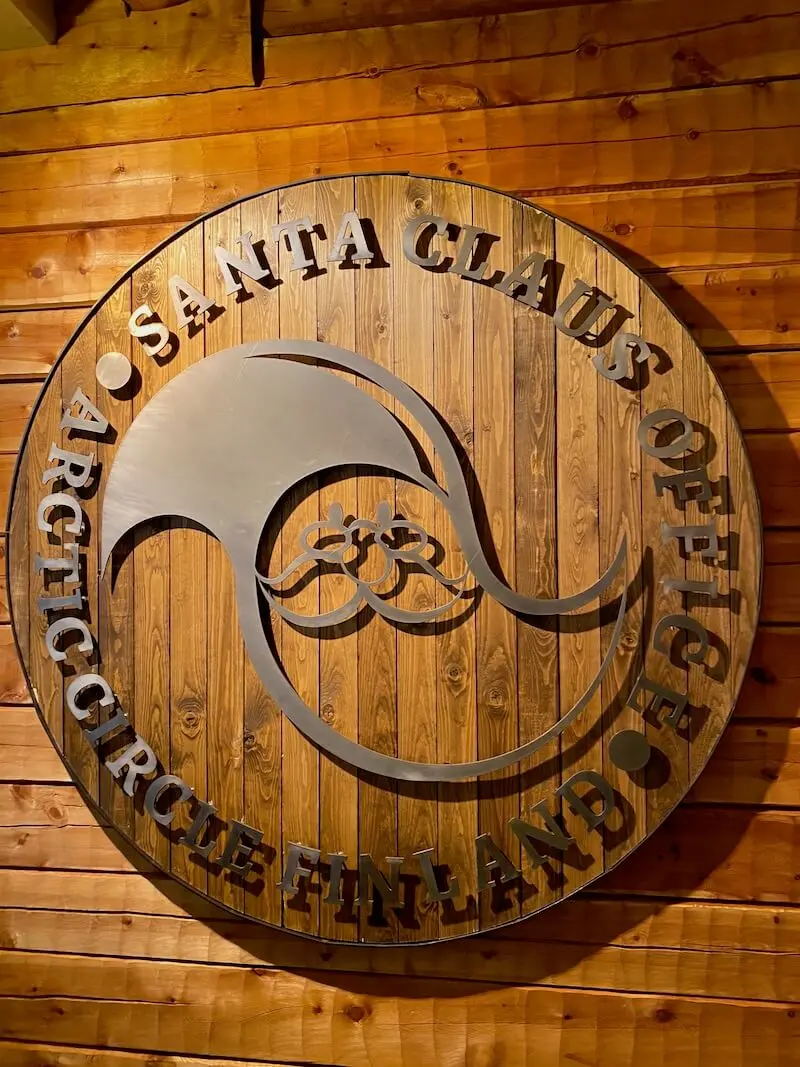 Planning your Visit to Santa in Lapland
Heads up.
There's more than one Santa in Lapland.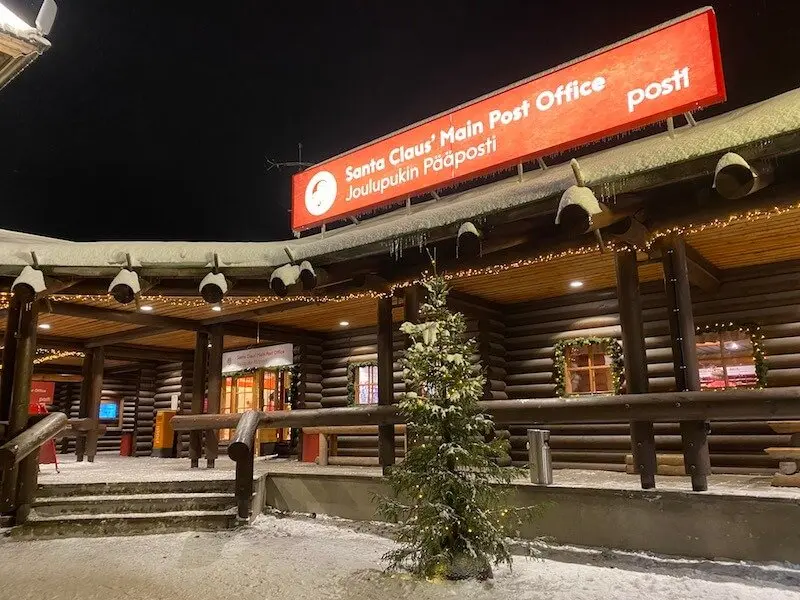 Guide to all the Santa Claus Village Activities in Rovaniemi
Click the links below for a comprehensive guide to each activity with photos.
Husky Park rides in Santa Village (coming soon)
Arctic Circle Crossing and where to buy an Arctic Circle crossing certificate (coming soon)
Snowman World (coming soon)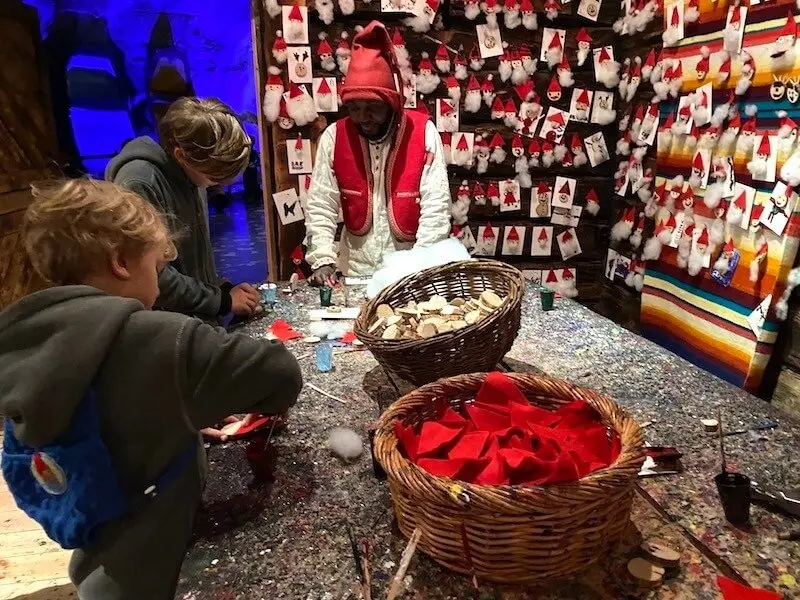 Attractions near Santa Claus Village for Kids
No.1: Santa Park Rovaniemi
The Complete Guide to Santa Park indoor theme park in Rovaniemi (2km from Santa Village)
No.2: Rovaniemi Reindeer Farm
Book this tour to visit a traditional Lappish reindeer farm, feed the reindeers and enjoy a sleigh ride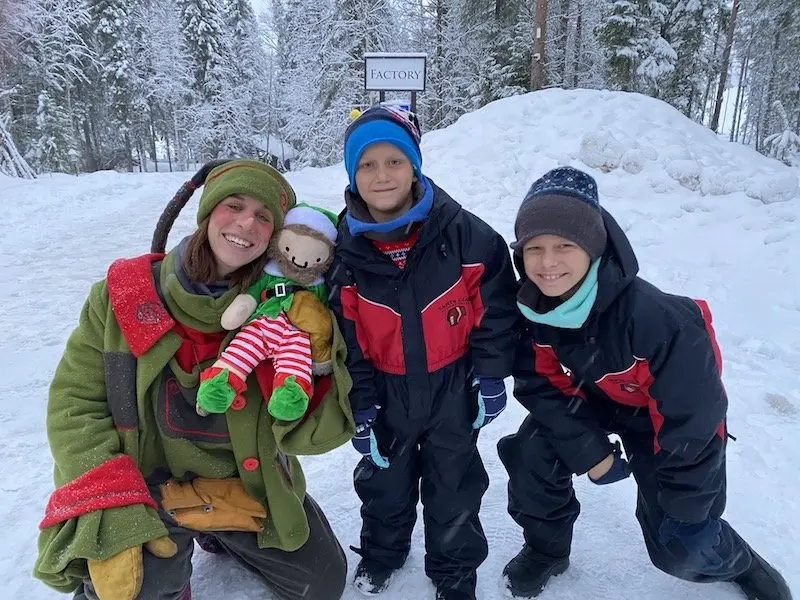 Lapland Christmas Tours in Rovaniemi Finland
Book one of the "Santa Claus Secret Forest of Joulukka" tours.
DO NOT MISS THIS IF YOU ARE TRAVELLING WITH YOUNG KIDS.
More fun activities for kids in Rovaniemi
Book a Santa Fun Day tour with Santa's Adventures and join in fun Lappish games for kids, plus skidoo rides, ice fishing and more (review coming soon)
Or, book a Northern lights by snowmobile sledge.
It's a fun way to get deep into the forest to chase these magical appearances.
Shopping in Santa Claus Village
Our tips on where to shop in Santa Claus Village, including sneak peeks into some of our favourite shops in Lapland.
Click here for a round up of what to buy in Rovaniemi at the Santa Village shops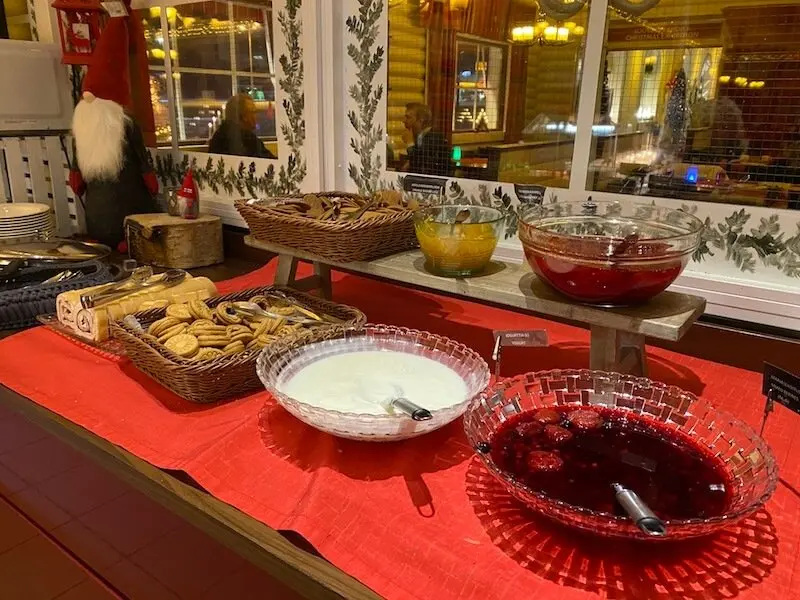 Santa Claus Village restaurants
Wondering where to eat in Santa Claus Village?
Take a look below.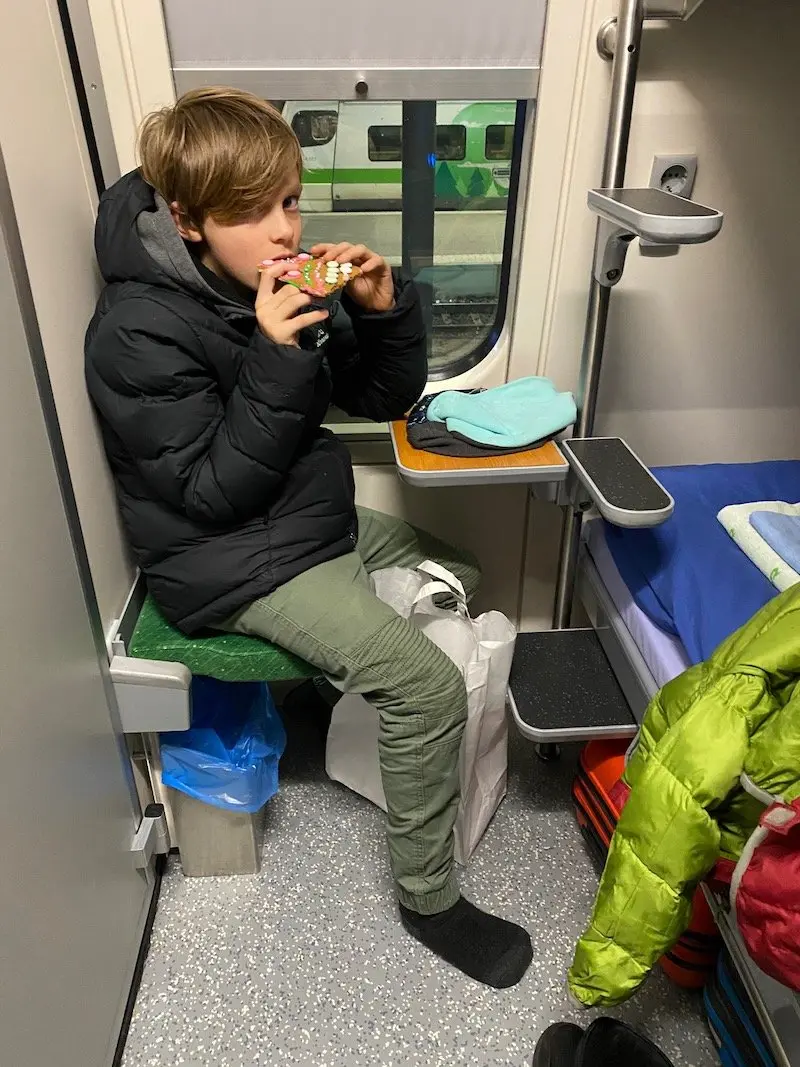 How to get to Santa Claus Holiday Village
Here's a few info guides to help get to this Winter Wonderland.
Flying to Rovaniemi from Helsinki or London (coming soon)
How do I get from Rovaniemi Train Station to Santa Claus Holiday village, or How do I get from Rovaniemi Airport to Santa Claus Holiday village? Click here for details
The Insider's Guide to the Santa Express Bus
Book now: Reindeer Ride, Husky Ride, & Santa Claus Village (All in One Package from Rovaniemi Hotel Accommodation)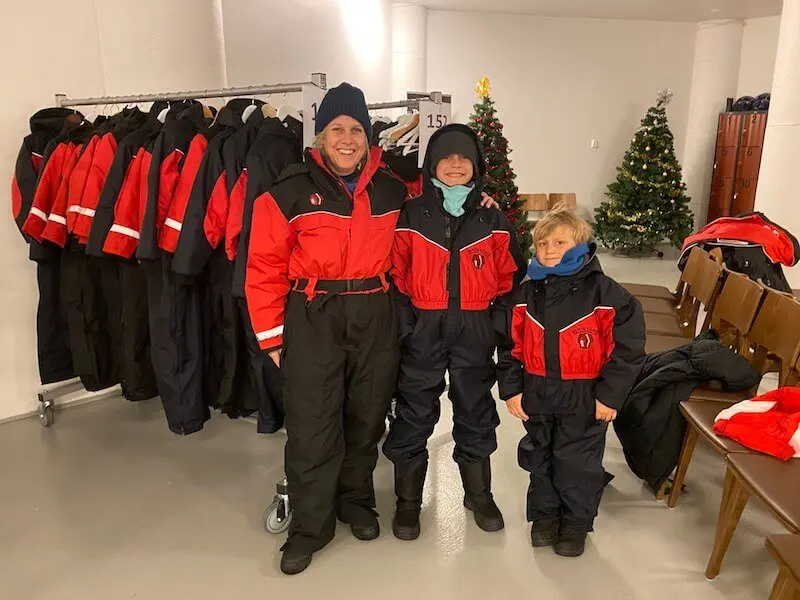 Last Minute Tips for Lapland 2021/22 Vacation
Here's a few more links to guides you might find useful.
What to wear in Lapland in Winter (our packing guide and tips to keep the kids warm in the freezing cold snow)
Tips for Lapland from a Committed Family Travel Addict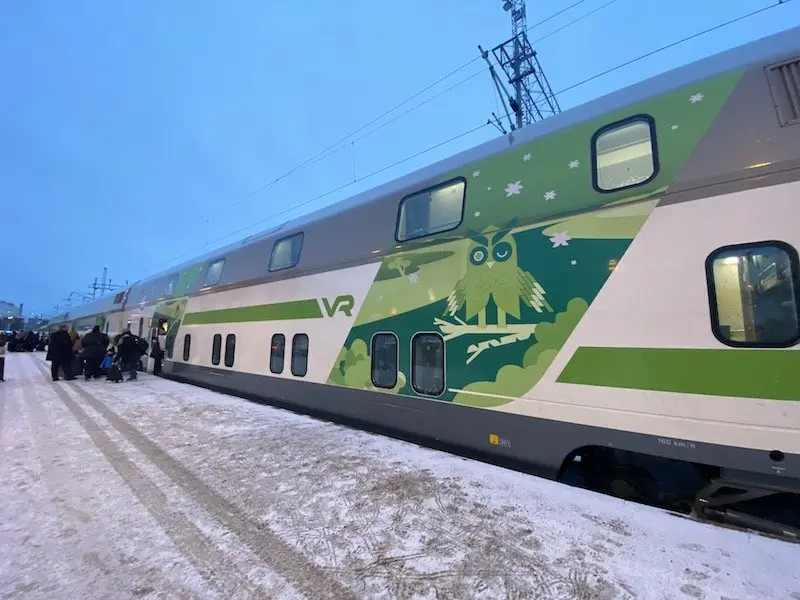 The Best Lapland Itinerary for a Family (we think so!)
Want to download our Lapland itinerary in a word document?
Most visitors to Lapland Santa Village stay for three nights as it's a minimum requirement at the Santa Village Hotel during the busy Christmas season although we did meet a couple of families staying for four nights.
Click here to see how our four days in Lapland unfolded. (coming soon)
At the cost per day, this is not a time to sleep!
Mix and match this Christmas in Lapland Finland itinerary to suit your family.
Also, learn from our mistakes.
FYI: Our Finland Lapland trip was at the end of six weeks through Europe.
We stayed in Helsinki for three nights leading up to Santa Village, and caught the Santa Express overnight train from Helsinki to Rovaniemi as part of our grand adventure in Lapland.
---
BOOKMARK THIS LINK: A Quick Reference to ALL our Lapland Stories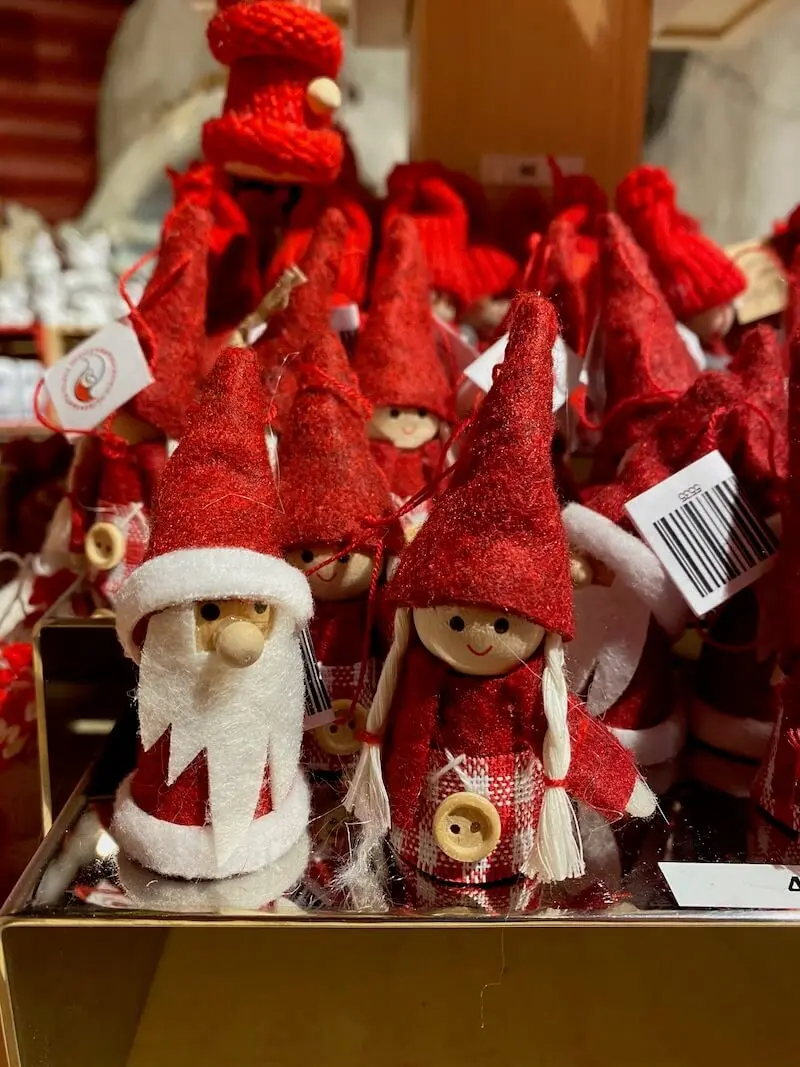 Last Minute Questions about planning Lapland holidays?
Send us an email to [email protected] and we'll see if we can help.