INSIDE: Roam the Gnome's Guide to the Best Kids Suitcase and Travel Luggage for Family Travel.
The best travel luggage is the one that suits YOUR needs.
But there are a few key features of travel luggage to consider to ensure the suitcase you invest in will not burst open and share the contents of your luggage with strangers!
You also want the luggage that won't break, won't bust the bank, and that will wheel effortlessly.
Because when you are planning to travel with kids, you need to minimise potential catastrophes.
Disclosure: This article may contain affiliate links. If you book a product or service after clicking on one of these links, we may receive a small commission at NO extra cost to you.
THE BEST LUGGAGE BRANDS YOU CAN TRUST
Our recommendations for the Best Suitcases for Your Travels
We've listed the most popular suitcase brands, and their best luggage options. The ones we think are worth taking a look at.
Buying new luggage is a big deal – it's expensive, and no-one wants to buy a dud. As regular travellers, we've done the research we hope will save you time, and money.
How to Choose a Suitcase for Travel
Choose a trusted brand, with a decent warranty period, and you can't go wrong.
Here's a list of the best suitcase brands you can trust without doubt. (Our favorites)
Correct at time of publication. Please check with venue for updates. We apologise in advance if there have been any changes we are unaware of. All prices in currency as stated.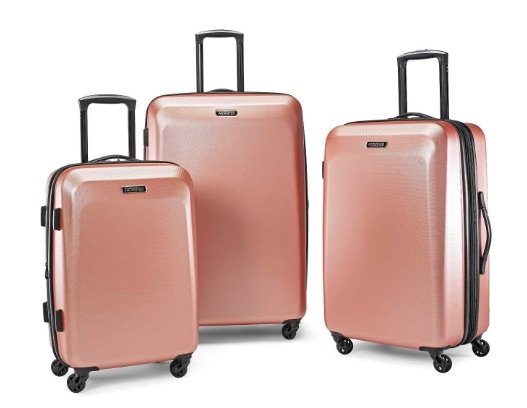 American Tourister – Best Hardshell Luggage
We've put American Tourister at the top of our list, because it's a suitcase brand we know and use, and they've been around for over 85 years, releasing their first luggage suitcases in 1933.
Their colorful and fun suitcases for the fashionable set have a 10-year global warranty, and they are a leader in the mid-price luggage market. (Did you they are now owned by Samsonite?)
When we downsized to cabin luggage so we can do carry on travel, we bought three of these hardside luggage American Tourister Bon Air spinners in teal, orange and grey. We determined this brand was the best luggage for international travel for what we wanted to do, that is, take it with us.
But if only I'd have seen these Mickey Mouse ones first! ]
You can never have too many suitcases, right?
BUY NOW ON AMAZON: American Tourister Carry On Luggage in ROSE GOLD!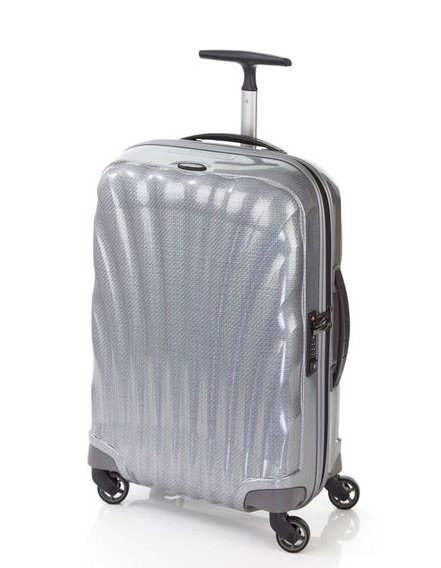 Samsonite – Best Checked In Luggage
Arguably, the best known luggage brand in the world, Samsonite luggage started as a manufacturer of well-made trunks that would cope with rough handling, and long tiresome journeys.
They've become one of the leaders in travel luggage and accessories because they've kept innovating to meet changing demands including the need for strong yet lightweight luggage for the modern traveller.
The Black Label Luggage range by Samsonite has redefined fine travel goods for those who want the best of the best.
They are the best check in suitcases on the market.
BUY NOW ON AMAZON: Samsonite Pulse Lightweight 2 Piece Hardside Luggage sets in Silver, exclusive to Amazon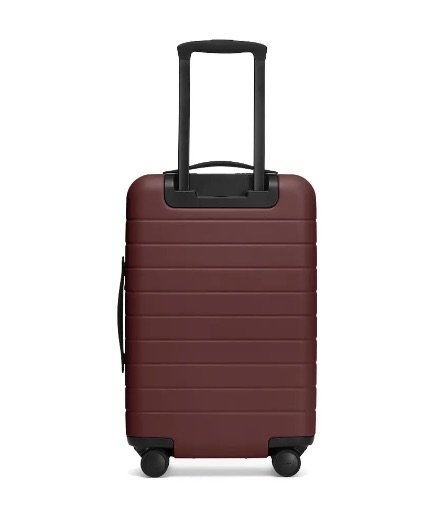 Away – Good Quality Luggage
A relatively new addition to the luggage market, these suitcases were introducted in 2015. Made from lightweight polycarbonate, they are designed with the creative, stylish traveller in mind.
While available in the full rainbow of color hues, the brick colored ones have extra appeal – they remind me, in a good way, of a delicious chocolate bar.
The carry-ons have an ejectable battery, so you can power up all your devices while you wait to board.
You can trial any of their suitcases for 100 days and if you are not happy, return it for a full refund. Plus, these suitcases are guaranteed for life. If it breaks or needs repair, they do it.
This spinner luggage comes in kids size too.
Doesn't get any better than that.
BUY THEM NOW: Visit the AWAY Store to see the full range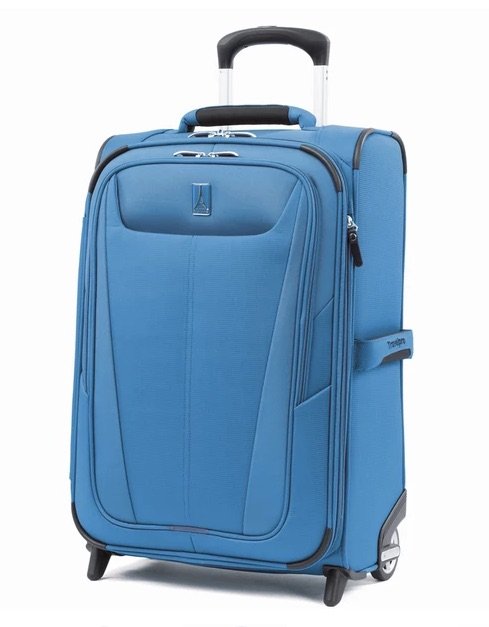 Travel Pro – Best Soft Side Luggage
You know this is a good brand when you see it being used by flight crews, and learn it was invented by a 747 pilot named Bob Plath!
These people should know a thing or two about the best travel luggage to buy.
The original Rollaboard® suitcase was a wheeled, carry-on suitcase pulled upright by an extendable handle. It now has a USB port too!
Their most popular suitcase is the Travelpro Maxlite series. You can get these in both hardside and softside styles.
Now they make luggage, garment bags, suitcases, executive briefcases, rolling travel duffel bags, totes and backpacks too.
BUY NOW ON AMAZON: TravelPro Luggage Maxlite 5 Lightweight Expandable Softside Suitcase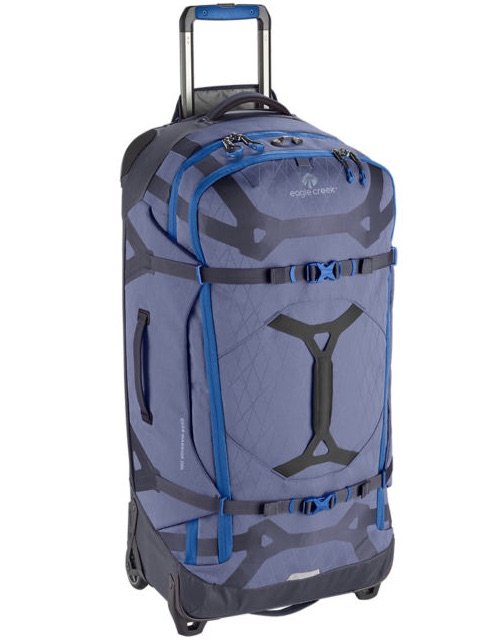 Eagle Creek – Best Luggage for Off Road
The name gives it away. These durable suitcases and carry ons are fully off road capable, and designed with the outdoorsy, adventure type of traveler in mind.
The ones who take off-the-beaten-path adventures and road trips.
Their appealing nature-inspired color range includes palettes such as slate blue, asphalt black, highland green, natural stone, and coral sunset.
And then there's the names of the luggage:
Tarmac All Whel Drive Carry-on
ORV trunk
They have have a trademarked packing system and stock all the pack it cubes, and compression cubes so you can stuff all your gear in nice and neat.
BUY NOW ON AMAZON: Eagle Creek Global Companion Women's Travel Backpack in Smokey Blue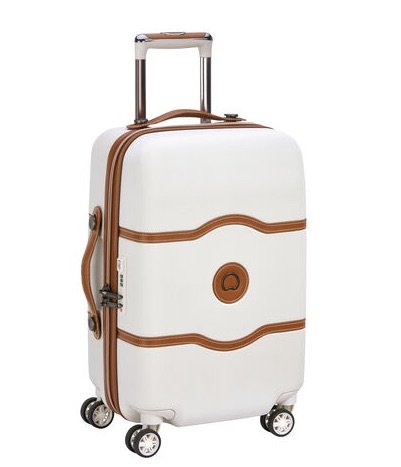 Delsey – Best Stylish Luggage
I dream of the day I can buy a Delsey Chatelet Air suitcase, leave the kids at home, and explore Paris as a woman, instead of a mom of two boisterous boys.
This carry-on double wheels cabin trolley case in Champagne white is a bestseller.
(It also comes in chocolate, silver and terra cotta)
Need a bigger size?
There's a medium size suitcase and a checked large suitcase for serious Europe shoppers.
Love a matching set?
Buy the:
READ MORE: THIS is the best street in Rome for Italian Leather Handbags. Don't miss it.
Rimowa – Best Quality Luggage
The extra large Rimowa Lufthansa 747-8 Boeing Collection suitcase with an electronic tag is the top end of top end luggage.
Made from lightweight aluminium, this silver suitcase has leather handles, and space-age appeal. The sturdiness of the design makes it the best brand in luggage.
The one pictured above is a Rimowa Topas cabin suitcase with a magnesium alloy shell so it's light but designed to handle the tropics.
Bring on Hawaii!
BUY NOW ON AMAZON: Rimowa Cabin Suitcase, Multiwheel in Silver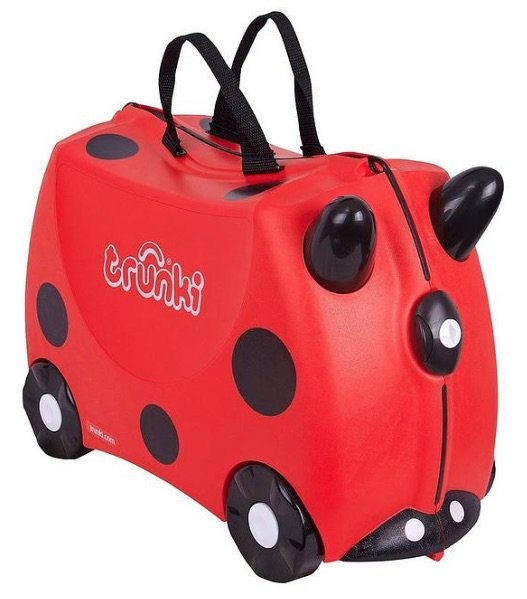 Best Kids Suitcase for Family Travel
Trunki – Best Suitcases for kids!
These kids ride-on suitcases are the bees knees.
Trunki's Harley the Lady Bug suitcase with red and white polkadots is the cutest luggage we've ever seen.
And the Trunki Pedro Pirate ride on suitcase is a winner too.
Tipu Tiger ride on suitcase is orange with black and white stripes.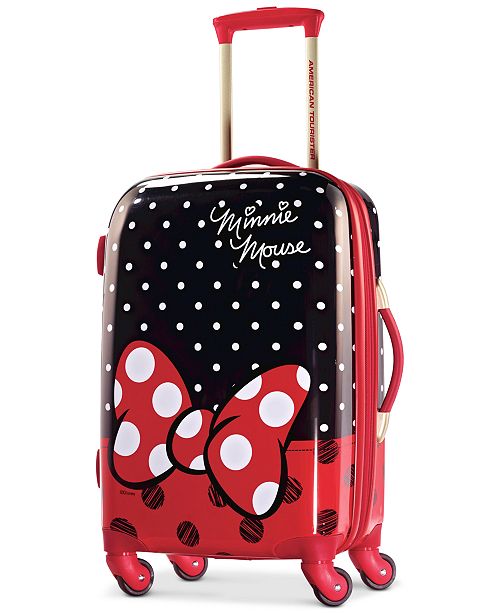 Themed Suitcases
Kids love themed suitcases too, such as this Marvel hardshell spinner trolley, or this R2D2 carry on by American Tourister.
Or how about one of these:
If the kids don't need new luggage, you can also revamp their old ones with a new travel luggage cover, like this Winnie the Pooh one!
It's a cheap way to keep the kids happy.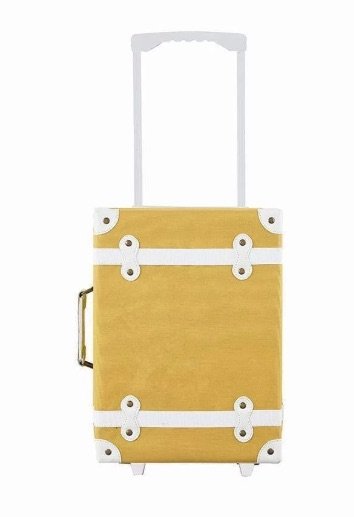 Olli-Ella suitcases
Olli-Ella is the creator of our favourite 'See-Ya' suitcases for kids.
This modern re-imagination of a classic vintage suitcase is the most adorable kids suitcase we've ever seen.
They are VERY popular with the Byron Bay instagram set on holidays with kids.
PS: We love their Luggy baskets too. These are the most adorable kid-friendly shopping baskets for farmers markets adventures.
TIPS TO CONSIDER TO FIND THE BEST TRAVEL LUGGAGE FOR YOU
What type of travel will you use your suitcase for?
The first question when buying your luggage is knowing what your luggage will primarily be used for.
Will it be:
Luggage for family travel?
Luggage for vacation travel?
Luggage for business travel?
Luggage for resort holiday?
Luggage for cruising?
Backpacks for Backpacking?
a vacation backpack for walking tours, such as the Camino de Santiago, the Overland track in Tasmania, or the Philosophers Path in Japan
bike saddle bags for bicycling tours?
a trekking backpack for rugged hiking tours such as the Kokoda track?
backpacking gear for overland travel through Asia, Indonesia, the Stans, or India?
Will there be kids travelling? How old are they? Are you taking a stroller too?
If so, what can reasonably hold in your hands while still wrangling a child?
What type of luggage should I buy?
Consider the journey (or journeys) your luggage will be undertaking.
Ask yourself, will you be:
flying,
or driving
catching multiple trains or buses, or
cruising?
You also need to consider WHERE in the world you'll be going over the next few years.
Rural travel in India, Asia, and Nepal is very different to European travel in cities, or traveling the outback of Australia by 4WD.
Where you will be storing your luggage for the most part also matters. (Hotels, hostels, tea houses, homestays, or city apartments with limited space?)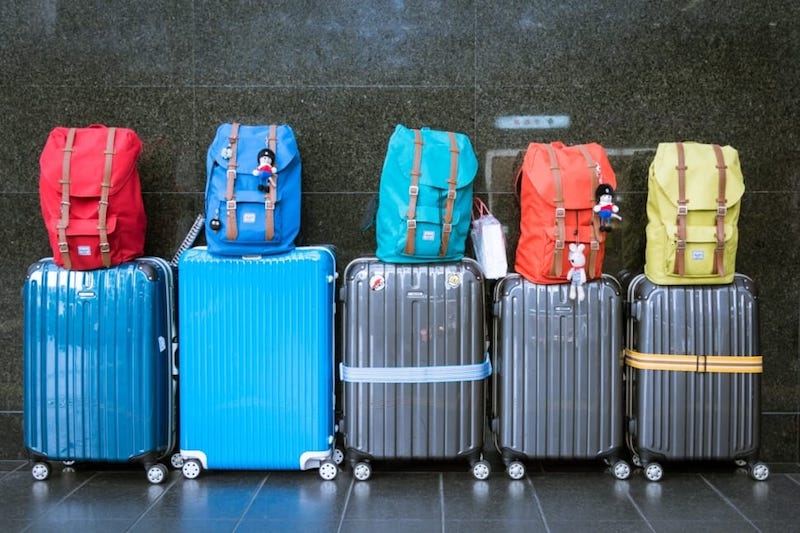 Benefits of Hard Shell luggage
Hard shell suitcases protect all your belongings with extra security, but they are less flexible.
It's difficult to cram in extra souvenirs, or snacks for home.
Benefits of Soft shell luggage
More lightweight than hard shell suitcases, and they give and stretch, allowing you extra space for treasures and souvenirs.
But they offer less protection for the things inside.
The soft fabric makes it easier for thieves to target too.
Suitcase durability
If you travel often, and need suitcase durability, go for a hard case.
It's a no brainer.
THE VERDICT: Hard shell vs. Soft shell suitcases
It's personal preference mostly.
I've had both, but I lean towards hard case shell these days.
They seem less likely to tear, or spring open, and expose your dirty undies to the world.
Hot tip: We now pack EVERYTHING inside our suitcase into individual packing cubes, including one for dirty laundry, so that can never happen, even if the bag did burst open!
READ MORE: Get our FREE PRINTABLE – The Ultimate Family Travel Packing Checklist

LUGGAGE COMPARISONS
Best luggage with wheels
Two Wheels suitcases (rollers)
Best for those who love to pull their suitcase behind them as they walk. Two wheel suitcases are good for walking around cities, as you can easily pull them up and over kerbs, and along walkways.
The downside is that you carry most of the weight.
Four wheel suitcases (spinners)
Four-wheeled suitcases make life easy when you travel with kids. They can push, pull, or walk beside their four wheeled suitcase with little effort.
Four-wheeled suitcases are good for those with mobility issues as they glide, and spin when you need them to. If you like to stuff your suitcase full of souvenirs, and regularly reach the 30kg weight limit, then a four-wheel suitcase is a must.
They are definitely the easier suitcase to manage when it's heavy.
THE VERDICT: Two-wheels vs. Four-wheel suitcases?
Four wheel suitcases rule the world.
I'd NEVER buy a two wheeler suitcase when travelling with kids again.
It's just another thing to battle.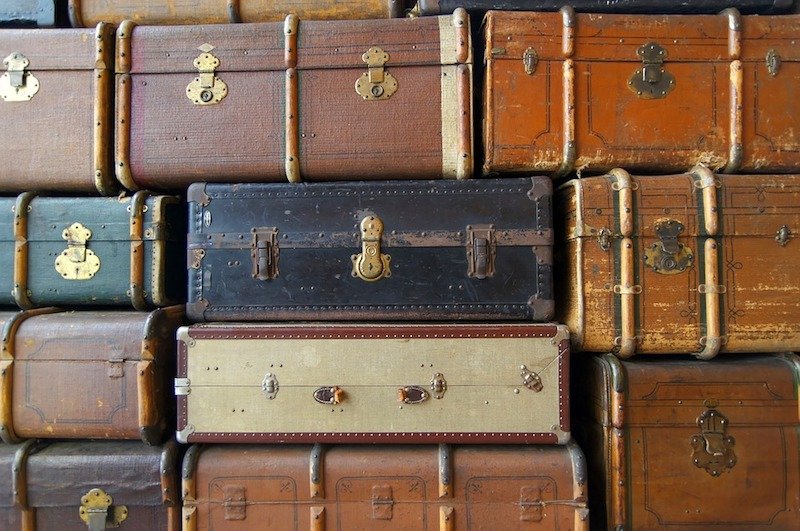 What size of luggage should I buy?
The most important thing to remember is that you have to carry your suitcase around with you, unless you have tonnes of cash, and your own personal driver.
If it's too heavy or cumbersome, a suitcase can make life hell.
What are the best suitcase sizes?
My mum is a master over-packer, and when we travelled to Japan together, she took a two-wheeled soft suitcase and stuffed it with every item known to man, and brought along a soft nylon bag to put on top for good measure.
Guess who ended up wheeling that thing?
The best suitcase size really depends on the type of trip you want to take.
Bigger suitcases are fine for European cruising, but not so great for jump-on-jump-off Eurail explorations.
The great thing is that most suitcase brands come in at least three or four different sizes.
the smallest for carry-on luggage only
the medium for single travellers, who may carry a tote or backpack separately for their electronics too
the large size for longer vacations and European cruises, where you need multiple changes of clothing, and,
the extra large for parents who need to pack their children's clothes and travel goods in with their own, or for mega shoppers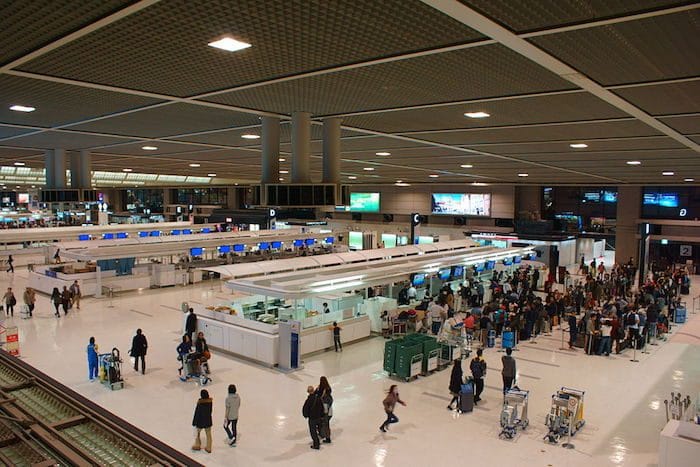 Suitcase Size & Suitcase Weight
Carry on luggage must be within the set limits – size and weight – that the airline you are traveling with uses. Check your weight AND dimensions with these portable luggage scales.
Be mindful that wheels and extendable handles do restrict your internal space and may limit how much you can fit.
Oversize carry-on luggage is the easiest target for the airline staff to bust.
Airline staff don't always check cabin baggage for size and weight but if they do, and the ground staff happen to be in a bad mood, or it's a busy holiday period with lots of grumpy complaining passengers, your bag might be sent under the plane.
Stay within the limits and you'll have no problem.
Checked in luggage is checked for size and weight when you turn up at the counter.
It's luck of the draw as to who is sitting on the desk, and whether or not this person will be willing to let an overweight suitcase go through without extra charges on the day.
We've had varied luck, so now we pay for extra baggage kilos FOR THE RETURN TRIP ONLY.

Weight and size restrictions vary
Weight and size restrictions vary from airline to airline. It's vital to check with your airline before you go.
Most airlines restrict carry-on luggage to between 7kg and 10kg.
Check in suitcases can weigh anywhere between 15kg to 32kg, depending on whether you travel with a budget or full service airline.
Budget tip: Pay attention to the airlines guidelines to avoid additional fees.
Don't risk it.
If in doubt, call the airline before you go.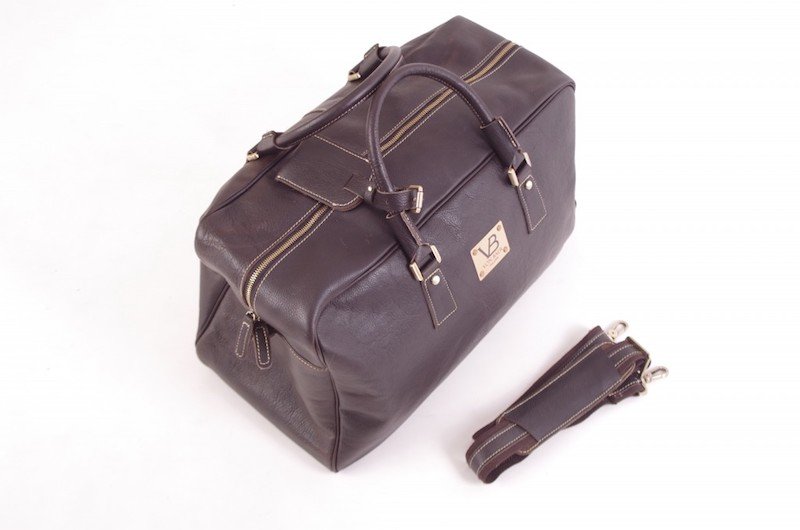 THE BEST SUITCASE FEATURES TO LOOK FOR
Suitcase Handles
Handles should be riveted to the suitcase body to prevent the handles flying off when you go to pick it up. (It's happened to me!)
Suitcases should have handles on both the long and short sides, so you can fling them into the back of cabs when you are in a rush.
Extendable Handle
This is a vital component of a suitcase and when it doesn't work properly, it's a big source of frustration.
The extendable handle needs to extend and retract smoothly.
It needs to lock in place at one or two heights, and these heights should be comfortable for you to pull along without having the suitcase bump into you every few steps.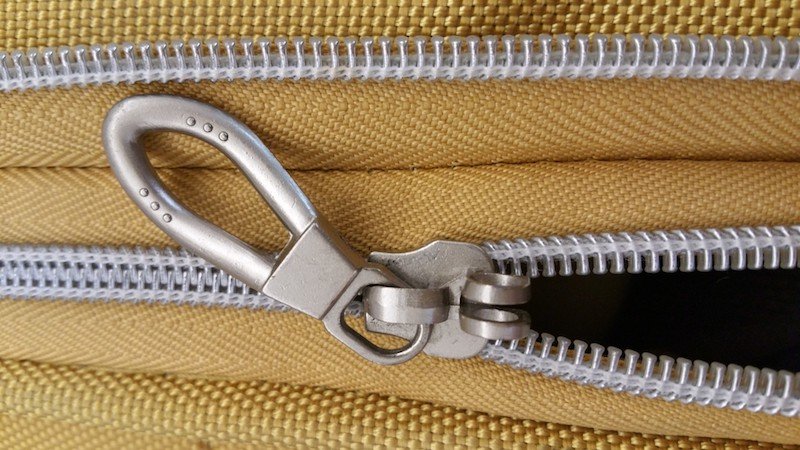 Suitcase Zips
Check the zips on the outside of the case, and also the ones on the inside. Zips that stick are useless.
My Samsonite case has a zipped compartment to separate one side from the rest of the case.
This zip has broken three times so far.
Luckily it's under warranty and they fix it without question but it's a bother to have to lug it back to the shop and then pick it up again.
Better to have a quality zip in place first.
I lock all my zip handles together (on both my carry on and check in luggage) with a standalone separate TSA lock. I don't use the TSA lock on the suitcase itself.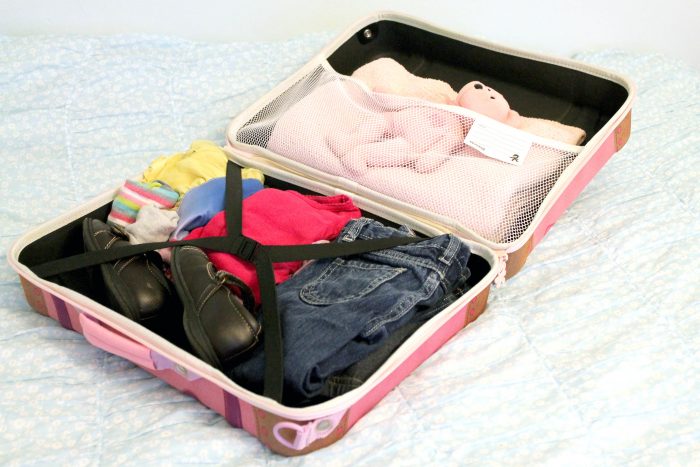 Image credit: Katie Wallace from Pexels
Internal straps
These help to hold my packing cells in place so need to be broad and strong.
Lightweight Luggage Weight
The weight of your suitcase counts towards your baggage allowance , so you need to be mindful of this when you purchase.
With carry-on luggage especially, weight should be a deciding factor. A 3kg bag means less than 4kg for all your clothes and essentials.
Doable, but tight.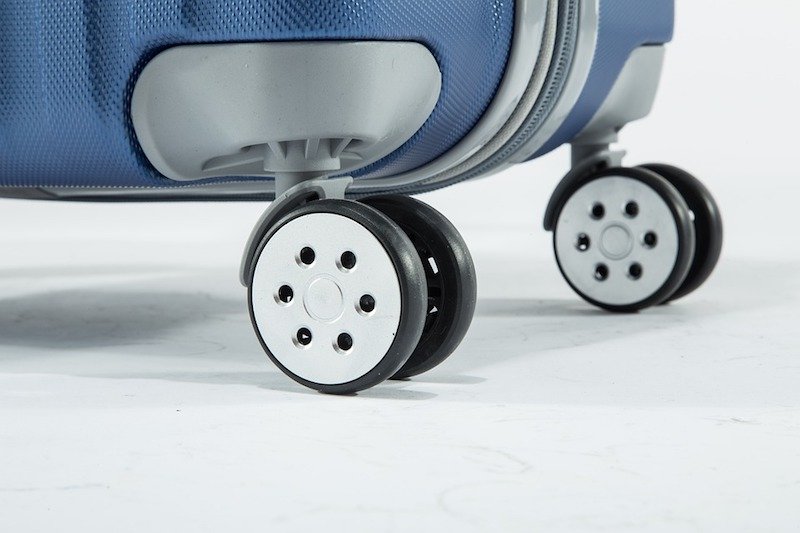 Image credit: Click here
Rolling wheels
The case should roll easily, and not bounce or tip when being pulled along. Four-wheel spinner models spin 360° making them easier to manoeuvre.
You can push them alongside you, in front of you or pull them behind you (as you would with a two-wheeler), but some can be difficult to control when pushed across bumpy terrain.
I struggled at Narita airport to move it over the raised boundaries lining the pathway.
Watch out on an incline so they don't roll away from you.
On the other hand, two-wheel models only move forwards and backwards, but are usually better for clearing curbs and rolling on a variety of uneven surfaces.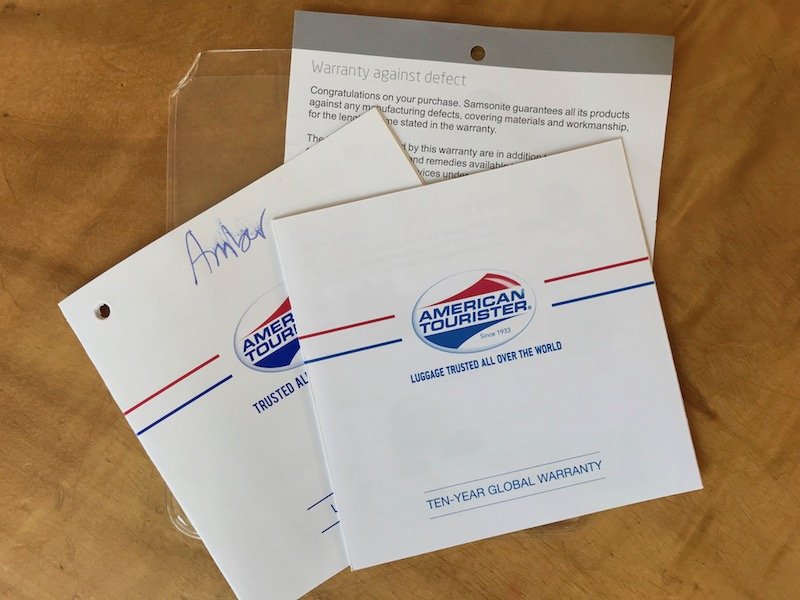 Luggage warranty terms
Look for a 5 year minimum warranty at least. 10 or 15 years is better, although frequent travellers will replace their suitcase well before that warranty runs out.
Some brands offer lifetime warranty.
The rule of thumb is: the higher quality product, the longer the warranty period (and higher the price).
A warranty should cover manufacturing defects (such as workmanship and materials). You can return the luggage for repair to zips, handles, extendable handles, and fabric.
It will NOT cover cosmetic wear and tear (including on moving parts like wheels and component parts), damage from transport on aircraft or boats, misuse, water, or cleaning.
Most brands will only honour your warranty if you can provide proof of purchase with a store receipt to claim luggage repair.
We suggest putting your warranty certificate in a safe place when you purchase it. Keep the product tags just in case too.
Do take note if you need to register your warranty at the time of purchase.
If you don't and it's a requirement, your warranty might be voided.
Read the fine print at the outset.
Suitcase color
Go bold. Buy bright.
It's the best deterrent against thievery.
We love a good patterned suitcase, one with character, or one themed with our favourite city or country.
The suitcases we bought for our Europe/Santa trip are BRIGHT ORANGE and BRIGHT TEAL!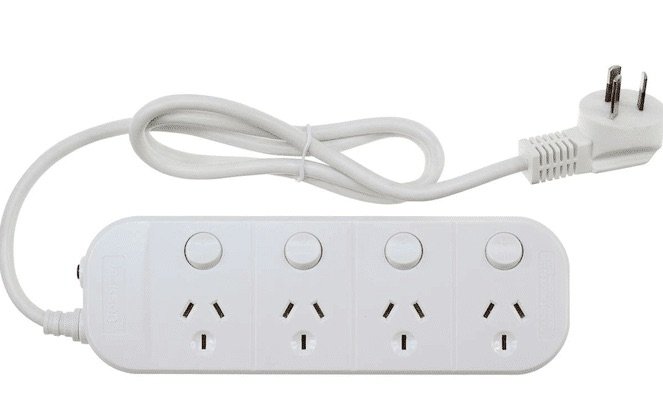 Luggage compartments
I love pockets with zips.
External pockets are good for easy access to:
water bottles
band aids
compression socks
ventolin puffers
tissues and
ear plugs.
Internal pockets are useful for keeping your itinerary and electronics such as a powerboard charger and universal electrical plugs in a safe place.
Another question to ask is 'does the suitcase expand'?
This is a cool trick for the return flight home when you need more room for gifts and souvenirs.
Hot tip: never use external pockets for your precious things such as passports or money.
Waterproof luggage
No suitcase on the market is completely waterproof as water can definitely get in through the zips and underneath the handle rivets. Suitcases by nature will only be water resistant.
However, a hard case suitcase can be wiped down.
A soft shell suitcase might need a period of time to dry completely, time you may not have.
LUGGAGE PRICE
Suitcases for leisure travel vary in price considerably depending on the brand, their reputation, their durability for all kinds of travel conditions (including travelling by boat), and their style factor.
Our travel tips: don't go too cheap.
You'll only end up having to replace it sooner rather than later.
Cheap Luggage – the Pros and Cons
While you can buy travel luggage to use as checked luggage in Kmart, Big W, and Ikea for next to nothing, we've made a point of investing and buying good quality luggage that will last for years and years.
We've invested in each of us having one good travel jacket made by a reputable travel clothing brand for much the same reason.
Buying quality luggage IS a bigger outlay than what you'd pay at a budget store, but the fact you don't need to buy it again in a year or two, makes more sense.
Having to buy two, or three, (or more) suitcases at the cheaper price over a few years, ends up costing the same as one good suitcase at the outset.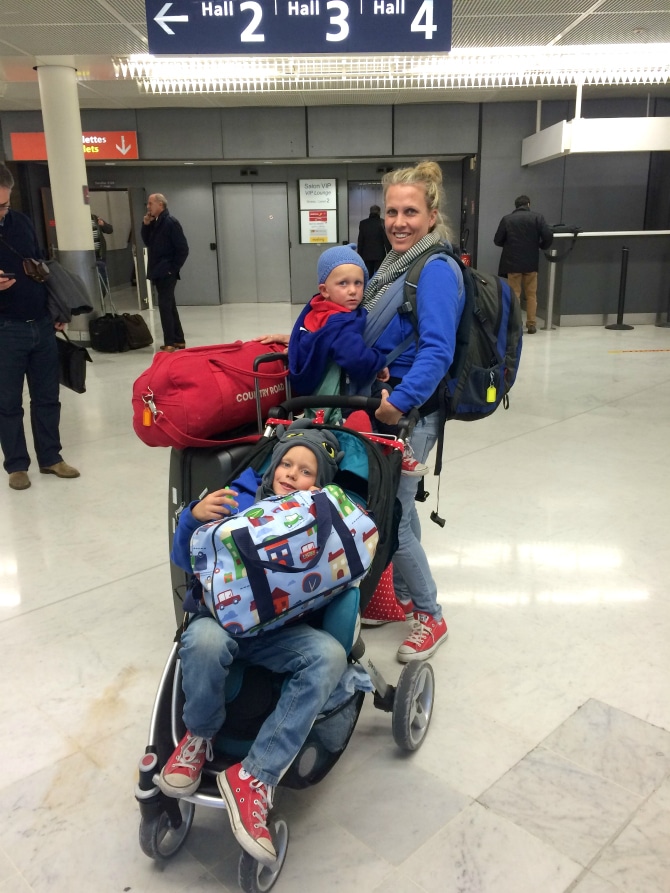 WANT TO START TRAVELLING WITH KIDS?
Click the links in blue below for our Ultimate Destination Guides.