INSIDE: Everything you need to know about the best things to do in Småland Sweden.
Travelling around Sweden and heading to IKEA Museum en-route?
The IKEA museum is located in the region of Sweden called Smaland.
(That's why the word is familiar if you have kids – Smaland is the name of the kids play area in store, named in honour of this much loved nature area of Sweden.)
But Smaland is more than just IKEA.
There's LOTS to see and do.
Looking for the best things to do in Smaland Sweden?
Check out our guide below.
Disclosure: This article contains affiliate links. If you make a purchase after clicking on one of these links, we may receive a small commission at NO extra cost to you. Main image – Almhult town square children's playground in Småland.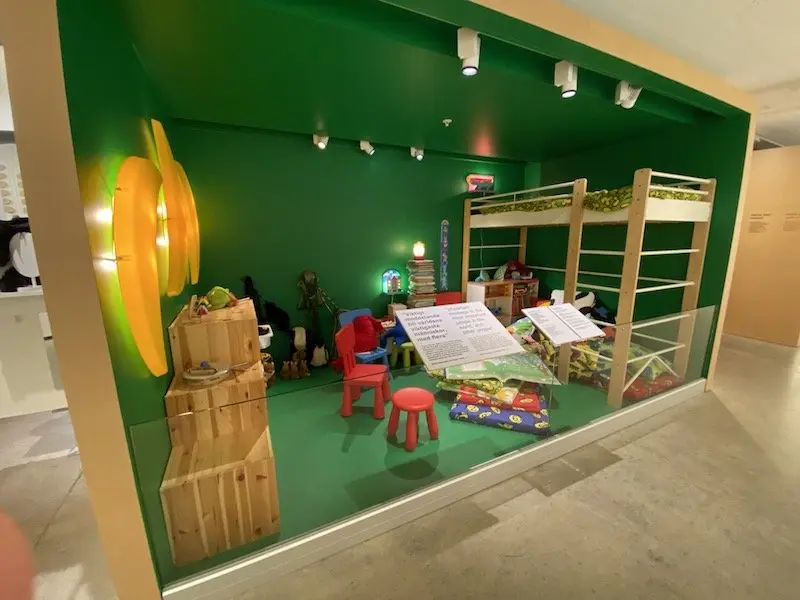 BEST THINGS TO DO IN SMÅLAND SWEDEN
Correct at time of publication on Roam the Gnome. Please check with venue for updates. We apologise in advance if there have been any changes we are unaware of. All prices in Swedish SEK, unless otherwise stated
No.1: IKEA Museum
The IKEA Museum is a must do for anyone who has a passion for this Swedish Furniture Brand, and want to know how it came to be.
There's plenty to do here, including:
a timeline of Ikea's history
an exhibition about the founder of IKEA and how his vision for a new type of furniture store came to be
displays of the most popular IKEA furniture, and the best selling IKEA furniture, plus
fun stories about iconic IKEA inventions and things we've come to associate with IKEA, including the infamous Allen Key.
Read all about it here: The Top 9 Things to Do at the IKEA MUSEUM SWEDEN
You can also take a sneak peek at the IKEA museum shop.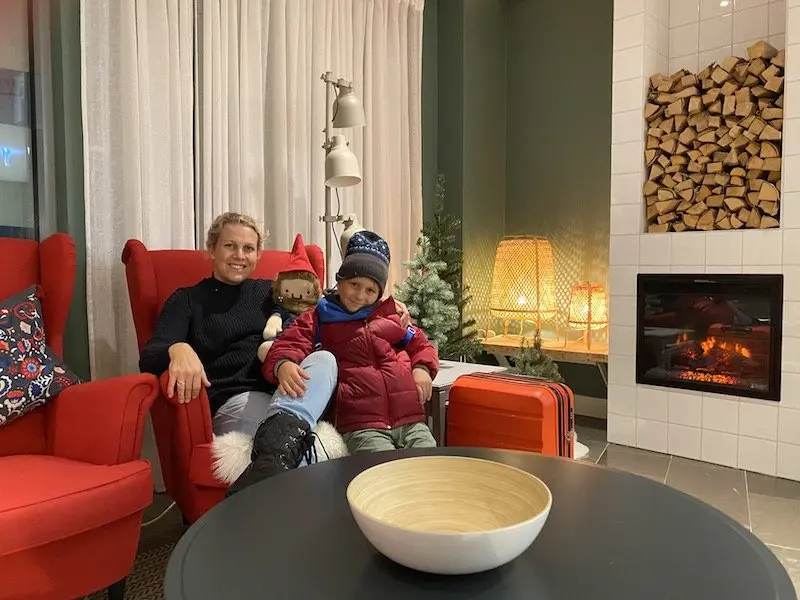 No.2: IKEA Hotell
Did you know there's an IKEA hotel?
There is!
Just one.
And it's in Almhult, the home of the original IKEA store.
Find it across the carpark from the IKEA museum.
Want to take a sneak peek inside to answer all your questions? Read our complete guide to the IKEA Hotel
Famous IKEA food
There's also a fabulous Scandi-style restaurant for guests.
And a FREE breakfast buffet included with most stays.
Read our foodie guide to the IKEA hotel restaurant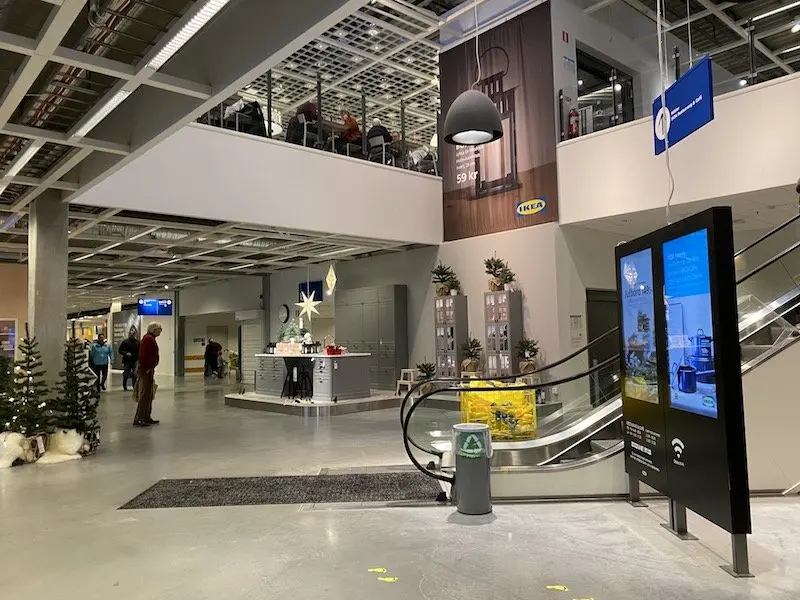 No.3: Almhult IKEA store Smaland Sweden
You can't visit Almhult without spending at least an hour perusing the fabulous IKEA showroom.
It's one of Sweden's biggest Ikea stores.
There's all the familiarity of your local IKEA store, but with an extra Swedish touch!
It's one of the must-do things to do in Sweden.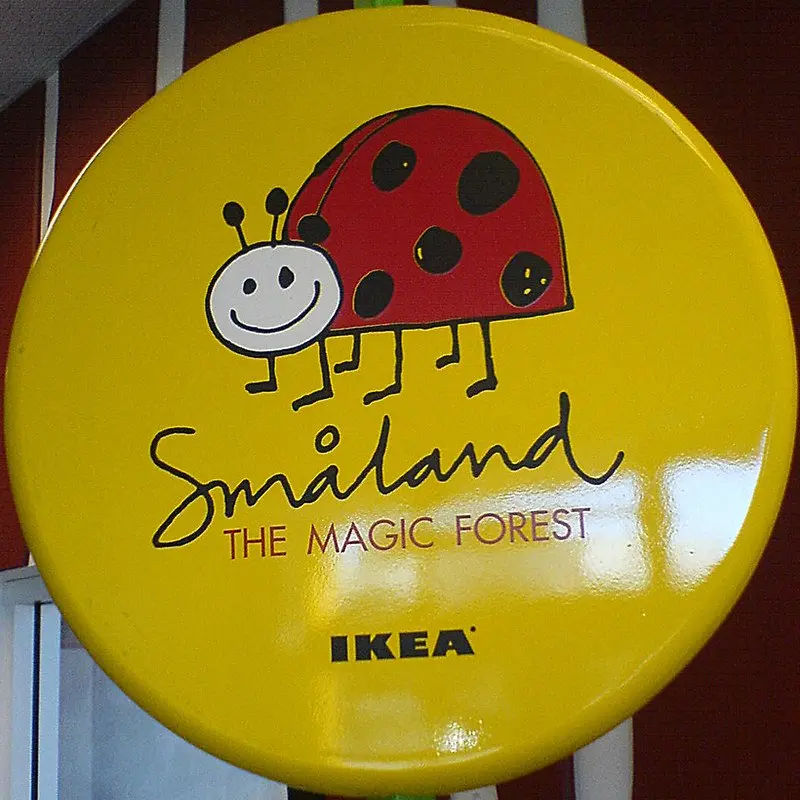 Image credit: Gareth Simpson via Flickr CC BY 2.0
Smaland for Kids
And yes, there's a SMALAND play area.
Book the kids in for a play, (check in store for the Ikea Smaland hours) then enjoy a stroll through this giant warehouse of Swedish furniture style.
Read all about the best things to do in Ikea Almhult store
Image credit: Mikael Good
No.4: Visit Åsens by village
Visit the town of Åsens by, a tiny village and cultural treasure near Jönköping to see:
the famous red Swedish cottages (painted with Falu red – the red paint originating from the copper mines in the Swedish City Falun)
pig houses
barns, and
see the hand built stone walls throughout the countryside
This is a part of Sweden you shouldn't miss.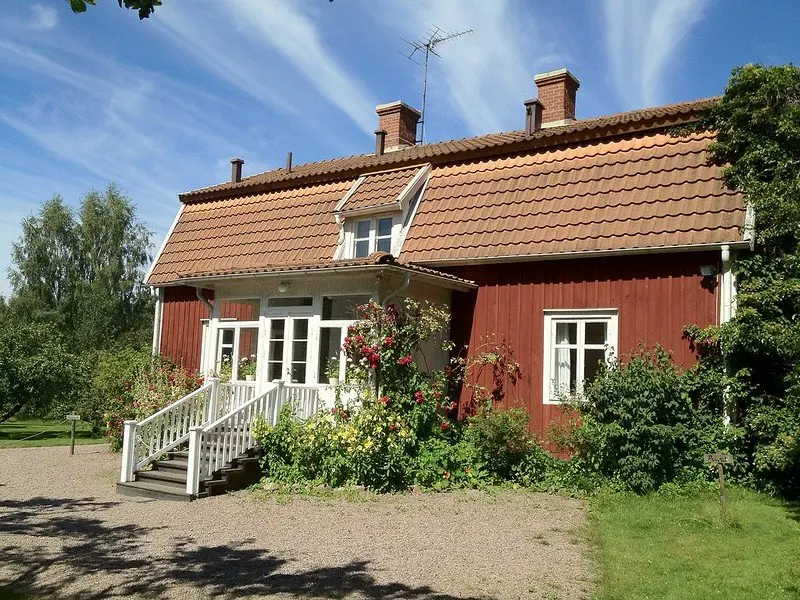 Image credit: Patrick Strandberg via Flickr CC BY SA-2.0
No.5: Astrid Lindgren's Näs – her childhood home
See Astrid Lindgren's childhood home, Näs (now a cultural centre in Vimmerby).
Astrid is the author of the much loved book, Pippi Longstocking.
Her childhood memories of growing up in Vimmerby shaped the story!

No.6: Astrid Lindgren's World theme park
Do not miss Astrid Lindgren's World theatre park- it's a fairy tale village.
It's the place to step into the footsteps of Astrid Lindgren's story worlds with shows, facades, lolly shops, and FUN for kids!
Look out for the characters of the stories roaming around in person.
There's a whole bunch of story settings brought to life, and LOTS of fun play areas for kids to explore including:
Noisy Village
The Tiny, Tiny Town
Troublemaker Street
The Birch Trees nature play area
The Mill water play area
No.7: Film Village Smaland
Stop by the Film Village Småland to see where the Emil of Lönneberga films were made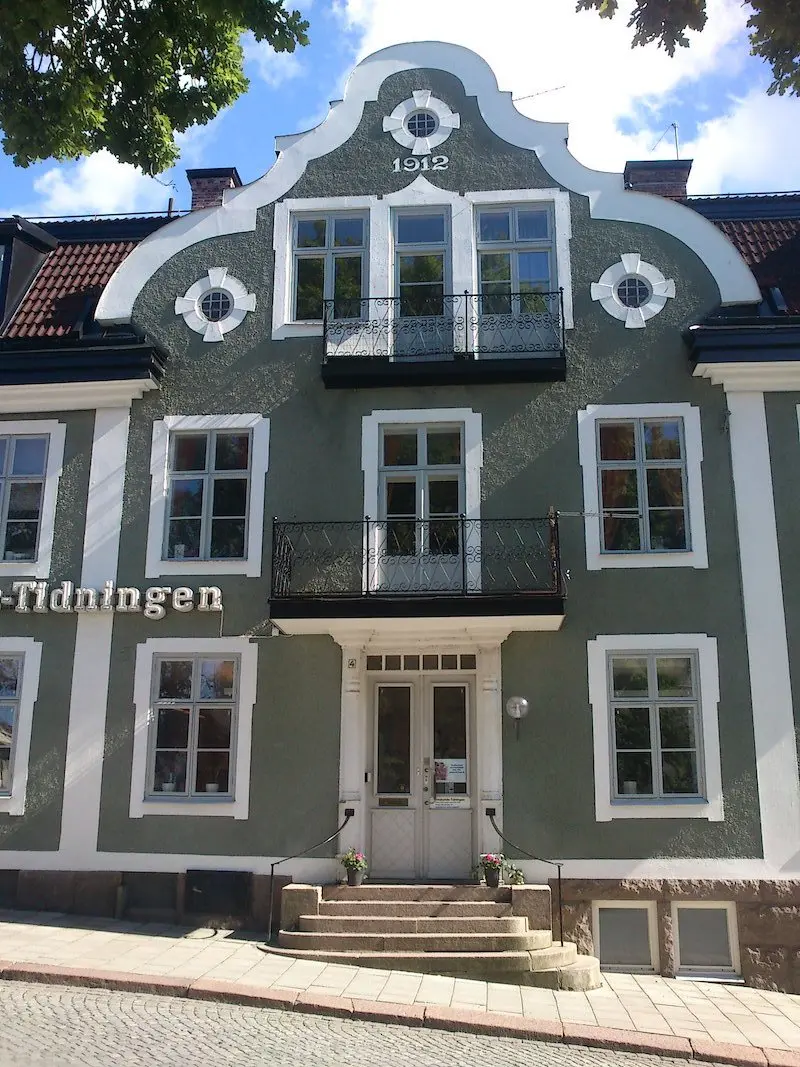 Image credit: Stillbild via Flickr CC BY SA-2.0
No.8: Eksjö
Visit Eksjö, the unique Swedish wooden town with gorgeous architecture and historical artefacts.
It's a top spot for a casual wander, souvenir shopping and eating.
No.9: Korrö craft village
Check out the Korrö craft village by the Ronneby stream to learn a little about handmade Swedish life of times gone by.
Gather authentic Swedish souvenirs here too.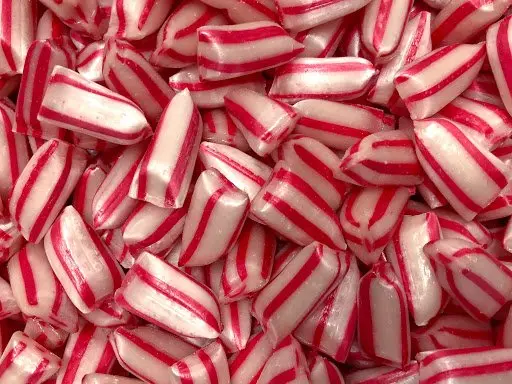 No.10: Eat traditional Swedish food
Don't miss a freshly baked Smaland Twist with butter and cheese!
Or if you prefer sweets, try the original red and white striped peppermint flavoured rock candy, straight from the original recipe by Amalia Eriksson
Her original store was in Granna (it's now a hotel) but you can find this style of Polkagris rock candy all throughout Gränna town. Some of the shops have demonstrations showing how this Swedish rock candy is made.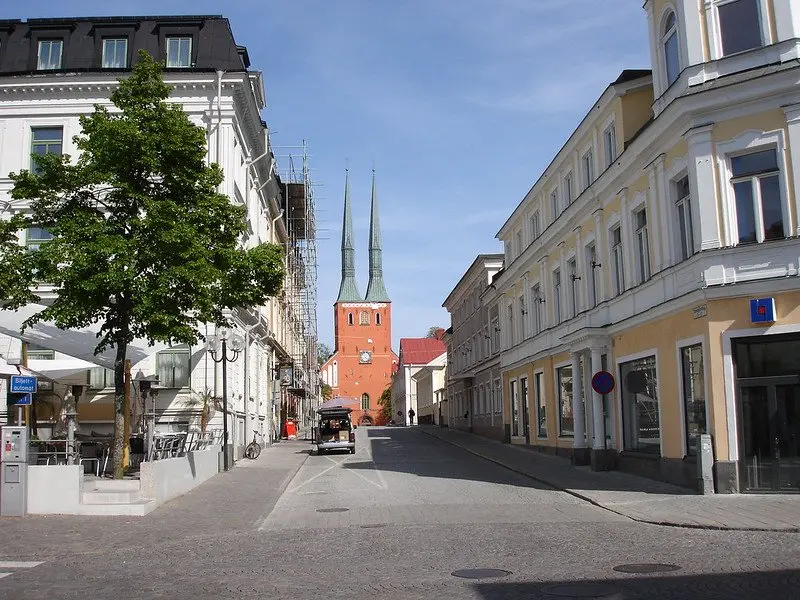 Image credit: Sk12 via Flickr CC BY 2.0
No.11: Växjö Sweden
Visit the town of Växjö to see:
the Vaxjo Cathedral
the ruins of Kronoberg castle and
the Swedish Glass museum
the Smålands Museum to see the stone age relics and the sword, dating back to the Viking era
Image credit: Smålandet Markaryds älgsafari
MORE THINGS TO DO IN SMÅLAND WITH KIDS
No.12: Smalandet Moose Safari Markaryd
Visit the Smalandest Moose Safari in Markaryd.
Drive through in your own car, or jump on the safari train to meet these curious creatures up close.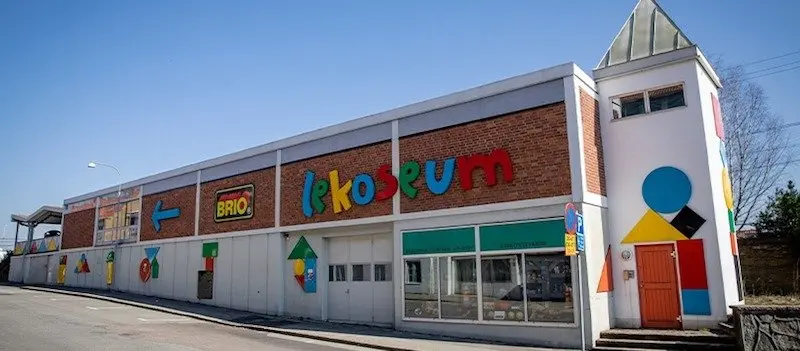 No.13: Lekoseum Osby
Don't forget to stop in at Lekoseum in Osby
This famous toy museum is home to the company BRIO toys (Brothers Ivarsson Osby).
Find exhibitions showing the legacy of these old wooden toys, plus check out:
the vintage Barbie dolls
Marklin trains, and
traditional Swedish games.
There's lots of hands on experiences over two levels, including "Santa's World" on the lower level where you'll see busy elves use machinery to make toys!
There's a top toy shop and cafe on site too.
Find it 50 metres from Osby train station.
Address: BRIOgatan 2, 283 31, Osby.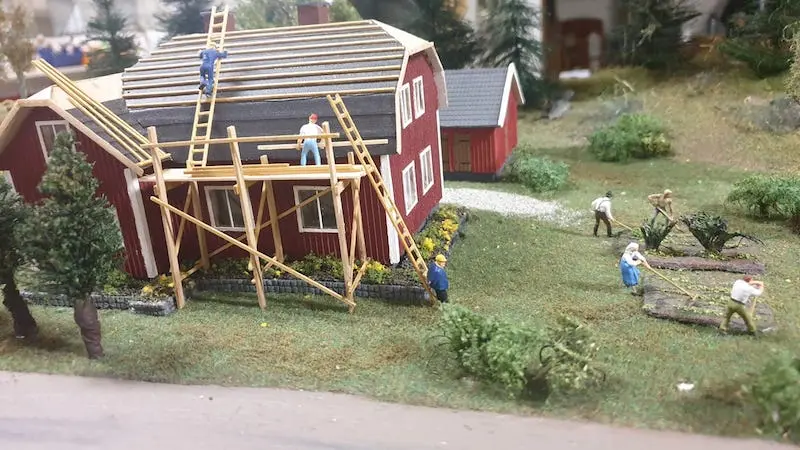 Image credit: Minivarlden
No.14: Mini Världen Ljungby (Mini World)
Another top spot is Mini Varlden, Sweden's most enjoyable Miniature World in Ljungby with a model railway.
There are LOTS of hands on activities for kids to do.
Tickets to Minivärlden Ljungby can only be bought at the entrance.
Rates Children 0 – 4 years, free Children 5 – 11 years, SEK 30 Children 12 – 99 years, SEK 100.
Address: Helsingborgsvägen 9, 341 33 Ljungby, Sverige
No.15: Husqvarna museum
Don't forget the Hasqvarna Museum in Jönköping.
Yes, it's the Husqvarna of chainsaws, lawn mowers and garden tractors fame.
See how they started (with weaponry), then explore their timeline of creations including household products including sewing machines, stoves, AND motorcycles!
As well as their range of garden machines, now beloved by people around the world.
No.16: Hiking and National Park exploring
If nature is your thing, visit Småland to see plenty of beautiful scenery, explore lake landscapes, go hiking, or book a stay at a mountain resort.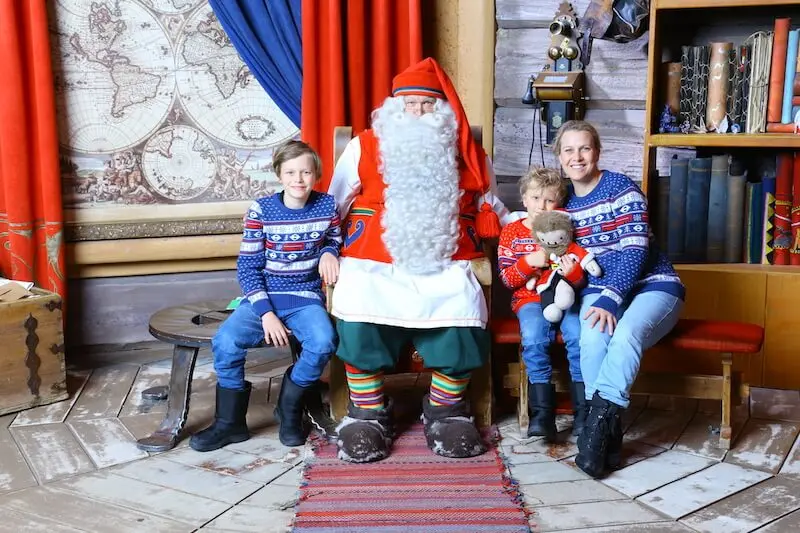 Looking for more things to do in Europe with kids?
There's more to Europe than Stockholm & Sweden. Make the most of your trip with these ideas.