INSIDE: Everything you need to know about the best things to do in Napier on holiday.
Napier, on the east coast of New Zealand's North Island, is known as the Art Deco centre of New Zealand.
This art deco city in NZ is part of Hawke's Bay, the warmest part of NZ all year round and while temperatures rarely rise above 26 degrees in summer (certainly NOT swimming weather for me), the sunny days and mild temps at that time of year make for a good family travel experience.
Hawke's Bay is the jewel of the North Island's wine country, and there's plenty of farmer's markets too.
The rich soil combined with the temperature creates the ideal growing conditions.
Most wineries are family friendly, and some even have PLAYGROUNDS!
Speaking of playgrounds, the playground on Marine Parade is worth a stop for the kids to let off steam.
This town is a happy laid back place to visit.
Read more here.
Disclosure: This article contains affiliate links. If you make a purchase after clicking on one of these links, we may receive a small commission at NO extra cost to you.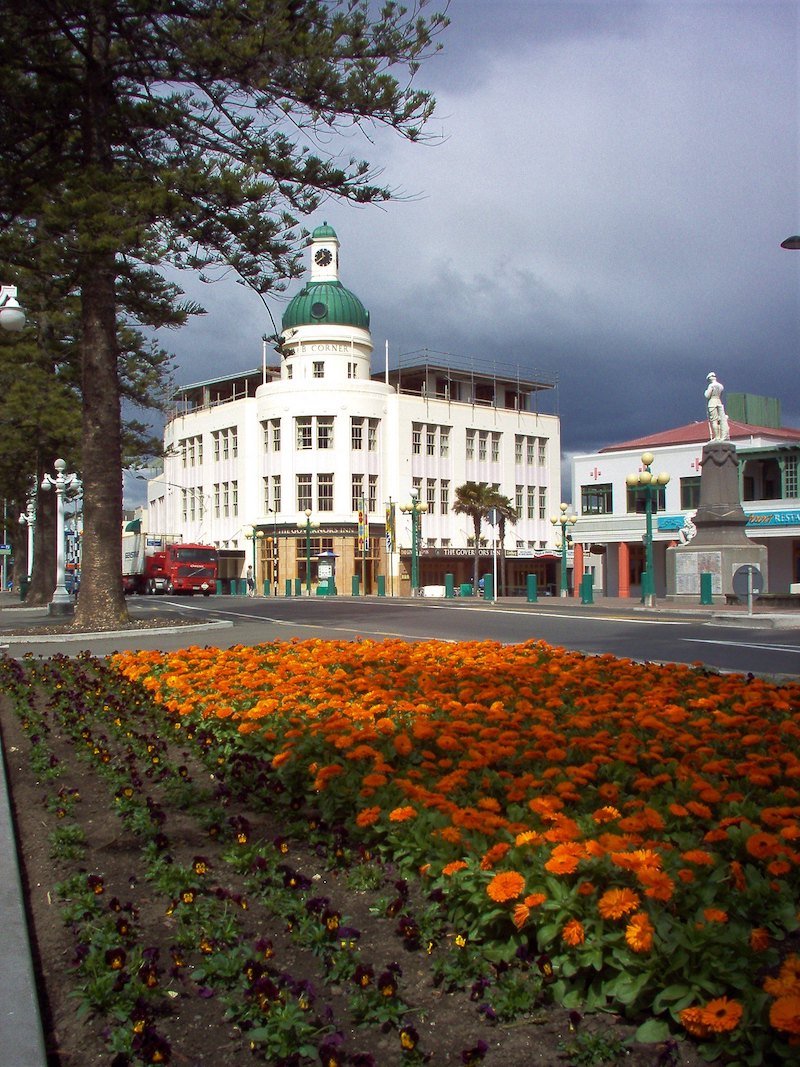 Image credit: Denisbin via Flickr CC BY ND 2.0
THE INSIDE SCOOP: Best Things to do in Napier New Zealand
Correct at time of publication on Roam the Gnome. Please check with venue for updates. We apologise in advance if there have been any changes we are unaware of. All prices in NZ dollars, unless otherwise stated
If you are looking for things to do in Napier and Hastings, start with a walk along Marine Parade – it's good for the soul.
It's the best place to start.
Check out the Soundshell, the National Aquarium of NZ, and treat yourself to a Danish Delight ice cream (near the playground) as you wander.
The main Art Deco hub runs off Tennyson street, so make your way there, and check out the vintage signage, shopfronts, and cute shops that line the streets.
Centennial Garden is a beautiful spot for a picnic.
For those who are wondering about what to do in Napier for free, or things to do in Napier at night, take a look below.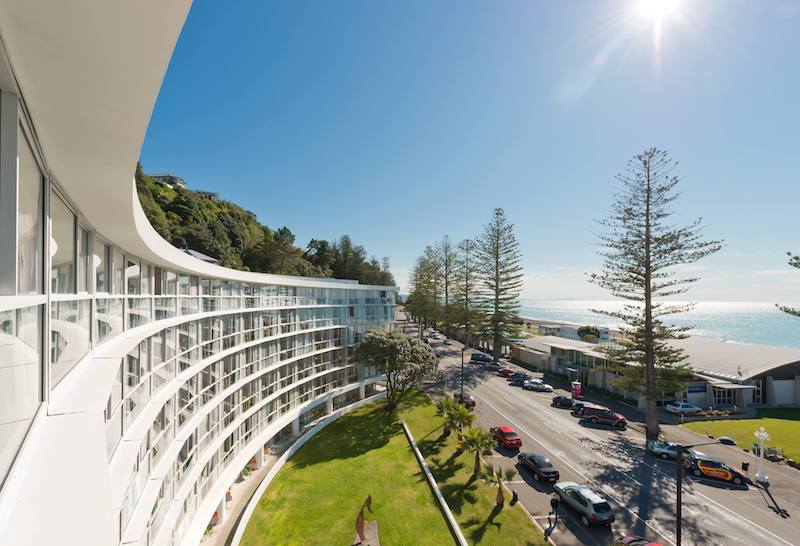 Image credit: Scenic Hotel Te Pania Napier
Napier Hotels for Kids
Looking for a family hotel in Napier?
No.1: Scenic Hotel Te Pania
Our top pick for style is Scenic Hotel Te Pania, across the road from the Napier Ocean Spa and pools.
Bright, stylish rooms, plus there's a casual restaurant on site.
Rooms face the ocean, and the tree lined walking track.
It's good and central, close to everything.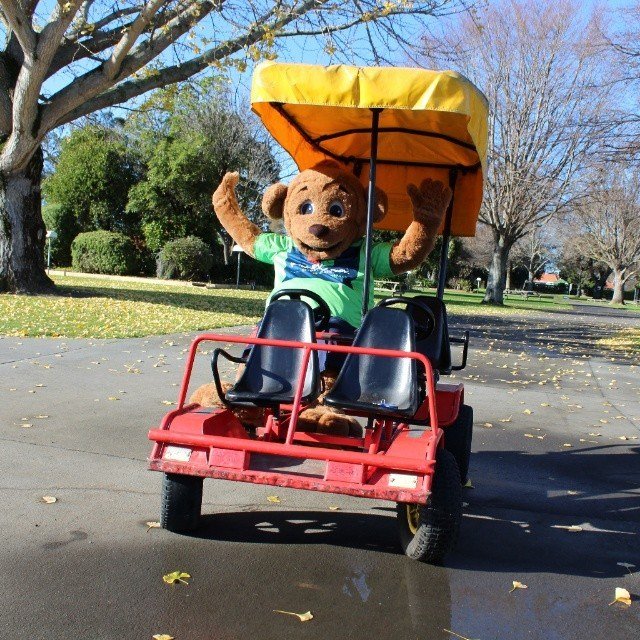 Image credit: Kennedy Park Family Resort Napier
No.2: Kennedy Park Resort Napier
Second on the list for family travel in Napier, is the Kennedy Park resort.
There's TWO pools here, one with water sprays to swim under.
Check latest prices here, one next to the other.
Plus a playground and a jumping pillow for kids.
And a lifesize game of chess too.
Families can hire the go carts to drive around the village!
Top accommodation in Napier for kids, that's for sure.
No.2: Edgewater Motor Lodge
Edgewater Motor Inn is a relaxed spot for kids and families to stay in town.
There's a pool, if the kids are game enough to deal with the freezing temperature of the water!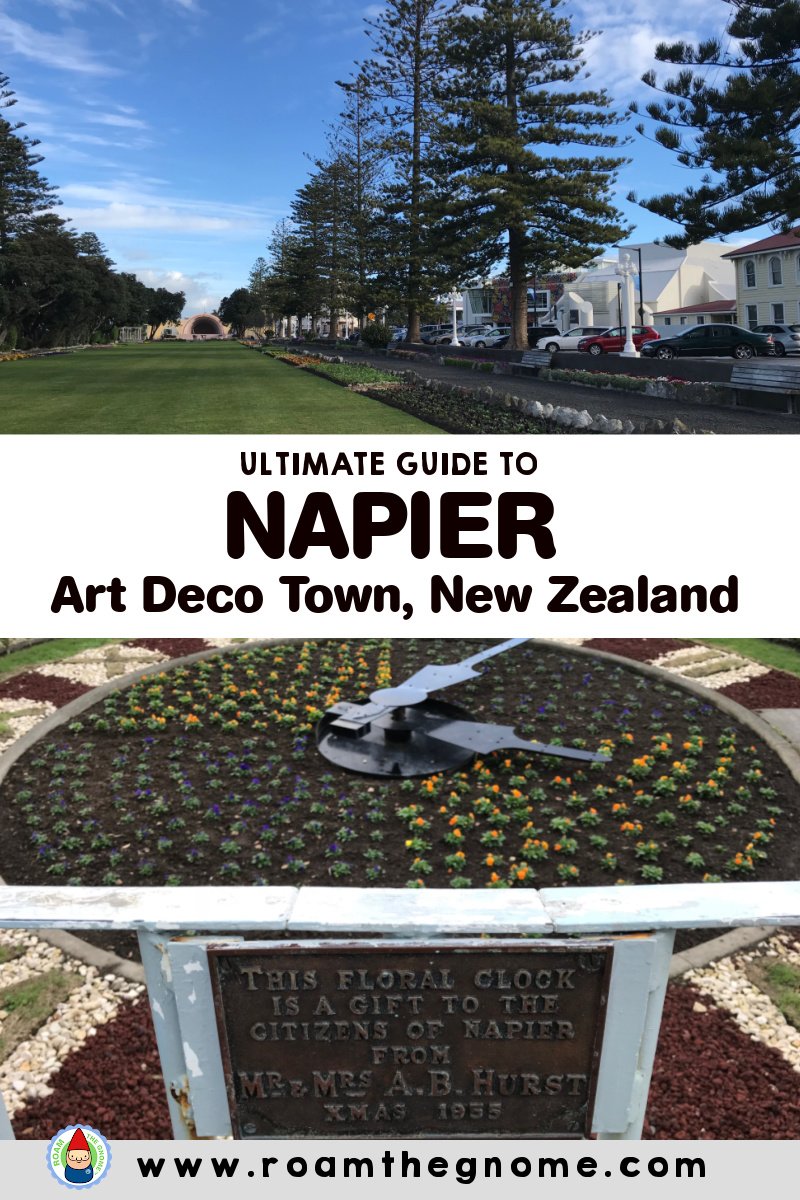 Napier Art Deco Architecture
Visit Napier city centre to check out all the art deco buildings.
On a budget? You can book a 2.5 hour walking tour to dig deeper into the history of this beautiful architecture.
The local volunteer guide will also give you insights about the devastating earthquake of 1931.
Hot tip: Book a vintage car tour, and explore the art deco town in style.
Napier Art Deco Festival!
There's an Art Deco weekend on the calendar each year too.
The Napier art deco weekend is held in mid February each year over 5 days, with an audience of over 40,000 visitors from around the country and the world.
Join in one or more of the 200 events, including:
fun themed entertainment
outdoor concerts
vintage car parades
Art Deco style fashions shows
unique dining experiences
great Gatsby picnics, and so much more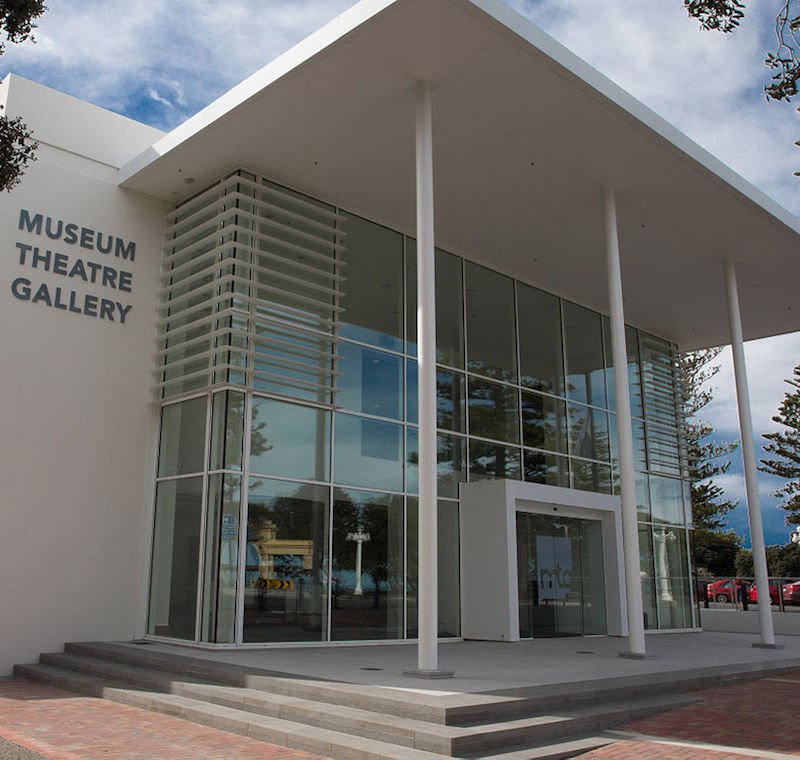 Image credit: Speggle 22 via Wikipedia CC BY SA 3.0
Best Napier Shopping
The best shopping starts at the MTG Hawkes Bay.
Their curated store has all the best New Zealand souvenirs from around the country, with a selection of locally based Kiwi souvenirs, books, fashion and jewellery too.
Next, head down the pedestrian AND car friendly Emerson street in the centre of town.
You'll find most of your favourite high street stores including:
Whitcoulls (books, stationery, games, puzzles and greeting cards)
Glassons fashion
Typo
Strandbags
unique boutiques
Kiwiana souvenir shops, and
homewares and kitchen stores.
There's something for everyone.
Hot tip: Check this guide to find art, craft, wool, and fabric shops Napier style. (Use the contents menu to jump to Napier shops)
Napier Farmers Market
Be sure to check out the Napier Farmer's Market for handmade soap, beeswax wraps, knitted goods, & more, as well as delicious ready to eat food.
Napier Sunday market
Visit the market next to Ocean Spa to find over 60 stalls selling bric a brac, quirky collectibles, fruit and veg, handcrafted food products, homewares, handmade crafts, and more.
Open 8am to 1pm.
---
RELATED: Everything you need to buy in New Zealand for souvenirs & gifts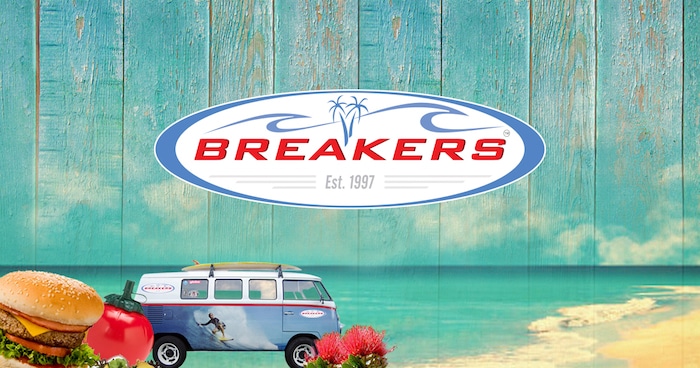 Eating out in Napier with kids
Breakers Napier is THE family restaurant in Napier.
This chain restaurants serves good wholesome food at affordable prices.
There's a kids menu, and the last time we visited on a Friday night, my boys were invited to join a local birthday party hosted by the staff with balloons and games!
You must also try an authentic fish and chippy shop for potato cakes (potato fritters) or whitebait fritters, or kumara chips.
You can also try:
Hunger Monger seafood at 129 Marine Parade, Napier South
Milk and Honey restaurant at 10 Hardinge Road, Ahuriri,
Master of India Napier (always happy for kids to visit) at 78 Bridge Street, Ahuriri
Drift Cafe restaurant and bar at 311 Marine Parade, Napier South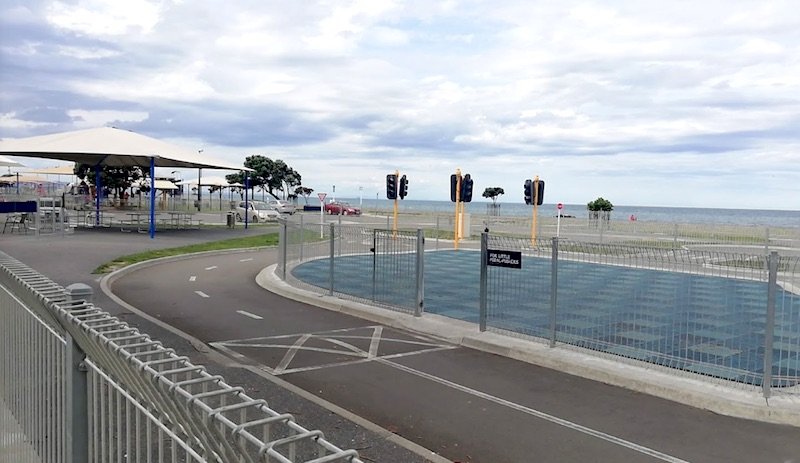 Image credit: Shamon Khan
Fun Things to Do in Hawkes' Bay with Kids
Before you go any further, read our guide to the best Napier Attractions for Kids and Families
There's 39 fun activities in Napier for families to explore including art galleries, walking tours, a self guided prison tour, indoor activities, bike tracks AND a bike pump track.
Hot tip: See the Gannet colony on a tour of Cape Kidnappers (one of the only places in the world you can do this)
Things to do in Napier for FREE?
Lots of these Napier tourist attractions in the link above are FREE!
You can also:
head uphill for an outstanding view of the Napier Port
go bird watching at the Westshore Wildlife reserve
see the Tom Parker fountain on Marine Parade
listen to the Napier Carillon bells toll
wander the Kennedy Park Rose garden
climb Te Mata peak for awesome views of Hawke's Bay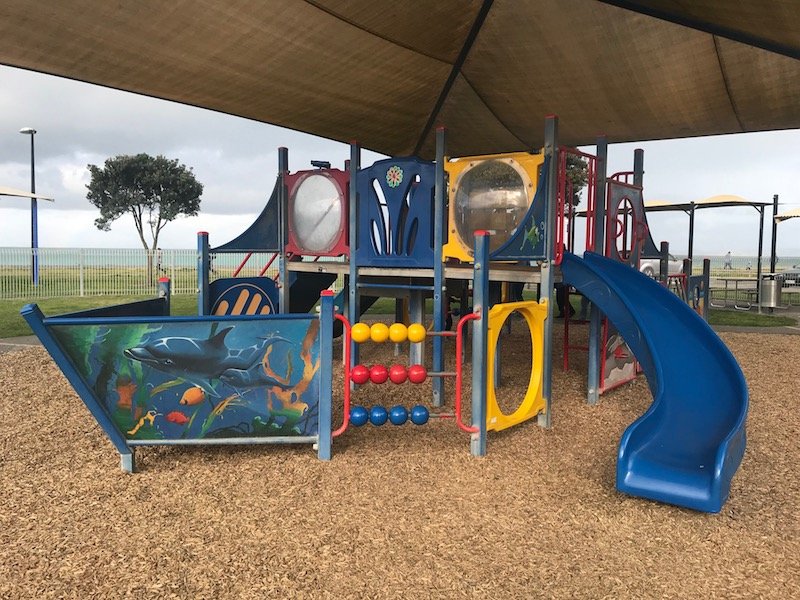 Napier Playgrounds
This is another of the kids activities Napier style.
The BEST playground in town has a view of the ocean!
But even better than that, it has sectioned areas for toddlers, middle sized kids, AND teenagers.
It's very 'Goldilocks and the Three Bears' inspired, don't you think? – there's something just right for everyone.
We adore this playground, and particularly the fenced zones which help you to keep an eye on inquisitive toddlers while giving the older kids a challenge!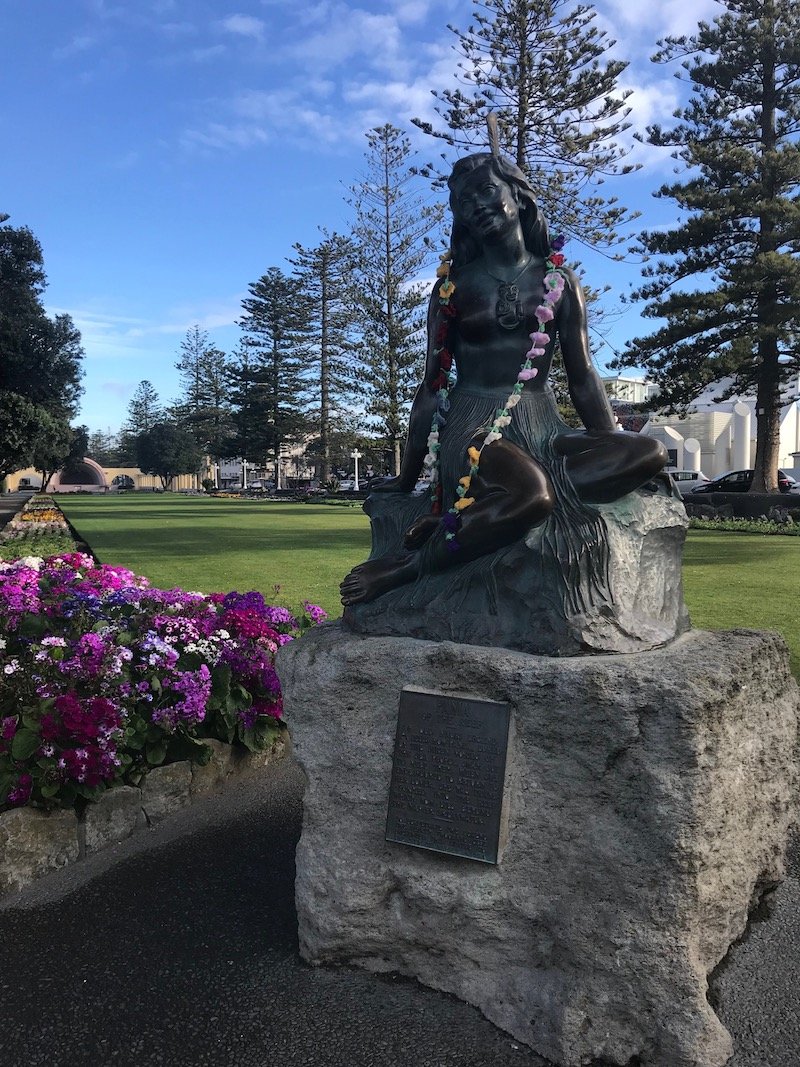 Culture and Museums in Napier for Kids
Did you know the seaside spot has its' very own Little Mermaid story?
You can see the Pania of the Reef Napier sculpture on Marine Parade, and read more about her too.
The MTG Hawke's Bay museum has an exhibition that shares details of the Great Earthquake that hit this lovely town, and how they rebuilt the city as an Art Deco town after so much devastation.
You can also visit:
The Faraday Centre science museum
Gypsy Rose Tea Museum
Mary O'Neill doll Museum at 84 Shakespeare Road
The Customshouse Museum at 4196365, Ahuriri
MORE Napier Attractions for Arty Folk
You can also visit these art galleries in town:
Creative Arts art gallery at 16 Byron St
Tennyson Gallery at 63 Hastings Street
Quay Gallery at 6 Hastings st
Napier Contemporary art space at 6A Hastings st.
Hastings City Art gallery
Hastings street is the place to be.
Waiohiki Creative Arts Village
Hot tip: Stop by the Waiohiki Creative arts village cooperative to see works by local artists who band together to create this gallery space.
You'll find wood carvings, ceramics, pottery, artwork, and crafts on display at this arts hub in Taradale.
Location is 1184 Korokipo Road
Napier Map
Looking for More Things to Do in New Zealand for Kids?
Click the blue links for more New Zealand tips below.