INSIDE: Roam the Gnomes Guide to the Best Things to do in Hong Kong with kids.
Planning a visit to Hong Kong with kids?
Check out this big list of fun Hong Kong family attractions.
We've rounded up the 18 best things to do with kids in Hong Kong, including:
SUPER DOOPER fun hotels to stay in Hong Kong with kids
fun encounters to see animals in Hong Kong
Hong Kong playgrounds and indoor play spaces (for those necessary moments of catching your breath when you travel with kids)
Hong Kong foodie fun adventures, and
a very cool SNOOPY theme park!
Because in our books, you can't visit Hong Kong without at least one encounter with the cutest dog in the world.
We've done the leg work and written this list we wanted to find!
Hot tip: Hong Kong with kids is super fun! Take a look below.
Disclosure: This article contains affiliate links. If you make a purchase after clicking on one of these links, we may receive a small commission at NO extra cost to you.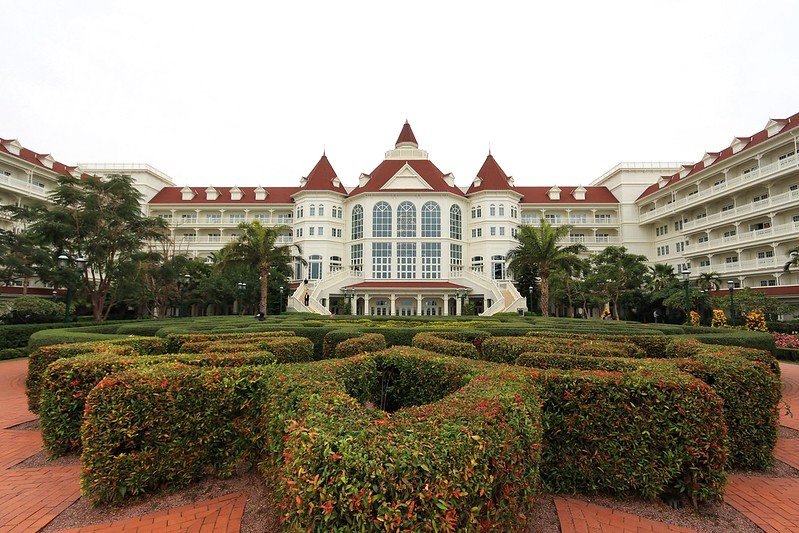 Image credit: Dennis Wong via Flickr CC BY-2.0
No.1: Best Place to Stay in Hong Kong With Kids
These are our two favorite Hong Kong hotels for families.
Need to find your way there? Pick up 4G pocket wifi device at the Hong Kong international airport.
Hong Kong Disneyland Hotel
Because we'd love Mickey or Minnie to pop in and wish us goodnight!
Or read us a bedtime story while tucked up in our cosy abode.
Yes, they can, and they do!
All the details of this extraordinary opportunity at Hong Kong Disneyland hotel right here.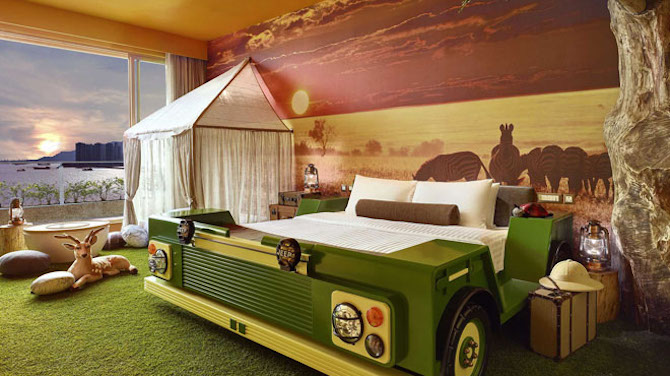 Gold Coast Hotel Hong Kong
Just beyond the Hong Kong CBD, and far enough away to help you catch your breath, the real treasure of this Gold Coast hotel is the THEMED family rooms.
At this Hong Kong hotel, kids can stay in:
a pirate themed room
a jungle explorer safari room (pictured above)
a racing car themed hotel room
a carnival circus room
These themed rooms make this hotel the best hotel to stay in Hong Kong with kids!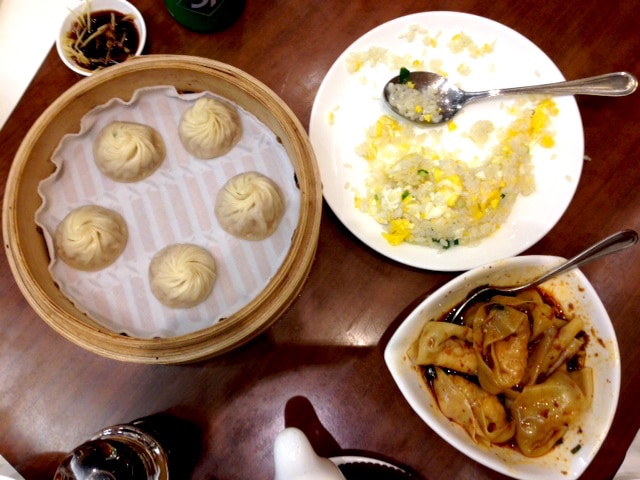 No.2: Where to Eat in Hong Kong with Kids? Din Tai Fung Hong Kong!
Do not miss eating at this kid-friendly dumpling and dim-sum restaurant.
If you've ever thought Michelin-starred food was WAYYYYYY beyond your budget, think again.
Jump in the closest Red Taxi you can find to land a table here.
Din Tai Fung has a well-deserved reputation for fresh, fast and fabulous food.
Kids are more than welcome, and they will LOVE watching the chefs through the window as they make all the delicious dumplings.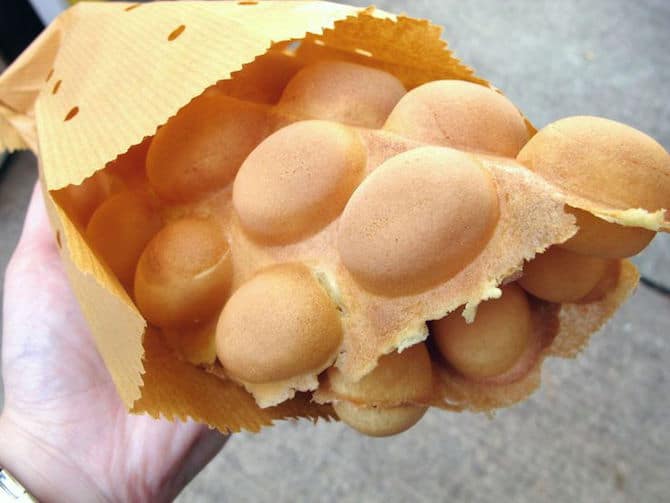 No.3: Big List of Must Try Food in Hong Kong
Here is the complete guide to the best Hong Kong foods to hunt for on your famous foods in Hong Kong treasure hunt.
The Top 10 Foods to try when you are in Hong Kong.
Don't miss:
Mini egg puffs
congee
mango pudding
Embrace your inner foodie with these fun foods to try in Hong Kong.
---
RELATED: Book this Hong Kong Street Food Tour (Great for families)
Image credit: William Murphy via Flickr CC BY-SA 2.0
No.4: Pizza Express Hong Kong
When the kids have had enough of dumplings, noodles, wontons, and dim sum, visit Pizza Express.
There's 13 outlets across Hong Kong alone.
It's a step above your normal pizza shop, with plenty of variety on the menu and GOOD quality food.
There's even an outlet at the airport for pre-flight dinner options.
The activity books for kids to do while waiting for the order to arrive will keep them amused for ages too!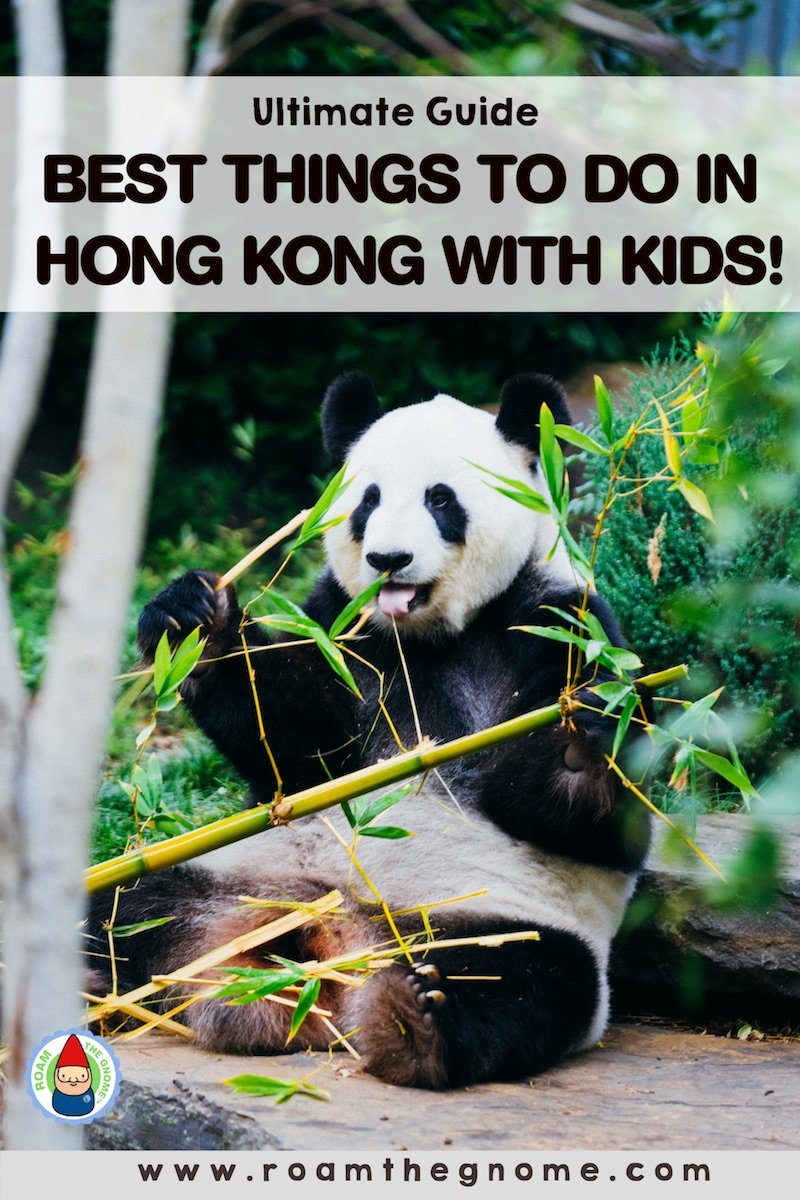 BEST THINGS TO DO IN HONG KONG WITH KIDS
No.5: Ocean Parks Hong Kong.
Ocean Park Hong Kong recently appeared in the TOP TEN most visited theme parks IN THE WORLD!
So that says something, doesn't it.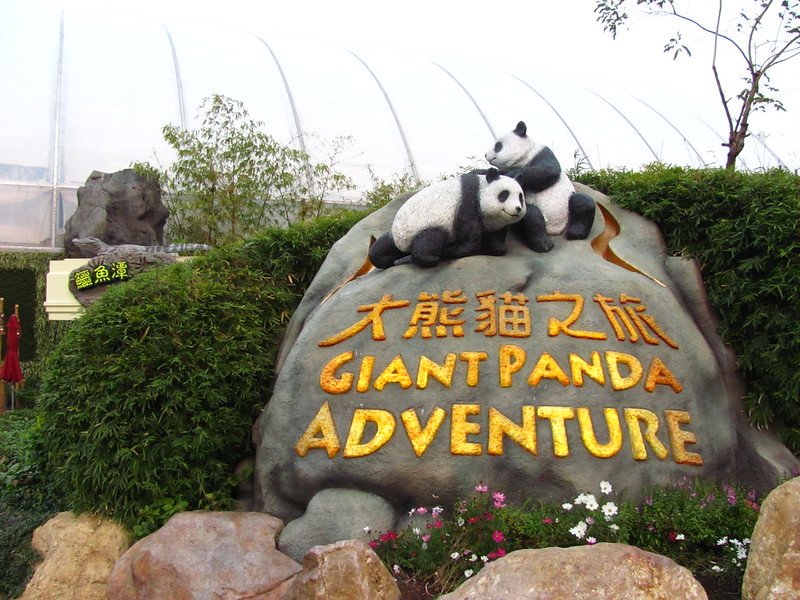 Image credit: Jeremy Thompson via Flickr CC BY-2.0
See Pandas in Hong Kong
Pop a visit on your itinerary today, and head straight to the Giant Panda Adventure!
If you want to know how toddlers will fare there, read our story.
Hot tip: There's plenty of stuff to do at Ocean Park for little kids!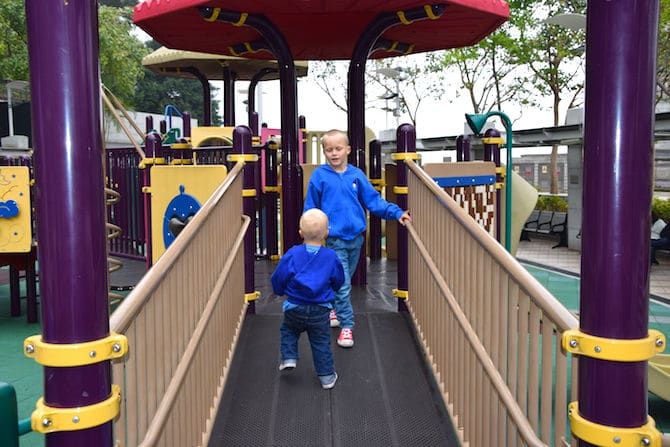 No. 6: Middle Road Playground in Hong Kong.
The chances of finding fun playgrounds in Hong Kong are pretty dismal.
Hong Kong has not yet caught up with the modern and evolving playground ethos of '"nature play".
To date, there's no architecturally designed playgrounds for kids in Hong Kong.
But if you are in Tsim Sha Tsui, this playground will shine like a golden orb beckoning your kids for an hour or two!
It's close to the Science Museum, just a five minute walk away.
Get specific details about the location of this Hong Kong playground, and how to get there by clicking here.
Find it at the top of a bunch of stairs.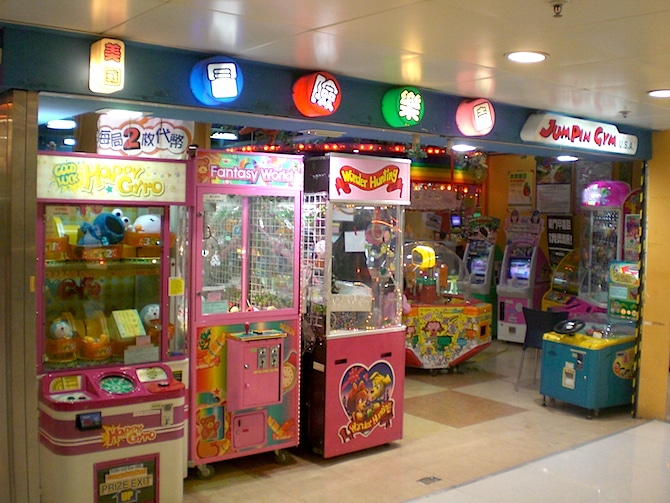 No.7: Jumping Gym Indoor Playground Hong Kong
Hong Kong weather a little shabby?
Need to find something indoors to do?
Then do as Hong Kong locals with kids do and visit one of 32 indoor playground outlets of Jumpin Gym USA in Hong Kong.
Jumpin' Gym is a USA chain of indoor games arcades & indoor playgrounds.
There's:
a games hall with arcade games
a workshop space
rides
indoor playground facilities.
This Hong Kong indoor amusement park business is cheap to visit, colourful, noisy, and fun!
Read all about it and find the details of which branches of Jumpin' Gym we prefer right here.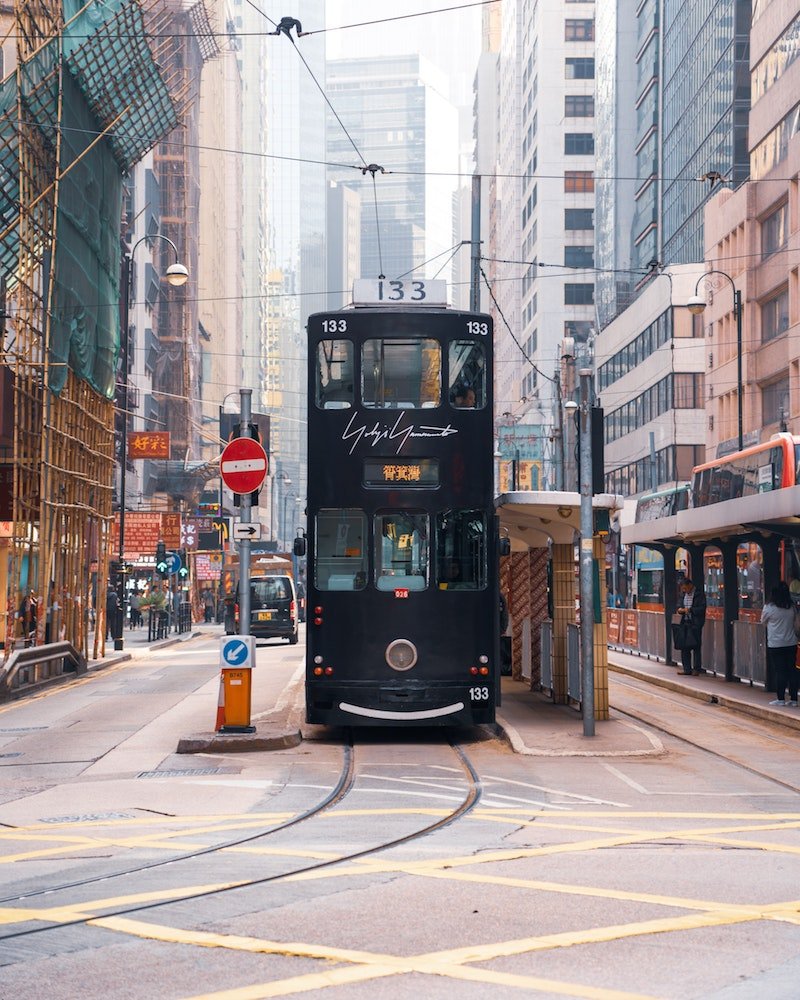 Image credit: Nathan Härdig from Pexels CC0
No.8: Ride all the Unique Hong Kong Public Transport vehicles!
Hong Kong is a transport lovers dream town!
If your kids love to explore and try out all the different types of planes, trains and automobiles they can find in a new country, then answer this question.
How many different types of public transport in Hong Kong can you name?
The answer is LOTS and LOTS.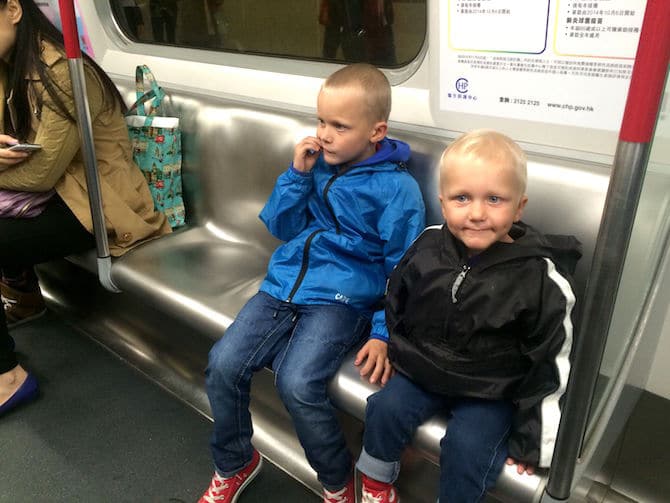 1 day in Hong Kong itinerary for kids
Here's a fun one day Hong Kong itinerary for kids.
Catch all the different types of Hong Kong transport in one day!
Pack your bag with snacks and water, then ready, set, go!
Follow this guide:
Top 10 Hong Kong Public Tranport vehicles to ride
Hot tip: One of our suggestions is the world's longest undercover escalator!
We bet your kids will love this as much as mine did.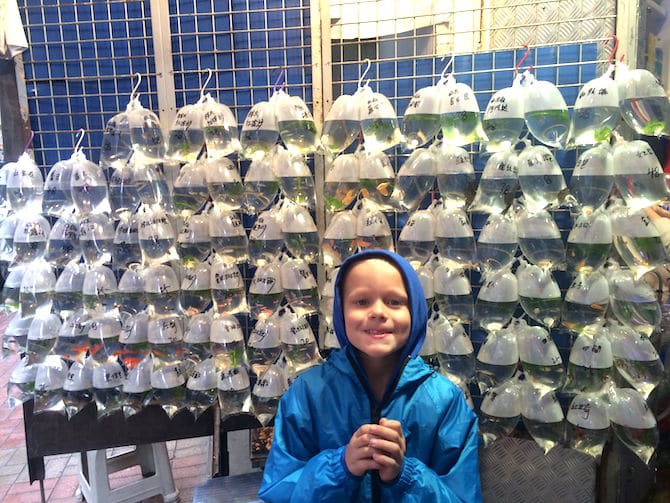 No.9: Hong Kong Goldfish Market in Kowloon
Ned and Jack's FAVOURITE thing to do in Hong Kong with Kids was to visit the HK Goldfish Market on Tung Choi Street North in Mong Kok, Kowloon.
A visit to the Hong Kong Goldfish Market is quite the eye opener, and a chance to learn about Hong Kong customs and how national holidays are celebrated.
Did you know the Goldfish Market in Hong Kong does not just have goldfish?
We were extremely surprised to see all the different types of animals there.
If your kids love fish, reptiles and turtles, put it on your itinerary.
For all the details of how to get there, the market opening times etc, click here.
No.10: Yuen Po Street Bird Garden in Mong Kok, Kowloon
If you've headed to the Goldfish market, head to Yuen Po Bird Gardens next.
(Also called the Yuen Po Bird Market, or the Yuen Po Street Bird Garden, whichever you prefer.)
My boys were fascinated by the old men wandering around with their songbirds, or tending to their birds in cages.
Roam the Gnome and I enjoyed a moment's peace and quiet, while the boys took this all in.
The Yuen Po market is walking distance from the HK Goldfish market, so it's worth a quick look.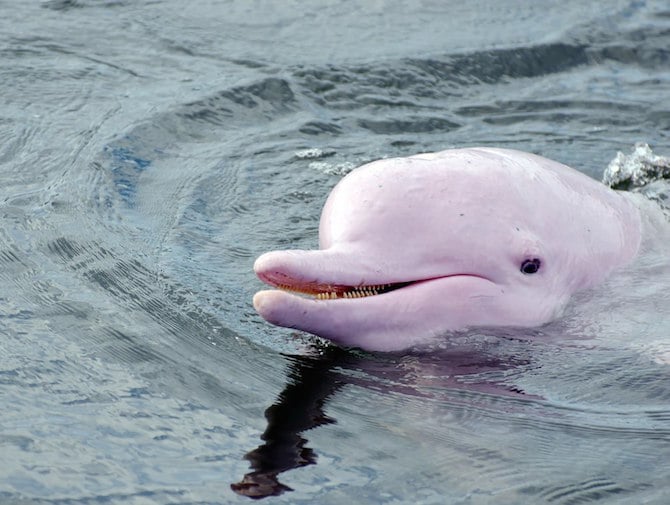 No.11: Pink Dolphins in Hong Kong
If we had KNOWN about the pink dolphins you can see in Hong Kong Harbour, we would've have been on a boat quick smart.
This pink dolphins boat ride in Hong Kong is a one-of-a-kind experience, and may not be around much longer if pollution continues to poison the waters, so don't delay.
Best thing is, if you don't see a pink dolphin on your cruise, you can sail for a second time for FREE so you do!
Read all about it here.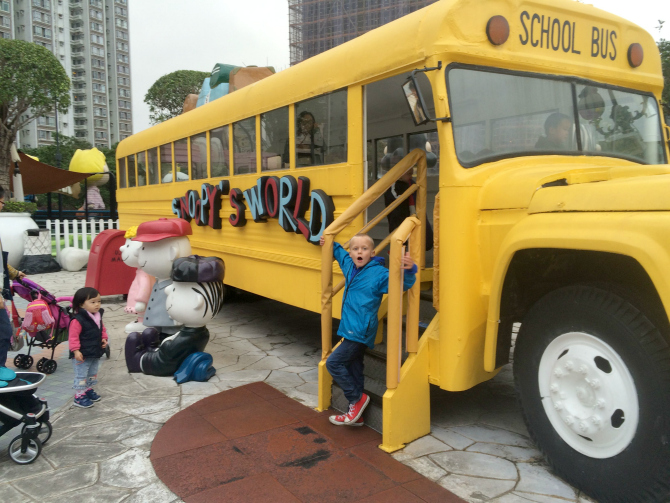 No.12: Pop by Snoopy World Hong Kong
We can't let you leave Hong Kong without a visit to Snoopy World, a FREE Snoopy-themed playground & park adventure place with a couple of little rides, and a giant playground.
It's right next to a popular Hong Kong shopping mall, so if one of you is happy to man the fort, perhaps the other can pop off for a little retail therapy.
Want the insider knowledge about this place?
Click here for our guide to Snoopy World Hong Kong theme park.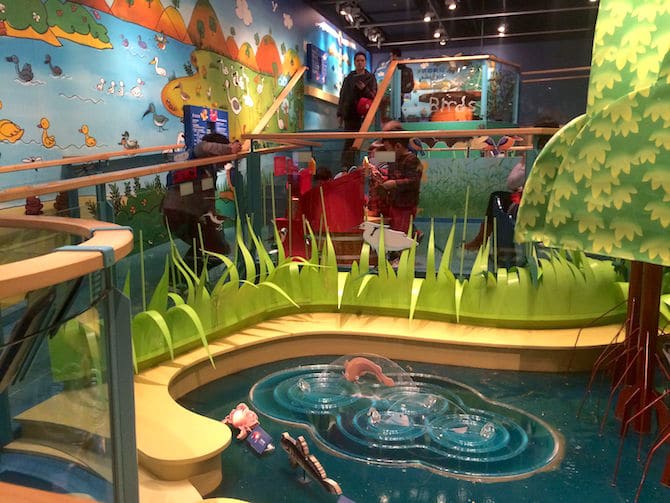 No.13: Hong Kong Heritage Museum Children's Gallery
The Children's Discovery Gallery at the Hong Kong Heritage Museum is SUPER FUN!
Hands on, and totally interactive, this was one of the best child-friendly places we've found in Hong Kong full stop.
Most likely, you'll be the only foreigners there as it's a bit of a hidden secret for travellers.
If your kids are under 10, they'll love it.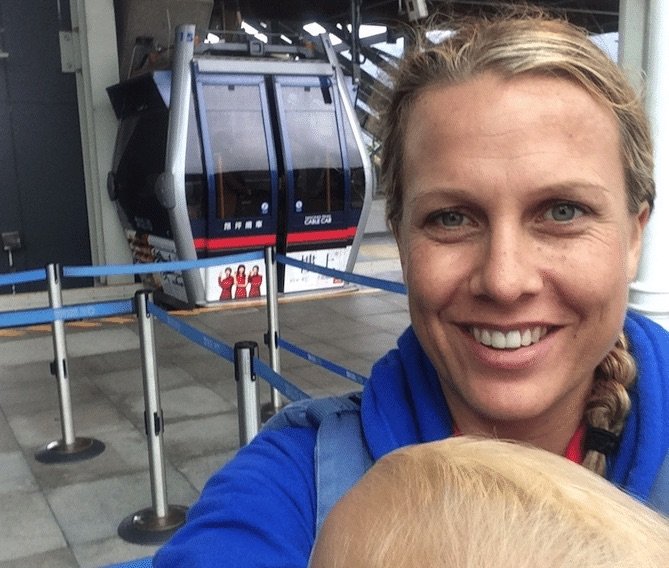 No.14: Ngong Ping 360 Cable Car and Giant Buddha Hong Kong
If it's a nice clear day, ride the Ngong Ping Crystal Cabin at Ngong Ping 360, all the way up to Ngong Ping village and the Giant Buddha of Hong Kong.
Actually, our tip is to spring for the Ngong Ping Crystal Car in at least one direction.
The kids will be beside themselves looking down through a crystal clear floor to the tree canopies below.
The views from the Ngong Ping crystal cabin are spectacular!
There's a gigantic outlet mall right next to the Lower Terminus too, so those who like to shop might like to plan ahead and save a little extra time on the return journey before heading home, bags in hand.
Hot tip: Buy a Hong Kong Pass for discounted entry to the Big Buddha and Ngong Ping (& Ocean Park, Peak Tram, Star Ferry & more Hong Kong tourist attractions)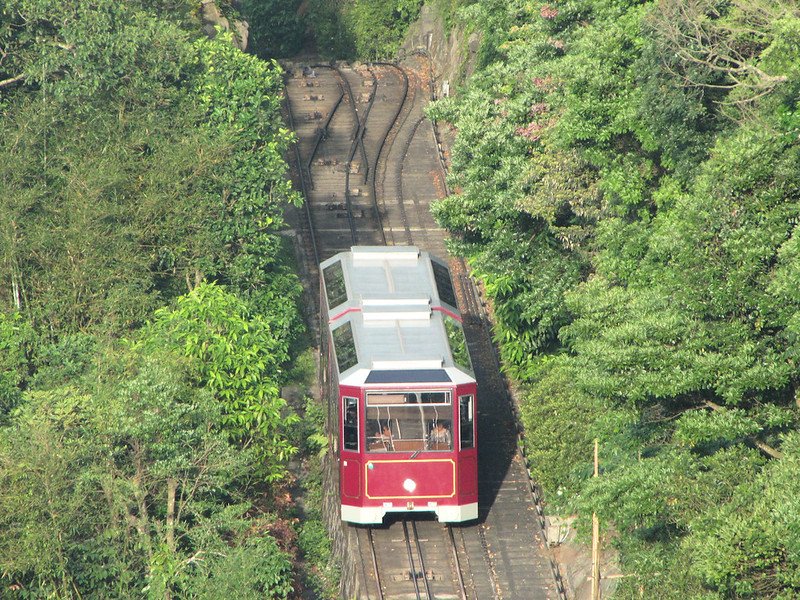 Image credit: Wired Tourist via Flickr CC BY-2.0
No.15: Ride the Peak Tramways Hong Kong
Ride the Funicular Tram up to the top of Victoria Peak and take in the views of the city and harbour.
At the top of the Hong Kong funicular railway, there's:
The nature trails at the top of Victorias Peak in Hong Kong are also quite something.
Let the kids stretch their legs with a hop, skip, and a jump around the walking trails.
Pray for fresh clean air!
Image credit: Michael McComb via Flickr CC BY-2.0
No.16: Toy Street Hong Kong
Visit a TOY market street in Hong Kong.
Give the kids a small budget of their own to spend, and set them (kind of) free!
Like, not literally free to roam about, as it's busy here and you'll lose them!
But FREE to buy their toy of choice, and spend their money how they wish.
Toy street in Hong Kong is junky, and full of plastic crap, but oh how exhilarating it is to buy colourful fun toy stuff, every now and then!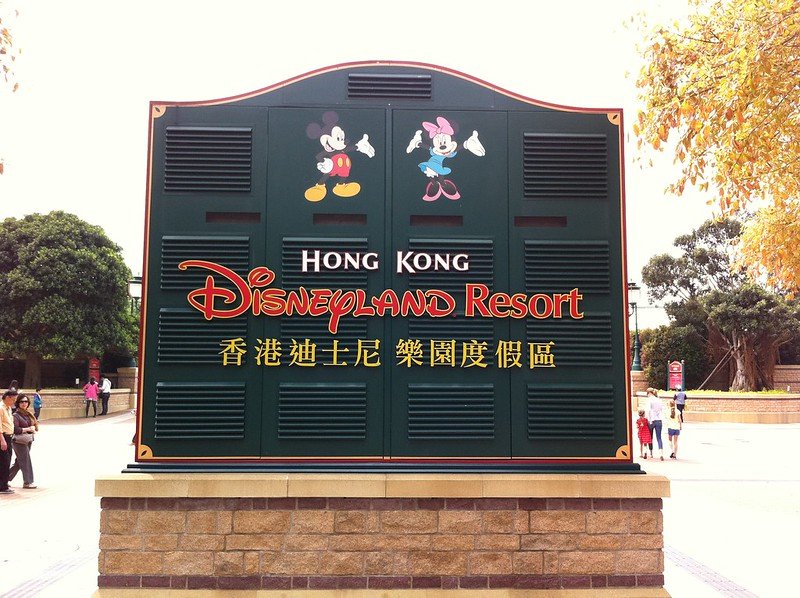 Image credit: Marc van der Chijs via Flickr CC BY-ND 2.0
MORE Hong Kong Family Attractions
Here's a few more fun Hong Kong pints of interest and Hong Kong tourist attractions.
These three are some of the best tings to do in Hong Kong with small children.
Hong Kong Disneyland
Do we need say more?
If you are visiting Hong Kong, Hong Kong Disney is a family friendly outing that is a must.
Hong Kong Science Museum
There's a fabulous children's gallery on the top floor of the Science Museum in Hong Kong.
Plus, loads of interactive games, workshops, and activities too.
Hong Kong Park Botanical Gardens & Zoo
This is the place to escape the hustle and bustle. You'll spy monkeys, lizards and birds too.
Plus, there's one of Hong Kong's best outdoor playgrounds in amongst the greenery.

Looking for More Things to Do in Hong Kong with Kids?
Correct at time of publication on Roam the Gnome. Please check with venue for updates. We apologise in advance if there have been any changes we are unaware of. All prices in US dollars, unless otherwise stated
Click the blue links below for more Hong Kong attractions on Hong Kong Island, Kowloon, The New Territories and Lantau Island