INSIDE: All you need to know about finding the best playgrounds in NYC.
What are the best New York playgrounds for kids?
Where are they?
New York City playgrounds abound, especially on the outskirts of Manhattan along the Hudson River Greenway, and in Central Park.
We've got all the details.
You'll find:
energetic parks for kids who like parkour & climbing
NYC playgrounds for children who love to daydream and build their own kinds of imaginative worlds, and
New York nature playgrounds too.
Check out the best NYC playgrounds in our guide below.
Disclosure: This article contains affiliate links. If you make a purchase after clicking on one of these links, we may receive a small commission at NO extra cost to you. Main image credit: Andreas M on Unsplash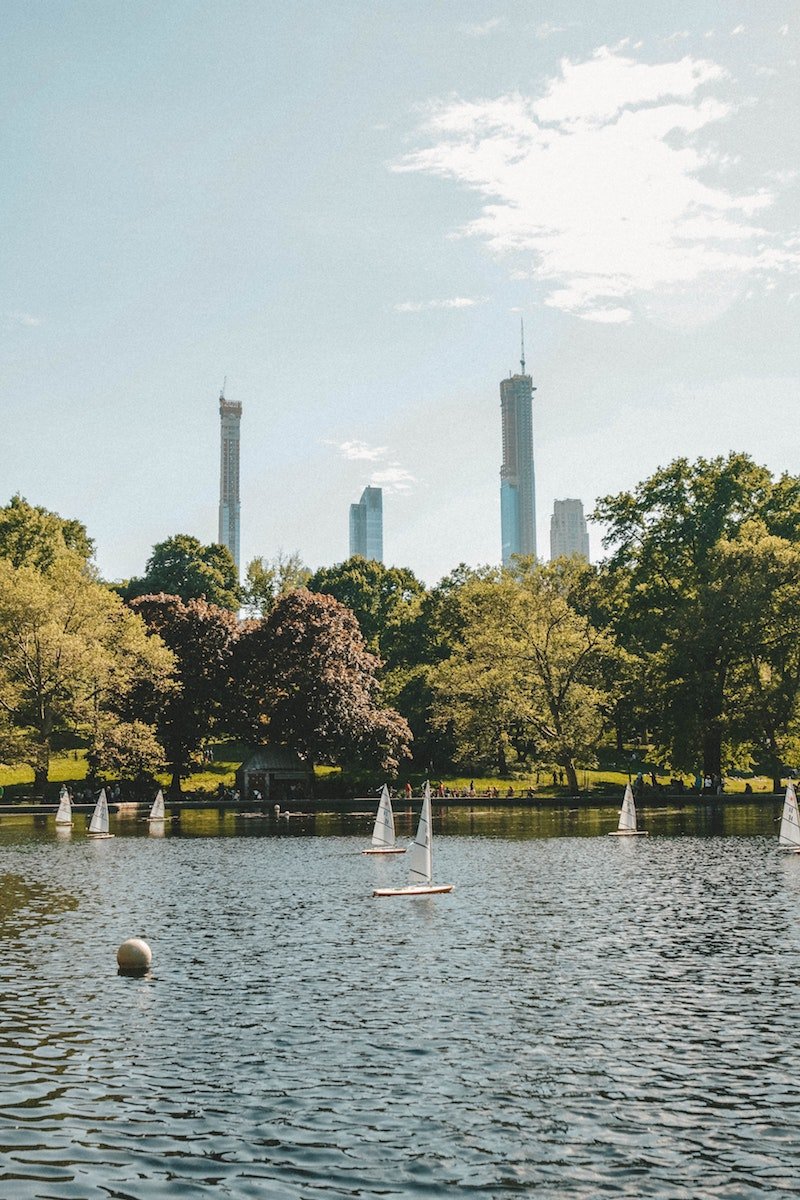 Image credit: Liubov Ilchuk via Unsplash
THE INSIDE SCOOP: BEST PLAYGROUNDS IN NYC
Correct at time of publication on Roam the Gnome. Please check with venue for updates. We apologise in advance if there have been any changes we are unaware of. All prices in US dollars, unless otherwise stated
Plus, we've added three of the best playgrounds in Brooklyn to our list too.
Do let us know your favorite!
Hot tip: Check out our popular list of the best New York souvenirs round up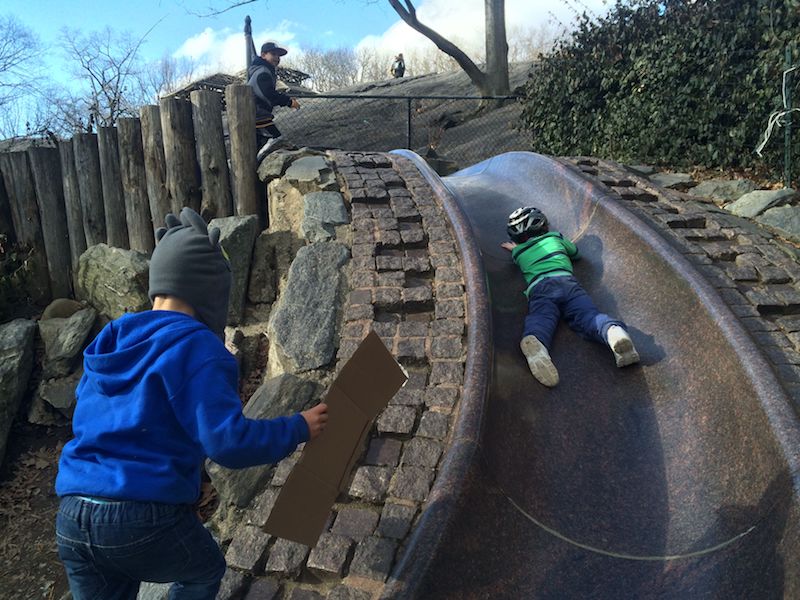 No.1: Best Playground in Manhattan? Billy Johnson Playground!
If you've ever searched for pictures of New York playgrounds, you will have seen the ICONIC GRANITE SLIDE!
Now you know where this vintage New York playground equipment is.
Billy Johnson Playground Central Park.
Not only does it have the slide, it's newly renovated and has a WATER PLAYGROUND too!
Check out all the details here – including where to find it, and opening hours
Hot tip: While you are in Central Park, check out the Hans Christian Anderson Statue, the Alice in Wonderland statue, AND the iconic pond that was the setting for the boat race in the Stuart Little movie
(You can hire remote control boats too!).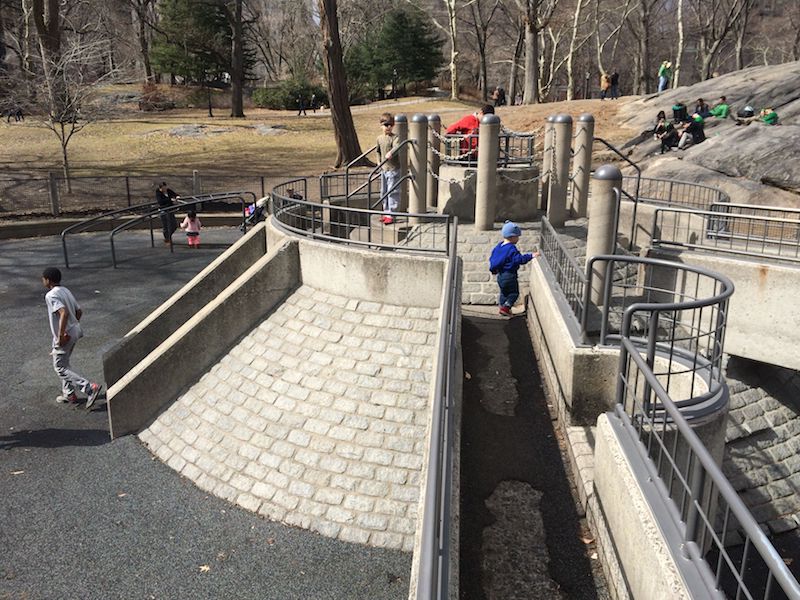 No.2: Heckscher Playground NYC
If you are looking for unique playgrounds in New York city, THIS is it.
Heckscher playground looks like something out of the future, or perhaps the ancient past in Mayan culture.
Integrated with the natural rock landscape, the playground is pretty spectacular, even though it's a little grey.
When you have finished playing, head over the road to the Plaza Hotel and visit the Eloise at the Plaza store to see how the other half live!
RELATED: Best Things to do at New York Central Park Zoo with kids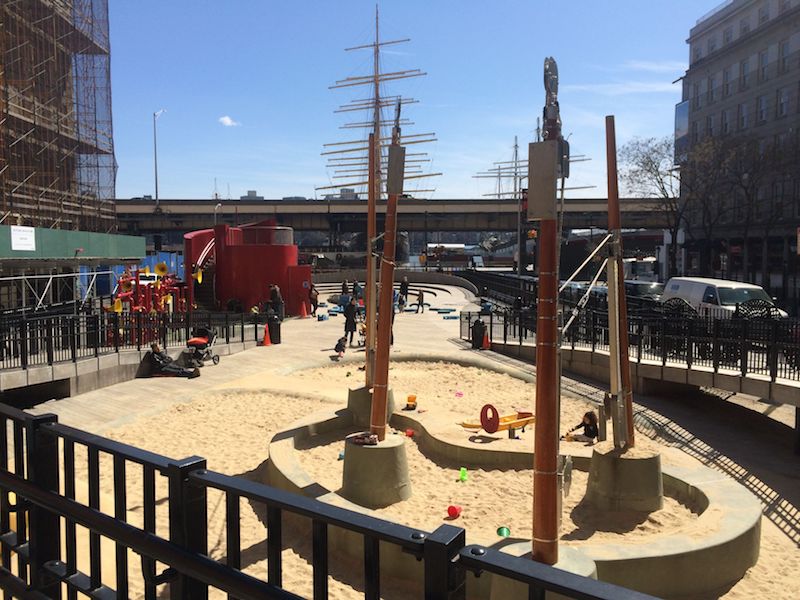 No. 3: Imagination Playground NYC
One of the kids all time favorite playgrounds in New York city is Imagination Playground South Street Seaport.
Because it's a free-ranging, free-thinking, wide-open-spaces kind of spot, where kids can immerse themselves deep in play without too many rules or regulations, or helicopter parents hovering.
In fact, it's the most relaxing playground for parents in New York.
Sit back, and scroll the gram while they play.
(Be sure to BYO coffee)
The best bit?
In Spring and Summer, there's a WATER PLAYGROUND.
Do remember your towels, bathers and a change of dry clothes so the kids can join in the fun.
Hot tip: Check out the gorgeous SeaGlass carousel in Battery Park as you wander over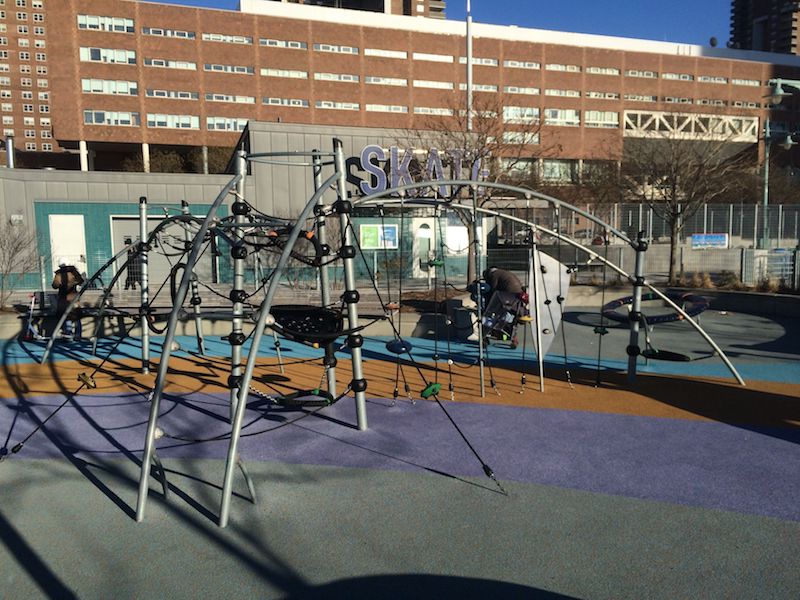 No.4: Pier 25 Playground & Tribeca Skate Park
The second playground you'll come to on the Hudson River Greenway heading north is the Pier 25 playground.
A top spot for kids who love a challenge, it's also right next to the Tribeca Skate Park.
(There's another skate park at Pier 62 at Hudson River Park too)
Plus, there's a big sandbox for kids.
And ocean sealife theming.
Click here for all the details
RELATED: Guide to the Hudson River Greenway Walk and Bike Path for families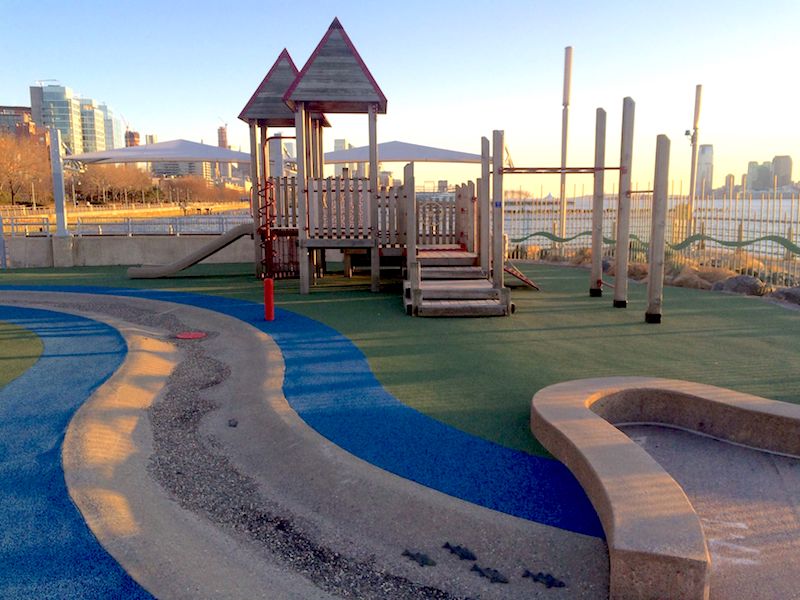 No.5: Pier 51 Playground NYC
This New York playground was named on of the Top 25 playgrounds in New York City by Time Out Magazine.
It's safe to say you should put it on your list, but ONLY on a fine, dry day.
NOT on a freezing cold, winter's day when the arctic breeze is bringing a fresh dump of snow.
If it is a hot day, there's no place better.
The water playground is EVERYTHING.
BYO towels etc.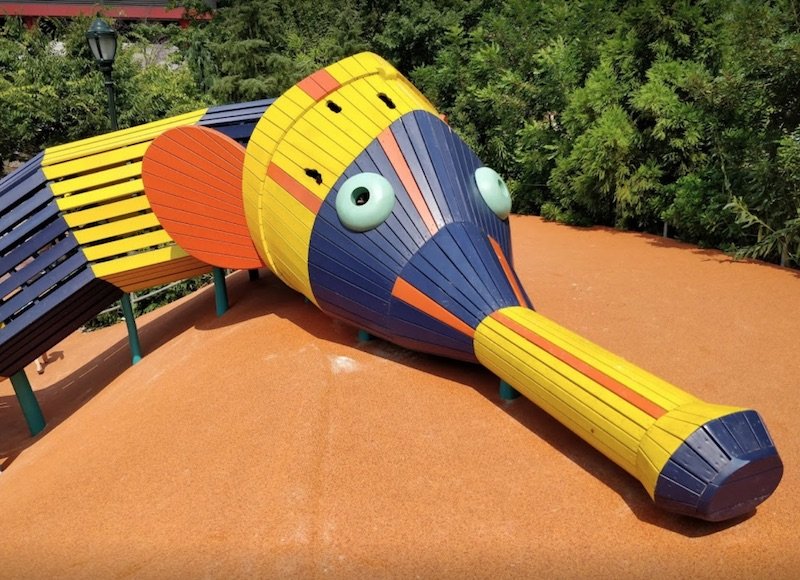 Image Credit: Warren Sze
No.6: Chelsea Waterside Playground
A little further up, to the right of Pier 63, you'll find Chelsea waterside park play area.
This bright and colorful shaped timber adventure playground with net ladders and giant slippery dip, and hiding holes is definitely worth a side trek.
(The orange, blue and yellow creature is a Pipefish, one of many fish species that lives within Park waters.)
At this recently opened New York water playground, kids will get a kick out of getting wet underneath the head of a bull – a repurposed limestone cattle head sculpture reclaimed from a former slaughterhouse nearby.
Or being sprayed by the water spouts along the brick pathway or the stone obelisks at this playground for kids.
Chelsea Waterside Park is open from 9am to Dusk.
Find it at W 23rd St.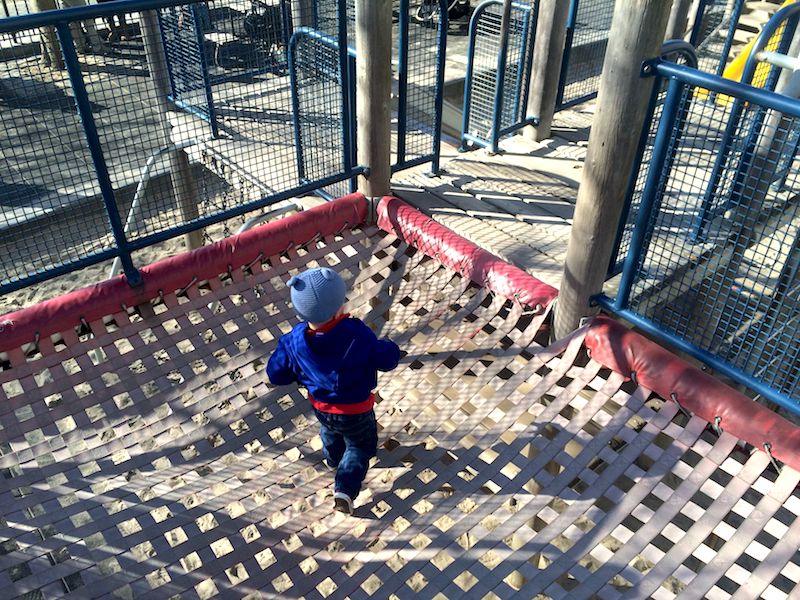 No.7: Rockefeller Park Playground New York
As you wander along the Hudson River greenway heading towards the Highline, you'll come across this awesome playground in New York for kids.
The best bits?
the giant fort with red colored webbing nets to scramble over
the spouting hippo
stone water feature
the age old pedal-powered carousel ride
But most importantly, all abilities access.
Read our guide about this kids and toddler park here, with lots more pics too.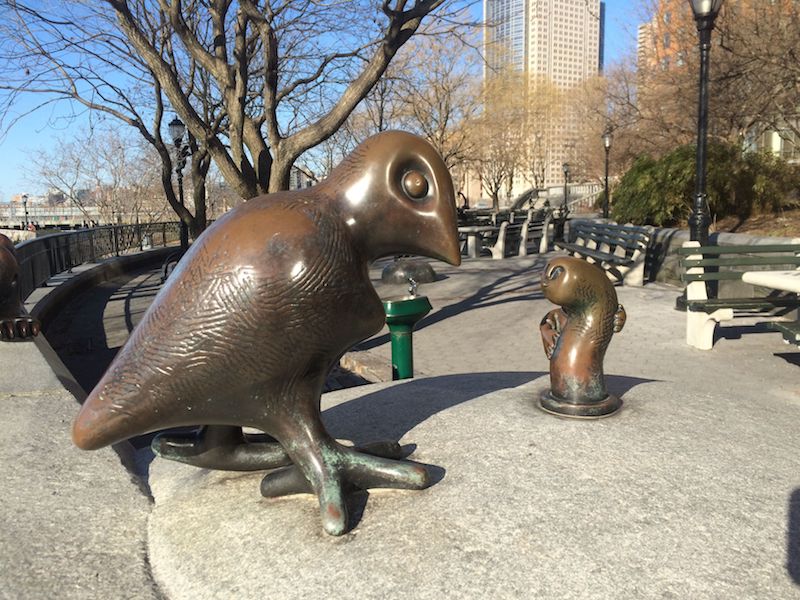 No.8: Tom Otterness Playground & Sculptures
Hot tip: Check out the Tom Otterness Real World sculptures
They are very close by, and lots of fun for kids to explore.
There is a Tom Otterness playground for New York kids too – a giant copper cartoon man whose legs are a SLIDE!
Find it at 630 W 42nd St, New York.
It's close to Pier 81.
Keep walking a little further north.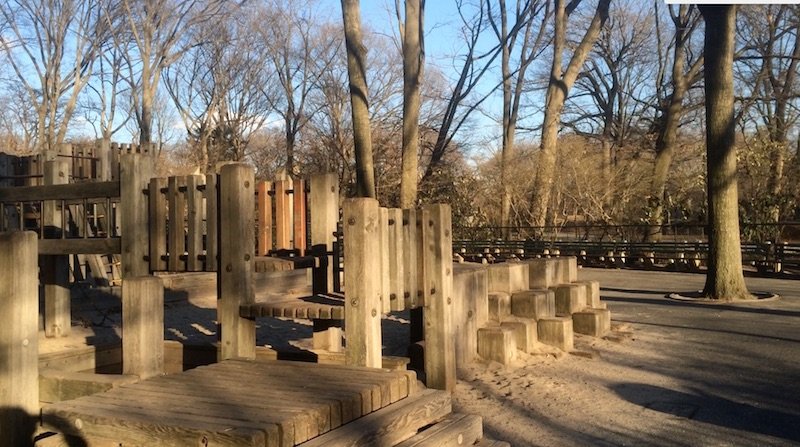 No.9: Diana Ross Playground Central Park
The Diana Ross playground in Central Park is THE best nature playground in town.
And never more beautiful than in the late afternoon, where the golden light streams in.
Head to this playground if your kids love timber log forts, and balancing beams, and big silver slides.
It's a popular New York playground for all ages.
Hot tip: Be sure to check out the Children's Museum of Manhattan nearby, another one of the best NYC attractions for kids!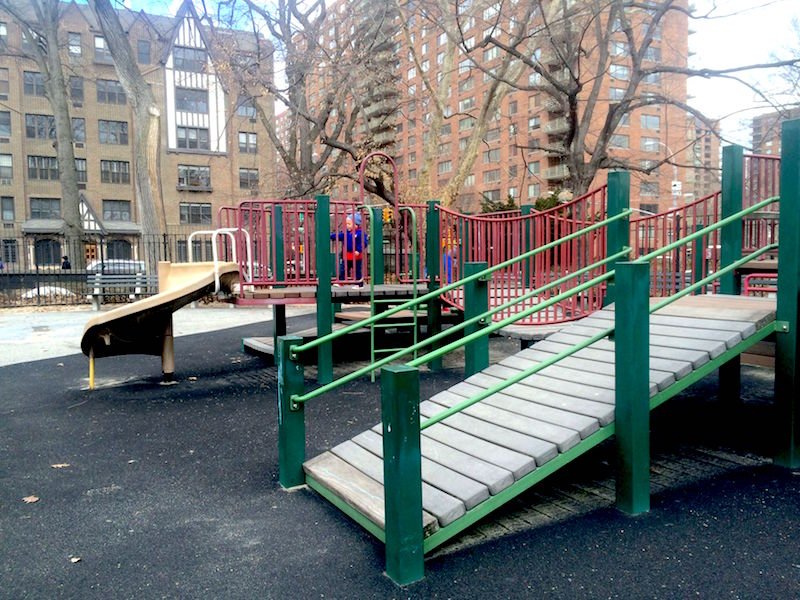 No.10: The Rudin Family Playground Central Park
Last on the list is Rudin family playground.
This one makes the list because it's the closest playground to the New York Museum of Natural History.
There's not much to do, but after hours in a stuffy museum, the kids will think THIS jungle gym playground is the bees knees.
Hot tip: Check out the ultimate guide of best things for kids to do in New York here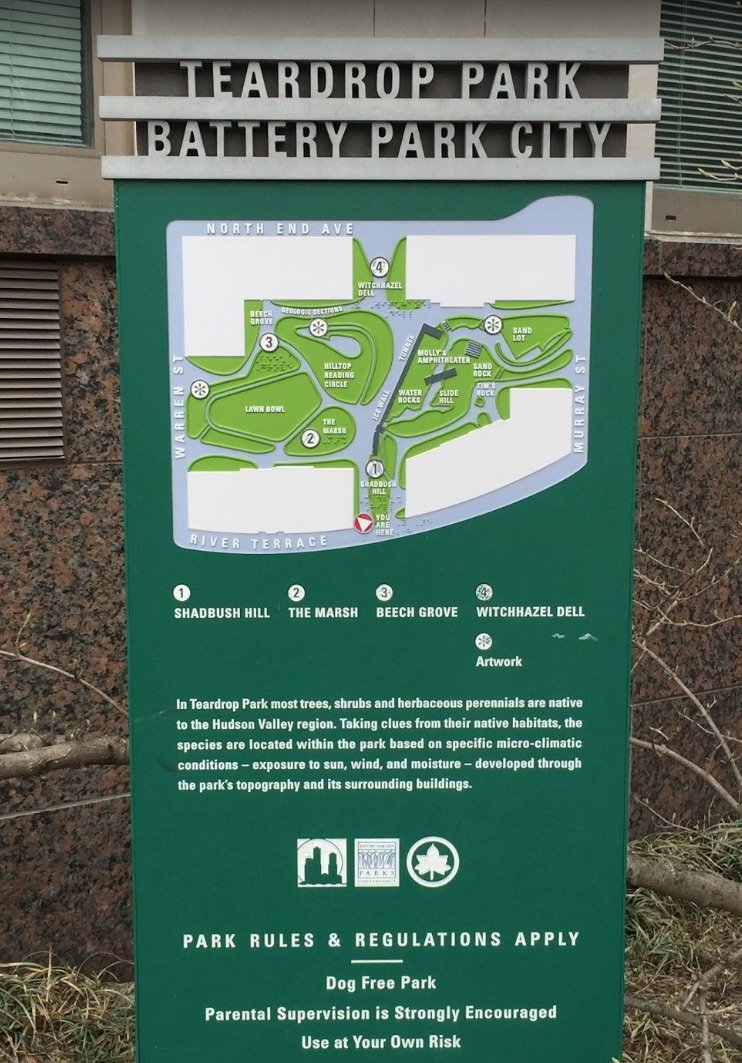 MORE of the Best Playgrounds in New York City
Try these:
No.1: Ancient Playground
Another of the outdoor playgrounds in Central Park, on 5th Avenue and E 85th St.
Find play structures including silver slides, and a sand play area.
Near the Metropolitan Museum of Art collection.
No.2: Teardrop Park
On the Hudson River greenway, near the Battery Park City ball Fields and Shake Shack.
This is another nature playground in NYC, surrounded by:
shale walls, and
leafy greenery, and
with hidden bushwalks inside too.
At this children's playground, there's a hill slide, a Hilltop reading circle, a sand lot, water rocks, a Beech grove, and a Witchhazel Dell.
The shade makes it one of the best nature play areas in New York for staying cool on a hot day.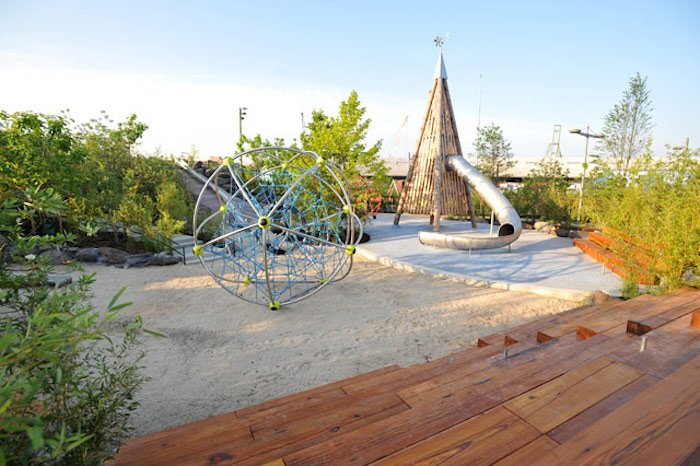 Image Credit: Corvus Design
BEST BROOKLYN PLAYGROUNDS FOR KIDS
No.1: Brooklyn Bridge Park Playgrounds Round Up
There are FOUR awesome playgrounds in Brooklyn Bridge park.
And you can learn all about them here
(The one pictured above is Brooklyn Bridge Park Pier 6 playground)
Plus more things to do at Brooklyn Bridge Park, including:
the historical Jane's Carousel
pebble beach
pop up movies
soccer games, and
awesome children's museum.
RELATED: How long does it take to walk the Brooklyn Bridge with kids, and other FAQ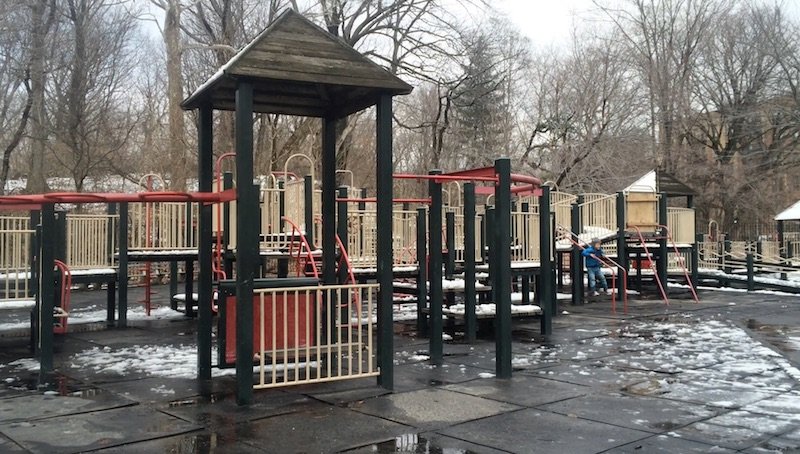 No.2: Lincoln Road Playground Prospect Park
Another playground in Prospect Park is this one.
Lincoln Road playground, or sometimes just Lincoln playground.
We visited on a snowy day, and the kids thought it was top fun!
Find all the details of what's to expect and how to get there here
Hot tip: If you are in Brooklyn, don't miss the BROOKLYN CHILDREN'S MUSEUM.
It's one of the world's best museums for kids!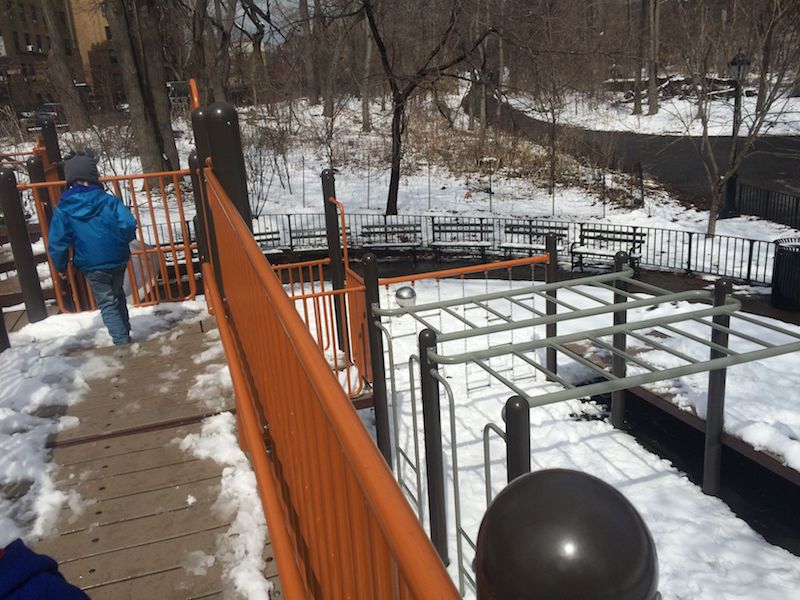 No.3: Vanderbilt Playground Brooklyn
The bright orange fort structure makes this one of the best playgrounds in Brooklyn for kids who love parkour.
Plus, there's:
monkey bars
a spinning carousel
twisty slides and regular slides
And more!
Take a look here for all the details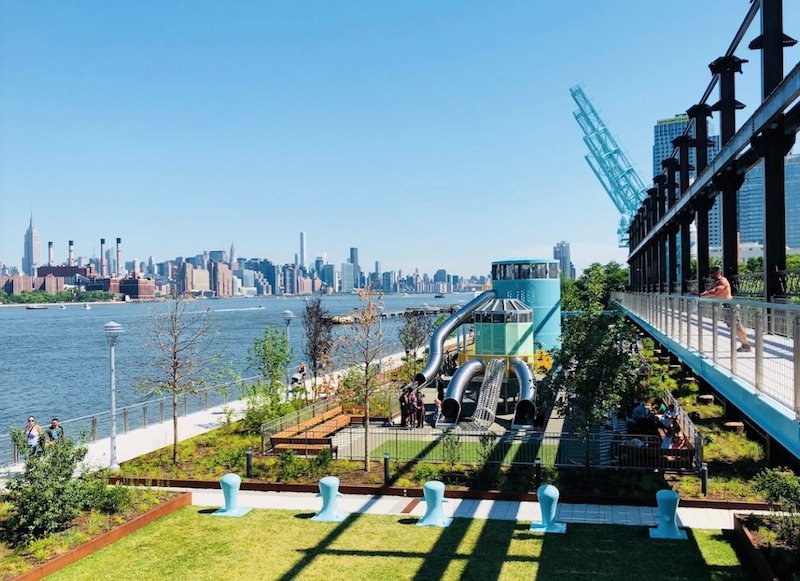 Image Credit: Yang You
No.4: Domino Park Brooklyn
Look for the aqua colored cranes and you'll have found this Brooklyn playground for kids.
The matching aqua colored playground is on the water, with views of NYC.
Kids can slide down one of three epic silver slides, and climb up the woven steel tunnel to get to the top and into the tunnel and timber fort.
Check out the water fountain for kids to run through in front of the Domino Sugar building.
Domino Park is open from 6am to 1am daily.
Find it at 300 Kent Ave, Brooklyn, NY
Toadstool Rating: Best playgrounds New York City for kids

Looking for things to do in New York with kids?
Check out these New York city attractions for kids