INSIDE: Roam the Gnome's Comparison Guide to the Best Coolers with Wheels for camping and beach adventures.
A portable cooler on wheels is the answer to getting your cooler from point A to point B.
You can pack all your healthy snacks, lunches, picnic food, soda cans and beer into your portable cooler and have no trouble moving it where you need it to go.
If you are out and about with kids, a portable cooler with wheels can be a godsend, giving you a spare hand too.
Take a look at our favorites!
Disclosure: This article contains affiliate links. If you make a purchase after clicking on one of these links, we may receive a small commission at NO extra cost to you.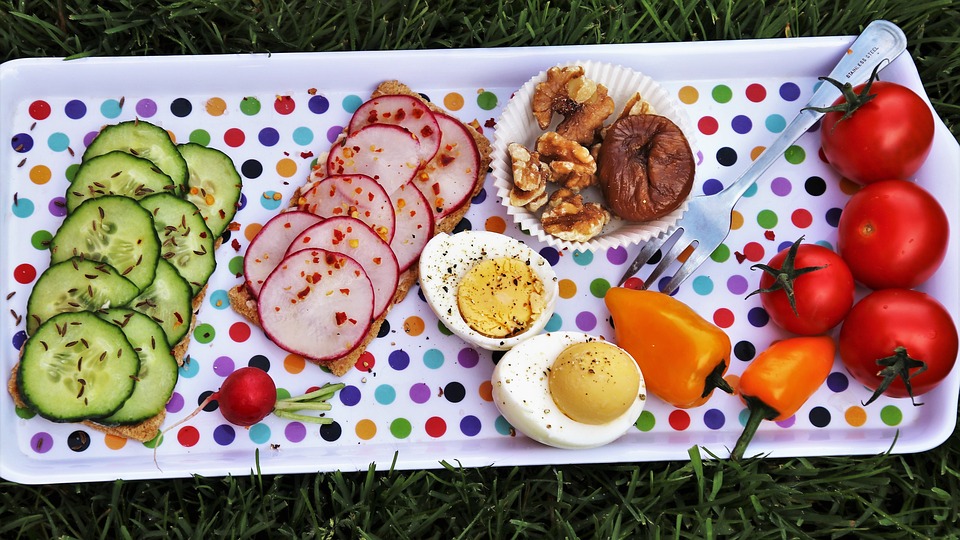 Image credit: Pasja100 by Pixabay CC0
Best Soft Cooler with Wheels for Party Times!
You can use a soft cooler on wheels or an ice chest with wheels to carry your delicious and healthy snack food and drinks on these outings:
Picnics and gatherings with friends by the river or in the garden
Going to the beach
Camping vacations
When fishing, sailing, boating or enjoying the outdoors
Family reunions
Under the sun festivals, like Coachella
Week-long events where you need a stash of snacks & drinks to sustain you, like Modernism Week
Outdoor music concerts, and opera in the park
Thanksgiving parties
Community Christmas events and parties (including outdoor concerts like Carols in the Domain in Sydney, Australia)
Choosing the best cooler with wheels can be hard, so we've gathered ALL the information in our Best Coolers with Wheels comparison guide, just for you.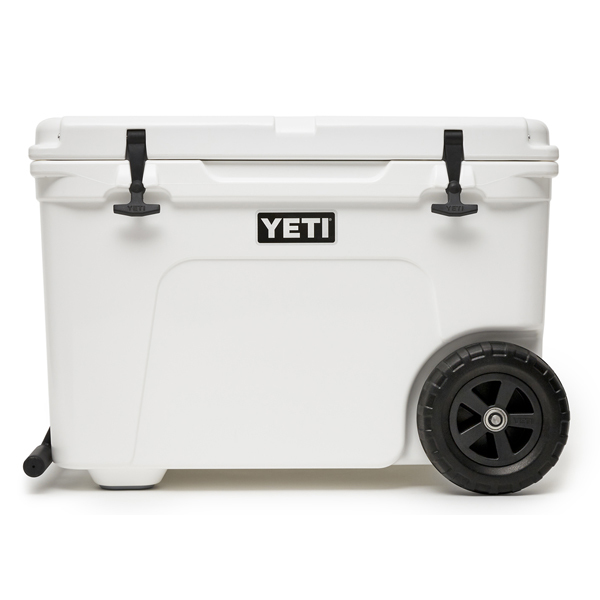 THE BEST COOLER ON WHEELS?
#1st The YETI Ice Chest with Wheels
The YETI Rotomolded Cooler on Wheels is the first-ever wheeled ice chest in their range.
The YETI Tundra Haul Portable is the ULTIMATE ice chest on wheels if you need something that is super sturdy, and can last the distance for week-long camping, hiking, fishing or hunting adventures in the wild.
This Yeti rotomolded cooler with wheels has a capacity of 55 quarts. That's equal to 55 cans of soda or beer (or a whole lot of camping food supplies!).
Pros:
Has a drain
Can use the top as a bench for your cutting or filleting board
Easy to move
Great ice retention – keeps drinks cold for days (at least a week or more)
Heaps of color choices – comes in charcoal grey, reef blue, river green, seafoam green, tan and white.
Cons:
Heavy when full (but the handle to pull it is capable of handling the weight)
Verdict:
In our opinion, this YETI cooler with wheels is THE BEST cooler on wheels.
If you can afford it, buy it.
BUY NOW ON AMAZON: YETI Ice Chest – pick your color choice
Image credit: Rubbermaid Products by Flickr CC BY-2.0
QUICK COOLER WITH WHEELS COMPARISON CHART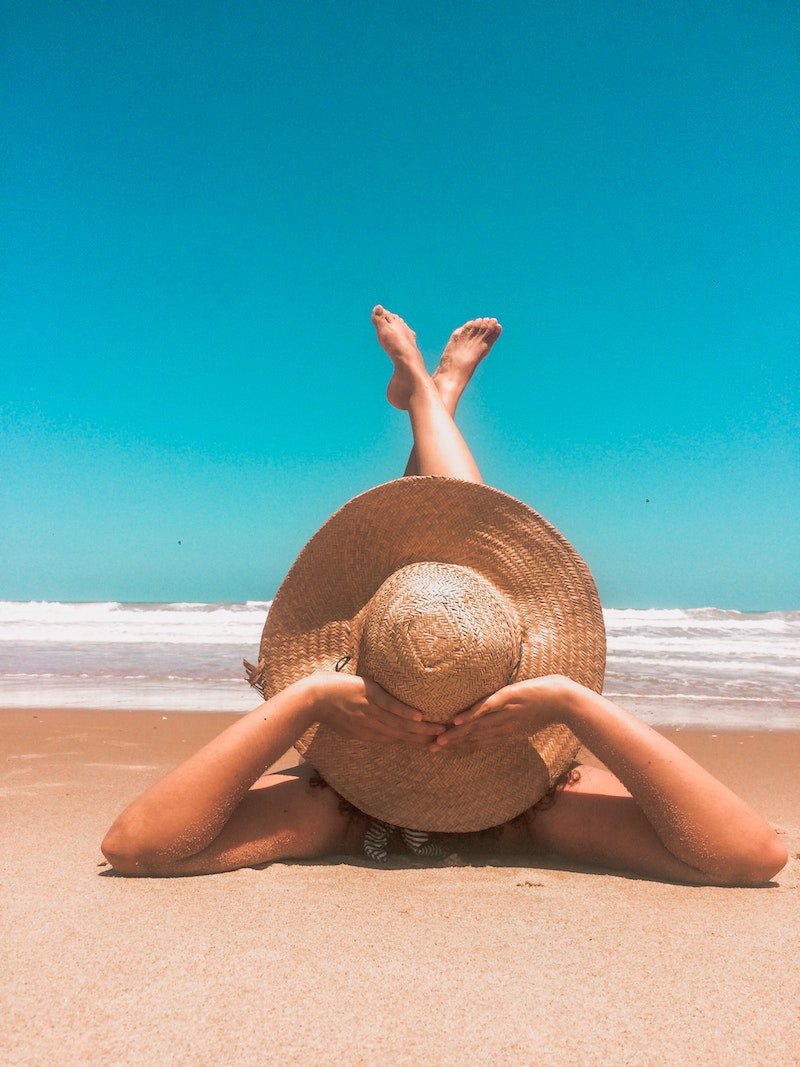 Image credit: Rebecca Goncalves by Pexels CC0
FIVE MORE OF THE BEST COOLERS WITH WHEELS
Here's the best of the rest coolers with wheels and handles.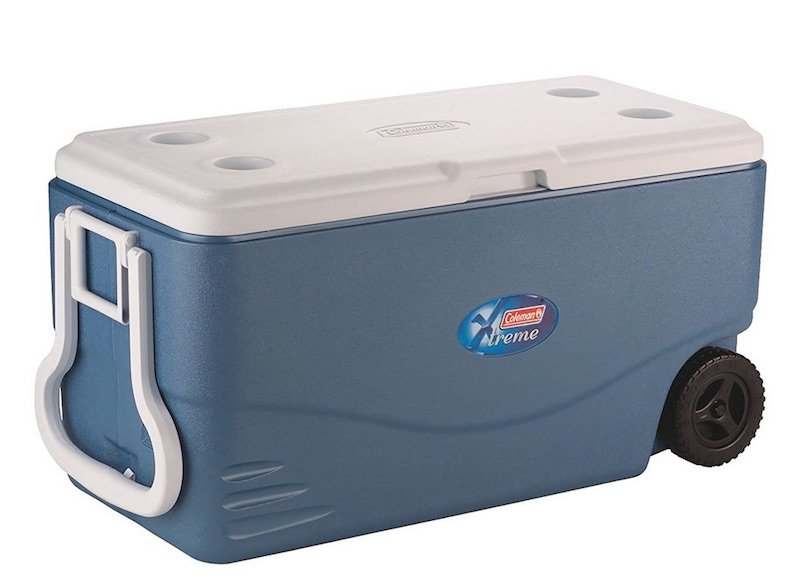 No.1: Coleman Coolers with Wheels
There are many different Coleman coolers on wheels.
Our favorite is the 100 quart Coleman wheeled cooler.
The heavy duty handle is the best feature, as it's the key to being able to lift and pull the cooler along once it's packed with food, drink and ice. Anything less sturdy, and it might not be possible.
Pros:
This ice cooler with wheels has a heavy duty lid that doubles as a seat and/or bench
This large cooler with wheels also has molded cup holders on top so your drinks don't tip over
Holds 160 cans
Has a leak-resistant drain
Keeps ice for up to five days (or more in cooler weather) – the seal on the lid is impressive when shut properly
Made in the USA
Cons:
Be careful of the hinge as you open up this portable wheeled cooler. There have been a few reports of hinges breaking on these big coolers with wheels, so some care needs to be taken.
Verdict:
A great value wheeled cooler for the money.
BUY NOW ON AMAZON: Coleman Heavy Duty Cooler – 100-quart Xtreme 5 Day cooler
MORE Coleman Coolers on Wheels
Too big?
Need a small cooler on wheels?
Or are looking for the best soft coolers on wheels?
These are other good wheeled Coleman coolers.
BUY NOW ON AMAZON:
Hot tip: Don't bother with the Coleman All Terrain cooler. By all reports, the latch is substandard, and the wheels too flimsy, and the reviews are terrible.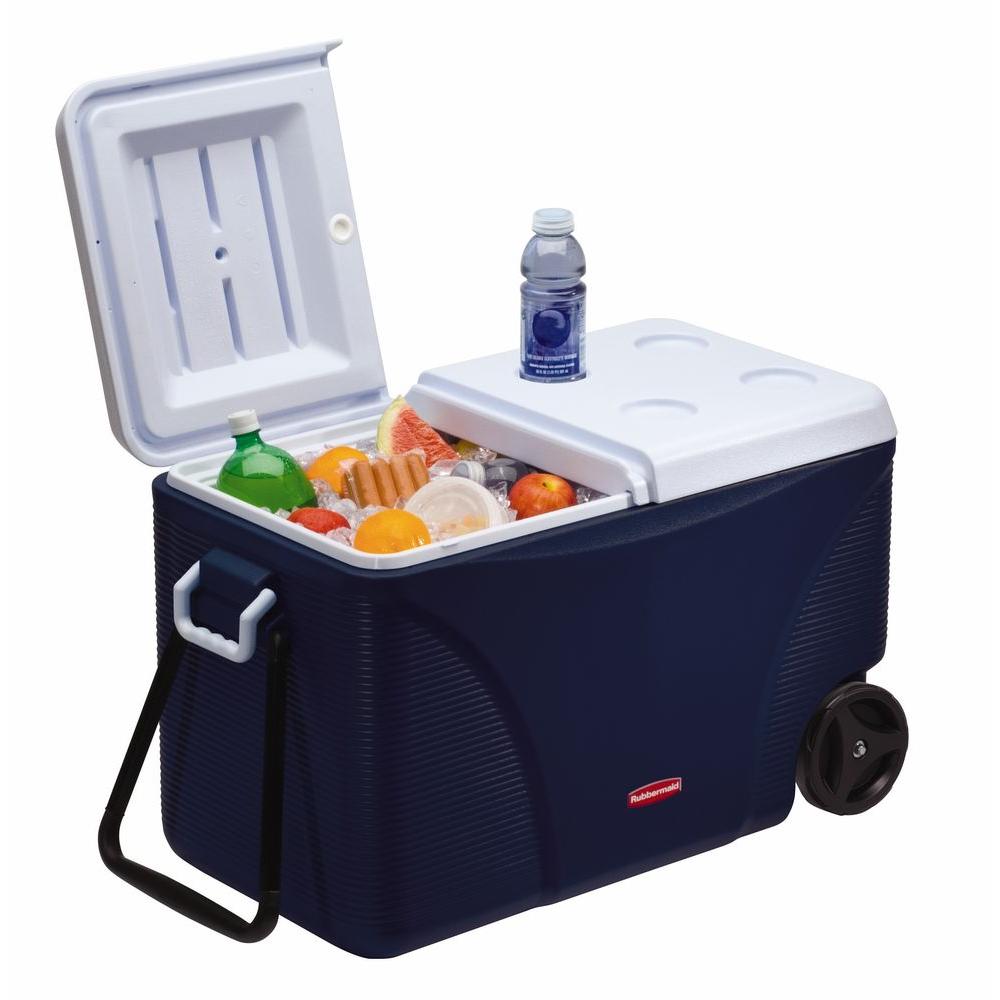 No.2: Rubbermaid Cooler with Wheels
The Rubbermaid brand is one of the popular and trusted cooler brands.
The thing I like most about the Durachill series of rolling coolers is the split lid, which means you only have to open one side of the lid at a time so the cold doesn't escape.
Pros:
The 75 quart cooler has a large metal handle on the side that lets you pull the cooler along.
There's also two handles on either side of the cooler so you can pick it up
6 molded cup holders on the lid so your drinks don't spill
Keeps ice cold for 5-6 days
Antimicrobial protection inside
Cons:
Wheels are all-terrain but not as strong as they could be
The drain is above the wheel axel so you need to lift it on a serious angle to let the water out
Verdict:
For the price, it's a fabulous choice.
BUY NOW ON AMAZON: Rubbermaid Wheeled Cooler 75 quart
MORE Rubbermaid Coolers on Wheels
Looking for a small wheeled cooler? The Rubbermaid coolers also come in three smaller sizes.
The other difference between these rolling coolers and the bigger one is that the handle on these coolers is telescopic, rather than a fixed metal handle.
The handle and the wheels are on the back of the cooler behind the hinge, unlike the 75 quart cooler where the handle and wheels are on the sides, facing one another at either end.
Buy Now on Amazon: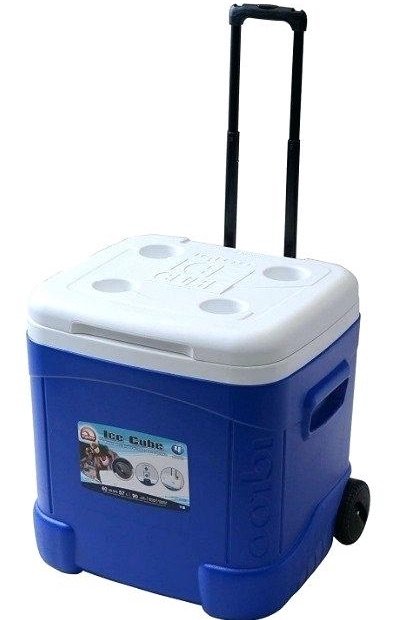 No.3: Igloo Cooler with Wheels
The Igloo Ice Cuber roller cooler with wheels is the best rolling cooler for use inside the car on roadtrips.
A hard side cooler offers the best protection to keep food and drink intact, and safe from being squashed.
The 60 quart Igloo camping cooler is the perfect medium sized cooler.
I love the wheels on a cooler because it's such a practical addition to help you move the cooler from vehicle to destination without too much strain.
Pros:
Budget price for a wheeled cooler
Trusted brand, proven quality
Cooler has a drain
Four molded cup holders in the lid to stop your drinks spilling
Side handles to help you get it in and out of the car
The Igloo is our pick of a small cooler on wheels
Cons:
The lid is not meant to be a seat. Use at own risk.
Telescoping handle can be problematic.
Verdict:
This portable cooler on wheels is an awesome cooler for day trips, picnics, opera in the park, festival camping, and short camping trips.
Igloo coolers with wheels are our pick of the best wheeled coolers on the market for festivals, parties, gatherings and bbq's.
But they also make good coolers for storing a weekend's worth of camping food as they keep ice and food cold for a couple of days.
BUY NOW ON AMAZON: Igloo Ice Cube Roller Cooler
No.4: RTIC Coolers on Wheels (with Badger Wheels)
Sadly, there's no standard RTIC cooler with wheels. (RTIC are coolers like YETI).
But there's a workaround.
Buy the RTIC 45 quart cooler or the RTIC 65 quart cooler, and you can buy adjustable single axle Badger Wheels to fit. These heavy duty coolers with wheels attached can handle a load of up to 500lbs.
The kit includes:
one axle assembly made from marine grade stainless steel
one 1.5″ lock extension
one 3/16″ hex wrench
one locking plate and bolt
The steel bearings in each wheel make sure it rolls smoothly.
BUY NOW ON AMAZON: Badger Wheels for RTIC Cooler (Cooler not included)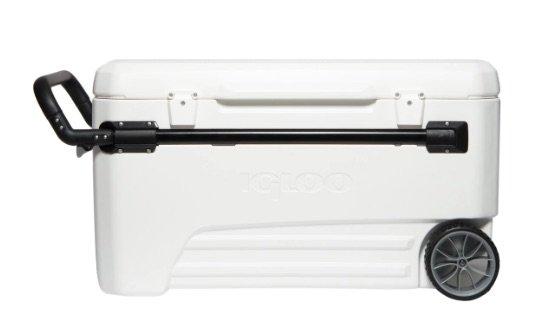 THE BEST ICE CHEST WITH WHEELS
No.5 Igloo Ice Chest with Wheels
The Igloo Glide Pro has THE best handle on a cooler to pull your wheeled ice chest along.
The oversize wheels on this wheeled ice chest are good for navigating grass, dirt tracks and rocky terrain too.
Pros:
Affordability – good price for what it offers
Convenience – the handle is a winner as it doesn't hit your legs when walking, and the design of the handle means less effort is requiredon your part when pulling it along
Solid, durable rally wheels that do the job
Hinges are stainless steel
Holds ice for up to 5 days
There's a FISH RULER molded into the lid!
Protected against sun damage
Cons:
There's a molded area inside the cooler to house the wheels, so you lose a little space capacity because of it
Not so great on sand
Not as good at keeping ice as some other models
Verdict:
If you pre-cool your food before you put it in this cooler, that gives it the best shot at keeping ice, food and drinks cold for the duration.
BUY NOW ON AMAZON: Igloo Glide Pro 110 Roller Cooler
Hot Tip: Add this Wheel Kit to any YETI Cooler Ice Chest
You can make your own insulated cooler on wheels if you own any one of the YETI Tundra coolers, from the 45 quart YETI cooler up to the 160 quart YETI cooler.
To make your own Yeti coolers with wheels, you buy a Cooler Wheel Kit to fit.
This kit is made from stainless steel, and has big 10-inch pneumatic tires to carry up to 400 pounds (including cooler weight itself)
It's as good as turning your cooler into a MONSTER TRUCK!
Pros:
Wheel kit straps on and off quickly
You can leave them on permanently if you chose
Heavy duty design
Awesome for taking your cooler across long distances on most terrains
Gives you more flexibility to get around with your ice chest cooler
Cons:
Doesn't fit the YETI Tundra 35 quart cooler
Instructions aren't great but they are easy to install
Not great on sand
Verdict:
If you already have a YETI cooler, and want the flexibility to take it to more places, you need this wheel kit.
It will change your life!
BUY NOW ON AMAZON: Cooler Wheel Kit for YETI Ice Chest – 10″ Pneumatic Rubber Tires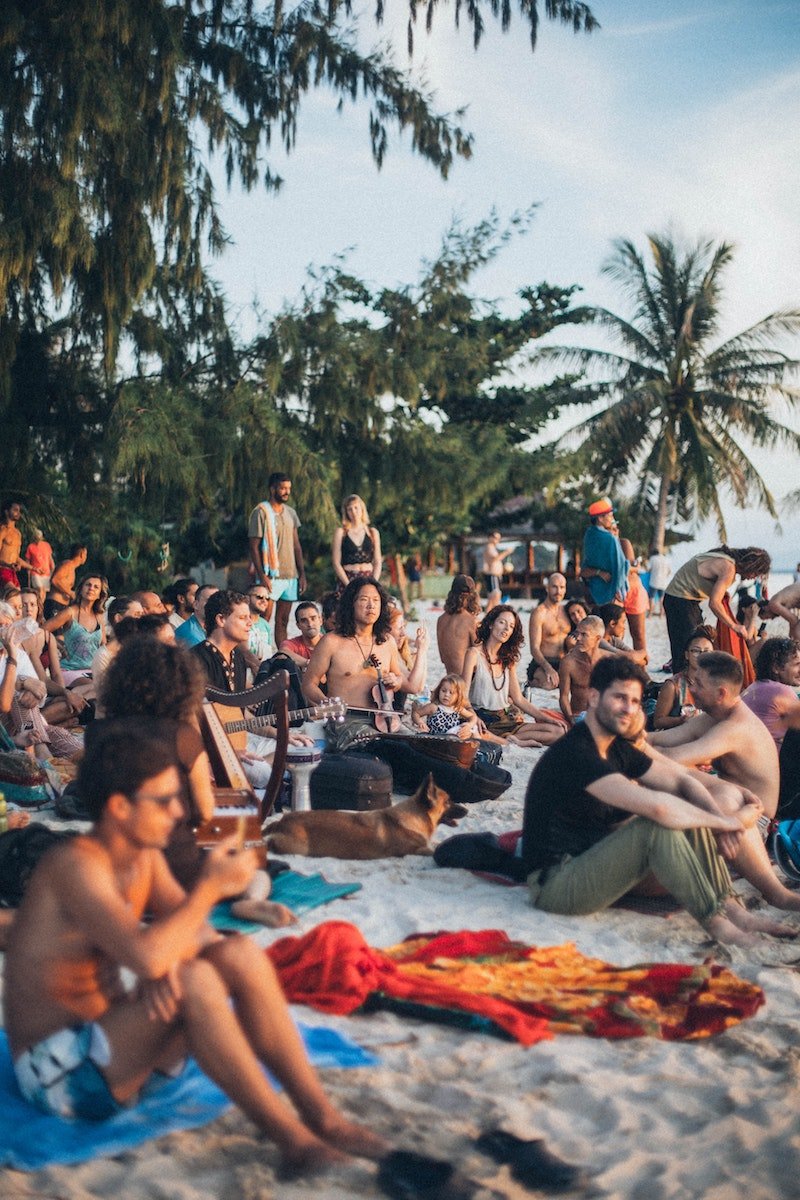 Image credit: Elina Sazonova by Pexels CC0
THE BEST BEACH COOLER WITH WHEELS FOR OUTDOOR ACTIVITIES
This hard side beach cooler with BIG wheels is the best beach cooler on the market.
If you are in the market to buy, this is the best beach cooler with wheels for the money.
WITHOUT DOUBT.

No.1: All Terrain Beach Cooler
This rolling beach cooler with sand wheels makes it easy to pull across all kinds of terrain – soft sand, hard rocks, mud, and grassy hills too.
In fact, this is the only beach cooler that works well over sand.
If you are looking for a beach cooler with sand wheels, this sand cooler is your ONLY real option.
The tires are inflatable, and removable too.
The 2XCooler (two-by-cooler) has 4 cup holders, a handle, a drain plug, and comes fully assembled.
Plus, a hard cooler is better than a soft cooler at keeping sand out of the food and drinks.
We rank it as number one of our top rated beach coolers.
Pros:
Use it on all uneven ground when hiking, camping, or enjoying the beach
Goes everywhere and anywhere
Family sized cooler with plenty of room inside to keep all your healthy beach snacks cool
Light and easy to move around
Excellent insulation
Use the top as a table or bench to prepare food
Cons:
All Terrain Coolers aren't the most stylish. Let's be honest. But they do the job.
Verdict:
This large cooler is the BEST roller cooler for beach out of the wheeled coolers in our list.
Some would say it's a game changer – the ULTIMATE beach cooler in fact.
The purpose-built sand wheels means it has no comparison.
BUY NOW ON AMAZON: All Terrain Wheeled Cooler with Sand Wheels
No.2: Collapsible Cooler on Wheels
Our cooler review confirms that any one of these beverage coolers on wheels will do the job, but our number one pick is the YETI Tundra for style, function and "wheelability".
The only one we've not featured is a collapsible cooler on wheels.
Being collapsible, they are not as sturdy or durable as a hard side cooler but a wheeled soft cooler will do for some circumstances where you don't need to travel far, or at events like sports days or athletic carnivals.
If you're looking for a collapsible cooler with wheels, you could try one of these: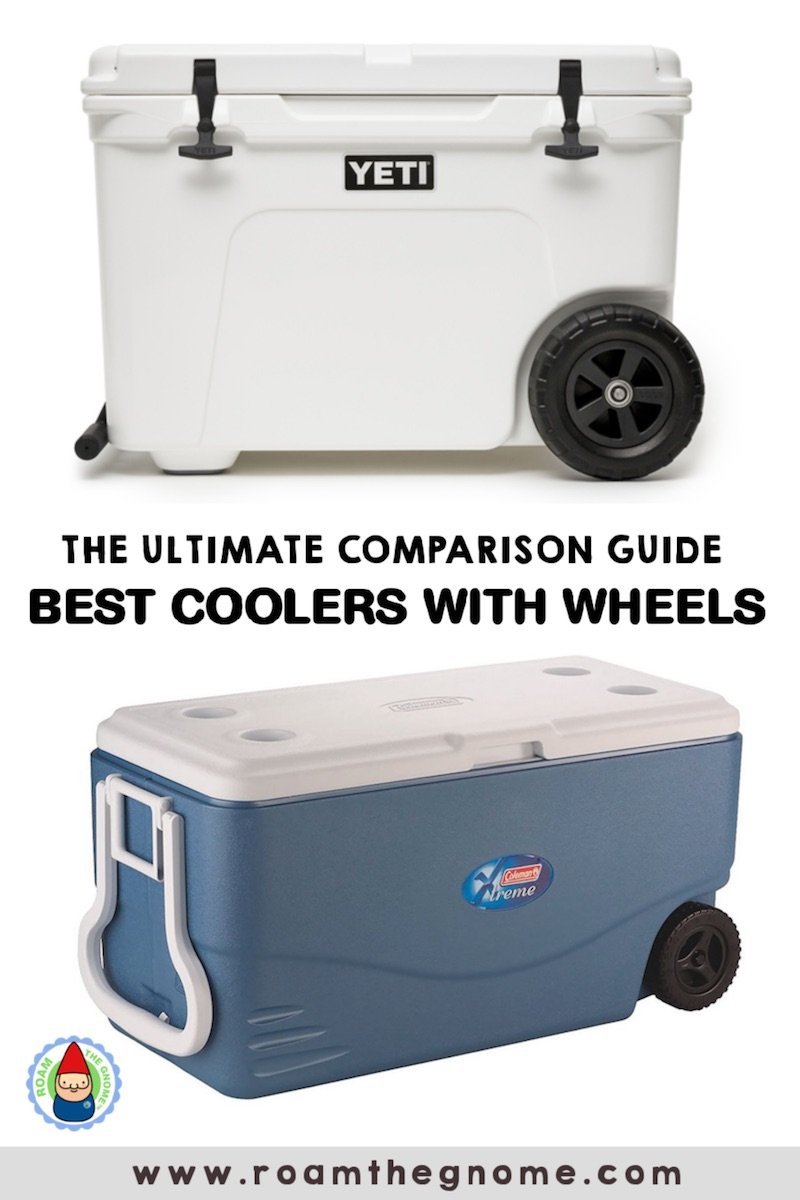 Looking for More Helpful Tips?
Correct at time of publication on Roam the Gnome. Please check with venue for updates. We apologise in advance if there have been any changes we are unaware of. All prices in US dollars, unless otherwise stated
Click the blue links for all the travel tips.