INSIDE: Roam the Gnome's Camping Cooler Reviews – The Best Cooler for Camping.
We've gathered a list of the TOP RATED COOLERS FOR CAMPING, including:
the best ice chests for camping
the best large camping coolers
the best plug in cooler and battery powered coolers for camping
the best cooler for car camping
the best soft cooler bags, the best hard side coolers and
the best backpack cooler
If you've ever asked, "what is the best cooler for camping food?", we've got you covered.
Disclosure: This article contains affiliate links. If you make a purchase after clicking on one of these links, we may receive a small commission at NO extra cost to you.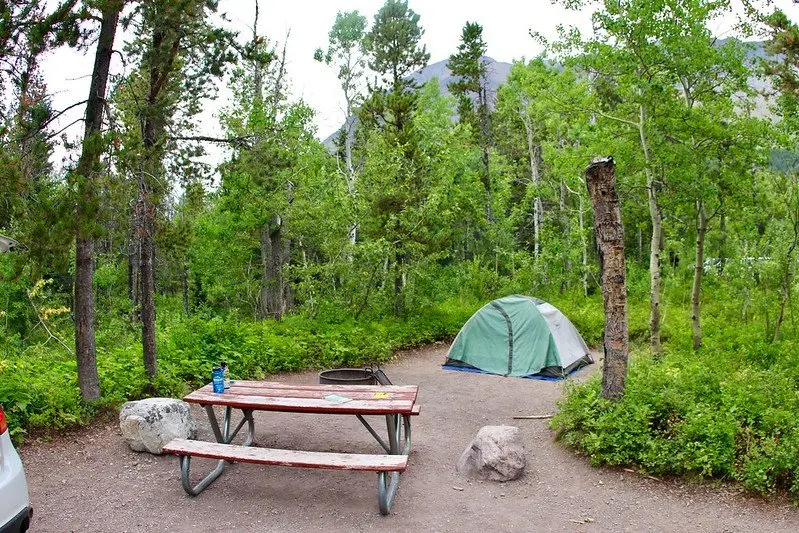 Image credit: Daveynin via Flickr CC BY-2.0
THE 7 BEST COOLERS FOR CAMPING 2020
The best rated coolers for camping have one thing in common – the ability to keep food cold (or cool) for an extended period, so that food doesn't spoil and become a risk factor for food-borne diseases.
The second most important consideration is how easy they are to clean.
There's nothing worse than returning well rested after a camping trip, and then spending the next few hours having to scrub your cooler clean before you can pack it away for the next trip.
The third, how easy they are to transport to and from the car or van to the campsite.
We've considered these factors and more when compiling this great resource on buying the best cooler for camping by the best cooler brands.
THE BEST COOLER FOR CAMPING COMPARISON CHART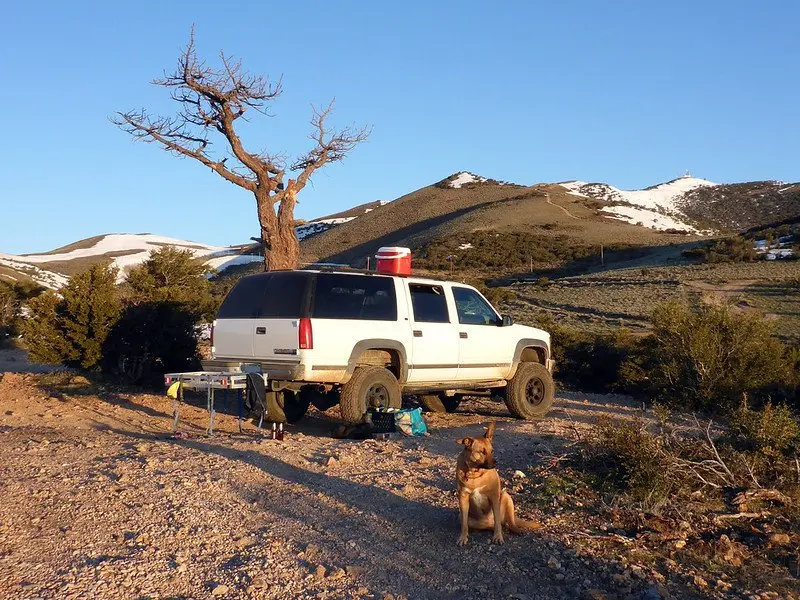 Image credit: Mitch Barrie via Flickr CC BY-SA 2.0
SEARCH BY TYPES OF COOLERS
We've listed the best of the best from each category of camping coolers below.
Large Coolers for camping
Ice Chests for camping
Best Cooler with Wheels for outdoor activities
Backpack Coolers
Soft Side Coolers
Best Hard Side Coolers for road trips & overnight stays
Plug In Coolers for car camping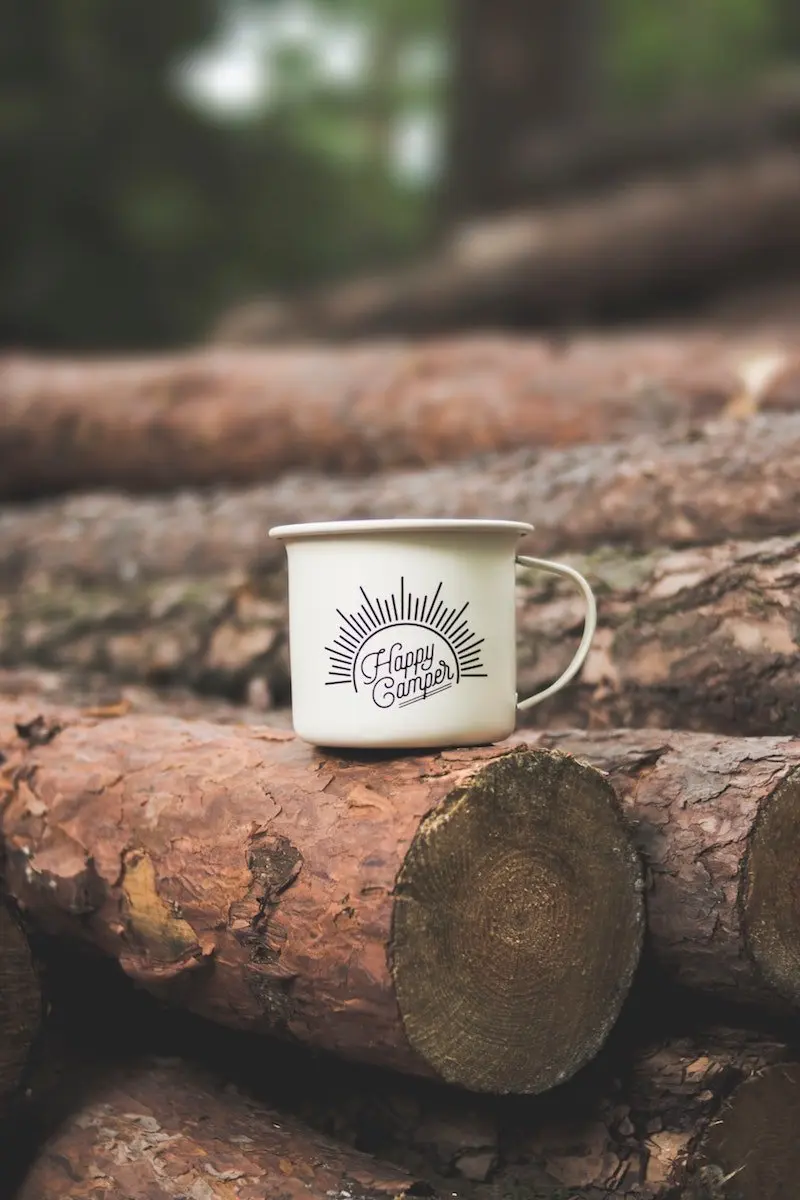 Image credit: Dominika Roseclay via Pexels CC0
The Best Large Camping Cooler
The best large coolers for camping are ideal for:
marine expeditions
boating
hunting trips
family camping vacations, and
as extra refrigeration for parties at home!
You can use a hard camping cooler as an extra bench to prep your dinner, a non-slip stool or as a table when you are ready to eat.
These coolers are still small enough for one strong person to carry.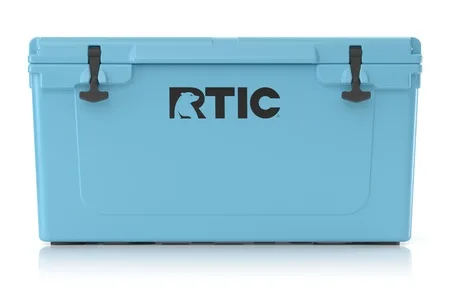 RTIC Coolers 65 quart or 45 quarts
The RTIC 65 quart cooler can hold 64 cans, or 70 pounds of ice, just to give you an idea of size.
These molded coolers are stylish with plenty of features too.
Pros
Rubber seals prevent water and air getting in or out
Has a drain plug to aid cleaning
Keeps ice for days (up to a week)
Hot tip: pre-chill the cooler before you start and the ice retention will keep even longer
Cons
You need to buy the basket separately
Doesn't come with tie down straps
Heavy to lift
No wheels but you can buy a wheel kit
Verdict:
Best of the lot!
Super popular, with lots of happy customers who rate this the best cooler for the money.
Buy in one of two sizes, either 65 quart (our pick) or if you prefer slightly smaller, buy the 45 quart.
BUY NOW ON AMAZON: RTIC Cooler (RTIC 65 Blue)
BUY NOW ON AMAZON: RTIC Cooler (RTIC 45 Tan)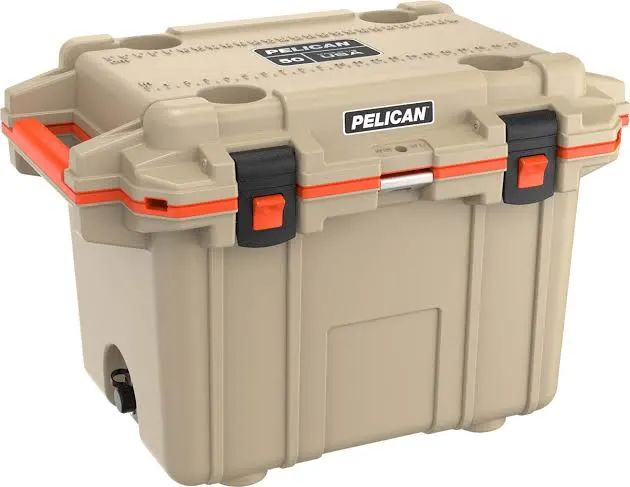 Pelican Ice Chest
This one is for the hard core road trip enthusiasts and campers who go off road. It's SUPER tough and looks it.
Pelican seals are good quality, and proven to work to prevent leakage.
The fixed handles are a godsend when you have to carry it into camp. This feature alone is worth the bucks.
The robust, rugged look and shape appeals to outdoorsy types too.
Use a cable and lock when out and about to keep it safe, or take it indoors when you sleep.
Pros:
Comes in LOTS of colors including cactus green, canyon red, coyote tan, combos like the one pictured in tan & orange, and Americana – red, white and blue. It wins the Roam the Gnome award for best color names!
Made in America, and has a lifetime guarantee!
100% waterproof, leakproof and will keep ice frozen for up to 3 days
Trusted brand
Good coolers for camping extremists
Cons:
Lid is not flat.
Shaped like a big toolbox. No one wants to be reminded of work!
Verdict:
The thick shell makes it almost indestructible, and the rubber seal stops leakage.
There's a drain plug, a helpful addition when cleaning it out.
Excellent buying for those who own large vehicles with trays to carry it. This is one of the top coolers for camping and outdoors, when the outdoors is your life.
BUY NOW ON AMAZON: Pelican Elite 50 Quart Cooler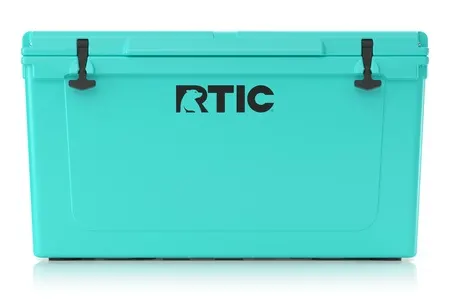 The Best Ice Chest for Camping
RTIC Ice Chest 110 Quart
This RTIC camping ice chest has a 110 quart capacity, meaning it can hold 110 cans, or 115 pounds of ice.
Even though it's built like a tank, it's designed NOT to sweat. It's spacious, and can hold a weeks worth of food and drinks for the average family camping trip.
It's built like a tank, with awesome insulation to keep ice for 7-10 days.
It also has a drain to help with easy cleaning.
This ice chest is a popular seller, and it's no wonder. It's the best camping cooler for the money.
Pros:
Comes in regular white or tan, but also these fab colors: Seafoam green (as pictured) or Blue.
Rotomolded cooler with heavy duty T latches makes it the best outdoor cooler to keep the animals out
Has tie down spots
Easy to handle
Best size cooler for camping
Cons:
Very heavy when full
Doesn't have wheels. (You can buy a cooler wheel kit from Sherpa Outdoor Products to convert it into a RTIC wheeled cooler)
Verdict:
The flat lid design allows this ice cooler chest to do double duty as an extra seat on a boat or at the campsite, a table for eating, a bench to work on, a play table for the kids, a spot to play board games – all while keeping food and drink cold!
That's why it's the best camper cooler for families.
BUY NOW ON AMAZON: RTIC 110 Quart Ice Chest for Big Adventures (buy in your choice of color)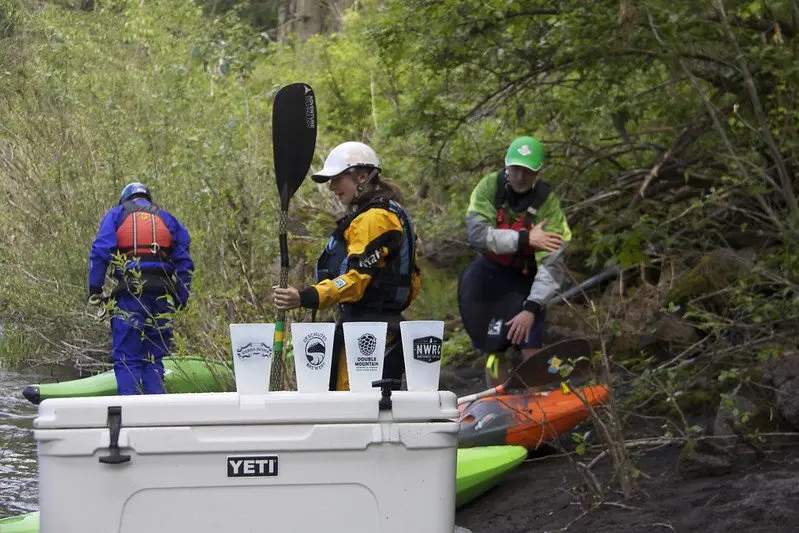 Image credit: Zachary Collier via Flickr CC BY-2.0
The Best Extra Large Ice Chest
Tundra Yeti Ice Chest
If you need a giant sized ice chest for super huge camping adventures, the Yeti Tundra cooler 125 is the pick of the bunch.
These outdoor coolers are built to withstand almost anything! (including bears)
Take it on your off road adventures, hunting trips, fishing expeditions, but use it at home for backyard BBQ's too.
This is the best of the best coolers for keeping ice. Definitely worth the investment.
Pros:
Built for all kinds of weather
Extra thick walls with up to 2 inches of insulation
Super tough T-Rex Lid latches that won't break
Ice lasts at least a week, and maybe longer
Has a sealed drain on either side
Cons:
Can't lift this on your own
You need to buy the wheels separately (then it's the best camping cooler with wheels)
Verdict:
NOTHING compares to this Tundra cooler if you are a serious outdoor family, or love camping, hiking, hunting, and fishing adventures. It's worth every cent.
BUY NOW ON AMAZON: YETI Tundra 125 Cooler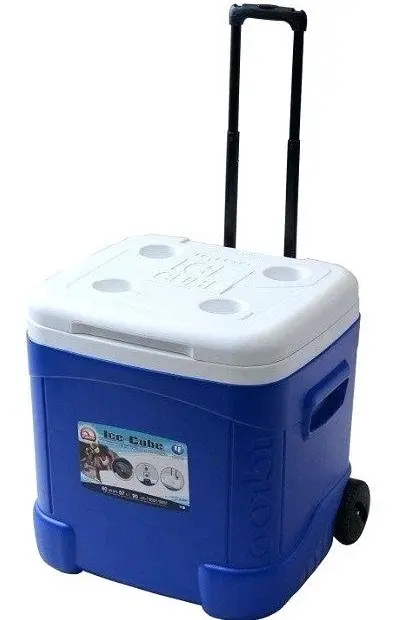 The Best Coolers with Wheels
Igloo Ice Cube Roller Cooler with wheels
This hard side cooler is a good one if you want a portable cooler on wheels, and have room in the trunk or between the seats for it.
A hard side cooler is the best if you have the space in your vehicle, as they offer the best long term protection for food and drink, and stop the food from getting squashed.
This 60 quart Igloo camping cooler is a good medium sized cooler, and the fact it has wheels adds bonus points for movability.
Pros:
Budget price for a wheeled cooler
Trusted brand for mid range coolers
Has a drain
Holds four cup holders in the lid
Has molded side scoop handles to help you lift it into your car or truck
Cons:
Use as a seat at your own risk. It's not built to hold bodies!
You need to be gentle with the telescopic handle. It's not built for off road adventures.
Verdict:
This is an awesome cooler for day trips, picnics, opera in the park, festival camping, and short camping trips.
Older kids can help roll it to the campsite.
Our pick of the best wheeled coolers on the market for festivals, parties, gatherings and bbq's. But they also make good coolers for storing camping food.
BUY NOW ON AMAZON: Igloo Ice Cube Roller Cooler
You can find more options of best cooler for camping with wheels at our review here.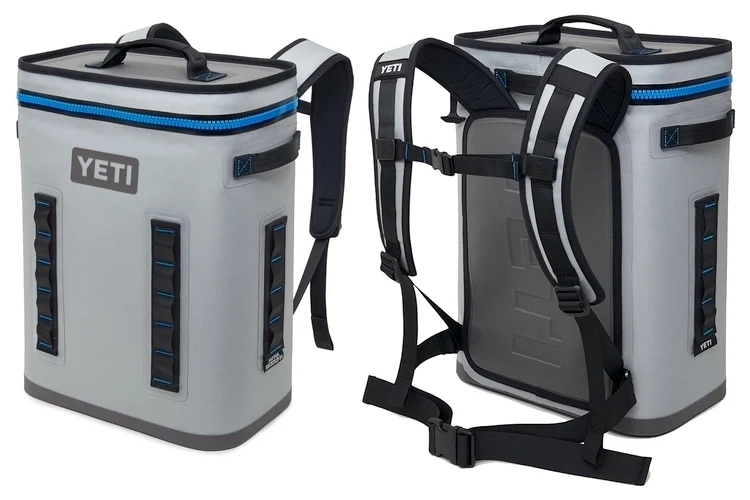 5 of the Best Backpack Cooler Bags
No.1: The Yeti Hopper (Yeti Backpack Cooler)
The Yeti Backpack Cooler is very tall, and can carry a lot. Don't let the pictures deceive you.
This portable backpack for drinks and food is the ideal cooler when you travel with kids, as it means you are hands-free when you get to your destination and can keep an eye on the little ones.
The quality is excellent, as you'd expect from YETI.
It's a comfortable carry too, with thick padded straps, and a solid backplate.
It's also the MOST stylish cooler backpack around!
Hot tip: Cool the inside of the cooler BEFORE you load it, and it will keep ice cold for even longer.
To clean it, wipe it with a mild soap and water mixture. Dry it thoroughly with a towel and hang it on the line to air dry completely before storing.
This backpack ice chest is a perfect addition to your camping kit or hiking equipment list.
Pros:
Three year warranty
Perfect size
Liner is made from food grade material
Cons:
May lose its' square shape after a few uses
The zipper can be problematic
Verdict:
The BEST backpack cooler on the market, if we may say so.
BUY NOW ON AMAZON: YETI Hopper Backflip 24 Soft Sided Backpack Cooler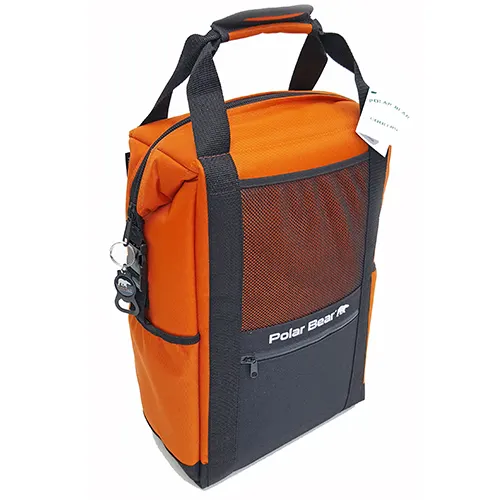 No.2: Polar Bear Cooler Backpack
The ultimate cooler bag for corporate mums who are nursing and need to transport breast milk to and from the office.
This backpack cooler is discreet and practical.
It's also a fab backpack for cyclers, for teachers to take on school excursions, rangers, gardeners and anyone who works outdoors, for camping treks, and as a hiking day pack with a difference.
Pros:
Stylish and professional look
Carries 18 cans or 12 bottles, plus ice packs
Cons:
Insulation is an inch thick, so it's not easy to compress for storage
Will not fit under the seat on a plane. (Fits in overhead compartments)
Verdict:
The Polar Bear Cooler is a popular backpack cooler and it's not hard to see why.
BUY NOW ON AMAZON: Polar Bear Backpack Cooler in Orange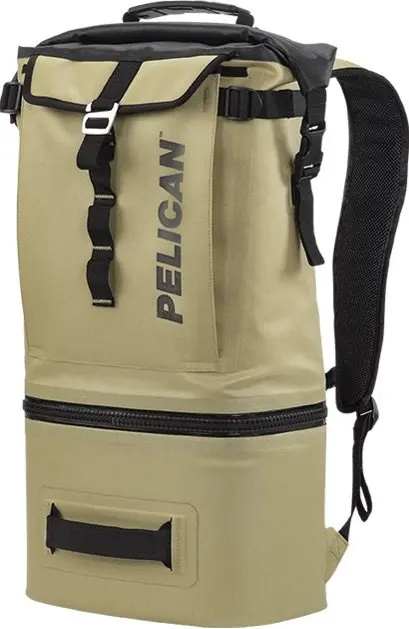 More Cool Bag Backpacks
Here's three more insulated backpack cooler bags to check out.
No.3: Penguin insulated cooler
No.4: Coleman insulated cooler
No.5: Igloo insulated cooler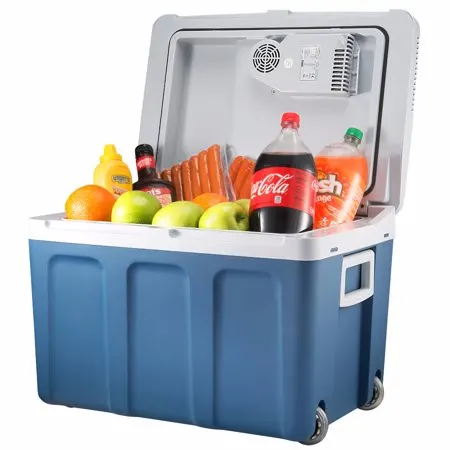 The Best Plug In cooler
Here are two of the best electric coolers for camping.
Knox Electric Cooler and Warmer for Car
Top of our list of the best plug in coolers for camping adventures because of the internal size.
It fits all the camping and road trip snacks.
This cooler chills food, or you can flick the switch and warm foods up.
If you are heading out camping for more than a weekend, and have food that you don't want to spoil, take one of the camper coolers above and bags of ice too.
Pros:
Old school look and style
Has two plugs – one for the wall, and one for the car
Excellent size – 48 quart has been tested to hold 60 cans of soda or 6 two liter bottles & 15 cans
Has a removable divider so you can sort your groceries
Doesn't need ice
Has wheels, and two handles so you can pull or carry
The fan is very quiet
Cons:
Need to plug in ahead of time to cool things down
No great at heating up foods. Better used for keeping hot foods from the oven warm during transport.
Verdict:
If you are heading out and have access to a plug, this is a great fridge alternative that doesn't need ice.
BUY NOW IN AMAZON: Knox Electric Cooler and Warmer 48 quart
Igloo Iceless Thermoelectric Cooler
This is the best electric cooler for road trips, without doubt.
It's small, sleek and stylish with enough room for all the healthy snacks that need refrigeration, such as yoghurt, custard, cheese, salami sticks, and milk.
It plugs into the cigarette lighter.
You can purchase an extra cord to use with regular power points.
Pros:
You don't need to keep buying ice
Ergonomic design so it's easy to carry
Quiet motor.
Can sit on the floor behind the drivers seat, or on the passenger side if you travel alone.
Wipe it out with a paper towel periodically to stop moisture
Cons:
Size is limited for what you can carry and store. Best used for day trips.
Best to fill it with cold foods and drinks, not warm temperature if you want it to work the best.
Verdict:
A great little investment for road trips, and overnight adventures.
BUY NOW ON AMAZON: Igloo Iceless Thermoelectric Cooler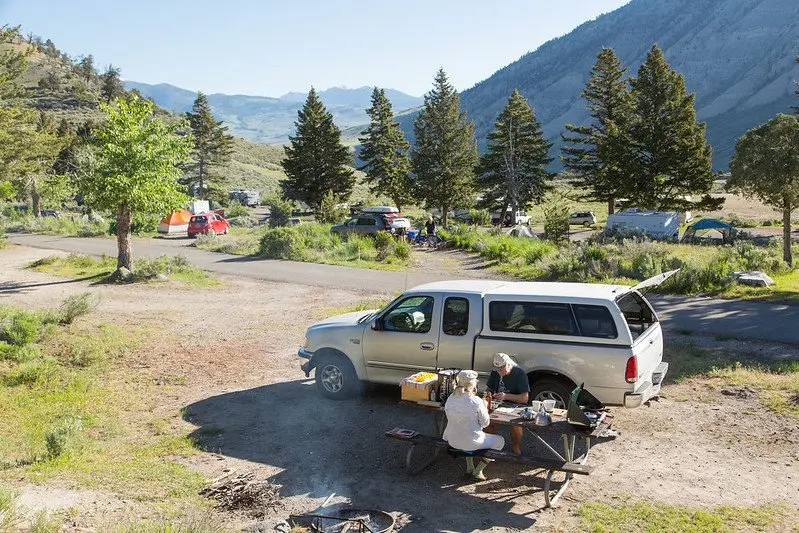 Image credit: Neal Herbert via Flickr CC0
MORE OF THE BEST COOLERS FOR CAR CAMPING & HIKING
The Best Cooler for Car Camping
Searching for the best car camping coolers?
The best car cooler for camping on a budget is definitely the Camping Fridge.
This is a mini fridge to keep your groceries cool during your adventure.
You can also use it to keep your food warm while you travel along.
Pros:
It comes with 2 built in cords, so you can use it with 120V house power sockets or a 12 V DC power outlet in the car.
Lightweight and easy for one person to carry.
Budget price
Cons:
Verdict:
Use this one, or either of the two plug in coolers above. All three will do the job.
BUY NOW ON AMAZON: Camping Fridge 26.4 quart mini fridge in blue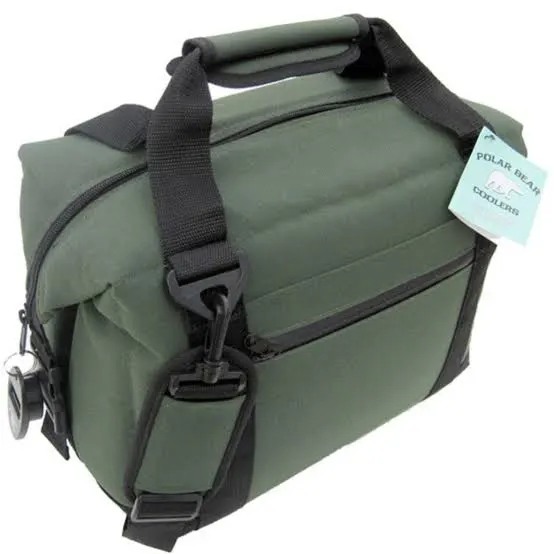 The Best Soft Side Cooler
A soft side cooler is not always the best choice for camping, unless it's for a short weekend camping trip.
The advantage of a hard side cooler over soft side coolers is protection from the elements, from kids' feet, and from wild creatures – the bugs, the birds, the bees, and the bears.
(Hopefully you don't run into the bears!)
That said, soft coolers are fabulous for road trips, hiking,and also for car camping when you don't have much room
We've written the complete guide to the BEST SOFT SIDE COOLERS.
READ MORE: The Best Soft Cooler Bags for Road Trips, Car Camping & Hiking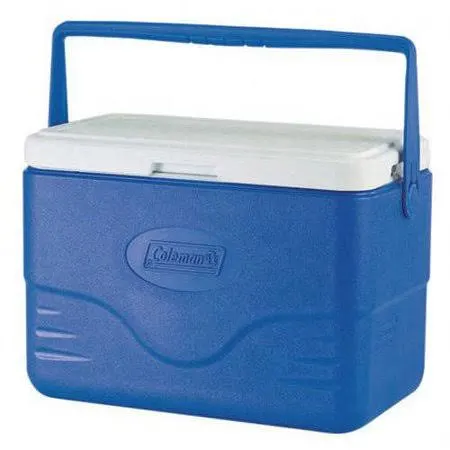 The Best Hard Side Cooler
Hard side coolers are the best for camping as they provide good protection from bugs, birds and wild animals.
Here's the best four hardside coolers to buy when you need food coolers for camping.
Coleman Everyday Cooler
Looking for a budget cooler for everyday road trips? This Coleman cooler in blue and white has a blue handle.
The Coleman camping cooler is the most popular road trip cooler on the market for family travel.
This one won't break the bank.
Pros:
Holds 38 cans
You can stand 1-liter bottles upright including milk
If you start with cold drinks from the fridge, the ice lasts much longer
Works well with small ice packs too
Waterproof, wipes clean with a cloth or hose it out
Cons:
No drain
Not sturdy enough to be used as a seat unless you are two
Verdict:
Excellent buying for road trips, or short weekend trips where you want something cheap, portable but sturdy.
Also fabulous on the back seat between kids to store all the kids snacks for road trips.
BUY NOW ON AMAZON: Coleman 28-quart cooler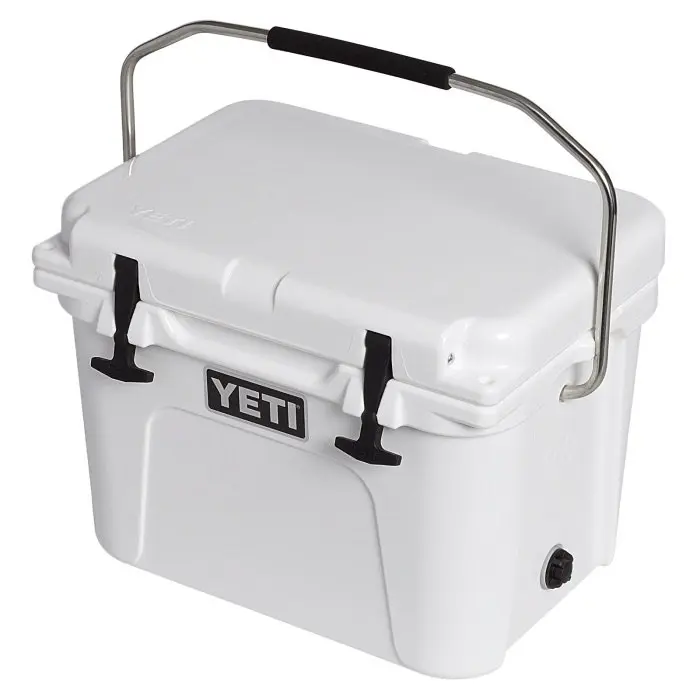 YETI Coolers
The Yeti cooler is the most popular cooler brand. The Yeti Roadie has 2 inches of permafrost insulation, so your ice bricks (and ice) don't melt.
The Yeti camping cooler is virtually indestructible, which is a handy attribute when you are traveling with kids!
Yeti hard coolers are made in a beautiful elegant range of colors including pink, river green, sea foam, ice blue, coral and reef blue, and also in white for the optimistic parent among us.
Pros:
Color range is outstanding!
Rotomolded contruction so good for fishing, hunting trips AND family camping with kids!
T-REX lid latches that don't bust
Holds 14 cans and enough ice to keep them cold
Has a drain, which makes it easy clean
Made in the USA
Cons:
May not fit behind the front seat unless the front seat is way forward.
May need to travel in the boot, or tray, or on the back seat
Not good enough at keeping ice and food cold for longer than 2 – 3 days
Verdict:
Great for short trips. But choose another cooler if you head out for longer than that on a regular basis.
BUY NOW ON AMAZON: Yeti Roadie Cooler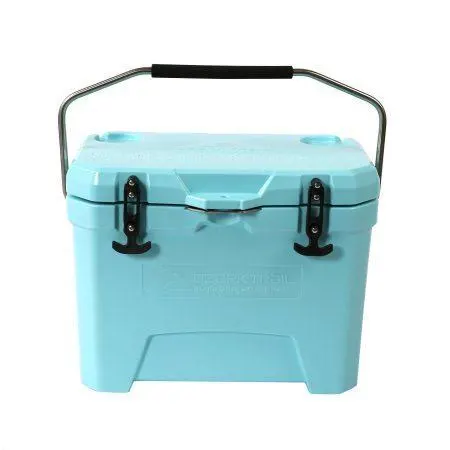 Ozark Trail 26-quart High Performance cooler
The Ozark cooler is another brand of
Pros:
The color is magnificent
Has 2 drink holders on lid
Certified bear resistant, by the Grizzly Bear Committee (It's bear proof)
Built in bottle opener
Budget priced
Stainless steel handle
Cons:
Verdict:
BUY NOW ON AMAZON: Ozark Trail High Performance Cooler in Blue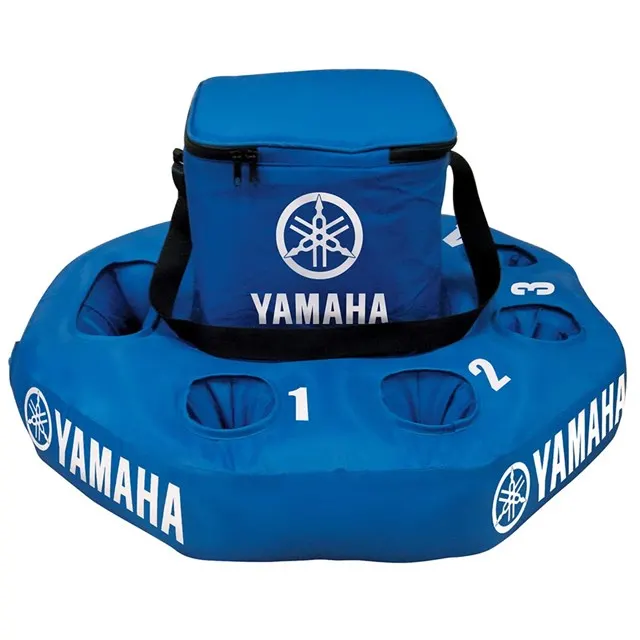 BONUS: The Best Floating cooler
If you are heading to the river or lake for camping with friends, you might need a floating cooler to hold your drinks while you swim or take turn boating.
BUY NOW ON AMAZON: Yamaha Inflatable Drink Holder Cooler for 6-12 cans
The Best Cooler Brands in Australia
Esky on wheels
Willow budget coolers
Igloo esky coolers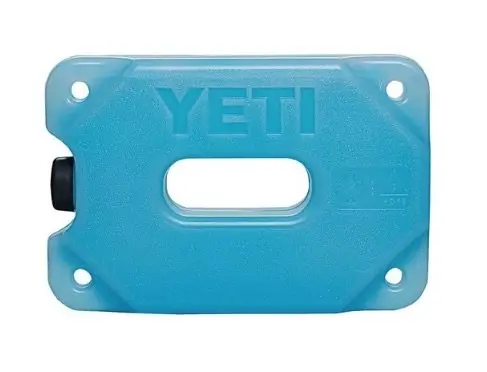 BEST ICE PACKS FOR COOLERS
These are the best indestructible ice bricks on the market.
Save money with hardside refreezable ice packs that you can use again and again without fear of popping.
Need slim ice packs for your road trip cooler?
Try these:
Need small ice bricks to fit in amongst the food and drinks?
Try these: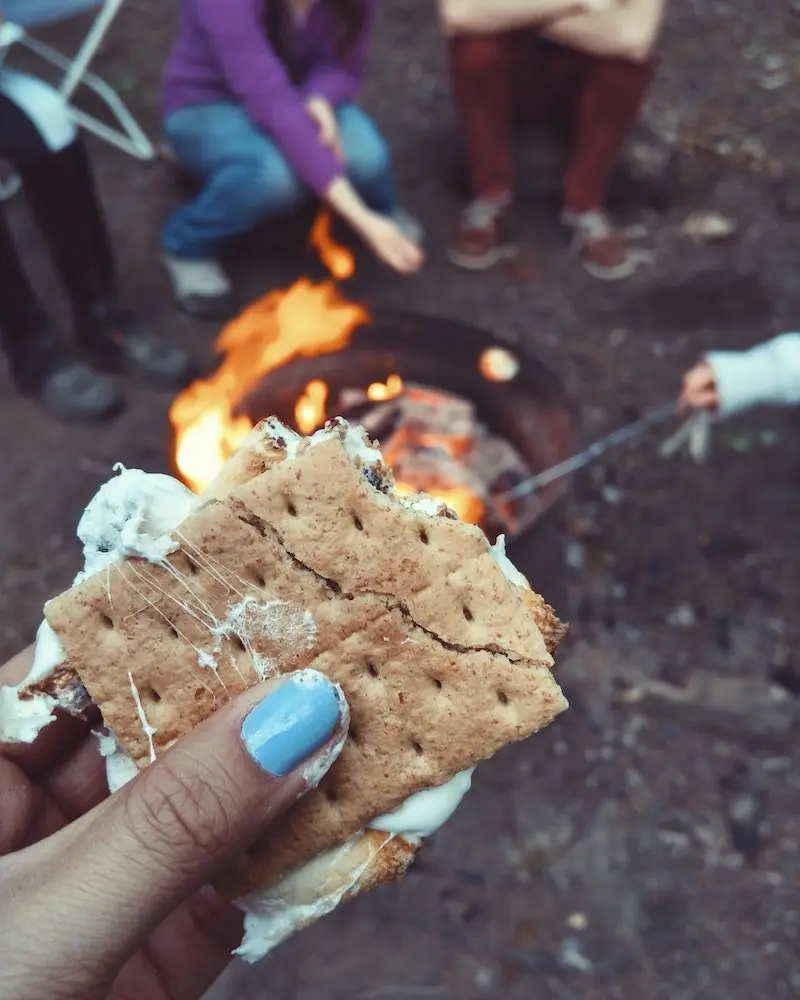 Image credit: Autumn Mott Rodeheaver via Unsplash CC0
CAMPING FOOD LIST OF QUICK AND EASY SNACKS
Now, we can't talk about the best camping coolers, without giving you a list of the best camping foods to take along on your trip for meals and snacks.
This camping food checklist is a comprehensive guide to healthy camping foods that includes:
vegetarian camping food & vegetarian camping recipes
make ahead camping food
freeze dried camping food
no cook camping food
camping food for kids
keto camping food and paleo camping food
healthy campfire desserts
tips on camping food storage, and
a few gourmet camping food ideas too!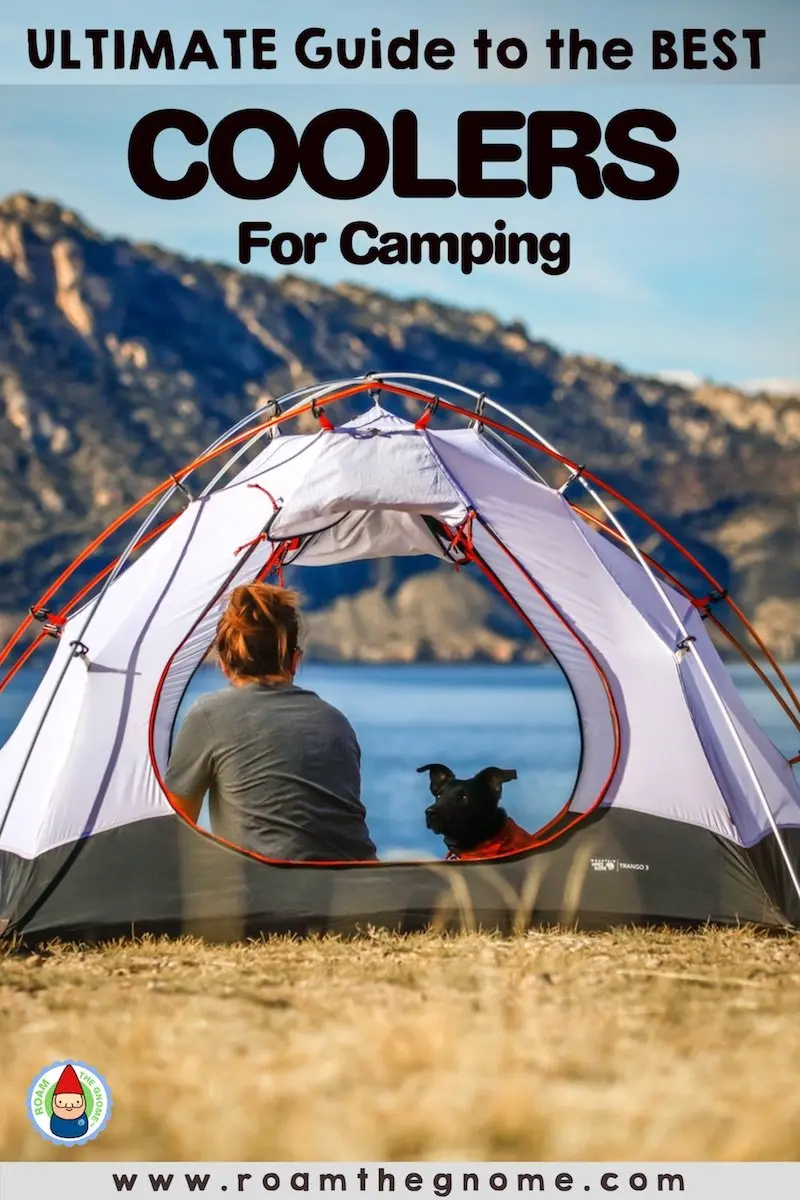 Want more of Roam the Gnome's Best Travel Tips?
Correct at time of publication on Roam the Gnome. Please check with venue for updates. We apologise in advance if there have been any changes we are unaware of. All prices in US dollars, unless otherwise stated
Click the blue links for all the travel tips.