INSIDE: Everything you need to know about the best Australian beef jerky brands to try.
If you love beef jerky, and want to know the best Australian beef jerky brands, you are in the right place.
Here's a comprehensive list of the top 10 producers of beef jerky Australia has to offer.
You'll also find a big list of the best places to buy beef jerky online in Australia, and also in person at markets & food halls around the country.
Details on the best Australian jerky brands below.
Disclosure: This article contains affiliate links. If you make a purchase after clicking on one of these links, we may receive a small commission at NO extra cost to you.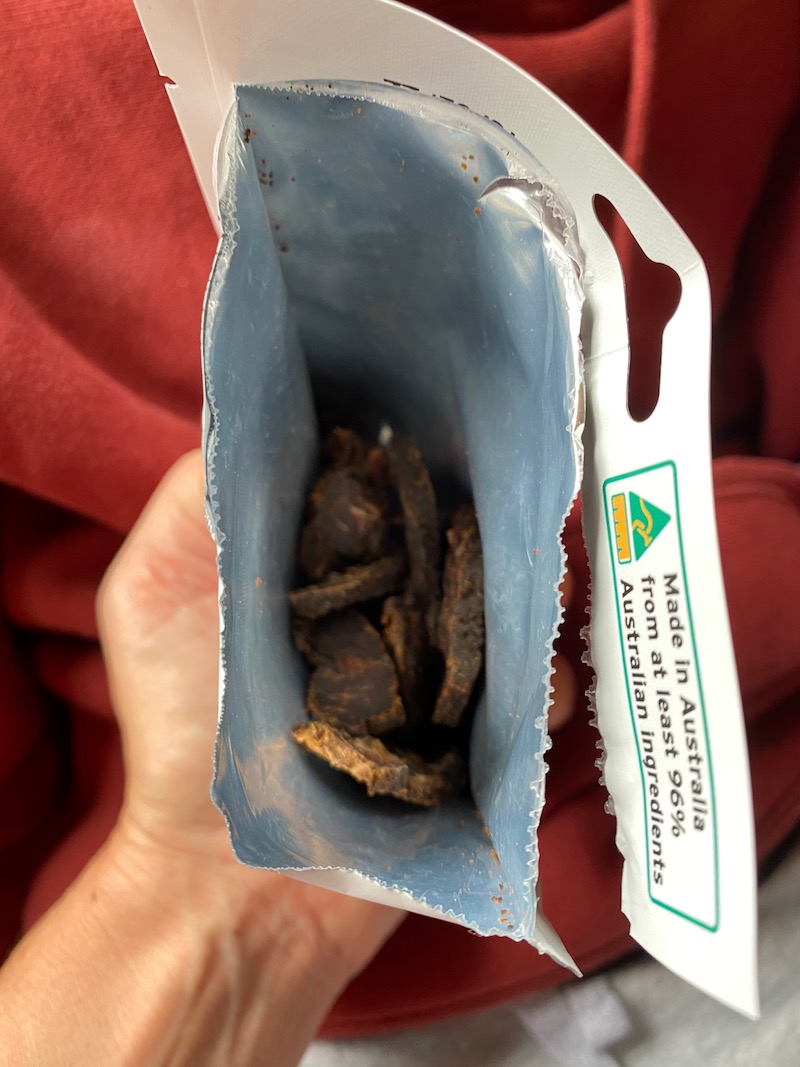 THE INSIDE SCOOP: Best Australian Beef Jerky Brands
Correct at time of publication on Roam the Gnome. We apologise in advance if there have been any changes we are unaware of. All prices in AUD dollars, unless otherwise stated
The Popular Beef Jerky Brands Australia list
Here it is – in no particular order.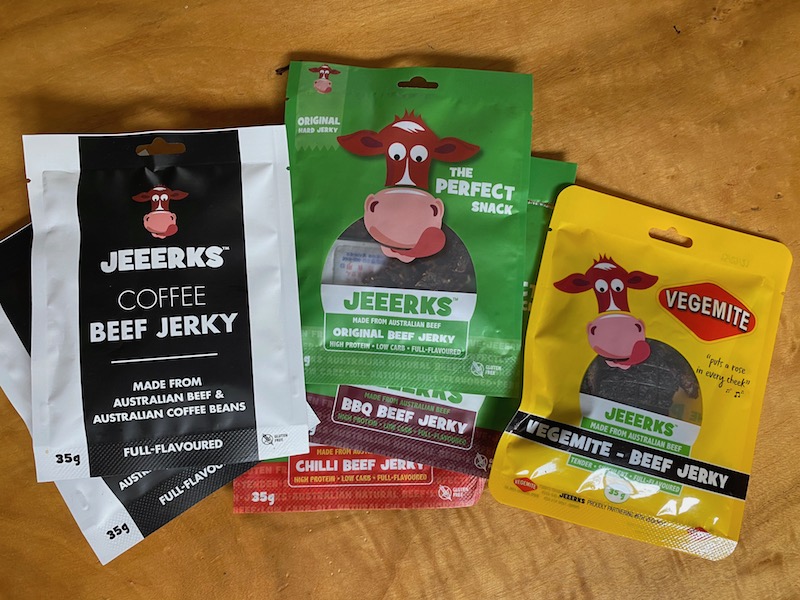 No.1: JEEERKS Beef Jerky
If you are wondering, is beef jerky healthy?
You'll be happy to know this brand has no fat because the owner of the company is a health nut and she wanted to create a snack for those who love to exercise and stay fit and healthy, as well as make something kids would love.
Plus, they top our "best soft beef jerky brands Australia" list too.
Their soft jerky is SO GOOD and perfect for dipping in a chocolate fountain!
But best of all, they have both a Vegemite jerky recipe AND a coffee beef jerky you should not miss.
The coffee jerky is what makes JEEERKS the best beef jerky Australia has to offer.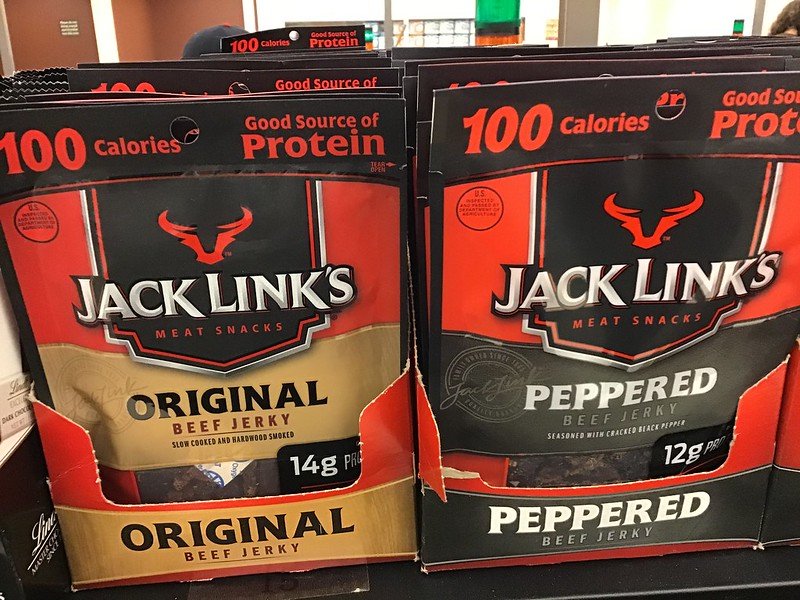 Image credit: Mike Mozart via Flickr CC BY 2.0
No.2: Jack Link's Beef Jerky
Jack's Links is also top of the best beef jerky banks Australia has to offer, and you'll find their products in both Coles and Woolworths.
This famous beef jerky brand is definitely the best beef jerky in Australia for price, especially if you can buy it in Coles or Woolies for half price sale!
There's no such thing as cheap beef jerky really but this is your best shot at it!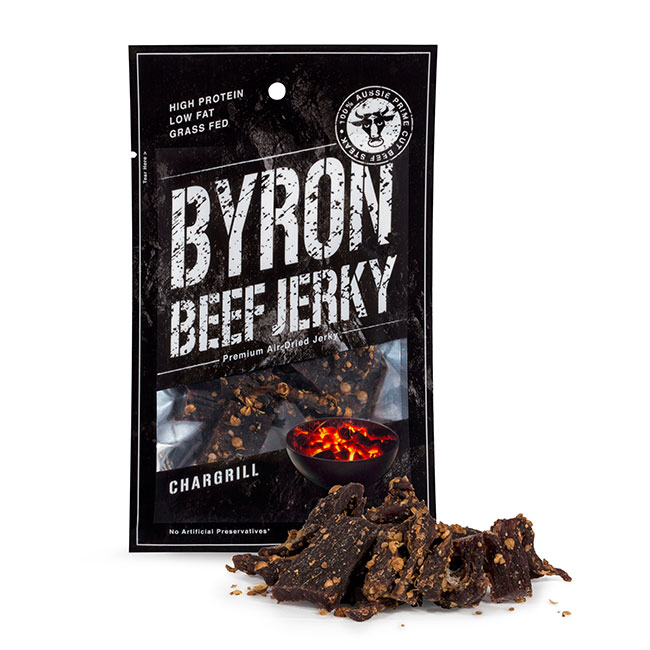 No.3: Byron Beef Jerky
Byron beef jerky comes in 7 different flavours:
Chilli
Chargrill
Mexicana Mexi-taco
Smokin' Hot
Extra Hot
Teriyaki
Buy it in 120 gram bags, 40 gram snack and taster packs, and massive 500 gram bags too.
Devils Doodoo Jerky (60gram packs)is the ultimate chilli jerky with spice levels to blow your head off, so it's for over 18's only!
Byron Jerky is chemical free and air dried at no more than 35 degrees celsius.
They are also proud to source beef from pasture fed cows that been humanely raised in the Northern Rivers.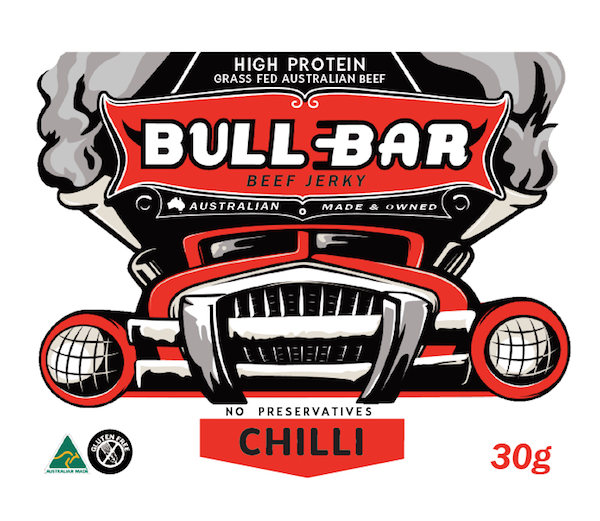 No.4: Bullbar Beef Jerky
Bullbar beef jerky is gluten free, and has no artificial flavouring, colours, preservatives or added sugar.
Bullbar jerky is low in fat and high in protein too.
Try it in these jerky flavours:
Brewer's Choice BEER jerky
Original
Chilli
Extra hot chilli jerky
Brothers, Troy and Bryan Cortese are the owners of Bullbar Beef Jerky, in Lancelin Western Australia.
They have been in the game for over 15 years and sell throughout Australia, with thousands of repeat buyers on their list.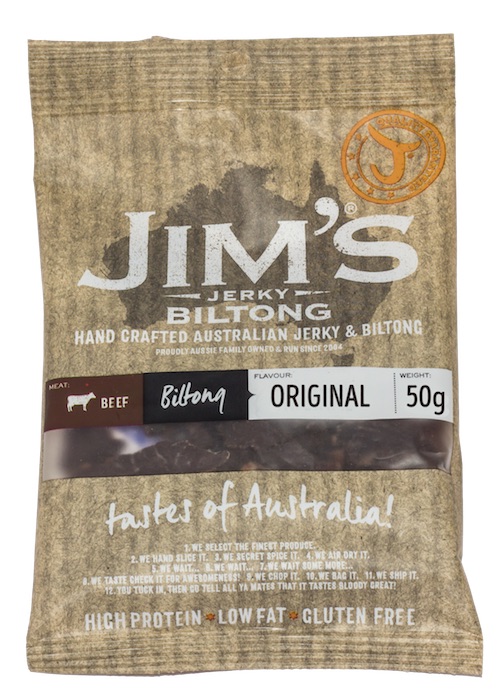 No.5: Jim's Jerky
Jim's hand crafted Australian jerky and biltong is hand trimmed, and naturally preserved with NO MSG.
High in protein, this air dried jerky also a fantastic source of iron.
Award winning Jim's Jerky comes in these flavours:
Original Jim's Secret Recipe
Smokey
BBQ
Honey soy
Teriyaki jerky
Piri Piri
Chilli jerky
Limited edition salted caramel jerky!
The best bit is they have a 100% satisfaction guarantee, so if you don't like it, send it back for a full refund.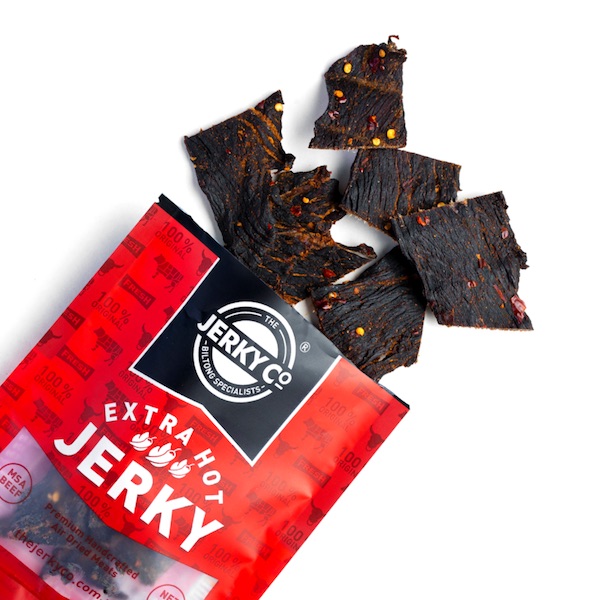 No.6: The Jerky Co
This Western Australian jerky company has bulk buy options as well as snack packs.
Their jerky flavours include:
Sweet BBQ
Extra hot
Chilli
Traditional
Texan beef jerky
Smokey jerky
But the creme de la creme is their EXOTIC TRUFFLE beef jerky!
The Jerky Co is a great place to pick up all your Christmas gifts and unique Australian souvenirs for foodies as they also produce:
BBQ rubs
Sauces
Pork crackle
Beef biltong
Lamb biltong
Droewors dried sausage sticks
"Snap sticks" – thick strips of spiced and marinated beef, the perfect keto snack
Don't miss out on their fabulous jerky slicer – the ultimate kitchen tool.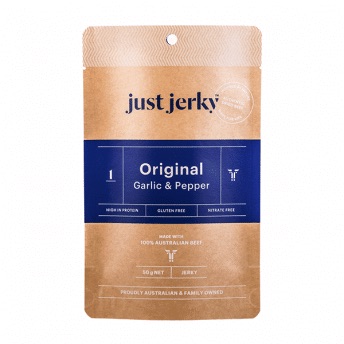 No.7: Just Jerky
Try these unique flavours of Jerky:
Herbed jerky with coriander and honey
Chilli jerky with cayenne pepper
Original beef jerky with garlic and pepper
Their aim is to make sure their product has the highest quality, naturally occurring nutrition in beef to provide iron, zinc and B vitamins to help fuel our bodies.
They also sell FRUIT jerky!
Made from pure fruit purees of banana, blueberry, hemp, chia & beetroot.
Yes, vegan jerky!
No.8: Big Wig Jerky
Big Wig Jerky is an online store selling jerky in 6 flavours.
They include:
chilli and lime jerky
teriyaki jerky
honey soy jerky
peri peri jerky
original jerky and
smoky chorizo jerky.
The Bigwig jerky team work in house to trim all the fat away before cutting the beef into small strips ready for marinating, drying and packaging so it's truly an artisan product.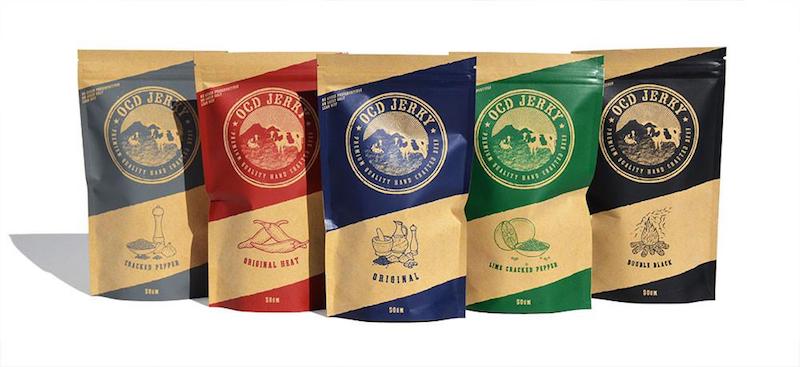 No.9: OCD Jerky
OCD beef jerky is crafted in Western Australia from old traditional family recipes combined with a modern cuisine touch.
Their Aussie beef jerky product is made from an MSA grade topside cut of quality grass fed beef, marinated for 24 hours in the a mix of fresh herbs, sauces and spices, and flash dried.
Flavours include:
original
cracked pepper
original heat
lime cracked pepper
double black
You can find them in all the best delicatessens, IGA stores, corner stores and bottle shops, as well as online.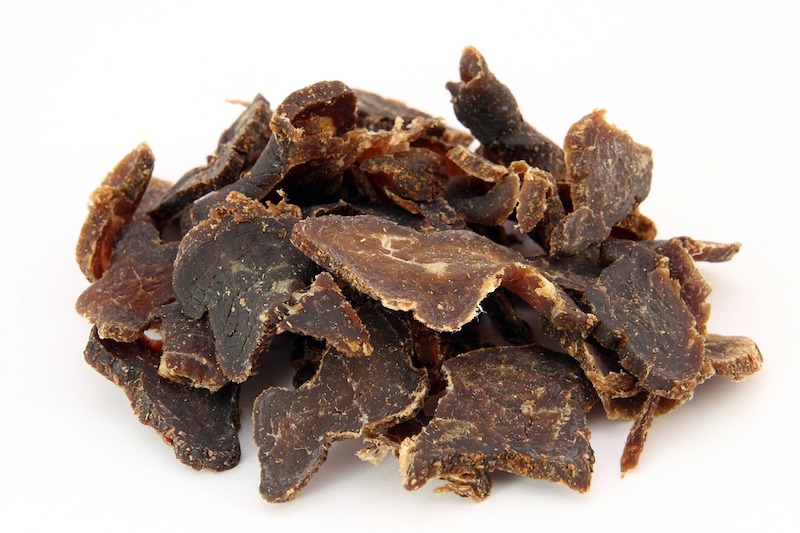 Best place to buy beef jerky in Australia
Wondering where to buy Beef Jerky in Australia?
For starters, we've gathered a list of the best places to shop for beef jerky in Canberra, Sunshine Coast, Brisbane and the Gold Coast in person.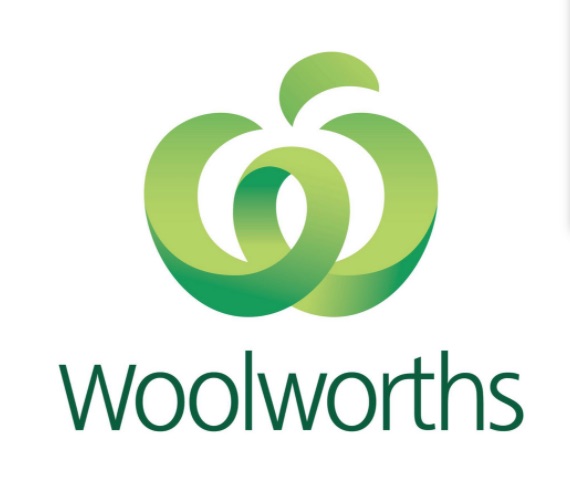 Where to buy Beef Jerky online Australia?
Other than going directly to the cow jerky company websites and shopping direct (paying postage for each separately), your best bet is:
to visit Coles or Woolworths and buy different brands of beef jerky as part of your weekly shop, or
visit health food shop websites to find artisan brands of beef jerky and buy them click and collect to save on postage.
to try deli's and fine food stores such as Barossa fine foods
to try eBay for bulk jerky buys
FAQ: Can beef jerky go bad?
Click here to find all the answers to frequently asked questions about quality beef jerky, including When is National Beef Jerky day?
Yes!
There is one.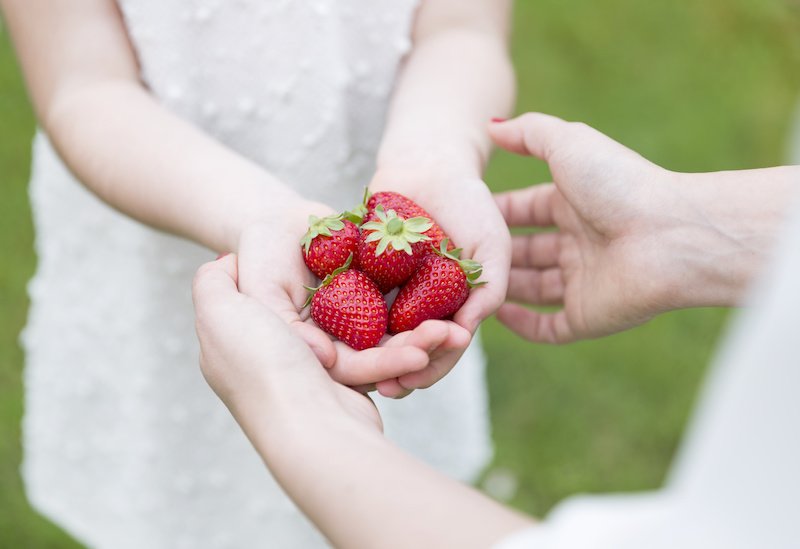 Looking for more fun food ideas?
Click the blue links below for more food recipes and tips