INSIDE: Everything you need to know about finding the best adventure playgrounds Melbourne style.
What are the best Adventure Playgrounds in Melbourne?
Where are they?
What makes them special, and worth a visit?
Find all these details and more below in our guide to Melbourne Adventure Playgrounds for kids.
Disclosure: This article contains affiliate links. If you make a purchase after clicking on one of these links, we may receive a small commission at NO extra cost to you. Main image: Weyne Yew via Unsplash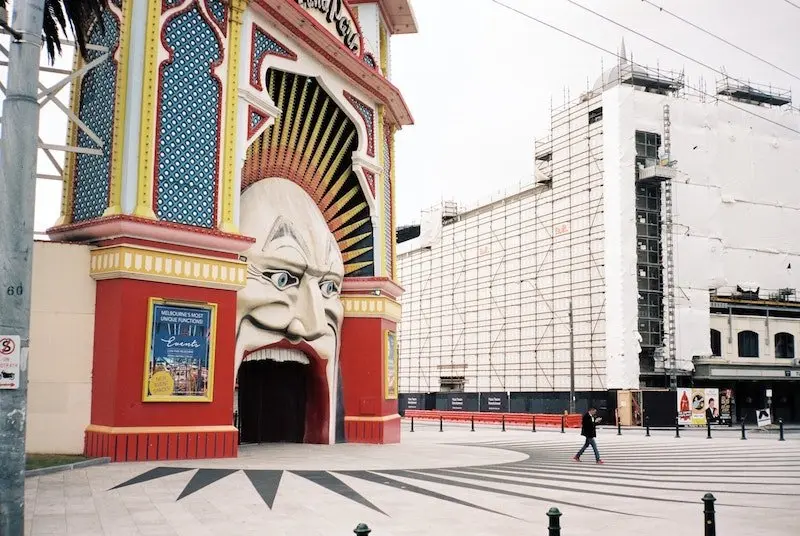 Image credit: Shaqyl Shamsudheen via Unsplash
THE INSIDE SCOOP: BEST ADVENTURE PLAYGROUNDS MELBOURNE
Correct at time of publication on Roam the Gnome. Please check with venue for updates. We apologise in advance if there have been any changes we are unaware of. All prices in AUD dollars, unless otherwise stated
Check out these adventure playgrounds Melbourne style!
Hot tip: While not strictly an adventure park, do stop by Luna Park in Melbourne with kids.
It's FULL of fun attractions & activities!
RELATED: Big Round Up of all the Best Playgrounds in Melbourne (including nature playgrounds, water play area playgrounds and parks)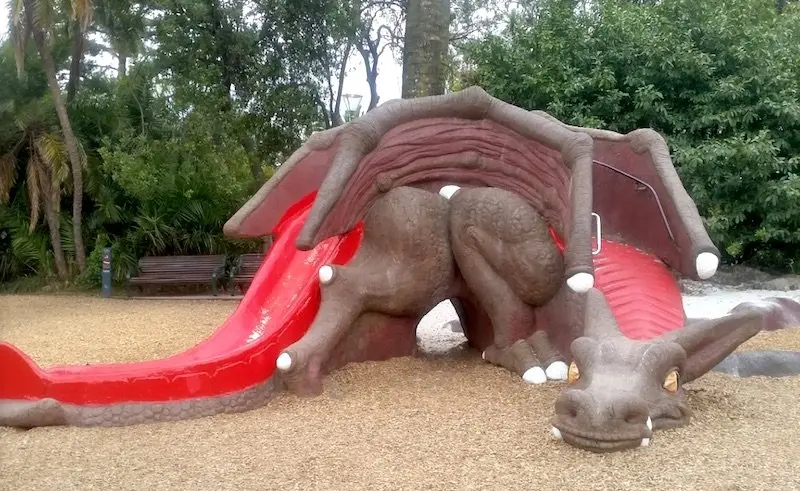 Image credit: Adam G
No.1: Fitzroy Gardens dragon playground
Here's a creative playground in Melbourne.
Check out the adorable dragon slide, and the innovative giraffe swing.
Plus there's a big sandpit for digging.
Fitzroy Gardens is famous for being home to a sizable collection of enchanted statues too. Don't miss:
Boy on the Turtle
The Dolphin Fountain
AND the Fairies Tree!
Check out the old Bandstand too.
Find the playground located on the south side of the Grey Street at Fitzroy Gardens, 230-298 Wellington Parade, East Melbourne.
Hot tip: If you have small children in tow, do also visit the imaginative Pauline Gandel Children's Gallery in the Melbourne Museum at Carlton Gardens (Older kids will love the Melbourne Museum playground too)
RELATED: Ultimate Guide to the Best Things to Do in Melbourne with Kids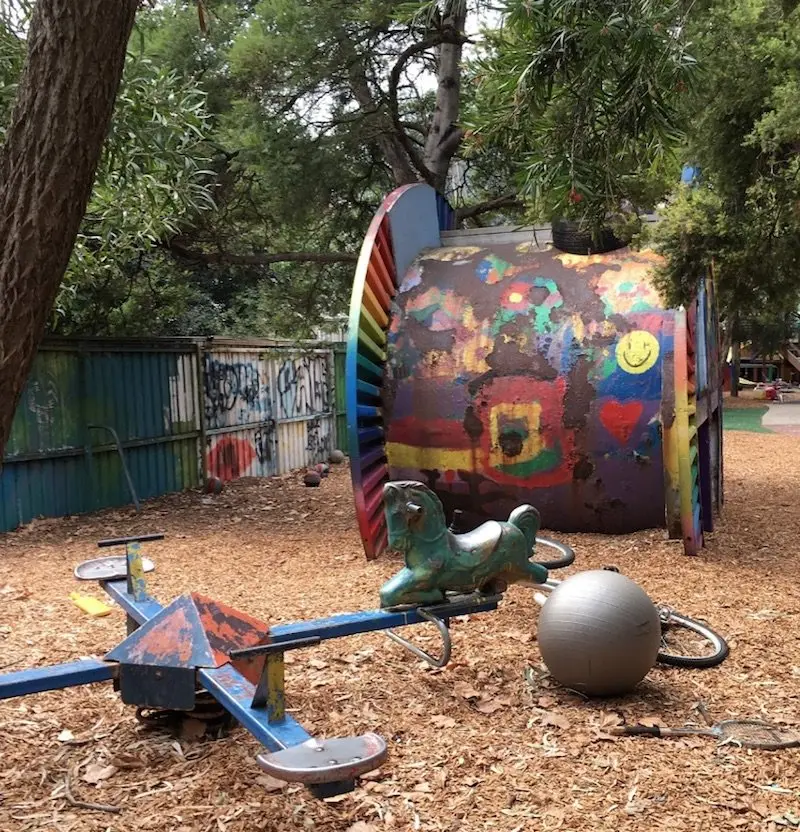 Image credit: ゆうたかはし
No.2: Skinners Adventure Playground
Skinners playground in Melbourne is for kids 5 to 12 years old.
One of the unusual features of this adventure park in Melbourne is that it is staffed.
Another one is that there's old shipping containers in the space too.
But the best bit is it is brightly coloured, painted in rainbows, so it's a cheerful playground for kids to play in.
Risky play is honoured – there are:
rough edges and reclaimed materials in use
fast slippery silver slides
timber cubbies and a pirate ship made from offcuts and pallets, and
giant tyres to hide inside
trees to climb
balancing beams made from old car tyres
an in-ground trampoline
bikes and trikes to ride
an old school seesaw
a basketball court
Plus loose parts such as timber pallets, rocks, and logs to move around in imaginative play.
Skinners Adventure Playground opening hours are:
3.30pm to 5.30pm weekdays
12pm to 4.30pm on weekends
12pm to 4pm on public holidays
Find it at 211A Dorcas St, South Melbourne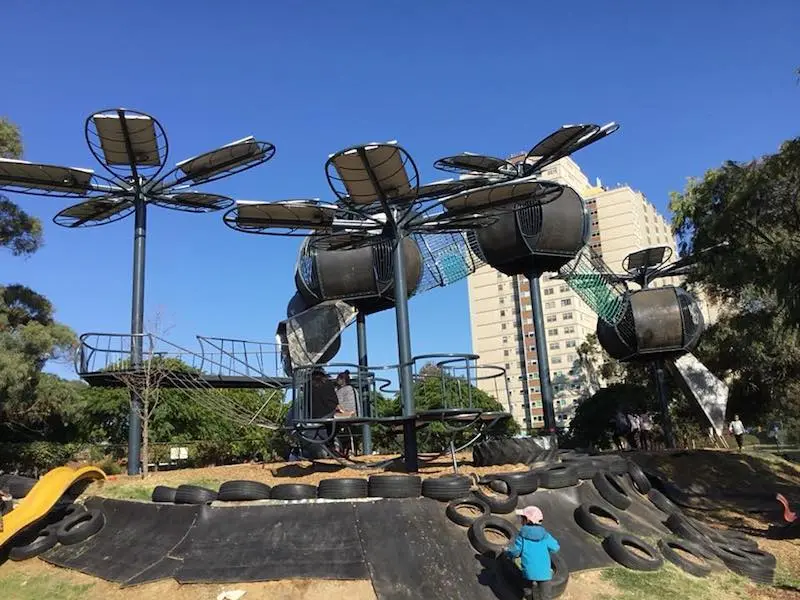 Image credit: HerHeSweetcone
No.3: Cubbies Fitzroy Adventure Playground
Don't miss THIS amazing playground in Melbourne.
While small, this community built playground has an impressive central feature – the Coal Flower Garden fort and pods with climbing tunnels and slides.
It's quite something to see in the middle of a busy city.
It's also the only staffed adventure playground in North Melbourne.
Find it open on:
Monday, Tuesday, Thursday and Friday after school from 3.30pm to 5.30pm
Saturdays from 12.30pm to 4.30pm
Find it at Condell St & R O W Y, Fitzroy VIC 3065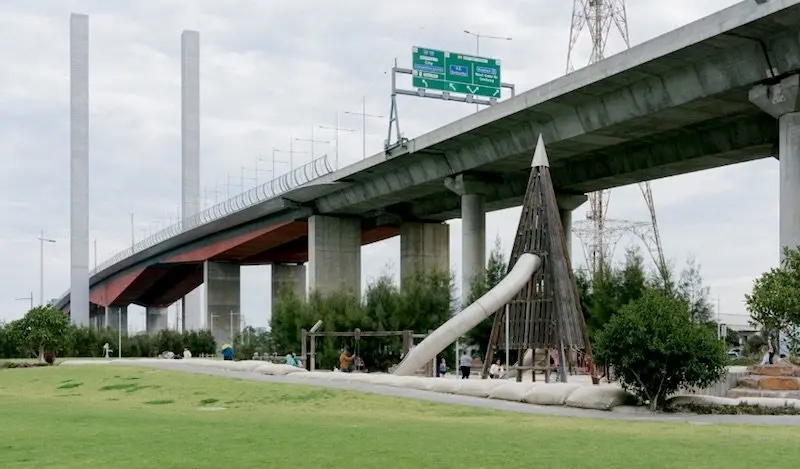 Image credit: Li Yang
No.4: Ron Barassi Snr Park
Not far from the Melbourne Star Observation Wheel on the waterfront, you'll find Ron Barassi Senior playground.
Centrestage, the giant apex tower with futuristic silver slide is the landmark you are looking for.
There's also some innovative sandpit play equipment including:
levers, and
pulleys, and
sand trays, and
pipes.
And waterplay.
Sadly, no flying foxes or monkey bars though.
It's also probably one of the only playgrounds right next to a major above ground highway!
But the grassy area makes up for it.
Open dawn to dusk.
Find it at Docklands Dr, Docklands VIC 3008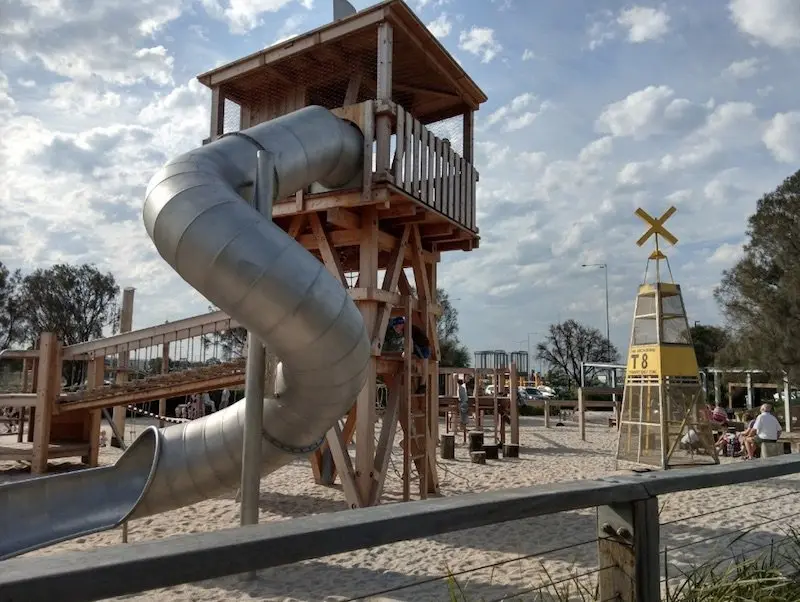 Image credit: Colin
No.5: Maritime Cove Community Park
Find this amazing boat-themed playground right next to Sandridge Beach at Port Melbourne.
The views are spectacular, and there's:
fun play equipment and climbing frame made from recycled timber
rope nets
nest swings
timber stepping stones and rope bridges to cross
water pumps with sand play
a tall wooden tower fort with ladders to climb, and a slide
The addition of the large steel buoy and warning tower adds a quirky touch!
A good reserve playground for little ones and big kids.
Find it at 200 The Blvd, Port Melbourne
No.6: St Kilda Adventure Playground Melbourne
So good, we wrote a whole post about the fully fenced St Kilda park adventure playground.
Older kids love the rope climbing play area, the climbing frame and flying fox too.
It's up there as possibly the best playground in Melbourne but definitely one of the best parks for kids in town.
For all the details, click here
NB: Luna Park is close by!

Looking for More Things to do in Melbourne with Kids?
Check out these Melbourne attractions for kids